Discover Mostbet, one of the ultimate online bookmaker and casino platform. This comprehensive review provides a detailed overview of Mostbet's features, including its extensive range of sports betting options, exciting casino games, poker, and user-friendly mobile app. Learn about the registration process, available bonuses, payment methods, and customer support. With a burst of information and diverse content, this article caters to sports enthusiasts, casino lovers, and anyone seeking a thrilling online gambling experience. Gain valuable insights into Mostbet's pros and cons, promotions, and key functionalities. Whether you're a seasoned bettor or a newcomer, this article will equip you with essential knowledge to enhance your betting journey with Mostbet.
Review of the bookmaker and online casino Mostbet is also available in other languages:
About Mostbet Company
Mostbet is a renowned online betting and casino platform, launched back in 2009. Owned by Bizbon N.V. and Venson Ltd, this platform supports wagering on a wide variety of sports markets ranging from alpine skiing to winter sports, and esports from CS:GO to Valorant. Its legitimacy is vouched for by international players, and our analysis of this betting site shows that it delivers a secure platform for placing bets, coupled with user-friendly interfaces and diverse payment options.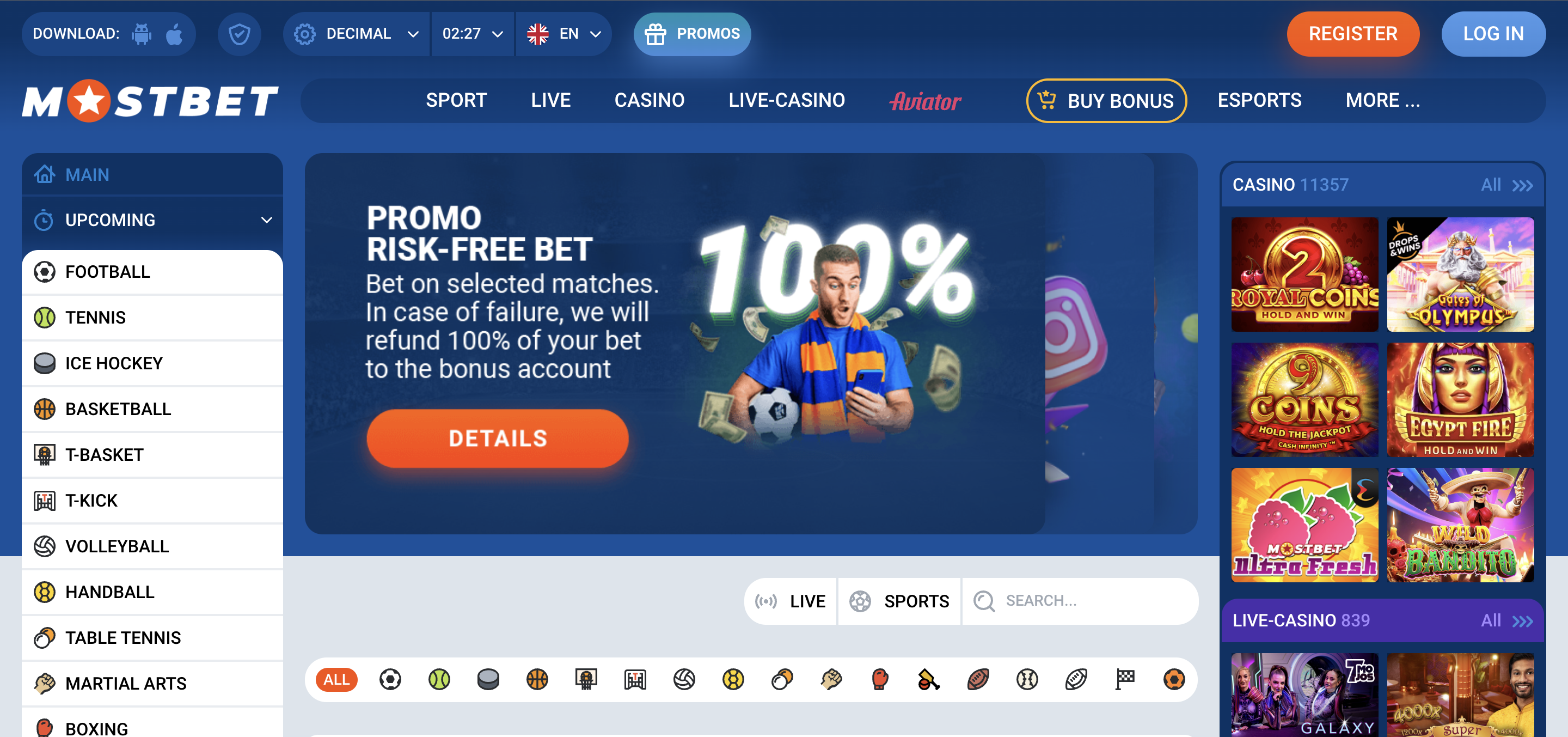 As our tests have shown, Mostbet offers an immersive gambling experience with its Casino and Live Casino products, enhancing the thrill for gamers. The platform supports various languages, such as English, Spanish, Vietnamese, and more, extending its services to a global audience. Despite certain territorial restrictions, it accommodates a myriad of currencies, making it convenient for international gamblers.
Quick Advantages to play games at Mostbet
Mostbet is not just about sports betting. Its casino Mostbet feature gives gambling enthusiasts the chance to enjoy a myriad of casino games. An impressive assortment of games, backed by proprietary software, ensures an engaging gaming session for every player. With the ability to play on PC, mobile, or tablet, Mostbet caters to your needs, no matter where you are.
One of the significant strengths we found in our bookmaker Mostbet review is its customer support. Operative 24/7 via Email and Live Chat, it provides swift resolutions in various languages. Furthermore, the platform allows you to cash out fully and offers comprehensive match statistics and results, a feature we found particularly useful.
Sportsbook Mostbet
The sportsbook Mostbet shines out as an appealing avenue for bettors globally, offering a wide range of betting markets. Be it traditional sports or modern eSports, Mostbet serves as a one-stop platform for all your betting needs. The bookmaker Mostbet impresses with the depth and breadth of its sportsbook, providing opportunities for making a bet on a plethora of sports and eSports markets.
Most popular sports betting markets in Mostbet
A few sports stand out on the Mostbet betting site due to their popularity among punters. Football, basketball, cricket, and eSports lead the pack in this regard.
Other betting markets available Mostbet
In addition to the most popular sports, Mostbet bets extend to a broad range of other markets. From rugby union to American football or motor sports, Mostbet covers it all. Winter sports aficionados can also make their stakes on Alpine skiing or biathlon. These wide-ranging offerings affirm Mostbet's commitment to cater to all betting preferences, making it an inclusive betting site.
Live Betting in Mostbet
Live betting in Mostbet provides an exhilarating betting experience, allowing punters to place bets while the action unfolds in real-time. Offering a dynamic form of wagering, in-play betting in Mostbet lends an extra level of engagement, as odds adjust based on the ongoing gameplay. Whether you are into football, cricket, or tennis, live betting provides you with an opportunity to make informed bets based on real-time insights.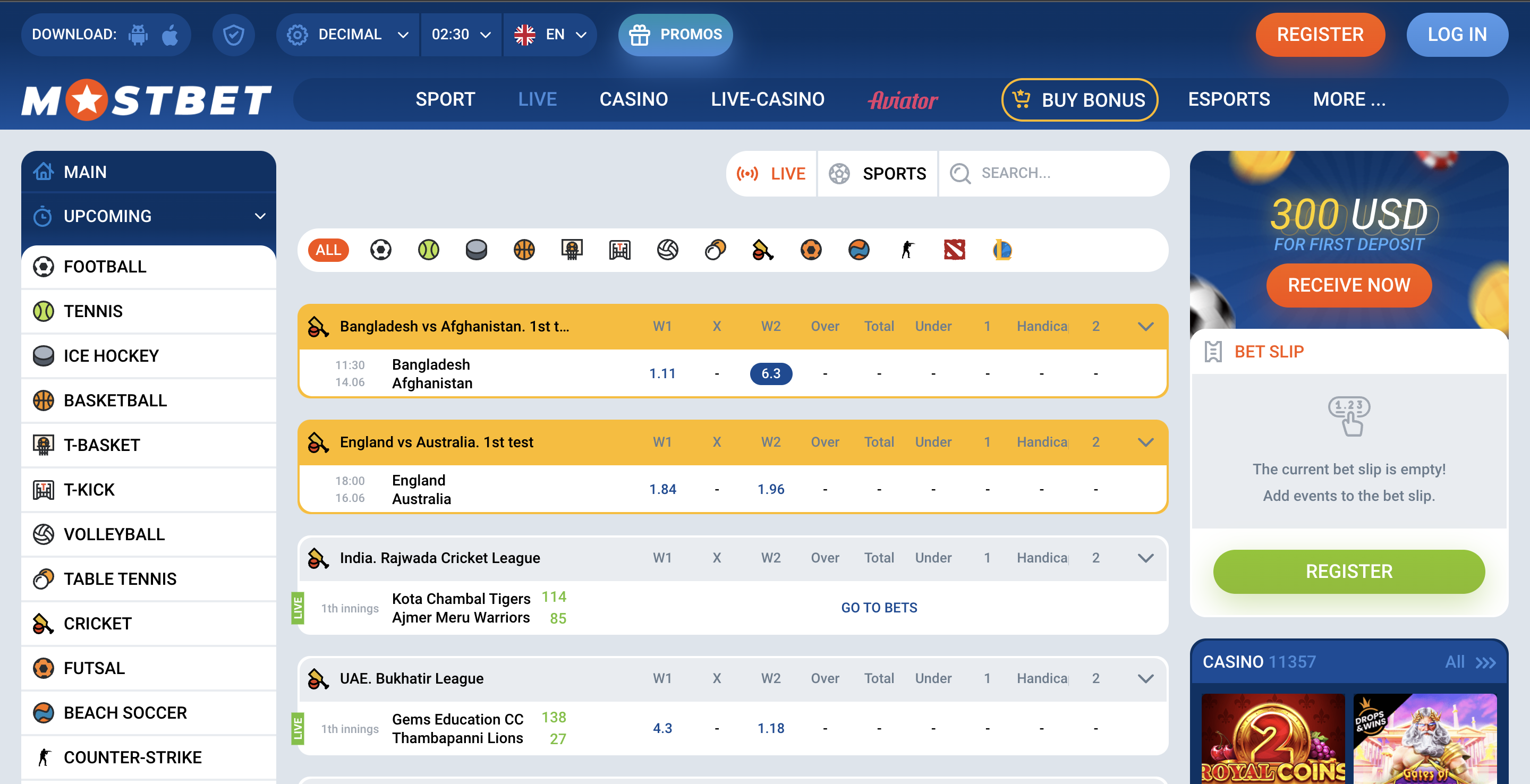 Live Streaming in Mostbet
Mostbet stands out by offering live streaming services, adding another dimension to your live betting journey. With Mostbet live streaming, you can watch the games in real-time, providing valuable insights to make informed in-play betting decisions. This feature enhances the betting excitement, allowing you to become part of the action and make live bets Mostbet based on the changing tide of the game.
Available types of bets on Mostbet
On Mostbet, you are not limited to just simple wagers; the platform offers an assortment of bet types to match your strategy. These include single bets, where you bet on one event, as well as more complex bet types such as accumulator bets. Accumulator bets are bets where you combine selections into a single wager that gains a return only when all parts win.
Mostbet also offers systems of bets, where you make several picks, and it generates all possible combinations of accumulator bets for them. It allows you to mitigate risks and still reap substantial returns if most of your predictions come true.
Additional Betting Tools
Mostbet goes beyond offering just betting opportunities, providing additional tools to enhance your wagering journey. The Mostbet cash out feature allows you to secure your winnings or cut your losses mid-game. If your bet is going well, you can cash out to secure a profit. Conversely, if your bet seems like it's not going to win, you can cash out early to recover a portion of your stake.
How to Place Bets at Mostbet?
Placing bets at Mostbet is a straightforward process. After setting up your account and making your first deposit, navigate to the sports section. Here, you'll find an assortment of sports and markets to wager on. Select your preferred sport, then the specific game you wish to bet on. Once you've chosen, you'll find various betting options to pick from. Click on the odds corresponding to the bet you want to make. This selection will then be added to your betting slip, where you can enter the amount you wish to stake. Confirm your bet, and you're done! You've placed your bet at Mostbet.
How to Place Stakes at Mostbet with the App?
If you prefer wagering on-the-go, Mostbet offers a user-friendly mobile app for both Android and iPhone users. The process of placing stakes via the app mirrors the steps on the website. After launching the app, choose your sport, select the game and your preferred market. Click on the odds related to your bet, and it will be added to your betting slip. Enter the stake you wish to place, and confirm your bet. It's that easy! The Mostbet app makes mobile betting a breeze, ensuring you never miss a chance to place your bets, no matter where you are.
Our experience of betting on Mostbet
Drawing on our expertise, our team decided to engage in two distinct betting opportunities on the Mostbet platform. We had a budget of 500 USDT.
The first bet we placed was a pre-match bet on a football game, a classic bet. Our chosen event was the upcoming Premier League clash between Liverpool and Chelsea. Given Liverpool's superior form in recent games, we decided to back them for a win. The odds offered by Mostbet for this outcome were 1.8. We staked 300 USDT on this, hoping for a successful outcome. And we was right.
As the game kicked off, we switched our attention to the Live Betting section of Mostbet. The in-play betting feature on Mostbet is robust, offering a thrilling experience as the game unfolds. We noticed that a Dota 2 eSports match was in progress. The teams in action were Team Secret and OG, two powerhouses in the Dota 2 scene.
We decided to place an in-play bet on the 'total kills' market in this match. The line was set at Over/Under 45.5 kills, with both options priced at 1.9 odds. Given the aggressive nature of both teams, we decided to take the 'Over' option. We staked the remaining 200 USDT on this outcome, but, unfortunately, luck turned away from us and it was not confirmed.
These bets placed by us were influenced by our understanding of the sports and teams involved. Football bets like the Moneyline offer simplicity and depend largely on team form, while eSports bets like the 'total kills' market in Dota 2 require understanding the playstyle of the teams involved. The outcome of our bets is dependent on these variables, making the betting process exciting and unpredictable at the same time.
After testing Mostbet through this process, we found that the platform provides a wide range of betting options and markets, catering to the diverse preferences of punters. Whether you're a fan of traditional sports like football or modern eSports like Dota 2, Mostbet offers betting opportunities that can make your betting experience engaging and potentially rewarding.
Mostbet Online Casino
As well as being a top bookmaker, Mostbet also boasts an impressive online casino. Our experience showed that players who enjoy casino games as much as sports betting will appreciate the variety of games on offer.

Providers of Slot Games Available at Mostbet
Diverse software providers power the Mostbet online casino, leading to an expansive array of slots for players to enjoy. These providers include industry titans like Amatic, EVOPlay, NETENT, Pragmatic Play and YGDRASIL, all known for their high-quality graphics, innovative features, and engaging gameplay. These providers ensure a variety of themes and genres, catering to the tastes of all kinds of gamblers.
Availability of Asian and Hunting Slot Games at Mostbet
Our tests of Mostbet have shown that the casino offers a wide range of slots, including those with Asian themes, fishing and hunting themes. The Asian slots, with their oriental aesthetics and traditional symbols, offer a taste of the East, while hunting slots take players on adventurous chases, adding a thrilling element to the spinning of the reels.
Top Casino Games Available at Mostbet
The Mostbet gambling site isn't just about slots. They provide an array of casino games that cater to every player's preferences.
For those who prefer classic table games, you'll find varieties of blackjack, roulette, poker, and baccarat. These games provide a touch of the traditional casino experience, allowing players to strategize and test their skills.
Additionally, for the players interested in an immersive casino experience, Mostbet offers a top-notch live casino. Real dealers host these live games, adding an authentic touch to your gameplay.
Finally, for the gamers who enjoy instant wins, Mostbet hasn't forgotten you. They provide a selection of scratch cards and other instant win games, perfect for those quick gaming moments.
Live Casino at Mostbet
For bettors who yearn for the thrill of a physical casino but love the convenience of online gaming, Mostbet's live casino is an enticing feature. Here, players can participate in real-time games, staking against opponents from around the globe. Whether it's a round of poker, roulette spins, TV Games, Wheels or an intense session of blackjack, Mostbet's live casino ensures an immersive betting experience.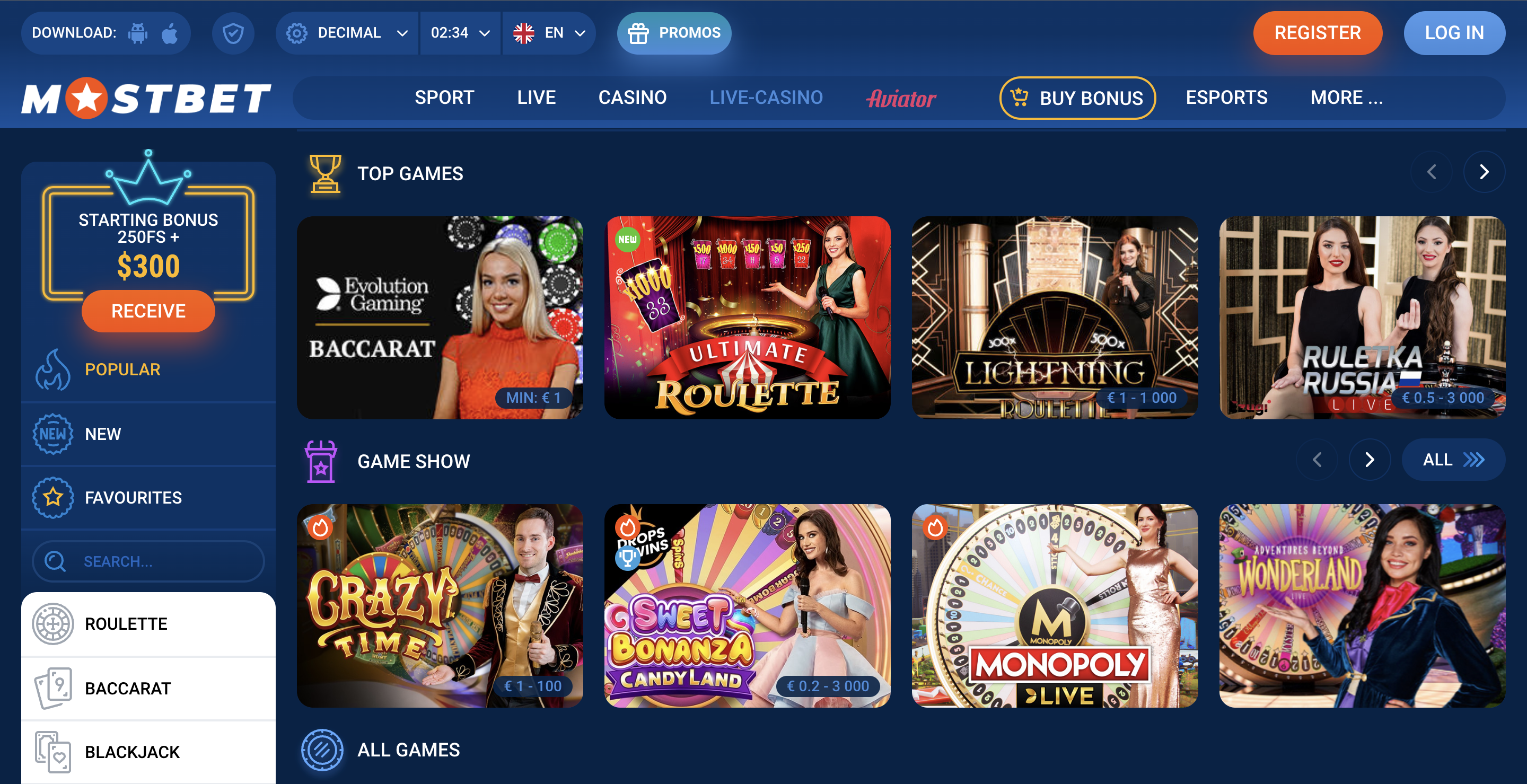 Live Games Providers in Mostbet
At Mostbet, they understand that quality and reliability are paramount, especially when it comes to live dealer games. This is why they have partnered with the industry's best software providers, including Evolution Gaming, Pragmatic Play and Ezugi. These providers offer high-definition streaming, professional dealers, and an interface that's easy to navigate, giving bettors a seamless gaming experience.
Advantages of Live Casino Games at Mostbet
Playing with real dealers on Mostbet comes with a multitude of benefits. For starters, it brings the real-life casino experience right to your screen, complete with the ambiance and the adrenaline rush. Bettors can observe the live dealers, watch the game unfold in real-time, and even chat with the dealer and other players, enhancing their gaming experience.
The variety of games is another standout feature of the live casino at Mostbet. They host a range of table games, from different versions of poker and blackjack to roulette and baccarat. This variety ensures that there's something for every type of player.
Another significant advantage of Mostbet's live casino is its accessibility. With its mobile-friendly platform, bettors can enjoy their favorite live dealer games anytime, anywhere. The platform is easy to navigate and optimally responsive, ensuring an enjoyable gaming experience on the go.
In our tests, Mostbet's live casino met all our expectations, offering a thrilling, real-time gaming environment combined with the convenience and accessibility of online gaming. The result is an engaging and immersive casino experience that truly stands out.
Instant Games at Mostbet
For those looking for a quick betting thrill, Mostbet offers an enticing selection of instant games. Designed with fast-paced gameplay and immediate payouts, these games are perfect for bettors seeking immediate gratification. The casino's library boasts popular crash games such as Aviator and JetX, adding a layer of excitement for punters.
Aviator Game at Mostbet
One of the most played social casino games at Mostbet is the Aviator. This game presents a fresh take on the classic crash game, offering a thrilling experience where the player bets on the flight trajectory of an airplane. The higher the plane flies, the higher the potential returns. However, the risk lies in the fact that the plane can crash at any moment, so players need to cash out before it does.
JetX Game Mostbet
JetX, another popular crash game at Mostbet, operates on a similar premise to Aviator but with its unique twist. Instead of an airplane, players wager on a rocket's flight trajectory. The higher the rocket soars, the greater the potential returns, but the catch is the rocket can explode anytime, causing a loss of the stake if not cashed out in time. The game design is sleek, making it not only engaging to play but also enjoyable to watch. It brings a level of excitement and anticipation that few instant games can match.
How to Start Playing at Mostbet Casino
Embarking on your gaming journey with Mostbet Casino is straightforward. First, navigate to the casino's official website and click the 'Register' button. Complete the registration process by filling out the required information, including a valid email address and a secure password. Once your account is set up, you can proceed to make your first deposit. Mostbet offers a plethora of payment methods, catering to a wide range of preferences.
After funding your account, you're all set to start exploring the vast array of casino games available at Mostbet. Choose from a diverse mix of slot machines, table games, live dealer games, and more. Always remember to play responsibly and set limits to manage your gaming activities effectively.
How to Start Playing at Mostbet via App
For those who prefer gambling on the go, Mostbet has a user-friendly mobile app compatible with both iOS and Android devices. Start by downloading the app from the website or the respective app store for your device. After installing the app, follow the same registration process as described above.
Once you've logged into your account via the Mostbet app, making a deposit is simple. Navigate to the banking section, choose your preferred payment method, and follow the on-screen instructions. With the funds in your account, you're ready to dive into the gaming action available on Mostbet right at your fingertips. Remember to set notifications on the app to stay updated with the latest promotions and new game additions.
Our experience of gamble in casino Mostbet
As part of our casino experience at Mostbet, we were eager to test out a variety of games, armed with a balance of 500 USDT. After much deliberation, we decided to opt for a blend of traditional slots and the electrifying atmosphere of live casino games.
First, we chose 'Money Train 2' from Relax Gaming, a popular slot game known for its high volatility and a whopping maximum win of up to 50,000 times your stake. We started with modest bets of 5 USDT, gradually feeling the rhythm of the game. The game's unique Respin and Money Cart bonus feature soon activated, which resulted in our first significant win, pushing our balance up by 100 USDT. We continued spinning for a while, occasionally experiencing both wins and losses. Our strategy was to capitalize on the slot's high variance, hoping for massive wins in the bonus rounds.
Next, we moved on to Evolution's 'Lightning Roulette', a live casino game offering an immersive experience with the added excitement of lucky numbers that can award multiplied payouts of up to 500x. With 300 USDT left in our balance, we decided to bet 20 USDT per round, spreading them across various numbers on the table. Our strategy was to cover as many possibilities as possible, aiming for the multiplied payouts. Several rounds passed without any significant win, but then lightning struck on our number '8', bringing us a substantial 300 USDT win.
In the end, our balance was slightly up from where we started, and the thrill of playing both games was unforgettable. It's essential to remember, though, that casino gaming is based on randomness, and wins can never be guaranteed. Always play responsibly and enjoy the experience for what it is – entertainment.
Mostbet Online Poker Room
Mostbet's online gambling offerings are not just limited to sports betting and casino games; they also host a robust online poker platform. The Mostbet online poker room offers an exciting and immersive experience for both seasoned and novice players alike. However, as our experience has shown, poker is not a priority for Mostbet and the number of tables is very limited. This section of the Mostbet review focuses on the offerings and facilities of online poker at Mostbet.
Poker Types available on Mostbet
The variety of poker games available on Mostbet is a compelling feature that draws players. They host an array of poker types, offering an assortment of options to suit different playing styles and skill levels. Players can choose from popular poker variants such as Texas Hold'em, Triton and Omaha, among others. Each game type comes with its unique rules and strategies, adding depth to the gameplay experience. The diversity of poker types available at Mostbet ensures players never run out of new challenges.
Poker Tournaments at Mostbet
In addition to the different types of poker, Mostbet offer poker tournaments. These tournaments range from smaller daily competitions, perfect for beginners to take their first steps in competitive poker, to larger, more challenging tournaments that attract experienced poker players looking to compete at a higher level. These tournaments not only offer substantial winnings but also provide an excellent platform for players to test their skills against a diverse pool of opponents.
Participation in Mostbet's poker tournaments often involves an affordable buy-in, enabling players with different bankroll sizes to get a taste of competitive poker action. The tournaments at Mostbet are well-organized and timely, ensuring an enjoyable, hassle-free experience for players.
Welcome Bonus 'BONUS OF UP TO 300 USD'
Mostbet offers a generous welcome bonus of up to 300 USD on your first deposit. To receive this, you need to select your desired bonus (for sports or casino) when registering and deposit your account with a minimum of 2 USD within 7 days after registration. The standard bonus equates to 100% of your deposit amount. For instance, if you deposit 100 USD the day after registration, you will receive an additional 100 USD as a bonus.

An elevated bonus of 125% of your deposit amount can be obtained by depositing within 15 minutes of registration. If you deposit 100 USD within this period, your bonus will amount to 125 USD. The maximum bonus attainable is 300 USD or its equivalent in other currencies.
In addition, Mostbet offers 250 freespins in the casino for first deposits equal to or exceeding 20 USD made within 7 days of registration. These freespins are allocated over 5 days and are available for betting within 24 hours of issue.
'BONUS OF UP TO 300 USD' Wagering Requirements
It's crucial to understand the wagering requirements of this bonus. The terms and conditions state that this offer is only available for new customers of Mostbet registered from 19.12.2022 to 19.12.2023. Various currencies are applicable for this bonus offer, ensuring a wide reach for Mostbet's user base.
Mostbet has clear wagering requirements for their welcome bonus. For the "Sport" bonus, within 30 days of the first deposit, the bonus amount received must be wagered 5 times using accumulator bets. At least 3 events in the accumulator must have odds of 1.40 or higher. If the conditions are not met within this period, the bonus balance is nullified.
The "Casino" bonus stipulates that the received bonus amount must be wagered 60 times in the "Casino", "Live-Games" and "Virtual Sports" sections within 72 hours of the first deposit. However, it is important to note that not all games contribute equally to the wagering requirement. For instance, "Live-Games" and "Virtual Sports" only contribute 10% of the bet towards the wagering requirement. The list of available games is subject to change and may vary between the website and mobile version.
Mostbet Bonuses and Promotions
Mostbet offers a range of enticing bonuses and promotions to both newcomers and existing users, adding an extra layer of excitement to the betting and gaming experience. Their diverse suite of offers keeps users engaged and encourages them to explore different sections of the platform.
Deposit 25-150% Bonuses
One of the key attractions at Mostbet is the impressive array of Deposit bonuses. This is essentially a deposit promotion program that caters to both sports bettors and casino enthusiasts. Depending on your choice of gaming category and the amount you deposit, the bonus ranges from a minimum of 25% to a maximum of 150%.
However, the intrigue of Deposit Bonus doesn't end there. This bonus is not merely a one-time offering. Instead, it extends to cover the first five deposits made by a user, with each deposit coming with its own unique bonus percentage and conditions. This layered approach encourages sustained interaction with the platform and enhances the overall gaming experience.
'Deposit 25-150% Bonuses' Wagering Requirements
Yet, like any responsible gaming platform, Mostbet ensures fair play with Deposit Bonus wagering requirements. These requirements dictate how a player can use the bonus and turn it into withdrawable cash. They may involve placing a specific number of bets, wagering a certain amount, or playing particular games. This means that while the bonuses provide additional leverage for your gaming journey, they also come with certain responsibilities.
It's recommended that players familiarize themselves with the latest conditions and the full list of bonuses available. This information can easily be found on Mostbet's official website, ensuring transparency and providing players with all the necessary details to make the most of Deposit 25-150% Bonuses.
10% CASHBACK AT THE CASINO
Mostbet offers a fantastic cashback bonus scheme to its players as part of 10% CASHBACK AT THE CASINO. When the tides of luck don't favor you, this 10% Casino Cashback feature steps in, ensuring that a portion of your losses get returned to you at the beginning of each week.
The cashback rate varies based on the extent of your losses. A 5% cashback is triggered at losses of 500 THB, 1000 RUB, or 50 EUR. The rate increases to 7% when losses reach 2500 THB, 5000 RUB, or 250 EUR. The maximum cashback of 10% is granted when losses amount to 15000 THB, 25000 RUB, or 1000 EUR.
'10% CASHBACK AT THE CASINO' Wagering Requirements
You can use this cashback in multiple ways: wager it using a real account and then transfer it to the main account, or place bets in games using a bonus account. If you're successful in boosting your cashback bonus while wagering, you stand a chance to earn up to ten times the cashback amount!
Cashback is calculated every Monday at 03:00 UTC+3, and it's crucial to claim it within 72 hours of this calculation from the 'My Status' section. Unclaimed cashback gets annulled after this period. All bets and spins from 00:00 UTC+3 on Monday until 23:59 UTC+3 on Sunday are considered for the cashback calculation.
Please note that the cashback promotion is available to all mostbet.com players who place bets in the Casino, Live Casino, Virtual Sports, and Live Games (TV Games) sections and meet the specified conditions. However, players with a positive weekly profit do not qualify for cashback.
Finally, keep in mind that the cashback credited to your bonus balance needs to be wagered three times within 72 hours. The maximum amount you can transfer to your real balance is ten times the cashback received. Cashback is wagered only with the real balance.
VIP loyalty program in Mostbet
The Mostbet VIP Loyalty Programme is an invaluable offering that awards active players with additional freebets, bonus points, and cashbacks. Players can elevate their status in this program by completing various tasks listed in their personal account.
To get started, sign up on the Mostbet website and navigate to your profile section. Here, your status in the Loyalty Programme—ranging from Rookie to Legend—is revealed. The higher your status, the more bonuses you unlock, enhancing your gaming experience.
The rewards vary significantly as you progress through the statuses. For instance, as a Rookie or Amateur, the exchange rate for Mostbet-coins is 20:1. However, it significantly improves to 4:1 when you become a Legend.
Additionally, the size of the freebets you receive increases as your status improves. Starting with a freebet of 2000 THB at Rookie status, the reward increases incrementally until you reach the Legend status, where you are rewarded with a whopping freebet of 250000 THB!
The Mostbet loyalty programme truly values active players by offering lucrative rewards and bonuses based on their level of engagement, making the gaming experience more rewarding and enjoyable.
Promo Codes: How to get and use promocodes at Mostbet?
In the exciting world of Mostbet's online gaming platform, the opportunity to enhance your experience lies in the use of promo codes. The Mostbet promocode is a simple and effective way to gain access to exclusive bonuses, games, and opportunities. These promo codes are often shared via newsletters, promotional campaigns, and on the official Mostbet website.
To use a Mostbet promocode, navigate to your account settings. There, you'll find a designated section to enter the code. Once you input and submit the code, the associated bonus is instantly activated, and the benefits it carries are added to your account. Promo codes at Mostbet are often linked to specific games, increased odds, or deposit bonuses, making each gaming session potentially more rewarding than the last.
Do remember to keep an eye on the expiration dates of these codes, as they are usually time-sensitive. By staying updated with the latest promo codes Mostbet provides, you ensure that you're optimizing your gaming experience with exclusive benefits and thrilling opportunities.
Mostbet Payment Methods
One crucial factor players consider when choosing an online casino or bookmaker is the ease and safety of transaction processes. Mostbet ensures that its users can deposit and withdraw funds seamlessly, offering a broad range of payment methods. Mostbet's deposit methods and withdrawal methods offer flexibility and convenience, meeting the various financial preferences of its global user base.
Available Deposit and Withdrawal Methods at Mostbet
Mostbet provides numerous options for both deposits and withdrawals, accommodating credit and debit cards such as Visa and MasterCard, and various e-wallets. Cryptocurrency enthusiasts will also appreciate the provision to transact using Bitcoin, Ethereum, and a few other popular cryptocurrencies.
The minimum deposit Mostbet allows varies according to the payment method, but it's generally set at a very accessible level to cater to all types of players. Similarly, the minimum withdraw Mostbet processes also depends on your chosen payment method, again designed to be as accommodating as possible.
| | |
| --- | --- |
| Minimum Deposit  | $2-10 |
| Minimum Withdrawal  | $15 |
| Maximum Withdrawal  | $5,000 per day; $15,000 pew week, $50,000 per month |
How to Deposit Money at Mostbet?
Depositing funds into your Mostbet account is a straightforward process. After logging into your account, navigate to the 'Deposit' section. There, you can select your preferred deposit methods Mostbet provides and enter the amount you wish to deposit. The transaction is processed almost immediately, and the funds appear in your account, ready for you to enjoy the platform's range of games.
How to Withdraw Money from Mostbet?
When it comes to withdrawal, Mostbet ensures the process is equally smooth. To withdraw funds, go to the 'Withdraw' section in your account. Choose from the range of withdrawal methods Mostbet offers, and input the amount you wish to withdraw. After confirming your withdrawal, Mostbet processes the transaction. The waiting period for the funds to reflect in your account depends on your chosen withdrawal method.
It's worth mentioning that before your first withdrawal, Mostbet may require you to verify your identity for security purposes. This is a standard industry practice intended to prevent fraudulent activities and ensure the safety of your funds.
Registration at Mostbet: How to Sign Up?
Getting started with Mostbet is a simple and straightforward process. It involves a few quick steps that'll have you ready to start enjoying the platform's range of gaming and betting options. Here is a detailed guide to help you navigate the registration process at Mostbet:
Step 1: Visit Mostbet. Start your journey by visiting the Mostbet official site. If you are unable to access the main site, you can follow our link to an official Mostbet mirror site. This is an identical replica of the main site, allowing you to sign up Mostbet without any hindrance.
Step 2: Sign Up. Upon landing on the Mostbet home page, you will see the option to "Register Mostbet". Click on it, and you will be directed to a registration form. Fill in your details accurately, including your email address and preferred password. This information will be crucial for your future Mostbet login.
Step 3: Make a Deposit. After completing your registration on Mostbet official site, the next step is funding your account. Navigate to the "Deposit" section, select a suitable payment method, and input the amount you wish to deposit. The funds will reflect in your account almost instantly.
Step 4: Place a Stake. With your account funded, you can now explore the wide variety of games and sports betting options Mostbet offers. Make your selections, place your stakes, and start enjoying your Mostbet experience.
Registration Requirements
To sign up for a Mostbet account, you must be at least 18 years old. This age requirement ensures compliance with global gambling regulations. Additionally, you may need to provide personal identification during registration or before your first withdrawal to verify your identity.
How to Register with Mobile App?
The Mostbet mobile app offers a seamless registration experience. After downloading the app, tap on the 'Sign In' option, then choose 'Register'. You'll need to enter your details and create your Mostbet login credentials, just as you would on the desktop site. Once you've completed these steps, you're ready to start playing on the go.
How to Get a Welcome Bonus Mostbet with Registration?
Mostbet offers a generous welcome bonus to new users. During registration, choice and claim your welcome bonus. Please note that terms and conditions apply, such as wagering requirements, which you should review before claiming the bonus.
Mostbet Account Verification Instruction
Ensuring the security and integrity of players' data is of utmost importance at Mostbet. To accomplish this, the platform requires players to go through an account verification process.
The verification process is straightforward. After registration, navigate to the 'Account Verification' section in your profile. You'll be asked to provide some form of identification, such as a passport or driver's license, to verify your identity. This is in line with the company's commitment to adhering to global gambling regulations and preventing fraudulent activities.
Additionally, you may need to provide a recent utility bill or bank statement as proof of residence. This document should contain your full name and residential address and must not be older than three months.
Ensure that the photos or scans of your documents are clear and that all necessary details are easily readable. Uploading unclear or partial documents may delay the verification process.
Once your documents have been submitted, the Mostbet team will review them, usually within 24-72 hours. After successful verification, you'll be able to withdraw your winnings without any hindrance.
Mostbet Mobile App for Android and iOS
Convenience and accessibility are crucial for online betting and casino platforms, and Mostbet ensures this with their highly optimized mobile application available for both Android and iOS devices. The Mostbet app brings all the features of the desktop site to your handheld device, making it easier to place bets, play casino games, and manage your account on the go.
System Requirements Mostbet App for Android and iOS
The Mostbet app is designed to be compatible with a broad range of devices. For Android users, the app requires an operating system of Android 5.0 or later, while iOS users will need iOS 9.0 or later. These requirements ensure that the app runs smoothly, providing users with a seamless and enjoyable experience.
How to Download Mostbet APK for Android?
Downloading the Mostbet APK on Android is straightforward. Given Google Play Store's restrictions on betting apps, the APK must be downloaded directly from the official Mostbet website. Navigate to the mobile app section and find the 'Download for Android' button. Clicking this will initiate the APK download.
How to Install Mostbet App on Android?
To install the Mostbet app, locate the downloaded APK file in your device's download folder and tap on it to begin installation. If it's your first time installing an APK file, you may need to enable 'Allow installations from unknown sources' in your device's security settings. Once the installation process is complete, the app is ready for use.
How to Download and Install Mostbet App on iOS?
For iOS users, the process is more straightforward as the app can be downloaded directly from the Apple App Store. Just search for 'Mostbet' in the App Store and click 'Get' to start the download. After downloading, the app will automatically install on your device.
How to Update Mostbet App?
Mostbet is committed to providing a secure and user-friendly experience, which includes regular app updates. For Android users, any available updates will be provided via the official Mostbet website where the latest APK can be downloaded. For iOS users, updates can be done directly from the App Store. Remember to always update your app to enjoy new features, improved functionality, and ensure your app remains secure.
Tips and Best Practice for playing at Mostbet
When engaging with Mostbet's vast array of betting and online casino offerings, a few best practices can enhance your experience. First and foremost, familiarize yourself with the platform. Explore the different categories of games, odds, and betting options.
Ensure you understand the terms and conditions of each game and bonus offers such as wagering requirements. This includes the lucrative welcome bonus, as well as subsequent promotions. By doing so, you're more likely to maximize your potential winnings and minimize potential losses.
Budgeting is also essential. Decide on an amount you're comfortable losing and stick to it. This prevents over-spending and keeps the gaming experience enjoyable. Remember, responsible gaming is paramount.
Keep an eye on Mostbet's promotions and bonus offers. These are regularly updated and can provide great value. Participate in the loyalty program to earn points and rewards. This can greatly enhance your gaming experience and provide extra opportunities to win.
Lastly, use the Mostbet mobile app. This gives you the flexibility to play and bet on the go. The app provides all the functionality of the desktop version, ensuring you never miss out on any action.
Mostbet Mobile Website
Mostbet provides a seamless mobile website experience, allowing you to access their wide range of betting options and casino games on the go. The mobile website is designed to be user-friendly and responsive, catering to both Android and iOS devices.
How to use the Mostbet Mobile Website?
To access the Mostbet mobile website, simply open your mobile browser and visit the Mostbet website. The mobile website will automatically adjust to fit your device's screen size, ensuring a smooth and optimized experience.
Once on the mobile website, you can navigate through the different sections, such as sports betting, casino games, live casino, and more. The menu is conveniently located, allowing you to switch between different categories with ease.
Placing bets and playing casino games on the mobile website is intuitive. You can easily browse through the available options, select your desired event or game, and place your bets or make deposits directly from your mobile device. The mobile website is designed to provide a seamless and immersive experience, ensuring you don't miss out on any of the action while on the move.
Mostbet License and Fairness
Mostbet holds a valid and recognized Curacao license, ensuring a safe and secure gaming environment for its users. The company operates under the regulations and guidelines set by the licensing authority, which guarantees the fairness and integrity of the games and betting options offered on the platform.
Mostbet Customer Support
Mostbet offers reliable customer support to assist users with any questions or concerns they may have. The customer support team is available 24/7 and can be reached through various channels, including live chat and email. They are responsive and knowledgeable, ensuring that your queries are addressed promptly and effectively.
Whether you need assistance with account-related issues, bonuses and promotions, or technical difficulties, the customer support team is there to help. They strive to provide a positive and helpful experience, ensuring that you can enjoy your time on the platform with peace of mind.
Final Opinion on Mostbet as bookmaker and online casino
In conclusion, Mostbet stands out as a reliable and comprehensive online bookmaker and casino. With competitive payout percentages in popular sports like football, basketball, and tennis, along with a wide range of betting markets and convenient cash out options, Mostbet offers an exciting and user-friendly betting experience. The availability of mobile apps for both Android and iOS devices allows players to enjoy their favorite games on the go. However, it's important to note that Mostbet operates under a Curacao license, and while it supports multiple languages and accepts crypto payments, it may have limited sports and handicap options. Despite these considerations, Mostbet's diverse offerings and 24/7 customer support make it a notable choice for both sports betting and casino enthusiasts.
Read this page in other languages:
Accepted Cryptocurrencies
Available Games
Supported Languages
Software Providers
Pros
Competitive Payouts: Mostbet offers high payout percentages in popular sports like football, basketball, and tennis, ensuring better returns for players.

Wide Range of Markets: With over 180 football markets and a variety of betting options like card and corner bets, Mostbet provides extensive coverage and choices for sports enthusiasts.

Convenient Cash Out Options: The bookmaker offers cash out, allowing players to secure their winnings or minimize potential losses before the event ends.

User-Friendly Mobile Apps: Mostbet provides mobile apps for both Android and iOS devices, enabling users to access their favorite sports and casino games on the go.

Multilingual Support and Crypto Payments: Mostbet caters to a global audience by supporting multiple languages on its website and accepting payments in cryptocurrencies, offering convenience and flexibility.
Cons
Curacao License: Some users may have concerns about the bookmaker's Curacao license, as it may not hold the same level of regulatory oversight as licenses from other jurisdictions.

Limited Range of Sports and Handicaps: While Mostbet covers a decent number of sports, the range of available sports and handicaps may be less comprehensive compared to other bookmakers.

No Bet Builder: Mostbet does not provide a bet builder feature, limiting the customization options for players in creating their own unique bets.