This comprehensive review of Sportsbet.io, a leading online bookmaker and casino, is an indispensable guide for both novice and seasoned gamblers. The article unravels all essential aspects of the platform such as registration, payment methods, mobile app functionality, user experience, and customer support. It provides a balanced view by highlighting both the strengths and areas of improvement. Aimed at assisting potential users in making informed decisions, the review offers practical insights into the platform's offerings. By reading this article, you will gain a thorough understanding of what to expect when playing at Sportsbet.io.
Review of the bookmaker and online casino Sportsbet.io is also available in other languages:
About Sportsbet.io Company
Established in 2016, Sportsbet.io has made a notable impact in the online gaming industry. It is owned by mBet Solutions N.V. and operates under a gambling license from Curacao. The platform caters to a diverse audience with an extensive range of sports betting options across American Football, Baseball, Boxing, Cricket, Tennis, and many more. Not just sports, it also extends its prowess to esports betting lines like CS:GO, Dota 2, and Valorant, to name a few.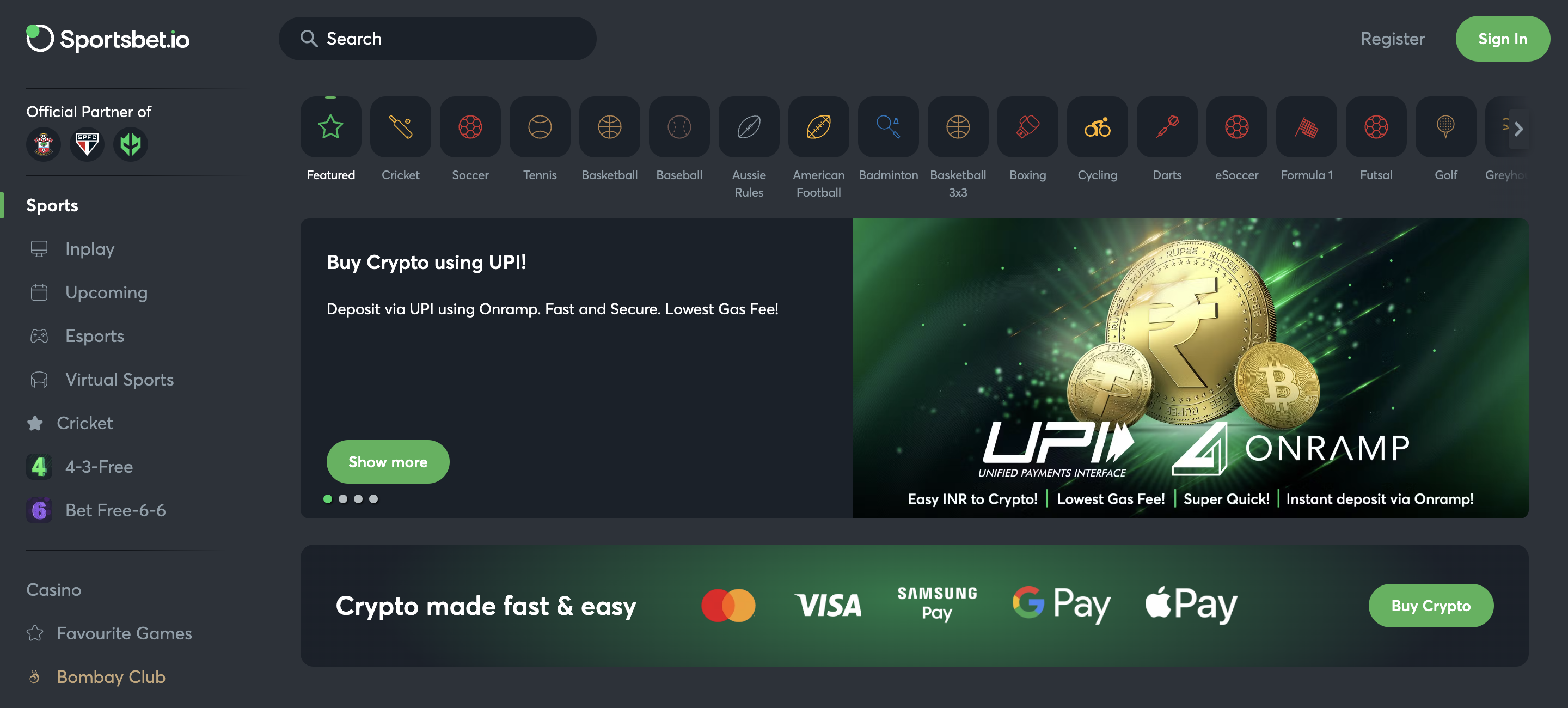 The versatility of Sportsbet.io extends beyond its betting markets and lines. Its website supports multiple languages including English, Japanese, German, and Spanish, and it accepts a broad array of currencies, from traditional ones like Euro and Yen to cryptocurrencies such as Bitcoin and Ethereum.
Quick Advantages to Play Games at Sportsbet.io
Placing a wager with Sportsbet.io is more than just about betting. It's about experiencing a platform that values user convenience and satisfaction. Offering minimum bets as low as $0.07, the bookmaker ensures affordability, while the potential for high returns is signified by a max profit of 2,000,000.
Moreover, depositing and withdrawing money is streamlined with various methods including credit cards, Tether, Metamask, and even instant JPY bank transfers. The platform also boasts a prompt customer support system available 24/7 via email and live chat, ensuring any issues are promptly addressed.
Sportsbook Sportsbet.io
Sportsbet.io isn't just a name, it's a brand renowned for its comprehensive sportsbook that caters to a diverse betting audience. A complete gambling arena, the bookmaker Sportsbet.io offers a wide variety of sports betting markets, creating a tailored betting environment for its users.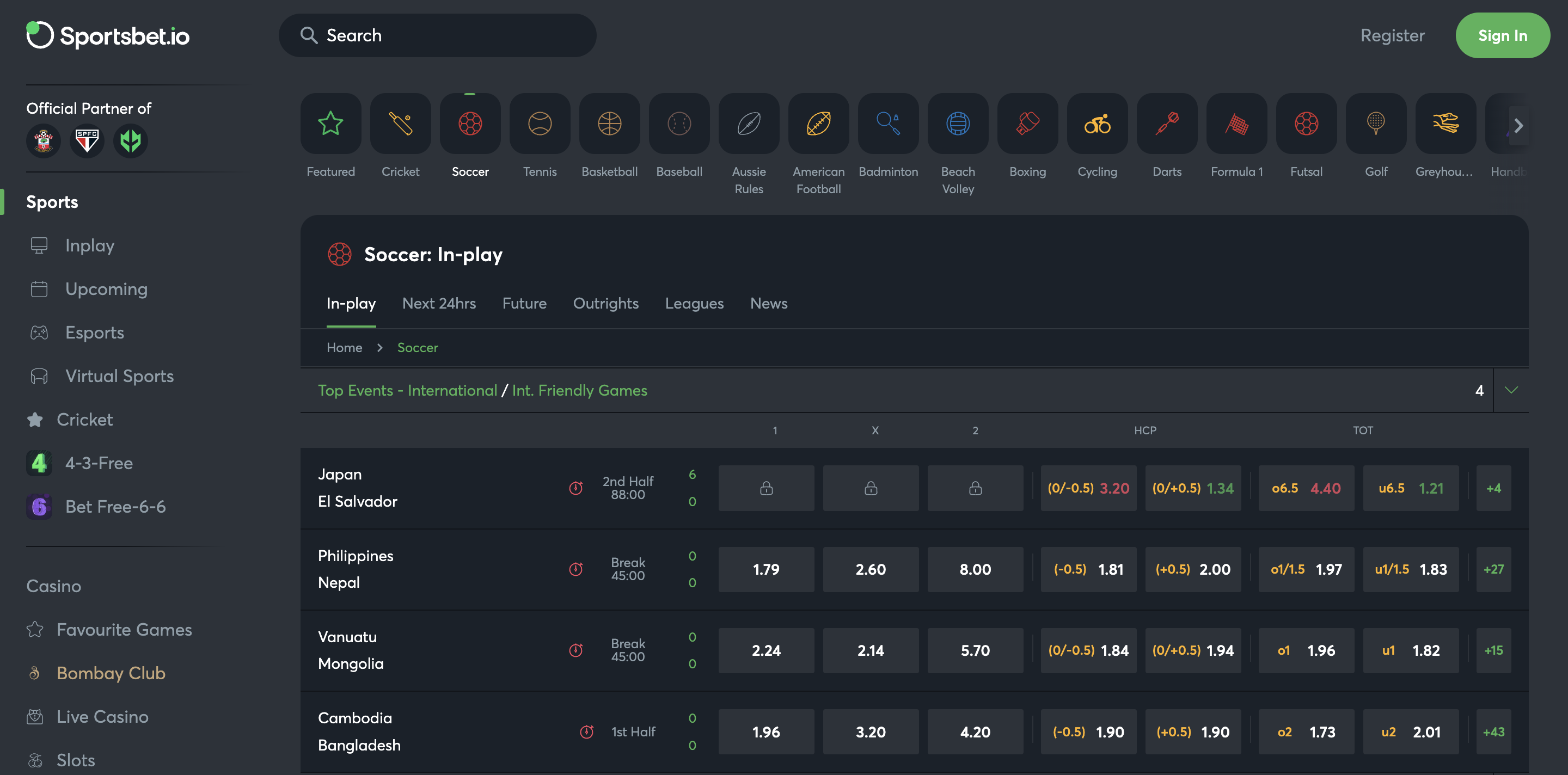 Most Popular Sports Betting Markets in Sportsbet.io
Other Betting Markets Available at Sportsbet.io
Beyond the popular sports, Sportsbet.io extends its betting markets to less traditional but equally exciting sports and activities. With the inclusion of sports like Golph, Waterpolo, Horses, Sportsbet.io ensures every bettor's preference is catered to.
Live Betting in Sportsbet.io
Live betting, or in-play betting, is a thrilling feature of Sportsbet.io that takes the excitement of sports wagering to a whole new level. With live betting Sportsbet.io allows you to place bets on ongoing matches, ensuring a dynamic and engaging betting experience. The rapidly changing odds in real-time, influenced by the unfolding on-field action, provide an adrenaline rush unmatched by traditional pre-match betting.
Live Streaming in Sportsbet.io
Sportsbet.io does not provide a live streaming feature for sports events. However, they do still offer extensive live, in-play betting options, which allow you to bet on games and matches as they're happening in real-time.
Available Types of Bets on Sportsbet.io
The betting options at Sportsbet.io are diverse and tailored to accommodate different betting preferences. Whether you enjoy the simplicity of single bets or the strategic complexity of accumulator bets, Sportsbet.io caters to your needs. These betting systems allow you to make multiple selections, giving you a higher chance of achieving a return on your wager.
Additional Betting Tools
Further enhancing the user experience, Sportsbet.io offers a set of innovative betting tools. The Sportsbet.io bet builder allows you to create your unique bet by combining several markets into a single wager. It enables you to customize your betting experience according to your strategy and preference.
The Sportsbet.io full cash out feature offers you control over your bets like never before. You can choose to secure a return before the event you bet on is over, protecting your stake against unexpected turnarounds in the game.
How to Place a Bet at Sportsbet.io?
Placing a bet at Sportsbet.io is straightforward and user-friendly. Begin by navigating to their website and logging into your account. If you're a new user, you'll need to register first, a process which is quick and intuitive.
Once logged in, choose your preferred sport or event from the vast array of options available in the sportsbook. You'll then need to select the specific market you wish to bet on. This could be a simple match result, or something more complex like 'Over/Under' goals in football.
After selecting your market, choose the outcome you wish to bet on and click on it. This will add the selection to your bet slip. Enter your stake – the amount you wish to wager – in the bet slip and confirm your bet. That's it! You've now placed a bet at Sportsbet.io.
How to Place a Stake at Sportsbet.io with the App?
If you're on the move, you can also place a bet using the Sportsbet.io app, available for Android devices. The process is similar to the one on the website.
Once you've logged into the app, select your preferred sport or event from the list. Choose the market and outcome you want to bet on, and click on it to add it to your bet slip. Enter the amount you wish to stake in the bet slip and confirm your bet. Betting with the Sportsbet.io app is simple, convenient, and lets you take your betting game wherever you go.
Our experience of betting on Sportsbet.io
Our team has 500 USDT to stake on Sportsbet.io. The objective is to implement a diversified betting strategy, placing a prematch bet and an in-play bet on different sports.
We decided to allocate our budget as follows: 300 USDT for the prematch bet and 200 USDT for the live bet. The prematch bet aims for a safer return, while the live bet seeks a higher risk/reward ratio, adding an element of unpredictability to the strategy.
For the prematch bet, we chose to go with a Football match, using an Asian Handicap market. We decided to back the underdog with a +0.5 handicap in a closely contested match, given the higher odds. If our team doesn't lose, we win the bet. We staked 300 USDT on this bet.
The live bet was placed on an eSports event – a Dota 2 match. Given the volatile nature of eSports and the unpredictable turnarounds, we saw an opportunity for a high-reward bet. After observing the early game and gauging the teams' form, we opted for a Live Betting option on the team trailing behind to win. This choice came with high odds due to the in-game situation. We staked our remaining 200 USDT on this bet.
The football match, being a lower-scoring game, requires strategic play, and with our handicap, even a draw would see us win. Meanwhile, in the Dota 2 match, the team we bet on has the potential for a comeback, a common occurrence in eSports. Our strategy here was to balance out our stakes, securing a safe bet and taking a risky bet for high rewards.
In the end, both of our bets won thanks to our understanding of the games and a lot of luck. Of course, the world of sports betting is unpredictable. Regardless of the outcome, this demonstrated the versatility of the betting markets and types on Sportsbet.io, as well as the strategic thinking that goes into every stake.
Sportsbet.io Online Casino
Alongside its comprehensive sportsbook, Sportsbet.io also houses an impressive online casino. The casino offers a wide array of games, from traditional classics to the latest video slots. Catering to different gaming tastes, the online casino at Sportsbet.io provides a world-class gambling experience with rich graphics, seamless gameplay, and generous payouts.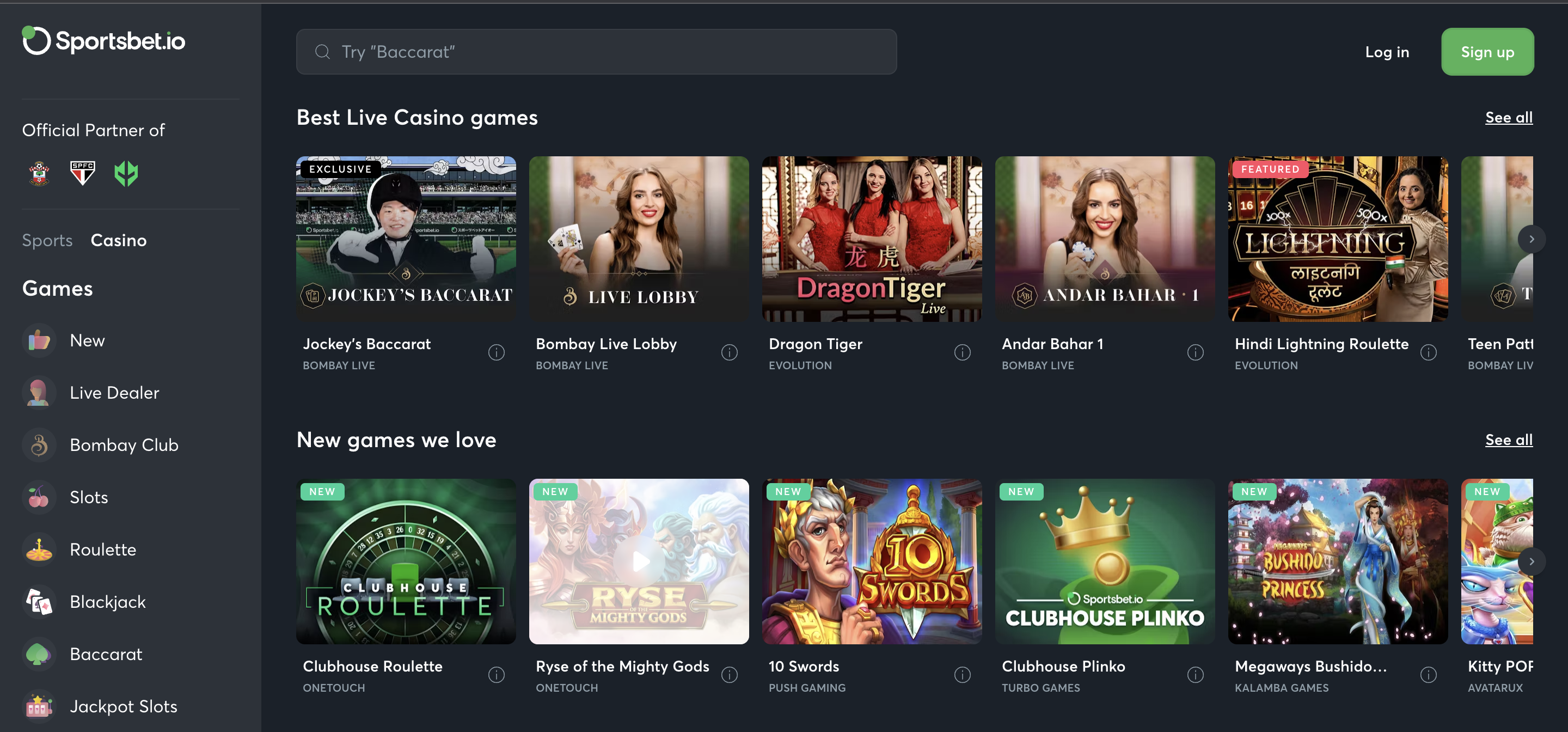 Providers Slot Games Available at Sportsbet.io
The slot game selection at Sportsbet.io's online casino is bolstered by partnerships with some of the most renowned game developers in the industry. This collaboration with multiple providers like Kalamba Games, One Tuch, NoLimit, Play'N Go, ensures a diverse portfolio of games, ranging from the simplest three-reel slots to the most complex and engaging video slots, all characterized by excellent graphics, exciting themes, and rewarding features.
Does Sportsbet.io Have Asian and Hunting Slot Games?
Indeed, the Sportsbet.io online casino offers a selection of Asian-themed and hunting slot games. The Asian-themed games often incorporate elements of Far Eastern culture into their design, offering a unique gaming experience filled with vibrant colours, symbols, and bonus features. On the other hand, hunting slot games immerse players in wilderness adventures, featuring wildlife symbols and nature-inspired themes. It's all part of the rich variety that makes Sportsbet.io a top gambling site.
Top Casino Games Available at Sportsbet.io
Aside from the extensive collection of slots, Sportsbet.io also offers a vast selection of top casino games. These include a range of table games such as roulette, blackjack, baccarat, and poker, each with multiple variants to suit every player's preference. For those seeking a more interactive experience, Sportsbet.io's live casino offers real-time gambling action with professional live dealers.
In addition, the casino provides a multitude of other games including video poker, keno, bingo, and scratch cards. They also offer a variety of innovative and exciting gameshows, making it a full-fledged casino that caters to all types of gamers.
Live Casino at Sportsbet.io
Sportsbet.io extends its high-quality gaming experience beyond standard casino games with its impressive live casino platform. Here, players can enjoy real-time gambling action, interacting with live dealers and other players from the comfort of their homes. The live casino at Sportsbet.io merges the thrill of land-based casinos with the convenience of online play, offering an immersive gaming experience that makes you feel as though you are seated at a real gaming table.
Live Games Providers in Sportsbet.io
The live dealer games at Sportsbet.io are powered by some of the industry's most esteemed providers like Bombay Live, Asia Gaming, 7Mojos, Microgaming Live and other. These game developers are known for their high-definition streams, professional and friendly dealers, and diverse game variants. The technology used ensures seamless streaming, and the interface is user-friendly, allowing players to easily place their bets, interact with the dealers, and even tip them just like at a physical casino.
Advantages of Live Casino Games at Sportsbet.io
Playing live casino games at Sportsbet.io offers numerous advantages. First, it offers a broad selection of games, from classic table games like roulette, blackjack, and baccarat to innovative gameshows. Each of these games is available in various versions, catering to all player preferences and bankrolls.
Furthermore, the interactive aspect of playing with real dealers and fellow players adds a social element to the experience. It also lends an extra layer of trust, as you can watch the game action unfold live, leaving no room for doubt about the game's fairness.
Lastly, Sportsbet.io offers high betting limits, accommodating both low-stakes players and high-rollers. With its commitment to providing a real-life casino experience in the virtual world, Sportsbet.io has created an enviable live casino platform that stands out in the crowded online gambling space.
Instant Games at Sportsbet.io
In addition to traditional sportsbook, casino, and live casino offerings, Sportsbet.io also provides players with a selection of unique and exhilarating instant games. These quick betting games offer immediate gratification, fast-paced action, and a fresh way to enjoy online gambling.
Aviator at Sportsbet.io
Among the social casino games at Sportsbet.io, the Aviator game stands out. Inspired by the classic "Crash" game, Aviator takes players on a thrilling ride where they bet on an ever-increasing multiplier. The key is to cash out before the plane (multiplier) crashes. It's a game of nerve and intuition that offers a unique and exciting betting experience. If you're quick to react and enjoy high-stakes thrills, the Aviator game at Sportsbet.io might just be your new favorite pastime.
JetX at Sportsbet.io
Another quick betting game that has captivated Sportsbet.io's players is JetX. This game's concept is similar to Aviator's, as players bet on a rocket's flight, and the aim is to cash out before the rocket explodes. Each flight represents a game round, and the rocket's speed (multiplier) increases with each round. The challenge lies in knowing when to collect your winnings. The higher the rocket soars, the greater the payout, but wait too long, and you might lose it all.
How to Start Playing at Casino Sportsbet.io?
Embarking on your gaming journey with Sportsbet.io casino is simple. First, navigate to the Sportsbet.io website and click on the "Register" button located at the top right corner of the home page. Follow the step-by-step prompts, including entering your email address and creating a password. You also need to agree to the terms and conditions of Sportsbet.io before proceeding. After you've registered and logged into your account, you can deposit funds using your preferred method from the range of payment options available. Once your account is funded, you are ready to start playing. Navigate to the 'Casino' section, choose a game that appeals to you, and click 'Play' to begin.
How to Start Playing at Sportsbet.io via App?
If you prefer playing on the go, you can access Sportsbet.io using their dedicated mobile app. Start by downloading the app from your device's app store or on the official site of Sportsbet. Once the app is installed, open it and follow the same registration process as described above. The app interface is user-friendly, making it easy to navigate through various casino games. Like the web version, once you've deposited funds into your account, you can select your preferred game and start playing right away. The Sportsbet.io app offers you the convenience of enjoying your favorite casino games, no matter where you are.
Our experience of gamble in casino Sportsbet.io
Starting with 500 USDT in our account, we decided to launch our gaming expedition on Sportsbet.io, with a plan to explore both the slot and live casino sections.
Our first stop was the slot section, where we chose 'Gonzo's Quest', one of the most popular online slots known for its exciting features and significant payouts. With 200 USDT in hand, we began our journey through the Aztec jungle. The cascading symbols, increasing multipliers during the base game, and free fall bonus round kept the adrenaline rush high. Betting higher on some rounds and lower on others, we tried to balance the risk and potential rewards, keeping in mind the game's volatility. After several spins, a successful combination landed us a substantial win, taking our total to 600 USDT.
With newfound enthusiasm, we moved to the live casino section and decided to engage with 'Roulette 1' from Bombay, a classic that brings the brick-and-mortar casino experience to your screen. We set aside 300 USDT for this endeavor. We began with smaller bets on even odds such as red/black and odd/even. After several rounds, we decided to increase the unpredictability and risk, placing a more substantial bet on a single number. The excitement was high as the wheel spun, and the ball finally landed on our chosen number! Our strategy of balancing between safe bets and high-risk, high-reward bets paid off, and we finished the session with a total of 900 USDT.
The real casino experience on Sportsbet.io was exhilarating. The thrill of playing, the anticipation with every spin and roll, and the joy of winning made the gaming adventure memorable. Always remember to play responsibly and understand the game rules and strategies to make the most of your online casino experience.
Sportsbet.io Online Poker Room
Sportsbet.io, while renowned for its diverse gaming offerings, currently does not provide an online Poker Room for players. It primarily offers a variety of casino games, sports betting options, and instant games. However, for poker enthusiasts, there is a selection of video poker games available, offering a different yet engaging experience.
Sportsbet.io Welcome Bonus
At the moment, Sportsbet.io is not offering a welcome bonus for new customers. This might seem unusual as many online betting platforms entice newcomers with substantial offers. However, in the event that Sportsbet.io decides to implement such a feature, it is likely that the bonus wagering requirements will be minimal.

Sportsbet.io Bonuses and Promotions
Sportsbet.io, at the time of writing this review, is taking a different approach to customer incentives. Unlike many other bookmakers and casinos, they are not offering any standard deposit bonuses, free bets, or exclusive promotions for VIP users. However, this does not mean that Sportsbet.io falls short in the realm of bonuses and promotions. Instead, they frequently provide temporary advantageous offers related to ongoing sports tournaments, a bonus calendar featuring unique daily offers, and bonuses specific to slot games in their casino section. This dynamic approach allows Sportsbet.io to constantly refresh its promotional offerings, keeping things exciting for regular users.
Sportsbet.io Clubhouse
Clubhous is an exclusive membership platform designed just for cryptocurrency players. Regardless of your betting streak, as a member of The Clubhouse, you will always emerge as a winner.
The Clubhouse features various components that make your betting journey more enjoyable and lucrative. 'Behind the Bet' provides you with a live-streamed chat with sports legends, while 'Bet Free-6-6' offers a chance to win $100k worth of Bitcoin every week. The '4-3-Free' gives you a chance to win a Free Bet every game day and 'Club Talk' provides exclusive special offers and rewards each day.
The Clubhouse also offers an exciting loyalty program, 'You Play, We Pay!' that rewards points for every bet and spin. This program has seven tiers: Steel, Bronze, Silver, Gold, Platinum, Titanium, and Diamond. Each tier has its specific points, rewards, and multipliers. Points are calculated in USDT and earned with every real money bet in any cryptocurrency available on the site. The higher the tier members reach, the better the rewards!
In terms of betting features, The Clubhouse offers several options to boost and insure your bets. BetBuilder allows you to combine selections from the same game into a single wager with higher returns. Clubhouse TV showcases live EPL & Champions League shows, allowing you to follow the markets as they move. The Multi Grand Slam offers opportunities to maximise your winnings and minimise your risk. Finally, Price Boost gives members the power to instantly maximise winnings!
In sum, The Sportsbet.io Clubhouse provides a comprehensive betting experience with exclusive features, rewards, and benefits. It's the perfect companion for all crypto players who are looking for an exciting and rewarding betting journey.
VIP loyalty program in Sportsbet.io
Sportsbet.io presents its customers with an exclusive, invite-only VIP Clubhouse that strives for service excellence and offers a unique set of perks. The VIP Clubhouse aims to provide an exclusive betting experience tailored specifically to your needs, managed by a dedicated team of specialised account managers ensuring all aspects meet the highest standard.
VIP Clubhouse members are treated to high-value rewards including wager-free rewards, weekly bonuses, and offers modeled just for you. Furthermore, VIP members enjoy the highest bet limits in the industry and the privilege of unlimited withdrawals and deposits via crypto.
The VIP-exclusive promotions elevate the betting experience to a whole new level. These are reserved for VIP Clubhouse members and are invisible to ordinary users. Additionally, VIP members receive luxurious holiday gifts and high-value birthday presents alongside personalized offers.
A distinct advantage of being a VIP member is the access to 24/7 priority support, with a promise of no queues and immediate attention to your needs. Essentially, the Sportsbet.io offers a luxurious betting experience, reserved only for the members of the VIP Clubhouse.
VIP members have the opportunity to place high roller bets on games like Bombay Club Arsenal FC Roulette, Southampton FC Roulette, Bombay Club Baruto Baccarat, and Bombay Club Blackjack. These games promise high Return to Player (RTP) percentages and exciting gameplay.
Becoming a VIP Clubhouse member is not a matter of purchase. The VIP status can only be achieved through an exclusive invitation from Sportsbet.io, as the platform is continually searching for potential bettors to invite into the exclusive VIP Clubhouse. The entire VIP experience is designed to provide a refined, fun, fast, and fair betting experience for its most loyal and consistent players.
Promo Codes: How to get and use promocodes at Sportsbet.io?
Promo codes at Sportsbet.io offer users a unique opportunity to boost their gaming experience. If you're curious about how to get and use Sportsbet.io promocodes, the process is quite straightforward. Usually, these promo codes are delivered through special promotions or as a part of their loyalty program. You might receive these codes via email or see them advertised on their website or social media channels.
Once you have a Sportsbet.io promocode, you can easily apply it. First, log in to your account. Then, when making a deposit or placing a bet, look for the option to enter a promo code. Enter your received code there, and the corresponding bonus will automatically be applied to your bet or added to your account.
Remember to use promo codes Sportsbet.io provides responsibly and check any attached terms and conditions to ensure you're making the most out of the bonuses offered. In sum, these codes can significantly enhance your online gaming or sports betting experience.
Sportsbet.io Payment Methods
When it comes to managing your finances in online betting, accessibility and variety of payment methods are crucial. At Sportsbet.io, the deposit methods and withdrawal methods offer players flexibility and convenience.
Available deposit and withdrawal methods at Sportsbet.io
For both deposits and withdrawals at Sportsbet.io, players can utilize a range of options. The platform accepts traditional methods such as credit and debit cards and electronic wallets. However, one of the distinct features of Sportsbet.io is the extensive support for cryptocurrencies. From Bitcoin to Ethereum and Litecoin, the service accommodates various popular digital currencies.
The minimum deposit at Sportsbet.io is quite affordable, allowing players of all budget sizes to engage with the platform. While this value can vary depending on the payment method and currency in use, it typically starts from a very modest sum. On the other hand, the minimum withdrawal from Sportsbet.io is also set at a reasonable level, ensuring that players can access their winnings without accumulating a large balance.
| | |
| --- | --- |
| Min deposit  | 55 USD |
| Max deposit  | 50,000 USD |
| Min withdrawal  | 85 USD (12,000 JPY) |
| Max withdrawal  | 100,000 USD (14,000,000 JPY) |
| Max withdrawal on crypto  | no limits |
How to deposit money at Sportsbet.io?
Depositing money at Sportsbet.io is a streamlined and straightforward process. After logging into your account, navigate to the 'Cashier' or 'My Account' section, where you will find the 'Deposit' button. Here, you can select your desired payment method, enter the amount you wish to deposit, and confirm the transaction. If you're using a cryptocurrency, you'll have to send the funds to the address provided by Sportsbet.io. The deposit will be processed immediately in most cases.
How to withdrawal money from Sportsbet.io?
Withdrawing money from Sportsbet.io is also a straightforward process. In the 'Cashier' or 'My Account' section, select 'Withdraw'. Then, choose your preferred withdrawal method. If you're withdrawing to an e-wallet or cryptocurrency, ensure you've entered the correct details. For card withdrawals, you may have to wait a few days for the transaction to process due to bank procedures.
Registration at Sportsbet.io: How to Sing Up?
Starting your journey at Sportsbet.io, a prominent bookmaker and online casino, is straightforward. This guide provides an easy-to-follow roadmap for the registration process. Whether you want to place bets on sports or try your luck with casino games, the first thing you need to do is to sign up at Sportsbet.io.
Step 1 involves visiting the official Sportsbet.io website. You can follow our direct link to reach the site or use a mirror link if the main site is inaccessible in your region. Be sure to use a secure connection to ensure the safety of your data.
In Step 2, you'll encounter the Sportsbet.io sign-up process. You will find the 'Sign Up' button typically at the top right corner of the site. Clicking on it will bring up the registration form. You need to fill in the required fields, including your email address, password, and currency. Ensure that the information you provide is correct and up-to-date.
With your account ready, Step 3 requires you to make a deposit. Navigate to the 'Cashier' or 'My Account' section, select your preferred deposit method, enter the amount, and confirm the transaction. The deposit should reflect in your Sportsbet.io account almost immediately, and you can start placing stakes.
Step 4: Placing stakes is the final step after your sign up at Sportsbet.io and making a deposit. Browse through the wide range of sports events or casino games available, choose your preferred options, specify your stake, and confirm your bet. Remember, always gamble responsibly.
Registration Requirements
Now let's talk about the registration requirements. To register at Sportsbet.io, you must be at least 18 years old, and you must provide accurate personal information. Sportsbet.io operates under strict regulations and has measures in place to verify the details of its users.
How to register with a mobile app?
If you prefer to play on-the-go, you can also register via the Sportsbet.io mobile app. The process is similar to the desktop version. Simply download the app, tap the 'Sign Up' button, fill in the registration form, verify your account, and make your first deposit. Once done, you can sign in to your Sportsbet.io account through the app whenever you wish to play.
Sportsbet.io Account Verification Instruction
Sportsbet.io takes pride in its status as a cryptocurrency-based platform and prioritizes user anonymity and privacy. Unlike many online casinos, Sportsbet.io does not mandate a rigorous verification process, allowing players to maintain their privacy.
This anonymity extends to both deposits and withdrawals. When transacting in cryptocurrencies such as Bitcoin, Ethereum, Litecoin, among others, there's no requirement to verify your account. This facilitates an expedient and streamlined experience for users, enabling them to focus on enjoying the games and bets available on the platform.
However, it's important to note that while verification isn't a compulsory requirement, ensuring that your account details are accurate and secure remains crucial. Sportsbet.io is a strong advocate for responsible gaming and implements strict security measures to protect user data.
Sportsbet.io Mobile App for Android and iOS
Sportsbet.io's mobile app is an incredible asset for any sports enthusiast or online casino player, providing access to betting and gaming services right at your fingertips. Compatible with both Android and iOS devices, the app offers an optimized mobile experience that's on par with its desktop counterpart.
System Requirements Sportsbet.io App for Android and iOS
When it comes to system requirements, Android users need to ensure their device is running on Android 5.0 or above to download and install the Sportsbet.io app. On the other hand, iOS users require an operating system of iOS 9.0 or later. This ensures that the app runs smoothly, providing an uninterrupted betting and gaming experience.
How to download Sportsbet.io APK for Android?
To download the Sportsbet.io APK for Android, you first need to adjust the settings on your device. Navigate to the "Security" settings on your Android device and enable the "Unknown Sources" option. This allows you to install apps that are not from the Google Play Store. Then, visit the official Sportsbet.io website using your mobile browser. There, you'll find a link to download the APK file. Click on the download link and wait for the download process to complete.
How to install Sportsbet.io App on Android?
After successfully downloading the Sportsbet.io APK file, locate the file in your device's Downloads folder and tap on it to begin the installation process. Follow the prompts on the screen, and within a few moments, you'll have the Sportsbet.io app installed and ready to use on your Android device.
How to download and install Sportsbet.io App on iOS?
For iOS users, launch Safari and visit Sportsbet.io official site. Once the page fully loads, tap the 'Share' button on the toolbar. Select 'Add to home screen' from the menu. Installation is done! Launch the Sportsbet.io app from your iOS device's home screen and start enjoying the state-of-the-art technology on sports betting and casino. 
How to Update Sportsbet.io App?
Keeping the Sportsbet.io app updated ensures you have access to all the latest features, improved security, and a better overall betting experience. For Android and iOS users, any available updates can be installed by downloading and installing the latest APK from the Sportsbet.io website, just as you did initially. 
Tips and Best Practice for playing at Sportsbet.io
Familiarize Yourself with the Games: Before wagering, take time to understand the rules, strategies, and odds of the games you're interested in. Sportsbet.io offers a wide range of sports and casino games, so there's plenty to choose from.
Use Promotions: Sportsbet.io periodically offers promotions. Use them to your advantage but remember to check the terms and conditions first.
Set a Budget: Always decide on a budget before you start playing. Remember, gambling should be fun, not a means to make money.
Join the Clubhouse: If you're a crypto player, join the Clubhouse for exclusive offers and rewards.
Play Responsibly: Lastly, always play responsibly. Know when to take a break and never chase losses.
With these tips, you can enjoy the best of what Sportsbet.io has to offer, whether you're betting on your favorite sports team or trying your luck at the online casino.
Sportsbet.io Mobile Website
The Sportsbet.io mobile website provides a seamless betting experience, well-optimized for any device. It allows easy access to its extensive sportsbook and casino game offerings.
How to use the Sportsbet.io Mobile Website?
To use it, simply navigate to Sportsbet.io in your mobile browser, log in or register, and start placing bets or playing casino games. The site's responsive design ensures it adapts perfectly to your device's screen size, making it user-friendly and easily navigable.
Sportsbet.io License and Fairness
As a testament to its credibility and trustworthiness, Sportsbet.io operates under a license from the Government of Curacao, one of the most nown licensing bodies in the online gambling industry. This guarantees that the platform adheres to high standards of fairness, security, and transparency. Furthermore, Sportsbet.io supports responsible gambling and provides tools for self-exclusion and betting limits, reflecting their commitment to player safety and well-being.
Sportsbet.io Customer support
When it comes to customer support, Sportsbet.io stands out with its 24/7 service. They offer multiple ways to get in touch, including live chat, email, and an extensive FAQ section on their website. The live chat feature provides instant assistance, while email responses are usually received within a few hours. Their support team is knowledgeable and friendly, making every effort to resolve issues quickly and effectively. The FAQ section is a valuable resource, covering a wide range of topics from account registration, deposits and withdrawals, to game rules and technical issues.
Final Opinion on Sportsbet.io as bookmaker and online casino
Sportsbet.io clearly stands out as a distinguished platform in the online betting industry, especially for crypto players. Its unique offering of both fiat and cryptocurrency betting, a vast array of sports and esports games, and its highly user-friendly interface affirm its commitment to an enhanced user experience. Despite a few drawbacks like the lack of a sign-up bonus and limited live betting options, Sportsbet.io shines with unique promotions, high payout rates, and multilingual support. Its allowance for anonymous account creation further accentuates its commitment to user privacy. Overall, Sportsbet.io delivers a compelling platform for betting enthusiasts, particularly those keen on leveraging the benefits of cryptocurrency in online gambling.
Read this page in other languages:
Accepted Cryptocurrencies
Available Games
Supported Languages
Pros
Provides options for both fiat and cryptocurrency betting.

Broad selection of sports and esports games available.

Easy-to-navigate and fast website.

High payout rate and competitive live odds.

Offers anonymous account creation for user privacy.

Wide language support with 8+ languages for customer service and 11+ languages for the website.

Offers an Android app for mobile users.
Cons
Does not provide a sign-up bonus.

Limited live betting options and a low number of football markets.

High fees for converting FIAT to Crypto deposits.

Extra KYC required for withdrawals above $2,000.

No iOS app available for Apple users in the App Store.