This detailed examination of Sportsbet.io delves into its operations as a prominent online bookmaker and casino. Addressing both the novice and experienced gambler, this review sheds light on key facets of the platform, from registration and payment methods to mobile app usability and customer support. With an objective stance, it underscores both the commendable features and potential areas for enhancement. Intending to equip potential users with actionable insights, the article offers a comprehensive overview of Sportsbet.io's offerings.
Review of the bookmaker and online casino Sportsbet.io is also available in other languages:
About the Sportsbet.io Company
Founded in 2016, Sportsbet.io has rapidly gained significance in the online gaming world. Owned by mBet Solutions N.V., it operates with a gambling license from Curacao. The platform provides an impressive array of sports betting opportunities, spanning from American Football and Cricket to Tennis, among others. Beyond traditional sports, it also has a stronghold in esports betting, featuring games like CS:GO, Dota 2, and Valorant.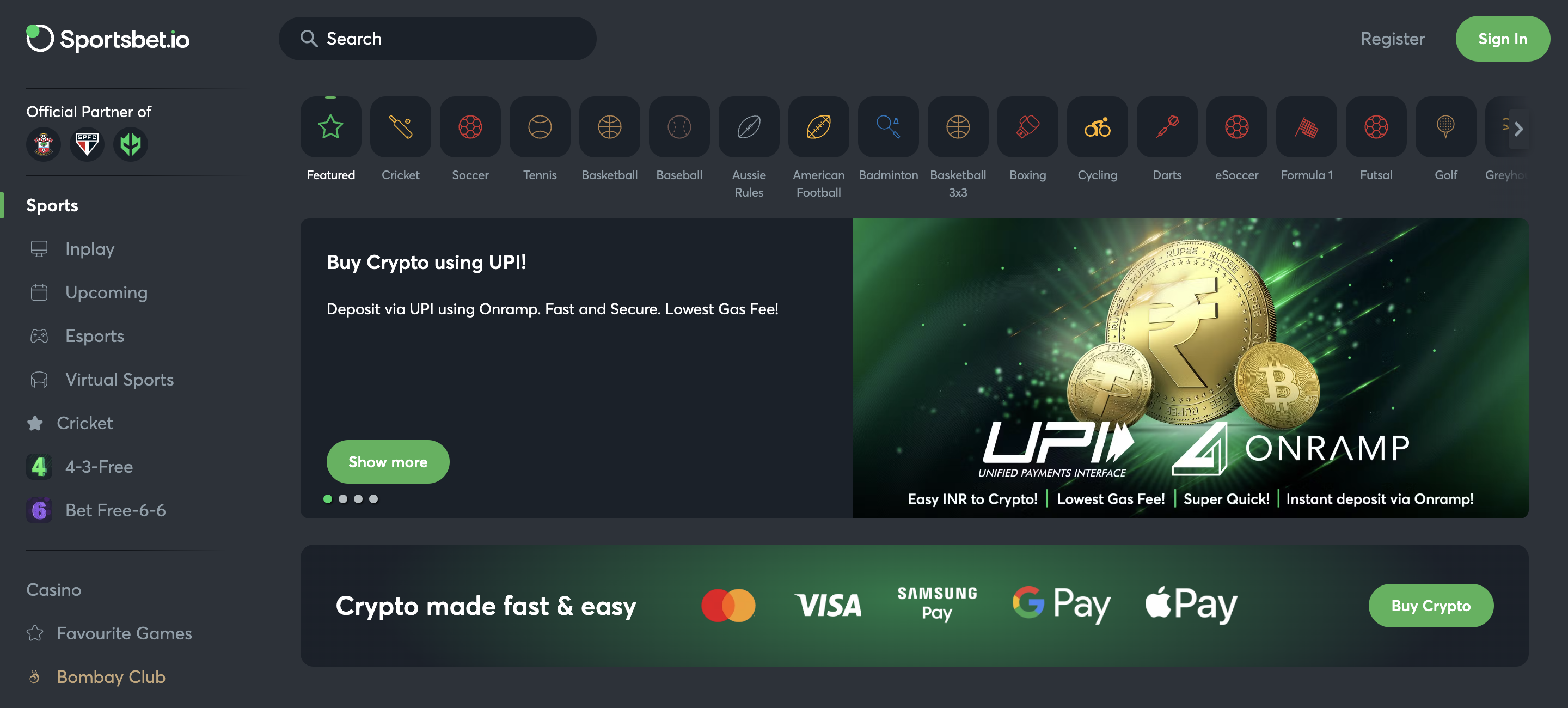 Further exemplifying its versatility, Sportsbet.io's website is multilingual, offering languages such as English, Japanese, German, and Spanish. Additionally, it accommodates various currencies, ranging from conventional ones like the Euro and Yen to cryptocurrencies including Bitcoin and Ethereum.
Key Features of Sportsbet.io
Betting on Sportsbet.io transcends mere wagering, emphasizing a user-centric experience. With the option to place bets as low as $0.07, it prioritizes accessibility, while the ceiling for returns is capped at a substantial 2,000,000.
The platform facilitates seamless financial transactions, supporting diverse methods like credit cards, Tether, Metamask, and instantaneous JPY bank transfers. Complementing this is a robust customer service system, accessible round-the-clock through email and live chat, ensuring users' concerns are promptly addressed.
Sportsbet.io's Sportsbook Offerings
Recognized not just as a platform but a brand, Sportsbet.io is distinguished for its expansive sportsbook that resonates with a wide spectrum of bettors. It crafts a bespoke betting atmosphere through its myriad of sports betting markets.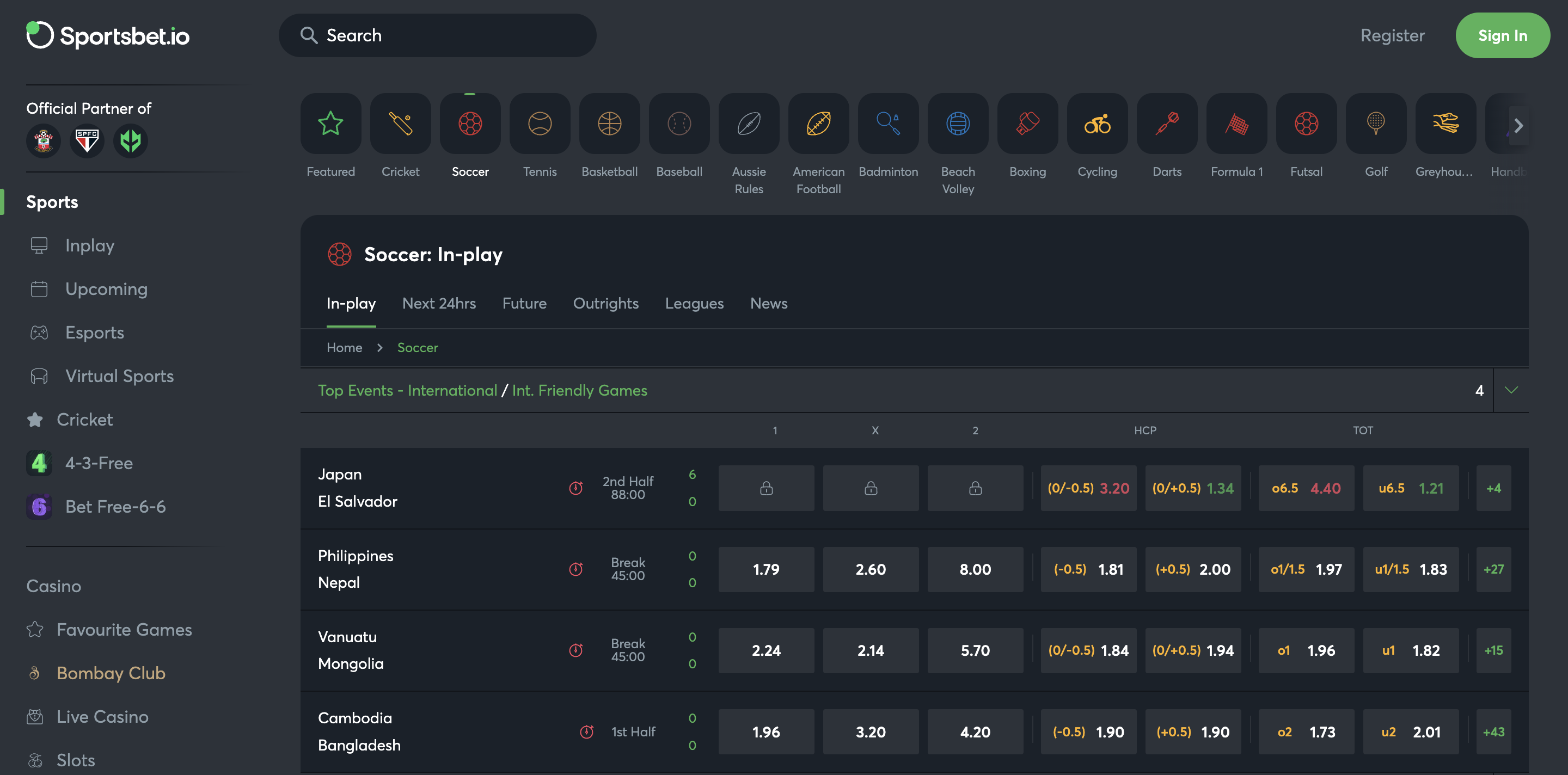 Prominent Sports Betting Markets on Sportsbet.io
Additional Betting Markets at Sportsbet.io
Beyond mainstream sports, Sportsbet.io broadens its horizons with offerings in niche sports and activities. This includes sports such as Golf, Water Polo, and Horse Racing, ensuring the platform caters to the diverse preferences of its user base.
Live Betting at Sportsbet.io
Sportsbet.io's live betting feature, commonly referred to as in-play betting, enhances the traditional sports wagering experience by allowing users to place bets on ongoing matches. This feature presents users with the opportunity to capitalize on fluctuating odds in real-time, depending on the evolving events of the game.
Live Streaming Features of Sportsbet.io
While Sportsbet.io does not currently offer a live streaming option for sports events, it compensates by providing a comprehensive live betting platform, enabling users to place wagers on matches in real-time.
Betting Options Offered by Sportsbet.io
To cater to a diverse user base, Sportsbet.io offers a wide range of betting options. From straightforward single bets for beginners to the more complex accumulator bets for seasoned bettors, the platform has designed its offerings to cater to varied betting styles and strategies.
Innovative Betting Tools on Sportsbet.io
Sportsbet.io has integrated innovative tools to enhance its users' betting experience. Among these:
Bet Builder: This tool allows users to curate personalized bets by merging multiple markets into one bet, offering a more tailored betting experience.
Full Cash Out Feature: Empowering users to exercise greater control over their bets, this feature permits bettors to secure returns even before the culmination of the event, providing a safety net against unexpected game outcomes.
Step-by-Step Guide to Placing a Bet on Sportsbet.io
Visit the Sportsbet.io website and log into your account. New users must first register—an intuitive and swift process.
Browse through the sportsbook to select the desired sport or event.
Choose your specific betting market, which could range from a basic match result to intricate options like 'Over/Under' goals in soccer.
Click on your desired outcome to add it to your bet slip.
Input your stake in the bet slip and confirm the bet. Upon completion, your bet will be officially placed on Sportsbet.io.
Placing a Bet via the Sportsbet.io App
For bettors on-the-go, Sportsbet.io offers a mobile app for Android devices, ensuring convenience and accessibility.
After logging into the app, select the desired sport or event.
Pick your betting market and the specific outcome you wish to bet on.
Add your choice to the bet slip, input your stake, and confirm your selection.
Betting Experience on Sportsbet.io
In our endeavor to evaluate Sportsbet.io's betting platform, our team allocated a budget of 500 USDT, segmenting our approach between prematch and live betting across varying sports.
Prematch Bet (300 USDT): We engaged with the Football segment, employing an Asian Handicap market. The bet was on the underdog with a +0.5 handicap in a competitive match. The logic was straightforward: if the team didn't lose, our wager would succeed.
Live Bet (200 USDT): Our attention shifted to an eSports event, specifically a Dota 2 match. eSports, known for its dynamic gameplay, can be unpredictable. After analyzing the initial gameplay dynamics, we placed our live bet on the currently lagging team to eventually emerge victorious, a decision influenced by the appealing odds.
The results favored us in both scenarios, emphasizing the unpredictable nature of sports betting. However, our success also showcased the diversity and flexibility of betting opportunities on Sportsbet.io, coupled with the element of strategy in wagering.
Overview of Sportsbet.io's Online Casino
Apart from its detailed sportsbook, Sportsbet.io boasts an expansive online casino. This section features a spectrum of games, from timeless classics to contemporary video slots, ensuring an immersive gaming experience enhanced by vivid graphics, fluid gameplay, and potential lucrative payouts.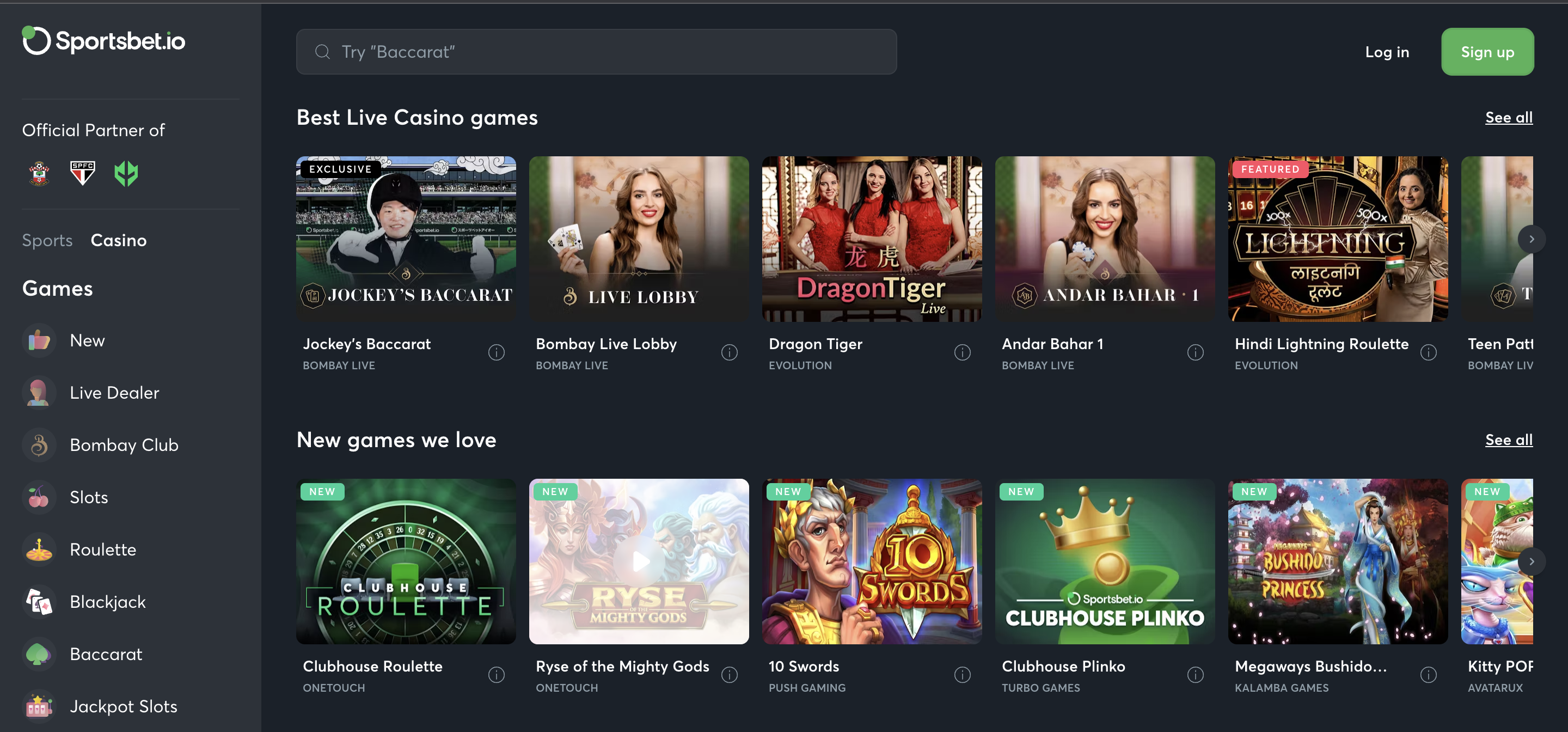 Game Providers and Slot Offerings at Sportsbet.io
Sportsbet.io's slot offerings benefit from collaborations with prominent game developers in the industry. Partnerships with entities such as Kalamba Games, One Touch, NoLimit, and Play'N Go furnish the platform with a diversified game catalog. Players can expect everything from traditional three-reel slots to intricate video slots, each distinguished by superior graphics, captivating themes, and enticing game mechanics.
Presence of Asian and Hunting-Themed Slot Games on Sportsbet.io
Sportsbet.io's online casino indeed showcases an assortment of Asian and hunting-themed slot games. The Asian-themed slots imbue elements from Eastern cultures, characterized by vivid color palettes, authentic symbols, and tailored bonus features. Conversely, hunting-themed slots transport players into nature-centric adventures, adorned with wildlife symbols and themes resonating with the wilderness. This diversity underscores Sportsbet.io's commitment to offering a comprehensive gaming experience to its users.
Top Casino Games at Sportsbet.io
Beyond its extensive slot collection, Sportsbet.io offers a diverse range of casino games. This includes classic table games like roulette, blackjack, baccarat, and poker, each available in several variants. For a more immersive experience, the live casino section delivers real-time gambling with experienced live dealers. The casino also features additional games such as video poker, keno, bingo, scratch cards, and innovative gameshows, catering to a broad spectrum of gaming enthusiasts.
Live Casino Features at Sportsbet.io
Sportsbet.io's live casino offers an elevated gaming experience by blending the excitement of traditional casinos with the convenience of online platforms. Players can engage in real-time gaming, interact with live dealers, and communicate with other participants, simulating the ambiance of a brick-and-mortar casino from the comfort of their own space.
Providers of Live Games on Sportsbet.io
The live dealer segment of Sportsbet.io is enriched by collaborations with premier game providers including Bombay Live, Asia Gaming, 7Mojos, and Microgaming Live. Recognized for their high-definition broadcasts, these providers ensure smooth streaming and an intuitive interface, enhancing the player experience. Their offerings allow for easy bet placements, interaction with dealers, and even the ability to tip, mirroring the atmosphere of a land-based casino.
Benefits of Sportsbet.io's Live Casino
The live casino on Sportsbet.io offers several distinct advantages:
Variety: A comprehensive range of games from classic favorites like roulette and blackjack to innovative gameshows, all available in multiple versions.
Interactivity: The live dealer setup adds a social dimension, allowing players to converse with dealers and other participants.
Transparency: The real-time aspect fosters trust as players witness the game proceedings firsthand.
Flexible Betting Limits: Catering to all, from casual players to high-rollers.
Sportsbet.io's dedication to replicating an authentic casino feel digitally distinguishes its live casino in the vast online gambling landscape.
Quick Play Games at Sportsbet.io
Sportsbet.io diversifies its offerings with a selection of instant games. These fast-paced games provide instant outcomes, delivering a novel gambling experience.
Aviator on Sportsbet.io
Aviator, a standout among Sportsbet.io's instant games, draws inspiration from the "Crash" game archetype. Players bet on a rising multiplier, aiming to cash out before an inevitable crash. This game demands quick reflexes and strategic timing, offering an adrenaline-filled gambling adventure.
JetX on Sportsbet.io
JetX, another instant game, engages players in a similar manner. Bets are placed on a rocket's flight trajectory, with the objective of cashing out before potential combustion. With each round symbolizing a rocket's flight, the multiplying stakes escalate, challenging players to time their exit optimally for maximum returns.
Initiating Gameplay at Sportsbet.io
Starting at Sportsbet.io is straightforward. To begin:
Visit the Sportsbet.io website.
Click the "Register" button situated in the top right corner of the main page.
Follow the on-screen instructions, inputting your email and choosing a password.
Accept the platform's terms and conditions.
Once registered and logged in, deposit funds from the assortment of payment methods provided.
Head to the 'Casino' section, select your desired game, and click 'Play'.
Accessing Sportsbet.io via Mobile App
For those seeking mobility:
Download the Sportsbet.io app either from your device's app store or the official Sportsbet.io website.
After installation, launch the app and undergo the registration steps as outlined previously.
The app's intuitive design facilitates easy navigation amongst the array of casino games.
As with the desktop version, after funding your account, you can immediately delve into your game of choice.
The app ensures that players can engage with their favorite casino activities regardless of their location.
Personal Gaming Experience at Sportsbet.io
Beginning with a deposit of 500 USDT, we ventured into Sportsbet.io, aiming to evaluate both its slot and live casino domains.
Our initial foray was with 'Gonzo's Quest', a renowned online slot celebrated for its dynamic features and generous payouts. With a starting bet of 200 USDT, we navigated the game's Aztec-themed setting. Its cascade mechanics, escalating multipliers, and bonus rounds consistently elevated our excitement. Adjusting our stakes across rounds, we strategized based on the game's inherent unpredictability. Our efforts were rewarded when we secured a win, raising our total to 600 USDT.
Transitioning to the live casino, we chose 'Roulette 1' by Bombay, a timeless classic reminiscent of traditional casinos. With an allocation of 300 USDT, we commenced with conservative bets on even outcomes like red/black and odd/even. As the game progressed, we diversified our strategy, placing larger wagers on singular numbers. The culmination was electrifying when the ball settled on our selected number, boosting our final tally to 900 USDT.
Overall, our engagement with Sportsbet.io was exhilarating, encapsulating the essence of casino gaming. It's vital for players to approach gaming judiciously, acquainting themselves with game mechanics and strategies for a fulfilling online casino journey.
Sportsbet.io Online Poker Room
Although Sportsbet.io is acclaimed for its diverse range of games, it currently lacks a dedicated online Poker Room. Instead, the platform offers a broad spectrum of casino games, sports betting options, and instant games. Notably, video poker games are available for poker aficionados, providing an alternative yet captivating gaming experience.
Sportsbet.io Welcome Bonus
As of this review, Sportsbet.io does not extend a welcome bonus to new registrants, a deviation from common practices among online betting sites. If Sportsbet.io were to introduce such an incentive in the future, it is anticipated that associated wagering requirements would remain reasonable.

Sportsbet.io Bonuses and Promotions
Setting it apart from many competitors, Sportsbet.io currently eschews standard deposit bonuses, free bets, or tailored promotions for VIP users. Nevertheless, this absence doesn't signal a lack of promotional activity. Sportsbet.io frequently unveils temporary offers tied to ongoing sports events, a bonus calendar spotlighting daily specials, and game-specific bonuses in its casino division. This evolving promotional strategy ensures that regular patrons continually encounter fresh offers.
Sportsbet.io Clubhouse
Designed exclusively for cryptocurrency bettors, The Clubhouse membership guarantees members an enriching betting experience regardless of outcomes. Its features include:
Behind the Bet: Engage in live-streamed chats with sports icons.
Bet Free-6-6: Weekly opportunities to win up to $100k in Bitcoin.
4-3-Free: Win a free bet every game day.
Club Talk: Daily special offers and rewards.
Accompanying these is a dynamic loyalty scheme, 'You Play, We Pay!'. This seven-tiered program (ranging from Steel to Diamond) rewards user engagement, with points accruable from each bet, regardless of currency. Each level offers unique rewards, with progression leading to enhanced benefits.
The Clubhouse's betting enhancements are equally noteworthy:
BetBuilder: Consolidate multiple bets from one game into a single high-return bet.
Clubhouse TV: Live streaming of Premier League and Champions League matches, with concurrent market updates.
Multi Grand Slam: Strategic tools for optimizing winnings and mitigating risks.
Price Boost: Instantly enhance potential winnings.
Collectively, The Clubhouse offers cryptocurrency bettors an unparalleled, feature-rich betting journey.
VIP Loyalty Program at Sportsbet.io
Reserved for an elite cadre of users, Sportsbet.io's VIP Clubhouse is an invite-only arena that exemplifies premium service. Managed by a cadre of specialized account managers, this club is tailored to deliver an unparalleled betting experience.
Perks include:
Wager-free rewards.
Customized weekly bonuses.
Highest industry-standard bet limits.
Unrestricted cryptocurrency withdrawals and deposits.
Exclusive promotions, invisible to regular users, further distinguish the VIP experience. These come complemented by luxury holiday packages, opulent birthday gifts, and tailored offers. A notable privilege is 24/7 priority support, ensuring instant, queue-free assistance.
VIP members gain access to high-stakes games like Bombay Club Arsenal FC Roulette, Southampton FC Roulette, and Bombay Club variations of Baccarat and Blackjack. These games boast superior RTP percentages and thrilling gameplay.
Elevation to VIP status is by Sportsbet.io's invitation, reflecting the platform's commitment to reward its most dedicated patrons. Overall, the VIP Clubhouse epitomizes a luxury betting environment tailored for Sportsbet.io's most valued clientele.
Promo Codes at Sportsbet.io: Acquisition and Utilization
Sportsbet.io offers promo codes as a means to enhance users' betting experiences. These codes are often distributed via email promotions, the platform's loyalty program, or directly on the website and its associated social media channels. To utilize a promo code:
Users should first log into their Sportsbet.io account.
During either a deposit or bet placement, there will be an option to enter a promo code.
Simply enter the provided code in this section.
Always be sure to check the terms and conditions tied to each code to ensure you maximize the potential benefits.
Sportsbet.io Payment Methods
When it comes to managing your finances in online betting, accessibility and variety of payment methods are crucial. At Sportsbet.io, the deposit methods and withdrawal methods offer players flexibility and convenience.
Deposit and Withdrawal Options at Sportsbet.io
Sportsbet.io provides a range of transaction methods to cater to its diverse user base. Traditional options like credit and debit cards and e-wallets are available. Notably, the platform prominently features comprehensive support for various cryptocurrencies, including Bitcoin, Ethereum, and Litecoin. While there are user-friendly minimum deposit and withdrawal thresholds, these can vary depending on the method used.
| | |
| --- | --- |
| Min deposit  | 55 USD |
| Max deposit  | 50,000 USD |
| Min withdrawal  | 85 USD (12,000 JPY) |
| Max withdrawal  | 100,000 USD (14,000,000 JPY) |
| Max withdrawal on crypto  | no limits |
Depositing Funds to Sportsbet.io
Making a deposit is simple:
After logging in, go to either the 'Cashier' or 'My Account' section.
Choose the 'Deposit' option and then the desired payment method.
Define the deposit amount and confirm.
For those utilizing cryptocurrency, it's necessary to transfer funds to the provided address. Most deposits are processed immediately.
Withdrawing Funds from Sportsbet.io
To execute a withdrawal:
Navigate to the 'Cashier' or 'My Account' section and pick 'Withdraw'.
Determine the withdrawal method, ensuring the provided details are accurate.
Begin the withdrawal.
Remember, withdrawals using cards might require a waiting period due to certain banking processes.
How to Register at Sportsbet.io
Starting at Sportsbet.io is straightforward:
Access Sportsbet.io through the official link or a mirror link if the primary link is inaccessible. Ensure you're on a secure connection.
Find and click the 'Sign Up' option, usually located at the top right. Fill out the registration form with your details.
Post-registration, initiate your first deposit in the 'Cashier' or 'My Account' area.
Once deposited, users can begin betting on their choice of sports events or engage in casino games.
Registration Prerequisites
Sportsbet.io requires its users to be at least 18 years of age for registration. Accurate personal details must be provided, given the platform's commitment to user verification, adhering to its regulatory standards.
Mobile App Registration
For those preferring mobile access, Sportsbet.io has an app:
Download the official Sportsbet.io mobile app.
Upon opening, select 'Sign Up'.
Complete the ensuing registration form, verify your new account, and deposit your initial funds.
Sportsbet.io Account Verification Process
Sportsbet.io stands out for its focus on cryptocurrency-based transactions and a commitment to user anonymity and security. Unlike many of its competitors, the platform offers players the privilege of not undergoing extensive verification for account set-up, especially when transacting in notable cryptocurrencies such as Bitcoin, Ethereum, and Litecoin. That said, while verification may not be obligatory, it's imperative for users to ensure that their account details are accurate. Sportsbet.io emphasizes responsible gaming and employs robust security protocols to safeguard user information.
Sportsbet.io Mobile App for Android and iOS
The Sportsbet.io mobile application serves as a vital tool for sports aficionados and online casino gamers. Compatible with both Android and iOS systems, the app delivers an immersive experience mirroring the functionalities of its desktop version.
System Requirements for the Sportsbet.io App
For a smooth app performance, Android devices should operate on Android 5.0 or higher, while iOS devices should run on iOS 9.0 or newer.
Downloading the Sportsbet.io APK for Android
Prior to download, access your device's "Security" settings and activate the "Unknown Sources" option, permitting installations outside the Google Play Store.
Navigate to the official Sportsbet.io website via a mobile browser.
Locate and click the APK download link. Await the completion of the download.
Installing the Sportsbet.io App on Android
Locate the downloaded Sportsbet.io APK file within the device's "Downloads" directory.
Open the file to start the installation.
Adhere to the on-screen guidelines, and shortly, the app will be functional on your device.
Downloading and Installing the Sportsbet.io App on iOS
Using the Safari browser, access the official Sportsbet.io website.
Once the webpage loads, click on the 'Share' icon.
From the ensuing options, choose 'Add to Home Screen'.
The app is now accessible from your device's main screen.
Updating the Sportsbet.io App
To leverage the newest features and ensure optimal security, regular app updates are advised. Both Android and iOS users can acquire the latest version of the app from the official Sportsbet.io site, following the initial installation process.
Guidelines and Best Practices for Engagement at Sportsbet.io
Game Familiarity: Invest time in understanding game rules, potential strategies, and associated odds before placing bets.
Optimal Use of Promotions: Avail of the periodic promotions provided by Sportsbet.io. However, it's prudent to acquaint oneself with any associated terms and conditions.
Budgetary Constraints: Predetermine a gambling budget. The primary motive of gambling should be entertainment, not monetary gain.
Clubhouse Membership: Crypto enthusiasts should consider joining the Clubhouse for tailored offers and rewards.
Responsible Gaming: Prioritize responsible gaming practices. Recognize when to refrain and avoid chasing losses.
By adhering to these guidelines, users can derive maximum enjoyment and benefits from Sportsbet.io's offerings, ranging from sports betting to online casino games.
Sportsbet.io Mobile Website
The mobile website of Sportsbet.io offers users a seamless interface optimized for handheld devices. This adaptation ensures that users can swiftly access its expansive sportsbook and diverse casino game selection.
Using the Sportsbet.io Mobile Website
To utilize the mobile site, users need to:
Open their mobile browser and enter the Sportsbet.io URL.
Log in with their account details or register for a new account.
Engage in betting or play casino games.
The responsive design automatically adjusts to the device's screen dimensions, ensuring an intuitive and navigable experience.
Sportsbet.io License and Fairness
Sportsbet.io is licensed by the Government of Curacao, a renowned authority in the online gambling domain. Such licensing assures users of the platform's commitment to maintaining fairness, security, and transparency. Moreover, Sportsbet.io promotes responsible gambling, evidenced by the inclusion of tools for self-exclusion and setting betting caps, underlining their dedication to safeguarding player interests.
Sportsbet.io Customer Support
Sportsbet.io prioritizes customer service, offering round-the-clock assistance. Users can:
Engage in a live chat for immediate responses.
Send emails, with most replies sent within hours.
Explore the comprehensive FAQ section on the website to address common queries.
The customer support staff, recognized for their expertise and courtesy, strives for swift and efficient problem resolution. The FAQ segment addresses diverse subjects, from account setup, financial transactions, to gaming regulations and technical troubleshooting.
Final Thoughts on Sportsbet.io's Offerings
Sportsbet.io has emerged as a formidable contender in online gambling, especially for enthusiasts of cryptocurrency. Its dual provision of traditional currency and cryptocurrency betting options, coupled with a vast sports and esports inventory, underscores its consumer-centric approach. While certain limitations, such as the absence of an introductory bonus or restricted live betting choices, might deter some users, Sportsbet.io compensates with distinctive promotions, lucrative payout ratios, and support in multiple languages. Its policy permitting anonymous account setups further amplifies its dedication to user discretion. In summation, Sportsbet.io presents a robust proposition for gambling aficionados, particularly those inclined towards harnessing cryptocurrency's advantages in this realm.
Read this page in other languages:
Accepted Cryptocurrencies
Available Games
Supported Languages
Pros
Provides options for both fiat and cryptocurrency betting.

Broad selection of sports and esports games available.

Easy-to-navigate and fast website.

High payout rate and competitive live odds.

Offers anonymous account creation for user privacy.

Wide language support with 8+ languages for customer service and 11+ languages for the website.

Offers an Android app for mobile users.
Cons
Does not provide a sign-up bonus.

Limited live betting options and a low number of football markets.

High fees for converting FIAT to Crypto deposits.

Extra KYC required for withdrawals above $2,000.

No iOS app available for Apple users in the App Store.