Explore the intricate world of MelBet, an acclaimed online bookmaker and casino, in this comprehensive review. Tailored for both newbies and experienced users, this article sheds light on every vital aspect – from account registration and verification to exploring the diverse bonus offers and promotions. Get insights on how to navigate the MelBet mobile app and website, understand payment methods, and learn tips for an enhanced gaming experience. The review delves into MelBet's commitment to fair gaming and customer support, ensuring a holistic understanding of the platform's operations. Dive in to make an informed decision and elevate your betting and gaming journey.
Review of the bookmaker and online casino MelBet is also available in other languages:
About MelBet Company
MelBet, a company established in 2012, is owned by Alenesro Ltd and has risen in the ranks to be a notable name amongst punters and gamblers alike. Known for its diverse betting lines and markets, MelBet offers a plethora of options ranging from American Football to Winter Sports, and eSports like Dota to Raid: Shadow Legends. The minimum bet starts at €0.20, with a maximum profit of €60.000 per bet. Players can opt from a range of odds types including American, Decimal, Fractional, Hong Kong, Indonesian, and Malaysian. Catering to a broad audience, the MelBet platform is available in multiple languages and supports an array of currencies.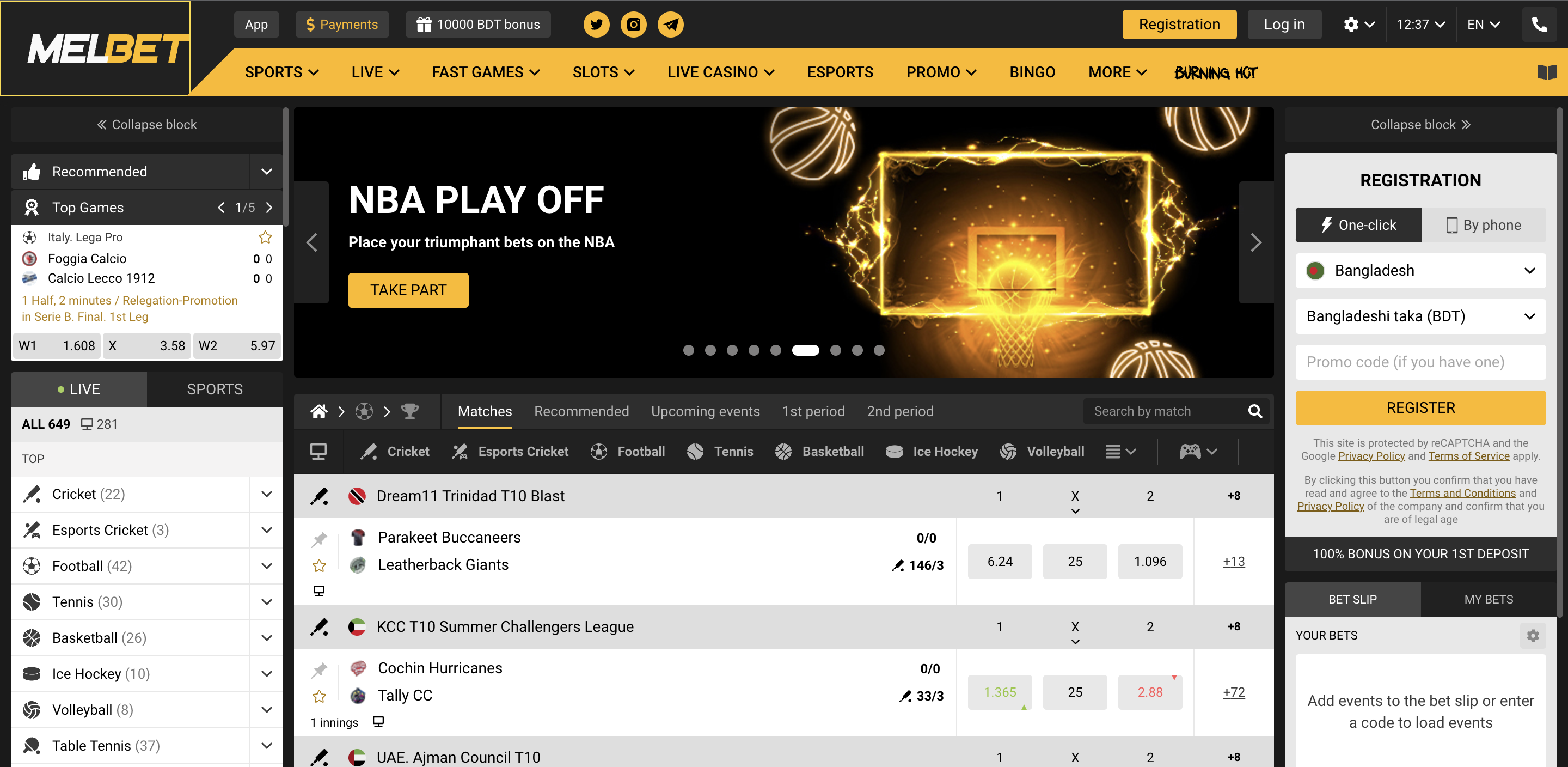 Quick Advantages to Play Games at MelBet
Our bookmaker MelBet review reveals several advantages that set it apart. Firstly, the platform offers an impressive number of sports and eSports betting markets. Traditional sports enthusiasts can choose from options like Boxing, Cricket, Ice Hockey, Golf, Soccer, etc. On the other hand, the platform caters to the interests of the growing eSports community with markets such as Esports Ice Hockey, Dota 2, World of Tanks, Rocket League, and more.
Secondly, MelBet supports a multitude of deposit and withdrawal methods, which enables easy and quick transactions. Moreover, the platform's comprehensive customer support is reachable via Email, Live Chat, and Telephone, addressing queries in multiple languages.
Thirdly, the casino MelBet section provides a vast selection of games, making it a one-stop destination for all betting requirements. The site features an intuitive interface and offers full services like cash out and live streaming. For bettors who are always on the go, MelBet also has a mobile app available on Android, iPhone, and Windows Phone.
Sportsbook MelBet
The sportsbook MelBet holds a strong reputation among bettors for its rich roster of sports betting markets. Providing both breadth and depth, this bookmaker MelBet impresses with its comprehensive sportsbook.

Most Popular Sports Betting Markets in MelBet
Among the vast array of markets available for betting on MelBet, four stand out for their popularity: Football, Basketball, Cricket, and eSports.
Other Betting Markets Available at MelBet
Beyond the most popular sports, the MelBet betting site caters to a wider audience by providing a myriad of other betting markets. Punters can immerse themselves in Tennis, Boxing, Ice Hockey, Baseball, Golf, Rugby, Snooker, and even less common sports like Bandy, Gaelic Football, or Aussie Rules.
In our tests of the MelBet platform, we found that it goes the extra mile by also offering betting options on TV games and lotteries, as well as political and entertainment events. Therefore, the sportsbook MelBet promises a thrilling and varied betting experience to all players, regardless of their preferences.
Live Betting in MelBet
Live betting, or in-play betting as some call it, takes center stage at MelBet. With live betting MelBet provides gamblers the thrilling opportunity to wager as the action unfolds in real-time. No matter if it's football, basketball, or even eSports, bettors can experience the intensity of reacting to live events and placing their bets accordingly.
Live Streaming in MelBet
To complement its live betting offerings, MelBet live streaming service stands as a commendable feature. It allows bettors to watch the event directly from their platform. This not only enhances the excitement but also allows more informed decisions for live bets MelBet offers, as punters can closely follow the dynamics of the game. In addition, MelBet offers a multicast option to track multiple events.
Available Types of Bets on MelBet
MelBet provides a range of bet types catering to both seasoned and novice players. Popular bet types include singles, accumulator bets, and various systems of bets. An accumulator bet is a single bet that links together two or more individual bets and requires all of them to win. On the other hand, systems of bets offer a more flexible betting strategy, allowing for a win even if not all the selections are correct.
Additional Betting Tools
MelBet further empowers its players with additional betting tools. The MelBet full cash out feature lets bettors withdraw their stake before the conclusion of a game, providing an added layer of control over your wagers.
How to Place a Bet at MelBet?
Placing bets at MelBet is a simple and intuitive process. As a first step, you must log into your MelBet account. Upon successful login, navigate to the sport or event you're interested in wagering on from the comprehensive list provided. After selecting the event, choose your preferred type of bet. Next, set your stake amount in the betting slip on the right-hand side of the page. When you're satisfied with your selection and the potential return, hit the 'Place a bet' button to finalize your wager.
How to Place a Stake at MelBet with App?
If you're someone who enjoys wagering on the move, MelBet's app got you covered. The process of placing a bet remains essentially the same as the website version. After you've logged into your account in the app, navigate to the chosen sport or event. Select your desired bet type, and enter your stake amount in the betting slip. Once you're content with your selection and potential returns, tap on 'Place a bet' to complete your wager. The MelBet app makes staking a breeze, no matter where you are. As our tests have shown, the MelBet app indeed provides a smooth and convenient betting experience.
Our experience of betting on MelBet
Armed with 500 USD, our team decided to experience the thrill of betting on MelBet's sportsbook. We choose to wager on Football and eSports, particularly Dota 2, given their popularity and the range of betting options they provide.
To start, we decided to place a prematch bet on a Premier League football match. Our chosen match was between Manchester United and Chelsea, two teams known for their attacking prowess. We decided to opt for a 'Both teams to score' bet type, staking 200 USD. This bet type allowed us to win if both teams managed to find the back of the net, regardless of the final outcome. Given the attacking capabilities of both teams, we thought this was a solid strategy.
As the match kicked off, both teams showed promising attacks. Halfway into the game, both Manchester United and Chelsea managed to score, resulting in a win for our bet and taking our balance up to 650 USD.
Next, we ventured into the exciting world of eSports, deciding to wager on an ongoing Dota 2 match. For our in-play bet, we chose to bet on the 'Moneyline', predicting the outright winner of the game. The match was between Team Secret and OG, two renowned teams in the Dota 2 scene. In a moment of high stakes risk, we decided to bet the remaining 200 USD on the underdog, Team OG, inspired by their history of miraculous comebacks.
The game was intense, with both teams battling fiercely. In a surprising turn of events, Team OG managed to overcome Team Secret, resulting in a significant win for our bet.
Through test bets, we found that MelBet provides an exciting, smooth, and diverse betting platform. The available range of sports and bet types cater to all punters' preferences, making it a worthy choice for all bettors.
MelBet Online Casino
MelBet is not just a place to place stakes on sporting events, but also a thrilling hub where players can dabble in a myriad of engaging casino games.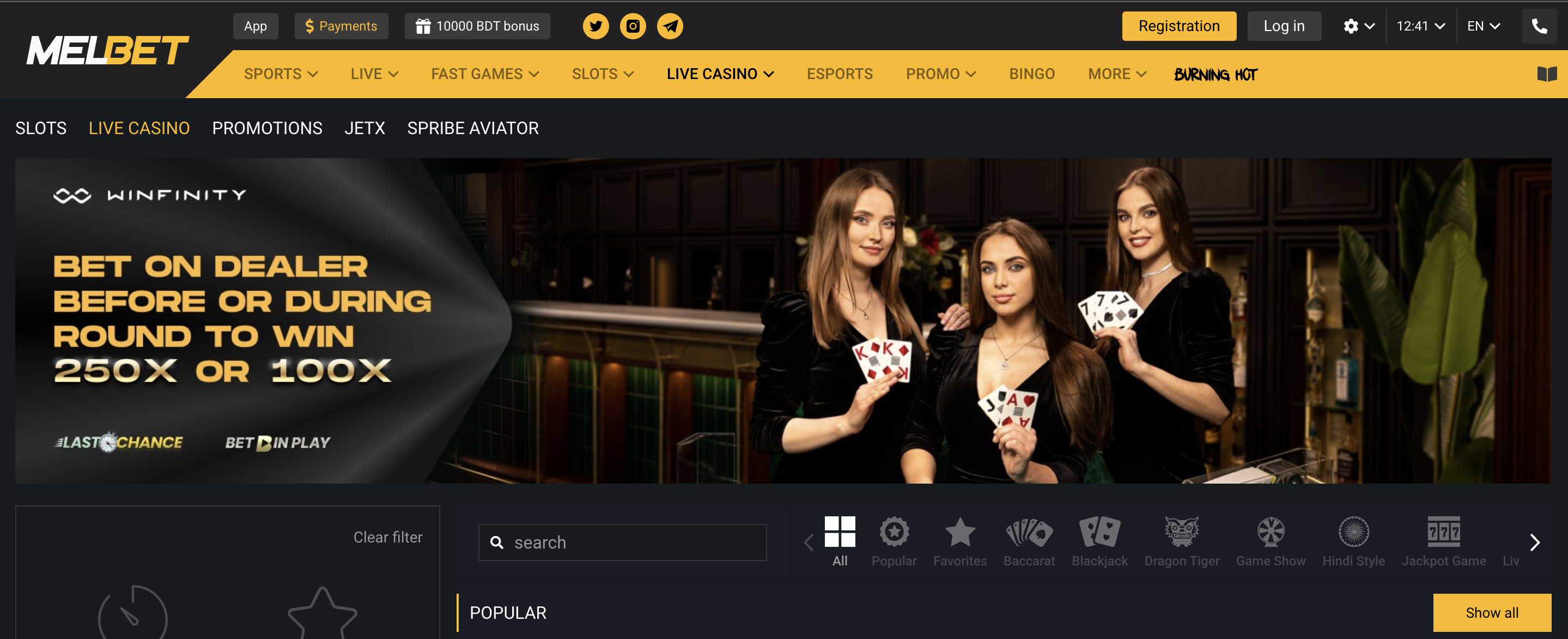 Providers of Slot Games Available at MelBet
MelBet's dedication to offering an extraordinary casino experience is evident from the extensive lineup of renowned slot game providers featured on their site. These include industry-leading names such as NetEnt, Amatic, Evolution, Nolimit, and many more, which guarantee quality gameplay and fair outcomes. Bettors can enjoy a wide range of exciting slot games, each offering a unique theme, impressive graphics, and potential payout.
MelBet's Asian and Hunting Slot Games
A truly global gambling site, MelBet ensures its casino caters to the preferences of its diverse customer base. For players who enjoy Asian-themed games, they offer a individual section of slots that incorporate cultural elements and aesthetics from various Asian cultures, offering an exotic and engaging gameplay experience.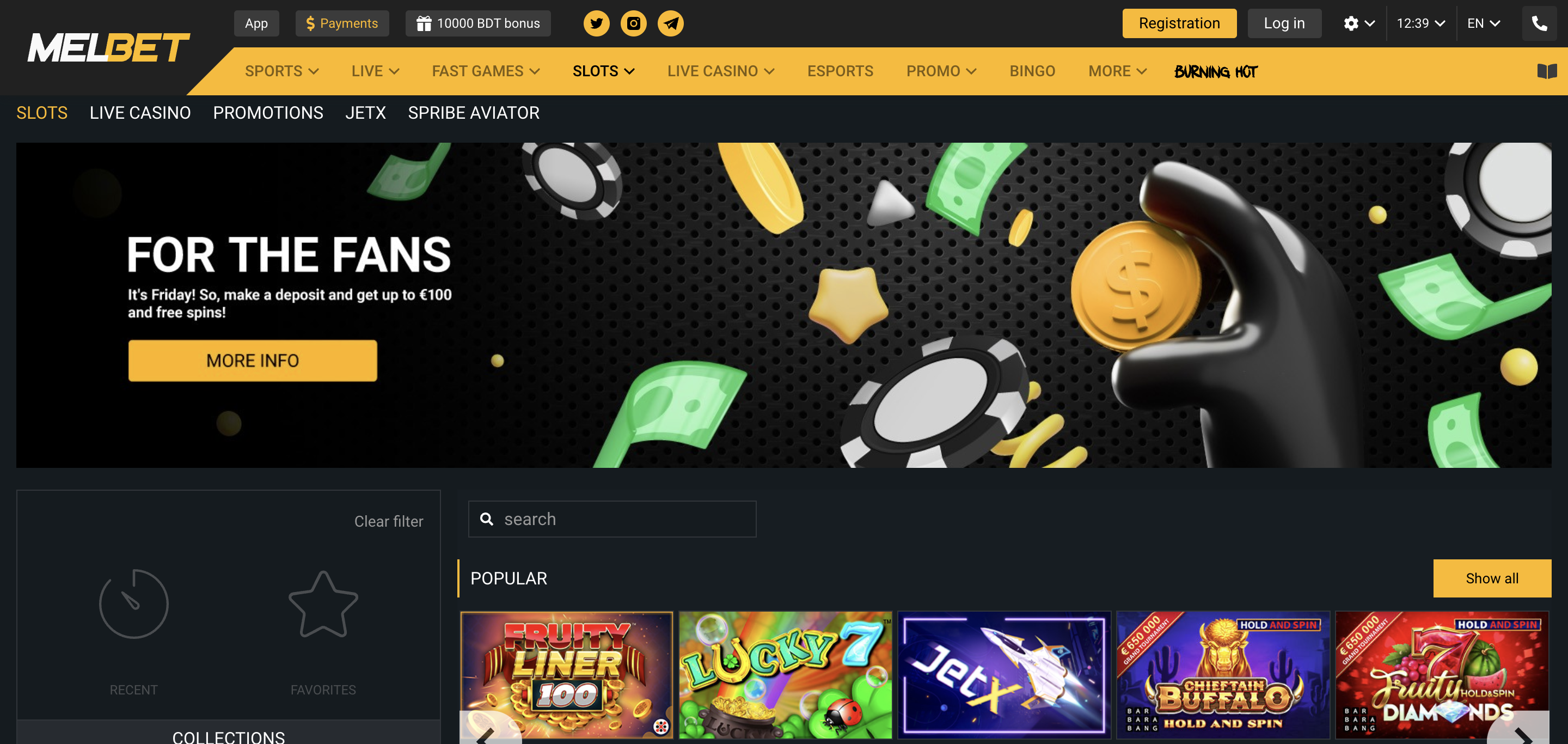 Meanwhile, for players who enjoy the thrill of the chase, hunting-themed slots can also be found on the MelBet gambling site. These games are typically packed with exciting features, including wilds, scatters, and bonus rounds, where players have the opportunity to bag significant winnings.
Top Casino Games Available at MelBet
At MelBet, punters can experience more than just an impressive array of slots. Their gambling portfolio is enriched with a variety of classic, crash and contemporary casino games that suit all player preferences.
For lovers of table games, MelBet offers the classics like Roulette, Blackjack, and Baccarat. Each of these games is available in several variations, allowing players to choose the one that suits their playing style best.
Additionally, the MelBet online casino experience is elevated further by their live casino section. Here, players can gamble on MelBet in real-time, interacting with professional dealers and fellow players across the globe.
Live Casino at MelBet
The live casino MelBet section offers players an immersive gambling experience akin to being in a real-life casino, all from the comfort of home. It creates a unique blend of convenience and real-time gameplay, setting it apart from standard online casino games. With high-quality video streaming, live chats, and charismatic dealers, it's easy to forget you're not sitting at a casino table in Las Vegas!
Live Games Providers in MelBet
MelBet's commitment to providing a high-quality live casino experience is evident from their selection of renowned live games providers. They feature games from prominent names such as Evolution Gaming, Asia Gaming, and Lucky Streak. These providers are respected for their high-end production values, professional dealers, and diverse game portfolios, ensuring that playing with real dealers on MelBet is an unforgettable experience.
Advantages of Live Casino Games at MelBet
One of the significant advantages of MelBet's live casino is the sheer diversity of live dealer games available. Players can choose from classic games like Live Roulette, Live Blackjack, Sic-Bo, Dragon Tiger, and Live Baccarat. Additionally, unique variations of these traditional games are offered, appealing to both conventional and adventurous players.
Furthermore, MelBet offers live game shows for those looking for a different kind of thrill. These include popular titles like Monopoly Live and Dream Catcher, combining elements of TV-style games and casino gameplay to offer a unique betting experience.
Instant Games at MelBet
These quick betting games at MelBet cater to the needs of players seeking fast-paced betting action that doesn't compromise on thrill and potential returns. Two standout titles in this category are Aviator and JetX, popular social casino games at MelBet that deliver suspense, excitement, and rapid gameplay.
Aviator MelBet
The Aviator game at MelBet is a crash game that brings a new dynamic to the typical casino experience. The objective of the game is simple: players place their bets and watch as the multiplier soars – the higher it climbs, the bigger the potential win.The multiplier could crash at any moment, leaving too-greedy players with nothing. It's a game of nerve, timing, and a little bit of luck, providing a thrilling roller coaster of a betting journey.
JetX MelBet
For those fond of aviation and speed, the JetX game at MelBet is a must-try. Similar to Aviator, players wager on a soaring plane, and the multiplier increases as the jet climbs higher. The challenge is to cash out before the jet crashes. This game demands sharp intuition and a quick hand, as the aircraft can plummet without warning! Winning bets can skyrocket, making it an exhilarating experience for those who enjoy high stakes and high rewards.
How to Start Play at Casino MelBet?
Navigate to the website and click on the "Registration" button. You'll be asked to provide basic information like your name, email, and preferred currency. Be sure to read and agree to the terms and conditions before you finalize your registration. Once your account is set up, you need to make a deposit. Simply go to the "Deposits" section, choose your preferred method, enter the amount, and follow the prompts to complete the transaction.
Now, with a funded account, you can start placing stakes. Head to the "Casino" section, browse through the wide array of games and select one that catches your eye. Remember to understand the rules of each game before you start wagering.
How to Start Play at MelBet via App?
Playing at MelBet via the app is just as straightforward. First, you need to download the MelBet app from their website. The app is available for both Android and iOS devices. Once downloaded and installed, open the app and click on "Register". Enter the required information and create your account.
As with the website, to place a bet, you need to fund your account. Tap on the "Deposits" icon, select your preferred payment method, specify the amount, and follow the prompts. Once you've deposited funds, you can now start betting. Navigate to the "Casino" section of the app, select your preferred game, and begin your gaming adventure. Remember to play responsibly and within your limits.
Our experience of gamble in casino MelBet
Stepping into the vibrant world of the MelBet online casino with 500 USD in our virtual wallet, our first destination was the slots. The choice was vast, but our eye was caught by the enticing 'Book of Dead' from Play'n GO. An Egyptian-themed slot with 5 reels and 10 paylines, the game features free spins with a special expanding symbol that is randomly chosen at the start of the bonus round, increasing our chances of a big win.
We decided to dedicate 200 USD to this adventure. Our strategy was simple: start with smaller bets of 2 USD per spin to extend our gameplay and increase the stakes as we go. After several spins, we were rewarded with a string of wins, culminating in a free spins round that netted us a substantial payout. In total, we came out ahead, turning our initial 200 USD into 280 USD – a thrilling start to our MelBet experience.
After our successful spin on the slots, we shifted our attention to the live casino section. Our game of choice was the mesmerizing 'Lightning Roulette' from Evolution, an electrifying variant of the traditional game, adding high-payout RNG Lucky Number wins to every round. With a unique black and gold Art Deco environment and engaging live dealers, it provided a true 'Vegas' experience right on our screens.
We decided to allocate the remaining 300 USD to this game, opting for a slightly riskier strategy. We started with a 50 USD bet on Black, with smaller bets on several individual numbers. The ball landed on black, giving us a win. Encouraged, we continued to play, spreading our bets between black and red. After more than 10 rounds we increased our balance from 300 USD to 400 USD.
In total, our MelBet online casino experience saw us rise from an initial 500 USD to 680 USD. Although betting carries a risk, our strategy of mixing safer bets with occasional higher-risk ones, as well as playing a variety of games, worked to our advantage in this instance. Most importantly, the immersive, entertaining experience provided by MelBet made every moment of the gaming session a true pleasure.
MelBet Online Poker Room
MelBet offering an immersive, high-quality experience for both beginners and experienced poker players. The platform delivers a diverse selection of games and tournaments from Legion Poker, ensuring that every player finds something to enjoy, regardless of their poker preferences.
Poker Types available on MelBet
Within the MelBet online poker room, players will find classics Texas Hold'em and Cash Taples, delivering the familiar thrill and strategy of these beloved poker variations. These traditional games are accompanied by innovative poker variants such as Indian Poker and Spins, offering players a fresh and engaging way to experience online poker at MelBet.
Poker Tournaments at MelBet
For those who seek a bit of extra challenge and excitement, MelBet also hosts a series of poker tournaments. These tournaments range from daily and weekly events to larger, high-stakes competitions with substantial prize pools. However, in our opinion, online poker rooms are small, tournaments are slowly gathering, and there is only minimum stakes in cash games.
MelBet Welcome Bonus
MelBet rolls out the red carpet for its new players with an impressive Casino Welcome Bonus. On your first five deposits, you can receive up to a whopping 68000 THB and 290 Free Spins (FS). Here's how it works:
1st deposit gives you a 50% bonus, up to 13 600 THB  + 30 FS.

2nd deposit comes with a 75% bonus, up to 13 600 THB + 40 FS.

3rd deposit grants a 100% bonus, up to 13 600 THB + 50 FS.

4th deposit delivers a 150% bonus, up to 13 600 THB + 70 FS.

5th deposit awards a 200% bonus, up to 13 600 THB + 100 FS.
All these free spins are playable on 'Juicy Fruits Sunshine Rich' from Barbara Bang.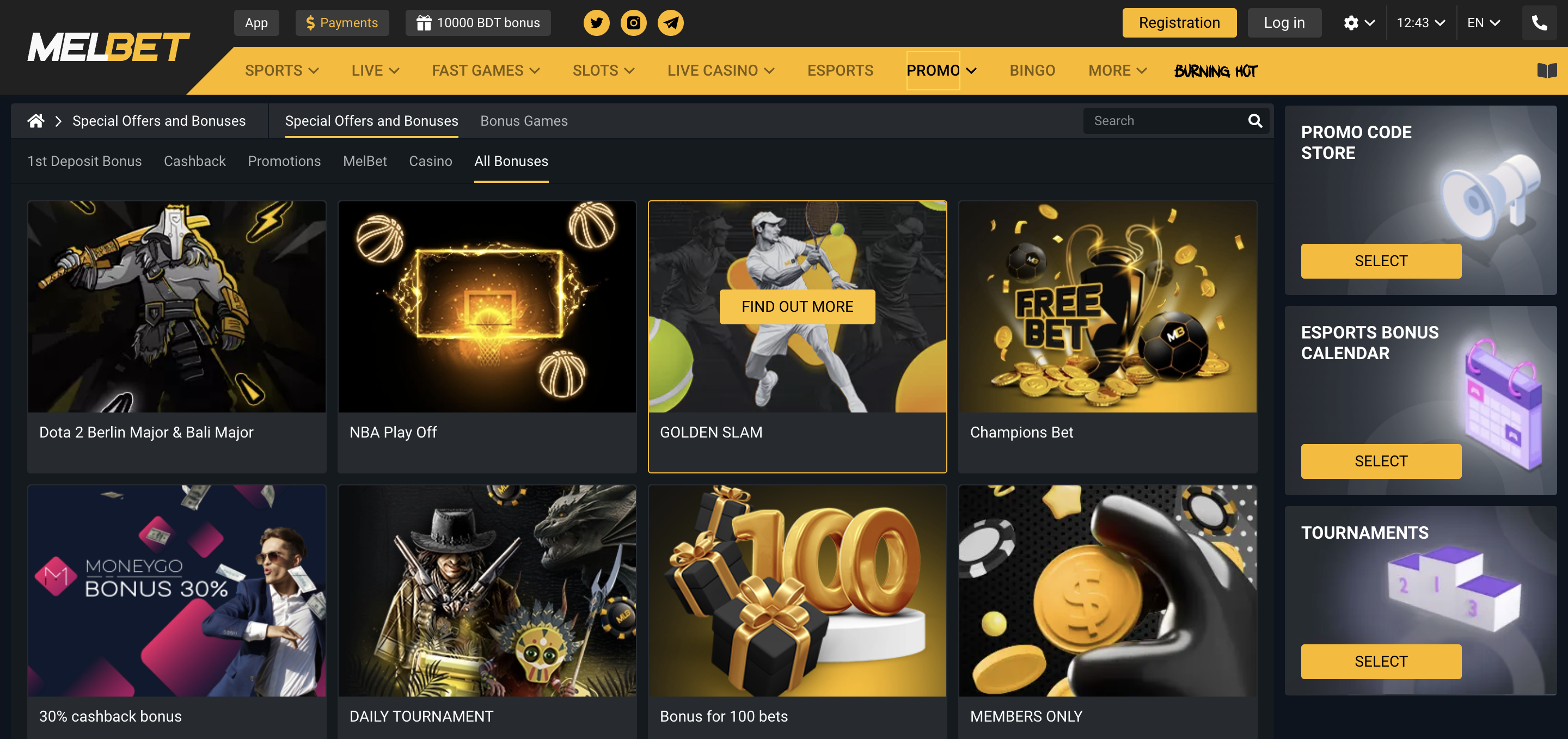 To claim the bonus, create an account, fill out all necessary details in your profile, activate your phone number, and make a minimum deposit of 377 THB. The bonus is credited automatically.
Welcome
Bonus Wagering Requirements
However, remember that bonus funds must be wagered 40 times within 7 days of activation, with a maximum stake of 188 THB when wagering the bonus. Also, deposits made before the bonus wagering requirements are fully met are not considered, and all bonus types are disabled for cryptocurrency accounts. Don't withdraw funds before depositing, else the bonus won't be credited to your account. Make sure to activate your mobile phone number before making a deposit to ensure the free spins are credited to your account.
MelBet Bonuses and Promotions
MelBet is renowned for its generous bonuses and promotions that add significant value to your gaming experience. From welcoming new players to rewarding regular ones, MelBet's bonus program is all-encompassing.
100% bonus on the first deposit up to 4000 THB
MelBet continues to impress new players with its remarkable promotions. The bookmaker and online casino offers a generous 100% bonus on the first deposit, amounting to up to 4000 THB. To qualify for this enticing offer, you'll need to deposit a minimum of 40 THB upon registration.
The bonus will be automatically credited to your account once you've completed your account details and verified your phone number through SMS. It's crucial to remember that a customer is only entitled to one bonus.
'100% bonus on the first deposit' Wagering Requirements
The wagering requirements stipulate that the bonus amount must be wagered five times in accumulator bets, each of which must include at least three events. Furthermore, a minimum of three events must have odds of 1.40 or higher, with their start dates falling within the offer's validity period.
Upon settling all bets for the specified amount, the bonus is considered wagered. However, refunded bets don't count towards meeting the wagering requirement. Moreover, no withdrawals can be made before all the offer's requirements have been met.
CASINO VIP CASHBACK
MelBet continues to reward its loyal customers with the Casino VIP Cashback bonus. The casino's gratitude manifests in an enticing loyalty program, providing a fantastic opportunity to earn VIP cashback.
'CASINO VIP CASHBACK' Wagering Requirements
The program operates on eight levels, starting at the Copper tier. Your advancement to the next level is as simple as continuing to play your favourite games at MelBet's online casino. The higher you ascend in the program's levels, the more significant your cashback becomes.
Those who achieve the highest level are treated to exclusive offers, VIP support, and an exceptional cashback rate calculated based on all bets placed, regardless of the game's outcome. It's important to note that this program is available only for authorized users.
VIP loyalty program in MelBet
As a user-oriented platform, MelBet places a significant emphasis on rewarding its customers. While the platform does not feature a distinct VIP loyalty program, it compensates for this with the noteworthy VIP cashback program, which we wrote about above.
Promo Codes: How to get and use promocodes at MelBet?
Unlocking the benefits of MelBet's diverse offerings becomes a more enticing endeavor with the use of MelBet promo codes. These codes offer a shortcut to the bonuses that this vibrant bookmaker and online casino has in store. But how does one procure and use these promo codes MelBet offers?
Getting your hands on a MelBet promocode is as straightforward as staying engaged with the platform. These codes are released as part of promotional campaigns, or given out as rewards for loyal players. They can be found on MelBet's official website in Promo Code Store section.
Using a MelBet promocode is equally simple. After logging into your account, navigate to the deposit section and find the field labelled 'Enter Promo Code.' Key in your code in the designated area and proceed to make a deposit. Once the transaction is complete, the corresponding bonus will be automatically credited to your account.
MelBet Payment Methods
At MelBet, accommodating a broad spectrum of punters is a priority. This extends to the range of financial transactions the platform allows. From traditional banking methods to cutting-edge digital payment systems, MelBet offers a wealth of deposit and withdrawal methods, aiming to cater to its global customer base effectively. This section will provide an overview of these methods, the deposit and withdrawal limits at MelBet, and a brief guide on how to carry out these transactions.
Available deposit and withdrawal methods at MelBet
Several deposit methods MelBet offers include Bank Transfer, E-wallets, Payment systems, Cryptocurrency or e-Vouchers. These methods are also available as withdrawal methods MelBet supports, with the addition of some region-specific solutions.
The minimum deposit MelBet requires is often as low as €1 or its equivalent in other currencies, making it accessible for all levels of punters. The minimum withdrawal amount, however, might vary based on the chosen method, but it usually starts from €1.5. MelBet generally doesn't charge fees for transactions, but your payment provider might impose charges, so it's recommended to check this aspect beforehand.
| | |
| --- | --- |
| Minimum deposit   | €1 |
| Minimum withdrawal   | €1.5 |
How to deposit money at MelBet?
Depositing money at MelBet is a straightforward process. After registering and logging into your account, navigate to the "Deposit" section. Here, select your preferred deposit method from the list provided. Enter the desired amount, ensuring it meets the minimum deposit MelBet requirement. Follow the prompts to complete the process. If you have a promotional code, ensure to enter it before confirming the transaction.
How to withdrawal money from MelBet?
Withdrawing your winnings is equally simple. In your MelBet account, go to the "Withdraw Funds" section. Choose your preferred withdrawal method, enter the amount you wish to withdraw – ensuring it adheres to both the minimum withdraw MelBet rule and the maximum withdrawal limit in MelBet – and follow the instructions to finalize your transaction. For first-time withdrawals, you might be asked to complete a verification process for security purposes.
Registration at MelBet: How to Sing Up?
Signing up with MelBet is a straightforward process that only takes a few minutes. Below is a step-by-step guide to registration on MelBet's official site.
Step 1: Visit MelBet. Your first step is to visit the MelBet website. You can easily access it through the official site or use a mirror link. The website has an intuitive design that caters to both new and experienced users.
Step 2: Sign Up. Once you've landed on MelBet's home page, look for the 'Registration' button. It's usually in the upper right corner. Clicking this button prompts a sign-up form. Fill in the required details including your email, phone number, and preferred password. It's important to provide valid information for a smooth verification process.
Step 3: Make a Deposit. After completing the sign-up MelBet process and confirming your email, you can log in to your new account. Use your new MelBet login credentials to access your account, then navigate to the 'Deposit' section. Here, choose your preferred deposit method and enter the amount you wish to deposit.
Step 4: Place Stakes. With your account funded, you're now ready to place stakes. Explore the various sports or casino games available and place your first bet.
Registration Requirements
As part of the registration process, MelBet requires that you verify your account and have reached the age of 18. This process typically involves providing a copy of a government-issued ID and a proof of address. It is an essential step in ensuring the security of the platform and compliance with regulatory requirements.
How to register with mobile app?
Registering with MelBet's mobile app is a similarly simple process. Download the app from either the Apple App Store or the Google Play Store, and once installed, open it and look for the 'Register' option. Follow the same steps as described above for the website registration.
How to Get a Welcome Bonus MelBet with Registration?
To enjoy the welcome bonus MelBet offers, you'll need to opt-in during registration. This usually involves ticking a box indicating your interest in the bonus. After making your first deposit, the bonus will be automatically credited to your account. Remember, terms and conditions apply, so be sure to familiarize yourself with these.
MelBet Account Verification Instruction
MelBet's account verification is a crucial step that ensures both the security of your account and compliance with regulatory requirements. Here's a simple guide on how to complete it:
Once you have registered, MelBet will request documentation to confirm your identity and location. Typically, you'll need to submit a clear photograph or scan of a government-issued ID, such as a passport or driver's license. For proof of address, acceptable documents include a utility bill or bank statement dated within the last three months.
To submit these documents, log in to your account, navigate to the "Account Verification" section, and follow the instructions. After uploading the documents, MelBet's team will review them, usually within 48 hours. You'll receive a notification once your account has been verified.
Please note that unverified accounts may face restrictions or delays in withdrawals. Therefore, completing this process promptly after registering is highly recommended. In case of any difficulties or inquiries, MelBet's customer support is readily available to assist. The verification process underscores MelBet's commitment to creating a secure and trusted betting environment for its users.
MelBet Mobile App for Android and iOS
MelBet provides a seamless gaming experience through their dedicated mobile apps for both Android and iOS devices. These apps have been designed to emulate the functionality of the MelBet desktop site, ensuring players can enjoy the thrill of betting no matter where they are.
System Requirements MelBet App for Android and iOS
In terms of system requirements, the MelBet app for Android requires an Android version of 4.1 or higher. On the other hand, iOS users need to have iOS 9.0 or later versions. Both apps are compact, ensuring they don't take up too much storage space on your device.
How to download MelBet APK for Android?
Downloading the MelBet APK for Android involves a few simple steps. First, visit the MelBet official site through your mobile browser. Scroll down to the footer where you'll find a link to download the "MelBet APK for Android". Click on it, and the APK file will download to your device.
How to install MelBet App on Android?
To install the MelBet app on Android, navigate to the "Downloads" folder and click on the downloaded APK file. You may be asked to enable installation from unknown sources in your phone's settings. Once this is enabled, click on the APK file again to install.
How to download and install MelBet App on iOS?
For iOS users, the process is even more straightforward. The MelBet app for iOS is available directly on the App Store. Simply search for "MelBet" in the App Store, click on "Get", and the app will install automatically.
How to Update MelBet App?
To keep your app running smoothly and to benefit from any new features or security patches, it's essential to update the MelBet app regularly. Android users can check for updates by visiting the MelBet official website and looking for the latest APK file. iOS users, on the other hand, can update their app directly through the App Store.
Tips and Best Practice for playing at MelBet
Engaging with MelBet offers an exciting gambling experience, but it is crucial to follow some key guidelines to maximize your enjoyment and potential rewards.
Firstly, familiarize yourself with the platform. Explore the various sports and casino games offered to understand the betting options. Take note of the odds and how they can affect your potential returns.
Secondly, make use of the bonuses and promotions offered by MelBet. Starting with the welcome bonus, these promotions can greatly increase your playing capital and offer opportunities for risk-free bets. Be sure to read the terms and conditions of these bonuses to fully leverage them.
Practicing responsible gambling is crucial. Set betting limits to ensure you are only wagering what you can afford to lose. Remember, gambling should be fun and not a source of financial stress.
Lastly, take advantage of MelBet's customer support if you encounter any issues or have queries. Their support team is available 24/7 to assist you.
MelBet Mobile Website
Accessing and using MelBet's mobile website is effortless. Simply enter the MelBet URL into your smartphone's browser and you will be automatically redirected to the mobile-optimized site.
How to use the MelBet Mobile Website?
This site mirrors the desktop version, offering the same games, sports, and features, ensuring a seamless transition for users. Navigation is intuitive, with menus and icons designed for easy mobile usage. The live betting option is also available, providing an immersive, real-time betting experience.
MelBet License and Fairness
MelBet operates under a license issued by the Curacao eGaming Licensing Authority, a globally recognized and respected regulator in the online gaming industry. This ensures that MelBet adheres to strict regulations concerning fairness, security, and integrity. Additionally, they employ Random Number Generator (RNG) technology for their casino games, assuring that game outcomes are completely random and not manipulated. Player's data and transactions are secured with advanced SSL encryption, further enhancing trust in MelBet's operations.
MelBet Customer support
When it comes to customer support, MelBet shines with its 24/7 service. They offer several channels for customer communication including live chat, phone support, and email. The live chat feature, available directly on the site, connects users to a support agent in minutes, providing immediate assistance. For more detailed inquiries, email can be an effective route. This diversity of support channels ensures that users' needs and concerns are promptly and efficiently addressed, contributing to the overall positive experience at MelBet.
Final Opinion on MelBet as bookmaker and online casino
MelBet has established itself as a versatile platform for online gambling enthusiasts, presenting an assortment of bonuses, a plethora of sporting events, efficient customer service, and user-friendly mobile apps. Its prompt and diverse withdrawal methods, along with an uncomplicated registration process, add to the site's appeal. However, its complex desktop layout and certain missing features can be challenging for users. The geographical restrictions and limitations in payment methods can create certain problems. Still, MelBet's extensive live events and betting markets coupled with its unique features like live streaming ensure a comprehensive and exciting betting experience. Thus, it remains a commendable choice for seasoned and novice bettors alike.
Read this page in other languages:
Accepted Cryptocurrencies
Available Games
Supported Languages
Pros
A variety of bonuses, promotional offers, and 100% cash out on accumulators, which significantly enhance the betting experience.

Fast and varied withdrawal methods, offering instant withdrawals for certain payment options.

Wide range of sporting events (over 40 sports) with over 10,000 live events each month and 250+ markets for top leagues, providing an expansive betting market.

Exceptional customer service available 24/7, ensuring issues are resolved promptly.

User-friendly mobile apps for both iOS and Android platforms, allowing seamless gaming on-the-go.

Straightforward and uncomplicated registration process, facilitating easy access to the platform.

Live streaming and multi-view features, enhancing the real-time betting experience.
Cons
Limited payment options in some countries.

The desktop website layout can be complex and confusing for some users.

Country restrictions may limit the accessibility of MelBet in certain regions.

Lower odds on secondary leagues and Asian Handicaps.

Absence of features like Bet Builder, Request or Edit a Bet, and partial cashout.