This article presents a detailed review of Crickex, a prominent bookmaker and online casino. It covers the platform's key features, such as its sportsbook, casino offerings, live betting, bonuses, and payment options. Tailored for both avid sports bettors and casino enthusiasts, the review offers insights into Crickex's user interface, mobile capabilities, betting markets, and promotional deals. This comprehensive overview serves as a resource for both seasoned bettors and newcomers, aiming to enrich their gaming experiences.
Review of the bookmaker and online casino Crickex is also available in other languages:
About Crickex Company
Established in 2019 by VB Digital, Crickex has rapidly gained a reputation as a reliable bookmaker and casino operator. Committed to offering an extensive array of betting markets and casino games, the platform operates under the Curacao Gambling License, ensuring a secure and equitable gambling environment. Players can wager on a multitude of sports, from table tennis to basketball and even esports like Dota2 and CS:GO. Additionally, the casino section boasts games from top-tier software providers such as Playtech Gaming, Evolution Gaming, and Microgaming.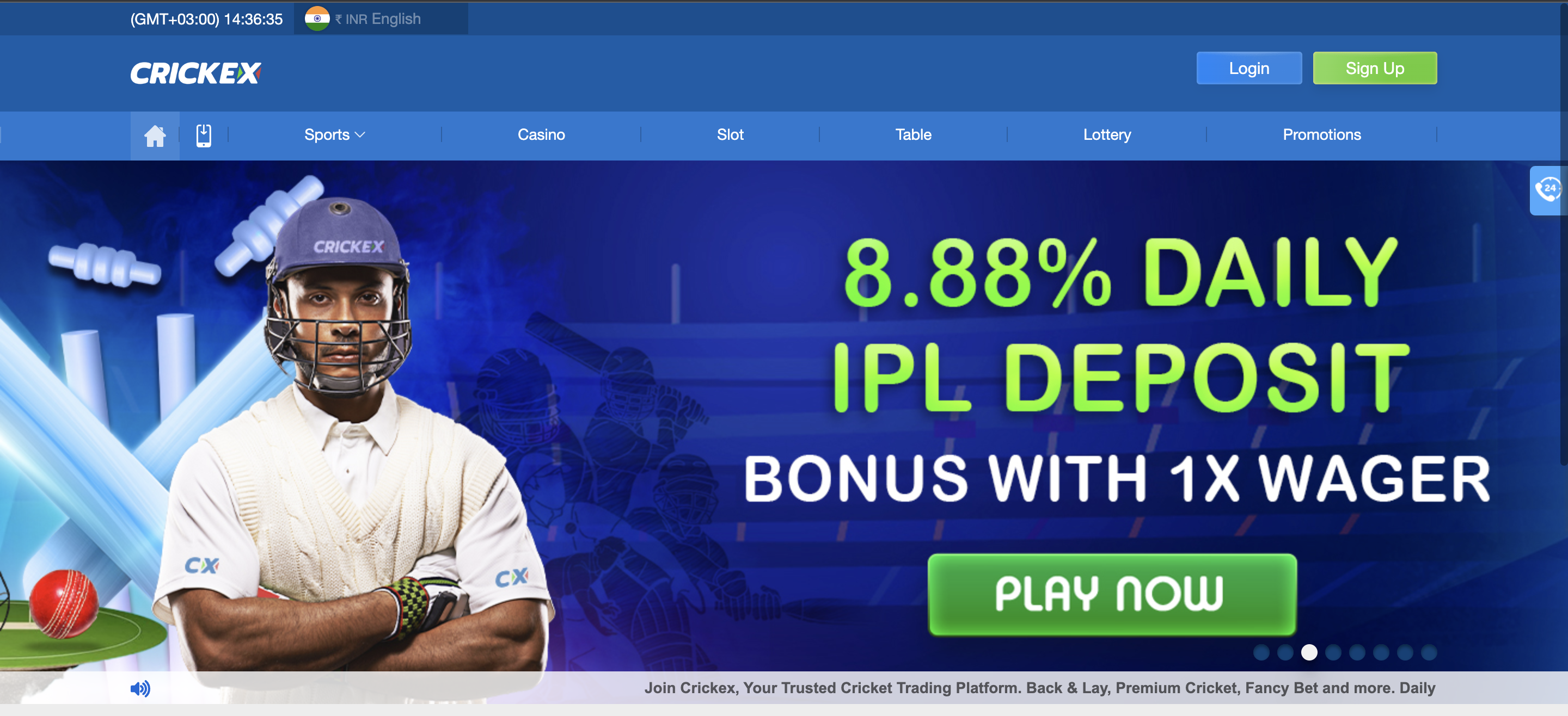 Advantages of Gaming at Crickex
Based on our evaluation, several notable advantages come with betting on Crickex:
Multilingual Support: Beyond English, the platform supports languages like Hindi, Bengali, Urdu, and various South Indian languages.
Payment Options: Catering primarily to the Indian and Bangladeshi markets, Crickex accepts payments through methods like bank deposits, UPI, Paytm, and Google Pay, typically processing transactions within 4-6 hours.
Payout Efficiency: The platform offers a payout rate of 97% and accepts a minimal deposit of $5, making it accessible to a wide range of bettors.
Informative Features: With comprehensive match statistics and live streaming, Crickex ensures players remain informed and involved.
Overall, Crickex successfully combines diverse betting options with user-centric features, positioning itself as a preferred choice for many bettors.
Crickex Sportsbook
Through our analysis, Crickex's sportsbook emerged as a rich and diverse platform catering to a broad spectrum of user preferences.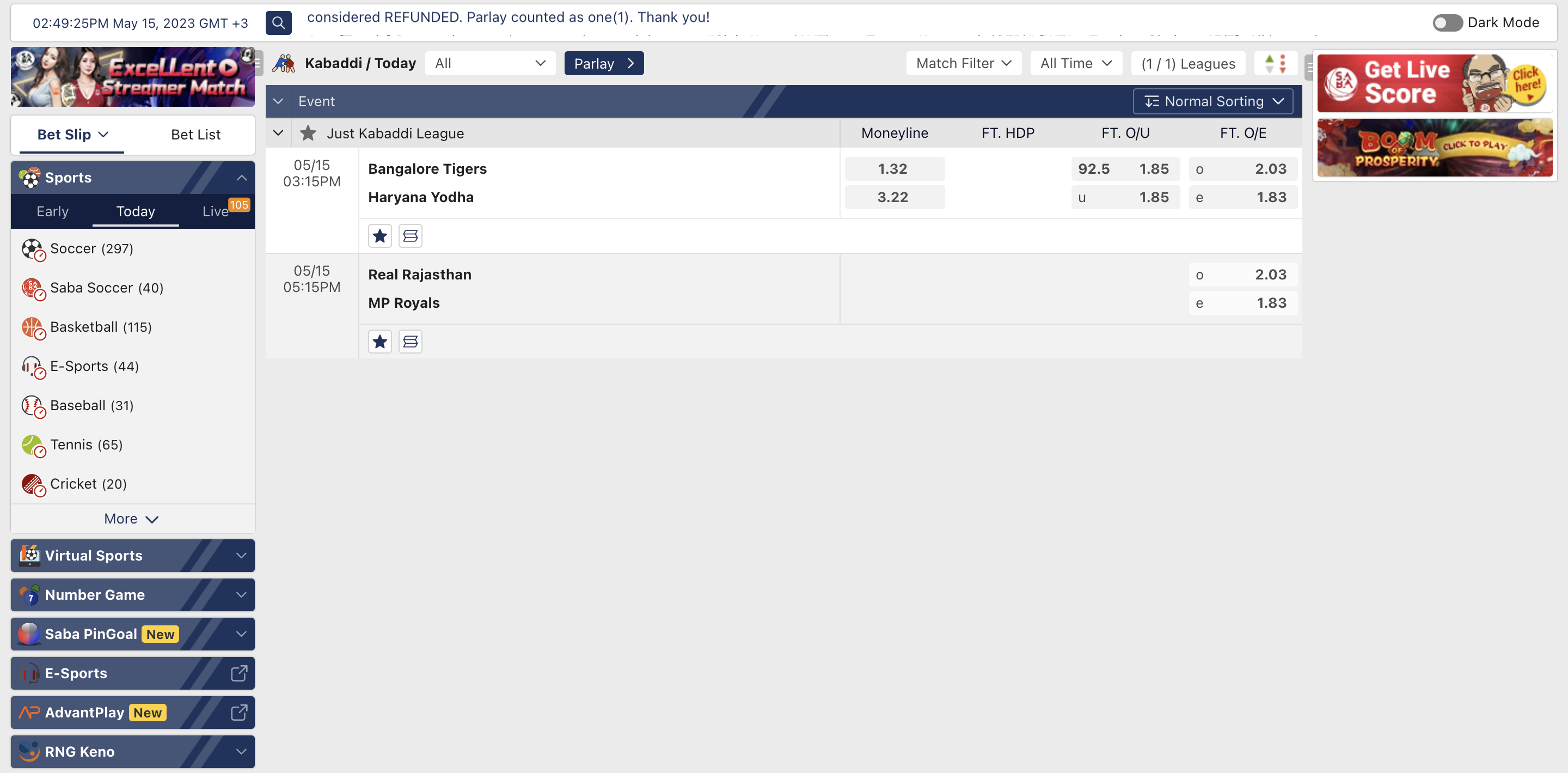 Highlighted Sports Betting Markets:
Additional Betting Markets:
Crickex also caters to specialized markets, offering betting on sports like table tennis, badminton, and volleyball, as well as unconventional choices such as finance and lotto. Unique betting features, such as Asian Handicap betting, are also available. The platform's extensive market selection, paired with its focus on user satisfaction, underlines Crickex's dedication to a fulfilling betting experience. Whether a veteran or a newcomer, bettors will find intriguing options on Crickex.
Live Betting in Crickex
Crickex provides a dynamic live betting platform that caters to enthusiasts of in-play wagering. Covering sports like football, cricket, and eSports, Crickex's live betting feature ensures bettors are immersed in real-time match action.
Live Streaming at Crickex
Enhancing the live betting experience, Crickex also offers live streaming. This allows bettors to watch events in real time, giving them valuable insights that can influence their wagering choices. From ongoing football matches to eSports competitions, live streaming offers a comprehensive view to aid bettors in their decision-making.
Types of Bets Offered at Crickex
Catering to a range of bettors, Crickex provides various betting options. Punters can opt for accumulator bets, which combine multiple selections for the potential of higher returns. Additionally, the platform facilitates system bets for those seeking a more methodical approach to wagering.
Additional Betting Tools and Features
Beyond wagering, Crickex offers tools to enhance the betting experience. Notably, the platform introduces the "cash out" feature, giving bettors the flexibility to close their bets based on their discretion, thereby offering greater control over potential outcomes.
Placing Bets on Crickex
The process of placing bets on Crickex is streamlined and intuitive. To begin:
Register an account with Crickex.
Make an initial deposit.
Navigate to the 'Sports' or 'eSports' section.
Select the desired sport or event and the respective market.
Determine the wager amount and confirm the bet.
Using the Crickex Mobile App to Place Bets
For those preferring mobile access, Crickex's dedicated app offers a seamless betting experience. After downloading and logging into the app:
Access the 'Sports' or 'eSports' section.
Choose the event and market of interest.
Determine the wager amount, confirm, and finalize the bet.
Our Betting Experience with Crickex
Initiating our review, our team began with a deposit of 500 USDT for sports betting on Crickex. We first explored the pre-match markets with an emphasis on football, given its renowned unpredictability and wide betting options. Based on our understanding of team dynamics in an upcoming Champions League match, we strategically placed a double chance bet of 200 USDT on the 'home team or draw' outcome. This approach, while conservative, provided us with a favorable chance of return.
Transitioning to the live betting feature, Crickex's strengths became evident. We zeroed in on eSports, particularly a CS:GO match. With an initial reserve of 300 USDT, we adopted a more aggressive betting stance. During the live match, we identified a momentarily underperforming team known for their match comebacks. Anticipating a potential turn of events, we allocated our remaining funds to this team. This high-stakes decision underscored the appeal of live betting on Crickex — the immediacy and heightened suspense.
In summary, betting on Crickex encapsulates the essence of calculated risks and strategy. Regardless of the outcome, the platform offers an engaging and dynamic betting experience.
Crickex Online Casino Overview
Venturing beyond sports betting, we discovered Crickex's compelling online casino platform. Serving a global audience, Crickex's casino boasts a diverse collection of games designed to enthrall for extended periods.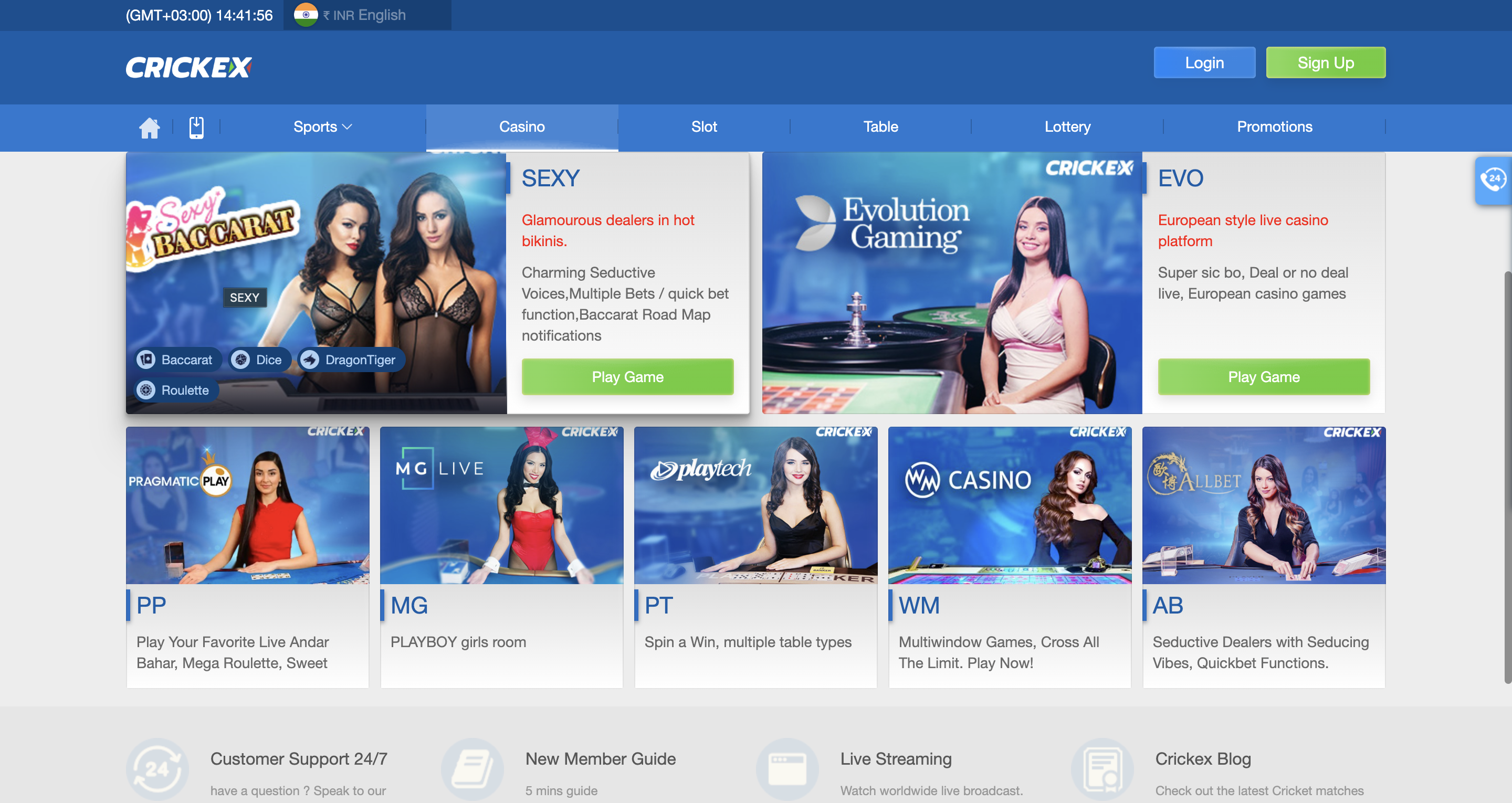 Slot Game Providers at Crickex
A distinguishing aspect of the Crickex online casino is its wide array of slot games, supplied by top-tier software providers. Collaborating with industry giants such as Playtech Gaming, NetEnt, JILI, JDB, Red Tiger, and Spade Gaming, Crickex guarantees premium gaming experiences. The varied assortment of slots, distinctive in their designs and reward possibilities, is a reflection of Crickex's dedication to exceptional user experiences.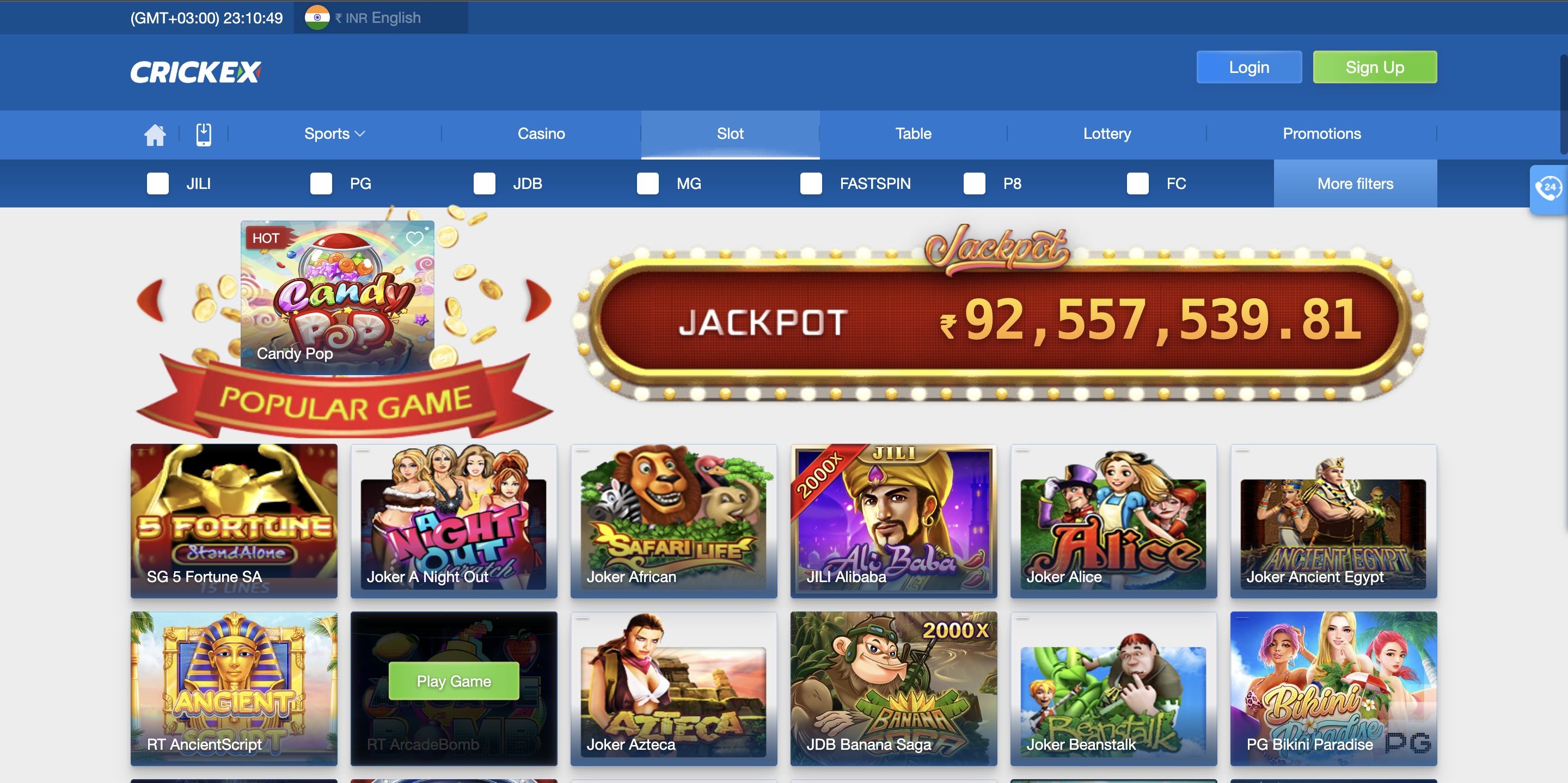 Availability of Asian and Hunting-themed Slots
Upon further exploration, we identified a lack of Asian and hunting-themed slot games on Crickex. While this may limit options for enthusiasts of these themes, the platform's extensive game selection ensures abundant entertainment for a diverse player base.
Top Casino Games Available at Crickex
Beyond the ubiquitous slot games, Crickex offers a comprehensive array of casino games. Traditional table game enthusiasts can find staples such as Blackjack and Roulette. Additionally, the platform houses a dedicated video poker section. Baccarat, Saba Lottery, and Saba Number Game further enhance the platform's diversity, ensuring a holistic casino experience for all users.
Live Casino Experience at Crickex
Crickex's live casino mirrors the ambiance of a premium brick-and-mortar establishment. Here, players can dive into live dealer games, blending the tangible excitement of in-person gambling with online convenience.
Software Providers for Live Games at Crickex
To uphold its commitment to a seamless live gaming experience, Crickex collaborates with top-tier software giants, including Evolution Gaming, Playtech, and Pragmatic Play. This alliance guarantees high-definition, real-time streaming, underpinned by the professional conduct of the live dealers, all contributing to the platform's esteemed reputation.
Benefits of Playing Live Casino Games on Crickex
The live casino section on Crickex offers distinct advantages. The presence of real dealers intensifies the gaming realism and fosters a sense of community. Plus, the real-time game progression bolsters players' trust in the game's fairness. Such facets make Crickex's live casino an immersive experience that stands out in the crowded online gambling market.
Instant Games Overview at Crickex
For those desiring a quick and exhilarating gambling session, Crickex's instant games serve as the perfect fit. These games, designed for immediate gratification, cater to the preferences of players who appreciate fast-paced betting.
Aviator: A Dive into Strategy and Timing
Aviator, a standout in Crickex's instant game lineup, challenges players with its crash game mechanics. As an airplane ascends, the game multiplier increases. Players must strategically decide when to withdraw their bet, anticipating the plane's unpredictable crash. It's a test of nerves and timing.
JetX: High-Octane Betting at Crickex
JetX, echoing the mechanics of Aviator, offers an equally thrilling experience. As the jet rises, so does the game's multiplier. Players must decide when to cash out before an imminent crash. With its rapid gameplay, JetX retains players' attention, demanding quick decisions under the pressing anticipation of the game's climax.
Getting Started with Crickex Casino
For those interested in starting their gaming journey at Crickex, the initial step involves visiting the Crickex website and selecting the 'Register' option. This will direct users to enter essential details, including name, email address, and a secure password. After ensuring the accuracy of the information, users can finalize their registration by clicking 'Submit'.
Once registered, players can fund their accounts by accessing the 'Deposit' section. Several payment methods are available for convenience. For a safe gambling experience, it's recommended to deposit an amount that one is willing to risk.
With the account funded, players can explore the 'Casino' section to choose from a myriad of games. It's essential to understand a game's rules before placing any bets.
Initiating Play on the Crickex App
For mobile enthusiasts, the Crickex app offers a streamlined gambling experience. Available for download from the Google Play Store and Apple App Store, the app mirrors the website's functionality. Users can register or log in through the app. Depositing funds is equally straightforward, ensuring players have a seamless experience on mobile. With a variety of games at their disposal, players can enjoy gaming on the move.
Our Gambling Experience at Crickex Casino
To provide an authentic review of Crickex's offerings, our team commenced with a fund of 500 USDT, exploring both slot machines and live casino games.
Our initial game choice was the renowned 'Money Train 2' by Relax Gaming. Known for its volatility, we approached with caution, allocating 10 USDT per spin. Our persistence was rewarded with the Money Cart bonus round, earning us a net gain of 150 USDT. Encouraged, we increased our stakes, leading to fluctuating results but an eventual balance boost to 700 USDT.
Switching gears, we ventured into the Live Casino domain, selecting 'Lightning Roulette' by Evolution Gaming. This game blends traditional roulette with an RNG twist. Our initial 50 USDT bet on black didn't yield returns. Undaunted, we diversified our bets across specific numbers. Although our luck waned here, our overall Crickex experience was positive.
Concluding our session with a profit showcased Crickex's potential for rewarding experiences. However, as with all gambling, it's essential to prioritize responsible play. Our engagement with Crickex was both enthralling and transparent, attesting to its reputation in the online casino industry.
Crickex Online Poker Room
Crickex's online portal offers more than just a sportsbook and traditional casino. It introduces players to an immersive video poker room where the strategic nuances of poker combine with the swift, dynamic nature of slots, crafting a riveting experience.
Poker Varieties Offered by Crickex
The Crickex platform showcases variants like Casino Hold'em video poker, blending elements that resonate with both poker aficionados and slot enthusiasts. These table poker games are diversified in design, gameplay mechanics, and potential returns. For player convenience, Crickex furnishes a detailed guide accompanying each poker variant, elucidating rules and strategic insights.
Crickex's video poker section stands out due to its attractive payout structures. Many games provide lucrative pay tables. By employing strategic gameplay, players can optimize their odds of winning. Certain variants even come equipped with progressive jackpots, amplifying the thrill factor.
Crickex's Welcome Bonus: 'Gift Point Exchange' Scheme
New entrants to Crickex are greeted with a distinctive 'Gift Point Exchange' promotion as part of the Welcome Bonus. This scheme rewards players with gift points based on their wagering activities. These accumulated points can be subsequently exchanged for real currency.
'Gift Point Exchange' Wagering Specifications
The allocation of gift points is contingent on the selected game type and the associated turnover:
Sports, Slots, Table Games, Lottery, and Fishing: Earn 1 gift point for every 500 in turnover.
Live Casino: Earn 1 gift point for every 1000 in turnover.
Remarkably, each gift point holds a value equivalent to 1 real currency unit. This feature facilitates a potentially rewarding conversion process.
Promotion-specific terms to be cognizant of:
Open to all Crickex members.
The threshold for gift point redemption is 50 points.
No ceiling on the number of gift points a player can accrue.
Exclusions: Bets on Match Odds, Fancy Bets from the exchange market, Fan-Tan game from WM, EVO, Rich88 platforms, and Football studio dice game.
Promotional Offers and Bonuses by Crickex
Beyond its initial offerings, Crickex consistently impresses with its array of promotions and bonuses designed to elevate the user experience for both novice and seasoned members.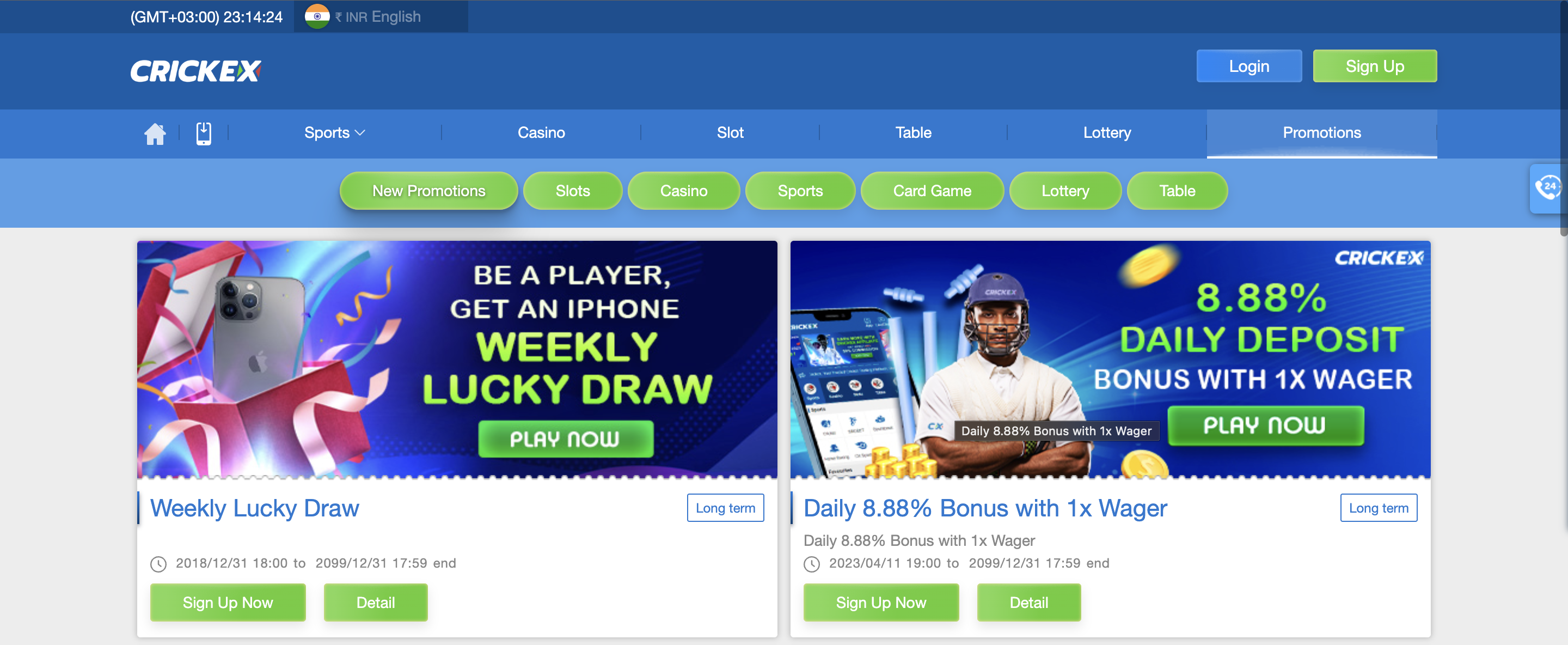 'Daily 8.88% Deposit Bonus' with 1x Wager Requirement
A notable promotion at Crickex is the Daily 8.88% Bonus, which comes attached with a highly favorable 1x wager stipulation. Participation is streamlined: during the deposit process, users can opt for the "Daily 8.88% Reload Bonus with 1x wager" from the designated dropdown menu. A minimum deposit of 1000 activates an 8.88% bonus on the deposit amount. The 1x wager requirement stands out for its attainability, and the promotion's daily recurrence enhances its appeal.
Wagering Specifications for the 'Daily 8.88% Bonus'
The promotion spans daily from 08:30 AM IST to 03:30 PM IST. Bets with odds falling below 1.5 or surpassing 3.0 are excluded from the wagering criteria. Specific games and betting types, such as Fan-Tan from WM, EVO, Rich88, Football Studio Dice game, and bets on Exchange Match Odds or Bookmaker market, remain outside the promotion's purview. Users are eligible for this bonus once daily.
5% EVO Cashback
Crickex features a notable promotion, the "5% EVO Cashback." Eligible participants can receive cashback amounts up to INR 5,00,000 on a weekly basis. The steps to partake are as follows:
Register with Crickex.
Wager on games within the EVO category.
Every Monday, eligible participants receive their cashback, which can range from a minimum of INR 50 to a maximum of INR 5,00,000.
Wagering Requirements for 5% EVO Cashback
Cashback must be wagered 1x prior to withdrawal. This promotion is weekly, resetting every Monday at 12:00 AM IST with cashback distributions completed before 12:00 PM IST. Only players who record a net loss in the preceding week qualify. Participants are limited to one account; those attempting to use multiple or deceptive accounts will be excluded.
5% Slot Cashback
Crickex's "5% Slot Cashback" is another weekly promotion, offering participants a chance to obtain up to INR 5,00,000. To participate:
Register with Crickex.
Place wagers on any slot game.
Cashbacks, ranging between INR 50 and INR 5,00,000, are credited automatically to qualified participants every Monday.
Wagering Requirements for 5% Slot Cashback
The cashback has a 1X turnover requirement. The promotion operates weekly, initiating at 12:00 AM IST every Monday and concluding with cashback distributions before 12:00 PM IST. Only players registering a net loss for the previous week are eligible.
5% Sexy Baccarat Cashback
Exclusively for Sexy Baccarat enthusiasts, Crickex introduces the "5% Sexy Baccarat Cashback." Here, players can garner weekly cashbacks up to INR 50,000. To benefit:
Register at Crickex.
Engage in Sexy Baccarat wagers.
Qualified players receive cashbacks between INR 50 and INR 50,000 every Monday.
Wagering Requirements for 5% Sexy Baccarat Cashback
A 1X turnover requirement applies to this cashback. The promotion recurs weekly, beginning at 12:00 AM IST on Mondays and culminating with cashback distributions before 12:00 PM IST. Only those players incurring a net loss for the designated week qualify. Each player is permitted a single account.
VIP Loyalty Program at Crickex
Currently, Crickex does not have a VIP loyalty program in place. For the latest information or any potential changes, it's recommended to visit the official Crickex website.
Promo Codes: Acquiring and Utilizing at Crickex
Crickex enhances user experience by offering promotional codes. These codes can be found predominantly on Crickex's official website, which regularly updates with seasonal promotions and welcome bonuses. Additionally, by following Crickex on social media, users can stay updated with newly released promo codes.
To redeem a promo code:
Log into your Crickex account.
Access the account section and select the 'Promo code' option.
Enter the code and click 'Apply'.
Benefits from promo codes vary, offering anything from deposit bonuses to free spins or cashbacks. It's vital for users to review the specific terms and conditions associated with each promo code, such as expiration dates and wagering prerequisites, to maximize the benefits.
Crickex Payment Methods
For online gamers, transactional security and convenience are paramount. Recognizing this, Crickex provides a diverse range of payment methods, ensuring accessibility for its wide user base.
Available Deposit and Withdrawal Methods
Crickex offers a myriad of deposit options, including traditional means like credit and debit cards and contemporary options such as e-wallets and prepaid cards. Users should be aware that available methods might vary based on their location. Notably, there's a minimum deposit requirement of $5.
For withdrawals, Crickex maintains consistency by offering the same methods available for deposits, enabling users to transact through their preferred method.
Depositing Money at Crickex
To deposit at Crickex:
Log in and go to the 'Cashier' section.
Choose 'Deposit'.
Select your desired payment method from the list.
Enter the deposit amount, ensuring it's at least the minimum required.
Follow on-screen prompts to finalize the transaction. The account balance updates can be near-instantaneous, depending on the method used.
Withdrawing Money from Crickex
Withdrawing funds is straightforward:
In the 'Cashier' section, select 'Withdraw'.
Choose your withdrawal method (some might require prior use for deposits).
Input the withdrawal amount, adhering to Crickex's minimum and maximum withdrawal limits.
Follow the subsequent prompts. While withdrawal processing times might vary depending on the chosen method, Crickex ensures timely transactions.
Registration at Crickex: Steps and Requirements
Registering at Crickex is a straightforward four-step procedure:
Access the Site: Navigate to Crickex's official website. If there are any accessibility issues, alternative mirror links may be available.
Sign Up: On the website's top right corner, click the 'Sign Up' button. This leads to a registration form where you'll need to input basic personal details. Ensure the accuracy of these details as they form your login credentials.
Initial Deposit: Once registered, proceed to deposit funds into your account. The amount will depend on your preferences. Crickex offers a variety of deposit methods for convenience.
Engage in Gaming: With an active and funded account, users can start enjoying the vast selection of games and sports betting options available on Crickex.
Registration Requirements
Crickex mandates that registrants be at least 18 years old. Proof of age and identity may be requested during the registration or verification process. Also, note that Crickex prohibits individuals from maintaining multiple accounts.
Mobile App Registration
For those who enjoy gaming on the move, Crickex's mobile app offers an optimized registration experience. After downloading the app, tap on 'Sign Up', provide the necessary details, deposit funds, and you're ready to play.
Accessing Crickex's Welcome Bonus
Post registration and the initial deposit, users should check for any ongoing Welcome Bonus promotions. It's essential to be familiar with the specific terms and conditions associated with these bonuses before claiming them.
Crickex Account Verification Process
To prioritize user security and age verification for legal betting, Crickex has an account verification system in place:
Verification Access: After logging into your Crickex account, go to the "Profile" or "Account" section. Here, you'll find an "Account Verification" option.
Document Submission: Users are typically requested to upload a clear scan or photo of a government-issued ID, like a passport or driver's license. Ensure that critical details, such as the photograph, name, and date of birth, are visible.
Address Proof: In certain instances, proof of residence might be required. Acceptable documents include recent utility bills, bank statements, or any official communication showing the user's name and address.
Crickex Mobile App for Android and iOS
Crickex recognizes the growing demand for mobile betting and, in response, has launched a specialized app for both Android and iOS platforms. This section provides an overview of the app's system prerequisites, installation process, and updates.
System Requirements for Android and iOS
To optimize user experience on the Crickex app:
Android devices should run Android 5.0 or higher.
iOS devices should operate on iOS 10.0 or later.
Downloading Crickex APK for Android
Google Play Store doesn't host the Crickex app due to its gambling content policy. However, the APK file can be procured directly from the Crickex official website. Navigate to the site using an Android browser and select the "Mobile App" section to begin the download.
Installing the Crickex App on Android
For installation:
Enable app installations from unknown sources by accessing "Settings," then "Security" or "Privacy." Activate the "Unknown Sources" feature.
Find the downloaded APK file in your device's file storage, and initiate installation by tapping it. Follow any subsequent prompts.
Downloading and Installing the Crickex App on iOS
iOS users can locate and install the Crickex app directly from the App Store. Ensure an uninterrupted internet connection and adequate device storage, then search for "Crickex" within the store and select the download option.
Updating the Crickex App
Staying updated ensures access to the latest features and improvements:
Android: Check for updates within the app or download the latest APK from Crickex's website.
iOS: App Store will notify users about available updates for installed apps.
Recommendations for Playing at Crickex
Engaging with Crickex can be both entertaining and profitable. For an enhanced experience:
Understand Before You Play: Familiarize yourself with game rules, mechanics, and strategies. This foundational knowledge benefits decision-making across sports betting, casino games, or live dealer activities.
Set a Budget: Allocate a specific amount for betting and avoid surpassing this limit. This discipline promotes responsible gambling and financial stability.
Leverage Bonuses: Crickex periodically offers bonuses and promotions. While these can boost your play, ensure you're fully aware of their terms before opting in.
Manage Your Bankroll: For sustainable gameplay, segment your bankroll and avoid heavy wagers on individual bets. This approach protects against significant losses.
Track Your Activities: Documenting bets can highlight areas for refinement. Consistently review your successes, failures, and overall strategy adjustments to hone your approach.
Crickex Mobile Website
Crickex's mobile website provides players with a streamlined platform optimized for mobile devices. Designed responsively, the site adjusts to various screen sizes, ensuring that whether accessed via smartphone or tablet, users have a smooth betting and gaming experience.
Navigating the Crickex Mobile Website
Accessing the Crickex mobile website is straightforward:
Launch your mobile browser and enter the official Crickex URL.
The website detects the device type and automatically adjusts its layout.
Existing users can click the "Login" button, whereas new users can register through the "Sign-up" option.
A well-organized menu facilitates navigation between various sections, from sports betting to casino games, live dealer games, and promotional offers.
After selecting a category, users can explore different games or betting markets.
The mobile platform also allows users to manage their account settings, handle transactions, claim bonuses, and modify personal details.
Crickex License and Fairness
Crickex operates under the jurisdiction of the Curacao Gaming Commission, ensuring that all games and operations adhere to strict guidelines for player safety and fairness. Furthermore, the use of random number generators (RNGs) in their games ensures unbiased and unpredictable results, guaranteeing fairness for all players.
Crickex Customer Support
Crickex places significant emphasis on customer satisfaction. They offer support through various methods, including live chat and email. Regardless of the query—whether it pertains to account issues, transactional assistance, or game-specific questions—the Crickex team provides efficient, informed responses.
An expansive FAQ section on their website addresses prevalent concerns, giving users immediate solutions to common questions, such as those related to account handling, bonuses, and game mechanics.
Overall Assessment of Crickex
While Crickex offers an intuitive interface, a wide variety of payment methods, and innovative features such as biometric login, it does have areas for improvement. The platform, with a strong emphasis on cricket, provides valuable options for enthusiasts. Notable features include mobile accessibility, live betting, streaming services, and UPI payment support. Some limitations include restricted geographic accessibility, absence of phone support, and periodic app updates. Additionally, the lack of a substantial welcome bonus stands out. In summary, while Crickex exhibits potential, certain enhancements could elevate the user experience significantly.
Read this page in other languages:
Pros
User-friendly interface

Wide range of payment methods accepted

Mobile accessibility for convenient betting on the go

Live betting and streaming options for real-time action

Biometric login feature for enhanced security

Compact design for faster loading times

Abundance of cricket betting opportunities

Official Android app for seamless mobile experience

Support for UPI payments. 
Cons
Limited availability restricted to India and Bangladesh

Lack of telephonic customer support

Navigation can be challenging for some users

Frequent updates required for optimal performance

Relatively fewer promotional offers

Absence of a comprehensive welcome bonus.