In this comprehensive review of the 22Bet bookmaker and online casino, we delve into its various aspects, encompassing everything from registration and bonuses to its mobile applications and payment methods. This in-depth article serves as an invaluable resource for anyone interested in 22Bet – be it betting enthusiasts, online casino aficionados, or newcomers to the world of online gambling. With detailed information on its pros and cons, the review enables readers to make informed decisions. So, whether you're contemplating joining 22Bet or simply seeking insights into its operations, this review is your one-stop guide.
Review of the bookmaker and online casino 22Bet is also available in other languages:
About 22Bet Company
Established in 2017, 22Bet is a product of TechSolutions Group N.V., a seasoned player in the gaming industry. This platform has garnered a following of gamblers and punters worldwide, and with good reason. It offers a diverse range of betting markets and sports lines, from American Football to Winter Sports, catering to different tastes and preferences. Besides, esports enthusiasts aren't left behind, with offerings such as CS:GO, Dota 2, and League of Legends, amongst others. Bettors can also choose between different types of odds, such as American, Decimal, and Fractional, making it a flexible platform to place your stakes.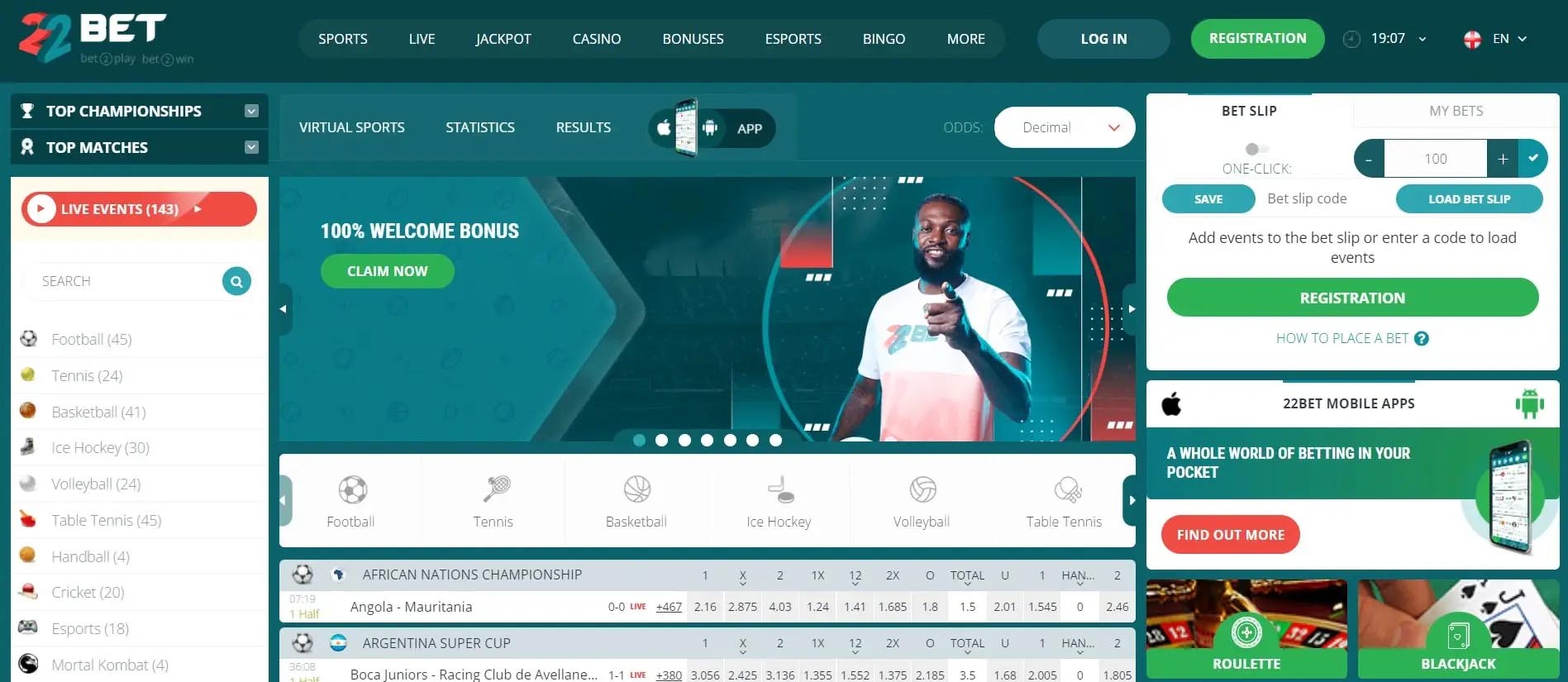 Quick Advantages to Play Games at 22Bet
Not limited to sports betting, 22Bet also hosts an online casino where gamblers can indulge in a variety of games, including poker, bingo, and lottery. Esports, live casino, and virtual sports products are also on offer.
What sets 22Bet apart is its multilingual support – boasting customer service in more than 30 languages, including English, Spanish, and Chinese. Their support channels are operational 24/7, ready to assist players through email, live chat, or telephone.
Looking at the transaction side, our review 22Bet also found a wide range of currencies accepted, and an equally extensive list of deposit and withdrawal methods, enhancing the platform's usability.
Sportsbook 22Bet
The sportsbook 22Bet is a vibrant hub for global bettors looking to make a wager in a multitude of sports. Offering a broad spectrum of betting markets, it enables punters to navigate through their favourite sports or events with ease. Here, we delve into the most popular sports markets and what 22Bet has in store for its users.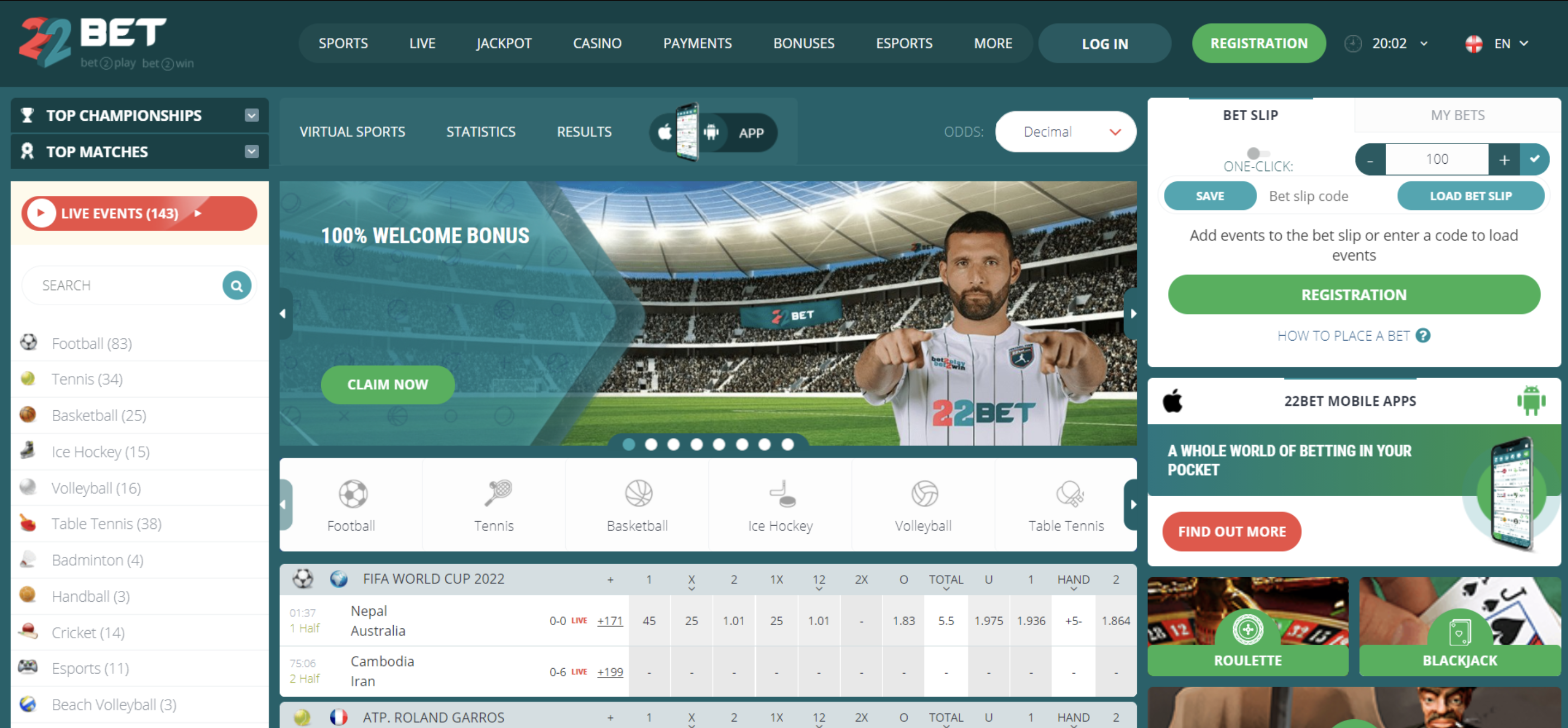 Most Popular Sports Betting Markets in 22Bet
Other Betting Markets Available 22Bet
Beyond the typical sports markets, betting on 22Bet extends to more unique and niche categories. From placing stakes on politics to betting on outcomes of TV shows and weather, the bookmaker 22Bet turns the unusual into exciting betting markets. Bettors also have the opportunity to wager on a diverse range of winter sports, martial arts, and even non-sport events like the Oscars.
Live Betting in 22Bet
Diving into the thrilling world of in-play betting, 22Bet stands out with its user-friendly interface and rich options. The live betting 22Bet platform offers bettors a chance to participate in the dynamic ebb and flow of sporting events. Be it football, cricket, or basketball, the live markets are as diverse as they come. The real-time statistics and live scores keep the punters up to date, aiding them in making informed decisions on the fly.
Live Streaming in 22Bet
Unfortunately, we did not find any live broadcasts of the 22Bet bookmaker. The incorporation of live broadcasts in the future would undoubtedly enhance user enjoyment. This feature would permit players to observe their selected sporting events in real-time, adding another layer of excitement and immersion to the platform. Therefore, we remain optimistic that 22Bet will recognize the importance of this feature and introduce it soon, at least for the most popular sports.
Available Types of Bets on 22Bet
22Bet doesn't disappoint when it comes to betting diversity. Punters can place single bets on a chosen event outcome, or they can spice things up with accumulator bets. Accumulator bets involve predicting the outcomes of several events. Despite the high-risk nature, the potential winnings can be substantial, which is what draws gamblers to this bet type.
Besides, 22Bet also offers systems of bets, which are essentially combinations of Accumulator and Single bets. These systems give bettors a cushion as not all selections need to be correct to score a win. Whether you're risk-averse or a high roller, there's a betting type tailored to your style.
Additional Betting Tools
To enhance your betting journey, 22Bet provides some handy betting tools. The '22Bet cash out' feature is one such tool, allowing bettors to withdraw their stakes before an event concludes. This feature is particularly useful when a bet is going south, giving bettors a safety net of sorts.
Further, the 22Bet bet builder is another innovative tool designed to customize bets to your preferences. It allows you to create a personalized bet on a single game, enhancing your betting experience and potential for unique wagers.
How to Place Bets at 22Bet?
Making a bet at 22Bet is a straightforward process, aimed at making your wagering activity as smooth as possible. Start by logging into your account and head over to the "Sports" or "Live" section, depending on your preference. From there, select the sporting event you want to bet on and choose your preferred market. Clicking on the odds will automatically add the bet to your bet slip. Then, enter the amount you'd like to wager and hit "Place Bet". Just like that, your bet is placed.
How to Place Stakes at 22Bet with the App?
Staking through the 22Bet mobile app is equally simple and user-friendly. After you've installed the app on your device, log in to your account. Navigate to the 'Sports' or 'Live' section, similarly to the desktop version. From there, choose the sport and the specific event you'd like to wager on.
Next, select the odds related to the bet you want to make. These odds will be added to your bet slip automatically. Enter the amount you wish to stake in the corresponding field on the bet slip. Once that's done, finalize your bet by clicking on 'Place a Bet'.
And there you have it, your bet is placed. You'll find the app to be a convenient tool for placing stakes on 22Bet, whether you're at home or on the go, bringing the action of sports betting right at your fingertips.
Our experience of betting on 22Bet
Based on our expertise, we decided to diversify our betting strategy on 22Bet and split our total stake of 500 USDT into two different betting types – one prematch bet and one in-play bet.
For the prematch bet, we chose a basketball game from the NBA. The Golden State Warriors were up against the Boston Celtics. Looking at the form and recent performance of both teams, we went for an Asian Handicap bet. We backed the Golden State Warriors with a -3.5 handicap, expecting them to win by at least 4 points. We staked 300 USDT on this bet.
Unfortunately, the game didn't go as planned. The Celtics performed better than expected and the game ended with the Warriors winning by just 2 points. Due to the handicap, our bet was lost.
Not disheartened by the loss, we moved on to the next bet. This time we ventured into eSports, particularly a live Dota 2 match. Being a game of uncertainties, live betting on Dota 2 can be quite exhilarating. We opted for a Totals or Over/Under bet, wagering that the total kills in the game would exceed 45.5. We staked the remaining 200 USDT here.
The match turned out to be an intense battle. The teams were relentless, charging at each other at every opportunity. The game was an absolute thrill to watch, with the total kills soaring past our expected number. Our live bet won, returning us a significant amount.
In the end, our staking strategy proved to be somewhat effective, as the win in the live bet offset the earlier loss. Betting on 22Bet was a thrilling experience, offering a variety of markets and bet types to keep any punter engaged and excited.
22Bet Online Casino
Beyond its robust sportsbook, 22Bet also houses a thrilling online casino where players can indulge in a range of games that cater to all types of gamblers. The casino 22Bet hosts an impressive lineup of games, spanning slots, table games, and live dealer games, all facilitated by top software providers in the industry.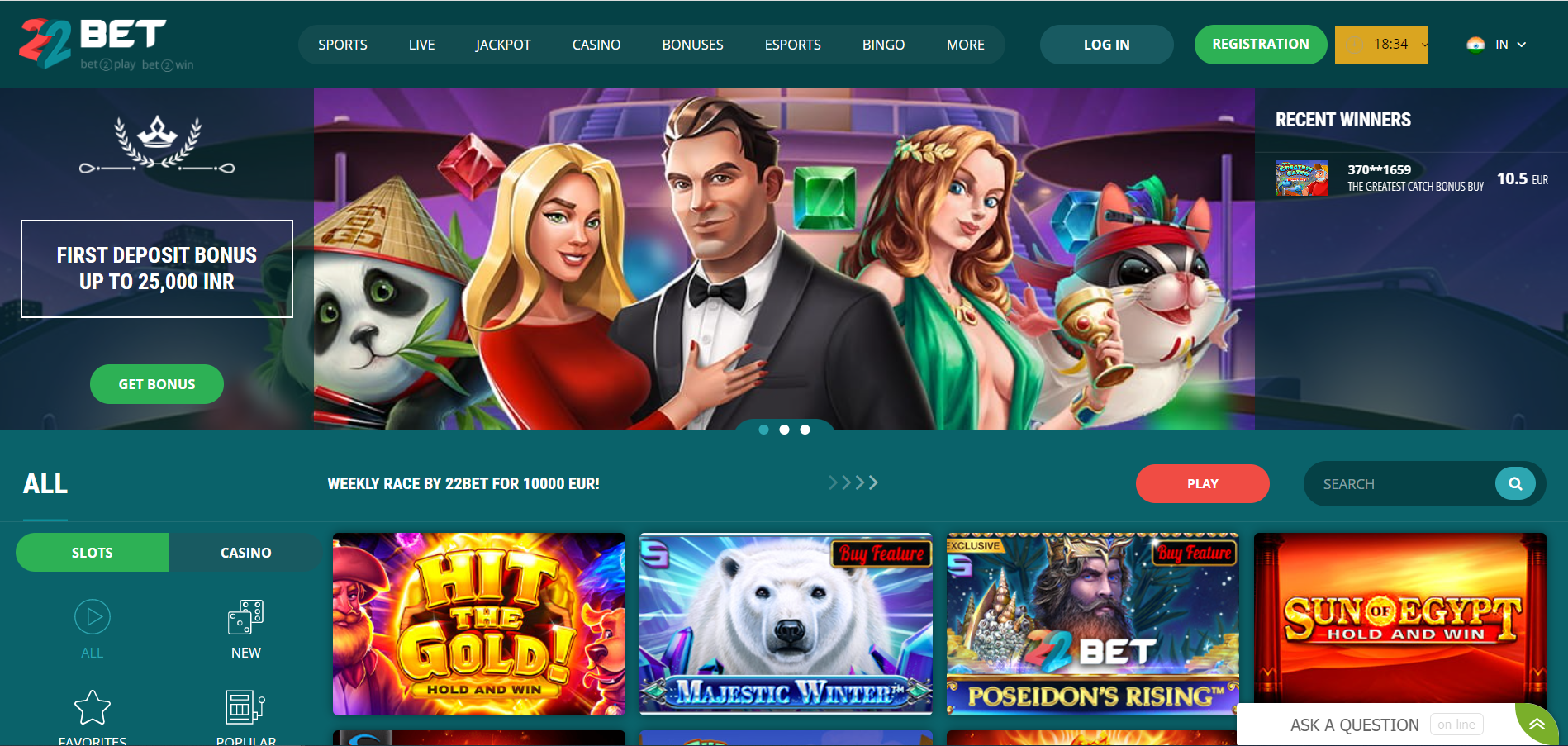 Providers slot games available at 22Bet
Within the gaming lobby, players can choose from a plethora of slot games, a significant part of the 22Bet gambling site's attraction. What stands out about 22Bet's slot offerings is the diversity of game providers available. You can expect titles from big names such as Habanero, NetEnt, and Betsoft, amongst others. These game providers are renowned for their high-quality graphics, smooth gameplay, and impressive RTPs.
Is have 22Bet Asian and hunting slots games?
Digging deeper into the slot selection, we were pleased to find a variety of Asian-themed and hunting slots available at 22Bet. These types of games, heavily inspired by Asian culture or the thrill of the hunt, offer a unique and immersive gambling experience. Players can delve into mythical Asian worlds or experience the thrill of the hunt, all while having a chance at substantial payouts.
Top Casino Games available at 22Bet
But the excitement doesn't end there. Aside from the diverse slot offering, there is an array of top casino games available at 22Bet. Blackjack, roulette, poker – the classics are all there. Players can pit their skills against the dealer in live games or try their hand at automated versions. Each game is rendered in high-quality graphics that mimic the real-life casino experience closely.
For the poker aficionados, 22Bet hosts numerous variants including Texas Hold'em and Omaha. Fans of the roulette wheel can choose between European, French, and American versions, each offering a unique spin on the iconic game. The blackjack tables are equally diverse, with different variations available to suit all skill levels.
Live Casino at 22Bet
The thrill of real-time play is just a click away in the Live Casino at 22Bet. Live dealer games offer a level of engagement that mimics the buzz of a physical casino, and 22Bet has excelled in creating this dynamic environment for its players. The ability to play with real dealers in an online format enhances the sense of authenticity and trust that many players seek.
Live games providers in 22Bet
In the realm of live games, providers are key, as they define the quality of the experience. 22Bet has collaborated with some of the industry's best, including Evolution Gaming and Ezugi, to power their live dealer games. Both of these providers are known for delivering top-notch, immersive experiences, featuring high-definition streaming, user-friendly interfaces, and professional dealers that cater to players of all skill levels.
Adavantages live casino games at 22Bet
The live casino games at 22Bet come with numerous advantages, enhancing the overall gaming experience. Players get to engage in real-time play, which adds an exciting layer of urgency and unpredictability. You get to see the action unfold right in front of your eyes, eliminating any uncertainty that might come with RNG-based games.
A key highlight is the ability to interact with both the dealers and other players, building a sense of community around the tables. This interaction is facilitated via an in-game chat feature, bridging the gap between players and creating a more social environment.
Instant games at 22Bet
Apart from conventional betting and casino games, 22Bet introduces a variety of quick betting options for players who prefer dynamic and fast-paced gaming. These social casino games, often called instant games, offer punters the chance to partake in a quick wager, making them perfect for gamblers seeking swift excitement.
Aviator 22Bet
Among the instant games available, two standout options are the crash games "Aviator" and "JetX" at 22Bet. These games, providing a unique spin on betting, have quickly become popular due to their simplicity and high-paced nature.
In the Aviator game at 22Bet, players place their wager, and then watch as an airplane takes off on the screen, climbing higher and higher. The winnings increase as the airplane climbs. However, the plane can crash at any moment, hence the category name. The trick is to cash out before the crash, locking in the current winnings. This game requires a mixture of intuition, luck, and risk-taking, which makes it an adrenaline-fueled experience for every player.
JetX 22Bet
Next on the roster is JetX. A game of similar nature, players place a bet and watch as a rocket ship ascends, each moment increasing the potential payout. Just like with Aviator, the key is to cash out before the rocket explodes. JetX offers several rockets to choose from, each having a different level of risk and potential reward. This added layer of strategy and selection has seen JetX game at 22Bet gain a dedicated following of players.
How to start play at casino 22Bet?
To begin your gaming adventure at the online casino 22Bet, the process is simple and straightforward. Initially, you need to visit the official 22Bet website and create an account. This involves clicking on the "Registration" button, filling in your personal details, and following the instructions provided. After this process, you'll have full access to the vast array of games that 22Bet has to offer.
How to start play at 22Bet via App?
However, for players on the go, 22Bet has developed an exceptional mobile app to ensure seamless gaming anywhere and anytime. To start playing at 22Bet via the app, you first need to download it onto your device. The 22Bet app is available for both iOS and Android systems, and it can be downloaded directly from the 22Bet website or their respective app stores.
Once the app is installed, you need to log in using the same credentials as your online account. If you haven't yet registered, the app allows you to create a new account in a few simple steps, making the process as streamlined as possible. After you've logged in, you can navigate through the app's user-friendly interface to find your favorite games, place your bets, and manage your account.
Our experience of gamble in casino 22Bet
It was an exhilarating day at the 22Bet online casino. We had 500 USDT at hand and we wantr to play two popular casino games. After some consideration, we decided to go with the slot game "Gonzo's Quest" from NetEnt, and live Blackjack.
We started with "Gonzo's Quest", a popular slot game featuring a fun explorer theme. We decided to set our bets high, staking 100 USDT per spin to keep the adrenaline rush high. The idea was to chase the Free Falls bonus feature, which is known for dishing out large multipliers. After several spins, we finally hit the bonus feature and our screen was lit up with golden coins indicating a significant win. Our balance increased by 200 USDT, a result of the high stake and the generous bonuses from Gonzo's Quest.
Thrilled with the big win, we then moved onto live Blackjack, one of the most popular table games at 22Bet. The allure of playing with a live dealer and the strategic nature of the game made it an irresistible choice. We decided to follow the basic blackjack strategy. Starting off with a bet of 50 USDT, we were dealt a good hand and decided to 'stand'. Luck was on our side, the dealer busted and we won, doubling our initial stake.
Emboldened by this win, we decided to take a risk. We increased our bet to 150 USDT, getting dealt a 'soft 17'. Following the strategy, we chose to 'hit'. The next card was a '4', giving us a '21'. We had hit blackjack! The dealer, unfortunately for them, only had 20. We were victorious again.
At the end of our gaming session, we had increased our initial amount to a total of 850 USDT. These victories were due to a mix of luck and a strategy that relied on higher stakes to yield higher returns. Playing at 22Bet was a thrilling experience, blending the unpredictability of slots with the strategic demands of live Blackjack. It provided a real online casino experience, full of adrenaline and excitement.
22Bet Online Poker Room
Diving deeper into the vast ocean of opportunities at 22Bet, one can't help but take notice of the enticing online poker room. A haven for card enthusiasts, online poker at 22Bet is a perfect combination of a classic card game and modern technology, providing a seamless and engaging experience for players of all levels.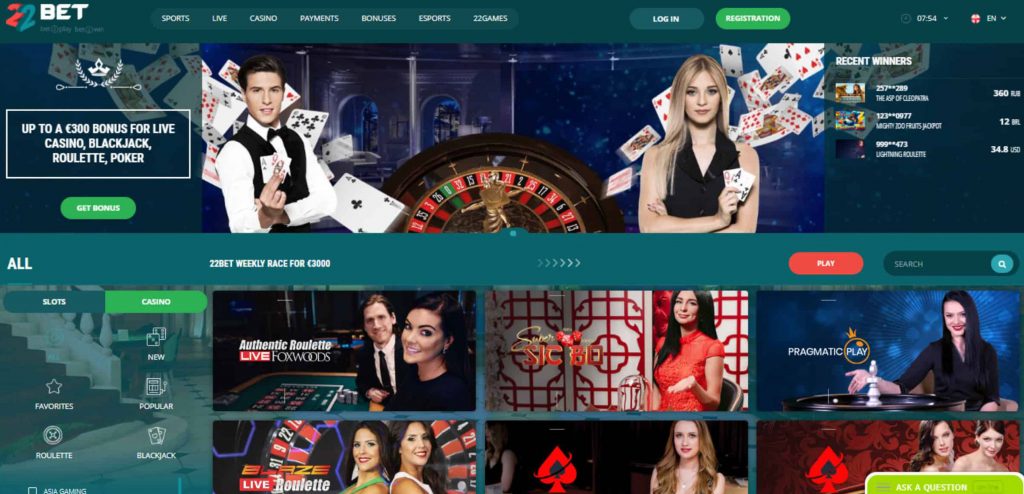 Poker Types available on 22Bet
Several poker types are available at 22Bet, accommodating both beginners and professionals. Traditional variations such as Texas Hold'em and Omaha are naturally included, but the site also caters to those seeking something a little different. Seven-Card Stud and Razz are among the offerings, adding an extra layer of strategy and excitement to your poker sessions. These games are not only enjoyable, but they also provide an excellent opportunity for players to sharpen their poker skills, developing strategies and understanding the nuances of different poker variations.
Poker Tournaments at 22Bet
However, the thrills of online poker at 22Bet are not limited to these classic games. The platform regularly hosts exciting poker tournaments that bring players together from across the globe. These tournaments range from freerolls, where entry is free, to buy-in tournaments, where the stakes and potential winnings can be much higher. This diversity caters to a wide array of players, from those looking for fun and free competition, to serious players seeking higher stakes.
One noteworthy feature of these tournaments is that they are scheduled throughout the day, ensuring that no matter what your schedule looks like, there's likely a tournament ready for you to join. These tournaments not only offer significant prize pools but also present an excellent opportunity to challenge your skills against a variety of players.
22Bet Welcome Bonus
Welcome Bonus is specifically tailored for sports betting. As a new customer, you're eligible for a 100% first deposit bonus up to 16000 JPY, thereby setting the perfect stage to explore the wide array of betting opportunities 22Bet offers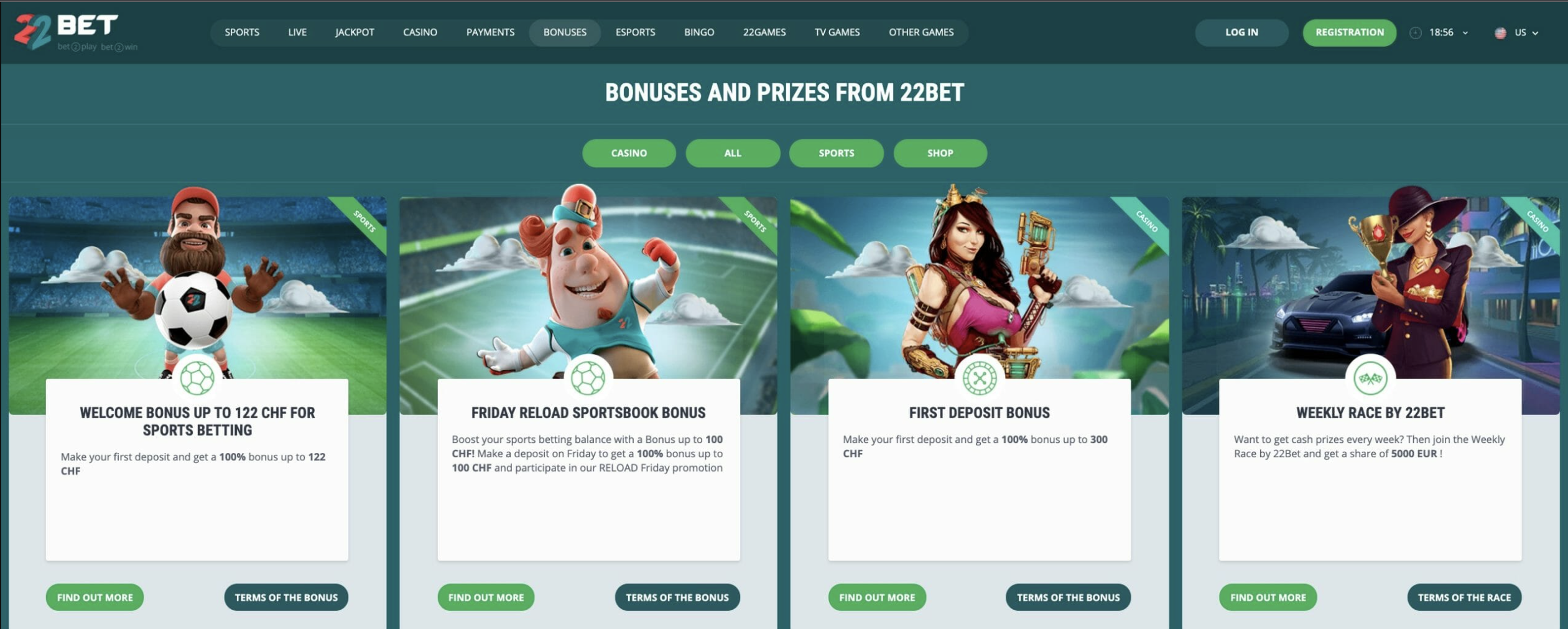 Upon making a minimum deposit of 150 JPY, the bonus is automatically credited to your account, unless you've opted out by ticking the "I do not want any bonuses" box. Prior to depositing, make sure to select the appropriate bonus account for the bonus to be credited.
Bonus Wagering Requirements
Once you've received your bonus, you can't transfer it between bonus accounts. However, you can start betting! Withdrawal from your account will become possible after the bonus has been wagered. Specifically, if the bonus is credited to the sports betting bonus account, the wagering requirement stands at 5x the bonus amount in accumulator bets. Each of these bets must include at least three selections, with minimum odds of 1.40 or higher for three of the selections.
Please note that refunded bets are not included in the wagering requirement. The bonus is considered wagered only when all bets of the specified amount have been settled. Bonuses are not applicable for cryptocurrency accounts, and importantly, the bonus must be wagered within 7 days from being credited.
22Bet Bonuses and Promotions
Beyond the welcome bonus, 22Bet provides an array of other promotions and 22Bet bonuses. These range from deposit match bonuses to free bets, offering something for every type of player. They keep things exciting and engaging, whether you're a fan of sports betting, casino games, or poker. It's always worth keeping an eye on the promotions 22Bet page as new offers and promotions are frequently updated, providing constant opportunities for players to boost their stakes and potentially their winnings.
First casino deposit bonus up to 40000 JPY
At 22Bet, the start of your casino journey is greeted with an attractive first casino deposit bonus up to 40000 JPY. This bonus, which is exclusively designed for new customers, sets you up for a fantastic exploration of the exciting world of online casino games.
To get started, you just need to register on the 22Bet website and fill in all the required fields in 'My Account'. Following a minimum deposit of 150 JPY, you will receive a 100% bonus up to 40000 JPY for the casino, which is automatically credited to your account post-deposit.
'First casino deposit bonus' Wagering Requirements
The terms and conditions are quite straightforward. This first deposit bonus is a one-time offer per customer. The maximum casino bonus that can be claimed is 40000 JPY. It's important to note that you will only be able to withdraw funds from your account once the bonus has been wagered.
The wagering requirement for the casino bonus is 50x the bonus amount. Interestingly, when you have an active bonus, bets wagered in 22Games will be counted twice, with a few exceptions. However, while wagering a casino bonus, your stake must not exceed 5 EUR/5 USD. Do remember that all bonuses are deactivated for cryptocurrency accounts and must be wagered within 7 days.
Rebate Bonus
22Bet introduces a unique and appealing "Weekly Rebate" bonus program aimed at rewarding their most active players. The more you bet, the bigger your rebate becomes, which serves as an excellent incentive for sports betting enthusiasts.
Every week, 22Bet calculates your total betting outlay for the previous week and credits a weekly cash rebate of 0.3% on your sports bets to your account.
'Rebate Bonus' Wagering Requirements
The weekly rebate is calculated as 0.3% of your total bets from the previous week. The minimum rebate amount is 120 JPY, while the maximum limit stands at 120,000 JPY. This amount will be automatically credited to your account every Tuesday. The total amount of valid bets placed from 00:00:00 on Monday until 23:59:59 on Sunday (GMT+7) is considered for the rebate.
However, there are wagering requirements to redeem the bonus. You must place a bet on a sporting event with odds of at least 1.50. The Weekly Rebate bonus program makes sports betting on 22Bet even more exciting, rewarding your engagement and enhancing your potential winnings.
Friday Reload Sportsbook Bonus
Kickstart your weekend betting with 22Bet's Friday Reload Sportsbook Bonus. This promotion is an excellent opportunity for sports betting enthusiasts to augment their balance with a 100% bonus up to 13,000 JPY. To participate, simply make a deposit of at least 1 EUR/USD on Friday and confirm your consent to receive sports betting bonuses.
'Friday Reload Sportsbook Bonus' Wagering Requirements
However, customers should be aware of certain conditions. The bonus is available only once per customer every Friday. It gets automatically credited to your account upon making a qualifying deposit unless you choose to opt-out of bonuses. To withdraw the funds, you must wager the bonus 3x in accumulator bets within 24 hours of credit. Each accumulator bet should comprise three or more selections, with at least three selections having odds of 1.40 or higher.
If a withdrawal is made before the deposit, the bonus won't be credited. It's crucial to note that the bonus becomes void if not wagered within 24 hours, resulting in the cancellation of any bonus winnings. Only sports events count towards wagering, and this offer cannot be combined with other promotions or special offers.
VIP loyalty program in 22Bet
At the time of writing, 22Bet does not offer any formal VIP loyalty program. This is somewhat unusual, as many online casinos and bookmakers have well-established VIP or loyalty programs in place for their frequent players. Instead of a traditional VIP scheme, 22Bet focuses on providing regular bonuses and rewards to all their customers, ensuring every player can benefit from their offers.
Despite not having a dedicated 22Bet VIP loyalty program, this bookmaker is committed to making the betting experience enjoyable and rewarding for its customers. The regular promotions are enticing and generous, which in many ways substitute for a loyalty program. They offer the chance to amplify your winnings or recoup some losses, and they add an extra layer of excitement to your betting.
While it may not follow the conventional VIP structure, 22Bet's approach ensures all players, regardless of the frequency or amount of their wagers, have access to potential rewards. In essence, their entire player base is treated with VIP-like care.
Promo Codes: How to get and use promocodes at 22Bet?
Promo codes offer a great way to enhance your gaming experience at 22Bet. To acquire a 22Bet promocode, one typically has to keep an eye on the bookmaker's promotions page, sign up for their newsletter, or follow their social media pages where promotional updates are frequently posted.
Once you've obtained a promo code, using it at 22Bet is straightforward. Simply log in to your account and navigate to the deposit page or the promotional page, depending on where the code application is specified. Look for an input field labelled 'Promo Code' or similar, and enter your 22Bet promocode there. Ensure that you've input the code correctly to avoid any errors.
22Bet Payment Methods
22Bet offers a plethora of payment methods, ensuring a convenient experience for its customers. This abundance of options accommodates the diverse preferences of the bookmaker's international clientele, providing secure transactions and efficient payment processing.
Available deposit and withdrawal methods at 22Bet
The array of deposit methods at 22Bet includes the likes of credit and debit cards, e-wallets, mobile payments, and cryptocurrencies. These options encompass popular methods such as Visa, MasterCard, Skrill, Neteller, and Bitcoin, among others. This broad spectrum of choices provides users the flexibility to select the method they are most comfortable with or find most convenient.
Similarly, the withdrawal methods at 22Bet echo the variety of deposit methods. Users can opt for withdrawals via their credit or debit cards, e-wallets, or cryptocurrencies. The availability of these methods ensures a seamless withdrawal process, contributing to an overall satisfactory experience for customers.
Once you've selected your preferred method, enter the deposit amount, adhering to the minimum deposit requirement. After confirming the details, proceed with the transaction. The deposited amount should reflect in your 22Bet account shortly, if not instantly, depending on the chosen method.
The minimum deposit at 22Bet is set to cater to players of all budget ranges. Typically, the minimum deposit stands at a very affordable level, allowing even casual players to enjoy the betting and gaming options on offer.
| | |
| --- | --- |
| Minimum deposit  | 1.00€ |
| Maximum deposit | No limit |
On the other hand, the minimum withdrawal at 22Bet is also reasonably set, ensuring that players can cash out their winnings without having to meet an excessively high threshold. The maximum withdrawal limit at 22Bet is generous enough to accommodate the needs of high rollers and avid bettors.
| | |
| --- | --- |
| Minimum withdrawal  | 1.50€ |
| Maximum withdrawal  | 10,000€/day |
How to deposit money at 22Bet?
Depositing money at 22Bet is a simple and straightforward process. After registering and logging into your account, navigate to the 'Deposit' section. Here, you'll see a list of the available deposit methods. Choose the one that suits your needs and preferences.
Once you've selected your preferred method, enter the deposit amount, adhering to the minimum deposit requirement. After confirming the details, proceed with the transaction. The deposited amount should reflect in your 22Bet account shortly, if not instantly, depending on the chosen method.
How to withdraw money from 22Bet?
To withdraw money from 22Bet, you'll need to go to the 'Withdrawal' section in your account. Here, you can select your preferred withdrawal method. Ensure that your chosen method aligns with the minimum withdrawal and maximum withdrawal limit at 22Bet.
After selecting the withdrawal method, enter the amount you wish to withdraw and confirm the transaction. Remember that withdrawal requests usually undergo a processing period, and the duration of this period can vary depending on the chosen withdrawal method.
Registration at 22Bet: How to Sing Up?
Diving into the world of betting on 22Bet starts with a straightforward registration process. Let's walk you through the necessary steps.
Step 1: Visit 22Bet. Start by navigating to the 22Bet official site. If you're in a region where access might be restricted, consider using a mirror site. Following our link will ensure that you're headed to the right destination.
Step 2: Sign Up. Upon arriving at the 22Bet homepage, look for the "Registration" button typically situated in the top right corner. Clicking this will lead you to a form where you're required to fill in your details. Remember to keep this information accurate and secure, as it's crucial for the registration on 22Bet official site.
Step 3: Make a Deposit. With your new 22Bet login credentials, you can now proceed to fund your account. The platform accepts a wide range of payment methods for your convenience. Select one that suits you best and follow the prompts to make your initial deposit.
Step 4: Place Stakes. Now that your account is ready and loaded, the world of betting at 22Bet awaits. Go ahead and explore the vast range of sports betting markets and lines, or even try your luck with their extensive selection of casino games.
Registration Requirements
When you register 22Bet will ask for some necessary details. These include your full name, preferred username, a secure password, and contact details like your email address and phone number. Additionally, you're required to confirm that you are of legal gambling age in your country.
How to Register with the Mobile App?
For those punters who prefer wagering on the go, 22Bet also offers a dedicated mobile app. To sign up 22Bet via the mobile app, simply download the app compatible with your device (Android, iPhone, Windows Phone), and follow the same steps as described above. It's a straightforward process that ensures you never miss out on any betting action, regardless of your location.
How to Get a Welcome Bonus 22Bet with Registration?
22Bet welcomes its new players with an attractive bonus offer. During the registration process, you'll be asked if you want to receive a welcome bonus. Ensure you check the box to opt-in for this bonus. Upon successfully making your first deposit, the welcome bonus is usually credited to your account. Remember, each bonus comes with its specific wagering requirements, so do check the terms and conditions to understand how to fully benefit from this welcome offer.
22Bet Account Verification Instruction
Verifying your 22Bet account is an essential step that ensures the security of your transactions and confirms your identity in line with regulatory requirements. 22Bet will request certain documents to verify your account. This typically includes proof of identity and proof of address.
For proof of identity, a copy of a government-issued ID, such as a passport or driver's license, is required. Ensure that all details, including your photograph, are clearly visible. As for proof of address, you can submit documents like utility bills or bank statements, not older than three months, displaying your full name and residential address.
After gathering the necessary documents, upload them via the 'Verification' section in your account profile. The 22Bet team will review the provided documents, and if they meet the requirements, your account will be verified within a few days. Once verified, you can freely deposit, wager, and withdraw funds without restrictions.
22Bet Mobile App for Android and iOS
For those who prefer betting on the go, 22Bet offers a convenient mobile app available for both Android and iOS devices. The mobile application provides a seamless betting experience, with a user-friendly interface, a wide array of betting markets, live streaming capabilities, and secure payment options, just like its website counterpart. 
System Requirements 22Bet App for Android and iOS
To ensure a smooth and efficient betting experience, certain system requirements must be met. The 22Bet app for Android requires an operating system of Android 5.0 or higher, whereas the iOS version of the 22Bet app is compatible with iOS 9.0 or later. Both versions need an adequate amount of storage space for installation, so make sure you have enough room on your device before downloading the app.
How to Download 22Bet APK for Android?
The Android version of the app isn't available on the Google Play Store due to Google's policy on gambling apps. To download the 22Bet APK on Android, you will need to visit the official 22Bet website. Navigate to the 'Mobile Applications' section, and there you will find a link to download the Android app.
How to Install 22Bet App on Android?
Before you can install the 22Bet app, you need to allow installation from unknown sources on your Android device. This can be done by going to your device's security settings. Once this is enabled, locate the downloaded APK file in your device's downloads folder and tap on it to initiate the installation process. Follow the instructions on the screen, and in no time, the 22Bet app will be ready to use on your Android device.
How to Download and Install 22Bet App on iOS?
Downloading the 22Bet app for iOS is a straightforward process. You can find the app in the App Store by searching for '22Bet'. After finding the app, click on 'Get' to start the download. Once the download is complete, the app will automatically install on your device. After installation, you can open the app, sign in or register, and start betting.
How to Update 22Bet App?
Updating the 22Bet app is simple. If you're using an Android device, you'll need to download the latest APK file from the 22Bet website and reinstall the app. For iOS users, updates can be downloaded directly from the App Store. Make sure you keep your 22Bet app updated to benefit from the latest features and security enhancements.
Tips and Best Practice for playing at 22Bet
Successful betting at 22Bet, like any other online casino or sportsbook, requires some knowledge and strategy. One of the most essential tips is to understand the games or sports you intend to bet on. Familiarize yourself with the rules, odds, and strategies related to these games or sports.
Be sure to leverage the available bonuses and promotions that 22Bet offers. These offers can enhance your betting balance and provide more opportunities to win. However, remember to thoroughly read the terms and conditions of these bonuses to ensure you understand the wagering requirements.
Keep a close eye on your bankroll. It's important to set a budget for your betting activities and stick to it. Never bet more than you can afford to lose. This is key in ensuring a sustainable and enjoyable betting experience.
Remember to always gamble responsibly. If you feel that your betting is getting out of control, 22Bet provides tools and resources to help manage your gaming activities.
Finally, take full advantage of 22Bet's customer support. They are there to assist with any queries or issues you may have. Their service is professional, helpful, and can guide you through any technical or transactional issues that you may encounter.
Implementing these tips and best practices can significantly enhance your overall experience and success at 22Bet.
22Bet Mobile Website
22Bet offers a highly optimized mobile website that's specifically designed to cater to the needs of those who prefer betting on the go. The mobile website mirrors the functionality and features of the desktop site, but with the convenience of access from a mobile device. Navigation is intuitive, and pages load quickly, ensuring a smooth betting experience on a smaller screen. All the features such as sports betting, casino games, live casino, bonuses, and account management functions are available right at your fingertips.
How to use the 22Bet Mobile Website?
Using the 22Bet mobile website is straightforward. Open your preferred mobile browser and type in the 22Bet URL to access the site. Once the website loads, you can log in with your 22Bet credentials. If you are new, you can easily sign up and create a new account. From there, you can browse through the site, choose your preferred betting markets or casino games, place bets, deposit or withdraw funds, and even contact customer support. The mobile website is designed to be user-friendly, making betting and navigation easy and enjoyable.
22Bet License and Fairness
22Bet operates under a license from the Curacao eGaming Licensing Authority, which is one of the most respected regulatory bodies in the online gambling industry. This ensures that the platform adheres to strict standards of fairness, security, and responsible gaming. To further cement its commitment to fairness, 22Bet utilizes a Random Number Generator (RNG) in its casino games to ensure unbiased, random results in every game. Players can therefore trust that they're playing in a safe, fair, and secure environment.
22Bet Customer support
Excellent customer support is vital to ensure a high-quality betting experience, and 22Bet understands this. They provide round-the-clock customer support service to handle any issues or queries. You can reach them through a live chat feature on their website for instant responses, which is especially handy for urgent queries. There's also an email option for less urgent or more detailed inquiries. Customer support at 22Bet is available in multiple languages, reflecting the platform's global reach. The team is professional, knowledgeable, and keen on providing effective solutions to any issues raised, further solidifying 22Bet's commitment to offering a seamless betting experience.
Final Opinion on 22Bet as bookmaker and online casino
With an exceptional variety of sports, user-centric payment options, and commendable customer support, 22Bet positions itself as an enticing choice in the vast online betting market. It breaks new ground with its forward-thinking embrace of cryptocurrencies and high winning limits. Yet, the platform has room for refinement, especially in enhancing user experience and improving certain operational areas, such as weekend payment speeds. Prospective users must weigh these considerations against the platform's benefits. On the whole, 22Bet is a compelling platform for both casual punters and seasoned bettors, offering a rich, versatile, yet somewhat nuanced betting experience.
Read this page in other languages:
Accepted Cryptocurrencies
Available Games
Supported Languages
Pros
Extensive selection of over 50 sports and 2,000+ daily live events.

Generous payout on top sports and a diverse range of over 500 football markets.

Broad financial accessibility with full and partial cash-out options, over 100 payment methods

Support for Bitcoin, Ethereum, and Cardano.

Multitude of languages and currencies available, robust mobile applications.

Enhances player satisfaction with high winning limits and exciting sports promotions.
Cons
The old-fashioned design could benefit from a modern revamp for a more engaging user interface.

Limitations in features like no live streaming and no auto cash-out.

Some users may find the KYC process challenging and slower payments during weekends.

Several country restrictions may limit the platform's global accessibility.