Dive into our comprehensive review of Rabona, an emerging platform in online betting and casino gaming. Intended for new users and seasoned bettors alike, this article provides a thorough exploration of Rabona's offerings, spanning from its robust selection of pre-match and live events to its user-friendly mobile applications. We delve into its range of promotions, its VIP loyalty program, payment methods, account verification, and more. Additionally, we give you a step-by-step guide to registration and how to make the most of their welcome bonuses. This review is designed to give you a well-rounded perspective on Rabona, outlining both its strengths and areas for improvement. By the end of this article, readers will be equipped with invaluable insights to make informed decisions about their online gaming journey with Rabona.
Review of the bookmaker and online casino Rabona is also available in other languages:
Unraveling the World of Rabona
Rabona, a reputable betting site, has been serving the global community of bettors since 2019. It's owned by Rabidi N.V. and operates under a Curacao Gambling License, ensuring a secure environment for players. Our analysis of this betting site shows that Rabona's sportsbook offers a broad range of sports, from football and tennis to cricket and horse racing. Besides, it provides users with unique features like Bet Builder, Fast Markets, and Combo Bets, making staking more flexible and exciting.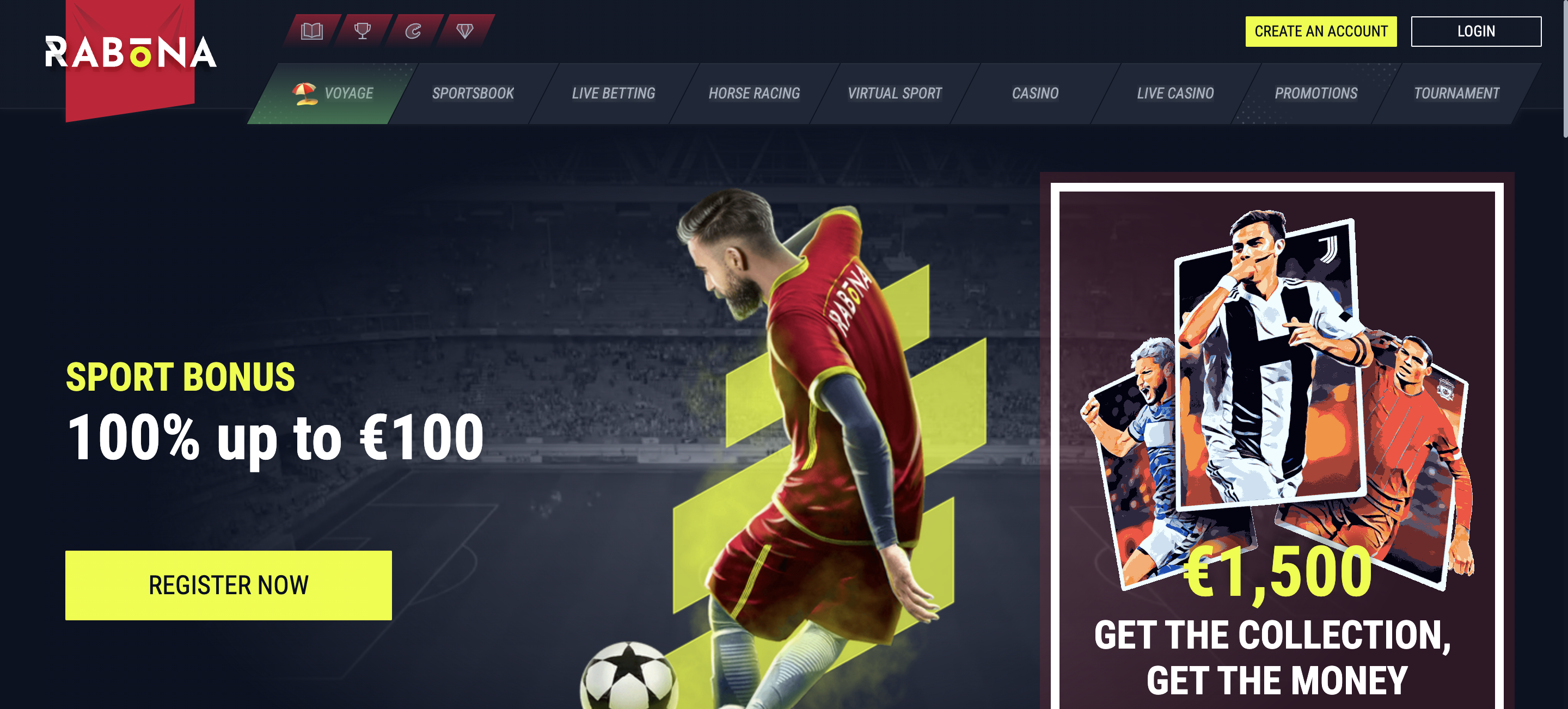 Reasons to Choose Rabona: Key Advantages
When it comes to reasons to bet at Rabona, the list is extensive. Punters will appreciate the variety of payment methods from traditional cards to cryptocurrencies, which facilitate quick and easy transactions. Rabona ensures a minimum bet of just €0.50, with the potential for a maximum profit of €100,000. This accommodates bettors of all budgets. Rabona also provides detailed statistics and match results, enabling players to make more informed betting decisions.
Furthermore, Rabona online casino shouldn't be overlooked. With a plethora of games available, casino enthusiasts can expect endless entertainment. However, please note that live streaming is not available, which may be a slight downside for some users.
Diving into Rabona's Sports Betting Universe
Let's take a closer look at the sportsbook Rabona offers. When betting on Rabona, you're welcomed into a realm of abundant opportunities, with numerous sports and betting markets to explore. The sportsbook is quite comprehensive, making the Rabona betting site a go-to platform for bettors.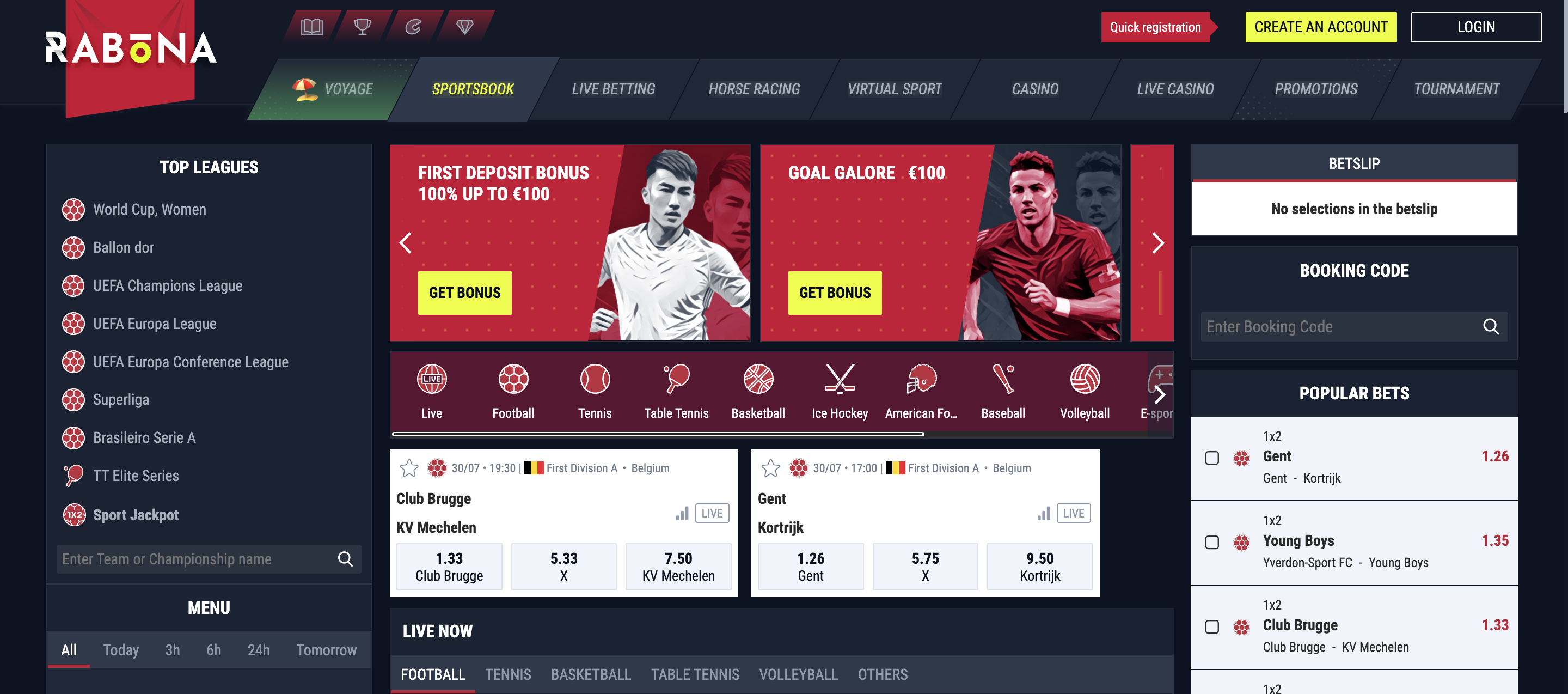 Rabona caters to the needs of diverse bettors, with sports ranging from football and tennis to somewhat niche markets like biathlon and badminton. The availability of various sports ensures that you can find your preferred market to place stakes. Apart from traditional sports, Rabona also offers the possibility of wagering on other sectors such as Entertainment, offering a unique mix of fun and reward.
The Preferred Playing Fields: Popular Markets at Rabona
What makes bookmaker Rabona stand out are the most popular sports betting markets it presents. Among the numerous options, football, tennis, and basketball are the heavy hitters. Our research has shown that betting site Rabona's football market, in particular, seems to be a magnet for punters due to the high odds ratio of 0.9308, making it quite profitable.
Basketball, with an odds rating of 0.958, is another sport that sees a high volume of Rabona bets. The tennis market, with a competitive odds ratio of 0.9403, is not far behind. Whether you're a fan of the Grand Slam tournaments or prefer ATP and WTA events, Rabona has you covered.
Your Betting Journey Begins: Placing Bets at Rabona
So, how do you navigate through this expansive betting universe? Placing a bet at Rabona is pretty straightforward. Once you've registered and made your first deposit (a minimum of ₹300), you can start exploring the sportsbook.
Choose your preferred sport from the array of options. You'll then see the available matches or events for that sport. Decide which match or event you want to bet on, select it, and you'll be presented with the betting markets and odds for that event. You can choose from standard bets or utilize the Bet Builder feature for more personalized stakes. After selecting your desired bet, it's added to your bet slip, where you input the amount you wish to stake. Confirm your bet, and voila! You're in the game.
Thrill of the Moment: Live Betting at Rabona
Live betting on Rabona takes the excitement of wagering to a whole new level. The ability to place stakes on live matches as they're unfolding offers bettors a unique, adrenaline-filled experience. In-play betting Rabona not only lets you feel the pulse of the game but also provides an opportunity to exploit the ever-changing odds to your advantage. Whether you're a football enthusiast or a basketball fanatic, live bets Rabona offers a dynamic and immersive betting scene.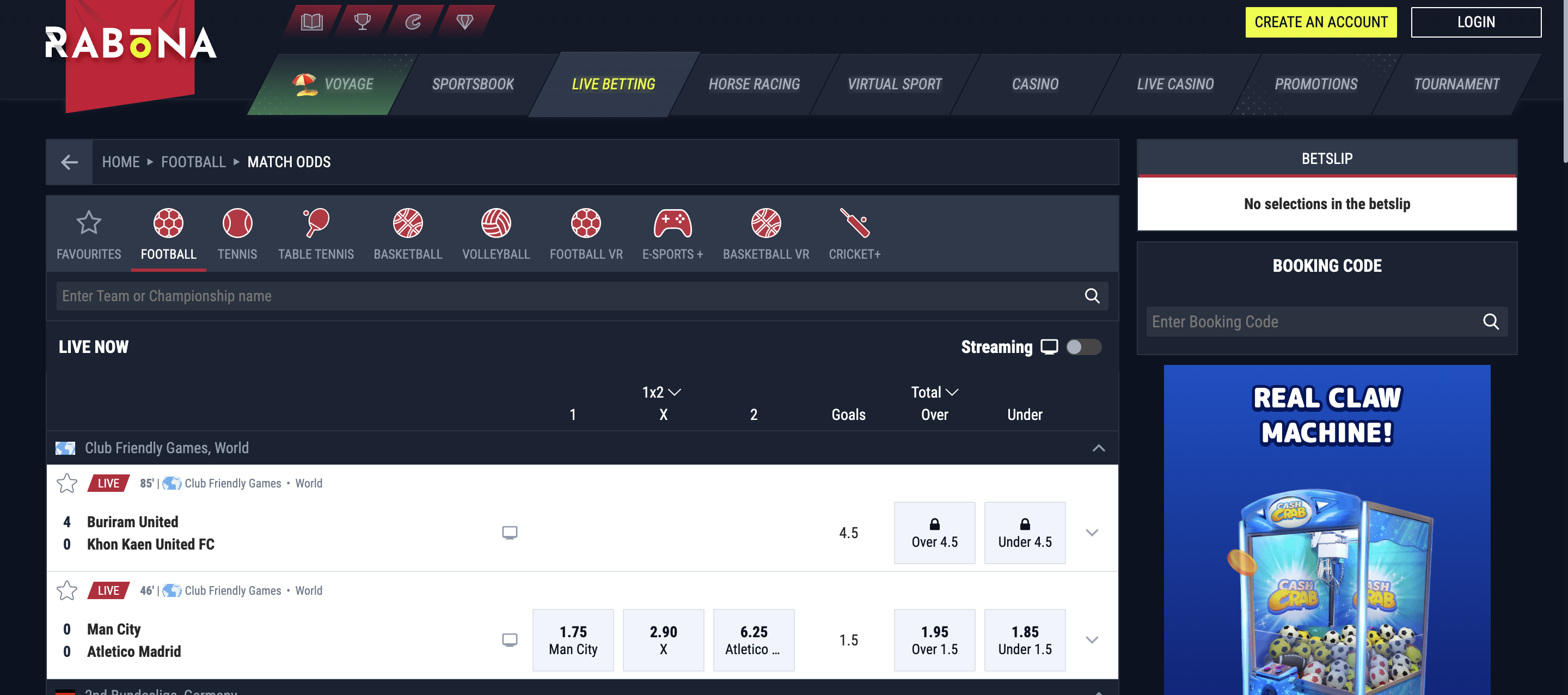 Placing Your Stakes: Betting Types on Rabona
Rabona offers an impressive range of bet types to cater to different betting strategies. You can make a straightforward single bet or, for the risk-takers, accumulator bets might be more enticing. Accumulator bets involve betting on multiple events where all the selections must win for the bet to be successful. If you're a savvy punter who likes to create a mix of bets, the 'systems of bets' option is also available.
Elevating Your Betting Game: Rabona's Betting Tools
Rabona doesn't just offer an array of markets and betting types, but it also equips bettors with tools to enhance their wagering strategy. The 'Rabona cash out' feature is a game-changer as it allows bettors to secure their winnings or limit their losses by cashing out their bet before the event concludes.
Another standout feature is the 'Rabona bet builder', a powerful tool for seasoned bettors. It allows you to create your unique bet by combining different selections from a single match into one bet, offering a higher degree of customization and control over your wagering.
Our experience of betting on Rabona sportsbook
Based on our team's strategy and experience, we decided to split our 500 USDT into two separate bets. The first bet was a prematch bet on a cricket match, and the second was an in-play bet on a football game.
For the cricket match, we chose the India vs England test match, a highly anticipated game with relatively predictable outcomes. With an extensive understanding of the teams and their form, we decided to go with a Moneyline bet of 300 USDT on India. Our analysis led us to believe that India, with their strong batting lineup and home advantage, would outperform England.
The day arrived, and as the match began, it was a thrilling contest. India took the lead with their top-order batsmen contributing significantly to the score. The atmosphere was electric, and the tension rose with every over. However, despite a late fightback from England, India managed to secure a victory, and our Moneyline bet paid off. Our prematch bet analysis proved accurate, and we got a considerable return on our investment.
With 200 USDT left, we then turned our attention to a live football game between Paris Saint-Germain (PSG) and Barcelona in the Champions League. Given the unpredictability of live matches and considering the attacking prowess of both teams, we opted for an in-play 'Both teams to score' bet. We placed our remaining 200 USDT on this option.
As the match started, Barcelona was aggressive and scored early, which put us halfway to winning our bet. The game was tense, with both teams going back and forth. As time was ticking away, PSG found a breakthrough and managed to score an equalizer. The crowd roared, and our in-play bet was a success. Both teams had scored, and our betting strategy proved fruitful once again.
Through these bets, our team experienced the dynamic nature of Rabona's sports betting firsthand. The prematch and live betting options provided thrilling and diverse betting opportunities. Each bet came with its level of risk and excitement, making the betting process an adrenaline-pumping experience. The wins brought satisfaction, not just from the monetary gain, but also from the successful strategy and analysis that led to them. Betting on Rabona, indeed, was a ride full of ups, downs, and ultimately, rewarding outcomes.
Delving into Rabona's Vibrant Online Casino
Rabona is not just about sports staking; the platform extends its reach into the exciting realm of online casino games. As a key component of Rabona gambling site, it serves casino lovers with a broad spectrum of enticing games, promising engaging gameplay.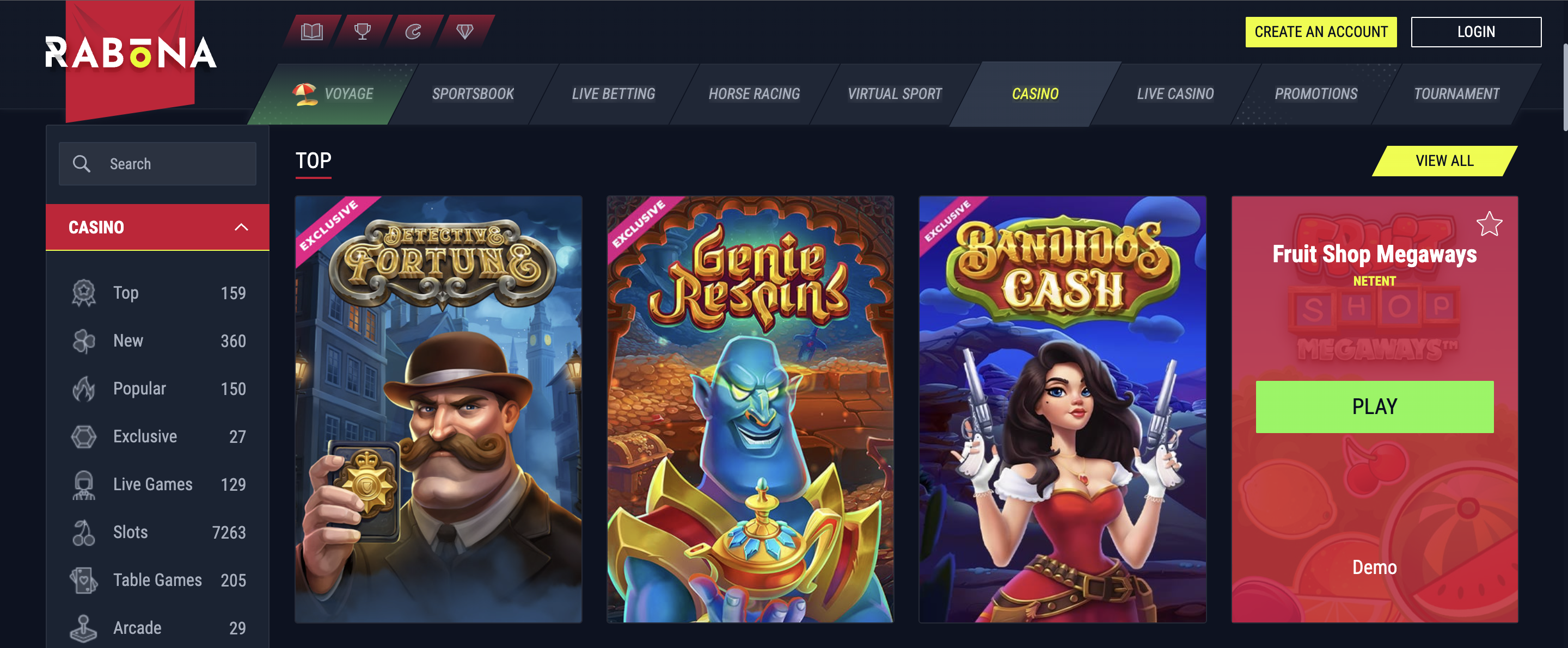 Premier Games in Rabona Online Casino
Rabona casino games present a blend of the old and the new, retaining classic charm while introducing modern gaming aesthetics. The platform collaborates with top-tier software providers to offer games with superior graphics and thrilling themes.
Some standout titles attracting a steady stream of gamers include Starburst, Book of Dead, and Mega Moolah, each offering distinct gameplay and the allure of significant wins.
For players seeking an authentic casino ambiance, Rabona's Live Casino delivers. It provides a chance to take on real dealers in games like Live Blackjack, Live Roulette, and Live Baccarat, ensuring a complete immersion in the casino world.
Setting the Dice Rolling at Rabona Casino
To immerse yourself in the fun of gamble on Rabona, follow the steps below:
Account creation: Visit the Rabona homepage and select the 'Register' option. Fill out the necessary details to complete the registration process.

Funding your account: After registration, head to the 'Deposit' section, pick your preferred payment method, and add funds to your account.

Game selection: Move to the 'Casino' tab, explore the extensive game library and pick your desired game.

Dive into play: Once you have your game, hit 'Play'. Now you're all set to enjoy the vibrant casino experience at Rabona.
Appraising Rabona's Interactive Live Casino
In an ever-evolving gambling space, Rabona sets the bar high with its live casino, which offers a real-time, immersive gambling experience. With live dealer games Rabona bridges the gap between the online platform and a traditional brick-and-mortar casino.
This dynamic segment of Rabona lets players engage in classic casino games such as Blackjack, Roulette, and Baccarat, all conducted by professional live dealers. This unique play with real dealers on Rabona provides an authentic, human touch to the gaming experience, making each bet more than just a click.
The streaming quality at Rabona's live casino is impressive, bringing the vibrant casino floor right to your screen. Advanced chat features add another layer to the gaming experience, allowing you to converse with the dealer or other players during the game.
Quick Betting Thrills with Rabona's Instant Games
Moving from the traditional to the innovative, Rabona also features quick betting games that offer an adrenaline surge with every round. Popular crash games Rabona like Aviator and JetX add a unique spin to the gaming experience.
Aviator game at Rabona, a social casino game, is a thrilling blend of chance and strategy. The concept is simple but captivating: players place their bet before a virtual plane takes off, and the multiplier increases as the plane ascends. The challenge lies in deciding when to cash out before the plane crashes.
Similarly, JetX game Rabona provides a dynamic betting experience where a spaceship takes off, and you decide when to jump off with your multiplied bet. It's a social, exciting game with the tension building with every second as you weigh risk against potential reward.
Our experience of gamble in casino Rabona
Embarking on a thrilling virtual gaming journey at Rabona online casino, my team decided to test our fortunes on two contrasting games, the slot game "Gonzo's Quest" from NetEnt and the live casino game "Immersive Roulette" from Evolution. With 500 USDT in our pockets, we divided the funds evenly between the two games, aiming to explore the contrasting experiences offered by the slots and the live casino.
Gonzo's Quest was our first choice, a visually stunning slot game set within the lush green jungles of the ancient Americas. With its tumbling reels and increasing multipliers, we saw potential for considerable returns. Beginning with smaller stakes, we allowed the symbols to cascade down, our anticipation building with each spin. Over time, we increased our bets, aiming for those bigger wins. After a series of spins, fortune favored us, and we landed a lucrative 'Free Fall' bonus round. Our strategy of gradual bet increase paid off as we exited the game up by 150 USDT, putting our balance at 650 USDT.
Riding high on our initial success, we moved to the live casino game, Immersive Roulette. The live casino experience at Rabona is authentic and engaging, with professional dealers and high-definition streaming transporting us to a world-class casino floor. Our strategy here was to spread our bets across different sections of the roulette layout, aiming to cover more ground and increase our chances of winning.
We placed various bets on numbers we felt were lucky, mixed with bets on red/black and odd/even. The roulette wheel began to spin, and the tension was palpable. Our hearts raced as the ball dropped into the '16' slot, a number we had bet on. Our careful spread of bets rewarded us with a win. Thrilled, we decided to make one big, final bet, putting 100 USDT on 'Black.' The wheel spun, and to our delight, the ball landed on 'Black 2'. Our final bet had won, boosting our balance up to a delightful 800 USDT.
Through this adventure, we discovered that Rabona's online casino presents an exhilarating blend of luck, strategy, and excitement. Whether it's the unpredictability of the slots or the tension of the live casino games, Rabona ensures a captivating gaming experience.
<H2> Welcome Aboard with Generous Rabona Bonuses 
Rabona greets newcomers with enticing welcome bonuses for both its sportsbook and casino platforms. The Rabona welcome bonus for sportsbook aficionados rewards you with a 100% match-up on your first deposit, up to €100. Just ensure you make your initial deposit, top up your balance with the minimum qualifying amount, and complete the rollover requirements of 1x the initial deposit with minimum odds of 1.50.
On the other hand, casino enthusiasts can expect a lavish 100% match-up bonus up to €500 along with 200 free spins and a bonus crab. Make your first deposit of a minimum of €20, then visit 'My Bonus' section in your profile to activate the promo. Do note the wagering requirement is x35.
Promotions Rabona: More than Just a Welcome
But Rabona bonuses aren't confined to the initial welcome. For sports bettors, Rabona offers a Sports Cashback bonus of up to €500. Simply top up your balance during the week, place your bets on sporting events, and you can avail yourself of a substantial 10% cashback.
Casino players aren't left behind either, with Live Cashback of 25% up to €200 for live casino games, and a Weekly Cashback of 15% up to €3000 for slots and other games in the casino section.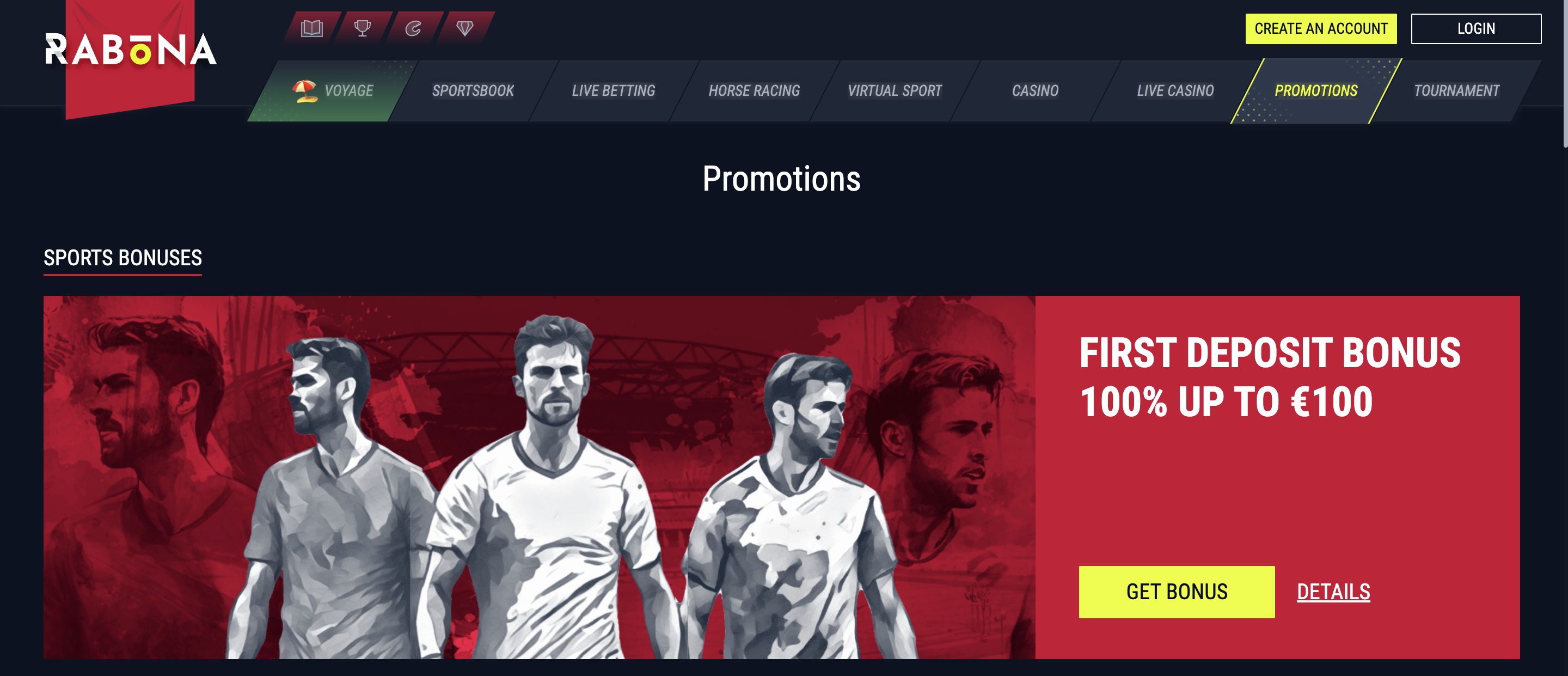 Elevate your Gaming with Rabona VIP Loyalty Program
Rabona's dedication to rewarding its players extends to its robust VIP loyalty program. It comprises five levels, from beginner (level 1) to legend (level 5). As you climb up the VIP ladder, you enjoy increasing benefits like higher monthly withdrawal limits up to €20000, access to a personal manager, exclusive VIP promotions, and financial privileges.
Unlock Extra Benefits with Rabona Promo Codes
To ensure you make the most of what Rabona has to offer, make sure to keep an eye out for Rabona promo codes. These codes can unlock additional bonuses, offers, and promotions, enhancing your gaming or betting experience. You can usually find these promo codes on Rabona's promotional pages or in emails and notifications sent by the platform. To use them, simply enter the Rabona promo code in the relevant field when making a deposit or in your account settings, and the related bonus or promotion will be automatically applied. 
Navigating Payments at Rabona: Deposits and Withdrawals Explained
Managing your funds effectively is essential to your gaming experience, and at Rabona, the process is made straightforward with a range of deposit and withdrawal methods. Rabona supports popular methods such as UPI, PayTM, and PhonePe, along with internationally recognized options like AstroPay, Neteller, ecoPayz, Skrill, VISA, and Mastercard. For those who prefer to deal in cryptocurrencies, Rabona also accepts Bitcoin, Litecoin, Ripple, and Ethereum.
When it comes to making a deposit on Rabona, the process is user-friendly and convenient. You can initiate a deposit by going to the cashier section of your account, selecting your preferred deposit method, and entering the desired amount. The minimum deposit Rabona accepts is a mere ₹300, making the platform accessible to a wide range of players.
Withdrawals are equally as seamless. To initiate a withdrawal, simply head to the cashier section, select 'withdraw,' choose your withdrawal method, and specify the amount. Bear in mind that the withdrawal limits at Rabona range from ₹900 to ₹400000, providing substantial flexibility. The maximum withdrawal limit in Rabona is an impressive ₹400000, allowing you to enjoy your winnings to their fullest.
The Ultimate Guide to Registering at Rabona: Your Step-By-Step Guide
Getting started at Rabona is a straightforward process. This comprehensive guide is designed to walk you through the necessary steps to sign up, make a deposit, and start placing stakes. So let's dive into the details.
Step 1: Visiting Rabona – Accessing the official site or mirror via our link. The first step to start your journey with Rabona is to visit the platform. You can do this by navigating directly to the Rabona official site or by clicking our dedicated link, which will lead you to either the official site or its accessible mirror site.

Step 2: Signing Up. The sign-up process on Rabona is intuitive and user-friendly. Click the 'Register' button on the top right corner of the homepage. This will take you to the registration page where you'll be prompted to provide some basic information, including your email, password, and preferred currency. Once you have filled in the necessary details, click 'Register' to create your Rabona account. This registration process enables you to create your unique Rabona login credentials, granting you access to the site anytime.

Step 3: Making a Deposit. Once your Rabona account is set up, the next step is to make a deposit. Navigate to the cashier section, select 'Deposit', choose your preferred payment method, and enter the amount you wish to deposit. After confirming your transaction, your funds will be instantly available in your Rabona account.

Step 4: Placing Stakes. With your account funded, you're all set to start placing stakes. Navigate to the sportsbook or casino section, choose the game or match you want to bet on, select the type of bet you want to place, and enter your stake. Once you confirm your bet, sit back, enjoy the game, and hope for the best!
Meeting the Registration Requirements
In the interest of providing a secure and fair gaming environment, Rabona has set certain registration requirements. Users must be 18 years of age or older to register, and they must provide accurate and truthful information during the registration process. These requirements ensure that Rabona stays compliant with regulatory standards and promotes responsible gambling.
Joining the Fun on Mobile: Registration through the Rabona App
If you prefer playing on your mobile device, you can register through the Rabona app. Simply download the app from your device's app store, open it, and click on the 'Register' option. The process is identical to the desktop version, allowing you to sign up Rabona with ease.
Starting off with a Bang: How to Snag Your Rabona Welcome Bonus upon Registration
Rabona offers a generous welcome bonus to its new users, and claiming it couldn't be easier. After registering and making your first deposit, visit the 'Promotions' section and select the welcome bonus offer. The bonus will then be credited to your account, providing a stellar start to your Rabona journey.
A Simple Guide to Verifying Your Rabona Account
Verifying your account at Rabona is a vital step to ensure a smooth gaming experience. After registering, go to your account settings and find the 'Verification' section. Here, you'll need to upload the required documents, typically including a government-issued ID and a utility bill or bank statement for address verification. It's essential to make sure your documents are clearly visible and up-to-date. Once you've submitted your documents, Rabona's team will review them, and upon successful verification, you'll receive a confirmation. This process not only enhances the security of your account but also expedites future withdrawals. Remember, a verified account is a key to unlocking all Rabona's features and services.
Review: Rabona Mobile App for Android and iOS Platforms
The Rabona mobile app sets the pace for on-the-go betting. Its versatility allows you to wager on your favourite sports, explore casino games, and manage your account. But how well does it work on different operating systems, and how can you set it up on your device?
Necessary System Requirements for Rabona Mobile App
The Rabona app is compatible with both Android and iOS systems. For Android users, it is recommended to use a device running Android 5.0 and up. For iOS users, the app works best on devices operating iOS 9.0 or later. The app is designed to run smoothly on these platforms, providing an optimum mobile betting experience.
Steps to Download Rabona APK for Android
To download the Bookmaker APK on Android, navigate to the official Rabona website. Scroll to the bottom of the site, where you'll find a designated 'Apps' button. Here, a QR code will be available for scanning. Using your Android device, scan the QR code. This will initiate the APK download, and within a few moments, the Rabona app will be ready for installation.
How to Install the Rabona App on Android
Before installing the Bookmaker app, ensure that your Android device allows installations from unknown sources. You can adjust this in your device's settings, under 'Security'. Once you've enabled this, locate the downloaded Rabona APK file in your device's 'Downloads' folder. Click on it, and the installation process will start automatically. After a few moments, the Rabona app will be ready for use on your Android device.
Steps to Download and Install Rabona App on iOS
For iOS users, downloading and installing the Rabona app is a straightforward process. Just as with Android, head to the Rabona website and find the 'Apps' button. Scan the displayed QR code with your iOS device, which will lead you to the App Store. From there, simply click 'Get' to download the app, and it will automatically install on your device.
Keeping Your Rabona App Up-to-date
Keeping your Rabona app up-to-date ensures that you can enjoy all the latest features and improvements. On Android, updates should be handled automatically, as long as you have auto-updates enabled in your Google Play Store settings. For iOS users, go to your App Store settings and enable 'App Updates' under 'Automatic Downloads'. Alternatively, you can manually check for updates in the relevant app store.
Insights and Efficient Strategies for Gaming at Rabona
To maximize your betting experience at Rabona, employing effective tactics and understanding the platform's unique features is crucial.
Firstly, it's important to be mindful of your budget. Setting spending limits ensures you don't exceed what you're comfortable losing. This practice helps to maintain a healthy gaming habit, which is key to a fulfilling experience.
Next, take advantage of Rabona's extensive array of bonuses and promotions. Always make sure you thoroughly understand the terms and conditions before opting into any offer. The Rabona welcome bonus, for instance, is a good start, providing a significant boost to your initial deposit.
Rabona also boasts a diverse selection of betting markets. Don't just stick to what you know; explore different sports, teams, and types of bets to widen your betting horizons.
Lastly, it's worth considering joining the Rabona VIP loyalty program. Regular players benefit from this system, with rewards and privileges increasing as you ascend through the VIP levels.
Navigating the Rabona Mobile Site Experience
Rabona's mobile website offers the same streamlined, intuitive navigation found on its desktop version. It's optimized to load quickly and provides a seamless, user-friendly interface. This mobile-optimized experience brings all of Rabona's sports betting and casino services to your fingertips, ensuring a smooth, uninterrupted gaming experience on the go.
Legality and Integrity at Rabona
Rabona operates under a valid gaming license, making it a secure and legal platform for betting and gaming enthusiasts. The licensing ensures that Rabona upholds the highest standards of fairness and security. The use of Random Number Generators (RNGs) in their casino games assures unbiased outcomes. In addition, Rabona is dedicated to promoting responsible gambling, offering tools and resources for players to manage their gambling activity effectively.
Customer Assistance at Rabona: Always Ready to Help
Rabona's commitment to customer satisfaction extends to their dedicated support team. They offer a comprehensive customer support service, ensuring any queries or issues are resolved promptly. Available 24/7, the support team can be reached via live chat, email, or telephone. They are responsive, professional, and always ready to assist.
Whether you're a new player with some registration queries or an experienced one with withdrawal concerns, Rabona's customer support has got you covered. Their proactive and reliable service contributes to the overall superior gaming experience that Rabona aims to provide its clientele with.
Final Opinion on Rabona as bookmaker and online casino
In conclusion, Rabona emerges as a noteworthy contender in the world of online bookmaking and casino gaming. With an extensive selection of more than 35,000 pre-match events and 25,000 live events across over 30 sports, the platform ensures an immersive betting experience for users. Additionally, the inclusion of unique betting features, such as Bet Builder and Player Specials, showcases Rabona's commitment to providing a tailored gaming journey.
Moreover, its robust accommodation for cryptocurrency payments signals its alignment with modern digital trends, offering greater convenience for users. Coupled with its well-designed mobile apps, Rabona empowers bettors to engage on-the-go seamlessly.
However, while its high winning limits are a standout, the bookmaker does present certain areas for improvement, such as its licensing jurisdiction, limited tennis markets, and low withdrawal limits. The absence of certain bet management features like automatic cash out and bet editing may also prove to be a setback for some users.
Nevertheless, Rabona holds significant promise in the online betting sphere, demonstrating an impressive capacity to cater to varied user preferences and needs. It is a platform to consider for anyone seeking a dynamic, comprehensive, and engaging online betting and casino gaming experience.
Read this page in other languages:
Pros
Extensive Range of Pre-Match and Live Events: Over 35,000 pre-match events and 25,000 live events covering more than 30 sports.

Bet Variety: Offers unique betting features like Bet Builder, Player Specials, and Alternative Handicaps, allowing for a more tailored betting experience.

Cryptocurrency Friendly: Provides the convenience of cryptocurrency payments, including Bitcoin and Ethereum.

Mobile Accessibility: Offers well-designed, easy-to-use mobile apps for betting on the go.

High Winning Limits: Accommodates high stakes with high winning limits.
Cons
Licensing: Rabona is licensed in Curacao, which may not offer the same level of regulatory oversight as some other jurisdictions.

Limited Tennis Markets: Rabona offers fewer tennis markets compared to some competitors.

No Auto Cash Out or Edit Bet Features: Lacks certain bet management options like automatic cash out or bet editing.

Low Withdrawal Limits: Lower withdrawal limits can limit the amount players can cash out at a time.