This comprehensive review delves into the world of Freshbet, an eminent online casino and bookmaker. Designed to guide novices and seasoned players alike, this article dissects every facet of the Freshbet platform. From exploring the attractive bonuses and promotions to simplifying the registration process, it provides valuable insights to enhance your gaming journey. It elucidates payment methods and provides best practices for a fruitful gaming experience. Further, it critically examines Freshbet's mobile website, licensing, and customer support. Designed for potential and existing users, this article demystifies Freshbet's operations and provides a guide to navigate its offerings effectively, ensuring readers have a seamless and enjoyable online gaming experience.
Review of the bookmaker and online casino Freshbet is also available in other languages:
Getting to Know Freshbet
Established in 2020, Freshbet is owned by Ryker B.V and holds a gambling license from Curaçao. It has rapidly earned a reputation as a reliable betting platform, catering to an array of bettors worldwide. Freshbet doesn't just focus on traditional sports betting; it extends its offerings to eSports as well, providing a well-rounded wagering platform. With an array of sports markets and a dynamic online casino, Freshbet is a notable choice for players seeking a unique wagering and gaming experience.

The Perks of Placing Bets and Playing Games at Freshbet
One of the many reasons players find themselves drawn to Freshbet is its broad selection of betting markets. Punters have the option of placing stakes on a range of sports from soccer, basketball, and tennis to niche options like lacrosse and ski jumping. Even fans of eSports are well-catered to, with opportunities to bet on CS:GO, Dota 2, LOL, and SC 2.
The casino Freshbet provides further diversifies the platform's offering, featuring games from leading providers such as NETENT, BETSOFT, and Evolution Gaming. This assures players of high-quality, engaging gaming experiences. Moreover, Freshbet's platform is also user-friendly, available in multiple languages, and provides efficient customer support via live chat and email.
Moreover, Freshbet ensures convenience and security in terms of transactions, accepting payments through a variety of methods including Visa, MasterCard, Skrill, Dash, AstroPay, and various cryptocurrencies. These benefits coupled with the platform's commitment to providing a secure, diverse, and convenient betting environment make the bookmaker Freshbet review glow with positivity.
A Deep Dive into Online Sports Betting on Freshbet
Online sports betting is a core component of the Freshbet platform, setting it apart as an attractive destination for punters. As a well-rounded bookmaker, Freshbet covers a wide array of sports, spanning from popular ones like soccer, basketball, and tennis to more niche offerings such as lacrosse, ski jumping, and even eSports. Based on our in-depth analysis, Freshbet provides a remarkable variety of betting options that cater to different tastes, making it a betting site of choice for many.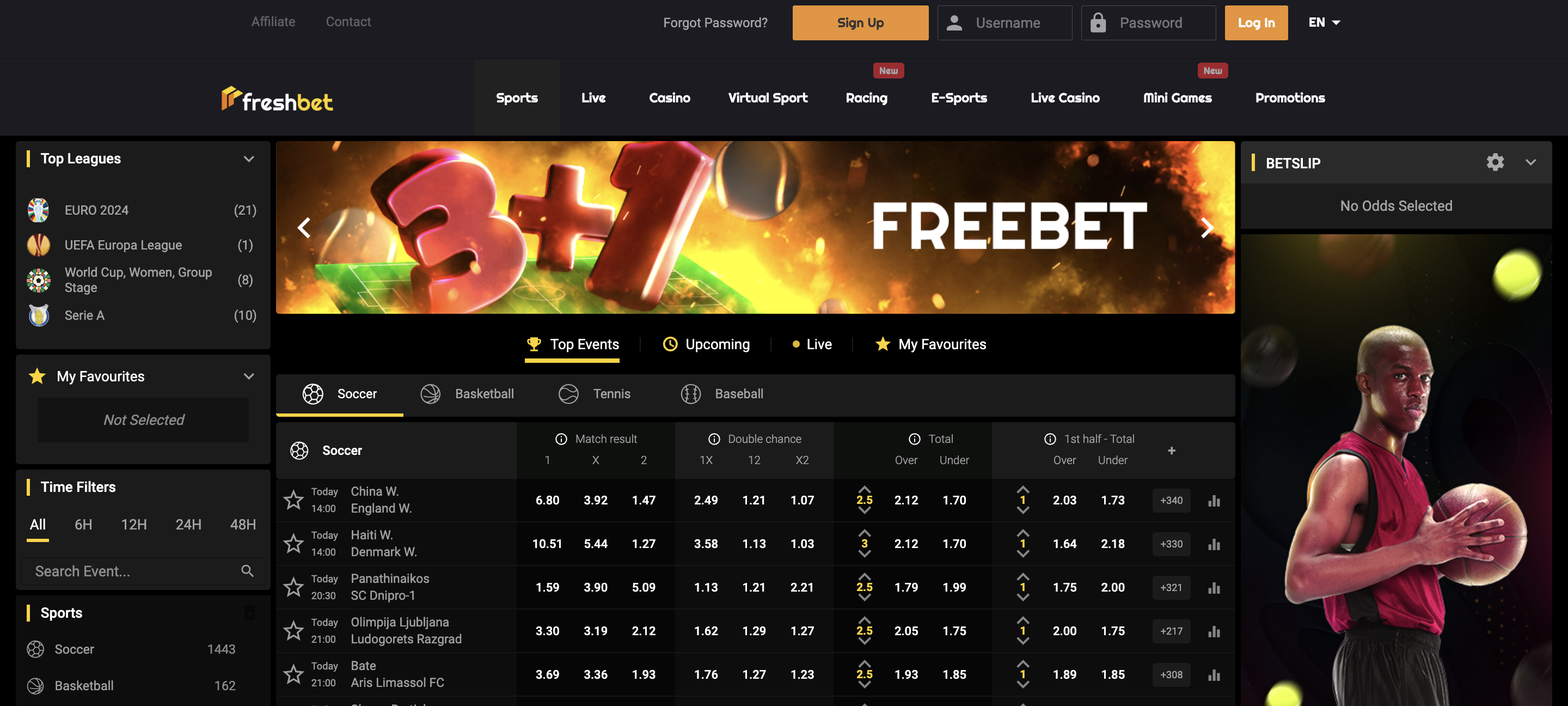 Freshbet's Top-Ranked Sports Betting Markets
Our review of the sportsbook Freshbet reveals that the platform covers numerous sports markets, thus attracting a broad spectrum of bettors. Soccer, for instance, is a crowd favorite, with numerous leagues and tournaments available for wagering. Basketball and tennis are also high on the list, especially during peak seasons.
The sportsbook doesn't stop at traditional sports, extending into the rapidly growing field of eSports. Games such as CS:GO, Dota 2, LOL, and SC 2, are covered, making the bookmaker Freshbet a go-to spot for eSports enthusiasts. What's more, niche sports like lacrosse and ski jumping have found a home here, providing unique betting opportunities for adventurous punters.
A Guide to Betting on Freshbet
Placing bets on the Freshbet betting site is a straightforward process. Here's a quick step-by-step guide to get you started:
Create an account: Sign up by filling out the registration form on the Freshbet website.

Deposit funds: Use your preferred payment method (Visa, MasterCard, Skrill, Dash, AstroPay, or cryptocurrencies) to deposit into your Freshbet account. The minimum deposit is 20$/€.

Select your market: Navigate to your preferred sport or eSport, and choose the event or match you'd like to bet on.

Place your bet: Choose the type of bet (Handicaps, Single, Multiple, System), input your stake, and confirm your bet.
The Thrill of In-Play Betting and Streaming at Freshbet
With live betting, also known as in-play betting, Freshbet takes the betting experience to another level. The dynamic nature of live betting allows punters to place bets while the action is ongoing, providing a rush of adrenaline that pre-match betting simply can't match. Notably, Freshbet also offers live streaming, but solely for eSports. This feature offers bettors the opportunity to watch matches in real-time, adding an extra layer of excitement to their betting activities.
A Deep Dive into Freshbet's Betting Options
When it comes to betting options, Freshbet leaves no stone unturned. Bettors can select from handicaps, singles, multiples, and systems of bets. Single bets offer straightforward wagering on one event, while multiples, also known as accumulator bets, allow punters to place bets on multiple events with the potential for larger returns. System bets, on the other hand, are a more complex form of multiples, allowing bettors to place several types of bets on a single betting slip. The variety of betting options at Freshbet caters to both novice and experienced punters, offering each the chance to wager according to their betting style and strategy.
Exploring Freshbet's Cutting-Edge Betting Tools
Freshbet doesn't just offer a platform for betting; it provides tools that augment the betting experience. One such tool is the 'cash out' option. With Freshbet cash out, bettors have the flexibility to close a bet before the event has ended, potentially securing a profit or reducing a loss based on the current state of play. 
Our experience of betting on Freshbet sportsbook
Drawing on our experience, our team decided to embark on a betting adventure on Freshbet, armed with a budget of 500 USDT. With an array of sports and betting markets at our disposal, the decision-making process was quite intriguing.
Our first bet was a pre-match wager in the world of cricket, specifically an Outright bet on the T20 World Cup. We decided to back the Australian cricket team to lift the trophy. The Aussies have a solid T20 team and a track record of performing well in major tournaments. Besides, cricket being a sport where the outcome is impacted by numerous variables, like pitch conditions, weather, and individual performances, betting on Outrights offered us a chance to capitalize on Australia's consistency. We staked 200 USDT on this wager.
As the cricket tournament was ongoing, we turned our attention to the live betting section. Here, we decided to place a bet on a League of Legends match in the eSports segment. eSports live betting offers plenty of volatility, and it's this unpredictability that enhances the excitement. The match was between Team Liquid and Fnatic, two titans of the LoL world. The bet was a live Point Spread wager, where we backed Team Liquid to win with a -1.5 game advantage. The high-stakes nature of this bet, coupled with the dynamic ebb and flow of eSports, made for an adrenaline-pumping experience. We plunged headfirst and staked 300 USDT on Team Liquid, embracing the higher risk for a potential high return.
Our strategy was to leverage our understanding of the sports and the betting markets, balancing a safer Outright bet with a more unpredictable live Point Spread wager. With the stakes placed, we watched the events unfold, knowing that our potential winnings rested on the performances of the Australian cricket team and Team Liquid.
As the dust settled on the betting battlefield, our team found that betting on Freshbet was an engaging and exhilarating endeavor. The range of sports and bet types offered by the platform provided us with the flexibility to execute our strategy, showcasing the platform's potential for other bettors looking for an exciting betting journey.
Unleashing the Fun: Online Casino and Slots Excursion at Freshbet
Immerse yourself in the world of Freshbet's online casino, a diverse playground for those who crave the thrill of slots and traditional casino games. Casino Freshbet is no mere gambling site, but a hub for exhilarating gaming experiences, all at your fingertips.

Striking Gold: Prime Selections in Freshbet's Online Casino
Freshbet casino games offer a premium line-up for gamblers. Among the crowd-pleasers, you will find NETENT's Starburst, a mesmerizing journey through a galaxy of riches. Evolution Gaming's Live Blackjack brings a taste of Vegas to your screen, while Play'N Go's Book of Dead sends you on a quest in ancient Egypt filled with grand treasures. These games represent only a sliver of what Freshbet's digital casino floor has in store for you.
Let the Games Begin: Starting Your Casino Venture at Freshbet
Kickstarting your casino adventure at Freshbet involves a few straightforward steps:
Register an Account: Click on the 'sign up' button on the Freshbet homepage and fill out the registration form with the required information.

Make a Deposit: Choose from a plethora of payment options, including Visa, MasterCard, and various cryptocurrencies. Freshbet ensures secure transactions, with the minimum deposit limit set at a budget-friendly 20$/€.

Choose Your Game: Navigate to the 'casino' section of Freshbet. Here, games are neatly categorized by type for easy access. Whether you're in for slots, card games, or live dealer action, the choice is yours.

Place Your Bet: Once you've selected your game, familiarize yourself with the rules and betting limits. When ready, place your bet and begin your Freshbet gaming experience.

Play Responsibly: Remember, while the allure of winning can be strong, it's important to set a budget and stick to it. Gaming should always be an enjoyable activity, not a stressful endeavor.
Bringing Vegas Home: Live Casino Experiences at Freshbet
Enliven your gaming journey with Freshbet's live casino feature. It's a world where the rush of Vegas meets the comfort of home, with each click delivering real-time interactions with professional dealers.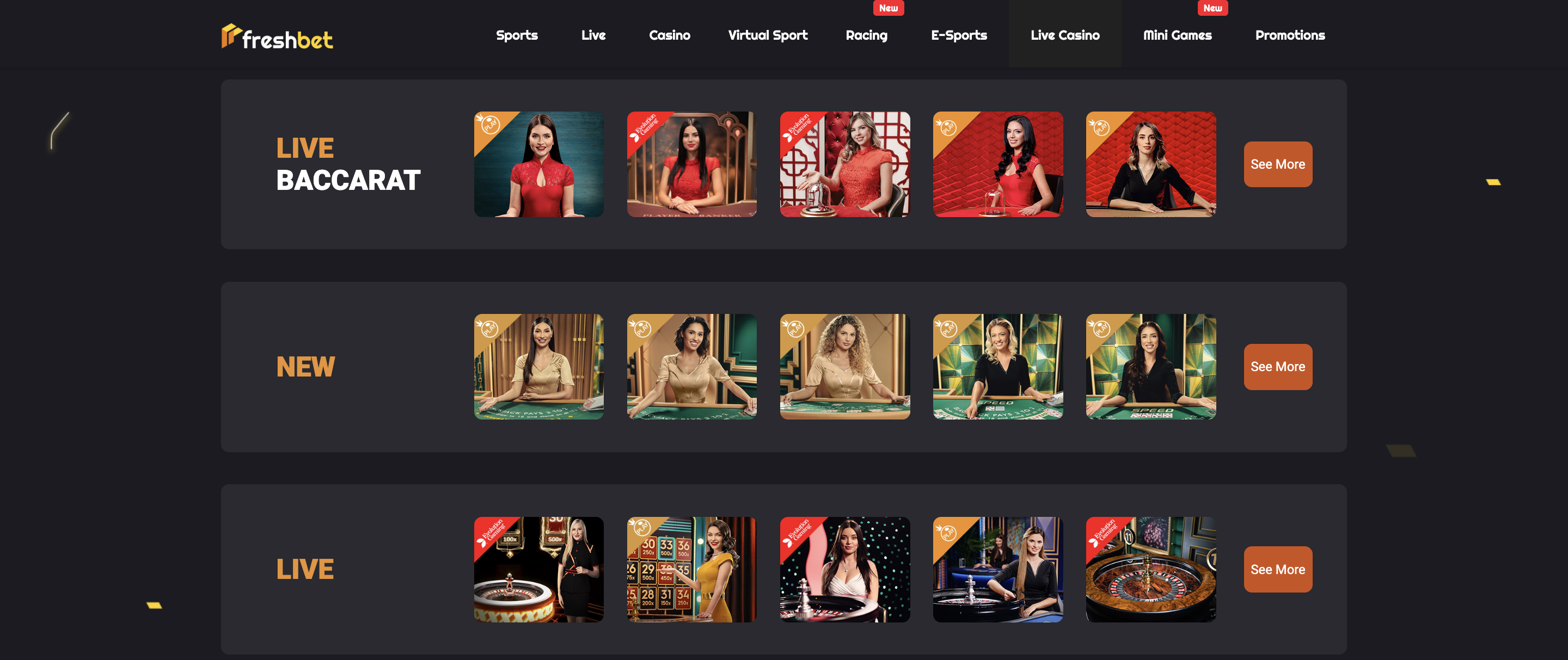 The live dealer games at Freshbet are an exhibition of elegance and high-stakes excitement. Driven by leading providers like Evolution Gaming and Pragmatic Play Live, these games offer a first-class ticket to a bona fide casino floor. From the turn of a card in Blackjack to the mesmerizing spin of the Roulette wheel, each moment in Freshbet's live casino brims with anticipation.
Indulge in an array of games including Live Baccarat, Live Poker, and an assortment of live game shows that pack a punch of fun with every play. For the lovers of strategy and high stakes, there's Texas Hold'em, where each bet is an adrenaline rush. If you crave the thrill of a real casino, the live dealer games at Freshbet deliver this experience, straight to your screen.
For those who yearn for the thrill of a real casino without the effort of leaving their living room, Freshbet's live casino is the perfect solution. Playing with real dealers on Freshbet transcends the boundaries of traditional online gaming, transporting you into an immersive realm where every round is real, and every bet holds the promise of substantial rewards.
Our experience of gamble in casino Freshbet
Our journey through the captivating world of Freshbet's online casino began with a stake of 500 USDT. We decided to divide our adventure into two distinct yet enthralling segments: Slot Games and Live Casino Games.
First, our eyes fell on "Gonzo's Quest," a well-known slot game by NetEnt. It is an enticing adventure-themed game set in the heart of the Peruvian jungle, where we accompanied Gonzo, the ambitious Spanish explorer, in search of El Dorado's city of gold. With our 250 USDT budget, we opted for a strategy that balances high-stakes thrill with the longevity of play. Thus, we varied our bets between 1 to 5 USDT per spin to sustain the game-play while still seeking that elusive jackpot. The cascading reels filled with ancient symbols echoed the adventure, and the multiplying free falls offered the tantalizing potential of considerable returns. With each spin, the anticipation grew, echoing the volatility and unpredictability of the slot game itself.
Switching gears, we decided to test our luck at "Lightning Roulette" by Evolution for our Live Casino experience, a revolutionary extended Roulette game that added high-payout RNG Lucky Number wins to every game round. We allocated the remaining 250 USDT to this live game. Dressed in stunning black and gold art deco, the game is as visually appealing as it is exhilarating. Our strategy was simple: we placed bets on specific numbers, the riskier option, instead of sticking to colors or evens and odds. There's an added thrill in the randomness of Lightning Roulette; each round can see between one to five numbers being struck by lightning, offering multiplied payouts between 50x and 500x. It was a roller coaster of anticipation, disappointment, and exhilaration as the wheel spun and the ball decided our fate.
Through our virtual venture into Freshbet's casino realm, we immersed ourselves in a thrilling symphony of chance, luck, and potential rewards. The varying stakes, the balance between strategic gameplay and sheer luck, the unique features each game offered — all these aspects converged into a fascinating display of online gambling at its finest. Just as in a real casino, the swings between wins and losses were rapid and often unexpected, but it was this unpredictable nature that made the experience so compelling. The thrilling uncertainty is, after all, the heart and soul of any real casino experience.
Warm Welcome Awaits at Freshbet: Stellar Welcome Bonus
Making your first step into the engaging world of online gambling can be quite daunting, but not at Freshbet. The bookmaker and online casino have taken it upon themselves to make this transition as smooth and rewarding as possible. The Freshbet Welcome Bonus is a robust package structured to give you an extra boost on your first three deposits.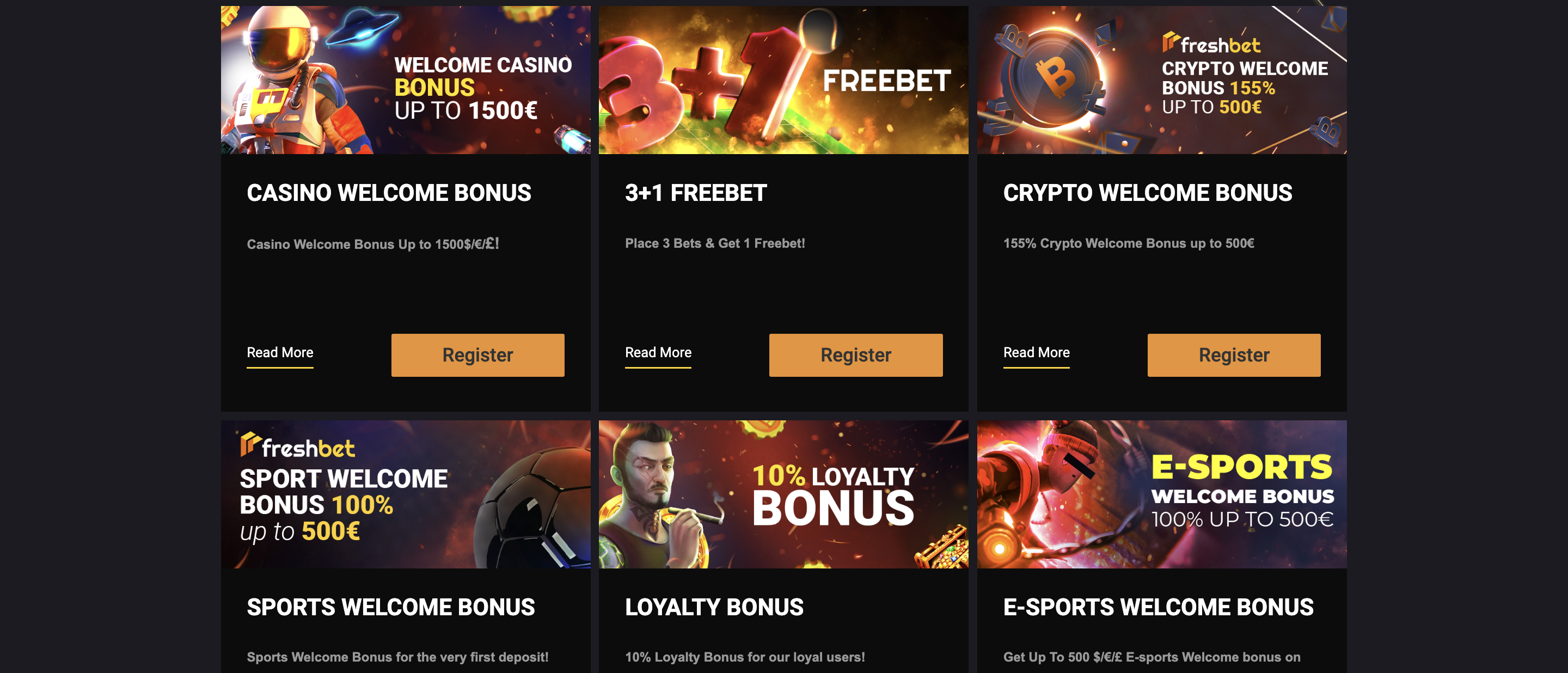 The welcome train starts with a 100% bonus up to 500 $/€/£ on your first deposit, followed by a 50% bonus up to the same amount on your second. It gets even better with the third deposit, which also fetches you a 100% bonus. But the generosity doesn't stop there. Freshbet also offers a Sports Welcome Bonus for the first deposit, geared specifically for those who are interested in sports betting. The allure of the Freshbet bonuses becomes even more irresistible with a whopping 155% Crypto Welcome Bonus for the crypto-savvy gamblers.
Ongoing Freshbet Bonuses and Promotions
Freshbet continues to enrich your gambling experience with a plethora of ongoing promotions. Freshbet rewards your loyalty with a 10% loyalty bonus. Just get in touch with their customer support, and they will guide you through the process of claiming this reward. Additionally, their sports betting enthusiasts are not left out. Place three bets, and Freshbet will gift you a Freebet. These bonuses and promotions significantly enhance your Freshbet gambling experience.
Unwrapping Freshbet Promocodes
Promo codes Freshbet offers a fantastic opportunity to increase your playtime and chances of winning. But how do you get and use these precious codes? Firstly, Freshbet promocodes can be obtained via various sources including official Freshbet notifications, emails, or through partner sites.
Once you have a promocode, using it is relatively straightforward. You simply need to log in to your Freshbet account, navigate to the cashier page, and select the option to make a deposit. Look for a field labeled "Promocode". Enter the Freshbet promocode you have, then proceed with the deposit. The bonus is added automatically to your account, making it a seamless process.
Navigating Deposits and Withdrawals at Freshbet
Managing your finances at Freshbet is a walk in the park, thanks to its diverse array of transaction methods and a platform that ensures a swift, secure process. Here's a detailed look at how you can make deposits and withdrawals at Freshbet, ensuring a smooth gaming experience.
To initiate your exciting journey at Freshbet, you must first deposit funds into your account. The casino offers several deposit methods, including Visa, MasterCard, Skrill, Dash, AstroPay, and a variety of Cryptocurrencies. You can deposit a minimum of 20$/€, which is the standard minimum deposit at Freshbet. The casino has not specified a maximum deposit limit, offering you the flexibility to manage your funds as per your gaming strategy.
To claim your winnings, navigate to the withdrawal section under your account. Freshbet provides numerous reliable withdrawal methods including popular options like Visa, MasterCard, Skrill, Dash, AstroPay, and Cryptocurrencies, keeping the withdrawal methods Freshbet as diverse as possible for player convenience. The minimum withdraw Freshbet amount is set at 20$/€, while the maximum is capped at 7,500$/€ per week and 15,000 $/€ per month.
When it comes to acceptable currencies, Freshbet provides a broad spectrum to choose from. Players can transact in USD, EUR, AUD, CAD, RUB, along with cryptocurrencies like BTC, LTC, BCH, DOG, and ETH, providing an inclusive platform for global players.
Comprehensive Guide to Registering at Freshbet
Embarking on your gaming journey with Freshbet is as simple as it gets. With a quick and efficient registration process, you'll be placing your stakes in no time. Here's a step-by-step guide on how to sign up at Freshbet.
Step 1: Pay a Visit to Freshbet – Kickstart your gaming adventure by visiting the Freshbet official site. You can reach this destination by following our link which leads directly to the website or its mirror. Whether you're looking to sign up Freshbet for the first time or a returning player, accessing the platform is a breeze. 

Step 2: Initiate the Sign-Up Process – Once you're on the website, locate and click on the 'Sign Up' button typically located at the top right corner of the page. This will launch the registration process. Fill in the necessary details such as your name, email, and password, ensuring your Freshbet login credentials are secure yet memorable. 

Step 3: Deposit Funds – Having created your account, the next step is to make a deposit. Head to the 'Banking' or 'Cashier' section and select a preferred deposit method from the various options Freshbet provides. Enter the amount you wish to deposit, remembering that Freshbet has a minimum deposit requirement. 

Step 4: Place Your Stakes – With funds in your account, you're all set to dive into the thrilling world of online gaming. Navigate to your game of choice, select your stakes, and let the fun begin!
Essentials of Freshbet Registration: What You Need to Know
During the registration process, there are certain requirements you should be aware of. As a potential player, you must be of legal age to participate in online gaming as per your jurisdiction. Also, ensure to provide accurate and verifiable details during registration. A false or incorrect information could lead to complications when it's time to withdraw your winnings.
Freshbet, like other responsible gaming platforms, might require you to verify your identity. This KYC (Know Your Customer) process is a standard practice designed to protect both the players and the casino from fraudulent activities. Keep handy a valid identification document, like a passport or a driver's license, and a proof of address, such as a utility bill or a bank statement.
Claiming Your Freshbet Welcome Bonus upon Registration
Registering at Freshbet not only opens the door to a myriad of gaming options but also unlocks an enticing welcome bonus. To claim this, ensure that you opt-in for the bonus during the registration or while making your first deposit.
Once you've made the deposit meeting the minimum requirement, your welcome bonus will be automatically credited to your account. This gives you extra funds to play with, amplifying your initial Freshbet experience. Make sure to read the terms and conditions attached to the welcome bonus, as they contain important information about wagering requirements and game restrictions.
A Brief Guide to Freshbet Account Verification
Freshbet, being committed to maintaining the integrity of its platform, has instituted a mandatory account verification process. Post registration, you will need to validate your identity and address by providing certain documents. This typically includes submitting a scan or photograph of a government-issued ID such as a passport or driver's license, and a recent utility bill or bank statement showing your address. This process ensures your protection, prevents fraudulent activities, and guarantees smooth transactions. Be sure to keep these documents readily available after registration, as prompt verification ensures swift access to all Freshbet services. Always remember, a secure play is a better play!
Tips and Best Practices for Playing at Freshbet
Start with a Plan: Know your budget and stick to it. Plan your gaming session before you log in to avoid impulsive betting.

Understand the Games: Take your time to understand the rules, strategies, and payout structures of the games you want to play. Freshbet offers a variety of games, each with unique rules and strategies.

Leverage Bonuses: Make full use of Freshbet bonuses and promotions. They offer an excellent opportunity to increase your playing capital and potentially boost your winnings.

Practice Patience: Successful gaming often involves waiting for the right opportunity. Don't rush your bets, take time to analyze your options.

Manage Your Bankroll: It's crucial to keep a close eye on your bankroll. Consider setting loss limits and never chase your losses.

Responsible Gaming: Always remember that gaming should be enjoyable, not a source of stress or financial troubles. Freshbet supports responsible gaming and provides tools to help you stay in control.

Account Verification: Complete your account verification promptly to avoid withdrawal delays. This also ensures your transactions are secure and legitimate.

Stay Informed: Keep up with the latest updates from Freshbet. This includes new games, promotions, changes in terms and conditions, and more.

Learn from Losses: Every loss can be a lesson. Analyze your game play to find out what went wrong and adjust your strategy accordingly.

Enjoy the Experience: Most importantly, have fun! Enjoy the thrill of gaming, the excitement of a win, and even the suspense of a loss. It's all part of the Freshbet experience.
Freshbet On-the-Go: Exploring the Mobile Website
Freshbet excels in providing a user-friendly and seamless mobile gaming experience. The platform's design is optimized for various mobile devices, ensuring a smooth transition from the desktop version. The mobile website maintains all features found on the full site, including games, promotions, account management, and customer support. This mobile accessibility means you can place your bets, spin the slots, or play your favorite card games wherever you are, whenever you want.
Freshbet's License and Fairness
Freshbet operates under a recognized gaming license, marking it as a legitimate and trustworthy platform. The license is a testament to Freshbet's commitment to providing a fair and transparent gaming environment. Each game on the platform uses a Random Number Generator, ensuring the outcome of every spin, draw, or roll is entirely arbitrary. Freshbet is regularly audited by independent bodies to confirm their games' fairness, securing players' trust in their gaming experience.
Freshbet's Customer Support
No platform is complete without a reliable customer support system, and Freshbet does not disappoint. Their customer support is easily accessible and dedicated to resolving any issues you might encounter promptly. You can reach out to them via live chat, the quickest way to get assistance. Additionally, they offer support through email, a great option for non-urgent inquiries or feedback. Freshbet also has a comprehensive FAQ section that covers a wide range of topics, providing instant answers to the most common questions. This level of support reflects Freshbet's commitment to ensuring their players have a hassle-free gaming experience. It's clear that Freshbet has their players' satisfaction and peace of mind at the heart of their operations.
Final Opinion on Freshbet as bookmaker and online casino 
In conclusion, Freshbet has indeed established itself as a distinguished platform in the crowded landscape of online casinos and bookmakers. Offering a well-rounded service, Freshbet's significant strengths lie in its wide array of bonuses and promotions, which are particularly enticing for both newcomers and regular players. Its user-friendly registration process, robust account verification, and multiple payment methods further enhance its appeal, reflecting its commitment to user convenience and security.
The platform truly shines with its seamless integration across devices, ensuring that players can enjoy their favorite games anytime, anywhere. Its operational transparency, showcased through its licenses and fairness regulations, further consolidates trust among its players. Lastly, Freshbet's responsive and comprehensive customer support ensures a smooth, trouble-free experience, solidifying its position as a leading online gaming destination.
However, as engaging as the gaming landscape can be, players should not overlook the importance of safe and responsible gaming practices. It's crucial to set a budget, play within your limits, and remember that while the aim is to win, it's all about the fun. So why wait? Dive into the exhilarating world of Freshbet today and enjoy a top-tier, thrilling gaming experience.
Read this page in other languages:
Pros
Embraces cryptocurrency payments for more secure and anonymous transactions.

Modern, user-friendly website design ensuring seamless navigation.

Offers an extensive array of over 4500 slot games to cater to diverse preferences.

Wide selection of sports markets, live esports streaming, and inclusion of niche betting options like horse and dog racing.

Supports popular payment methods, including credit cards.
Cons
Licensed under Curacao, which may not provide the same level of oversight as some other jurisdictions.

Absence of a dedicated mobile app may limit user convenience.

Primarily caters to European and American users, potentially excluding global customers.

Lacks Instant Games, limiting the gaming variety for players.