In this comprehensive review, we delve into the world of Fairspin, a significant player in the online betting and casino landscape. With its notable cryptocurrency integration and an array of gaming options, this article provides an in-depth understanding of Fairspin's offerings and user experience. Whether you are a novice online gambler or a seasoned player, this review can serve as a useful guide, shedding light on Fairspin's strengths, areas for improvement, and its overall appeal. We address key aspects such as registration, payment methods, account verification, customer support, and the mobile platform, thereby equipping readers with vital knowledge to navigate the Fairspin ecosystem efficiently. In essence, this review will offer valuable insights, whether you are considering using Fairspin or simply exploring the online gambling sector.
Review of the bookmaker and online casino Fairspin is also available in other languages:
Delving into Fairspin's Roots
Fairspin is an enterprise of TECHCORE HOLDING B.V., established in 2018 and licensed by Curacao. In our analysis of the betting site, we found that the platform caters to a wide range of punters, with its offerings encompassing a broad spectrum of sports betting markets. Whether you're into traditional sports like American Football, Cricket, or Boxing, or esports like Dota 2, CS:GO, and LoL, Fairspin has you covered.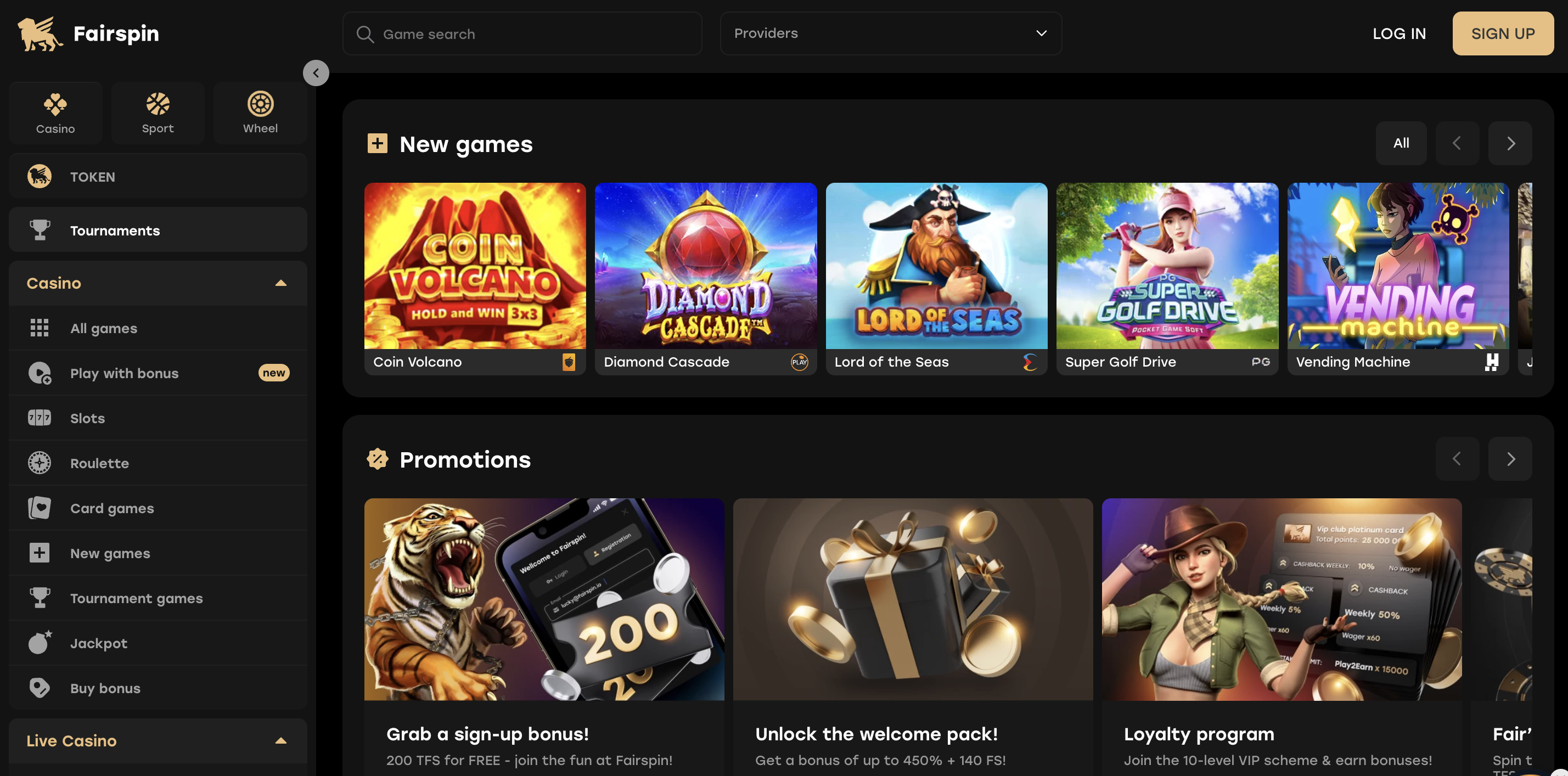 Bettors can also take advantage of features like Asian Handicaps, adding another dimension to the betting scene. What makes Fairspin stand out, though, is its extensive acceptance of various currencies, from fiat currencies like USD and EUR to a wide range of cryptocurrencies.
Why Fairspin is Your Go-To Betting and Gaming Hub
One of the main selling points that came to light in our Fairspin review is the seamless fusion of sportsbook and casino. When our team tested this betting site, we noted the breadth of its casino offerings, which truly sets it apart from the crowd.
Fairspin boasts games from 83 renowned providers like Spinomenal, iSoftBet, Play'n Go, and others. Among the crowd favorites are slots like "Wanted Dead or a Wild" and live games like "Crazy Time" and "Lightning Roulette". For those who crave a different thrill, Fairspin's unique Fishing or Hunting Games provide a refreshing gaming experience.
When it comes to payment options, Fairspin demonstrates its understanding of varying player preferences. From Visa and MasterCard to digital wallets like Skrill and Neteller, it caters to all. Notably, Fairspin stands out by accepting an impressive range of cryptocurrencies, appealing to the modern player.
A Closer Look at Online Sports Betting at Fairspin
In this section, we shine the spotlight on Fairspin's online sports betting portfolio. For sportsbook enthusiasts, Fairspin presents an attractive platform. Our thorough review of the sportsbook Fairspin has in store showed a diverse range of sports betting markets, from mainstream sports like Football and Tennis, to more niche areas like Table Tennis and Darts. You'll even find esports markets featuring popular games such as Dota 2, CS:GO, and LOL.
Notably, Fairspin provides a robust set of betting options, including Asian Handicaps. With these choices, Fairspin ensures that punters have the flexibility they need to maximize their wagering strategies.
Hitting the Sweet Spot: Fairspin's Most Favored Betting Markets
From our examination of the bookmaker Fairspin, it's clear that the platform excels in offering a broad array of popular sports betting markets. Football, being a global sport, undoubtedly attracts a large share of bettors. Tennis, Basketball, and MMA, are also among the favorites at Fairspin.
Esports also play a significant role in the Fairspin betting site. The rise of esports globally has led to increased interest in placing stakes on games like Dota 2, CS:GO, and LOL. Fairspin caters well to this demand, ensuring esports fans aren't left out of the action.
Stepping Into the Betting Arena: How to Wager on Fairspin
Betting on Fairspin is straightforward. First, you'll need to create an account, which is a quick and hassle-free process. You then make a minimum deposit of 10USDT using one of their wide range of payment options.
Next, navigate to your preferred sports betting market. Click on the sport or event you wish to wager on, and you will see the available odds. Choose your bet type. Finally, enter your stake and confirm your Fairspin bets.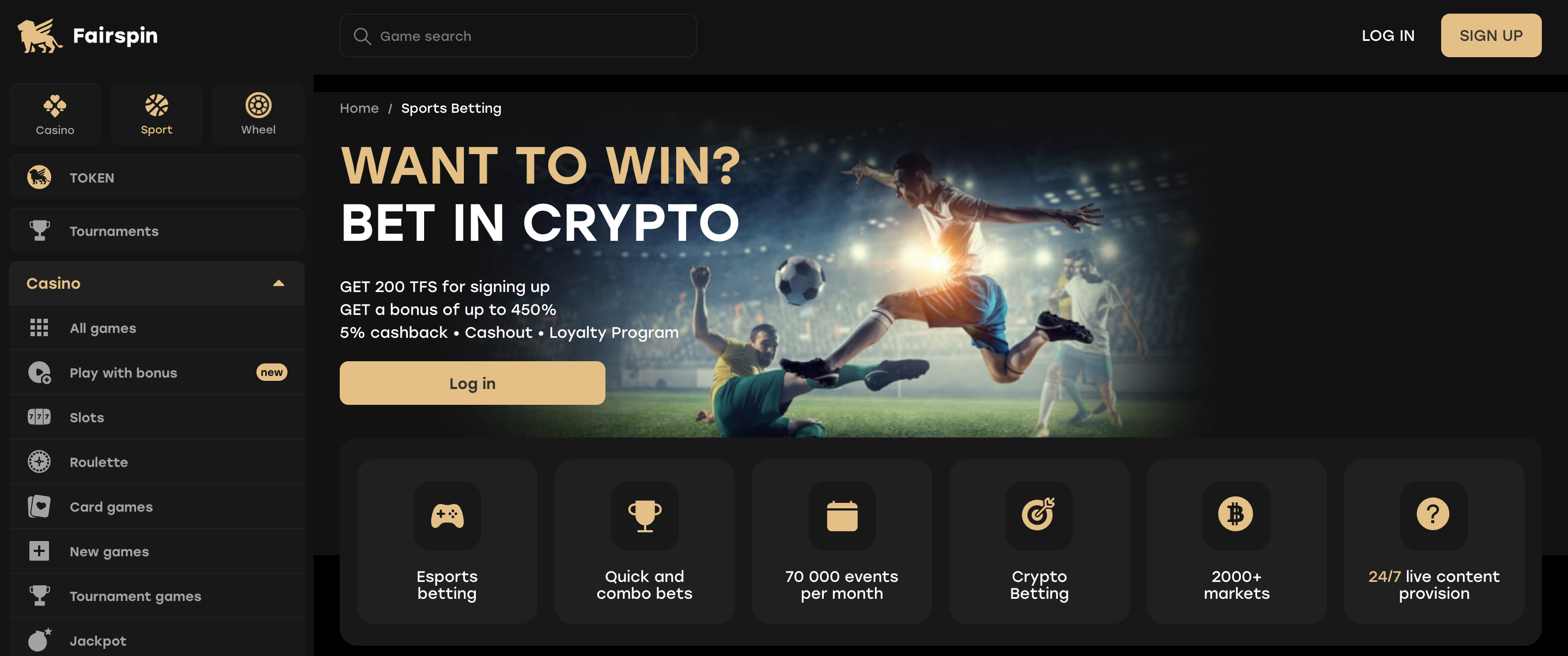 Harnessing the Thrill: Live Betting at Fairspin
Live betting is a feature that amplifies the excitement in wagering, allowing bettors to place stakes while the action unfolds in real-time. Although Fairspin doesn't offer live streaming services, they do provide live betting options, keeping the platform dynamic and engaging.
Our tests of the bookmaker have shown that Fairspin's live betting, or in-play betting Fairspin offers, is well-structured and provides real-time updates of odds based on the events' progression. This ensures that even in the absence of live streaming, you're not left behind and can make well-informed live bets on Fairspin, be it on traditional sports or even the fast-paced esports scene.
Types of Bets Available at Fairspin
Our review of Fairspin's betting options revealed a range of wagering types for bettors. These options cater to various punter styles, from those who prefer straightforward bets to those who enjoy the complexity of parlay betting or the nuances of Asian Handicaps.
Simple bets, such as moneylines, are perfect for beginners or those who prefer betting without complicated conditions. For more seasoned bettors, the option of parlay betting allows for higher potential returns, combining multiple selections into one bet.
But what truly stands out is Fairspin's inclusion of Asian Handicaps in its betting repertoire. This type of betting, popular in Asia, offers more balance in wagering by eliminating the possibility of a draw outcome.
Our experience of betting on Fairspin sportsbook
As part of our Fairspin betting site review, our team decided to place a couple of bets and live the actual betting experience. We started with a budget of 500 USDT and chose two betting markets and types – one prematch bet and one live bet – based on our expertise and understanding of the sporting landscape.
First, we chose the football market, a game between Liverpool and Manchester United, two teams with a longstanding rivalry and fairly matched performance. The stakes were high, and the unpredictability of the match offered an appealing prematch bet scenario. We decided to wager 200 USDT on a "Both Teams to Score" bet, a decision informed by both teams' offensive prowess and their shared reputation for aggressive attacking strategies. The high stakes of this bet were justified by the anticipation of an exciting, high-scoring match.
Next, we turned our attention to eSports, specifically Dota 2, where we chose to place an in-play bet. As eSports are notoriously volatile, we thought it the perfect market to stake a large sum of 300 USDT. The chosen match was between Natus Vincere (Na'Vi) and Team Secret, two highly skilled teams with a history of intense competitions.
As the match progressed and Na'Vi was leading, we decided to place our bet on Team Secret making a comeback. Our strategy hinged on the unpredictability of the game dynamics and Team Secret's record of pulling off impressive late-game turnarounds. The in-play bet allowed us to adapt our betting to the live circumstances of the game, making the whole experience more thrilling.
These bets, although high-risk, were part of our strategy to embrace unpredictability while leveraging our understanding of the sports and teams involved. It's crucial to remember that betting is a game of chance, and while strategies can be useful, they do not guarantee a win. Whether you're staking on traditional sports or eSports, the Fairspin platform offers a diverse array of betting options that can cater to any punter's preferences. The thrill of the win or loss is all part of the game.
Evaluating the Virtual Casino and Slots Landscape at Fairspin
Fairspin isn't just a sportsbook. For players seeking a spin of the wheel or a roll of the dice, the online casino Fairspin provides an exceptional platform. This review aims to delve into the casino side of things, focusing primarily on its slots and table games.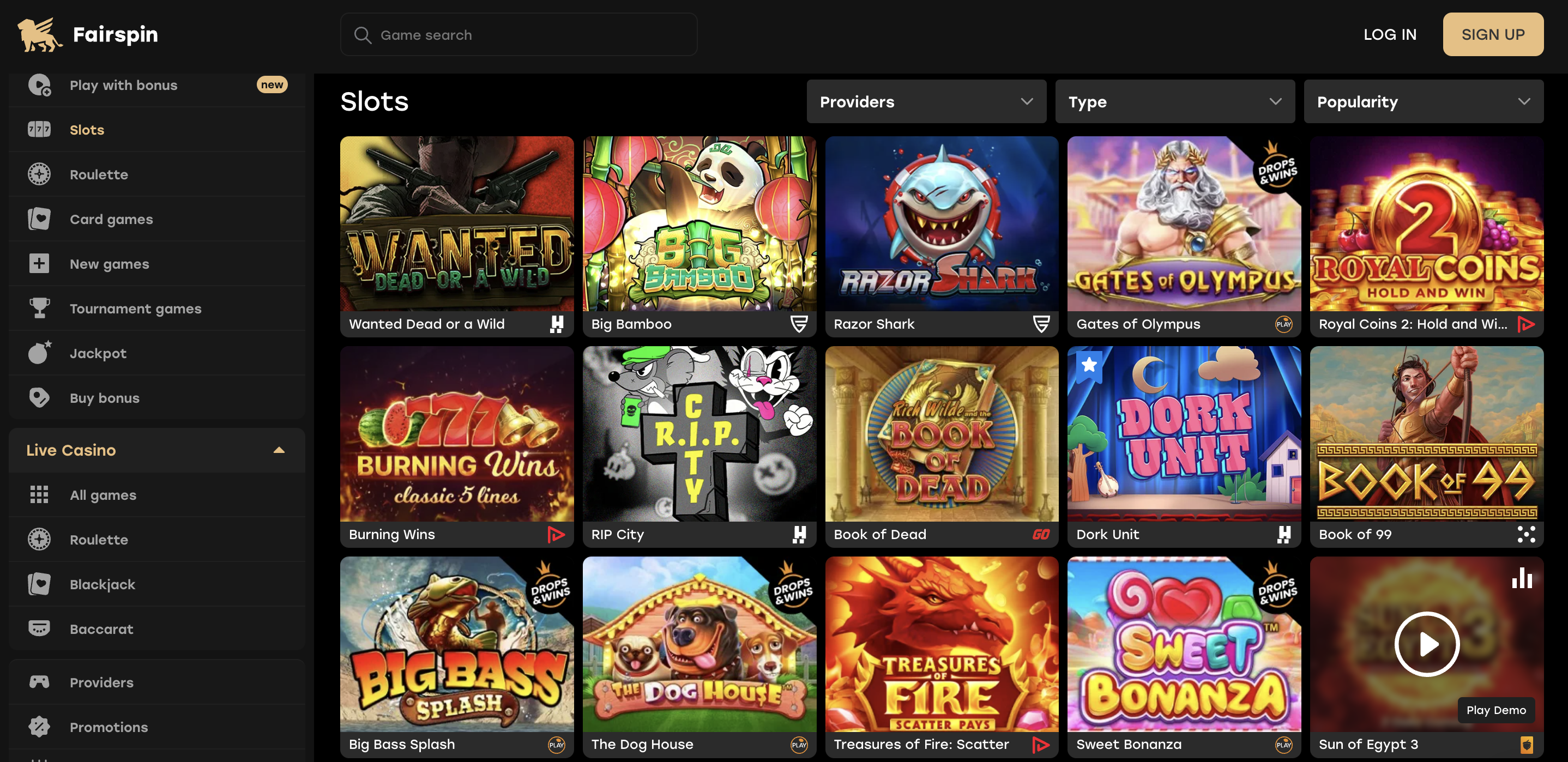 High Ranking Games in Fairspin's Online Casino
What makes casino Fairspin stand out are the wide array of casino games on offer. These games are designed to cater to all types of players, from those who enjoy the strategic nature of poker to those who prefer the simplicity and instant results of slots.
Among the top games that Fairspin offers are the themed slots. Games like "Book of Sun," "Sun of Egypt," and "777 Gems" attract players with their sleek graphics, engaging storylines, and high payout ratios.
Blackjack lovers also have plenty to cheer about with variations like "Blackjack Multihand" and "Blackjack 3D" providing an immersive experience. Roulette players can enjoy different versions like European, American, and French Roulette, each offering a unique set of rules and win possibilities.
Poker players are catered to with games such as "Texas Hold'em," "Omaha Poker," and "Caribbean Stud Poker." Besides, the live dealer section in the Fairspin casino games offering brings the real-world casino experience into the comfort of your home. Players can compete against live dealers in real-time, adding an extra layer of excitement to the gambling experience.
Getting Started with Casino Gaming at Fairspin
To gamble on Fairspin, you need to follow a few simple steps:
Registration: Create an account on Fairspin by providing the necessary details. It's a simple process that only takes a few minutes.

Deposit: You'll need to deposit funds into your account. Fairspin provides various payment methods, including credit/debit cards, bank transfers, and cryptocurrencies, to make this process as convenient as possible.

Game Selection: Browse through the extensive library of games offered by the Fairspin gambling site. You can search based on game type, provider, or simply use the search bar if you already know what you're looking for.

Play: Once you've selected a game, it's time to start playing! Remember to always gamble responsibly and within your means.
Exploring Live Dealer Games at Fairspin's Live Casino
Engage in the dynamic and immersive live casino Fairspin experience, where you can enjoy popular games dealt by real dealers. In this section, Fairspin outshines its competitors by offering a wide array of games broadcasted live from professional studios, creating a virtual yet realistic casino atmosphere.
Play with real dealers on Fairspin in games such as Roulette, Blackjack, and Baccarat, each game facilitated by expert dealers and presented in HD video. Our experience has shown that the live interactions with the dealers and other players, coupled with the real-time gaming, adds an extra layer of authenticity, making players feel like they are right there in a physical casino.
Poker enthusiasts will appreciate the online poker at Fairspin live casino. Multiple variants of this classic game are on offer, including Texas Hold'em and Caribbean Stud Poker. The games are conducted by professional dealers, ensuring fairness and transparency.
The live dealer games Fairspin offers are tailored to cater to players of all levels, providing varying betting limits and rules. Live dealer gaming truly represents the evolution of online gambling by bridging the gap between the virtual and the real.
Quick Betting and Social Gaming with Aviator and Other Instant Games at Fairspin
For those who prefer a faster pace, crash games Fairspin has got you covered. Games like 'Aviator' and 'JetX' provide quick rounds and instant results, providing a thrilling alternative to traditional casino games.
In our review of the Aviator game at Fairspin, we discovered that it is a simple yet captivating game where you place a bet, and an airplane takes off, climbing and multiplying your bet until it "crashes". You must cash out before the plane crashes to secure your winnings, a nerve-racking proposition that promises plenty of adrenaline.
On the other hand, the JetX game Fairspin offers involves betting on a virtual spaceship's flight. Your bet multiplies as long as the spaceship keeps flying. The challenge is to cash out before the spaceship crashes, much like in the Aviator game.
The quick betting games Fairspin offers, such as Aviator and JetX, represent the social casino games at Fairspin. These games bring together gamblers who enjoy rapid rounds and immediate results, providing a social environment where players can interact and compete. This social aspect combined with the fast-paced nature of these games makes them a perfect choice for those seeking quick entertainment and the opportunity for instant winnings.
Our experience of gamble in casino Fairspin
Venturing into the vibrant realm of Fairspin's online casino, our team embarked on an exhilarating journey with a seed fund of 500 USDT, playing a slot game and a live casino game to fully explore the opportunities presented by this gambling site.
First off, we turned our attention to "Wolf Gold" from Pragmatic Play, one of the slot games Fairspin offers. Wolf Gold is a wildly popular game, known for its medium volatility and frequent payout, making it a safer choice for our betting strategy. Starting with a stake of 50 USDT, we spun the reels, eyeing the wild wolves which could lead us to a jackpot. Our hearts raced as the reels spun, and to our delight, we hit a streak of free spins, leading to a profit of 150 USDT. The rush of adrenaline and the thrill of winning in this immersive game was truly extraordinary.
Buoyed by our slot game win, we then directed our attention towards the live casino game "Immersive Roulette from Evolution", hoping to increase our winnings further. Being a game of strategy and chance, our approach was to distribute our bets across multiple numbers for a higher probability of winning, while also placing a high-risk bet on 'Zero' as it pays out 35:1. With a confident stake of 100 USDT, we entered the live roulette room, greeted by the friendly dealer. The wheel spun, the ball rattled, and it was a heart-stopping moment as it finally settled – unfortunately not on 'Zero', but we did hit one of our covered numbers, leaving us with a slight profit of 20 USDT.
Our venture in Fairspin's online casino was indeed thrilling. The slot game offered an exciting array of features and payouts, while the live casino transported us to a real-life casino environment right from our screens. It's important to remember that while we ended up in profit, online gambling carries risk and should always be approached responsibly. The unpredictability and element of chance are what make these games thrilling, and as long as you set limits and play within them, you're in for a fun ride with Fairspin's online casino.
Stepping into Fairspin: A Generous Welcome Bonus Awaits 
Right off the bat, Fairspin greets new users with an attractive welcome bonus that helps get the ball rolling in this exciting casino landscape. On making the first deposit, players are awarded a 50% bonus and 10 free spins for an amount of at least 20 USDT. This increases to a 75% bonus and 20 free spins for a deposit of 250 USDT or more. The real cherry on top is the 100% bonus and 30 free spins granted when you deposit a minimum of 500 USDT, maxing out at a whopping 100,000 USDT! Just remember to satisfy the wager requirements to withdraw your Fairspin welcome bonus winnings.

Unraveling Fairspin Bonuses and Promotions: A Chain of Exciting Offers
The fun doesn't stop at the first deposit. Fairspin bonuses extend to the second, third, and fourth deposits as well, each layered with their unique offers. Starting from a 25% bonus with 10 free spins for deposits over 20 USDT, and scaling up to a massive 200% bonus with 50 free spins for deposits over 500 USDT, there's always something to look forward to. With each deposit, remember to use your Fairspin promocode to redeem these generous offers. The promotions Fairspin lays out are enticing, enhancing the overall gaming experience while offering ample opportunities to multiply your earnings.
Loyalty Rewarded at Fairspin: A Comprehensive VIP Program
At Fairspin, every bet counts. Thanks to their VIP loyalty program, you earn TFS tokens with every bet placed, progressing you through their loyalty levels. Each level comes with its unique perks and advantages, such as an increased staking limit coefficient for Hold2Earn. The loyalty program's benefits can be reaped across the platform, from lottery games and slots to popular table games like Blackjack. With a total of 10 levels, the cashback offers range from 5% at level 1 to a staggering 15% without wager plus 50% with a x60 wager at level 10. The more you play, the more you stand to earn from this Fairspin VIP loyalty program.

Uncomplicating Financials at Fairspin: A Guide to Deposits and Withdrawals
Navigating the financial landscape at an online casino can sometimes be daunting, but at Fairspin, the entire process of managing funds is straightforward and user-friendly. This online casino presents a range of deposit and withdrawal methods, giving you the freedom to choose what suits your preferences and needs the best.
Deposit methods at Fairspin include popular options like Visa, MasterCard, Skrill, Neteller, Trustly, Astropay, and various cryptocurrencies. Whether you prefer using traditional payment methods or digital assets, Fairspin has you covered. The minimum deposit at Fairspin stands at a low barrier of 10 USDT, encouraging both seasoned players and novices to partake in the games. Moreover, there are no restrictions for the maximum deposit, making it a suitable choice for high-rollers as well.
On the withdrawal side, Fairspin is equally versatile, offering similar withdrawal methods. The platform ensures that players can access their winnings with the same ease as depositing. The minimum withdraw limit at Fairspin is set at 20 USDT, while the maximum withdraw limit is defined by the specific payment method used.
Fairspin stands out for its extensive range of acceptable currencies, from traditional fiat currencies like USD or EUR to a broad selection of cryptocurrencies. Whether it's Bitcoin, Ethereum, Litecoin, or altcoins like Zcash, TRON, and Dogecoin, Fairspin accommodates them all. This vast selection of currencies further increases the convenience factor for the players.
An Easy Guide to Fairspin Registration: Embark on Your Gaming Adventure
Navigating through the registration process is the first step to delve into the captivating world of Fairspin. As the first point of interaction, the sign-up procedure is designed to be user-friendly and uncomplicated, making it simple for you to register on Fairspin's official site.
Step 1: Embarking on Your Fairspin Journey – To kick off your Fairspin adventure, you'll first need to visit the website. You can either do this directly or use the mirror link provided on our page. This is the first step to creating your Fairspin login credentials.

Step 2: Creating Your Account – Click on the 'Sign Up' button to start the registration process. Here, you will be asked to provide some basic details, such as your name, email, and preferred password. Once these details are entered, confirm your email to finalize your Fairspin sign in details.

Step 3: Powering Your Gameplay – With your account set up, it's time to make your initial deposit. Navigate to the 'Deposit' section and choose your preferred method of payment. Whether you're comfortable with traditional methods or prefer using cryptocurrencies, Fairspin has got you covered.

Step 4: Engaging in the Thrill of the Games – Now that your account is set up and funded, it's time to place your stakes. Explore Fairspin's wide range of games and choose the one that catches your fancy. Whether it's spinning the roulette or testing your skills at poker, the world of Fairspin is now at your fingertips!
Key Requirements for a Smooth Registration
To maintain a secure gaming environment, Fairspin has certain registration requirements. Firstly, all players must be at least 18 years old. Secondly, it is important to note that each player can only create one account. Multiple accounts can lead to suspension or even a permanent ban. Lastly, Fairspin requires players to verify their accounts by providing proof of identification. This could be a passport, driver's license, or any other valid government-issued identification.
Unlocking Fairspin's Welcome Bonus: A Gift for New Registrants
Upon successful registration on Fairspin, players can take advantage of the generous welcome bonus. This bonus, often a combination of a percentage of your initial deposit and free spins, boosts your first gaming experience on the platform.
To claim your Fairspin welcome bonus, you'll need to go to the 'Promotions' section after signing in. Here, you can find the welcome bonus offer and the associated Fairspin promocode. Enter this promocode while making your first deposit, and the bonus will be automatically credited to your account.
An Overview of Fairspin Account Verification Procedure
Verifying your account on Fairspin is a straightforward process, essential for seamless gaming experience and secure transactions. Here are the steps:
Log In: Start by signing in to your Fairspin account.

Go to Profile: Navigate to your profile page.

Select Verification: Here, you'll find an option for account verification. Click on it.

Upload Documents: You will be required to upload scanned copies of a government-issued ID, proof of address (like a utility bill), and if applicable, proof of payment method.

Wait for Approval: Once your documents are submitted, the Fairspin team will review them. This process may take up to 48 hours.

Verification Confirmation: You will receive an email once your account has been successfully verified.
Guidelines and Best Practices for Optimal Gaming at Fairspin
Playing at Fairspin can be an exhilarating experience, but to truly excel and make the most of your gaming, consider these tips and best practices:
Understand the Game: Each game has its own rules and strategies. Take time to understand them before placing any bets.

Claim the Bonuses: Fairspin offers a range of bonuses. Don't forget to use the Fairspin welcome bonus and other promotions to extend your playtime and potential winnings.

Manage Your Budget: Decide how much you're willing to risk and stick to that budget. Remember, the purpose of playing is to have fun.

Verify Your Account: A verified account gives you access to more features, secure transactions, and swift payouts.

Join the VIP Loyalty Program: If you plan on playing regularly, the Fairspin VIP loyalty program can provide you with extra rewards and benefits.

Use Cryptocurrencies: Fairspin supports a variety of cryptocurrencies. These can provide faster transactions and higher security.

Keep Track of Your Activities: Monitoring your wins and losses can help you develop effective strategies and manage your bankroll better.

Enjoy Responsibly: Lastly, never let the game play you. Remember that winning is a part of the fun, but so is playing. Play responsibly and within your means.
Navigating the Fairspin Mobile Website
The Fairspin mobile website enhances gaming convenience, allowing users to enjoy their favorite games on the go. With a user-friendly interface, navigating through the site is a breeze. Games are neatly categorized, and all features available on the desktop site are accessible on the mobile platform. You can register, make deposits, claim bonuses, and even contact customer support directly from your mobile device, giving you a comprehensive gaming experience in the palm of your hand.
Assurance of Fairness with Fairspin's License
Fairspin is a licensed platform, adhering to stringent rules and regulations set by regulatory bodies. This assures users of a secure and fair gaming environment. A trusted third-party audits all the games for fairness, ensuring that results are genuinely random. Furthermore, Fairspin employs top-notch security measures, including advanced encryption technology, to safeguard your data and transactions. Hence, fairness, transparency, and security form the bedrock of the Fairspin gaming experience.
Reliable Customer Support at Fairspin
At Fairspin, the customer is indeed king. The platform's customer support system is designed to provide swift, effective, and personalized assistance. Available round the clock, the customer support team can be reached via various channels, including live chat and email, ensuring you never feel left in the dark.
The support team at Fairspin is well-versed in all aspects of the platform, enabling them to offer precise answers to any queries or concerns. Whether you're facing technical difficulties, have questions about transactions, or require assistance with your account, the Fairspin customer support team is always ready to help.
Final Opinion on Fairspin as bookmaker and online casino 
In conclusion, Fairspin manifests itself as a leading figure in the realm of online betting, particularly with its notable cryptocurrency offerings. Its generous selection of slot games, coupled with a versatile loyalty program, consistently provides a high caliber of engagement for its users. The multilingual support further amplifies its international appeal, ensuring a seamless betting experience for its diverse user base.
However, there are facets that Fairspin could improve upon. The absence of Asian language options narrows its scope, and the lack of a dedicated mobile app somewhat hampers its accessibility. Additionally, the lack of a poker room could be disappointing for players seeking a comprehensive casino experience.
Despite these areas of potential growth, Fairspin's robust offerings and commitment to user experience set it apart in the online betting world. The ability to handle cryptocurrencies places Fairspin at the forefront of innovative online gaming solutions. Although there are areas to improve, the overall performance is impressive, making Fairspin an online casino and bookmaker worth trying for those looking for a unique betting experience.
Read this page in other languages:
Pros
Exceptional crypto casino services.

Broad array of slot games.

Multilingual website support (14 languages).

Comprehensive loyalty program.

Engaging tournaments and reward wheel.
Cons
Licensing only from Curacao.

Absence of Asian languages on the site.

No dedicated mobile app.

Absence of a poker room.