This article offers a comprehensive review of Dexsport, a unique online casino built on the blockchain. The review caters to both existing and prospective users, providing a detailed walkthrough of registration, deposit and withdrawal processes, along with practical tips for a seamless experience. The strengths and limitations of Dexsport are evaluated, with insights into its range of services and its customer support. Cryptocurrency enthusiasts and online gambling aficionados will find this review particularly beneficial. With an emphasis on Dexsport's innovative use of blockchain technology and its commitment to privacy, readers will gain a rounded understanding of this modern casino's offerings and how it stands out in the online gambling industry.
Review of the bookmaker and online casino Dexsport is also available in other languages:
Dexsport Uncovered: A Fresh Yet Significant Player
Dexsport, established in 2021, made its way swiftly among bettors for offering a diverse betting market, extending from football and cricket to the adrenaline-pumping esports like Dota 2 and Valorant. It goes beyond a regular bookmaker by incorporating modern website design and a crypto casino, appealing to both conventional punters and the new-age crypto gamblers. The lack of a formal license might raise eyebrows, but its audit by CERTIC and Pessimistic assures fair-play.
Despite its youth, Dexsport takes the upper hand in providing an extensive range of sports markets, ensuring that it caters to a vast spectrum of betting enthusiasts worldwide. However, its language barrier with an English-only site could be a drawback for non-English speaking bettors.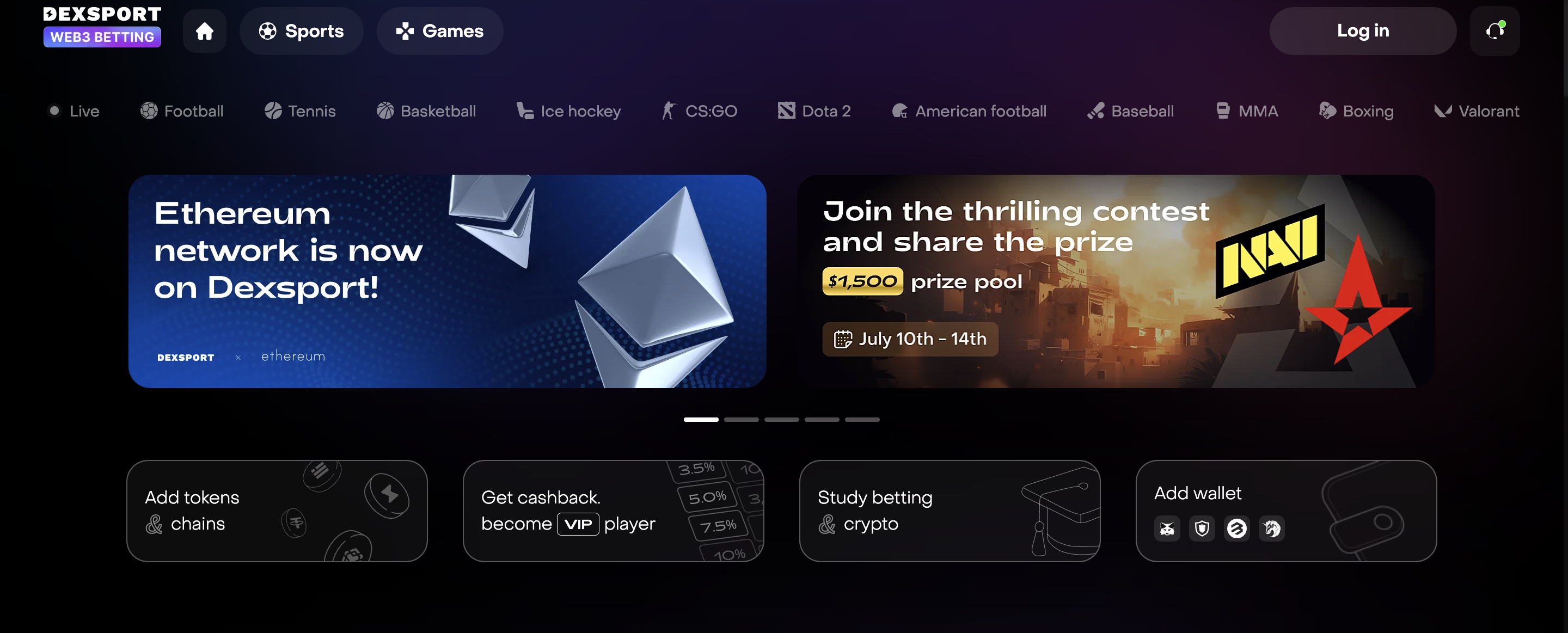 Perks of Placing Stakes at Dexsport: Cryptocurrency and Beyond
Dexsport's major attraction is its embrace of cryptocurrencies. It accepts deposits in Bitcoin and Ethereum, lowering the barriers for crypto enthusiasts looking to delve into sports betting or try their luck in online casino games.
One of Dexsport's biggest selling points is its comprehensive customer support, available across numerous platforms including Live Chat, Telegram, Twitter, Discord, Reddit, and Instagram. It keeps up the game by offering instant payouts and a VIP program, increasing its appeal among seasoned bettors.
A Deeper Dive into Dexsport's Sports Betting Landscape
The sportsbook Dexsport has rapidly garnered attention from punters for its extensive sports betting markets. Embracing both traditional sports and the electrifying world of esports, Dexsport caters to a diverse range of betting preferences. The bookmaker Dexsport does not limit its reach to conventional sports but extends its grasp into the realm of esports, including CS, Dota 2, Pubg, and Valorant.
A significant advantage of betting on Dexsport is the flexibility it provides. Players can make wagers in a variety of sports, from football and baseball to the less common ice hockey and MMA. This versatility allows bettors to explore their passions, leverage their expertise, and enhance their winning potential.
Dexsport's Winning Streak: Popular Betting Markets Explored
As we delved into Dexsport's betting site, we found the platform to be extensively populated with popular sports markets. Traditional sports such as football, tennis, and basketball see an impressive influx of players making their bets. Esports, too, maintain a strong presence, catering to the gaming generation with choices such as CS and Dota 2.
Bettors who prefer a change of pace from traditional sports can dive into the thrill of esports, where the fast-paced gaming action adds an exciting twist to betting. Dexsport's embrace of both the old and the new enhances its appeal, making it a diverse and engaging betting site for a wide range of punters.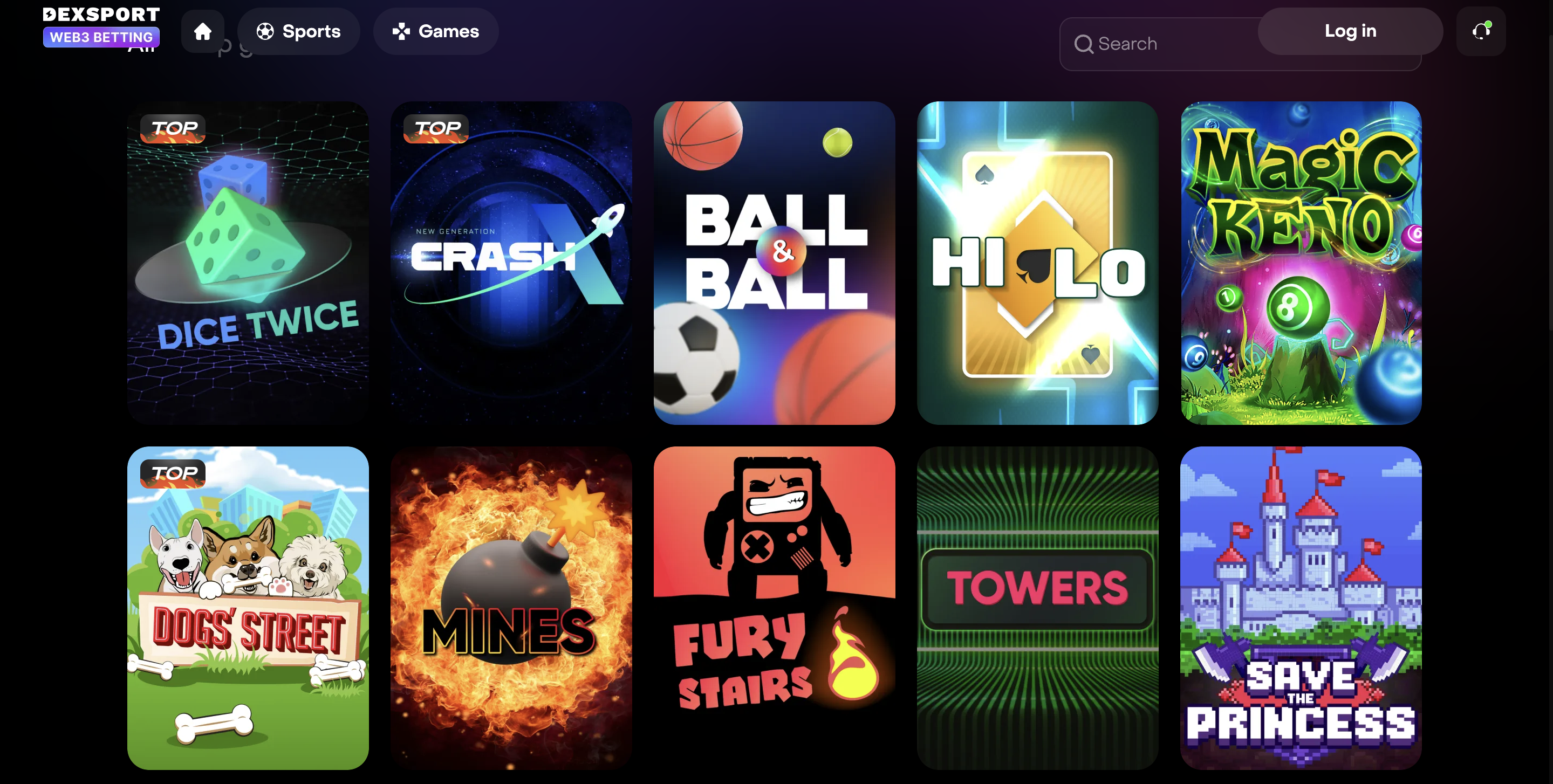 Placing Your Stakes: A Step-by-Step Guide to Betting at Dexsport
Placing Dexsport bets is a straightforward process, crafted to provide a smooth betting experience for all punters. Here's a step-by-step guide to get you started:
Registration: Sign up on the Dexsport platform to create an account. The process is simple, fast, and requires minimal personal information.

Deposit Funds: Load your account with your desired funds. Dexsport stands out with its low minimum deposit of 0.001 BTC, making it accessible to all bettors. The platform accepts multiple payment methods, including Visa, Mastercard, and cryptocurrencies such as Bitcoin and Ethereum.

Select Sport: Navigate through Dexsport's extensive sports market and select your preferred sport. Whether you're a fan of traditional sports like football and tennis or prefer the rush of esports like Dota 2 and Valorant, Dexsport has got you covered.

Choose Match/Event: Once you've decided on the sport, pick the specific match or event you want to wager on. Dexsport offers a multitude of events across various sports, giving you ample choices.

Decide Bet Type: Choose the type of bet you want to place. With options like Handicap, Total, Quick Bet, and Combo Bet, Dexsport allows bettors to customize their betting strategy according to their expertise and risk tolerance.

Place Your Bet: After determining the bet amount, click on the 'place bet' button to finalize your wager.
Live Betting and Streaming in Dexsport
When it comes to dynamic wagering options, Dexsport ticks all the right boxes. The live betting Dexsport feature allows punters to place bets on ongoing games, amplifying the excitement manifold. With in-play betting Dexsport, players can make informed wagers based on real-time game progression, adding an extra layer of strategy to their betting experience.
However, it's worth noting that while Dexsport does offer comprehensive statistics and match results, they currently only provide a tracker for live streaming. Despite this, their up-to-the-minute stats and real-time odds make live bets Dexsport an exciting option for those who love to engage with the action as it unfolds.
Available Types of Bets on Dexsport
Dexsport caters to an array of betting styles and strategies, offering everything from simple straight bets to more complex wagering forms. For those who enjoy the thrill of high-risk, high-reward stakes, accumulator bets are an attractive option. These allow players to combine multiple bets into one, increasing the potential payout.
For seasoned bettors looking for a strategic challenge, systems of bets offer a chance to create multiple combinations from a selected set of events. This betting form can increase the potential to win, even if not all selections are successful.
Dexsport's Additional Betting Tools
In addition to its diverse betting types, Dexsport also equips punters with valuable tools to optimize their betting strategy. One such feature is the Dexsport cash out tool, allowing players to withdraw their stakes before the event's conclusion. This function is especially useful for securing early profits or minimizing losses when the tide of the game seems to be turning.
Our experience of betting on Dexsport sportsbook
With a budget of 500 USDT, our team decided to take a strategic approach by placing bets in two different markets in Dexsport – one prematch bet on cricket and one live bet on Dota 2, an eSports event.
First, we turned our attention to the cricket match between India and England. As cricket aficionados, we understood the current form and historical performances of these teams. Considering India's strong batting line-up and their recent stellar performance, we opted for a pre-match outright bet. We placed 300 USDT on India's victory. This bet type, also known as a moneyline bet, is straightforward as we were simply betting on which team would win the match.
While the cricket match was yet to start, we turned our gaze towards the vibrant world of eSports. A Dota 2 match was currently live, and we decided to invest the rest of our funds here. Dota 2, a complex game with a myriad of strategies, offers numerous betting opportunities. Given our experience in analyzing the game's dynamics, we placed an in-play bet of 200 USDT on the team Dire to destroy the next tower.
Live betting on eSports is exciting as it allows bettors to make decisions based on the real-time progression of the game. Despite the team Dire being behind in terms of kills, they were strategically pressuring the map better, indicating a higher probability of them taking down the next tower.
After a thrilling hour, the results were in. The Dota 2 match concluded, with Dire successfully destroying the next tower, resulting in a win for our in-play bet. Meanwhile, the cricket match ended with India's victory, also turning our pre-match bet into a profitable venture.
The Dexsport betting site offered a seamless betting experience across different markets. The cricket prematch bet and the in-play bet on Dota 2 showcased the platform's extensive sports market. The result of our betting endeavor underlines the significance of strategizing based on the understanding of sports and the types of bets, demonstrating how the combination of knowledge, strategy, and a bit of luck can lead to a rewarding betting experience.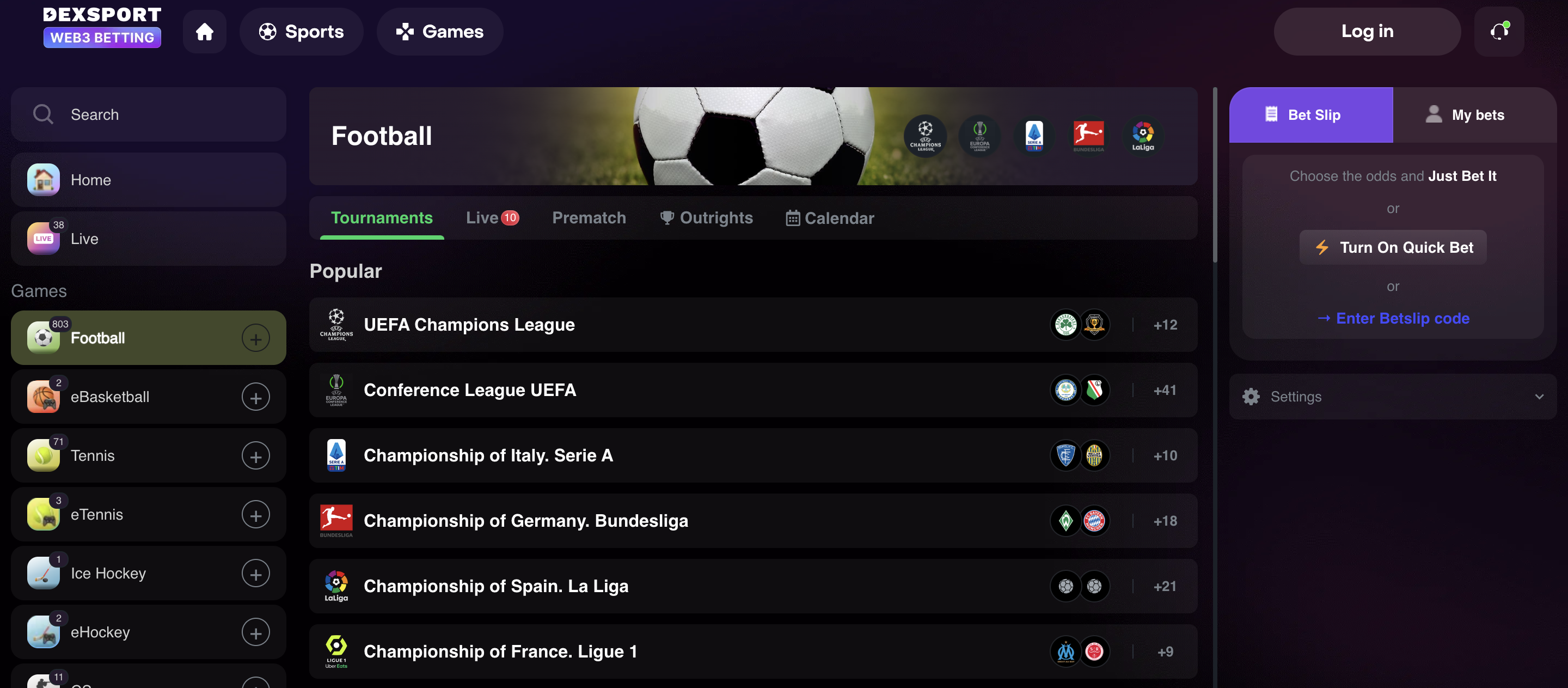 Delving into the Casino World of Dexsport
For punters not solely bound to sports betting, the online casino Dexsport is a captivating playground. This betting platform has remarkably managed to converge sports betting and casino gaming into one. Users who gamble on Dexsport enjoy a blend of modernity and diversity in their gaming experience, enabling them to explore a rich catalogue of casino games.
Dexsport gambling site encompasses a collection of 16 unique games. While this number may seem limited compared to other platforms, the casino compensates for this with its distinct and intriguing games. Each game is crafted using web3 software, thereby ensuring a smooth and immersive gambling experience. However, it's worth noting that traditional casino games like poker and live dealer games are absent, hinting at Dexsport's preference for innovative, fast-paced games.
Crown Jewels of Dexsport's Casino Collection
Delving into the Dexsport casino games, players find themselves facing a fascinating roster. Top games that have enthralled the Dexsport's gambling community include 'Dice Twice', 'Crash New Generation', 'Hilo', and 'Fury Stairs'. Each game boasts an exceptional gaming interface and unique game mechanics.
'Dice Twice', for example, is a testament to Dexsport's commitment to innovative gaming. This thrilling game combines the classic game of dice with modern game elements, keeping players on the edge of their seats. Similarly, 'Crash New Generation' is a captivating game that challenges players to cash out their bet before the crash, adding an intense level of excitement to every round.
'Hilo', on the other hand, is a fantastic card game that captivates players with its simplicity and the potential for high rewards. Lastly, 'Fury Stairs', a unique game in the casino market, takes players on an adrenaline-filled journey as they ascend a flight of stairs full of surprises.
Embarking on Your Dexsport Casino Adventure
To start your journey in the online casino Dexsport, the process is fairly straightforward. Here's a simplified guide to get you started:
Create an account: Visit the Dexsport website and create your account. The platform does not require KYC, ensuring a quick and hassle-free signup process.

Make a deposit: Dexsport accepts various payment methods, including Visa, Mastercard, and cryptocurrencies like BTC and ETH. The minimum deposit amount is 0.001 BTC.

Choose a game: Navigate through the platform and select a game from Dexsport's unique collection that catches your eye.

Place your bet: Depending on the game, select your bet amount and confirm your bet. Enjoy the game and wait for the results.

Cash out: You can cash out your winnings at any time. The withdrawal limit is $10, which is quite low compared to other platforms, allowing players to enjoy their winnings without a substantial delay.
Dexsport's Mines and Crash Games
For those who enjoy fast-paced gaming experiences, Dexsport presents a portfolio of quick betting games that are as exciting as they are rewarding. Dexsport's Mines, one of the platform's top instant games, shines through with its simplicity and potential for high payouts.
In Mines, players are presented with a grid filled with hidden gems and bombs. Your objective? Select boxes, hoping to uncover gems and avoid the explosives. Each gem increases your potential payout, but stumble upon a bomb, and your bet is lost. It's a thrilling game of risk and reward that keeps players on their toes.
Beyond Mines, another compelling feature of Dexsport's gaming arena is their crash games. Perfect for those who relish quick betting scenarios, these games involve predicting the exact moment a growing multiplier will crash. The longer you wait, the higher the potential multiplier to your bet. However, wait too long, and you may lose your stake when the multiplier crashes.
Our experience of gamble in casino Dexsport
With a 500 USDT, our team embarked on a virtual journey to Dexsport's Casino. Our mission? To plunge into two unique games and observe the winning and losing possibilities, betting big randomly for a bit of excitement.
The first pick was "Crash New Generation". The name alone suggested a high adrenaline rush, and indeed it lived up to expectations. The rules were simple: predict the crash moment of a multiplier that's on the rise. Based on our own expertise, we decided to make our exit point at 2x, betting 100 USDT. We found ourselves at the edge of our seats, watching the multiplier rise, and then…CRASH! We exited just in time and doubled our stake, an exhilarating start.
Next, we moved to "Magic Keno", a game based on the classic lottery-like gambling game, Keno. We chose 10 numbers and staked 50 USDT each. It was an entirely different vibe – rather than the fast pace of Crash, we had a moment of suspense as we waited for 20 numbers to be drawn. In our first game, we hit five numbers, recouping some of our stake. The next round was even more thrilling as we hit seven numbers and won a substantial sum.
This roller coaster of experiences gave us a real taste of the highs and lows of gambling. Dexsport's casino games proved to be diverse and thrilling, offering a fair balance between risk and reward. Be it the immediate thrills of "Crash New Generation" or the suspenseful "Magic Keno", Dexsport caters to all types of gamblers. Remember, the name of the game is to have fun, but make sure you are playing responsibly. Our tests have shown that Dexsport provides not only an entertaining platform but also a secure one for all players.
Exclusive Benefits of the Dexsport VIP Loyalty Program
Dexsport boasts a unique and enticing attraction for the discerning gambler: the VIP Loyalty Program. This isn't an ordinary VIP program, but rather an elite league that bestows special privileges upon its members. The program isn't just about playing, but about wanting to be a part of something exceptional and excellence-driven.
Instantly activated upon membership, the Dexsport VIP Loyalty Program grants you a personal VIP buddy, practically available 24/7, ready to assist and cater to your special requests. One major lure of this program is the VIP cashback – a personal weekly cashback that allows VIP players to get up to 10% back, according to their level, without any wager requirements. Every Monday, your VIP manager will deliver the good news of your cashback credited to your Dexsport balance.
The VIP membership is activated in two simple steps: first, provide your preferred contact and your wallet address for Dexsport, and then, make a bet of 2500 USDT or equivalent. Once these steps are completed, a personal manager contacts you within 24 hours to commence your VIP journey.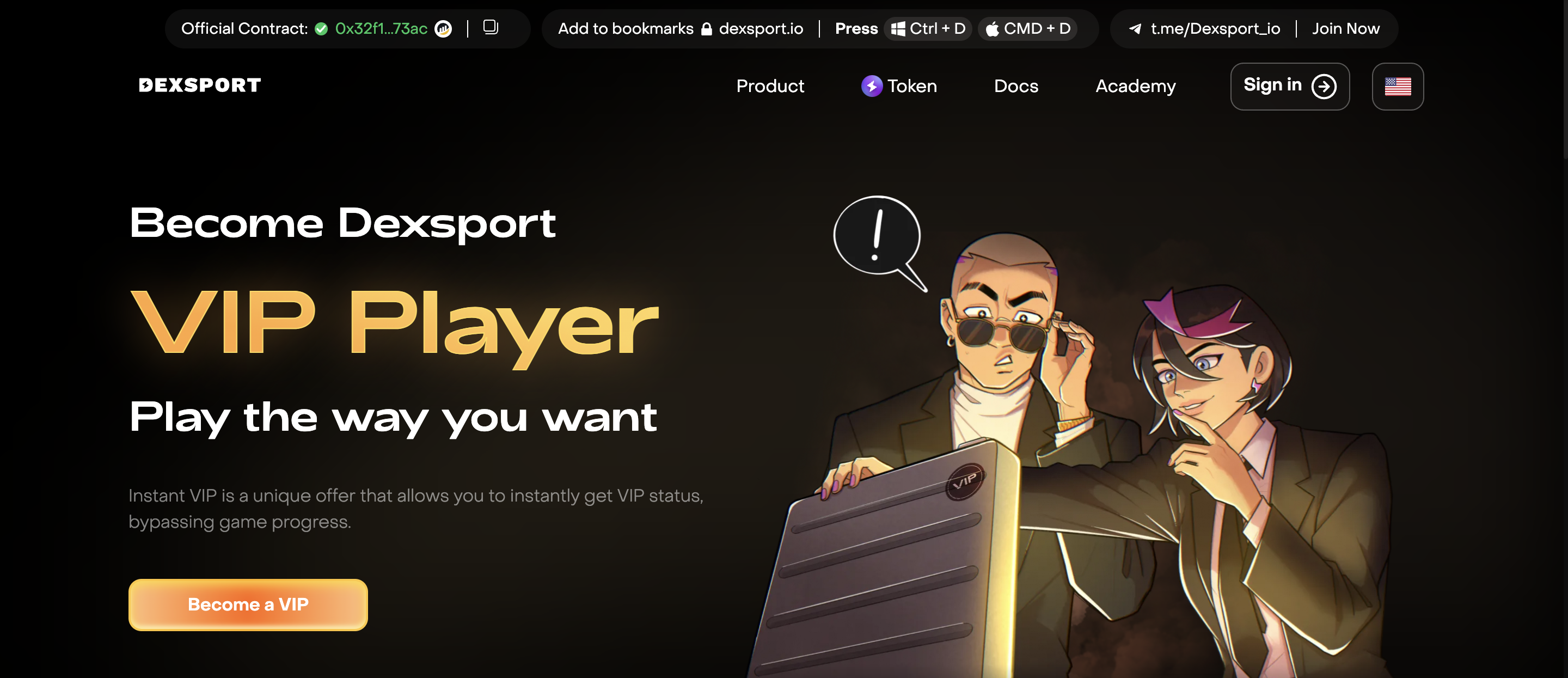 The Innovative DESU Token System of Dexsport
In the realm of Dexsport, the DESU Token is more than just a cryptocurrency. This native token of the Dexsport protocol is a tool that ensures transparency for gaming platforms and providers, and is used to process all types of transactions within the website. With a limited supply of 1 billion, the DESU token stands as the DeFi-betting project that caters to both gamblers and crypto enthusiasts.
DESU Tokens can be purchased on Pancakeswap and Kanga, following simple steps that include connecting your decentralized wallet to the platform, choosing the crypto you want to exchange for DESU, entering the amount, and paying the BSC chain gas fee. Once you have DESU tokens in your personal wallet, you can connect it to the Dexsport platform and start experiencing the multitude of benefits it offers.
DESU Token holders have multiple ways to earn money. They can stake their tokens, use the referral system to earn commission, partake in lotteries and betting games, and participate in contests and events. In addition, they can also receive and send donations or tips. The DESU token's value changes as players and holders discern its utility, thus serving as an investment opportunity within the Dexsport platform.
Understanding the Financial Transactions: Deposits and Withdrawals in Dexsport
Naturally, an essential part of any online casino experience lies in the simplicity and security of monetary transactions. Dexsport excels in this respect, providing straightforward and safe deposit and withdrawal methods that are sure to enhance the overall gambling experience.
In Dexsport, deposit methods are manifold and convenient. Users have the option to fund their accounts using Visa, Mastercard, or even cryptocurrencies like Bitcoin (BTC) and Ethereum (ETH). This variety allows users to select a deposit method that suits their preference and circumstances best, further emphasizing the platform's commitment to user convenience.
The minimum deposit limit in Dexsport is set at 0.001 BTC. This low threshold ensures that even those with smaller bankrolls can enjoy the thrills of the casino, making Dexsport an inclusive platform for gamblers of various financial capacities. Whether you're a high roller or a casual player, Dexsport ensures your deposits are seamless and swift.
When it comes to withdrawal methods, Dexsport offers the same options as deposit methods. This consistency guarantees a smooth transition between betting and cashing out, allowing users to withdraw their winnings with ease. Moreover, the minimum withdrawal limit at Dexsport is set at a mere $10, which means that players can access their winnings without having to amass a significant sum.
One must not forget the importance of secure transactions when discussing deposit and withdrawal methods in Dexsport. The platform has incorporated top-of-the-line security protocols to safeguard user funds, so rest assured that your money is in safe hands.
Lastly, the acceptable currencies within the Dexsport platform are USD, EUR, BTC, and ETH. This variety of currencies demonstrates the platform's global appeal and its commitment to catering to a diverse set of users.
Embarking on the Dexsport Journey: The Registration Process Unveiled
Stepping into the dynamic world of crypto sports betting begins with a streamlined registration process on Dexsport. The Dexsport login is designed to be user-friendly, allowing players to engage in decentralized sports betting effortlessly. Let's break down the registration process into four easy steps:
Step 1: Reach Out to Dexsport
Initiating your betting journey begins with visiting the Dexsport official site. There are two ways to do this – directly accessing the platform or using a mirror link provided by us. This step represents your first interaction with the Dexsport platform, offering a glimpse into the thrilling betting experiences that lie ahead.
Step 2: Register Your Presence
Once you've reached the website, the next step is to register at Dexsport. Look for the 'Sign Up' prompt and follow the instructions. The sign-up process is straightforward and quick, allowing you to step into the exciting world of crypto sports betting within minutes.
Step 3: Fueling Your Betting Journey
After successfully signing up, it's time to deposit funds into your Dexsport account. This essential step enables you to place wagers on the platform. The deposit process is simplified and quick, letting you focus on the thrilling part – the betting itself.
Step 4: Placing Your Stakes
With funds deposited, you're now ready to place your stakes on the platform. Dexsport offers a plethora of betting opportunities across various sports, providing an enriching betting experience that caters to all kinds of sports enthusiasts.
Unpacking the Dexsport Registration Requirements
The registration requirements for Dexsport are minimal, designed to expedite the process of getting you into the action. You would require a Web3 wallet to connect to the platform and deposit funds. Recommended options include WalletConnect, OKX Wallet, Trust Wallet, and KuCoin Wallet.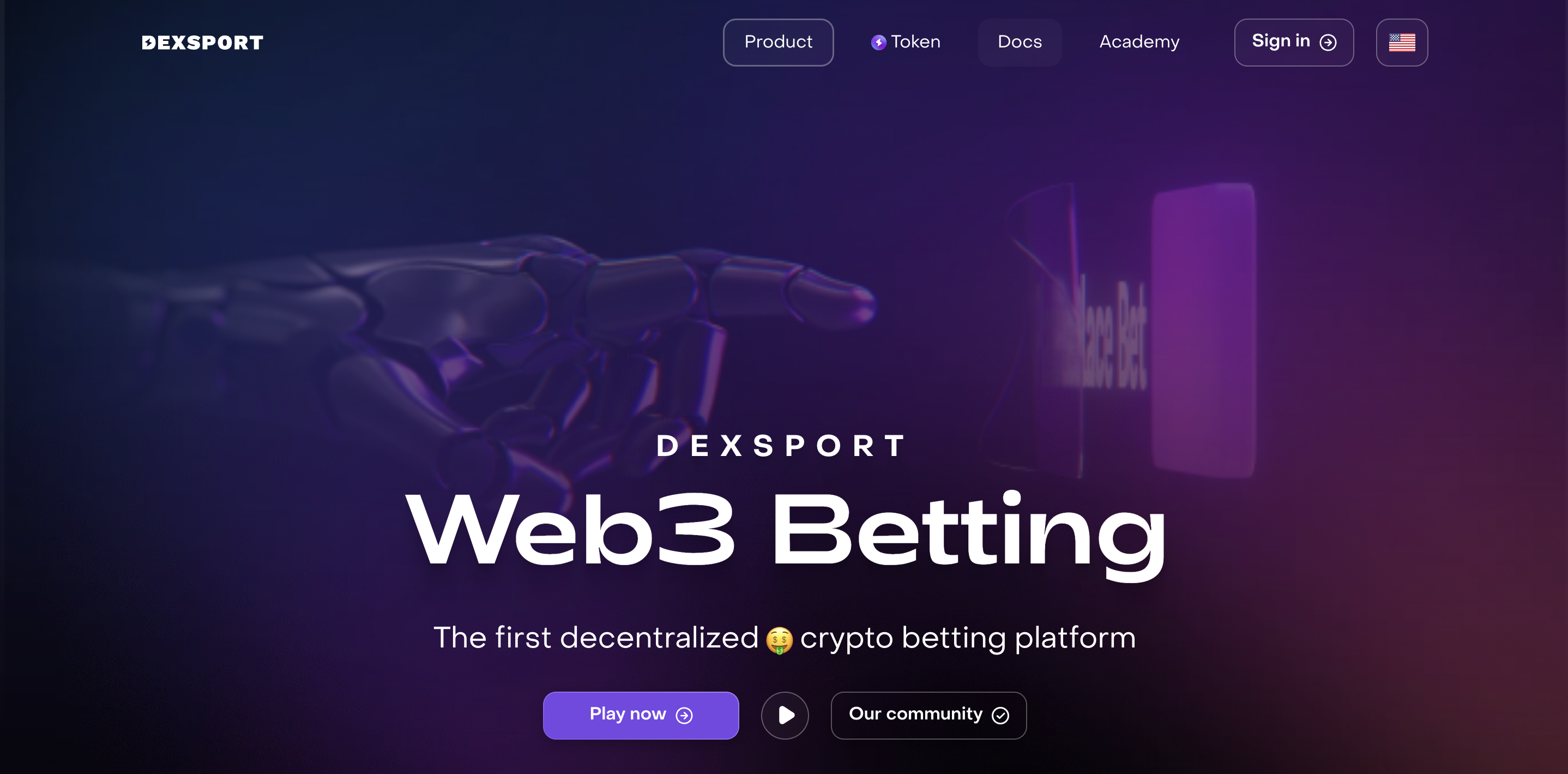 Revolutionizing Verification: Dexsport's Account Confirmation Procedure
As Dexsport takes the lead in transforming online betting experiences, one of the key ways it has set itself apart is by eliminating the often cumbersome Know Your Customer (KYC) verification. In many online platforms, KYC procedures can slow down registration processes, causing potential users to abandon the process entirely. Dexsport, however, simplifies this journey through its innovative verification method.
Dexsport utilizes the power of smart contracts in its operations, completely bypassing the need for traditional KYC checks. Instead of going through exhaustive documentation verification, users can swiftly confirm their accounts, allowing them to dive straight into the world of sports betting. This unique approach not only speeds up the sign-up procedure but also enhances user privacy, as less personal information is required to start playing.
Essential Tips and Practices for Playing at Dexport
If you're looking to maximize your Dexsport gaming experience, incorporating the right strategies and best practices into your gameplay is crucial. Here are some valuable tips that can enhance your gaming success:
Understand the Basics: Dexsport is a decentralized sports betting platform, offering a distinct way of betting compared to traditional platforms. Familiarize yourself with the decentralized betting concept, the sports events available, and how to place wagers.

Practice Responsible Betting: Always remember to gamble responsibly. Set a limit for your stakes and never bet more than you can afford to lose.

Stay Updated: Keep abreast of the latest updates from Dexsport. Regularly check the official site for the newest sports events, competitive odds, and additional features.

Learn and Adapt: No betting strategy is foolproof. Keep learning from your experiences, adapt your betting strategies accordingly, and strive to make informed decisions.
Navigating Dexsport's Mobile Platform
Experience seamless sports betting on the go with Dexsport's mobile website. This intuitive platform is designed to provide an outstanding betting experience that transcends desktop limitations. The mobile website mirrors the desktop version's functionalities while offering the convenience of betting from wherever you are. It's a lightweight platform, ensuring fast loading times and a user-friendly interface. Thus, whether you're tracking live sports events or placing wagers, the Dexsport mobile site ensures uninterrupted, high-quality service.
Dexsport's Assurance: License and Fair Play
While Dexsport is not licensed by traditional gambling authorities, it operates under stringent auditing by CERTIC and Pessimistic. These bodies ensure that Dexsport's operations maintain the high standards of fairness and security essential for the trust of its users. By incorporating blockchain technology, Dexsport takes transparency to a new level, as all transactions and bets are verifiable and tamper-proof, reinforcing users' confidence in the platform's credibility.
Reliable Assistance: Dexsport's Customer Support
Understanding the significance of effective customer support in online betting, Dexsport has a comprehensive support structure in place. Their professional support team is accessible 24/7 through multiple channels. While phone support isn't available, Dexsport offers live chat for real-time solutions, along with email for more detailed inquiries. Also, they maintain a strong presence on social media platforms like Telegram, Twitter, Discord, Reddit, and Instagram for easy access to their user community.
Whether you need assistance with account-related issues, guidance on deposit or withdrawal methods, or troubleshooting technical glitches, Dexport's customer support delivers timely, accurate, and user-friendly solutions. With their focus on customer satisfaction, Dexsport makes your betting journey as smooth as possible.
Final Opinion on Dexsport as bookmaker and online casino 
In conclusion, Dexsport emerges as a unique platform in the online casino industry, revolutionizing the traditional landscape with its focus on blockchain technology and digital currency. Offering an extensive sports market and a small, but quality selection of proprietary casino games, it caters to users seeking a blend of sports betting and casino gaming. The absence of KYC procedures ensures a high level of privacy, aligning with the increasing demand for secure and anonymous online interactions.
However, Dexsport isn't without its shortcomings. Its exclusive reliance on English may deter non-English speaking users, and the absence of a dedicated mobile app could restrict accessibility. The limited variety in gaming options could be a hurdle for users seeking a diverse gaming experience.
Despite these, Dexsport stands out for its seamless integration of blockchain technology and its robust customer support. Its pioneering stance in the online gambling industry and the implementation of its unique Dexsport coin make it an attractive choice for cryptocurrency enthusiasts.
While it has room for improvement, Dexsport is carving a niche in the online casino industry, demonstrating that the future of online gambling might just be on the blockchain. For those willing to navigate its limitations, Dexsport presents an intriguing alternative to traditional online gambling platforms.
Read this page in other languages:
Pros
No KYC requirements: Enhanced privacy for users.

Cryptocurrency-friendly: A boon for digital currency users.

High-quality website design: Provides a user-friendly betting experience.

Wide-ranging sports market: Offering numerous betting opportunities.

Robust customer support: Ensures user issues are quickly resolved.

Instant payouts: No waiting around for winnings.

Proprietary Dexsport coin: A unique feature for crypto enthusiasts.
Cons
Limited in-house games: Only 16 proprietary casino games are offered.

Language barriers: The site is available only in English.

Lack of comprehensive gaming options: No poker room, live games, or table games.

No dedicated mobile app: Reduces accessibility for mobile users.