Discover the comprehensive review of Crickex, a leading bookmaker and online casino. This informative article provides a detailed analysis of Crickex's features, including its sportsbook, casino games, live betting options, bonuses, and payment methods. Whether you're a passionate sports bettor or a casino enthusiast, this review caters to your interests. Gain valuable insights into Crickex's user-friendly interface, mobile accessibility, betting markets, and promotions. Explore the registration process, app download instructions, and customer support availability. Suitable for both experienced bettors and newcomers, this review equips readers with essential information to enhance their betting and gaming experience. Let's delve deeper into the Crickex experience.
Review of the bookmaker and online casino Crickex is also available in other languages:
About Crickex Company
Founded in 2019 by VB Digital, Crickex has quickly emerged as a trusted bookmaker and casino operator, dedicated to providing a wide range of betting markets and casino games to its users. With a valid Curacao Gambling Licence, this platform ensures a safe and fair gambling environment, where players can freely engage in staking across various sports, including table tennis, soccer, basketball, badminton, and more. They even cater to esports aficionados with a line-up of Dota2, LOL, CS:GO, KOG among others. Besides traditional sports betting, the platform features a vibrant casino filled with games from industry-leading software providers like Playtech Gaming, Evolution Gaming, Microgaming, and more.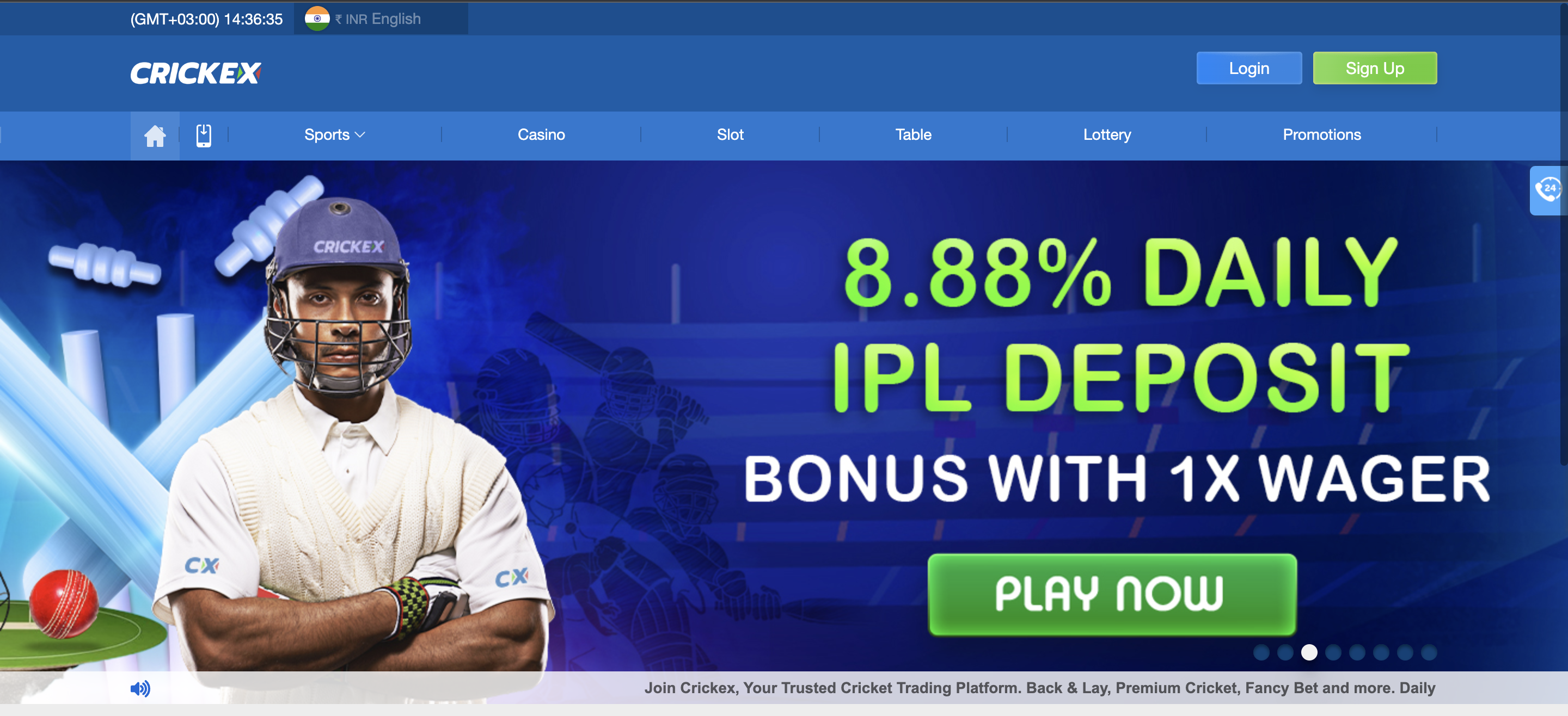 Quick Advantages to play games at Crickex
Drawing on our experience, there are several key benefits to placing stakes at Crickex. The platform is not just available in English but also caters to speakers of Hindi, Bengali, Urdu, and all South Indian languages, demonstrating a thoughtful approach to user experience. A variety of payment options are available, including bank deposits, UPI, Paytm, Google Pay, catering mainly to the Indian and Bangladeshi markets, with transactions processed within 4-6 hours.
The platform boasts a payout % rate of 97% and a minimum deposit of just $5, providing an accessible entry point for all bettors. Moreover, Crickex offers comprehensive match statistics and live streaming, keeping players informed and engaged.
In our opinion, Crickex strikes a balance between diverse betting opportunities and user-focused features. This bookmaker Crickex review reveals a platform that understands its users' needs, thus making it a go-to choice for many players.
Sportsbook Crickex
In our tests of the bookmaker, Crickex proved to be a robust betting platform, offering a vast array of sports markets for punters. The sportsbook Crickex features is diverse, engaging, and comprehensive, catering to a variety of preferences among its users.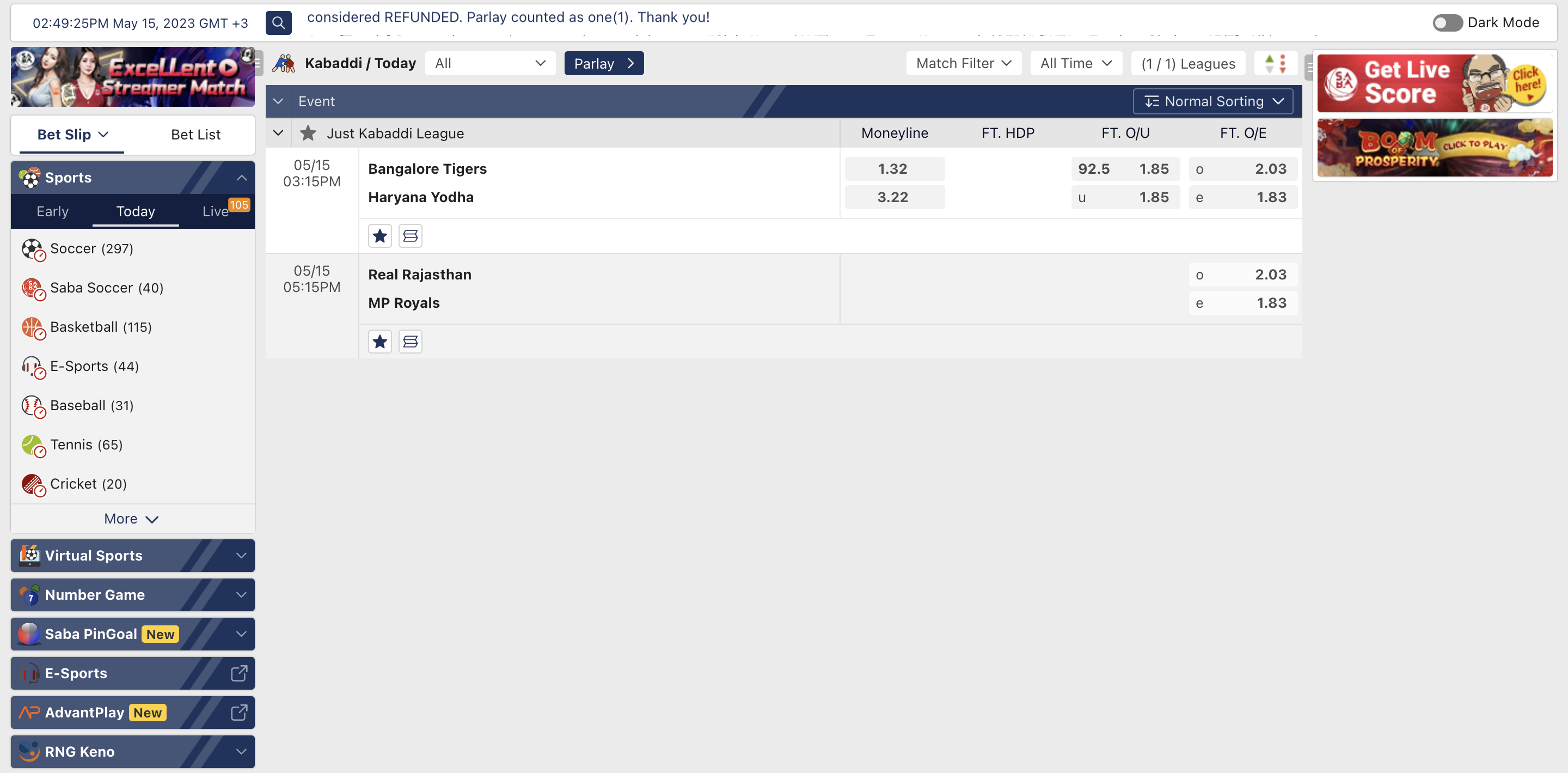 Most popular sports betting markets in Crickex
The bookmaker Crickex has truly outdone itself in providing broad betting markets. Let's dig into some of the most popular ones.
Other betting markets available Crickex
Beyond the popular sports, the Crickex betting site caters to niche markets as well. Be it table tennis, badminton, volleyball, or even more offbeat options like finance and lotto, Crickex extends its diverse betting arena to these sectors as well.
Crickex bets extend beyond the traditional. You can also explore Asian Handicap betting, an exciting feature that evens the playing field in mismatched contests, heightening the thrill for punters.
The depth and breadth of the markets available, coupled with the user-focused approach, is a testament to Crickex's commitment to offering a gratifying betting experience. Whether you're a seasoned punter or just starting out, you're bound to find a market that piques your interest on this betting platform.
Live Betting in Crickex
Live betting in Crickex offers a thrilling dynamic to the staking process. For punters who enjoy the exhilarating rush of in-play betting, Crickex offers an impressive range of live betting options. Whether you're into football, cricket, or eSports, the ability to place live bets on Crickex ensures you are right at the heart of the action. It's an engaging way to wager, allowing you to react to real-time events in matches and tournaments.
Live Streaming in Crickex
In addition to live betting, Crickex also features live streaming, creating a perfect blend of entertainment and stake placing. Crickex live streaming is a real game-changer for punters, as it allows you to witness the events unfold in real-time, which can significantly inform your betting decisions. So, whether it's an ongoing football match or an eSports tournament, you can catch the action live and place your bets accordingly.
Available types of bets on Crickex
Crickex offers a wide range of bet types, catering to different punter preferences. You can place accumulator bets, where you combine various selections into one bet. This type of betting can be a great way to achieve potentially higher winnings. For those who enjoy creating betting strategies, Crickex also offers systems of bets, allowing for a more strategic approach to staking.
Additional Betting Tools
Crickex isn't only about placing bets; they provide additional tools to enhance your betting journey. One such feature is the Crickex cash out option. With this, you gain the power to close your bets at your discretion, adding a layer of control over your betting decisions.
How to Place a Bets at Crickex?
Placing stakes at Crickex is an uncomplicated process designed to be friendly even to new bettors. Start by registering an account on the Crickex platform, and once done, make your initial deposit. Now, you're ready to enter the exciting world of betting. Head over to the 'Sports' or 'eSports' section, choose your preferred sport or event, select your preferred market, and place your bet amount. Confirm your bet, and voila! You've placed your bet at Crickex.
How to place a stakes at Crickex with app?
If you're on the move, you can still enjoy the Crickex betting experience with their mobile app. Simply download the app on your device and follow the same process. After logging in, navigate to the sports or eSports section, select your desired event and market. Decide on your stake, confirm the bet, and you're done. Betting with Crickex, whether via desktop or mobile app, is simple and user-friendly, designed to make the process seamless for all players.
Our experience of betting on Crickex
Our team was ready to take on the thrilling world of sports betting. We had 500 USDT in our account, ready to stake. For our first bet, we decided to delve into the prematch markets, focusing on football, which often provides exciting opportunities.
Our strategy for the prematch bet was to play it safe yet strategic, opting for a double chance bet on an upcoming Champions League match, where we had good knowledge about the teams' performance. We chose the 'home team or draw' option, staking 200 USDT. This strategy gave us an added layer of safety, as we win if the home team wins or if it's a draw.
Afterwards, we shifted our focus to live betting, an area where Crickex really shines. Our choice for in-play betting fell on eSports, specifically a hotly contested CS:GO match. Here, we decided to crank up the unpredictability and thrill factor. With 300 USDT left, we opted for a high-risk, high-reward strategy.
As the match was underway, we noticed one team was slightly lagging, but we knew from our experience that this team was a late bloomer in matches. We decided to bet on them, believing in their potential comeback. It was a risky move but one that would result in substantial winnings if successful.
We staked our remaining 300 USDT on this underdog. The beauty of live betting on Crickex is the real-time tension and excitement it generates, providing an adrenaline rush like no other.
At the end of the day, the world of betting on Crickex is all about strategic decisions, taking calculated risks, and enjoying the thrill of the game. Whether we win or lose, the experience of betting at Crickex remains a thrilling ride.
Crickex Online Casino
As we explored the Crickex platform, our interest extended beyond the realm of sports betting. To our delight, Crickex also hosts a compelling online casino, captivating the attention of casino enthusiasts globally. The casino Crickex offers is a vibrant universe brimming with a myriad of games that keep punters engaged for hours on end.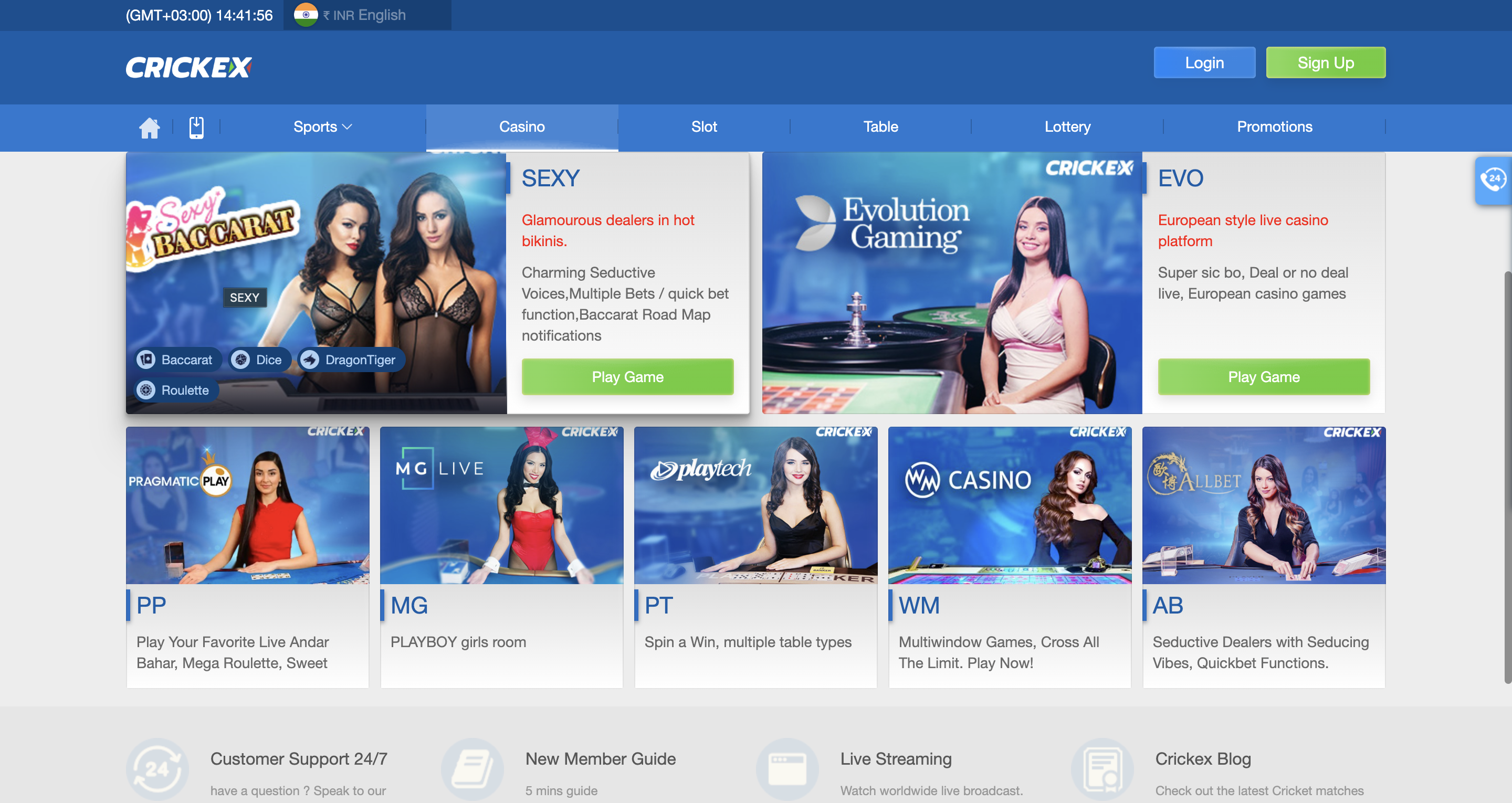 Providers slot games available at Crickex
One of the standout features of the Crickex online casino is the extensive range of slot games available, powered by the industry's leading software providers. The platform partners with renowned names like Playtech Gaming, NetEnt, JILI, JDB, Red Tiger and Spade Gaming ensuring players have access to top-quality games.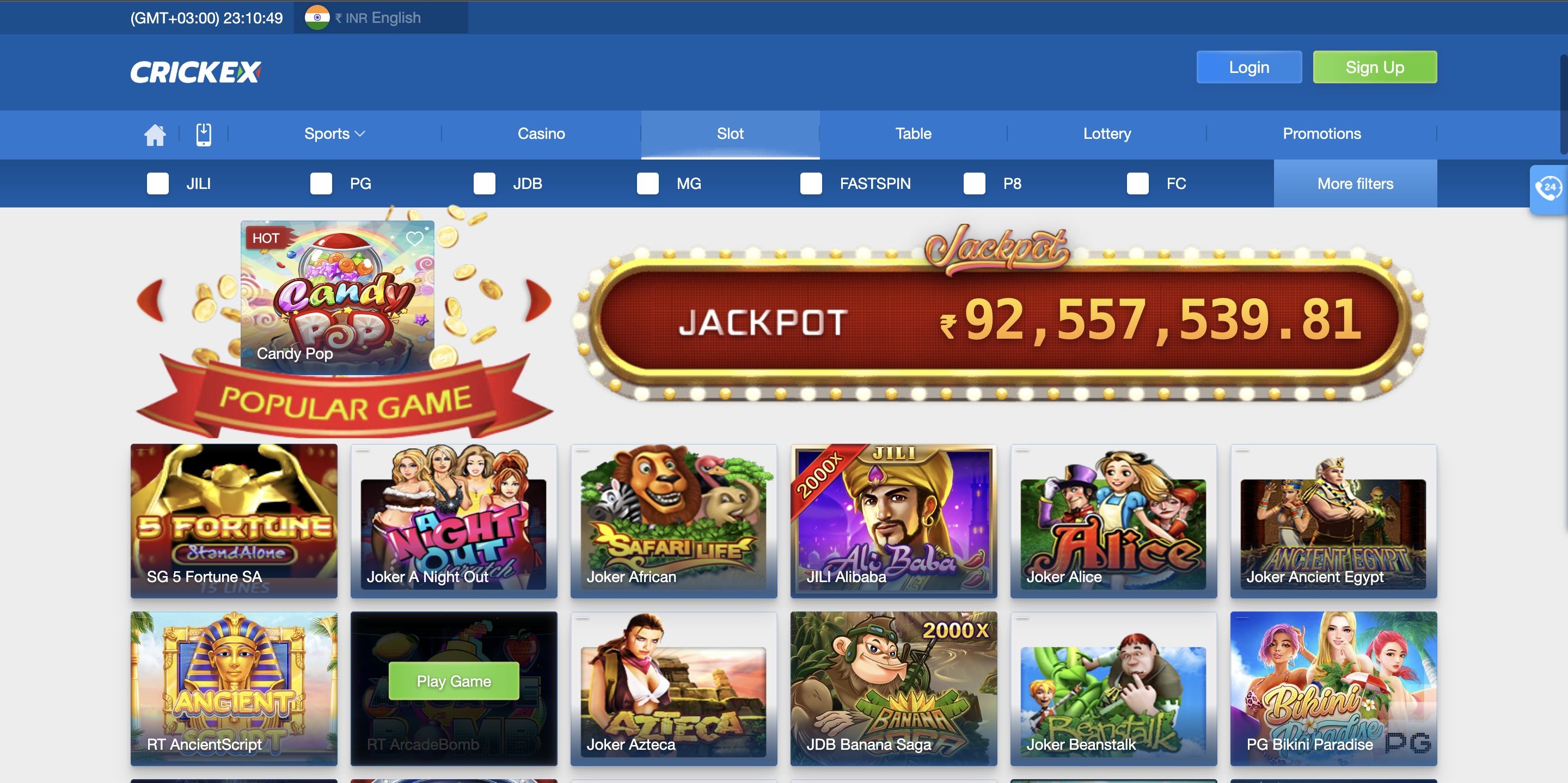 These providers are responsible for the thrilling assortment of slot games, each one unique in its design, themes, and winning opportunities. The partnership with these providers is a testament to Crickex's commitment to offering the finest gambling experience to its users.
Is have Crickex Asian and hunting slots games?
However, as we continued to explore, we noted that Crickex does not offer Asian or hunting slot games, which might be a minor setback for players interested in those particular themes. Despite this, the expansive variety of other games available on the Crickex gambling site ensures there's no shortage of entertainment for all types of players.
Top Casino Games available at Crickex
Notably, the online casino Crickex has curated is not limited to slot games alone. The platform provides a broad spectrum of casino games that cater to different tastes. Fans of traditional table games would be delighted to find classics like Blackjack and Roulette, while those who enjoy the excitement of poker will find a video poker room, presenting an authentic casino experience right at your fingertips.
Moreover, the Crickex casino games extend to include Baccarat, keeping the platform lively and diverse. The presence of games like Saba Lottery and Saba Number Game further adds to the variety, ensuring Crickex provides a well-rounded casino experience.
Live Casino at Crickex
Stepping into the virtual world of Crickex's live casino is akin to walking into a sophisticated gaming parlor. This digital arena allows gamblers to engage in their favorite games, delivering a riveting casino experience unlike any other. The live dealer games Crickex hosts are designed to provide an authentic and immersive gambling session, merging the thrill of physical casinos with the convenience of online platforms.
Live games providers in Crickex
Crickex has partnered with industry-leading software providers to ensure its live casino games offer players an unparalleled experience. Renowned names such as Evolution Gaming, Playtech, and Pragmatic Play fuel the site's live casino, ensuring the games run smoothly with real-time, high-definition streaming. From the professional demeanor of live dealers to the realistic gaming environment, these providers play a vital role in maintaining the high standards that Crickex patrons have come to expect.
Adavantages live casino games at Crickex
Crickex's live casino games offer several key benefits. The foremost advantage is the opportunity to play with real dealers on Crickex, lending an air of authenticity to the gaming experience. The interaction with live dealers not only enriches the gaming session but also creates a social atmosphere, all without leaving the comfort of your own home.
Furthermore, Crickex ensures a fair and transparent gambling environment. Players can witness the gaming process in real-time, reinforcing their confidence in the integrity of the game. This transparency, coupled with the engaging nature of the live dealer games, forms the backbone of the live casino Crickex provides, creating an immersive gambling atmosphere that's hard to match.
Instant games at Crickex
Adding a splash of adrenaline to your regular betting routine, Crickex boasts an impressive collection of instant games, an ideal choice for quick betting games enthusiasts. Designed to deliver a thrilling, fast-paced gambling experience, these instant games cater perfectly to players looking for a high-intensity, rapid betting session.
Aviator Crickex
First up in the list of social casino games at Crickex is the Aviator game. This distinctive crash game has a unique concept that differentiates it from other betting games. Players stake an amount before the airplane takes off, and the further it goes, the higher the multiplier. However, the plane can crash at any moment, and the trick is deciding when to withdraw your bet before that happens. This Aviator game at Crickex brings in an element of strategic timing and adds an intense thrill to the betting experience.
JetX Crickex
JetX, another crash game, is also a popular pick among Crickex users. Just like Aviator, JetX involves placing a bet, watching the multiplier increase as the jet ascends, and making a timely decision to pull out before the jet crashes. The JetX game Crickex presents is dynamic and engaging, keeping players on the edge of their seats as they make swift decisions under pressure.
How to start play at casino Crickex?
The first step is to visit the Crickex website and click on the 'Register' button. You will be prompted to provide personal details such as your name, email address, and preferred password. Ensure that all the details are accurate and click 'Submit' to complete the registration process.
Once your account is created, navigate to the 'Deposit' section and choose a suitable payment method. Follow the instructions to deposit funds into your account. Remember, it's advisable to start with an amount you are comfortable losing, in case the odds aren't in your favor.
Now you're all set! Visit the 'Casino' section and browse through the various games available. Choose a game that appeals to you and click 'Play'. Make sure to familiarize yourself with the game's rules before you start wagering.
How to start play at Crickex via App?
If you prefer gambling on the go, the Crickex mobile app offers an easy-to-use interface and smooth performance. Download the Crickex app from the Google Play Store or Apple App Store and install it on your device.
After installing, open the app and click 'Register' to create a new account, or 'Login' if you already have one. The registration process on the app is similar to the website.
Once logged in, you can deposit funds into your account through the app. Navigate to the 'Deposit' section, choose a payment method, and follow the instructions.
Now, you are ready to start playing! Visit the 'Casino' section in the app, select a game, and start wagering. The Crickex app brings all your favorite casino games right to your fingertips, offering the convenience of placing wagers whenever and wherever you wish.
Our experience of gamble in casino Crickex
As part of our review of Crickex's online casino, we decided to engage in a real casino experience with a starting fund of 500 USDT. Our team ventured into the colorful world of slots and the thrilling atmosphere of live casino games.
The first game we opted for was 'Money Train 2' from Relax Gaming. This is an extremely popular slot game known for its high volatility and potential for significant wins. We decided to start with a conservative approach, betting 10 USDT per spin. The first few spins didn't yield any significant wins, but then the Money Cart bonus round triggered! This bonus game increased our multiplier and resulted in a sizable win of 150 USDT. Energized by this success, we decided to increase our bet to 20 USDT per spin. We experienced a few losses but then hit a series of wins, ultimately raising our total balance to 700 USDT. Slot games are unpredictable, which is part of their charm. However, it's also crucial to set a limit and stick to it.
After the exhilarating slot experience, we switched to the Live Casino section and chose 'Lightning Roulette' from Evolution. This game combines classic roulette with RNG gameplay, providing a unique live dealer experience. We started with a straightforward bet, placing 50 USDT on black. Unfortunately, the ball landed on a red number. Undeterred, we decided to switch up our strategy and bet on individual numbers, spreading 50 USDT across numbers 17, 20, 23, and 36. The next spin was heart-stopping, but, unfortunately, luck has turned its back on us.
In the end, our team walked away with a profit, demonstrating the potential for big wins at Crickex. However, it's important to remember that casino games are games of chance. While we had a profitable session, it's crucial to gamble responsibly, considering both the fun and risks involved. Our experience at Crickex's online casino was exciting, engaging, and most importantly, fair and transparent.
Crickex Online Poker Room
The Crickex online platform, aside from its sportsbook and casino, also provides an engaging video poker experience. Here, traditional poker meets the pace and simplicity of slots, offering players a fast, thrilling, and strategic game.
Poker Types available on Crickex
In the Crickex online casino, you'll find video poker Casino Holdem video poker that appeal to both poker and slot machine enthusiasts. Table poker games vary in their design, gameplay, and potential payouts, thereby catering to different player preferences. Each poker game at Crickex comes with a comprehensive guide on the rules and strategies, ensuring that both new and seasoned players can enjoy the gaming experience.
Another compelling aspect of poker on Crickex is the potential for substantial payouts. The games typically offer generous pay tables, and with the right strategy, players can significantly enhance their winning chances. Certain video poker games also feature progressive jackpots, adding an extra layer of excitement to each hand you play.
Crickex Welcome Bonus 'Gift Point Exchange'
As a new player at Crickex, one of the first offers you can take advantage of is the platform's generous Welcome Bonus in the form of a unique Gift Points Exchange Promotion. This promotion allows you to accumulate gift points through your wagering activities, which can later be exchanged for real cash.
Bonus Wagering Requirements
The gift points are awarded based on the type of game you choose to play and the amount of turnover you generate:
For Sports, Slots, Table, Lottery, and Fishing games, you earn 1 gift point for every 500 in turnover.

For Live Casino games, you earn 1 gift point for every 1000 in turnover.
The exciting part is that 1 gift point is equivalent to 1 real money, enabling you to convert your points into a substantial reward.
However, the promotion comes with certain terms and conditions:
All Crickex players are eligible for this promotion.

The minimum gift point redemption is set at 50 points.

Players have the opportunity to earn an unlimited number of gift points.

Bets placed on Match Odds, Fancy Bets from the exchange market, Fan-Tan game from WM, EVO, Rich88 platform, and the Football studio dice game are excluded from this promotion.
Crickex Bonuses and Promotions
Crickex stands out not just for its welcome offering, but also for its enticing bonuses and promotions. These offers provide a significant boost for both new and existing customers, enhancing their betting and gaming experience on the platform.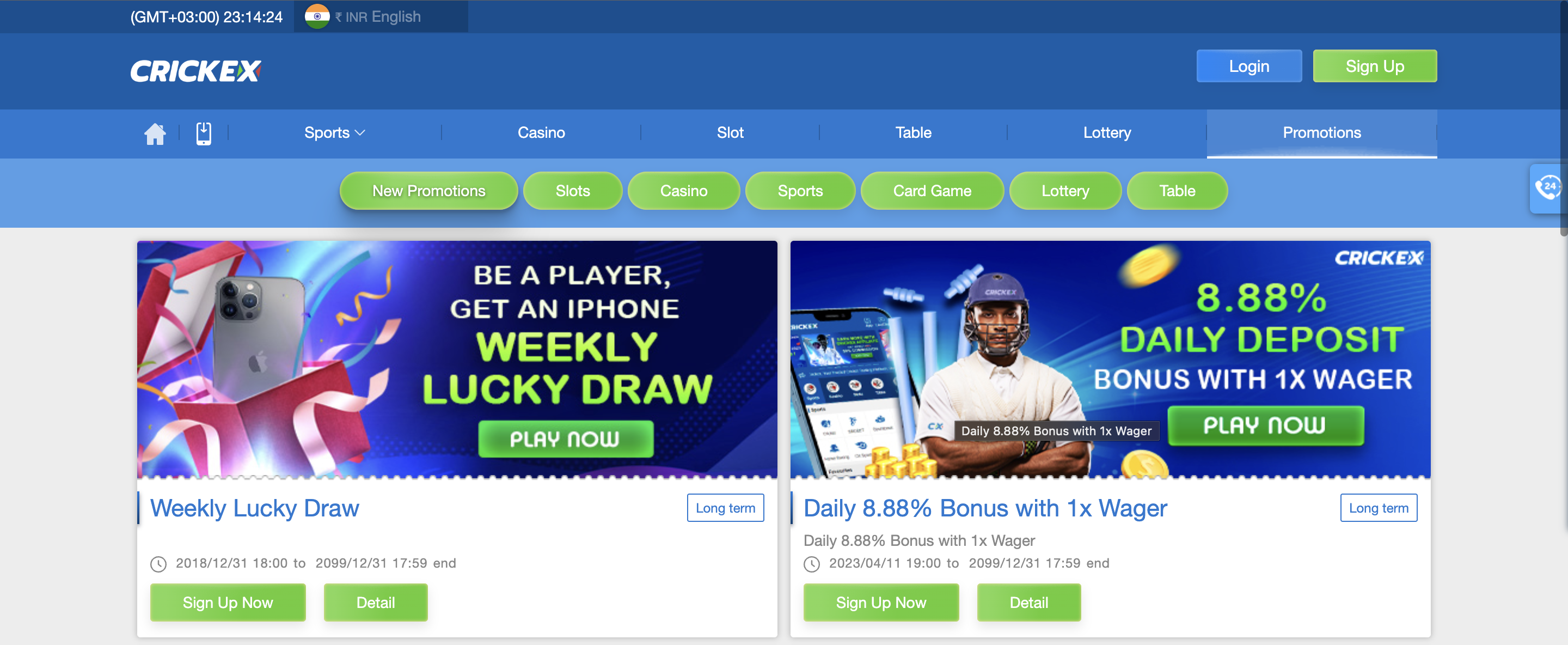 Deposit Daily 8.88% Bonus with 1x Wager
Another enticing promotional offer available at Crickex is the Daily 8.88% Bonus with a very user-friendly 1x wager requirement. The process of participation is simple, and the rules are straightforward, ensuring an enjoyable betting experience: when making a deposit, select the "Daily 8.88% Reload Bonus with 1x wager" option from the "select promotion" dropdown.
The minimum deposit required for this bonus is 1000. An 8.88% bonus is offered on the deposited amount. The wagering requirement is just 1x, making this bonus more accessible to fulfil. The best part is that you can take advantage of this bonus every day!
'Daily 8.88% Bonus' Wagering Requirements
This promotion is available for a limited time, and it runs from 08:30 AM IST to 03:30 PM IST every day. Bets with odds lower than 1.5 and higher than 3.0 won't count towards the wagering requirement. Fan-Tan games from WM, EVO, Rich88 platforms, the Football Studio Dice game, and bets on the Exchange match Odds, Bookmaker market are excluded from this promotion. Each player is allowed to join the promotion once per day.
5% EVO Cashback
One of the standout promotions at Crickex is the weekly "5% EVO Cashback" offer, which can result in cashback up to an impressive INR 5,00,000. Here's how you can participate:
Register an account with Crickex.

Place bets on any games in the EVO category to qualify for this cashback offer.

Every Monday, cashback up to INR 5,00,000 will be automatically credited to your account.
The product eligible for this promotion is EVO. The cashback offer is available weekly. The cashback percentage is set at 5%. The minimum cashback one can receive is INR 50, while the maximum is INR 5,00,000. 
'5% EVO Cashback' Wagering Requirements
The cashback must be wagered at least 1x before withdrawal. The promotion is held weekly, resetting every Monday at 12:00 AM IST. Cashback will be automatically credited to eligible players' accounts every Monday before 12:00 PM IST. Only players with an overall netwin negative on the respective week are eligible for the EVO Cashback. Each player is allowed only one account for this promotion. Players opening multiple or fraudulent accounts will be disqualified from the promotion.
5% Slot Cashback
Crickex offers the "5% Slot Cashback" that runs on a weekly basis. With this bonus, players have the chance to receive cashback up to a staggering INR 5,00,000. Here are the steps to participate in this promotion:
Register an account with Crickex.

Place your bets on any of the Slot games to become eligible for cashback.

Cashback up to INR 5,00,000 will be automatically credited to your account every Monday.
This promotion is only valid for Slot games. The frequency of the promotion is weekly. The cashback percentage is fixed at 5%. The minimum cashback to be given out is INR 50, while the maximum amount stands at INR 5,00,000.
'Daily 8.88% Bonus' Wagering Requirements
The turnover requirement for this cashback is 1X. The promotion resets every week, starting from 12:00 AM IST every Monday. Cashback will be automatically credited into eligible players' accounts before 12:00 PM IST every Monday. Only players with a net negative win during the respective week qualify for the Slot Cashback.
5% Sexy Baccarat Cashback
Crickex provides its patrons with another exciting offer known as the "5% Sexy Cashback." This promotion pertains specifically to Sexy Baccarat games and allows players to earn a weekly cashback of up to INR 50,000. Here's how you can take advantage of this promotion:
First, register an account with Crickex.
Then, place bets on Sexy Baccarat to qualify for the cashback.
If you meet the criteria, cashback of up to INR 50,000 will be credited to your account every Monday.
This promotion applies solely to the Sexy Baccarat games. The frequency of the promotion is weekly.The bonus is a 5% cashback offer. The minimum cashback awarded is INR 50, while the maximum cashback that can be earned is INR 50,000.
'5% Sexy Baccarat Cashback' Wagering Requirements
There is a 1X turnover requirement attached to this cashback offer. The promotion commences every week, starting from 12:00 AM IST on Mondays. The cashback will be automatically added to the eligible players' accounts before 12:00 PM IST every Monday. Only those players whose overall netwin is negative for the corresponding week qualify for the Sexy Baccarat Cashback. Players are limited to one account each.
VIP loyalty program in Crickex
Crickex doesn't offer a VIP loyalty program for now. But we recommend checking Crickex official website for the most updated and accurate information.
Promo Codes: How to get and use promocodes at Crickex?
Promo codes offer exciting ways to enhance your gaming experience on online platforms, and Crickex is no exception. A Crickex promocode can be sourced from a variety of platforms. Frequently, the official website is a reliable source for the latest promotions. From welcome bonuses to seasonal offers, it's worth checking their site frequently. Moreover, Crickex also releases promo codes on their social media channels, so follow them to keep up with the latest offers.
Upon obtaining your promo codes Crickex, you can redeem them through a simple process. After logging into your Crickex account, navigate to your account section and look for the 'Promo code' option. Here, you can enter the code and hit 'Apply'. Depending on the type of promotion, the benefits could range from deposit bonuses to free spins or even cashback.
Remember, each promo code will have its own terms and conditions such as expiry dates and wagering requirements. Therefore, it's essential to familiarize yourself with these to ensure you take full advantage of the Crickex promocode.
Crickex Payment Methods
In the world of online gaming, convenience and security in transactions are key. Crickex, a renowned bookmaker and online casino, offers a broad array of deposit and withdrawal methods, catering to its diverse clientele.
Available deposit and withdrawal methods at Crickex
To deposit funds into your Crickex account, there are several available deposit methods at Crickex. These range from traditional banking methods like credit and debit cards to more modern digital solutions like e-wallets and prepaid cards. However, it's essential to note that the availability of these methods can vary based on your geographical location. One crucial point to consider is the 5$ minimum deposit limit.
Withdrawals at Crickex are just as streamlined. The withdrawal methods at Crickex mirror those available for deposits, ensuring players can use a method they are comfortable and familiar with.
How to deposit money at Crickex?
Depositing money at Crickex is a simple process. After creating your account and logging in, navigate to the 'Cashier' section and select 'Deposit'. From there, you'll be asked to select your preferred payment method from the list available. Input the desired deposit amount (ensuring it meets the minimum deposit at Crickex), and follow the prompts to complete the transaction. Depending on the method, your account balance could be updated almost instantly.
How to withdrawal money from Crickex?
When it comes to withdrawing your winnings, the process is just as intuitive. In the 'Cashier' section, opt for 'Withdraw' this time. Select your withdrawal method, remembering that some methods may require you to have used them for deposits previously. Input the amount you wish to withdraw (keeping in mind the minimum withdraw and maximum withdraw limit in Crickex), and follow the instructions. The processing time can vary based on the method chosen, but Crickex works diligently to ensure it is as swift as possible.
Registration at Crickex: How to Sing Up?
Joining the vibrant Crickex community is a quick and easy process, designed to get you into the game with minimum fuss. The registration process at Crickex follows four simple steps.
Step 1: Visit Crickex. You can accomplish this either by visiting the official site or by following our mirror link. This first step sets you on the path to register at Crickex, and it's as easy as typing the URL into your browser or clicking a link.
Step 2: Sign Up. Once on the Crickex website, look for the 'Sign Up' button, usually located at the top right corner of the homepage. Clicking this button will open up the registration form where you'll need to provide some basic information. Ensure you input your details correctly. With this step, you're officially creating your Crickex login credentials that will be needed every time you want to sign in to Crickex.
Step 3: Make a Deposit. After successfully registering, the next step is to make your initial deposit. The amount varies based on your gaming preferences and budget. As we've mentioned, Crickex has a plethora of deposit methods to choose from, providing you with the convenience you need.
Step 4: Place Stakes. Now that your account is active and funded, it's time to start placing stakes and enjoy the wide array of games and sports available on Crickex.
Registration Requirements
As part of the registration requirements, you must be at least 18 years of age to register on Crickex's official site. You may be asked for proof of age and identity, so have those documents ready. Crickex also prohibits the creation of multiple accounts, hence ensure you only create one.
How to register with mobile app?
If you prefer playing on the go, Crickex offers a robust mobile app, and registering through it is as simple as the website process. Simply download the app, click on the 'Sign Up' button, fill in your details, deposit, and start playing!
How to Get a Welcome Bonus Crickex with Registration?
Wondering how to get a Welcome Bonus at Crickex with registration? After you sign up at Crickex and make your first deposit, check for any active Welcome Bonus promotions. Remember, terms and conditions apply, so be sure to understand them before claiming the bonus.
Crickex Account Verification Instruction
Securing your account and ensuring you're of legal age to participate in online betting is a top priority for Crickex. To ensure this, Crickex requires that you complete an account verification process.
Once you've registered and signed into your Crickex account, navigate to the "Account" or "Profile" section, where you'll find an option for "Account Verification". Typically, this process requires you to provide valid documentation to prove your identity and age.
You may be asked to submit a scan or photo of a government-issued ID such as a passport or driver's license. Ensure that the document is valid and the information is clearly visible. This includes your photograph, name, and date of birth.
In some cases, you may also need to provide proof of your address. This could be a recent utility bill, bank statement, or any official document showing your full name and residential address.
Crickex Mobile App for Android and iOS
Crickex understands the convenience and flexibility that mobile betting offers to its users. That's why they have developed a dedicated mobile app for both Android and iOS devices. Let's explore the details of the Crickex mobile app, including system requirements, download instructions, and app updates.
System Requirements for Crickex App on Android and iOS
To ensure a smooth and seamless betting experience, your device needs to meet certain system requirements to run the Crickex app effectively. For Android users, the app is compatible with devices running Android 5.0 and above. iOS users can enjoy the app on devices running iOS 10.0 or later.
How to Download Crickex APK for Android?
To download the Crickex app on your Android device, you won't find it in the Google Play Store due to its policy on gambling apps. However, you can easily download the APK file from the official Crickex website. Simply visit the website on your Android device's browser and look for the "Mobile App" section. Click on the provided link to initiate the download.
How to Install Crickex App on Android?
Before installing the Crickex app, you need to make sure that your device allows the installation of apps from unknown sources. You can enable this by going to the "Settings" menu, selecting "Security" or "Privacy," and enabling the "Unknown Sources" option. Once done, locate the downloaded APK file in your device's file manager and tap on it to begin the installation process. Follow the on-screen prompts, and within a few moments, the Crickex app will be successfully installed on your Android device.
How to Download and Install Crickex App on iOS?
For iOS users, downloading and installing the Crickex app is a straightforward process. Simply open the App Store on your iOS device, search for "Crickex," and locate the official app. Tap the "Get" or "Download" button, and the app will automatically install on your device. Ensure that you have a stable internet connection and sufficient storage space on your device before initiating the download.
How to Update Crickex App?
To keep up with the latest features, improvements, and bug fixes, it's essential to update your Crickex app regularly. For Android users, you can check for updates within the app itself or visit the official Crickex website for the latest APK file. For iOS users, updates are available through the App Store, and you will receive a notification whenever a new version of the app is available.
Tips and Best Practice for playing at Crickex
Playing at Crickex can be an exciting and rewarding experience. To enhance your gameplay and increase your chances of success, we make some tips and best practices to keep in mind.
Before diving into any game, take the time to understand the rules, gameplay mechanics, and strategies involved. Whether it's sports betting, casino games, or live dealer games, having a good grasp of the game will improve your decision-making and overall performance.
It's crucial to establish a budget and stick to it. Determine how much you are willing to spend on your betting activities and avoid exceeding that limit. This practice ensures responsible gambling and helps you avoid financial difficulties.
Crickex offers various bonuses and promotions to its players. Take advantage of these offers to maximize your bankroll and increase your chances of winning. However, always read and understand the terms and conditions associated with each bonus before claiming them.
Effective bankroll management is essential for long-term success. Divide your bankroll into smaller units and avoid wagering too much on a single bet or game. This strategy helps to mitigate risks and ensures that you can continue playing even if you encounter a losing streak.
Maintaining a record of your bets allows you to analyze your performance and identify areas for improvement. Track your wins, losses, and overall profitability to make informed decisions and adjust your strategies accordingly.
Crickex Mobile Website
The Crickex mobile website offers a convenient and user-friendly platform for players to enjoy their favorite betting and gaming activities on the go. Whether you're using a smartphone or tablet, the mobile website ensures a seamless experience with a responsive design and intuitive interface.
How to use the Crickex Mobile Website?
Using the Crickex mobile website is simple and straightforward. Open your mobile browser and visit the official Crickex website. The mobile version will automatically load, adapting to your device's screen size.
LIf you already have an account, click on the login button and enter your credentials to access your account. If you're a new player, click on the sign-up button to create a new account.
The mobile website features a user-friendly menu that allows you to explore different sections, such as sports betting, casino games, live dealer games, and promotions. Simply tap on the desired category to access the available options.
Once you've selected your preferred category, you can browse through the available options and choose the game or betting market you wish to participate in. From there, follow the prompts to place your bets or start playing your favorite casino games.
The mobile website provides easy access to your account settings, including depositing funds, withdrawing winnings, managing bonuses, and updating personal information. All account-related features can be accessed through the mobile menu.
Crickex License and Fairness
Crickex operates under a valid and reputable license, ensuring a safe and fair gaming environment for its players. The website is licensed and regulated by Curacao Gaming Commission, which sets strict guidelines and regulations to protect players' interests.
The fairness of the games offered by Crickex is also guaranteed through the use of random number generators (RNGs). These algorithms ensure that the outcomes of the games are unpredictable and unbiased, providing a level playing field for all players.
Crickex Customer Support
Crickex prioritizes customer satisfaction and offers reliable customer support to assist players with any inquiries or issues they may encounter. The customer support team is accessible through various channels, including email and live chat.
Whether you have questions about your account, need assistance with a deposit or withdrawal, or require clarification on a specific game or promotion, the knowledgeable and friendly support agents at Crickex are available to provide timely and helpful assistance.
In addition to the direct customer support options, Crickex also provides an extensive FAQ section on its website. This resource addresses common queries and provides detailed information on various topics, such as account management, bonuses, and game rules.
Final Opinion on Crickex as bookmaker and online casino
Crickex emerges as a promising platform, offering a user-friendly interface and a wide selection of payment methods. Its mobile accessibility and live betting and streaming options enhance the overall betting experience. The inclusion of biometric login and a compact design further contribute to its appeal. With a strong focus on cricket, Crickex presents ample opportunities for sports enthusiasts. The availability of an official Android app and support for UPI payments demonstrate its commitment to convenience. However, limitations in terms of geographical availability, lack of telephonic customer support, and the need for frequent updates are aspects to consider. The absence of a comprehensive welcome bonus is a drawback. Overall, Crickex showcases potential but would benefit from addressing certain areas to provide an even more enjoyable betting and gaming experience.
Crickex Pros and Cons
Read this page in other languages:
Pros
User-friendly interface

Wide range of payment methods accepted

Mobile accessibility for convenient betting on the go

Live betting and streaming options for real-time action

Biometric login feature for enhanced security

Compact design for faster loading times

Abundance of cricket betting opportunities

Official Android app for seamless mobile experience

Support for UPI payments. 
Cons
Limited availability restricted to India and Bangladesh

Lack of telephonic customer support

Navigation can be challenging for some users

Frequent updates required for optimal performance

Relatively fewer promotional offers

Absence of a comprehensive welcome bonus.