Dive into the comprehensive review of Crashino, a novel player in the online bookmaker and casino realm. This in-depth examination, tailored for gaming enthusiasts and new entrants in online gambling, explores Crashino's offerings, delving into its welcome bonuses, promotions, VIP loyalty program, and the use of promo codes. The piece details the registration process, deposit and withdrawal methods, account verification, and even offers tips for playing. It examines Crashino's mobile website, its licensing, and customer support. The review balances pros, such as a wide variety of slots and a user-friendly design, against cons like the lack of a dedicated license and a mobile app. This essential reading furnishes valuable insights into Crashino's operations and value proposition, enabling potential users to make an informed decision about whether to venture into the galaxy of games that Crashino offers.
Reviews of the bookmaker and online casino Crashino are also available in other languages:
Digging Deeper: The Backstory of Crashino
Crashino, established in 2021, is operated by the reputable Crashino Limited. The platform offers a broad spectrum of both traditional sports and eSports betting lines and markets. Bettors can stake on football, tennis, basketball, volleyball, and many more. eSports enthusiasts aren't left behind, with offerings like League of Legends, Valorant, and CS:GO. Our tests of Crashino have shown that, beyond betting, they also provide detailed statistics and match results, proving a reliable companion for informed wagering.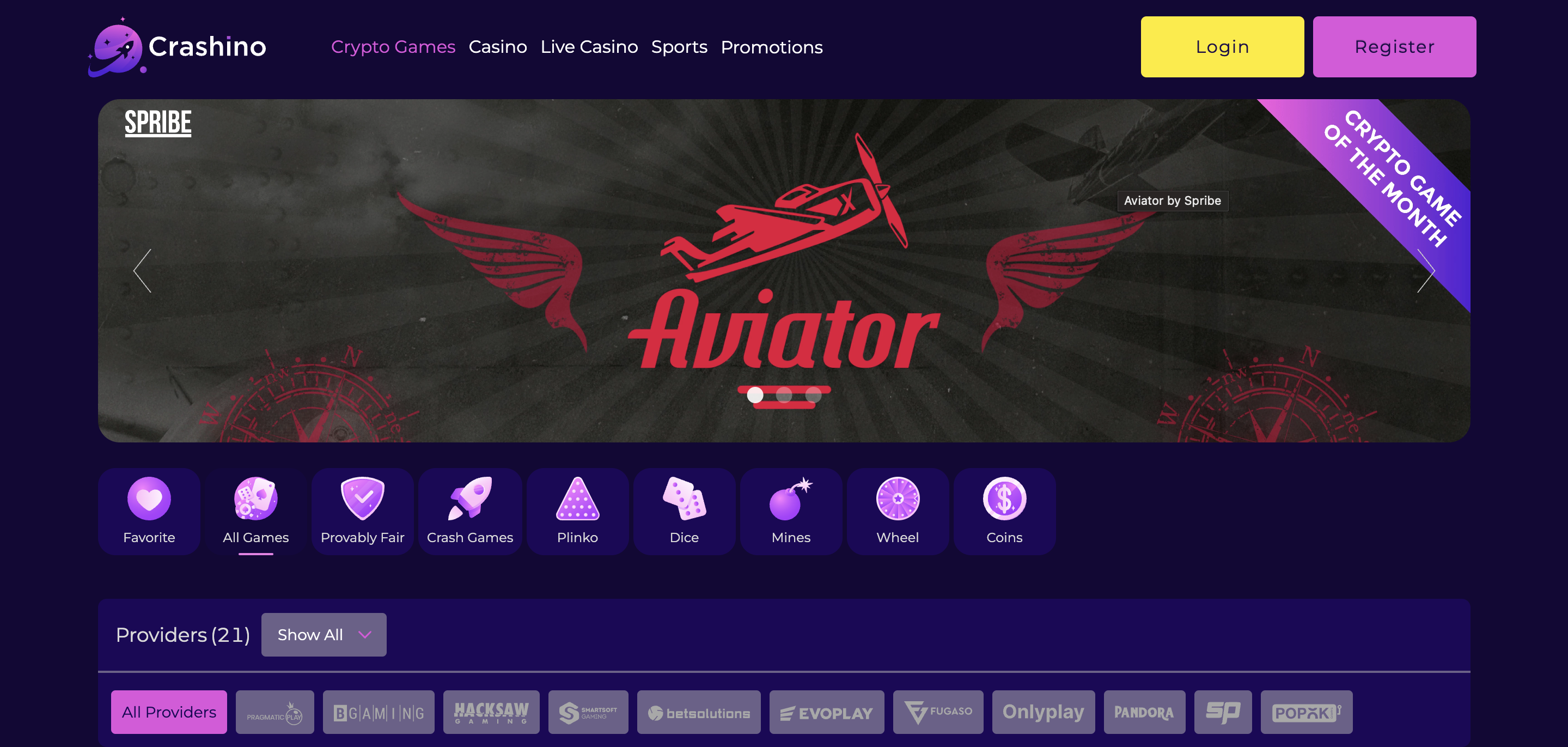 The Crashino Edge: Why Punters Prefer Betting and Gaming Here
Crashino extends a user-friendly platform with an array of advantages for punters. One of the notable benefits is the variety of currencies accepted, including USD, EUR, RUB, CAD, AUD, BRL, INR, and several cryptocurrencies. This opens up the platform to a global audience and caters to the growing demand for crypto betting.
Additionally, the platform exhibits a flexible deposit and withdrawal system. With a minimum deposit of 10 USD/EUR, it accommodates all classes of punters. The maximum withdrawal limits are set at 20,000 USD/EUR per month, 5,000 USD/EUR per week, and 2,500 USD/EUR per day, providing flexibility for players with varying betting volumes.
The bookmaker Crashino review wouldn't be complete without mentioning its online casino. Powered by 80 software providers, the casino offers an exciting range of games to captivate any gambler's interest. Unfortunately, there's no live streaming available currently, and they don't offer Sabong betting. However, these minor drawbacks hardly cast a shadow over the excellent features and services Crashino provides.
A Punter's Perspective: Online Sports Betting at Crashino
Crashino showcases an impressive blend of sports and eSports markets, making it an appealing platform for all kinds of bettors. The bookmaker Crashino offers a wide array of sports options to bet on, from football and basketball to more niche categories like table tennis, darts, and MMA. The eSports section is equally appealing, with high-profile games like League of Legends, Valorant, and CS:GO available for wagering.
Based on our expertise, the absence of live streaming could be seen as a shortfall. However, the detailed statistics and match results supplied by the Crashino betting site make up for it, allowing bettors to make well-informed decisions.

The Most Sought-After Sports Betting Markets in Crashino
With our tests of the sportsbook Crashino, we can confidently highlight the most popular markets among the platform's punters. Traditional sports like football, basketball, and tennis often attract the majority of bettors, owing to the sheer popularity of these sports globally. In the eSports category, League of Legends, Valorant, and CS:GO take the limelight.
A Simple Guide to Placing Bets at Crashino
Betting on Crashino is designed to be user-friendly, even for those new to the world of online wagering. To place a bet, you must first have an account and funds available to stake. Once logged in, browse through the wide array of sports and eSports markets available. When a particular game or match catches your eye, select it to view the available betting options and odds.
Next, decide the type of bet you want to place and click on it. Your selection will then appear on your bet slip, typically on the right side of the screen. Now, input the amount you wish to stake, review your potential winnings based on the odds, and click 'Place Bet'. Voila! You've just placed your bet.
Live Betting and its Nuances at Crashino
In-play betting or live betting at Crashino adds a real-time dynamic to the betting experience, transforming games into a thrilling, interactive experience. With a gamut of sports and eSports events to choose from, live betting offers opportunities to place bets even after an event has started. Whether it's football, tennis, or League of Legends, the excitement of in-play betting at Crashino is a punters' delight.
It's crucial to note, however, that Crashino does not currently offer live streaming. Bettors will need to source real-time match information from elsewhere to make the most informed live bets on Crashino.
Understanding the Available Bet Types on Crashino
From singles to accumulator bets and even systems of bets, Crashino offers a rich variety of bet types. Single bets are the simplest form, where you wager on one selection. In contrast, accumulator bets are riskier but have higher potential returns as you're betting on multiple selections to win. Systems of bets are complex structures that combine different bet types across several events, giving bettors more flexibility and cover.
Crashino's Extra Betting Tools
One of the standout features in our review of Crashino was the availability of additional betting tools like cash out and bet builder. Crashino's cash out feature adds a strategic edge to your betting, offering you the chance to take an early profit or limit your losses before the event is over.
Meanwhile, the Crashino bet builder tool allows punters to customize their bets on a single game by combining several markets. It's an excellent tool for those who prefer personalized betting strategies and enjoy making predictions on multiple aspects of a single event.
Our experience of betting on Crashino sportsbook
Drawing on our experience as sports bettors, we decided to stake 500 USDT across two betting markets on the Crashino platform. The markets we chose to wager on were football and eSports, specifically CS: GO.
Our first bet was a prematch wager on a high-profile football match between Barcelona and Real Madrid. Given the form and player availability of both teams, we decided to place a Double Chance bet of 200 USDT on Barcelona (win or draw). The odds for this bet were 1.7, which could return 340 USDT if successful.
Meanwhile, for our in-play bet, we chose an ongoing eSports match between Team Liquid and Astralis in CS: GO. Both teams have proven their skills on numerous occasions, so picking a clear winner was tough. However, during the second half of the match, Astralis was leading but Team Liquid was starting to gather momentum. Therefore, we decided to take advantage of the high odds on Team Liquid and place a Live Betting wager of 300 USDT. The odds were 2.5 at the time of placing the bet, promising a return of 750 USDT if Team Liquid managed to turn the tide and win.
Our betting strategy at Crashino was a combination of safe bets (like the Double Chance on the football match) and a more high-risk, high-reward bet (the in-play bet on the CS: GO match). This mix allowed us to leverage our understanding of the sports and the teams involved while adding an element of unpredictability that makes betting such a thrilling activity.
The football match ended in a draw, which meant our Double Chance bet was successful and we gained 340 USDT. However, Team Liquid couldn't pull off the comeback, resulting in a loss on the eSports bet. Despite this, we ended up with a slight profit thanks to the safer bet on the football match. Betting at Crashino provided an exciting and interactive experience with the in-play bet keeping us on our toes till the very end.
Diving into Crashino's Online Casino and Slot Games
Crashino's prowess isn't just confined to sports betting. Gamblers will find themselves immersed in an extensive online casino platform. This online casino Crashino offers a mix of traditional and modern games catering to all kinds of players.

Top-Notch Casino Games in Crashino
Based on our analysis of this gambling site, Crashino delivers a top-tier selection of games, proving itself as a haven for gamblers. Among its vast selection, classic games such as Poker, Blackjack, and Roulette hold prominent positions. The virtual tables are always ready, recreating the thrilling atmosphere of a physical casino. Besides, there's an array of slot games, with options ranging from classic fruit slots to immersive video slots. Crashino has worked with leading software providers to ensure top-quality graphics and seamless gameplay.
But Crashino doesn't stop there. A section of the platform is dedicated to live casino games. This live action feeds the adrenaline rush of players looking for a more interactive experience. From live poker to live roulette, Crashino makes you feel like you're in the heart of Las Vegas without leaving your home.
Moreover, if you are a fan of progressive jackpots, Crashino has got you covered. These games offer the potential for mammoth payouts that could change your fortune in a single spin.
How to Initiate your Casino Journey at Crashino?
Embarking on your Crashino casino journey is straightforward. First, you'll need to create an account. The process is simple and quick. Fill out your details, verify your account, and you are ready to gamble on Crashino.
Before you dive into the games, ensure to set up your payment method. Crashino supports a range of payment options, from credit and debit cards to e-wallets and bank transfers. Once your deposit reflects in your account, the vast world of Crashino casino games is ready for you to explore.
In our experience, the user interface of the Crashino gambling site is highly intuitive. It allows even the less tech-savvy players to navigate through the site with ease. Categories are clearly marked, making it simple to find your preferred games.
Thriving Live Casino Environment at Crashino
When it comes to creating a lifelike casino experience online, Crashino hits the mark. The live casino Crashino offers promises an unrivaled experience that brings the excitement of a real-world casino right into your living room.
Navigating through a variety of live dealer games, you'll have the opportunity to interact with real dealers on Crashino, bringing an extra layer of authenticity to your gaming experience. These dealers are not only professional but also friendly, contributing to a positive and exciting atmosphere.
Our tests of live Blackjack, Roulette, and Poker have shown that Crashino's live casino caters to all types of punters, from newcomers to experienced players. High-definition video streaming ensures you won't miss a single detail, whether it's the flip of a card or the spin of a roulette wheel.

Quick, Thrilling Bets with Crashino's Instant Games
If you're looking for quick betting games, Crashino is your go-to destination. The crash games Crashino hosts offer fast-paced action that keeps players on their toes.
Take the Aviator game at Crashino, for instance. In this exciting game, the multiplier starts at 1x and takes off towards infinity. Players can cash out at any time, but the catch is that the game can crash at any moment. The excitement of trying to cash out before the crash adds a heart-racing thrill to the gameplay.
JetX, another popular game on Crashino, takes you on a virtual jet ride with increasing multipliers. Players bet on when they think the jet will crash, adding a layer of unpredictability that makes every round of the game a new adventure.
Moreover, these social casino games at Crashino provide an interactive platform where players can engage with each other, fostering a sense of community among the players.
Our experience of gamble in casino Crashino
Venturing into the vibrant world of Crashino's online casino, our team embarked on a thrilling gambling journey with a budget of 500 USDT. Our strategy was simple: embrace unpredictability, bet big, and keep the spirit of the game alive.
The first game on our list was "Legend of Creopatra Megaways," a captivating slot game that instantly drew us in with its Egyptian theme and alluring graphics. Following our strategy, we decided to place a large bet of 200 USDT right off the bat. The spinning symbols came to a halt, and to our delight, we hit a winning combination! The Megaways mechanic lived up to its name, providing us with multiple ways to win and boosting our initial stake significantly.
Feeling the adrenaline rush from our slot game win, we decided to transition to a live casino experience, choosing "Immersive Roulette from Evolution". Known for its high-quality video stream and multiple camera angles, the game promised a riveting real-life casino experience. With 300 USDT left in our budget, we placed a 100 USDT bet on 'Odd,' waiting with bated breath as the dealer spun the wheel. The ball landed on '27' – an odd number, resulting in a substantial win that further increased our total winnings for the day.
Even though luck played a significant role, our success also hinged on understanding the game dynamics. In "Legend of Creopatra Megaways," for instance, we recognized that the game offered more winning combinations than traditional slot games, leading us to bet big. In the case of "Immersive Roulette," our decision to bet on a broader category ('Odd') increased our chances of winning.
Despite the risks, this virtual betting journey was an exhilarating experience. We won some, we lost some, but in the end, it was the thrill of the game that made our Crashino experience truly unforgettable. We can confidently say, based on our own experience, that whether you're a seasoned gambler or a casual player, Crashino offers a versatile platform that caters to all your gaming needs.
Welcoming Rewards: Crashino's Generous Bonus Scheme
Starting your intergalactic journey with Crashino can be an exhilarating ride, especially when it kicks off with a substantial welcome bonus. Crashino rolls out the red carpet for its new members with a mind-blowing 300 Free Spins Welcome Bonus that can significantly enhance your gaming experience. All you need to do is register an account at Crashino.com and make your first three deposits of $20 or more each. Following this, you will be awarded 100 free spins on each deposit for the game London Hunter. This Crashino welcome bonus sets the stage for an immersive gambling journey filled with fun and potentially significant wins.
Crashino's Promotions and Bonuses
In addition to the generous welcome bonus, Crashino offers a variety of other promotions that can significantly enrich your betting experience. One such promotion is the 100% Multi Bonus, which is designed to boost your winnings when you make bets with odds of 1.40 or more. The more games you add to your bet slip, the bigger your boost can be, with the potential to double your winnings with 20 or more selections.
Another enticing promotion is the 100% Express Insurance, a special offer for those who don't like to lose their combo bet due to just one missed outcome. If you make an express bet of $10 or more on any sport with at least five selections and only one fails, you can receive up to 100% of your bet amount back as a free bet.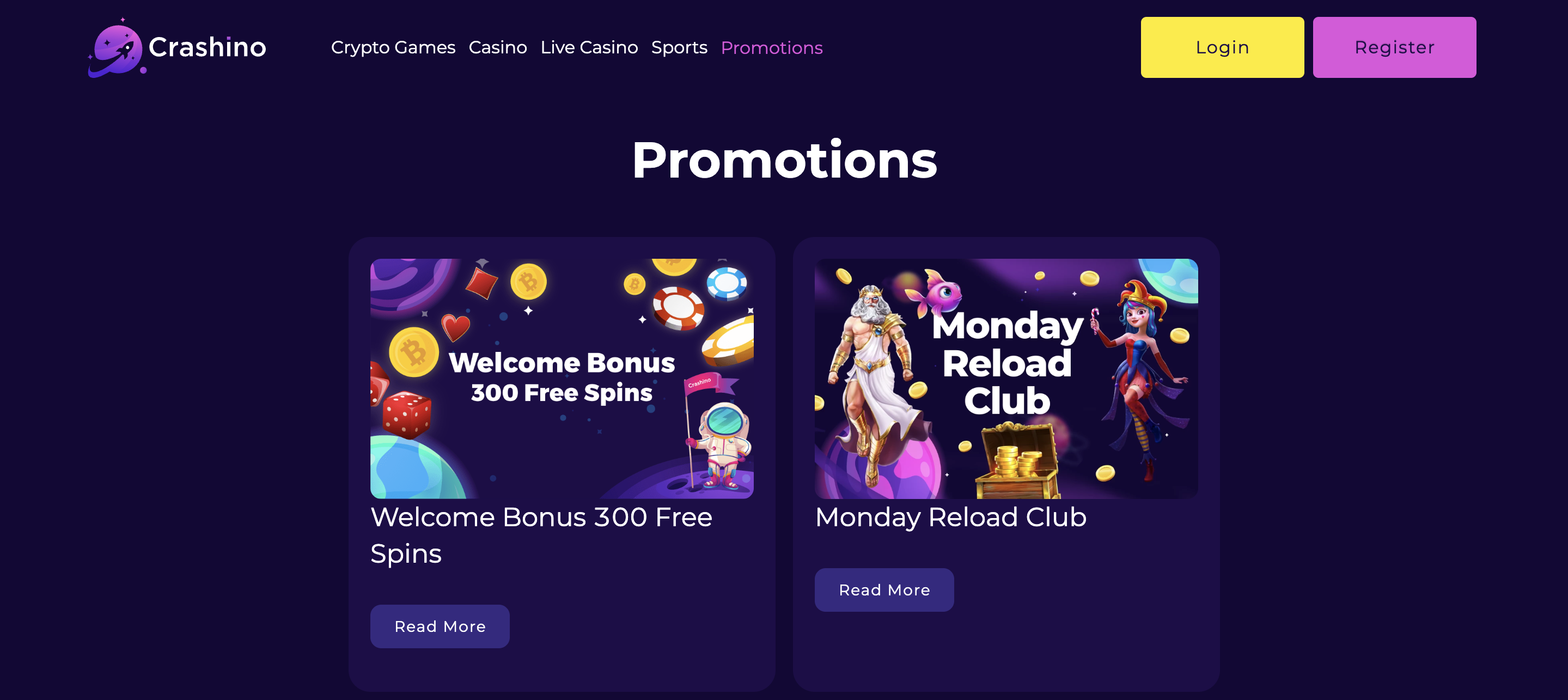 Crashino's VIP Loyalty Program
Crashino prides itself on offering a stellar VIP experience. Its VIP Club is an exclusive feature designed specifically for high-value players to provide them with a unique, personalized experience. Members of this exclusive club can enjoy the benefits of having a personal account manager, special bonuses and rewards, faster withdrawals, higher betting limits, surprise bonuses, and even invitations to special events. Access to the VIP Club is by invitation only, so keep your eyes peeled for your golden ticket to this unique world of benefits.
How to Secure and Use Promocodes at Crashino?
Using promocodes at Crashino is an easy way to access exclusive promotions and bonuses. These codes can typically be found on the website or received via email. Once you have a promo code, you can enter it during the deposit process or in your account settings. The bonus connected with the promocode will then be added to your account balance or made available for use in the appropriate game or betting event. It's a simple and effective way to maximize your gaming and betting experience on the platform.
Navigating Financial Transactions at Crashino: Deposits and Withdrawals
Betting at Crashino is not just about the thrill of the games; it's about providing a smooth experience from start to finish. When it comes to the financial aspect, the platform ensures secure and hassle-free transactions, while offering a variety of deposit and withdrawal methods.
Deposits at Crashino can be initiated via numerous options, which include both traditional methods such as credit cards, e-wallets, bank transfers, and more innovative solutions like various cryptocurrencies. The platform acknowledges that every user has their preference, and thus provides an array of secure alternatives.
The minimum deposit amount at Crashino is quite reasonable. Users can start their journey in the exciting world of online betting and casino games with a small deposit of just 10 USD/EUR. It's an affordable amount that doesn't discourage new bettors but invites them into the arena.
In terms of withdrawal methods, Crashino shines again by mirroring its diverse deposit options. You can opt for traditional methods or go for crypto withdrawals, all processed swiftly and securely.
Crashino does maintain specific withdrawal limits. The minimum amount for withdrawals is set at 50 USD/EUR. As for the maximum withdrawal limit, users can withdraw up to 2,500 USD/EUR per day, 5,000 USD/EUR per week, or 20,000 USD/EUR per month. This balance ensures users can access their winnings while maintaining the platform's financial stability.
One striking feature of Crashino's financial system is the wide range of acceptable currencies. It accepts deposits and processes withdrawals in several currencies like USD, EUR, RUB, CAD, AUD, BRL, and INR. Additionally, the platform supports several cryptocurrencies including BTC, USDT, ETH, LTC, TRX, BNB, DAI, USDC, BUSD, and even SHIB. This wide acceptance of multiple currencies adds another feather in Crashino's cap.
Navigating Through the Registration Journey at Crashino
Diving into the exciting universe of online betting begins with a simple, straightforward process – registration. Signing up at Crashino is a breeze, as the platform provides an intuitive and user-friendly interface. Here's a step-by-step guide to set you on your thrilling journey.
Step 1: Landing on Crashino. The first step towards experiencing the thrill that Crashino offers is visiting their official site. You can do this directly or via a mirror link, ensuring you land on the correct webpage. The Crashino login page is designed to be user-friendly and easy to navigate.
Step 2: Embarking on the Crashino Journey. Upon landing on the site, you'll find the 'Sign Up' option. Clicking this will lead you to a registration form. Here, you will be asked to provide some basic information such as your email address, desired password, and country of residence. Once you've filled out the details, you'll need to agree to Crashino's terms and conditions. After completing this, your registration on Crashino's official site will be underway.
Step 3: Fueling Your Account. After you successfully register, the next step is to make a deposit. Crashino offers a variety of deposit methods, providing flexibility and convenience for every user. Whether you prefer traditional banking options or cryptocurrencies, Crashino has you covered.
Step 4: Plunging into the Game. With funds now in your account, it's time to place your stakes and start playing. Choose from Crashino's wide array of games and start your adventure!
Adhering to Registration Requirements
When registering at Crashino, it's essential to keep in mind their requirements. Users must be at least 18 years old and provide accurate and verifiable information. It's also important to read and understand the terms and conditions thoroughly before agreeing to them.
Claiming Crashino's Welcome Bonus Upon Registration
One of the highlights of signing up at Crashino is the enticing welcome bonus. To get this bonus, you need to complete the registration process and make your first deposit. During the deposit, enter the desired bonus code in the appropriate field. The bonus typically includes free spins, which are a fantastic way to kickstart your Crashino adventure. When the money comes to the account, the bonus will be credited.
Crashino Account Verification: A Concise Guide
The absence of a direct license exempts players from undergoing KYC procedures, thus facilitating a smooth, uninterrupted journey through the cosmic world of Crashino. By partnering with one of the industry's finest platform providers, which holds licenses in eight different countries, Crashino ensures a high degree of trust and compliance. This arrangement allows the casino to offer games from over 80 licensed providers, promising a diverse and high-quality gaming experience.
Mastering the Art of Play: Proven Tips for Crashino
Navigating the vibrant universe of the online casino Crashino can be even more thrilling with a few practical strategies under your belt. Here are some insightful tips and best practices for an optimal gaming experience on Crashino.
Start with the Welcome Bonus: Begin your journey on Crashino with their generous welcome bonus. It gives you the chance to explore their vast array of games without risking your own money, and it might even lead to some early wins.
Knowledge is Power: Before diving into any game, familiarize yourself with its rules, odds, and strategies. Crashino offers a broad range of casino games, each with unique gameplay. Understanding them thoroughly will increase your chances of success.
Leverage the VIP Program: If you plan to play regularly, consider Crashino's VIP loyalty program. It can offer significant benefits like personalized account management, exclusive bonuses, faster withdrawals, and higher betting limits.
Keep Track of Promotions: Stay updated with Crashino's ongoing promotions and use them to maximize your potential returns. Remember, every additional bonus or free spin can inch you closer to a jackpot.
Play Responsibly: Lastly, and most importantly, always gamble responsibly. Set your betting limits, don't chase losses, and remember to take breaks.
Navigating the Mobile Universe of Crashino
Crashino's mobile website stands as a testament to its commitment to the digital generation of gamblers. Optimized for both Android and iOS devices, the mobile site seamlessly replicates the desktop experience while adding the convenience of gaming on the go. With its user-friendly interface and smooth navigation, you can access all of Crashino's extensive game portfolio, including live casino, slots, and sports betting. Mobile users also have full access to bonuses, promotions, and secure payment methods, ensuring an all-inclusive gambling experience at your fingertips.
Crashino's Fairness
Reliability and fairness are pillars of Crashino's operations. Crashino embraces the concept of provably fair gaming, a cryptographic method that ensures each game's outcome is genuinely random and cannot be manipulated. This way, you can be confident that every spin, card dealt, or sports bet placed is completely fair and transparent.
Crashino's Customer Support
Embarking on an intergalactic journey can raise a few questions or concerns, and that's where Crashino's customer support comes into play. The support team, ready to assist around the clock, can be reached via live chat or email. Whether you need help with account issues, deposits and withdrawals, or simply understanding a game, the knowledgeable team provides prompt and efficient responses. They strive to ensure every player's experience is smooth and enjoyable.
Final Opinion on Crashino as bookmaker and online casino
After a comprehensive review, Crashino emerges as a fresh and innovative player in the online casino landscape. Its diverse selection of slot games, intuitively designed website, and an exclusive VIP club that caters to its high-value members, set it apart from many competitors. What's more, its array of generous bonuses and a no-verification policy offer an attractive proposition to both new and seasoned online casino enthusiasts.
However, it's worth noting that Crashino currently operates without a dedicated license, which might raise some caution for players in certain jurisdictions. Additionally, the absence of a mobile app and a limited sports betting market might turn away users seeking a holistic gambling experience on-the-go or avid sports bettors. Moreover, the lack of live streaming options for esports could be a disadvantage for gamers who enjoy an immersive experience.
In conclusion, while Crashino has some shortcomings that could be addressed, its innovative approach and unique benefits, such as a variety of slot games, a user-friendly platform, and a no-verification policy, make it a promising contender in the online gambling arena. As always, potential users should consider their personal preferences and local gambling regulations before signing up.
Read this page in other languages:
Pros
Wide range of slot games.
User-friendly and modern website design.
Exclusive VIP club for high-value players.
Generous and varied bonus offerings.
No verification procedures required for play.
Cons
Absence of a dedicated license.
Lack of a mobile application.
Limited sports betting market.
No live streaming option for esports.