In this comprehensive review of Bitsler, an established player in the cryptocurrency gambling world, we delve into its various facets. Aimed at both novice and seasoned online gamers, this article provides an in-depth analysis of Bitsler's features, including its registration process, payment methods, account verification, and gaming tips. The review also details Bitsler's mobile website capabilities, license, fairness, and customer support.
The article reveals key pros and cons to provide an unbiased view of the platform's offerings, focusing on factors like its extensive sports markets, unique crypto games, VIP program, and more. We delve into potential areas of concern like its Curacao license and the absence of a mobile app. This insightful evaluation is designed to equip readers with the knowledge to make informed decisions, whether they are crypto enthusiasts seeking new gambling avenues or traditional online gamers exploring the world of crypto casinos.
Review of the bookmaker and online casino Bitsler is also available in other languages:
The Intriguing Journey of Bitsler 
Established in 2015, Bitsler, owned by OYINE N.V., has been serving the online betting community with its impressive range of offerings. Licensed in Curaçao, this bookmaker has become a popular platform among bettors worldwide. Accepting a variety of cryptocurrencies including Bitcoin, Ethereum, and Litecoin among others, it has positioned itself as a go-to platform for crypto enthusiasts.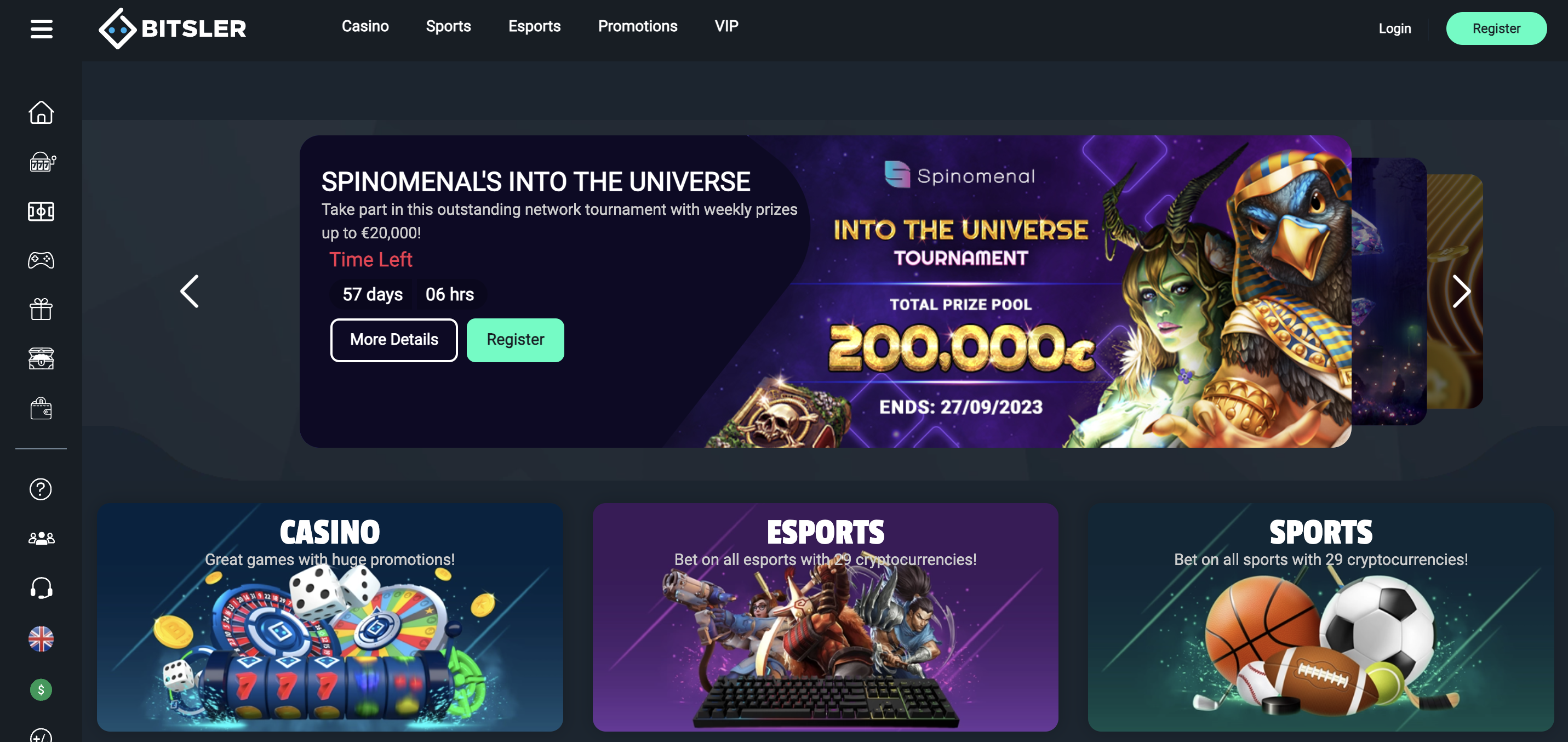 Pivotal Advantages: Why Bitsler Reigns Supreme
Bitsler stands out with its unique combination of sports betting and online casino entertainment. A bookmaker Bitsler review wouldn't be complete without mentioning the wide array of sports betting markets available, such as Soccer, American Football, Baseball, and eSports like CS:GO and Dota 2, among others. This platform also offers specialized betting features such as Asian lines and special bets.
For the eSports aficionados, there's a live streaming feature available exclusively for these adrenaline-filled matches. A noteworthy highlight is the seamless deposit and withdrawal system that Bitsler offers. With a minimum deposit of just $1, and minimum withdrawal of $8, it ensures a smooth betting experience.
The online casino section is just as impressive, with game software provided by industry leaders like PragmaticPlay, NETENT, and Evolution Gaming. With its range of traditional and modern games, the casino Bitsler experience is sure to leave you wanting more.
Quick, efficient, and responsive customer service is another feather in Bitsler's cap. With live support and email assistance, all your queries will be resolved in a timely manner.
Unveiling the Allure of Online Sports Betting at Bitsler
Delve into the captivating realm of online sports betting offered by Bitsler. This bookmaker distinguishes itself with its broad selection of both traditional sports and eSports. Sportsbook Bitsler manages to blend the excitement of sports betting with the convenience of online platforms, taking your betting experience to new heights. The charm of this platform is further accentuated by the availability of unique betting features such as special bets and Asian lines.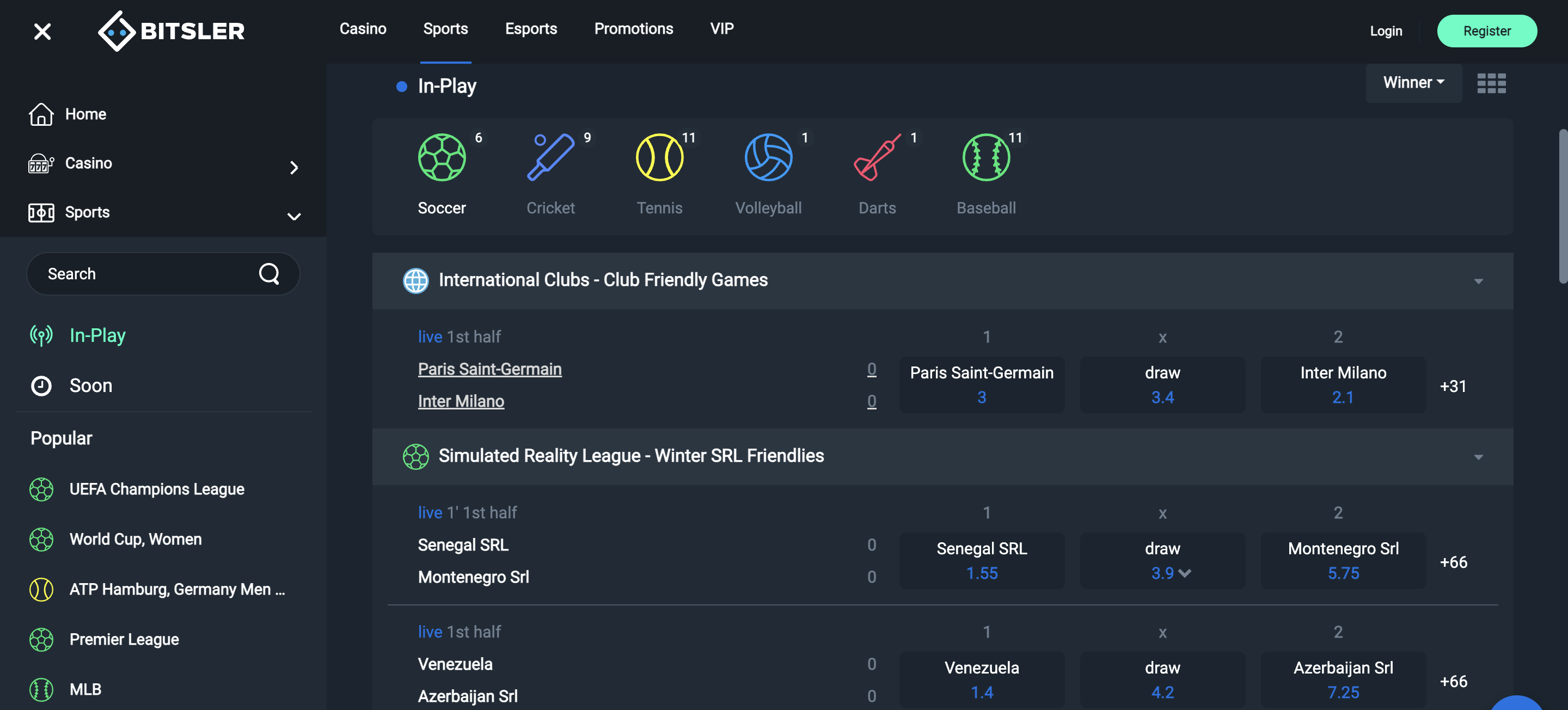 The Most Coveted Sports Betting Markets on Bitsler
Bitsler has become a fan-favorite due to the range of sports betting markets it provides. Some of the most sought-after traditional sports markets include Soccer, American Football, Baseball, and Basketball. However, the bookmaker Bitsler doesn't stop there; it also caters to fans of more niche markets such as Darts, Gaelic Football, and Snooker.
But Bitsler's prowess doesn't end with traditional sports; it extends into the realm of eSports, offering an array of popular games like CS:GO, Dota 2, and Valorant. The live streaming feature, exclusive to eSports, adds an extra layer of excitement and engagement, keeping you at the edge of your seat during every game.
A Step-by-Step Guide to Placing Your Bets at Bitsler
Placing bets at the Bitsler betting site is an uncomplicated and user-friendly process. Follow these straightforward steps:
Log into your Bitsler account. If you don't have an account, registration is quick and simple.

Choose your preferred sport or eSport from the wide range of options available.

Browse through the betting markets and lines for your chosen sport.

Once you've made your selection, your bet will appear in your bet slip. You can adjust the stake as per your preference.

Finally, confirm your bet. 
Live Betting and Streaming at Bitsler
Bitsler is more than just a standard bookmaker; it's an interactive platform that makes every bet a personal experience. The live betting feature enables you to place bets as the action unfolds, bringing the rush of the game directly to your fingertips. Live betting at Bitsler adds an extra dimension to the excitement, making you feel part of the action.
For eSports enthusiasts, Bitsler offers a unique treat: live streaming. Bitsler live streaming provides you a front-row seat to your favorite eSports games. You can watch the games unfold in real-time while making in-play bets, truly elevating the betting experience.
Variety is the Spice: Diverse Bets on Bitsler
With its comprehensive selection, Bitsler caters to the tastes of all types of bettors. From accumulator bets for those who enjoy high risk-high reward stakes, to single bets for fans of a more traditional approach, you're spoilt for choice. The platform also allows for systems of bets, offering more complex betting strategies for seasoned bettors. The excitement of placing live bets at Bitsler is further enhanced by the variety of betting types available.
Enhance Your Betting Game: Bitsler's Additional Tools 
Beyond the comprehensive betting types, Bitsler also offers a suite of additional tools to elevate your betting game. The Bitsler cash out feature allows you to secure a profit or minimize a loss before the event is over, giving you more control over your betting experience.
Our experience of betting on Bitsler sportsbook
Embarking on our betting journey at Bitsler, we found ourselves with a starting balance of 500 USDT. Our strategy involved placing two bets: one pre-match bet in a traditional sport, and one live bet during an eSport match.
For our pre-match bet, we turned our sights to the thrilling world of football, given its unpredictability and popular market. Our selected match was between two closely matched teams in the Premier League. Employing the Asian Handicap bet type, we placed 200 USDT on Liverpool with a handicap of +1. This bet type means that even if Liverpool draws or wins, we'd win the bet, but if they lost by more than one goal, we'd lose our stake. The odds were 1.9, and this bet seemed an attractive balance of risk and potential profit.
As the match commenced, Liverpool put up a tough fight, holding the match at a 0-0 draw for the most part. However, in the 78th minute, Liverpool conceded a goal, and the match ended 1-0 in favor of Manchester City. This outcome meant that, thanks to our Asian Handicap bet, our stake was refunded. We were back to 500 USDT.
For our second bet, we chose to venture into eSports, specifically, a Dota 2 match, because of the increasing popularity of eSports and the live streaming feature available at Bitsler. Using the remaining 300 USDT, we opted for a live betting strategy during the intense gameplay.
During the early phase of the match, BB Team secured an early lead. Betting on the dynamic nature of Dota 2 games, we decided to stake on Team Aster, the underdogs at the moment, to win. Bitsler's in-play betting allowed us to make this strategic decision, and we put down 300 USDT with odds of 2.1.
The match progressed, and Team Aster turned the tide in a major team fight. With their victory, our bet was successful, leaving us with a hefty profit of 630 USDT, elevating our balance to 830 USDT.
Our experience on Bitsler was a vivid demonstration of the platform's exciting and comprehensive offerings. It brought forth the exhilarating highs and lows of betting, showcasing the perfect blend of strategy, risk, and luck that makes the world of sports betting so enticing.
Online Casino and Slot Games at Bitsler
Adding to its diverse offering, Bitsler also stands tall in the sphere of online casinos. The casino at Bitsler is a virtual utopia for gamblers, brimming with a variety of engaging slot games. All the excitement of the casino floor is condensed and made readily accessible for users, making the Bitsler gambling site a go-to for those seeking the thrill of a spin or a strategic gamble.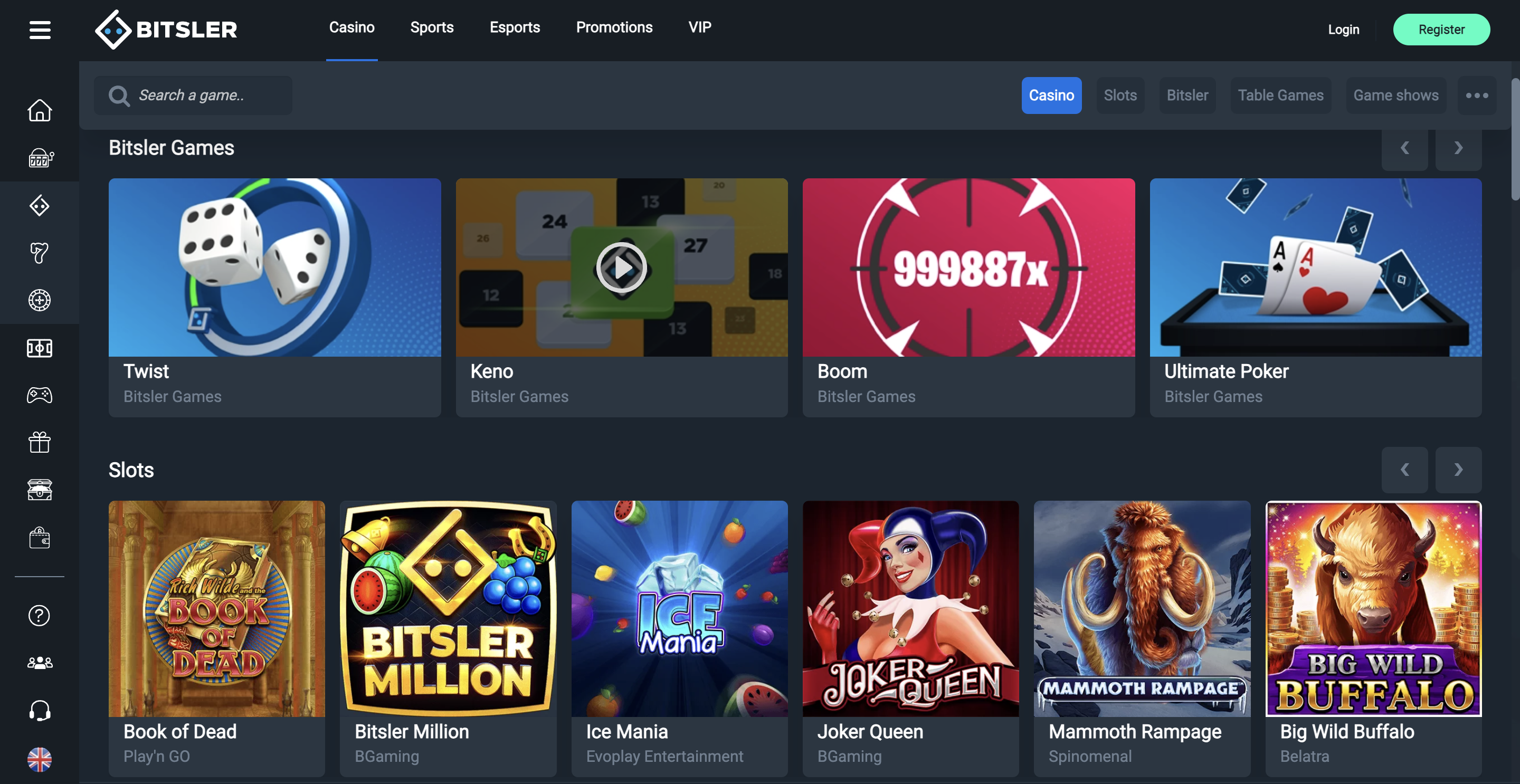 Top Casino Games at Bitsler
The online casino at Bitsler boasts a collection of games from leading software providers like PragmaticPlay, Play'N Go, Rela gaming, bitsler, nolimit city, evolution gaming, and many more. Each game is meticulously designed, ensuring a captivating experience for users.
A crowd-favorite slot game is the classic "Fruit Zen" from Betsoft, which offers a modern twist on the classic fruit machine. The 3D graphics and serene soundtracks provide an immersive gaming experience. For those seeking a fusion of mythology and gaming, "Vikings Go Berzerk" by Yggdrasil is a must-try. This slot offers exceptional graphics, thrilling bonus features, and high payouts.
Aside from slot games, Bitsler casino also caters to traditional table games enthusiasts. Whether it's the spin of the roulette wheel or the anticipation of blackjack, these timeless casino games hold a spot at Bitsler.
How to Start Playing at Bitsler Casino?
Initiating your casino journey at Bitsler is a simple and straightforward process. Here's a step-by-step guide to get you started:
Sign Up: The first step is to register on the Bitsler platform. Click on the 'Sign Up' button on the homepage, and create your account by providing a username and password.

Set Up a Cryptocurrency Wallet: Given that Bitsler operates with cryptocurrencies, you'll need a crypto wallet for transactions. If you don't already have one, you'll need to set one up. You can choose from a variety of options including Bitcoin, Ethereum, Ripple, Litecoin, and more.

Make a Deposit: Navigate to the 'Deposit' section on the Bitsler site. Here, you can choose your preferred cryptocurrency and deposit funds into your Bitsler account. The minimum deposit amount is only $1, and there is no maximum limit, accommodating players of all budget sizes.

Choose Your Game: Once your deposit is confirmed, you're all set to delve into the world of Bitsler casino games. From engaging slot games to traditional table games, there's something for every gaming preference.

Place Your Bets: Choose your stake and start playing! Whether you're spinning the wheel in roulette or hoping for a royal flush in poker, every game is a new adventure.

Withdraw Your Winnings: When you're ready to cash out, head over to the 'Withdraw' section. The minimum withdrawal amount is $8, and there's no maximum limit, so you can withdraw your winnings at your convenience.
Dive into the Live Casino at Bitsler
There's a special charm to the live casino experience – the thrill of real-time play, the banter with live dealers, and the palpable excitement that permeates the air. Bitsler brings all this to your screen with its impressive live casino offering. Enabling users to play with real dealers, Bitsler's live casino captures the authenticity of a physical casino while offering the convenience of online gambling.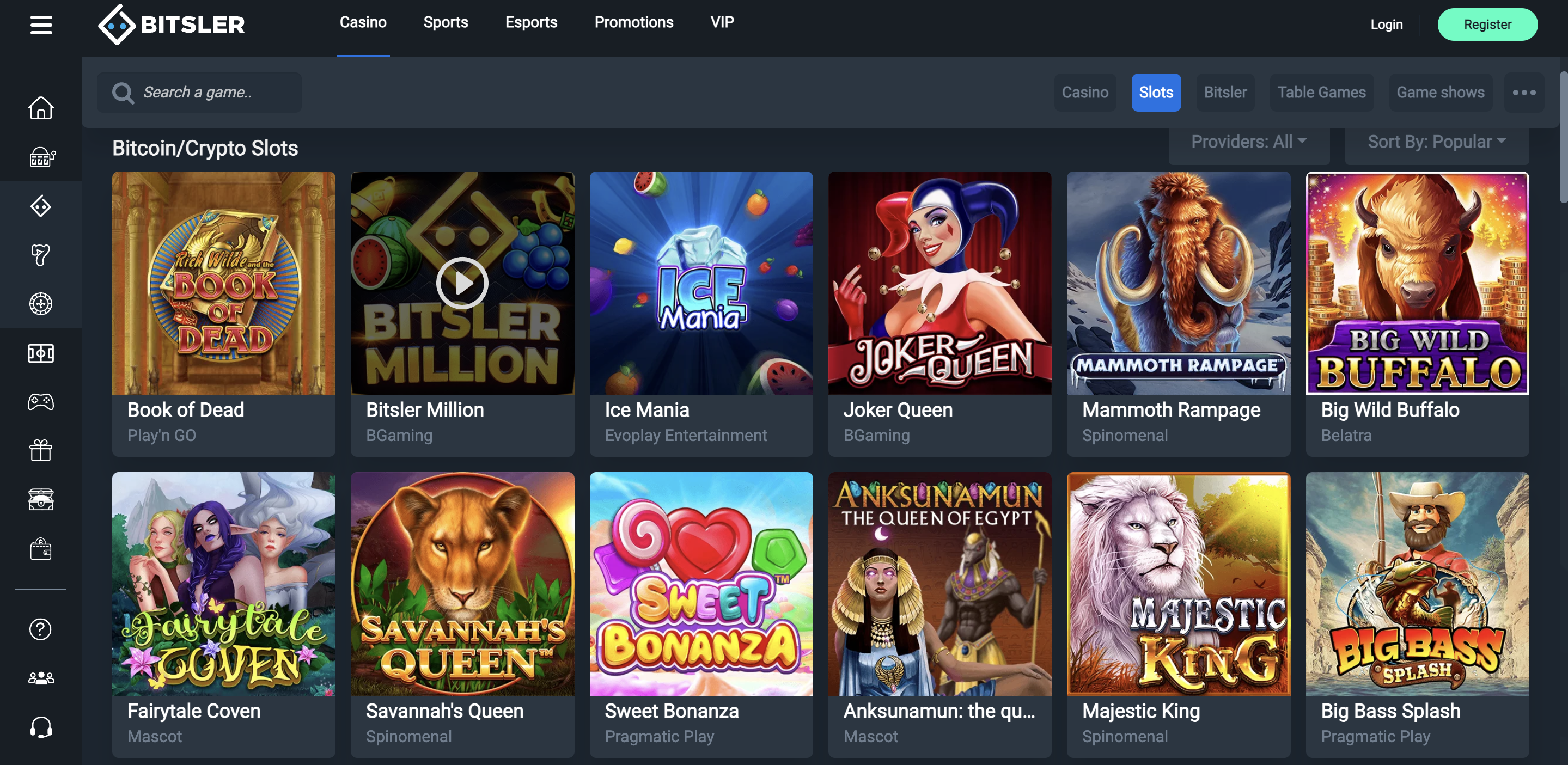 Games range from classic options like blackjack, roulette, and baccarat, to unique offerings such as Monopoly Live and Dream Catcher. Each game is hosted by professional live dealers, who not only conduct the games but also interact with players, creating a social atmosphere. The quality of streaming is exceptional, ensuring players have an immersive experience at Bitsler's live casino.
The live dealer games at Bitsler provide real-time, social casino games that amplify the excitement of your casino journey. So, whether you're an experienced gambler or a newcomer, the live casino at Bitsler promises a thrilling ride.
Instant Games: Exploring Mines at Bitsler
Bitsler stands out for its diverse game offering, including the inclusion of quick betting games like 'Mines'. This popular game is a stellar example of the instant, social casino games available at Bitsler.
For those unfamiliar with Mines, it's a simple yet engaging game where players choose a field to reveal either a gem or a mine. The aim is to collect as many gems as possible without uncovering a mine. The game allows players to define their risk level by selecting the number of mines present in the field. The more mines selected, the higher the potential return, but the risk of losing also increases.
The thrill in Mines lies in its unpredictability and quick gameplay. It's perfect for those seeking a rapid, exhilarating betting experience. Moreover, Mines, like other crash games on Bitsler, encourages social interaction, as players can chat and compete with each other.
Our experience of gamble in casino Bitsler
Embarking on our exciting Bitsler adventure, our team had 500 USDT ready to dive into the thrilling world of online casinos. Our game plan was to try out a slot game and a live casino game, testing the site's versatility and entertainment quotient.
For the slot game, we chose 'Gonzo's Quest' from NetEnt, renowned for its fun gameplay and immersive experience. The thrill of every spin, the anticipation of matching symbols, and the ever-present chance of hitting a jackpot kept our adrenaline high. Our strategy was to start with small bets, progressively increasing as we got comfortable with the game. Our first big bet of 50 USDT yielded a considerable win, pushing our balance up by a hefty 200 USDT! However, unpredictability struck when a series of lower yield spins gradually eroded our winnings. The exhilarating roller coaster ride with 'Gonzo's Quest' reminded us of the capricious nature of slot games.
Next, we switched our gears towards Live Casino, selecting 'Immersive Roulette' from Evolution. A stark contrast to our slot game experience, the live roulette transported us to a virtual casino where we could interact with a real-life dealer. The thrill of watching the live wheel spin and the ball bouncing before it lands on a number was pure casino magic. We started with simple bets, choosing black or red and odd or even numbers. Then, in a bid to ramp up the unpredictability, we placed a larger 100 USDT bet on a single number. Although a long shot, the risk paid off, and we hit a substantial win, leaving our team in high spirits.
Despite our winnings, the excitement and suspense of each game, and the interaction with the live dealer, stood out more than the financial outcome. The combination of 'Gonzo's Quest' and 'Immersive Roulette' provided a perfect showcase of Bitsler's diverse gaming options, demonstrating why it's a favorite online casino among many gambling enthusiasts. It was a demonstration of how each game's rules and features contribute to the overall entertainment value, creating a memorable and enjoyable gaming experience.
Welcoming You to Bitsler: The $700 Bonus that Awaits
The Bitsler welcome bonus is a red carpet rolled out for you, greeting you with a potential of $700 in matched deposit bonuses to kickstart your journey. When you make your first deposit, Bitsler matches it by 100%, meaning if you deposit the maximum amount of $700, you can begin your journey with a whopping $1400. This significant bonus isn't just a show of generosity; it's a token of appreciation for joining the Bitsler community, allowing you more room to explore markets and games you adore.
The bonus is released in seven equal batches, each unlockable as you gain XP by participating in most games on the platform. For every 200XP earned, you receive $1. This strategy provides a gradual boost to your balance, adding a sprinkle of excitement to your gaming experience. But remember, this bonus has an expiration date, and any locked milestones will be lost after 30 days from your 1st deposit. So, don't delay; immerse yourself in the Bitsler games and reap the benefits of your welcome bonus.
Overflowing Bonuses and Promotions at Bitsler
There's never a dull moment at Bitsler thanks to the regular bonuses and promotions that are up for grabs. Take the 'Weekend Free Spin Offer,' for instance. When you wager over $4,000 on any casino game during the weekend, Bitsler rewards you with 50 free spins on Fruit Million. To claim this reward, you simply enter the promocode 'WEEKENDPROMO6' in the chat on Bitsler's website.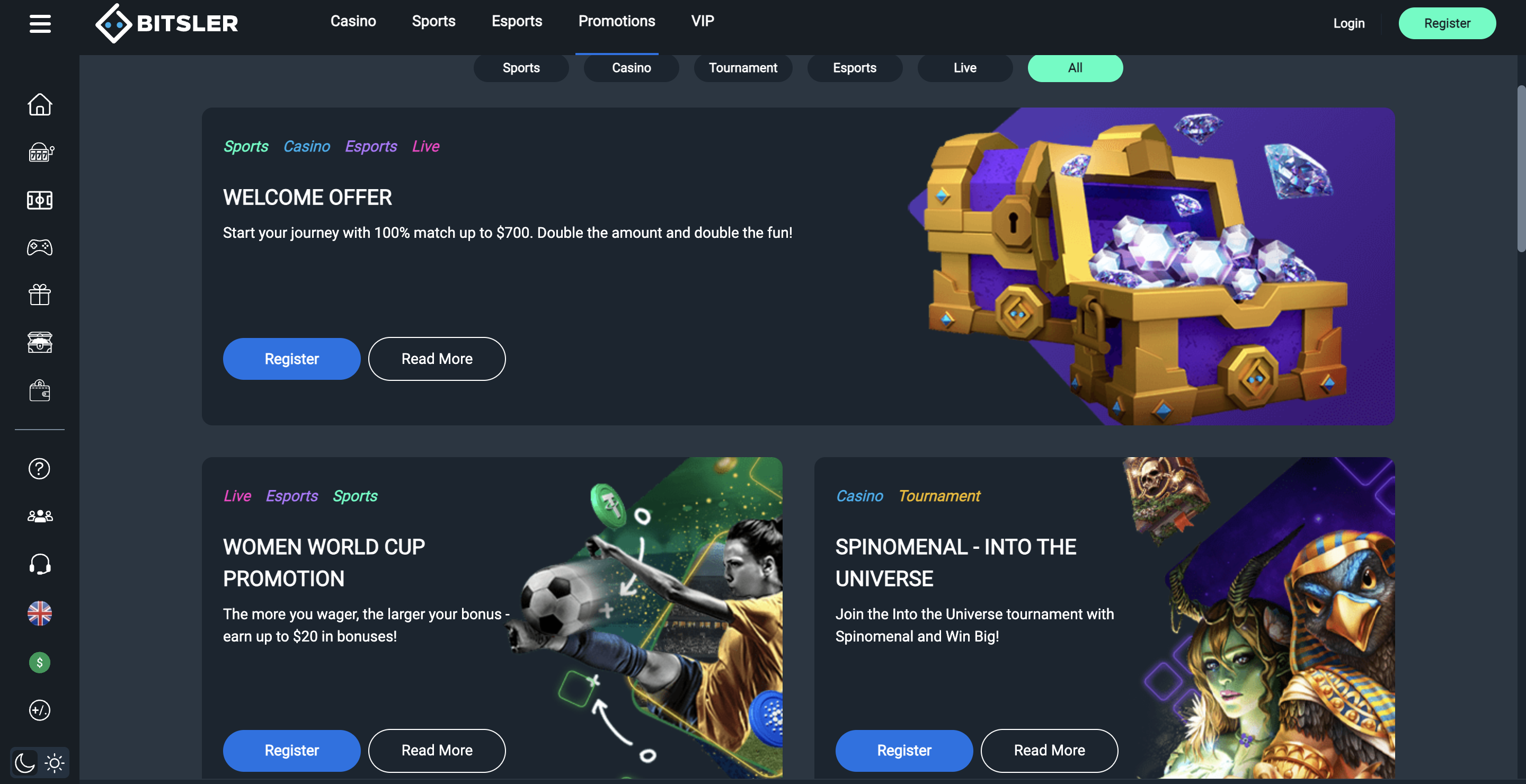 Another attractive promotion is the 'Sunday Deposit Offer,' where you can unlock two gold chests filled with rewards upon depositing $125. Double your deposit, and you receive an extra gold chest plus 25 free spins for the weekend game, Fruit Million. To participate, enter "SUNDAYPROMO6" in the Bitsler chat section.
But the rewards don't stop there. With Bitsler's 'Daily XP Contest,' you can partake in a thrilling challenge every day for a share in the $1,000 prize pool. Simply immerse yourself in any Bitsler game, earn as much XP as you can, and climb the leaderboard to claim your cash prize.
Bitsler's VIP Loyalty Program: A New Level of Gaming
The Bitsler VIP loyalty program is a cherry on top for players who are consistent on the platform. Every wager on any game (except for sports betting with odds under 1.4) earns you XP, which subsequently allows you to climb the VIP levels, ranging from Iron to Diamond Legend.
Each level you reach comes with exciting rewards including rakeback, and chests with provably fair rewards that could be as high as $35,000! The more you level up, starting from Gold, the higher your rakeback percentage. You can claim your rakeback every 2 minutes or accumulate it over time—it won't expire!
Activating the Winning Streak: Promo Codes at Bitsler
At Bitsler, promo codes are a vital tool to enhance your gaming experience. These alphanumeric codes are designed to unlock specific bonuses and promotions on the platform. Whether it's the Weekend Free Spin Offer or the Sunday Deposit Offer, you need a promo code to access these rewards.
To use a promo code on Bitsler, you simply enter the relevant code in the chat section on the site. For example, 'WEEKENDPROMO6' for the Weekend Free Spin Offer or 'SUNDAYPROMO6' for the Sunday Deposit Offer. Once entered, these codes ignite your gaming adventure, providing a golden passport to a thrilling gaming week.
Understanding Payments in Bitsler: Depositing and Withdrawing
Facilitating smooth transactions is paramount to a seamless gaming experience, and Bitsler recognizes this, offering a plethora of deposit and withdrawal methods. As a platform, Bitsler is committed to ensuring the ease of monetary flow for its players, making deposits and withdrawals swift and straightforward.
Bitsler offers various deposit methods to ensure accessibility for all. This range of options allows players to choose the method most convenient to them, with the aim of making the gaming journey as enjoyable as possible. Regardless of your preference, whether it's credit cards, bank transfers, or digital currencies, Bitsler has got you covered. Just note the minimum deposit limit set by Bitsler, ensuring you meet this requirement before you proceed.
Once your gaming session comes to an end, and it's time to withdraw your earnings, Bitsler does not disappoint. It provides multiple withdrawal methods that are designed to suit the diverse preferences of its members. The platform emphasizes speed and safety in its transaction processing, ensuring that you receive your winnings without any hassle. However, keep in mind the minimum withdrawal limit on Bitsler, and plan your transactions accordingly.
Importantly, Bitsler also imposes a maximum withdrawal limit, a standard practice in the online gaming world to maintain the financial stability of the platform and ensure a fair gaming environment for all members. This limit is a testament to Bitsler's commitment to providing a responsible and sustainable gaming platform.
Navigating the Bitsler Registration Process
A rewarding and exciting gaming journey at Bitsler begins with a straightforward registration process. This guide will take you through the step-by-step procedure to help you seamlessly sign up on Bitsler.
To start with, the first step is to visit the Bitsler platform. You can either directly go to the official site or use a mirror link. This stage marks the initiation of your journey towards becoming a part of the Bitsler community. Type "Bitsler" into your search engine, click on the official website link, and you'll be on your way.

Once you've arrived on the site, the second step is to sign up. Look for the 'Register' or 'Sign Up' button usually located at the top right corner of the page. Click on it, and you'll be directed to the registration form. Here, you'll be required to fill in some essential information to create your Bitsler login credentials. Make sure you enter a valid email address and create a secure password to safeguard your account.

With your registration complete, it's now time for the third step – making your first deposit. Navigate to the 'Banking' or 'Deposit' section of your account. As mentioned previously, Bitsler offers various deposit methods, so choose the one that suits your preference. Remember to check the minimum deposit limit set by Bitsler and proceed with your transaction.

The fourth step is the most exciting part of your Bitsler journey – placing your first stake! Navigate to the 'Games' or 'Sports' section, pick your favorite game or market, and place your wager. Always remember to gamble responsibly and have fun!
Essential Prerequisites for Registering on Bitsler
Before you sign up, it's essential to know about the registration requirements at Bitsler. You must be at least 18 years old, and residents of certain countries might not be able to register due to gambling regulations. Furthermore, during the sign-up process, you may be asked for proof of identity to verify your account.
It's important to note that you can only have one Bitsler account. Multiple accounts are not permitted, and if found, they may be suspended or closed by Bitsler.
Securing Your Bitsler Welcome Bonus during Registration
The moment you finish your registration on Bitsler, you become eligible to claim your welcome bonus. To claim the Bitsler welcome bonus, you must first make a deposit. As soon as your deposit is confirmed, the welcome bonus will be added to your account.
Remember, this bonus is a match for your first deposit up to $700, giving you plenty more to play with. It's the perfect way to kickstart your journey on Bitsler, giving you a fantastic boost right from the get-go.
Guiding Steps for Bitsler Account Verification
Bitsler account verification is a straightforward procedure, designed for ensuring a secure gaming experience. Here is a simplified step-by-step guide:
After registration, navigate to the 'Account Verification' section in your Bitsler profile.

Provide a clear, valid identification document (passport, driver's license, or national ID).

Submit proof of address. This could be a utility bill, bank statement, or any official document indicating your residential address.

Await confirmation from the Bitsler verification team. The verification process typically takes up to 72 hours.

Once your account is verified, you'll receive a notification and can proceed to enjoy the full benefits of your Bitsler account.
Top Suggestions for Optimizing your Gameplay Experience at Bitsler
Navigating the exciting world of Bitsler can be even more rewarding with the right tips and strategies. Here are some best practices to follow:
Know the Games: Each game on Bitsler has its unique rules, odds, and strategies. Familiarize yourself with the rules before you start playing.

Use the Welcome Bonus: The Bitsler welcome bonus can give you a significant head start. Ensure you take advantage of it to maximize your potential earnings.

Set a Budget: Determine a budget for each gaming session. Remember, the primary goal is entertainment.

Join the VIP Program: By joining Bitsler's VIP program, you gain access to a variety of perks, including rakeback and other rewards. Make the most of these benefits.

Stay Informed: Keep tabs on Bitsler's promotions and bonus offerings. You never know when a valuable offer might turn up.

Account Verification: For a smoother experience, make sure your account is verified as early as possible. This speeds up withdrawals and provides access to higher betting limits.

Play Responsibly: Never chase losses, and remember that it's just a game. If it stops being fun, consider taking a break.
Navigating the Bitsler Mobile Platform
For the digitally savvy bettor who loves to game on-the-go, Bitsler offers a fully optimized mobile website that flawlessly mirrors its desktop counterpart. The platform's mobile-friendly design ensures a seamless transition for users who prefer using smartphones or tablets. Whether you're spinning the slots, trying your luck on the roulette wheel, or placing a sports bet, the fluid and intuitive user interface provides an uncompromised gaming experience. Furthermore, Bitsler's mobile site is compatible with various operating systems, including iOS and Android, offering wide accessibility.
License and Fair Play: Bitsler's Commitment to Trustworthiness
Bitsler places a high premium on its users' trust and confidence. The online casino and bookmaker proudly holds a gaming license, a testament to its commitment to providing a safe and fair gaming environment. This license ensures that Bitsler operates within the guidelines of fair play and adheres to the industry's strictest regulations. Furthermore, Bitsler employs provably fair algorithms, allowing users to independently verify the fairness and randomness of the results. This commitment to transparency cultivates a sense of trust between the platform and its users, reaffirming Bitsler's position as a reliable and fair online casino.
Customer Support: Bitsler's Promise of Unmatched Assistance
In any gaming environment, quality customer support is key to ensuring a positive user experience. Bitsler's dedicated customer support team is readily available to address any questions or concerns users may have. The platform provides multiple communication channels, including live chat and email, aiming to resolve issues as swiftly as possible. Additionally, Bitsler's support staff boasts a high level of expertise, ensuring that users receive accurate and detailed assistance when needed. The team's commitment to providing exceptional support solidifies Bitsler's reputation as a user-friendly and responsive platform, heightening the overall gaming experience for its users.
Final Opinion on Bitsler as bookmaker and online casino
In conclusion, Bitsler stands as an innovative pioneer in the sphere of online cryptocurrency gambling, carving a significant niche with its unique assortment of crypto-based games and extensive sports markets. Its visually striking website design, combined with the ease of navigation, underscores its commitment to providing an engaging and intuitive user experience. The platform caters to a global clientele with its multilingual interface, making it truly accessible for international gamers.
The VIP program acts as an effective incentive for loyal users, rewarding them with an array of exclusive benefits. The absence of financial limitations on transactions also amplifies its appeal to high-rollers and those who appreciate unrestricted gameplay.
However, while Bitsler offers an impressive service, it is not without its drawbacks. The lack of a mobile app limits the flexibility of gaming on-the-go, and its Curacao license might raise credibility concerns among some users. The absence of a poker room and a limited variety of instant games also suggest room for improvement.
Nonetheless, Bitsler's strengths significantly outweigh its limitations. Its forward-thinking approach to integrating cryptocurrency with gambling sets it apart, and with future improvements, it has the potential to further solidify its position as a leading crypto casino.
Read this page in other languages:
Pros
Renowned as a premier crypto casino: Offers a large selection of unique crypto games and accepts crypto deposits.

Attractive and modern website design: Provides an engaging and seamless user experience.

Extensive gaming selection: Boasts a vast array of slot games and sports markets for a diverse betting experience.

Multilingual platform: Supports 14 different languages, accommodating a global user base.

VIP Program: Rewards loyal users with special perks and benefits.

Unrestricted financial transactions: Places no caps on deposits or withdrawals, offering unrestricted gaming freedom.
Cons
License credibility: Operates under a Curacao license which may not hold as much credibility as some other licensing jurisdictions.

Limited platform accessibility: Does not have a dedicated mobile app for more streamlined mobile gaming.

Narrow game variety: Lacks a poker room and offers only a few instant games.