Discover the comprehensive review of W88, a leading bookmaker and online casino. This article delves into the various aspects of W88, including its sportsbook, online casino, poker room, and bonuses. Learn about the extensive range of betting markets, game offerings, payment methods, and mobile app availability. Whether you're a sports enthusiast, casino lover, or poker player, this review provides valuable insights and essential information about W88's features and functionalities. Ideal for both beginners and experienced bettors, uncover the exciting world of W88 and make informed decisions when engaging in online gambling.
Review of the bookmaker and online casino W88 is also available in other languages:
About W88 Company
W88, established in 2007, is managed by Aquoz Solution Inc., and holds a PAGCOR gambling license. Through our tests, this bookmaker's popularity is evident in its broad range of betting options and casino games. It supports diverse payment methods for smooth transactions, and it even offers a mobile app for betting on the go.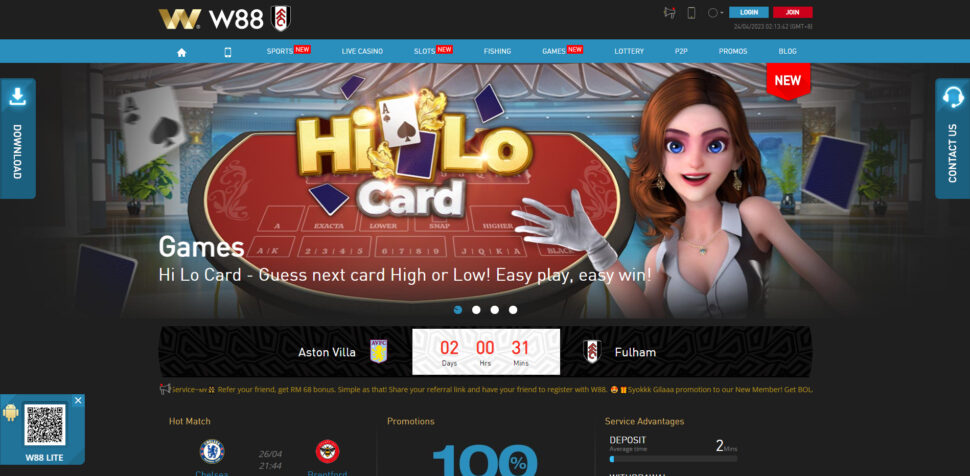 Quick Advantages to Play Games at W88
When we tried this betting site, we discovered that W88 is not only about sports and esports betting. It goes beyond to offer live streaming, statistics, and match results, enhancing the punter's involvement and understanding. The casino section, too, is quite remarkable, providing popular games from renowned providers such as Ezugi, Evolution, and Microgaming.
Members can bet on soccer, cricket, or badminton, among other sports, while esports fans have games like Dota 2, CS GO, and Valorant to wager on. The platform ensures easy navigation between different sportsbooks such as a-SPORTS, BTi, x-SPORTS, and v-SPORTS.
Fancy some casino fun? Try out the poker room or engage in a round of lottery/keno. You can also dip into fishing or hunting games for a unique entertainment twist. When it comes to financial transactions, the platform sets convenient limits with a minimum deposit of RM30.
Sportsbook W88
When it comes to diverse betting opportunities, the sportsbook W88 truly excels. The platform integrates various sports and esports markets into its portfolio, creating a haven for punters to explore. It provides a range of betting options, from Asian Handicap to Accumulator Bet, and more, offering bettors a plethora of options based on their preferences.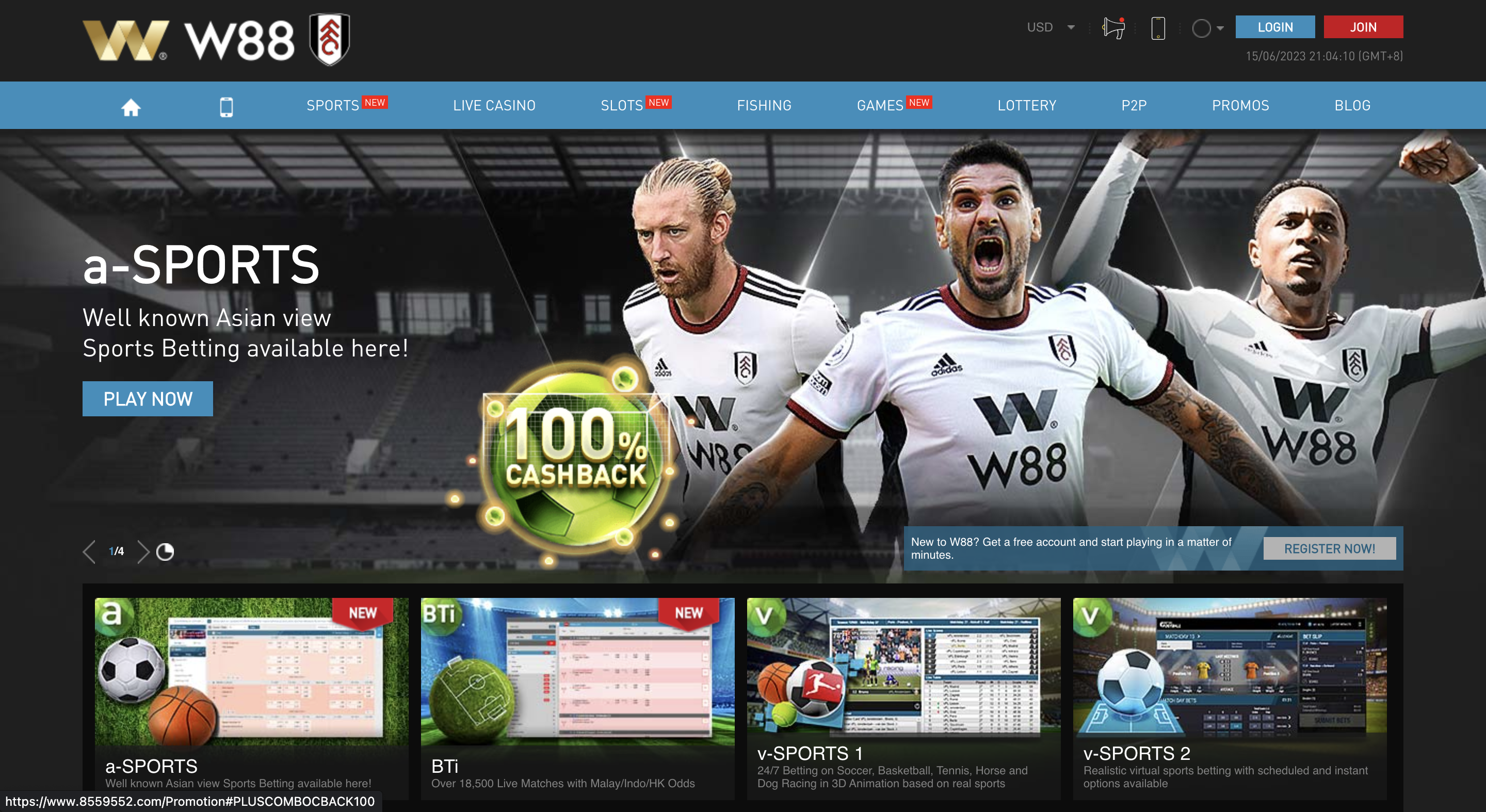 Most Popular Sports Betting Markets in W88
Our review of the bookmaker W88 revealed several popular sports betting markets:
Other Betting Markets Available at W88
Beyond the most popular sports, W88 doesn't limit its offerings. The platform boasts a diverse selection of additional sports markets, including Tennis, Baseball, Darts, Motorsport, and Badminton. Such variety ensures that all bettors, regardless of their sports preferences, find something that suits their tastes.
Live Betting in W88
Live betting, or in-play betting as it's often referred to, is one of the thrilling features offered by W88. This allows bettors to place stakes on ongoing matches, introducing an entirely new dimension to the betting process. Live betting W88 provides the opportunity for bettors to adjust their wagers according to the live action, thereby enhancing their chances of success.
Live Streaming in W88
Complementing the live betting feature, W88 offers live streaming of various sports events. This allows punters to witness the action firsthand and make well-informed decisions. W88 live streaming enhances the betting experience by providing real-time visuals of matches, creating an immersive betting environment for all participants.
Available Types of Bets on W88
W88 goes beyond traditional betting formats, providing various options to cater to a wide array of bettors. This includes everything from straight bets to more advanced betting types. Accumulator bets, where you can combine several selections into one bet, are available, potentially leading to high payouts. Moreover, bettors can explore different systems of bets, allowing them to strategize and optimize their wagering process.
Additional Betting Tools
To further aid its users, W88 provides additional tools to enhance the betting experience. Сash out feature offers punters the opportunity to settle their bets before the event's end, providing a way to secure early profits or cut losses, based on the real-time performance of their selections.
How to Place a Bet at W88?
Placing a wager at W88 is a straightforward process, designed with user-friendliness in mind. After creating an account and making a deposit using one of the multiple methods available – from bank transfers to internet banking wallets – you can proceed to select your preferred sport or event.
Navigate to the sport or event of your choice and pick the specific market you wish to bet on. Here you can make your selections and decide on the type of bet you want to place, whether it's a single, accumulator, or system bet. Once you've decided, simply enter the stake amount and click on 'Place Bet'.
How to Place a Bet at W88 with the App?
W88's mobile app brings the same smooth experience to your fingertips. To place a bet with the app, you follow a similar process. Once you've downloaded the app, you log in to your account. From there, you navigate to the sport or event you want to bet on.
As with the website, you choose your preferred market, make your selection, decide on your bet type, input your stake, and confirm by tapping 'Place Bet'. The app's intuitive design ensures an easy and efficient betting process, allowing you to enjoy the thrill of betting wherever you are. Through our test bets on a small sum, we determined that the app makes staking at W88 simple and efficient.
Our experience of betting on W88
As seasoned gamblers, our team began the betting journey with W88 by logging into our account, where we had 500 USDT ready for action. To kick off the betting experience, we decided to venture into the world of football – a universally adored sport that often provides a riveting betting arena.
Our first bet was a prematch wager on an upcoming Premier League match. We decided to utilize the double chance bet, a market that allows you to cover two out of the three potential match outcomes – a home win or draw, draw or away win, or either team to win. We bet 200 USDT on the match ending either in a draw or a win for the home team, taking into account the team's recent form and home advantage.
Next, we decided to delve into the vibrant world of eSports, specifically CS: GO, for our in-play bet. eSports have been gaining massive popularity among punters due to their unpredictable nature and high pace. Our strategy was to go big, embracing the unpredictable nature of the game. We watched the game unfold live on the W88 live stream, adding an exciting dimension to our betting process.
After carefully observing the initial game rounds and assessing team strategies, we placed a live bet, staking 300 USDT on the underdog team making a comeback. This was a significant risk given the underdog status of the team, but in-play betting is all about gauging momentum shifts, and we felt a change in the air.
These two betting strategies combined both the analytical aspect of prematch betting and the high-paced, risk-taking component of in-play betting. Our test of the bookmaker showed that W88 caters perfectly to both these experiences, and regardless of the bet outcomes, the thrill of the process was a winning experience in itself.
W88 Online Casino
The online casino at W88 is an impressive part that satisfies any gambler's desire for variety and quality. With an array of games to cater to different tastes and skill levels, the W88 casino is more than just a betting site. It's a thrilling and immersive hub of entertainment where the excitement never fades.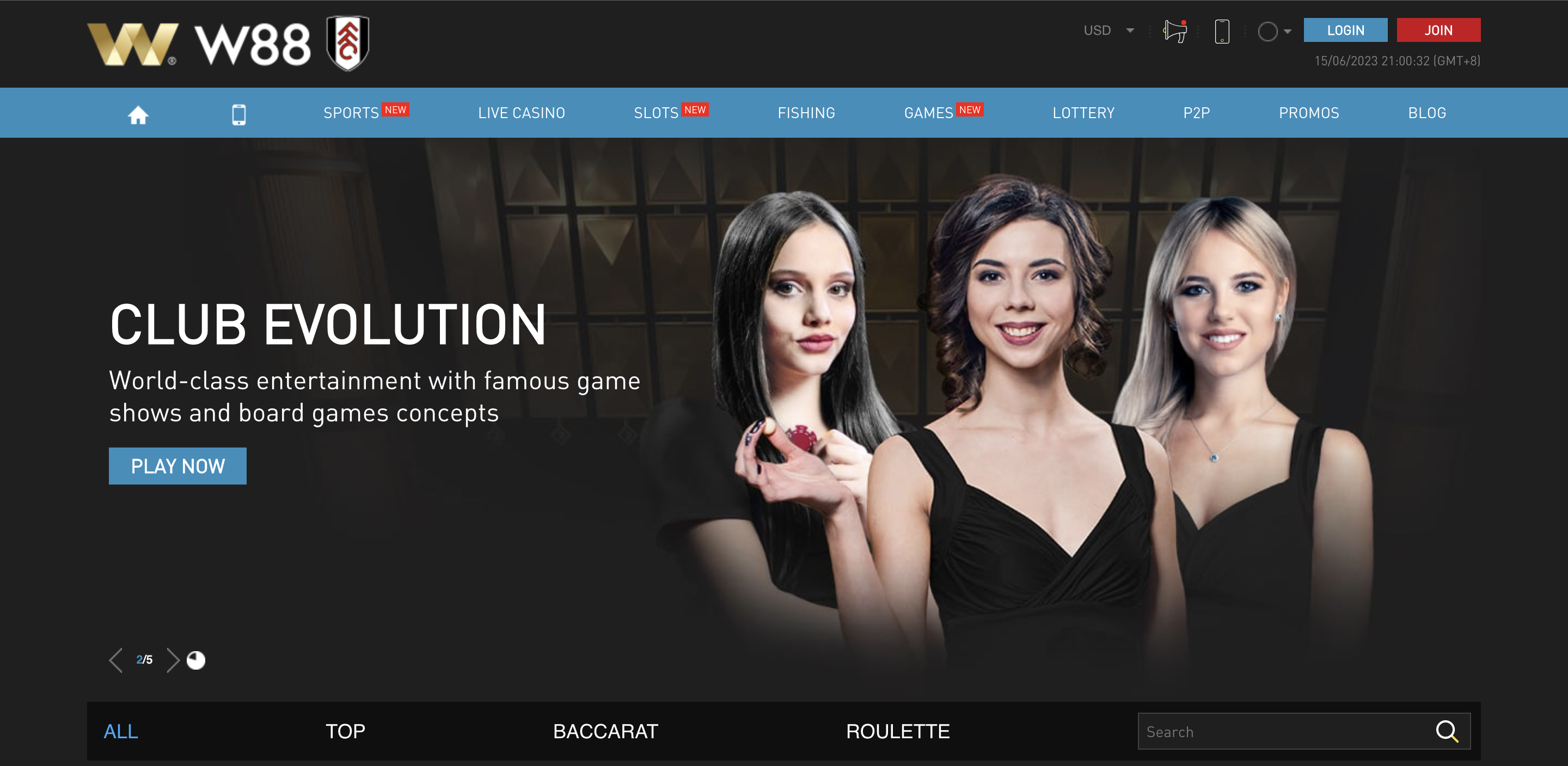 Providers of Slot Games Available at W88
W88 collaborates with some of the most renowned game developers in the gambling industry to bring its players the best of slot games. Among these game providers are industry giants like Microgaming, Pragmatic Play, and Ezugi, each bringing their unique style and gameplay mechanics to the casino.
Microgaming offers some of the most visually captivating and engaging slots in the market, while Pragmatic Play is famous for its robust game collection with numerous themes and exciting bonus features. Ezugi, on the other hand, is celebrated for its interactive live dealer games, bringing the thrill of a land-based casino right onto your screen.
Does W88 Have Asian and Hunting Slot Games?
In addition to the mainstream slot games, W88 caters to specific cultural preferences with a selection of Asian-themed slots. These games incorporate elements of Asian culture and mythology into their design, creating a familiar and immersive gaming environment for players from this region.
But the fun doesn't stop there! The W88 casino also offers hunting and fishing slot games for those seeking something out of the ordinary. These games invite players into a virtual hunt, where they can earn rewards for successful hunts.
Top Casino Games Available at W88
Beyond slots, the W88 online casino offers a robust library of traditional and modern casino games. Fans of classic table games can enjoy variations of poker, roulette, and blackjack, each presented with crisp graphics and smooth gameplay to replicate the atmosphere of a physical casino.
For those who prefer games of chance, W88's lottery and keno games provide quick, simple, and fun opportunities to win. And let's not forget about the live casino games. From baccarat to Texas hold 'em, these games, powered by Evolution and Palazzo, bring the real-time excitement of a live dealer right to your home.
Live Casino at W88
One of the standout features at W88 is undoubtedly the live casino. This section is an exciting destination where punters can take their online gambling up a notch, thanks to the 'play with real dealers' feature on W88. The live casino brings the authentic feel of traditional casino gaming right to your screen, merging the convenience of online play with the thrill of real-time interaction.
Live Games Providers at W88
The success of the W88 live casino is largely attributable to its alliance with top-tier game providers such as Ezugi and Evolution Gaming. These developers are renowned for their premium live dealer games, which are professionally hosted and streamed in high definition. Whether you are a fan of blackjack, baccarat, poker, or roulette, these providers ensure you enjoy a seamless and immersive experience when you choose to play with real dealers on W88.
Advantages of Live Casino Games at W88
Playing live dealer games at W88 offers numerous advantages. For starters, you get a more realistic and engaging gaming experience, complete with real-time interactions with professional dealers. You can also chat with other players, recreating the social aspect of a physical casino environment.
Secondly, W88 provides an extensive selection of live games, ensuring all players find something to their liking. Lastly, the live casino interface on W88 is user-friendly, enabling players to navigate easily, place their bets, and interact with dealers and other players without any hassle.
Instant Games at W88
While W88 presents an extensive range of betting options and casino games, it's essential to mention that as of our current review, W88 does not offer instant games such as Aviator or JetX. However, the platform continually updates its offerings to cater to the diverse needs of its players. It's always worth checking back frequently for any additions or changes to their gaming portfolio.
How to Start Playing at Casino W88
Embarking on your gaming journey at W88 is a straightforward process. First, navigate to the W88 website and create a new account. This involves providing some basic information, choosing a password, and agreeing to the terms and conditions. Once your account is set up, you can browse through the extensive game selection, choose the one you prefer, and begin placing your wagers.
How to Start Playing at W88 via App?
If you prefer to game on the go, W88 has got you covered with their dedicated app. After you've set up your account on the website, simply head to your device's app store, search for 'W88', and download the application. Once installed, log in using your account credentials, deposit your preferred amount, and voila, you're ready to start playing your favorite casino games anytime, anywhere.
Our experience of gamble in casino W88
For online casino experience at W88, our team began with an allocated sum of 500 USDT, and we selected two distinct games for our test run – the popular slot game, 'Monkey Bonanza,' and a classic choice of 'Live Roulette'.
With a keen sense of anticipation, we launched Monkey Bonanza. The game's vibrant aesthetics and charming soundtrack instantly won us over. We decided to wager 100 USDT right off the bat, believing in the high unpredictability of slot games. After a few spins, we hit a sizeable bonus that multiplied our stake, leading to an unexpected windfall. Our strategy here was simple – bet big, leverage the game's high volatility, and hope for the best.
After our thrilling slot game experience, we shifted gears and delved into the live casino. We chose Live Roulette, intending to harness our expertise in the game and its relatively predictable nature. Armed with the remaining 400 USDT, we placed 50 USDT on 'red,' mindful of the classic rule – 'the safest bets in roulette are the ones that pay out 1:1.' A couple of spins later, the wheel favored us, and our gamble paid off, yielding a tidy profit.
However, the tables turned soon. Feeling confident, we made a larger bet, placing 200 USDT on a single number. In hindsight, this was a risk, given the low probability of hitting a specific number in roulette. The roulette wheel spun, the ball bounced around, and alas, it didn't land on our chosen number.
This immersive online casino experience at W88 showcased the site's diverse game offerings and their unpredictable nature. It reminded us that while betting big can sometimes lead to significant rewards, it's always crucial to play responsibly and within one's means.
W88 Online Poker Room
Diving further into the diverse offerings of W88, one can't help but notice their impressive online poker room. Players who enjoy the strategic intricacies of poker will find themselves at home in this elegantly designed platform.
Poker Types available on W88
The variety of poker games available at W88 is extensive, providing ample opportunities for players of all experience levels. Players can engage in the classic Texas Hold'em, the game most people envision when they think of poker. This variant is famous for its easy-to-learn but challenging-to-master gameplay, making it an excellent fit for both novices and seasoned players. At W88 you can also find Pok Deng, Bai Cao, Super Bull, Gao Gae and other types of rooms with card and board games.
Poker Tournaments at W88
Poker enthusiasts will be thrilled to find that W88 not only provides an array of poker types but also organizes regular poker tournaments. These events range from small, casual contests, perfect for poker newbies looking to get their feet wet, to high-stakes tournaments for more experienced players seeking a thrilling challenge.
'100% W88 on casino & keno' Welcome Bonus
W88 is recognized not just for its wide variety of games but also for the generous welcome bonus it offers to new members. For enthusiasts of casino and keno games, a 100% welcome bonus awaits you, promising an enhanced gaming experience. This lucrative offer grants a bonus of up to RM1,288, one of the most competitive in the online betting world, to all new members who deposit a minimum of RM30.

The bonus can be used on a diverse selection of games offered by the W88 Club W Grand Casino and Keno games on the site, making it a compelling starting point for newcomers. Depending on your gaming preferences, you can choose to claim the offer using one of the following W88 promo codes:  
For Club W: Promo Code "MYCLUB" 

For Keno: Promo Code "MYKENO"
'100% W88 on casino & keno' Wagering Requirements
However, there are a few requirements to keep in mind. This promotion is only valid for new, verified members and can be claimed only once. To kickstart the claiming process, a deposit of RM30 must be made to the main wallet. The money should then be transferred to the Club W or lottery wallet using the respective W88 promo code.
Once you've claimed one of the W88 bonus codes, a rollover requirement of 15 times the bonus amount needs to be fulfilled. It's essential to note that this rollover must be completed within 30 days of claiming the promotion bonus. This enticing welcome bonus from W88 presents new members with a unique opportunity to maximize their initial deposit and explore the diverse games on offer.
'W88 100% Sports Betting' Welcome Bonus
W88 extends a warm welcome to sports betting enthusiasts with a generous 100% bonus on sports products. As a new member, you can claim up to RM1,088 to play on W88's sportsbooks with just a minimum deposit of RM30. This promotion enhances your online sports betting experience, enabling you to place bets with increased stakes and withdraw sizeable winnings.
The sportsbook bonus applies to both A-Sports and E-Sports, offering the best and updated odds across diverse sports markets. A-Sports caters to the Asian style, while E-Sports is tailored to the European style. Here are the promo codes:
For A-Sports: Promo Code "MYBOLA"

For E-Sports: Promo Code "MYBOLE"
'W88 100% Sports Betting' Wagering Requirements
There are specific conditions associated with the bonus. Firstly, the sportsbook bonus is solely for new member accounts and can be claimed only once. Post registration, you must deposit a minimum of RM30 in your main wallet to be eligible for the promotion.
Please remember, only one code from the table above can be used to claim the bonus, so ensure you read the terms and conditions thoroughly. Additionally, a rollover requirement of 15 times the bonus amount must be met within 30 days of applying for the promotion.
'W88 100% Slot gaming' Welcome Bonus
W88 warmly welcomes slot gaming enthusiasts with an enticing 100% bonus up to RM600 on slot games online. This exceptional bonus offer is a real boon for those who relish the thrill and fast pace of online slot games.
With a minimum deposit of RM30, this welcome bonus allows you to explore a wide array of fun slot games provided by top game room providers. Despite the requirement of selecting just one W88 promo code, this bonus ensures an immersive and full-on gaming experience. Here are the promo codes:
Gameplay Interactive: W100SBV20

Playtech: W100SPZ20

Booongo: W100BO20

Microgaming: W100SMM20

Play'n'Go: W100SGAP20

Pragmatic Play: W100PP20

Qtech: W100QT20

Spadegaming: W100SP20

Evolution: W100EV25

Genesis: W100GN25

TopTrend Gaming: W100TG25

YGGdrasil: W100YG25
'W88 100% Slot gaming' Wagering Requirements
There are specific conditions associated with the bonus. The 100% bonus up to RM600 is exclusive to new accounts and can be applied only once. A minimum deposit of RM30 in your main wallet is necessary to kick-start the claiming process for the W88 slot bonus.
Only one W88 promo code can be utilized to play slot games from a single game room provider using the provided bonus amount. The bonus amount must meet a rollover requirement of 15 times within 30 days of claiming the W88 promotion bonus.
W88 Bonuses and Promotions
W88 offers an enticing array of bonuses and promotions, tailored to cater to the diverse interests of its users. The gamut of offers ranges from lucrative welcome bonuses designed to give new users a boost, to ongoing promotions meant to reward regular players for their loyalty.
W88 free credit on account verification
The first bonus we're going to discuss is one that really sets W88 apart: it's their offer of free credit upon account verification. Uniquely, W88 is ready to award new members with up to RM30, simply for completing the account verification process!
To understand the significance of this, keep in mind that this is a rarity in the online betting world. Most sites do not offer new member register free credit bonuses just for account verification. With W88, once your account details have been validated, you'll find an additional bonus of up to RM30 waiting in your account.
'W88 free credit' Wagering Requirements
There are a few key steps to follow to avail of this free credit. Firstly, you'll need to create a strong password for your account and back it up with a security question known only to you. Next, fill in your bank details accurately. W88 allows you to register up to five bank accounts for greater flexibility.
In the final step, verify your mobile number and email address. It's important to do this, as a verified number and email address keep you connected to important notifications and account-related information from W88.
After the verification process is complete, the RM30 free credit will appear in your account, albeit locked. To unlock it, you need to deposit another RM30 and roll over the amount once. Once your wallet accumulates RM100 from playing games, making a successful withdrawal will unlock the RM30 new member register free credit.
20% up to RM600 W88 promo for sports, casino & keno games
Let's move onto our next noteworthy bonus: the multi-faceted W88 promotion offering 20% up to RM600, applicable to sports games, casino games, and Keno lottery games. With this generous bonus, you're given the flexibility to indulge in your preferred gaming product, whether that's betting on sports, trying your luck with casino games, or enjoying the excitement of Keno.
This W88 bonus can be utilized across three key sections of the W88 platform: the A Sports sportsbook, the W88 Live Casino, and Keno games. To benefit from this bonus, ensure that you use the corresponding W88 promo code when making your first deposit. Each product has its own promo code, and using the right one could land you up to RM600 in your W88 account instantly.
a-SPORTS: W20WS

LOTTERY: W20WK2

Club W Grand: W20CA
'Promo for sports, casino & keno games' Wagering Requirements
However, there are certain requirements to keep in mind. This promotion is exclusively for new members who have yet to make their first deposit. To kickstart the claiming process, you'll need to deposit a minimum of RM30 into your account. You can only claim one product bonus code for this promotion, and it can be used only once per account. The rollover requirement for this bonus is 15 times, which must be completed within 30 days of claiming the bonus.
VIP loyalty program in  W88
W88 is no offer VIP loyalty program offered at this time. While this may come as a surprise to some, it's crucial to remember that W88 provides an array of other enticing promotions and bonuses that can enhance your gaming experience.
W88 Payment Methods
Navigating through the world of online gaming platforms can sometimes be daunting, particularly when it comes to making financial transactions. In this regard, the 'W88' bookmaker and online casino stands out for its user-friendly approach, providing a range of efficient and secure payment methods.
Available Deposit and Withdrawal Methods at W88
The available deposit methods at W88 include traditional options such as bank transfers and credit or debit cards (VISA, Mastercard). Additionally, W88 caters to a variety of e-wallet solutions including Neteller, Skrill, and ecoPayz. Local bank transfer is also available for certain regions, enhancing the accessibility for players worldwide.
Understanding the transaction limits is crucial for a smooth gaming experience. The minimum deposit at W88 is set at a reasonably low limit, accommodating players of all budget sizes. Similarly, the minimum withdrawal at W88 is also player-friendly, allowing gamers to cash out their winnings with ease.
| | |
| --- | --- |
| Minimum deposit  | RM30 |
| Maximum deposit  | RM30,000 |
| Minimum withdrawal  | RM30 |
| Maximum withdrawal  | RM100,000 |
How to Deposit Money at W88?
Depositing money at W88 is straightforward and swift. After logging into your account, navigate to the 'Banking' section and select 'Deposit'. You will then be prompted to choose your preferred deposit method at W88, enter the amount, and confirm the transaction. The funds will usually be available in your account instantly or within a few minutes, depending on the method chosen.
How to Withdraw Money from W88?
Withdrawing your winnings from W88 is also an uncomplicated process. From the 'Banking' section, this time select 'Withdrawal'. Next, choose one of the available withdrawal methods at W88, specify the amount you wish to withdraw, and confirm your request. Processing times may vary, though W88 aims to process withdrawals as quickly as possible.
Registration at W88: How to Sign Up?
Joining an online casino or bookmaker can sometimes seem a daunting task. However, the process of signing up for W88, a popular online casino and bookmaker, is surprisingly straightforward and quick. Here is a step-by-step guide on how to register on the W88 official site, or its mirror site using our link.
Step 1: Visit W88. Your journey starts by navigating to the official W88 site or its mirror site. This can be done by typing the URL into your web browser or clicking on our provided link.
Step 2: Sign Up. Once on the website, you'll notice the 'Join' button located at the top-right corner of the homepage. Clicking this will take you to the registration page. Here, you'll be prompted to fill out a form with details such as your name, email address, and password. It's important to ensure the accuracy of these details for successful registration. After filling out the form, click 'Sign Up' to create your W88 login credentials.
Step 3: Make a Deposit. After successfully registering, you'll need to make a deposit to start playing. Head over to the 'Banking' section, select your preferred deposit method, and follow the instructions to complete the transaction. The minimum deposit amount will be clearly indicated.
Step 4: Place a Stakes. With your account now funded, you're ready to start placing bets. Navigate to the games or sportsbook section and choose the event you'd like to bet on. Enter the amount you wish to stake, double-check your selection, and confirm the bet.
Registration Requirements
During the sign up process at W88, you'll need to provide some personal details for identification and account security purposes. This typically includes your full name, date of birth, email address, and phone number. Once you've completed your registration on W88's official site, you'll receive an email to verify your account.
How to Register with Mobile App?
If you're on the go, you can also complete the W88 sign in process through their mobile app. Just download the app from the website or your device's app store, open it, and select 'Join'. The rest of the process is the same as registering on the website: you fill out the form, verify your email, and you're ready to go.

How to Get a Welcome Bonus W88 with Registration?
Getting a welcome bonus with W88 is a great way to start your gaming journey. After you sign up for W88 and make your first deposit, you'll be eligible for the welcome bonus. To claim it, visit the 'Promotions' section, select the welcome bonus, and follow the instructions provided.
W88 Account Verification Instruction
Once you've completed the registration process with W88, one of the key steps towards ensuring a seamless betting experience is to verify your account. This step is crucial as it not only strengthens the security of your account but also unlocks full access to all the features and promotions offered by W88.
To verify your account, login to your W88 account and navigate to the 'Account' section. Here, you'll find an option named 'Verify Account'. Click on it to start the verification process. You will be asked to provide some identification documents. This typically includes a copy of a government-issued ID, such as a passport or driver's license, and a proof of address, like a utility bill or bank statement.
Once you've uploaded the necessary documents, W88's security team will review them. This process may take up to 24-48 hours. When the review is complete, you'll receive a notification confirming the status of your verification. If successful, you'll have unrestricted access to all of W88's services. If there's a problem, W88's customer service team is available 24/7 to assist you.
W88 Mobile App for Android and iOS
If you're seeking an immersive online betting and casino experience, the W88 mobile app offers just that for Android and iOS users. Equipped with a user-friendly interface and state-of-the-art features, the app enables you to enjoy your favourite games, place bets, and manage your account seamlessly.
System Requirements W88 App for Android and iOS
The app W88 for Android operates efficiently on devices with Android 5.0 and above, while the app W88 for iOS requires iOS 10.0 or later. To ensure smooth and uninterrupted gaming, it's recommended to have at least 1GB of free storage and a stable internet connection.
How to download W88 APK for Android?
To download W88 APK on Android, start by visiting the official W88 website using your mobile browser. Scroll down the homepage and select 'Mobile Applications'. Here, click on 'Android App' and the APK download will initiate automatically. Please note, you may need to adjust your phone settings to allow downloads from unknown sources.
How to install W88 App on Android?
Once you've downloaded the APK file, navigate to your device's download folder and tap on the APK file to install the W88 app. A prompt may appear seeking permission to install the app, select 'Allow' to proceed. The installation process should begin, and within a few moments, the W88 app will be ready for use on your Android device.
How to download and install W88 App on iOS?
For iOS users, the W88 app can be downloaded directly from the App Store. Simply type 'W88' into the search bar and select the app from the search results. Click on 'Get' to start the download and the app will automatically install on your device once the download is complete.
How to Update W88 App?
To keep your W88 mobile experience optimal, it's essential to keep the app updated. On Android, the app will prompt you when an update is available. You'll need to download the updated APK file from the website and install it as described above. For iOS users, any available updates will appear in the App Store under 'Updates'. Simply click 'Update' next to the W88 app to install the latest version.
Tips and Best Practice for Playing at W88
Playing at W88, a leading bookmaker and online casino, can be an exciting and rewarding experience, especially if you follow some tried and tested best practices. Here are some handy tips to enhance your gaming and betting experience.
Firstly, familiarize yourself with the games or sports you are planning to bet on. Knowledge is power when it comes to betting. Understanding the rules, strategies, and odds can significantly increase your chances of winning.
Secondly, make full use of the bonuses and promotions offered by W88. These offers are designed to give you an added advantage. However, be sure to read and understand the terms and conditions associated with these bonuses to avoid any confusion later.
Managing your bankroll effectively is another critical aspect of responsible gaming. Set a budget and stick to it, irrespective of wins or losses. This approach prevents you from overspending and helps maintain a healthy balance between your gaming activities and other financial responsibilities.
Lastly, take regular breaks to avoid fatigue. Continuous play can lead to exhaustion, reducing your ability to make informed decisions. Therefore, ensuring that you take breaks and refresh your mind will make your gaming experience more enjoyable.
In summary, knowledge, careful use of bonuses, disciplined financial management, and taking regular breaks are key elements of a successful gaming experience at W88.
W88 Mobile Website
Navigating the world of online betting is simplified with the W88 Mobile Website. Designed for ease of use, it brings the full spectrum of W88's casino games and sports betting options to the convenience of your smartphone or tablet. The mobile site maintains the sleek design and intuitive interface of the desktop version, making it easy for users to transition between platforms.
How to Use the W88 Mobile Website?
Using the W88 mobile website is straightforward. First, open the browser on your mobile device and type in the W88 URL. The website automatically adjusts to fit your screen size, providing you with an optimized mobile experience. Here, you can log in to your account using your W88 login credentials, and navigate through the site as you would on your desktop. You can access the full range of betting options, manage your account, deposit or withdraw funds, and even contact customer support if necessary.
W88 License and Fairness
Transparency and fairness are fundamental values at W88. The platform operates under a license issued by the Philippine Amusement and Gaming Corporation (PAGCOR), ensuring legal compliance and ethical gaming practices. W88 is dedicated to maintaining a fair and transparent environment, where players can enjoy their gaming experience with peace of mind. The games on the platform use Random Number Generators (RNGs) to ensure unbiased outcomes, and the bookmaker is regularly audited by independent organizations for fairness.
W88 Customer Support
Understanding the importance of effective communication, W88 offers robust customer support. Whether you need help with registration, deposits, withdrawals, or simply have a query, the W88 customer support team is ready to assist. Support is accessible via multiple channels including live chat, phone, and email. The live chat option is available 24/7 and offers instant response to customer queries. The support staff is professional, friendly, and dedicated to resolving customer issues promptly and effectively.
Final Opinion on W88 as bookmaker and online casino
W88 stands out as a reputable and reliable bookmaker and online casino. With its diverse selection of casino games, including slots, video slots, table games, and live games, players are offered a comprehensive gaming experience. The availability of multiple mirror sites ensures easy access to the platform, while the dedicated mobile app allows users to enjoy their favorite games on the go. The strong support for poker rooms caters to poker enthusiasts, further enhancing the overall offering. However, it is worth noting that W88 has some limitations, such as offering only one withdrawal method and not supporting cryptocurrencies. Additionally, access restrictions in certain countries may limit availability. Despite these drawbacks, W88 remains a trusted choice for bettors and casino enthusiasts alike.
Read this page in other languages:
Pros
Diverse Selection of Casino Games: W88 offers a wide variety of slots, video slots, table games, and live games, providing players with an extensive gaming experience.

Multiple Mirror Sites: W88 provides several mirror sites, ensuring easy access to the platform even if the main site is inaccessible.

Mobile App: With a dedicated mobile app, W88 allows users to enjoy their favorite games and betting options on the go.

Strong Poker Room Support: The platform offers support for poker rooms, catering to poker enthusiasts and providing an immersive poker experience.

Reliable and Trustworthy: W88 boasts a large user base and has established itself as a reputable and reliable bookmaker, ensuring a secure and enjoyable betting environment.
Cons
Limited Withdrawal Options: W88 offers only one withdrawal method, which may inconvenience some users who prefer alternative payment options.

No Support for Cryptocurrencies: The platform currently does not support cryptocurrencies for deposits or withdrawals, limiting the payment options for users.

Access Restrictions in Some Countries: W88 may face access restrictions in certain countries, potentially limiting its availability to players in those regions.