In this comprehensive review, we delve deep into the intricacies of Sbobet, a renowned bookmaker and online casino. Aimed at current and potential players, we guide you through all vital aspects, from registration and deposit methods to game offerings and customer support. Highlighting key tips and best practices for playing, our review balances pros and cons, providing an objective look at the user experience. We address the reliability of the platform, the diversity of betting options, and potential areas for improvement. For those interested in mobile gaming, we discuss Sbobet's mobile website capabilities. This article is suitable for those seeking a thorough understanding of Sbobet's offerings and its position in the online betting market.
Review of the bookmaker and online casino SBOBET is also available in other languages:
Behind the Scenes: The Sbobet Story
Established in 2009, Sbobet has grown to become one of the leading bookmakers in the online gambling industry. With licenses from PAGCOR and the Isle of Man Government, Sbobet provides an array of sports betting markets, ranging from popular games like football, tennis, and basketball, to niche sports such as badminton and Gaelic football. However, Sbobet's offerings aren't just confined to sports betting. The platform also offers an expansive online casino, adorned with games from top-notch providers like Microgaming, Red Tiger, and Play'n Go, among others.
The Sbobet Advantage: Reasons to Dive In
When it comes to the advantages of choosing Sbobet, the list is quite extensive. One of the unique strengths of this bookmaker is its diverse sports betting markets. With Sbobet, you can place bets on an impressive array of sports, satisfying the cravings of even the most discerning sports betting aficionados. Moreover, their online casino is replete with exhilarating games such as Keno, Lucky Neko, and Football Strike, offering an adrenaline rush like no other.
On top of that, Sbobet's inclusive payment methods make transactions a breeze. From Bitcoin to Visa and MasterCard, and even Indian specific options like JioMoney and PayTM, Sbobet's commitment to making deposits and withdrawals as convenient as possible is a major plus.
Finally, the customer support at Sbobet is truly top-tier. With a range of options including live chat, email, phone, and even WhatsApp, Sbobet ensures help is always within reach.
A Deep Dive into Sbobet's Online Sports Betting Landscape
Sbobet sportsbook has earned a reputation in the betting industry for its wide array of sports betting options. Whether you're an experienced bettor or a novice dipping your toes into the world of sports betting, Sbobet provides an ideal platform to start. Offering not just the typical sports like football, basketball, and tennis, Sbobet also caters to enthusiasts of less mainstream sports like Gaelic football, futsal, and even winter sports. Thus, the bookmaker Sbobet offers a perfect blend of diversity and quality in its sports betting platform.
\

Captivating Sports Betting Markets in Sbobet
Among the plethora of sports betting markets on the Sbobet betting site, some stand out for their popularity. Football, with its universal appeal, naturally tops the list. From major leagues like the Premier League and Champions League to national tournaments, betting on Sbobet for football is a thrilling experience. Tennis and basketball follow closely, offering a myriad of betting options for both grand slams and NBA games. The appeal of Sbobet doesn't stop there; its offerings also extend to niche markets like Muay Thai, Gaelic Football, and winter sports, making it a hot destination for enthusiasts of all sports genres.
Making Your Mark: How to Place Bets at Sbobet?
Placing Sbobet bets is straightforward and user-friendly, catering to both seasoned bettors and newcomers alike. Here's a simple guide on how to do it:
Start by creating an account on the Sbobet betting site. Follow the instructions provided, and ensure you provide accurate information.

After successful registration, navigate to the sportsbook section. Here you'll find a list of all available sports.

Choose the sport you want to bet on. The site will display all the available matches.

Once you've selected a match, the site will show you the different markets available for that particular game.

After choosing the desired market, input the amount you want to wager in the bet slip.

Finally, click on 'Place Bet' to finalize your bet.
Exploring the Array of Betting Options at Sbobet
Sbobet stands out not just for its broad range of sports markets but also for the diversity of bet types it offers to its users. It presents a wealth of choices, giving you the flexibility to strategize and potentially maximize your winnings.
Firstly, Sbobet offers Mix Parlay or, as it is commonly known, accumulator bets. These bets allow you to bundle several different selections into a single wager. It enhances the potential returns but requires all selections to be successful to win. While this adds a layer of risk, the potential high reward is what makes accumulator bets an enticing choice for many bettors.
Next, Sbobet offers Handicap betting, a unique option that adds a thrilling spin to the usual win-draw-win bet. Here, one team is given a head start (or a deficit) which they must overcome for the bet to payout. It's a fantastic choice for games where there is a clear favorite, as it levels the playing field and provides more competitive odds.
Furthermore, Sbobet is also known for its systems of bets. A system bet includes several accumulator bets but doesn't require all selections to be successful to win. It's a safer option compared to standard accumulator bets, providing some leeway for error.
Our experience of betting on Sbobet sportsbook
Our team are bettors with a 500 USDT balance on Sbobet, we chose to spread this across two diverse markets – a pre-match football bet and an in-play bet on a cricket match.
Firstly, we directed 200 USDT towards a pre-match bet on an upcoming Premier League football match between Chelsea and Liverpool. Given the fiercely competitive nature of these two sides, we decided to opt for a 'Both Teams to Score' bet. It's a bet type that negates the unpredictability of the final outcome, focusing instead on both teams' attacking prowess. We believed that given the attacking talent on both sides, it's highly likely that both will score, making it a rational choice.
Fast forward to match day, and indeed, both teams scored in a thrilling encounter that ended 2-2. Our calculated risk paid off handsomely, and we successfully won this bet.
Next, we set our sights on an in-play cricket bet during an IPL match between Mumbai Indians and Kolkata Knight Riders. With 300 USDT in our balance and the match already underway, we observed the first few overs before making a move. The pitch seemed conducive to high scoring, and the Mumbai Indians were off to a strong start.
We decided to place an 'Over/Under' bet, predicting the total number of runs that would be scored in the match. The line was set at 320.5 runs, and we opted to go 'Over', backing both teams to score more than this combined. We staked 100 USDT on this outcome.
The remaining 200 USDT, we bet on a live 'Moneyline' bet, backing the Mumbai Indians to win. This was a larger risk given the unpredictability of T20 cricket, but we felt confident in our decision based on their strong start.
As the match progressed, the Mumbai Indians built a massive total, and the Knight Riders struggled to keep pace. Our Over/Under bet landed comfortably, and the Mumbai Indians won the match, making our Moneyline bet a success as well.
Our experience showcases the exciting betting experience offered by Sbobet, offering a thrilling ride irrespective of the sports market or bet type chosen. Our strategy to diversify our bets across different markets and types of bets paid off in this instance, highlighting the importance of a well-thought-out betting strategy.
Journey Through the Exciting Realm of Sbobet Online Casino and Slot Games
For those who revel in the thrill of casinos, the Sbobet online casino delivers a remarkable and exhilarating experience right at your fingertips. Offering a wide range of games, powered by some of the most reputed software providers like Microgaming, Red Tiger, and PG Soft, the Sbobet online casino seamlessly brings the allure of Vegas to your home.
Sbobet provides an expansive roster of casino games including table games, slots, and even live dealer games. Players can immerse themselves in classic games such as Blackjack and Roulette, or try their luck on numerous slot games, each uniquely themed and boasting rich graphics and sound effects. Each game offers a fair and transparent gambling environment, adhering to the high standards set by Sbobet's gambling licenses.
Sbobet Online Casino Games
The Sbobet casino hosts a plethora of top games that continually captivate players' interest. The standout games include Keno, an easy-to-play lottery-style game; Football Strike, an exciting sports-themed game; and Lucky Neko, a slot game set in an enchanting Far East universe.
For those who enjoy skill-based games, Destiny of Sun and Moon, a strategic game, tests your decision-making skills, while Lucky Wheel and Cash or Crash are perfect for those who enjoy the sheer thrill of chance. Toto Draw, a number-based game, and the thematic Candy Bonanza, among others, round out the top game offerings on Sbobet.
Initiating Your Casino Journey with Sbobet
Starting your gambling adventure on the Sbobet casino site is straightforward. Here's a simple step-by-step guide:
Visit the Sbobet website and register an account. It's a quick and simple process requiring minimal personal details.

Make your initial deposit using one of the numerous payment methods available, including Bitcoin, GooglePay, and Visa.

Navigate to the casino section, browse through the vast selection of games, and choose the one that piques your interest.

Start playing! Be sure to set a budget and stick to it to ensure a responsible and fun gaming experience.
A Glimpse into the Thrilling World of Sbobet's Live Casino
Sbobet's Live Casino platform is a breathtaking fusion of real-life casino ambiance and online convenience, offering an unforgettable immersive experience. As you venture into the live casino on Sbobet, you are greeted by the charm of real-life dealers, lending an authentic touch to your gambling journey.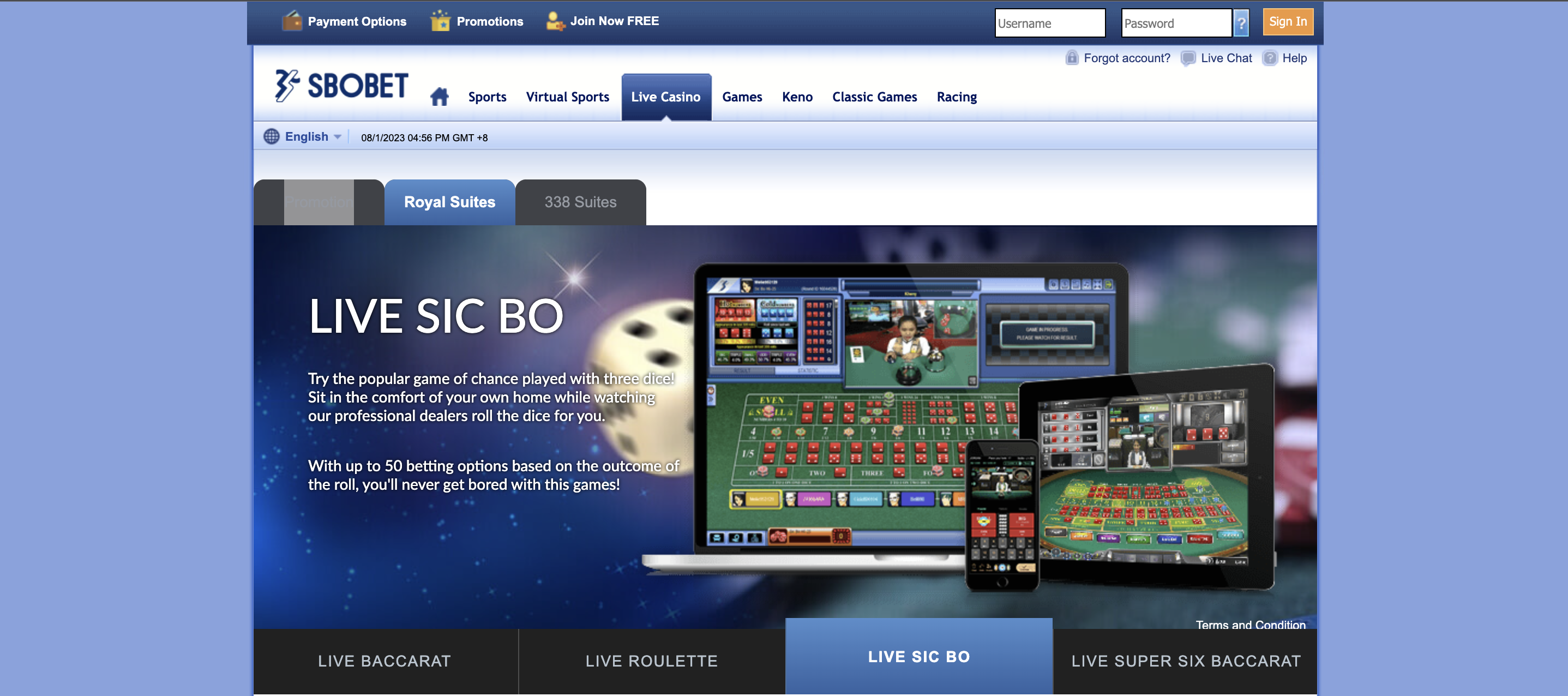 The Live Casino at Sbobet brings a myriad of classic games to life, such as Roulette, Baccarat, and Blackjack. Each game is steered by professional dealers who not only deal cards and spin wheels, but also engage with players, keeping the gaming atmosphere lively and entertaining. These live dealer games at Sbobet are designed to replicate the exact casino experience with high-definition streaming, ensuring you don't miss a single second of the action.
What sets Sbobet's live dealer games apart is the uncompromising dedication to security and fairness. Each live game operates under stringent regulations and is monitored to maintain an unbiased gaming environment, allowing players to gamble with confidence.
Whether you're a seasoned player or new to the world of live casinos, Sbobet offers various table limits to suit all budgets, meaning everyone can enjoy the thrill of playing with real dealers on Sbobet. Regardless of the time or place, Sbobet's live casino is ready to offer a thrilling, interactive gambling experience at your convenience.
Our experience of gamble in casino Sbobet
Embarking on our Sbobet online casino adventure, our team deposit a bankroll of 500 USDT. Deciding to try our luck, we dove into the extensive catalog of games. After careful deliberation, we chose to play one slot game and one live casino game, namely, 'Gonzo's Quest' from NetEnt and Live Roulette from Evolution. Here's how our adventure unfolded.
We started with 'Gonzo's Quest,' a vibrant, adventure-themed slot game renowned for its stunning graphics and immersive gameplay. Understanding the high variability of slot games, we allocated 150 USDT to this game, aiming for a balance between potential reward and risk management. We set our bet level and coin value according to our budget and spun the reels. The Avalanche feature in 'Gonzo's Quest,' where symbols in winning combinations explode and are replaced, leading to potential multiple wins, added an unpredictable thrill to our gaming experience. After a series of small wins and losses, we hit a Free Fall symbol combination, triggering ten free spins and a decent win. Our 'Gonzo's Quest' adventure concluded with a moderate profit, adding to our initial bankroll.
Having tasted the thrill of slots, we moved on to the Live Roulette, a classic live casino game that offers a real-life casino experience with a professional dealer and a live chat function. We allocated 200 USDT to this game, betting both on red/black even money bets for consistent, small returns and occasionally on single numbers for high-risk, high-reward play. This strategy added an extra layer of excitement and unpredictability. With each spin of the wheel, the tension mounted. While our even money bets mostly broke even, a successful single number bet resulted in a considerable win, making our live roulette experience both thrilling and profitable.
At the end of our gaming session, our calculated betting strategy and a bit of luck brought us a satisfying profit, demonstrating the potential for both entertainment and gains at Sbobet's online casino. Whether your preference is for slot games' bright lights and exciting features or the immersive and interactive experience of live casino games, Sbobet caters to all kinds of casino enthusiasts.
Unpacking the Sbobet Sign-up Reward
For new entrants, the Sbobet welcome bonus holds incredible value. With the possibility of a 100% sports deposit bonus up to INR 10,000, newcomers can double their initial deposit and enhance their betting experience. To claim this, simply enter the designated Sbobet promocode on the registration page. Once your initial deposit is completed, your account gets automatically credited with the bonus. However, it's essential to know that both the deposit and bonus amount require a rollover 15 times before any withdrawal is permitted.
A Wealth of Promotions at Sbobet
But the fun doesn't stop with the Sbobet welcome bonus. There's a myriad of Sbobet bonuses and promotions ready to be seized. Casino enthusiasts can benefit from the Casino Deposit Bonus, which matches 100% of your initial deposit up to INR 5,000, a treat to truly amplify your Casino experience. Note that this bonus comes with a 30x rollover on both deposit and bonus amount.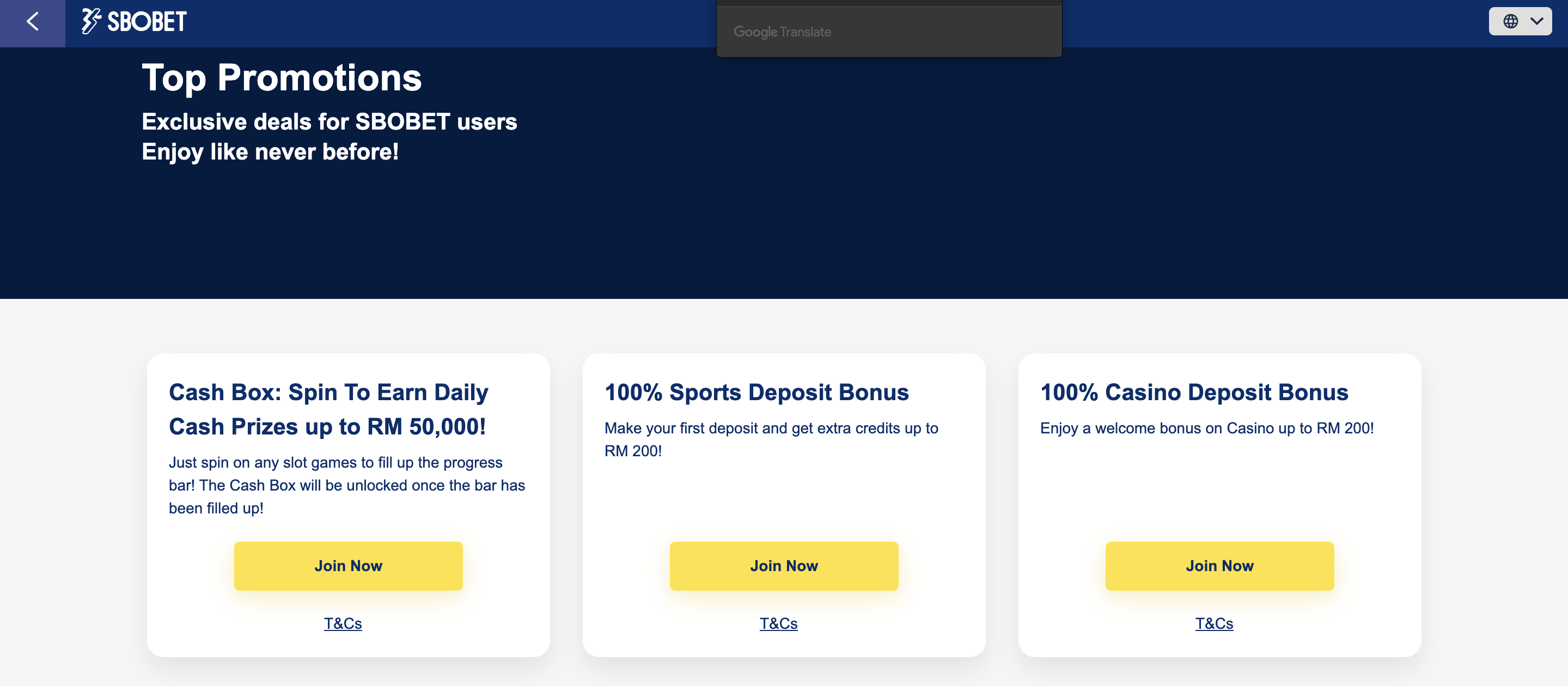 Another exciting promotion is the Lucky Twins Tournament. Running from 10th to 24th July 2023, this event offers daily cash prizes worth up to INR 250,000. Participation requires playing on selected Microgaming games during the tournament period. The player with the highest turnover, based on total bet amount, takes home the top prize.
Moreover, between 23rd to 30th July 2023, Sbobet runs a Funky Games Tournament, with total cash prizes up to INR 250,000. Play on specific games during the tournament period to participate and stake your claim on daily prizes.
Unlocking the Benefits with Sbobet Promo Codes
One can't overlook the allure of Sbobet promo codes. These are key to unlocking the fantastic Sbobet bonuses. To claim the welcome bonus or the Casino Deposit Bonus, players must enter the promo code on the registration page. This code prompts the system to credit the appropriate bonus into your account upon the completion of your initial deposit.
Remember, all promotions and bonuses come with specific terms and conditions, like rollover requirements, and withdrawal restrictions until the completion of rollovers. Also, only one promotion can be active at a time, so choose wisely. Once you're aware of these rules, the exciting world of Sbobet promocode benefits can truly be enjoyed to its fullest extent.
Navigating the Transaction Landscape at Sbobet
Sbobet provides an expansive range of options for both deposits and withdrawals, offering convenience and flexibility to its users. These deposit methods at Sbobet include traditional banking methods such as NetBanking, Visa, and MasterCard, as well as numerous digital payment platforms like GooglePay, JioMoney, MobiKwik, PhonePe, UPI, and PayTM. For cryptocurrency enthusiasts, Sbobet accepts both Bitcoin and Tether, further broadening the horizon of possibilities.
The minimum deposit at Sbobet is set at a very accessible INR 100, while the maximum deposit extends to a considerable INR 200,000. Such a wide range allows for both casual bettors and high rollers to enjoy their betting experience at their comfort level.
When it's time to enjoy the fruits of your bets, Sbobet offers a comprehensive list of withdrawal methods, which include popular e-wallets like Skrill, NETELLER, and ecoPayz, alongside the previously mentioned options. The minimum withdraw limit at Sbobet is INR 500, ensuring that even smaller wins can be withdrawn without an issue. The maximum withdrawal limit at Sbobet can reach up to 200,000 EUR, depending on the chosen provider, a feature that is sure to attract the attention of high-stake bettors.
A crucial feature of Sbobet's financial ecosystem is the acceptance of a broad spectrum of currencies. From common currencies like AUD, CAD, EUR, GBP, USD, and INR to more region-specific options like BRL, HKD, IDR, JPY, KRW, MMK, MYR, NOK, NZD, RMB, SEK, THB, USDT, VND, and ZAR, Sbobet caters to a global audience, making transactions as convenient as possible for users worldwide.
Navigating Through the Registration Process at Sbobet
One of the major reasons for the rising popularity of Sbobet is its simple and user-friendly registration process. If you're looking to join the Sbobet community, this guide will lead you through the necessary steps, from signing up to placing your first bet.
Step 1: Accessing Sbobet
The first step in your journey to register at Sbobet is visiting the official site. If, for any reason, you can't access the main page, you can follow our alternate link that leads to a mirror site. This ensures uninterrupted access to the platform regardless of your location.
Step 2: The Sign-Up Process
Upon reaching the Sbobet site, your next step is to sign up. To do this, locate the 'Sign Up' or 'Register' button usually situated at the top right corner of the website. Clicking this button will open up a registration form where you'll be asked to provide some necessary information such as your name, email address, and preferred currency. During this step, make sure to create a unique and secure password for your Sbobet login.
Step 3: Making Your Initial Deposit
After completing the sign-up process, the next step is to make a deposit. As mentioned before, Sbobet offers a variety of deposit methods for you to choose from. Whether you prefer using traditional banking methods or modern digital payment platforms, Sbobet has got you covered. Simply select the most convenient method for you and follow the instructions provided to complete the transaction.
Step 4: Placing Your First Bet
With your account now funded, it's time to place your stakes. Navigate to the sports or casino section of Sbobet, select a game or match, and decide on your bet. The process is straightforward, with every step clearly outlined on the Sbobet site. Plus, Sbobet's customer support is always ready to help should you encounter any issues during this process.
Sbobet's Registration Requirements
While the process of registration on the Sbobet official site is straightforward, it's essential to be aware of the specific requirements. Sbobet, like any other reputable betting platform, complies with international gambling regulations, meaning you must be at least 18 years old to create an account. Additionally, you'll need to provide valid identification during the registration process for verification purposes. This not only ensures the security of your account but also aids in maintaining the platform's integrity by preventing fraudulent activities.
A Warm Welcome: Claiming Your Sbobet Welcome Bonus
The excitement of signing up for Sbobet doesn't stop at the registration process. As a new member, you'll be eligible to claim a welcome bonus upon your first deposit. To get your Sbobet welcome bonus, enter the promo code provided on the registration page when making your initial deposit. Your account will be automatically credited with the bonus, setting you up nicely to explore and enjoy the vast betting and gaming options that Sbobet has to offer.
Efficient Verification Process at Sbobet
Account verification at Sbobet is a straightforward process. To ensure your account is verified, follow these simple steps:
After registration, locate the 'Account Verification' option on your Sbobet dashboard.

Upload the required documents – these typically include a government-issued ID, proof of address such as a utility bill or bank statement, and proof of the payment method used.

Submit the documents and wait for the confirmation email from Sbobet. The verification process typically takes 24 to 48 hours.

Once verified, you can freely deposit, place bets, and withdraw winnings with no restrictions.
Winning Strategies for Playing at Sbobet
Playing at Sbobet can be a thrilling experience, especially when you incorporate strategies that can significantly boost your winning odds. Here are some handy tips and best practices for playing at Sbobet:
Understanding Game Rules: Start by learning the rules of each game you're interested in. Sbobet offers a wide range of sports and casino games, and each one has its unique set of rules and strategies.

Bankroll Management: Always determine a budget for your betting activities and stick to it. This is crucial to keep your gambling activities enjoyable and prevent potential financial issues.

Leverage Bonuses and Promotions: Sbobet provides several bonuses and promotional offers. Make sure to use these to your advantage. From welcome bonuses to ongoing promotions, they can extend your playtime and increase your chances of winning.

Play Variety of Games: Don't stick to a single game. Sbobet offers a wide array of games, each with different odds. Trying different games not only enhances your gaming experience but also improves your chances of finding a game you're good at.

Stay Informed: Keep up-to-date with the latest sports news if you're betting on sports. Understanding player injuries, team strategies, and game conditions can significantly impact your betting outcomes.

Practice Responsible Gaming: Always remember that gambling should be fun. If it ceases to be enjoyable, consider reaching out to professional help.
Embracing Mobility with Sbobet
In the age of mobile technology, Sbobet stands tall, delivering a seamless betting experience on-the-go. The Sbobet mobile website is intuitively designed, ensuring a smooth transition from the desktop version. This user-friendly platform features the same range of betting markets, casino games, bonuses, and promotions available on the desktop site. The responsive design allows players to place bets, make deposits, withdraw winnings, and even live-stream matches directly from their smartphones or tablets, anytime, anywhere.
Sbobet: Licensing and Fair Play
Sbobet's commitment to responsible gambling and fair play is apparent in its robust licensing and regulatory framework. The platform is licensed by the Philippine Amusement and Gaming Corporation in Asia and the Isle of Man Government in Europe. These jurisdictions are renowned for their strict gambling regulations, ensuring Sbobet's adherence to high operational standards. Moreover, Sbobet uses state-of-the-art encryption technology to safeguard users' data, affirming its dedication to security and privacy. The games' fairness is regularly audited by independent bodies, providing an unbiased, transparent gaming environment for all players.
Reliable Customer Support at Sbobet
Sbobet excels in customer service, offering round-the-clock support through various channels, including live chat, email, phone, WhatsApp, LINE, Kakao Talk, Viber, Skype, Zalo, and Telegram. This range of contact options ensures assistance is always within reach, whether it's a payment-related query, a bonus issue, or a technical glitch. The customer service team's multilingual capacity caters to a diverse clientele base, facilitating clear and effective communication. Sbobet also hosts an extensive FAQ section on their site to address common concerns. This level of commitment to customer service demonstrates Sbobet's drive to provide an impeccable betting and gaming experience for its users.
Final Opinion on Sbobet as bookmaker and online casino
In conclusion, Sbobet offers a distinct gambling experience with its long-standing reputation, an extensive range of betting options, and its unique offering of equestrian sports betting and niche games like fishing and keno lottery. A key advantage that differentiates it from other online bookmakers is the sheer variety of customer support channels and the accommodating selection of currencies and payment methods. The platform serves both the international and the local player, which contributes significantly to its broad-based appeal.
However, it's essential to note that it is not without its drawbacks. The website design can be considered dated, and the absence of a mobile application could limit accessibility for on-the-go players. Furthermore, the selection of slots and sporting events could be wider, and the lack of a bet builder might detract from the overall betting experience.
In the grand scheme of things, these are areas where Sbobet could invest for improvement. Yet, as it stands, Sbobet still offers a reliable and varied betting platform that caters to a wide range of interests and preferences. It maintains a solid position in the online betting market, proving its worth through years of experience and a committed customer base.
Read this page in other languages:
Pros
Reliable and experienced provider with a trusted license.

Unique offering of equestrian sports betting.

Inclusion of diverse games like fishing and keno lottery.

Multiple communication channels for customer support.

Broad selection of currencies and versatile payment methods.
Cons
Dated website design lacking in modern aesthetics.

Absence of a dedicated mobile application.

Limited selection of slots and sporting events.

Lacks bet builder, resulting in fewer betting options.