Discover the comprehensive review of N1Bet, a prominent bookmaker and online casino. In this article, we delve into the exciting world of N1Bet, providing valuable insights and analysis for sports enthusiasts and casino lovers alike. Explore the vast array of sports markets, with over 40 sports and 250+ football markets, offering endless opportunities for betting enthusiasts. Uncover the bookmaker's strengths, including competitive odds, Asian Handicaps, and a wide range of payment methods, including crypto options. Delve into the immersive online casino experience, featuring popular games and a user-friendly interface.
Review of the bookmaker and online casino N1bet is also available in other languages:
Designed to cater to a diverse audience, this article offers useful information for both novice and experienced bettors, providing tips, best practices, and detailed instructions on registration, bonuses, and mobile app usage. Learn about N1Bet's customer support availability and the platform's licensing and fairness aspects. Whether you're seeking thrilling sports betting opportunities or engaging casino games, N1Bet has something to offer.
About N1Bet Company
N1Bet is a renowned bookmaker and online casino owned by Dama NV, established in 2021 and licensed in Curacao. The platform operates with a strong commitment to providing a secure and reliable gambling environment. N1Bet offers a user-friendly website interface, available in multiple languages including English, Finnish, French, German, Norwegian, Polish, and Russian. Players from various countries can enjoy their favorite games and betting options.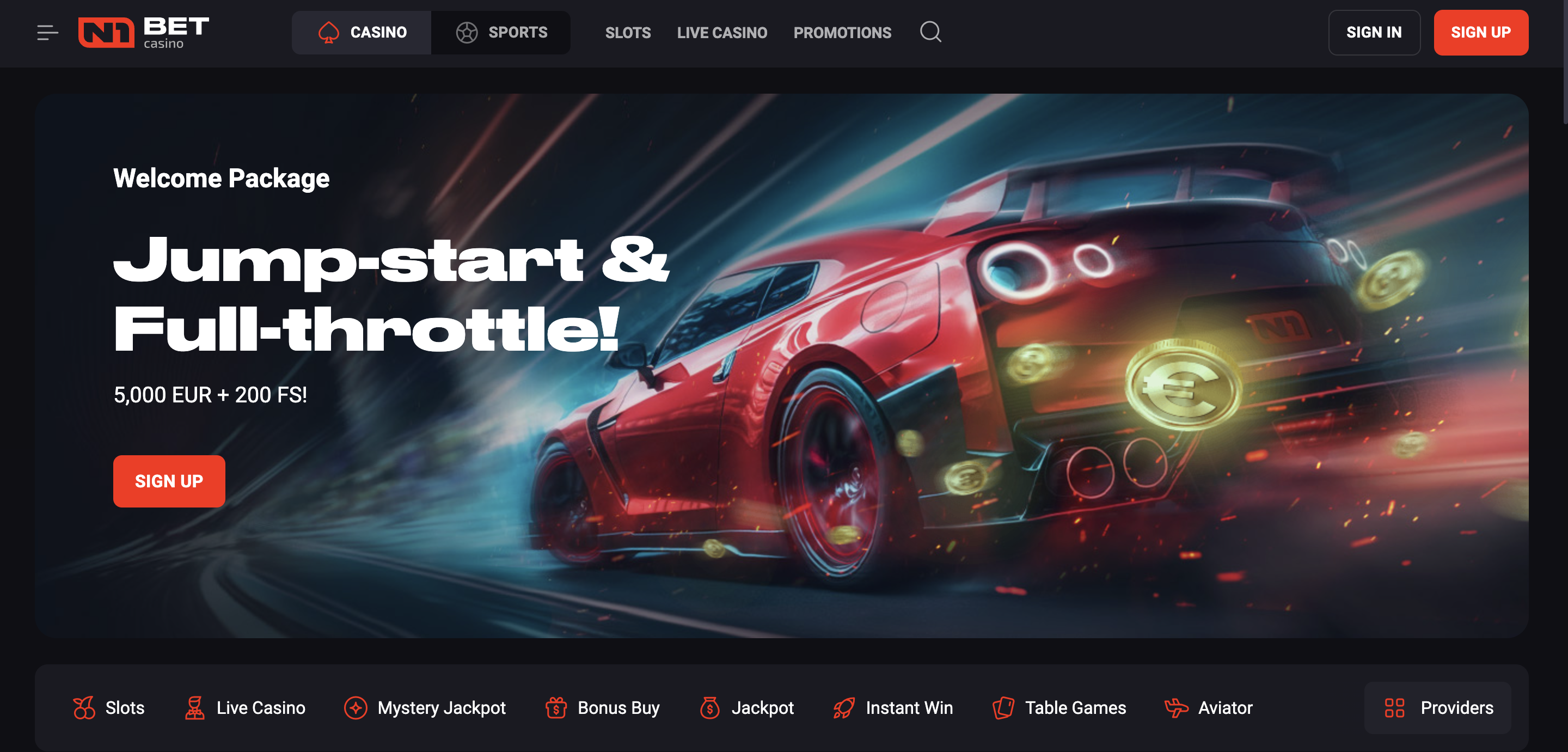 Quick Advantages to Play and Bet at N1Bet
When it comes to advantages, N1Bet stands out from the competition:
Diverse Sports Betting Markets: N1Bet covers a wide array of sports, including American Football, Australian Football, Basketball, Cricket, Formula 1, Golf, Ice Hockey, MMA, Rugby, Tennis, and more. You'll find an extensive selection of betting lines and markets to explore.
Thrilling Esports Betting: Dive into the world of esports with N1Bet. They offer exciting lines and markets for popular games such as CS:GO, Call of Duty, Dota 2, League of Legends, Overwatch, Rainbow Six, and Starcraft II. Experience the thrill of betting on your favorite esports teams and players.
Comprehensive Betting Features: N1Bet offers a range of features to enhance your betting experience. You can enjoy live streaming for select events, access detailed statistics and match results, and explore special bets and alternative handicap options. The platform supports various odds formats, including American, Decimal, Fractional, Hong Kong, Indonesian, and Malaysian.

Convenient Payment Options: N1Bet ensures hassle-free transactions with a variety of deposit and withdrawal methods.

Responsive Customer Support: N1Bet provides 24/7 customer support to address any queries or concerns you may have. Their dedicated team is available via email and live chat.
Review of Online Sports Betting at N1Bet
N1Bet is a leading sportsbook that offers a thrilling and comprehensive online betting experience. With its wide range of sports betting markets, user-friendly interface, and impressive features, N1Bet has become a popular choice among avid bettors.

Most Popular Sports Betting Markets at N1Bet
When it comes to sports betting, N1Bet leaves no stone unturned. They provide an extensive selection of popular sports markets, catering to the diverse interests of their users. Here are some of the most sought-after sports betting markets available at N1Bet:
Football: N1Bet offers a wide array of football betting options, covering major leagues and tournaments worldwide. Whether you're interested in the English Premier League, UEFA Champions League, or international competitions, you'll find an extensive range of pre-match and in-play betting opportunities.

Basketball: N1Bet's basketball betting markets are highly regarded among enthusiasts. From the NBA to EuroLeague and other prominent leagues, you can wager on various aspects of the game, including point spreads, totals, and player props.

Tennis: Tennis fans can take advantage of N1Bet's comprehensive tennis betting markets. Bet on major tournaments like Wimbledon, the US Open, and the Australian Open, as well as regular ATP and WTA events. Explore options such as match winners, set scores, and total games.

Ice Hockey: N1Bet caters to ice hockey enthusiasts with an extensive range of betting markets. Whether it's the NHL, KHL, or international competitions like the Olympics, you can place bets on game outcomes, puck lines, and total goals.

Esports: N1Bet recognizes the growing popularity of esports and provides an exciting array of betting markets for games such as CS:GO, Call of Duty, Dota 2, League of Legends, Overwatch, Rainbow Six, and Starcraft II. Bet on your favorite teams and players in thrilling esports tournaments and competitions.
How to Place Bets at N1Bet?
Placing bets on N1Bet is a straightforward process. Here's a step-by-step guide to get you started:
Sign up: Create an account on the N1Bet betting site by providing the required information.

Deposit Funds: Once you have an account, make a deposit using one of the available payment methods. N1Bet supports options such as Maestro, MasterCard, NETELLER, PaySafe, Skrill, VISA, and Bank Transfer.

Navigate to Sports Betting: Explore the N1Bet website and select the "Sports" section to access the sports betting markets.

Choose a Sport: Browse through the available sports categories and select the sport you wish to bet on.

Select a Market: Within each sport, you'll find various betting markets. Choose the specific market that interests you, such as match winner, total goals, or handicap betting.

Place Your Bet: Once you've chosen a market, enter your desired stake and confirm your bet. N1Bet provides clear and updated odds, ensuring transparency in your betting experience.

Enjoy the Action: Sit back, relax, and enjoy the excitement as you cheer for your selections. N1Bet offers live streaming for select events, allowing you to follow the action in real-time.
Live Betting and Streaming at N1Bet
N1Bet takes your betting experience to the next level with its exciting live betting options and live streaming feature. Engage in real-time action and enhance your chances of winning with their dynamic in-play betting markets.
Available Types of Bets on N1Bet
Live Betting: N1Bet offers a wide range of live betting markets, allowing you to place bets while the event is in progress. Whether it's a football match, tennis game, or basketball showdown, you can analyze the gameplay and make informed decisions as the action unfolds. Take advantage of shifting odds and capitalize on emerging opportunities to maximize your winnings.

Accumulator Bets: N1Bet provides the option to place accumulator bets, also known as parlays or combo bets. This allows you to combine multiple selections into a single wager, increasing the potential payout. Accumulator bets can be thrilling and rewarding, especially when you successfully predict the outcome of multiple matches or events.

Systems of Bets: N1Bet caters to more experienced bettors by offering various systems of bets. These betting systems allow you to cover different combinations and increase your chances of winning. Popular systems include Trixie, Yankee, Lucky 15, and Heinz. With N1Bet, you can explore different strategies and diversify your betting portfolio.
N1Bet Live Streaming
Experience the thrill of live sporting events through N1Bet's live streaming feature. The platform provides live streaming for select sports and events, allowing you to watch the action unfold in real time. Whether it's a football match, tennis tournament, or esports competition, N1Bet keeps you engaged and immersed in the excitement. Stay up-to-date with the latest developments and make more informed betting decisions based on the live stream.
N1Bet's live streaming feature enhances your overall betting experience, providing you with valuable insights and real-time information. You can witness the crucial moments of a game, evaluate the form and performance of players or teams, and adjust your bets accordingly. This feature brings the excitement of the sporting world right to your screen, enabling you to stay connected and engaged throughout the event.
Our experience of betting on N1Bet sportsbook
Our team have $500 USDT to wager. We decide to place two different types of bets, one prematch bet and one in-play bet, in order to maximize our chances of winning.
For the prematch bet, we choose a football match between two teams:
Defensores de Belgrano vs CA Defensores Unidos. After careful analysis of the teams' recent performance and head-to-head records, we decide to place a moneyline bet on the underdog team to win. We stake $200 USDT on this bet, hoping for a higher payout if the underdog triumphs.
Moving on to the in-play bet, we opt for an exciting Dota 2 esports tournament. We closely monitor the match between 9Pandas and Team Spirit, and observe the gameplay dynamics. As the match progresses, we notice a sudden momentum shift in favor of the team that was initially considered the underdog. Seeing this opportunity, we quickly place a live bet on this team to win the next map. In a bold move, we decide to bet $300 USDT, taking advantage of the favorable odds offered during this unexpected turn of events.
Our strategy for these bets incorporates a combination of research, intuition, and calculated risk-taking. By analyzing team statistics, player form, and in-game dynamics, we aim to capitalize on favorable opportunities and maximize our potential winnings. However, we also understand that betting involves an element of unpredictability and acknowledge the inherent risk involved.
If our prematch bet on the underdog team proves successful and they secure a victory, we would potentially win $400 USDT, including our initial stake. This outcome would bring excitement and a significant boost to our bankroll.
On the other hand, if our prematch bet is unsuccessful and the favored team wins, we would lose our $200 USDT stake. Nevertheless, we anticipated this possibility and factored it into our overall strategy.
Regarding our in-play bet, the outcome is even more uncertain due to the dynamic nature of esports matches. If the underdog team manages to win the next map, our in-play bet would result in a substantial win of $900 USDT, including our initial stake. This unexpected turn of events would be an exhilarating and highly rewarding experience. Conversely, if the favored team proves its dominance and secures victory in the next map, we would lose our $300 USDT stake.
At the end of the day, we got the following results: we were very lucky and both of our bets played, leading our team to huge profits.
As experienced bettors, we understand the importance of managing our bankroll, assessing risks, and being prepared for both positive and negative outcomes. Our strategic approach combines careful analysis with a willingness to seize opportunities as they arise, creating an engaging and dynamic betting experience on N1Bet.
Review of Online Casino and Slots Games at N1Bet
N1Bet is not just a top-notch sportsbook; it also offers an impressive online casino where players can indulge in a wide variety of thrilling casino games. With its diverse selection of games, user-friendly interface, and enticing bonuses, N1Bet provides an exceptional gambling experience for casino enthusiasts.
Top Games in the Online Casino N1Bet
Slots Games: N1Bet's online casino boasts an extensive collection of slot games, ranging from classic fruit machines to modern video slots with immersive themes and exciting bonus features. Players can enjoy popular titles such as Starburst, Gonzo's Quest, Mega Moolah, Book of Dead, and many more. With varying paylines, bet sizes, and jackpot opportunities, there's a slot game to suit every preference.

Table Games: N1Bet offers a wide range of classic table games that recreate the authentic casino atmosphere. Players can try their luck at various versions of blackjack, roulette, baccarat, and poker. Whether you prefer the thrill of the spin or the strategic decisions at the card table, N1Bet has you covered with high-quality graphics and smooth gameplay.

Live Casino: For an immersive and interactive gambling experience, N1Bet provides a live casino section where players can enjoy real-time games with professional dealers. Engage in live blackjack, roulette, baccarat, and other popular table games streamed in high-definition video. Interact with the dealers and fellow players, creating a truly immersive casino environment from the comfort of your own home.

How to Start Playing at Casino N1Bet?
Getting started at N1Bet's online casino is quick and easy. Here's a step-by-step guide to help you begin your casino adventure:
Sign up: Create an account on the N1Bet gambling site by providing the necessary information. The registration process is straightforward and takes only a few minutes.

Deposit Funds: Once your account is set up, make a deposit using one of the available payment methods. N1Bet supports various secure options, including credit cards, e-wallets, and bank transfers.

Explore the Casino Games: Navigate to the casino section of the N1Bet website, where you'll find a wide selection of games to choose from. Browse through the categories or search for your favorite titles.

Choose Your Game: Select a game that catches your interest. Whether it's a slot game, a table game, or a live casino experience, click on the game to start playing.

Place Your Bets: Set your desired bet amount and spin the reels for slot games or place your bets on table games. Enjoy the immersive graphics, sound effects, and animations that enhance your gaming experience.

Claim Bonuses: Take advantage of the generous bonuses and promotions offered by N1Bet's online casino. These can include welcome bonuses, free spins, cashback offers, and more. Be sure to read and understand the terms and conditions associated with each bonus.

Practice Responsible Gambling: As with any form of gambling, it's important to gamble responsibly. Set a budget, manage your bankroll, and know when to take a break. N1Bet promotes responsible gambling and provides tools to help you stay in control of your gaming experience.
Review of Live Casino at N1Bet
N1Bet brings the thrill of a land-based casino to the comfort of your own home with its impressive live casino offering. Featuring a wide selection of live dealer games, N1Bet allows players to immerse themselves in a realistic and interactive gambling experience.
Playing in the live casino section of N1Bet provides the opportunity to engage with professional dealers in real-time. The high-definition video streaming ensures that you never miss a moment of the action. Here are some key features and highlights of the live casino at N1Bet:
Live Dealer Games: N1Bet offers an extensive range of live dealer games, including popular options such as live blackjack, live roulette, live baccarat, and live poker. Interact with the friendly and professional dealers, adding an extra layer of excitement to your gaming experience.

Realistic Casino Atmosphere: The live casino at N1Bet strives to replicate the ambiance of a physical casino. With realistic casino settings, authentic sounds, and interactive gameplay, you can enjoy the thrill of the casino floor from the comfort of your own home.

Variety of Tables and Bet Limits: N1Bet caters to players of all preferences and bankrolls by offering a variety of tables with different betting limits. Whether you're a casual player or a high roller, you can find a table that suits your betting style.

Social Interaction: One of the most appealing aspects of the live casino experience is the social interaction it provides. Engage in conversations with the dealers and fellow players through the live chat feature, creating a sense of camaraderie and making the gaming experience even more enjoyable.
Review of Instant Games like Aviator or Mines at N1Bet
In addition to its live casino, N1Bet offers a diverse selection of instant games that provide quick and exciting betting opportunities. These games are designed to offer fast-paced action and the chance to win instant prizes. Here are a few notable instant games available at N1Bet:
Aviator: Aviator is a popular crash game that challenges players to predict how high an airplane's multiplier will go before it crashes. It's a thrilling and fast-paced game that combines strategy and luck. Place your bets, watch the multiplier rise, and decide when to cash out to secure your winnings before the plane crashes.

Mines: Mines is an engaging and suspenseful game where players attempt to clear a grid without hitting any mines. The goal is to reveal as many safe spots as possible while avoiding the hidden mines. Choose your bet amount and the number of mines to play with, and start digging. The more safe spots you uncover, the higher your potential winnings.
These instant games at N1Bet provide a break from traditional casino games and offer a unique and exciting gambling experience. With their quick betting cycles and easy-to-understand mechanics, they cater to players who enjoy fast-paced action and instant gratification.
Our experience of gamble in casino N1Bet
Our team have a budget of $500 USDT to enjoy some thrilling casino games. We decide to try our luck with two different game types: a slot game and a live casino game.
For the slot game, we choose "Book of Dead" from Play'n GO. It's a popular slot with an Egyptian theme and exciting bonus features. We start by placing a $100 USDT bet, aiming to unlock the free spins round and potentially land some lucrative wins. The game's high volatility adds an element of unpredictability, keeping us on the edge of our seats. As the reels spin, we hope to align the valuable symbols and trigger the book's hidden treasures.
Moving on to the live casino, we opt for the classic game of blackjack. We join a live blackjack table, where a professional dealer greets us through the high-definition video stream. The immersive atmosphere and interactive gameplay make us feel as if we're in a real casino. We decide to place a $200 USDT bet, using basic blackjack strategy and relying on our card-counting skills. The excitement builds as the cards are dealt, and we hope to beat the dealer's hand without going over 21.
Our strategy for these games involves a mix of careful analysis and a touch of risk-taking. We understand that playing slots involves luck, so we're prepared for potential losses. However, with a high volatility slot like "Book of Dead," we hope to land significant wins that could boost our bankroll.
For the live blackjack game, we employ basic strategy to maximize our chances of beating the dealer. We carefully consider each decision, including whether to hit, stand, or double down, based on our hand value and the dealer's upcard. While we understand that blackjack outcomes are influenced by luck, we rely on our knowledge of the game to make the most informed decisions possible.
As a result of playing slots, we experienced both successes and failures. However, according to the results of the session, we were at a loss of $140. In live blackjack, we were unlucky at first, but at one point we managed to beat the dealer's hand at a high stake, which provided us with a profit of $400.
However, slot games and live casino games come with inherent risks, and we understand that losses and winnings are a part of the gambling experience.
N1Bet Welcome Bonus
When it comes to attracting new players, N1Bet goes above and beyond with its enticing welcome bonus packages. Whether you're a casino enthusiast or a sports betting fan, N1Bet has a welcome offer tailored just for you.
For casino players, the N1Bet Welcome Package offers a series of deposit bonuses that can significantly boost your gaming experience. Here's a breakdown of the casino welcome bonus:
First Deposit Bonus: Get a 100% match bonus up to 1,000 EUR and 150 free spins. This generous offer doubles your initial deposit and provides extra spins to enjoy on selected slot games.

Second Deposit Bonus: Enjoy a 75% match bonus up to 1,500 EUR. This bonus extends your playing time and gives you more opportunities to win big.

Third Deposit Bonus: Claim another 100% match bonus up to 1,000 EUR and receive an additional 50 free spins. This bonus keeps the excitement going and adds more chances for thrilling wins.

Fourth Deposit Bonus: Get a 25% match bonus up to 1,500 EUR. Even on your fourth deposit, N1Bet rewards you with extra funds to enhance your gaming adventure.
In addition to the casino welcome bonus, N1Bet also offers a special welcome bonus for sports enthusiasts. With a 50% welcome bonus up to 200 EUR, sports bettors can kickstart their betting journey with a boosted bankroll.
N1Bet Bonuses and Promotions
N1Bet doesn't stop at the welcome bonus. The casino continues to reward its players with a variety of bonuses and promotions to keep the excitement alive. Here are some of the ongoing bonuses available at N1Bet:
Reload Bonuses: Make deposits on Tuesdays and Saturdays to enjoy extra rewards. The Tuesday Reload bonus offers a 40% match bonus up to 100 EUR, while the Saturday Route bonus rewards you with up to 100 free spins.

VIP Loyalty Program: N1Bet values its loyal players and offers a VIP club where players can unlock special awards and benefits. The VIP program consists of three leagues, each with ten places. By earning comp points (CP), players can advance through the ranks and enjoy exclusive bonuses, participate in lotteries, and compete for serious prizes.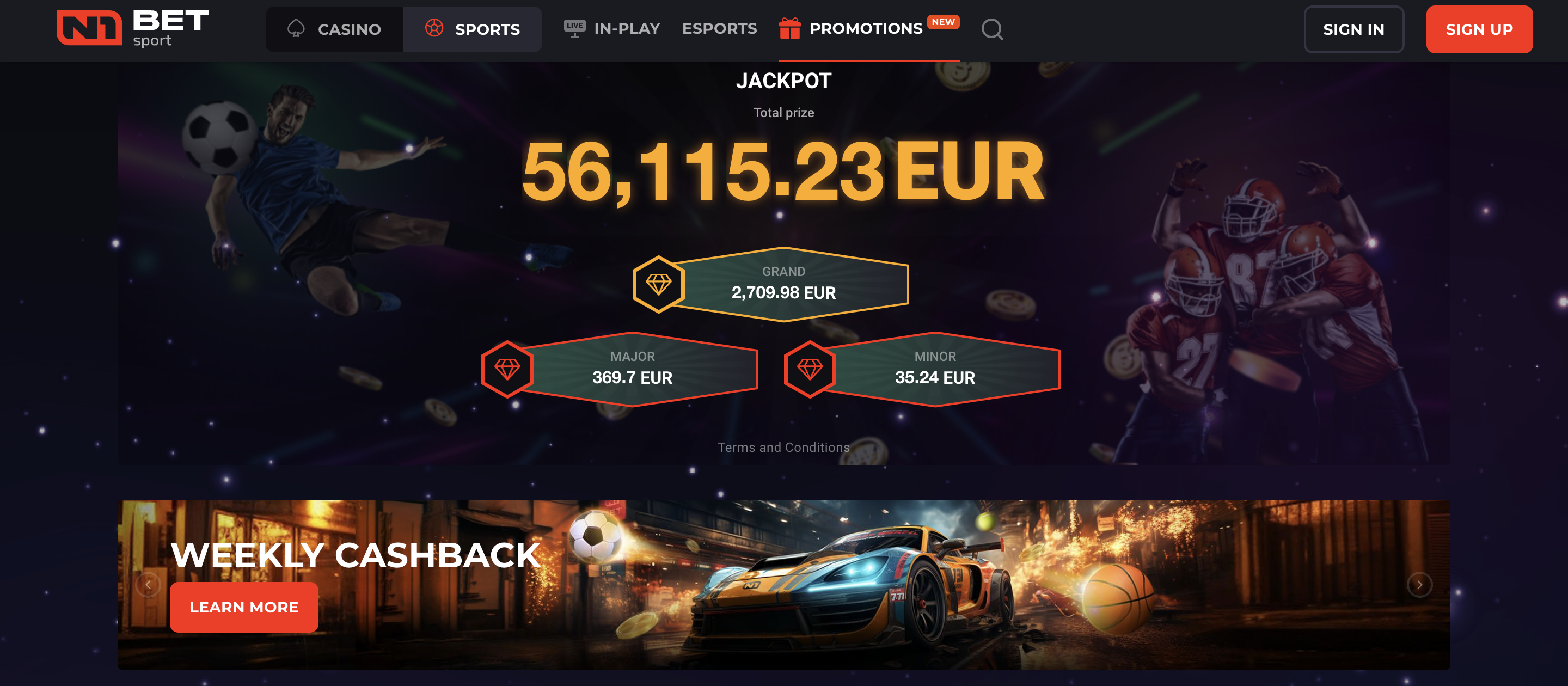 Promo Codes: How to Get and Use Promocodes at N1Bet?
N1Bet also provides players with the opportunity to redeem promo codes for additional bonuses and rewards. To use a promo code, simply visit the promotions page and fill in the designated field. Be sure to keep an eye on the promotions page for the latest promo code offers and exciting bonuses.
It's important to note that certain terms and conditions apply to N1Bet's bonuses and promotions. These can include wagering requirements, maximum win limits, and specific game contributions. It's essential to read and understand the terms associated with each bonus before claiming them.
N1Bet is committed to providing a rewarding and enjoyable gaming experience for its players. With its generous welcome bonus, ongoing promotions, and VIP loyalty program, N1Bet ensures that players are always treated to exciting bonuses and opportunities to enhance their gameplay.
Payment Methods: Deposits and Withdrawals at N1Bet
N1Bet offers a range of trusted payment methods to ensure convenient and secure transactions for its players. Whether you want to deposit funds or withdraw your winnings, N1Bet provides several options for your convenience. 
Accepted Payment Methods: N1Bet accepts Maestro, MasterCard, NETELLER, PaySafe, Skrill, VISA, and Bank Transfer for both deposits and withdrawals. These popular payment methods provide flexibility and reliability for seamless transactions.

Minimum Deposit: To fund your N1Bet account, the minimum deposit requirement is $20 USD. You can choose any of the available payment methods to deposit funds into your account securely.

Withdrawal Process: When it's time to cash out your winnings, you can use any of the accepted payment methods to make a withdrawal. Simply select your preferred method and follow the necessary steps to initiate the withdrawal process.
With a variety of payment options and a minimum deposit of $20 USD, N1Bet provides flexibility and accessibility for managing your funds. Whether you're depositing to start your gaming experience or withdrawing your winnings, N1Bet ensures a smooth and secure payment process.
Registration at N1Bet: How to Sign Up?
If you're ready to join the exciting world of N1Bet, the registration process is quick and simple. Here's a step-by-step guide on how to sign up and start your betting or gaming journey:
Step 1: Visit N1Bet – To begin, visit the official N1Bet website or access it through our provided mirror link. Simply open your web browser and enter the N1Bet website address or click on the mirror link provided.

Step 2: Sign Up – Once you're on the N1Bet homepage, look for the "Sign Up" or "Register" button. Click on it to initiate the registration process. You'll be directed to the registration page, where you'll need to provide some essential information.

Step 3: Fill in the Registration Form – During the registration process at N1Bet, you will be asked to provide essential details such as your complete name, date of birth, valid email address, preferred username, and a secure password. It is important to provide accurate and valid information to ensure a seamless and hassle-free registration experience.

Step 4: Agree to Terms and Conditions – Before finalizing your registration, it's important to read and agree to the terms and conditions of N1Bet. Familiarize yourself with the platform's rules and policies to ensure a safe and responsible gaming experience.

Step 5: Complete the Registration – After providing the necessary information and agreeing to the terms and conditions, click on the "Register" or "Sign Up" button to complete the registration process. You may receive a confirmation email to verify your account. Follow the instructions in the email to activate your N1Bet account.
Registration Requirements
To successfully register at N1Bet, you must meet the following requirements:
You must be of legal gambling age in your jurisdiction.

You must provide accurate and valid personal information during the registration process.

You must agree to comply with N1Bet's terms and conditions, as well as any applicable laws and regulations.
How to Register with the Mobile App?
N1Bet offers the convenience of a mobile app for users who prefer to bet or play on the go. To register using the mobile app, follow these steps:
Download the App – Visit the N1Bet website and download the N1Bet mobile app.

Install and Launch – Once the app is downloaded, install it on your device and launch it.

Sign Up – Tap on the "Sign Up" button within the app to initiate the registration process.

Follow the Registration Steps – Fill in the required information in the registration form provided, including your personal details, username, and password.

Complete the Registration – After providing all the necessary information, agree to the terms and conditions, and complete the registration process by tapping on the "Register" or "Sign Up" button.
How to Get a Welcome Bonus N1Bet with Registration?
N1Bet welcomes new players with an attractive welcome bonus. To claim the welcome bonus, follow these steps:
Complete the Registration – Sign up at N1Bet using the outlined registration process.

Make a Deposit – Once you have completed the registration process, proceed to the deposit section in your N1Bet account. Select your preferred payment method and make a deposit that meets the minimum requirement set by N1Bet. It is important to fulfill the minimum deposit criteria to qualify for the welcome bonus offered by the platform.

Claim the Welcome Bonus – Once your deposit is processed, you can claim the welcome bonus associated with your first deposit. This could be a match bonus or free spins, depending on the promotion available at the time. Follow the instructions provided by N1Bet to activate and enjoy your welcome bonus.
Please note that welcome bonuses may have specific terms and conditions, including wagering requirements and expiry dates. It's essential to read and understand these terms to make the most of your bonus.
N1Bet Account Verification Instructions
To ensure a secure and responsible gaming environment, N1Bet requires account verification from its users. Follow these instructions to complete the account verification process:
Personal Information – Provide accurate personal information during the registration process, including your full name, date of birth, and address. Make sure the information matches your official documents.

Identity Verification – Upload a valid government-issued identification document, such as a passport or driver's license. This document will be used to verify your identity.

Address Verification – Submit a recent utility bill, bank statement, or official document that confirms your residential address. Ensure that the document is not older than three months.

Additional Documentation – In some cases, N1Bet may request additional documents for verification purposes, such as a copy of your credit card or a selfie with your identification document.

Verification Review – Once you have submitted the required documents, the N1Bet team will review them. This process typically takes a few business days. You will receive a notification once your account has been successfully verified.
N1Bet Mobile App for Android and iOS
N1Bet offers a convenient and user-friendly mobile app for both Android and iOS devices, allowing you to enjoy betting and gaming on the go. Here's everything you need to know about the N1Bet mobile app:
System Requirements N1Bet App for Android and iOS
To ensure smooth performance and optimal functionality, make sure your device meets the following system requirements for the N1Bet app:
For Android:
Operating System: Android 5.0 or above

RAM: 2GB or higher

Internet Connection: Stable internet connection for seamless gameplay and updates
For iOS:
Operating System: iOS 10.0 or later

Device Compatibility: Compatible with iPhone, iPad, and iPod touch

Internet Connection: Stable internet connection for seamless gameplay and updates
How to Download and Install N1Bet APK for Android?
As N1Bet is not available on Google Play Store, you can download the N1Bet APK file directly from the official N1Bet website. Follow these steps to download the APK file:
Open your mobile browser and go to the N1Bet homepage.

From the menu list, select the option "Add to Home Screen". This option may also be labeled as "Add shortcut" or "Create shortcut".

Click the "Install" button to add the N1Bet web app to your home screen.
How to Download and Install N1Bet App on iOS?
Downloading and installing the N1Bet app on iOS devices is simple and straightforward. Follow these steps:
Go to the N1Bet homepage and tap three dots to open the browser menu.

Choose "Add to the Home Screen" from the menu list.

Confirm your selection by clicking the "Install" button.
Tips and Best Practice for playing at N1Bet
When playing at N1Bet, it's always helpful to keep some tips and best practices in mind to enhance your overall experience. Here are some recommendations for a better gaming and betting journey:
Set a Budget: Before you start playing, determine a budget that you are comfortable with and stick to it. This helps you manage your finances and avoid overspending.

Understand the Games: Take the time to familiarize yourself with the rules and gameplay of the games you are interested in. Knowing the ins and outs of each game will increase your chances of making informed decisions and maximizing your winnings.

Practice Responsible Gambling: Gambling should always be seen as a form of entertainment, not a means to make money. Only wager what you can afford to lose and never chase your losses.

Utilize Bonuses and Promotions: N1Bet offers various bonuses and promotions to its players. Take advantage of these offers as they can boost your bankroll and provide extra opportunities to win.

Read Terms and Conditions: Familiarize yourself with the terms and conditions of the bonuses, promotions, and other features offered by N1Bet. This ensures that you understand the requirements and any restrictions associated with these offers.

Stay Informed: Keep up with the latest news, updates, and trends in the world of gambling. This knowledge can help you make informed decisions and stay ahead of the game.

Take Breaks: It's important to take regular breaks during your gaming sessions. This allows you to stay focused and maintain a clear mind for better decision-making.

Practice Good Bankroll Management: Divide your bankroll into smaller units and avoid placing large bets all at once. This helps you prolong your playing time and reduces the risk of losing your entire balance quickly.
N1Bet Mobile Website
N1Bet offers a seamless mobile website experience, allowing you to enjoy their services on the go. The mobile website is designed to be user-friendly and responsive, providing easy navigation and access to all the features and games available on the platform. Whether you're using an Android or iOS device, you can simply visit the N1Bet website through your mobile browser and start playing or betting instantly.
N1Bet License and Fairness
N1Bet operates under a valid gambling license issued by the Curacao jurisdiction. This license ensures that the platform meets strict regulatory standards and operates in a fair and transparent manner. The license also serves as an assurance of the platform's commitment to player protection and responsible gambling practices.
N1Bet Customer support 
When it comes to customer support, N1Bet prioritizes providing assistance to its users. Their dedicated support team is available 24/7 to address any inquiries or concerns that you may have. You can reach out to them via email or live chat, and their knowledgeable support agents will be ready to assist you in a prompt and professional manner. The supported languages include English, German, and Russian, ensuring that language barriers are not an issue.
Final Opinion on N1Bet as bookmaker and online casino
In conclusion, N1Bet emerges as a comprehensive online platform that combines the excitement of sports betting with the thrill of casino games. With a wide range of sports markets, including over 40 sports and 250+ football markets, bettors have ample choices to explore. The bookmaker's competitive odds, particularly on secondary bets and Asian Handicaps, provide opportunities for attractive payouts. Additionally, the availability of multiple payment methods, including crypto and fiat currencies, ensures convenient and secure transactions for users worldwide.
N1Bet's commitment to customer satisfaction is evident through its 24/7 customer support, catering to users' needs at any time. The multilingual website further enhances accessibility, allowing players from diverse backgrounds to navigate the platform with ease.
While N1Bet showcases several strengths, it's important to consider a few areas for improvement. The bookmaker's Curacao license may not provide the same level of regulatory oversight as licenses from stricter jurisdictions. Moreover, the absence of certain features like Bet Builder, Edit Bet, and limited cash-out options may limit the flexibility of users.
Overall, N1Bet offers a compelling online betting experience, bringing together sports enthusiasts and casino enthusiasts under one roof. Its diverse offerings, user-friendly interface, and commitment to customer support make it a platform worth considering for both casual players and avid bettors alike.
Read this page in other languages:
Accepted Cryptocurrencies
Available Games
Supported Languages
Pros
Wide Range of Sports and Markets: N1Bet offers more than 40 sports and 250+ football markets, providing a diverse selection of betting options for sports enthusiasts.

Competitive Odds: The bookmaker provides high odds on secondary bets and Asian Handicaps, increasing the potential for favorable payouts.

Extensive Payment Options: N1Bet supports over 20 payment methods, including both crypto and fiat currencies, giving users flexibility in managing their funds.

24/7 Customer Support: The platform offers round-the-clock customer support, ensuring that users can seek assistance and resolve any issues at any time.

Multilingual Website: N1Bet supports eight website languages, accommodating a wide range of international users and enhancing accessibility.
Cons
Curacao License: N1Bet operates under a Curacao gambling license, which may not carry the same level of credibility as licenses from stricter regulatory jurisdictions.

Limited Cash Out Options: The bookmaker lacks features such as Bet Builder, Edit Bet, Auto & Partial Cash Out, and Fast Markets, which could limit the flexibility of bettors.

Low Withdrawal Limits: N1Bet imposes relatively low withdrawal limits, which may inconvenience users who wish to withdraw larger amounts.