Mostbet stands as a distinguished online bookmaker and casino platform, offering a myriad of betting and gaming options. This review furnishes a thorough overview of Mostbet's diverse features, from its robust sportsbook to its dynamic casino and poker sections, augmented by its intuitive mobile application. By exploring registration procedures, promotional offerings, transaction methods, and customer support, this article aims to provide an encompassing perspective for both seasoned gamblers and novices.
Review of the bookmaker and online casino Mostbet is also available in other languages:
About Mostbet Company
Established in 2009, Mostbet is owned by Bizbon N.V. and Venson Ltd. Its online platform facilitates betting across a spectrum of sports markets, including but not limited to alpine skiing, winter sports, and popular esports titles such as CS:GO and Valorant. Recognized and trusted by an international user base, Mostbet ensures a secure and seamless betting experience, underscored by diverse payment solutions. Additionally, its casino and live casino sections further enrich the user experience. The platform's multilingual interface, supporting languages from English to Vietnamese, reaches a broad global audience, though with certain territorial restrictions. Notably, Mostbet's adaptability to a multitude of currencies underlines its appeal to international patrons.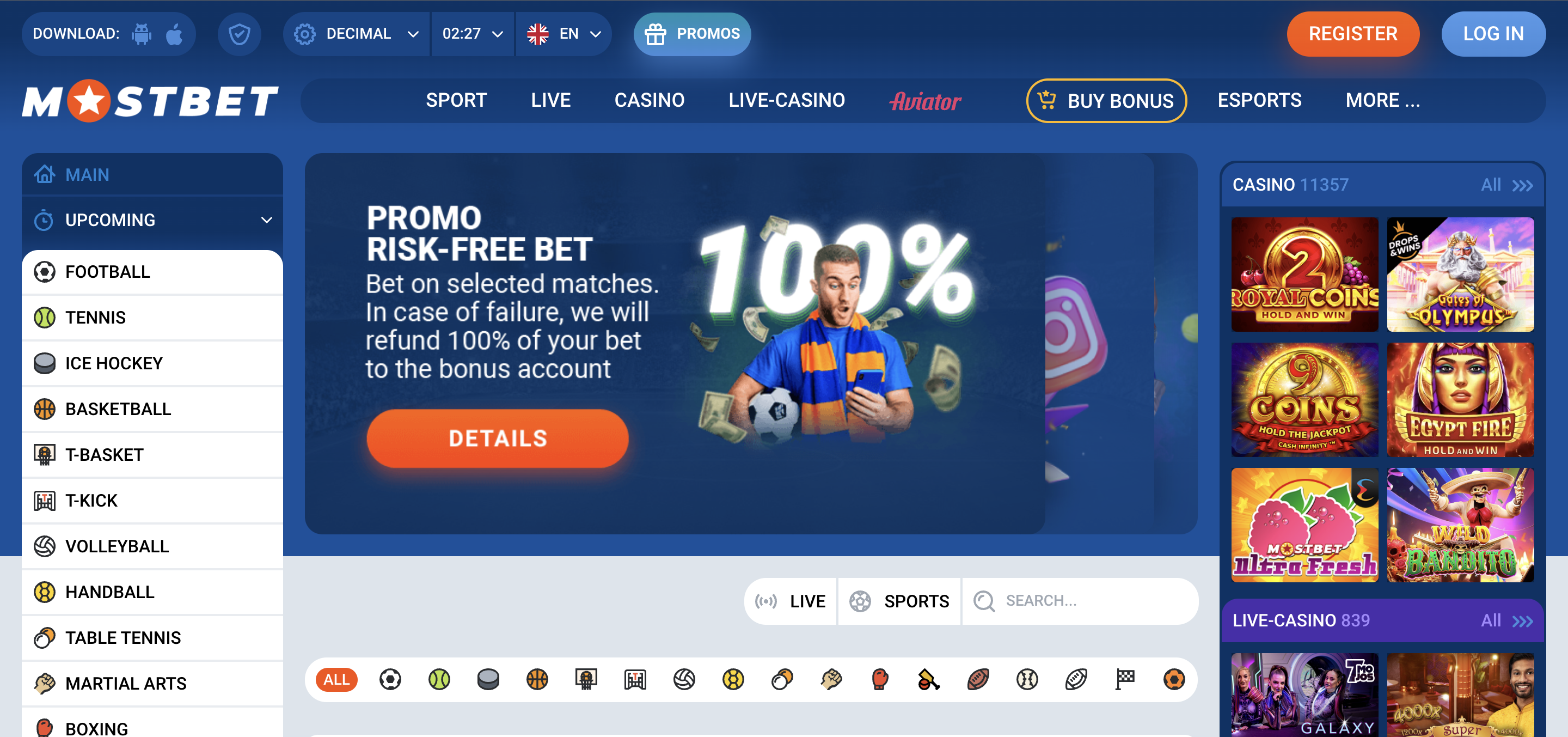 Quick Advantages to Play Games at Mostbet
Beyond its sportsbook, Mostbet's casino segment proffers a vast array of games powered by proprietary software, ensuring diverse and engaging gaming sessions. The platform's compatibility across PCs, mobile devices, and tablets ensures accessibility regardless of location. Of particular note in our evaluation is Mostbet's diligent customer support, available around the clock via email and live chat. The platform further distinguishes itself by offering features such as comprehensive match statistics, results, and the option for full cash outs.
Sportsbook Mostbet
Mostbet's sportsbook is renowned for its comprehensive betting options, encompassing both traditional sports and the burgeoning field of eSports. Its diverse offerings cater to a variety of betting interests, ensuring a holistic betting experience.
Most Popular Sports Betting Markets in Mostbet
Certain sports notably resonate with Mostbet's audience:
Other Betting Markets Available at Mostbet
Expanding beyond mainstream favorites, Mostbet also features sports like rugby union, American football, and motor sports. Winter sports enthusiasts find offerings such as Alpine skiing and biathlon. Such a broad spectrum reinforces Mostbet's mission to serve a diverse clientele with varied betting interests.
Live Betting in Mostbet
Mostbet offers a dynamic live betting feature, enabling users to place wagers as events progress in real-time. This in-play betting function heightens engagement, as bettors can adjust their wagers based on real-time developments in matches, spanning sports like football, cricket, and tennis.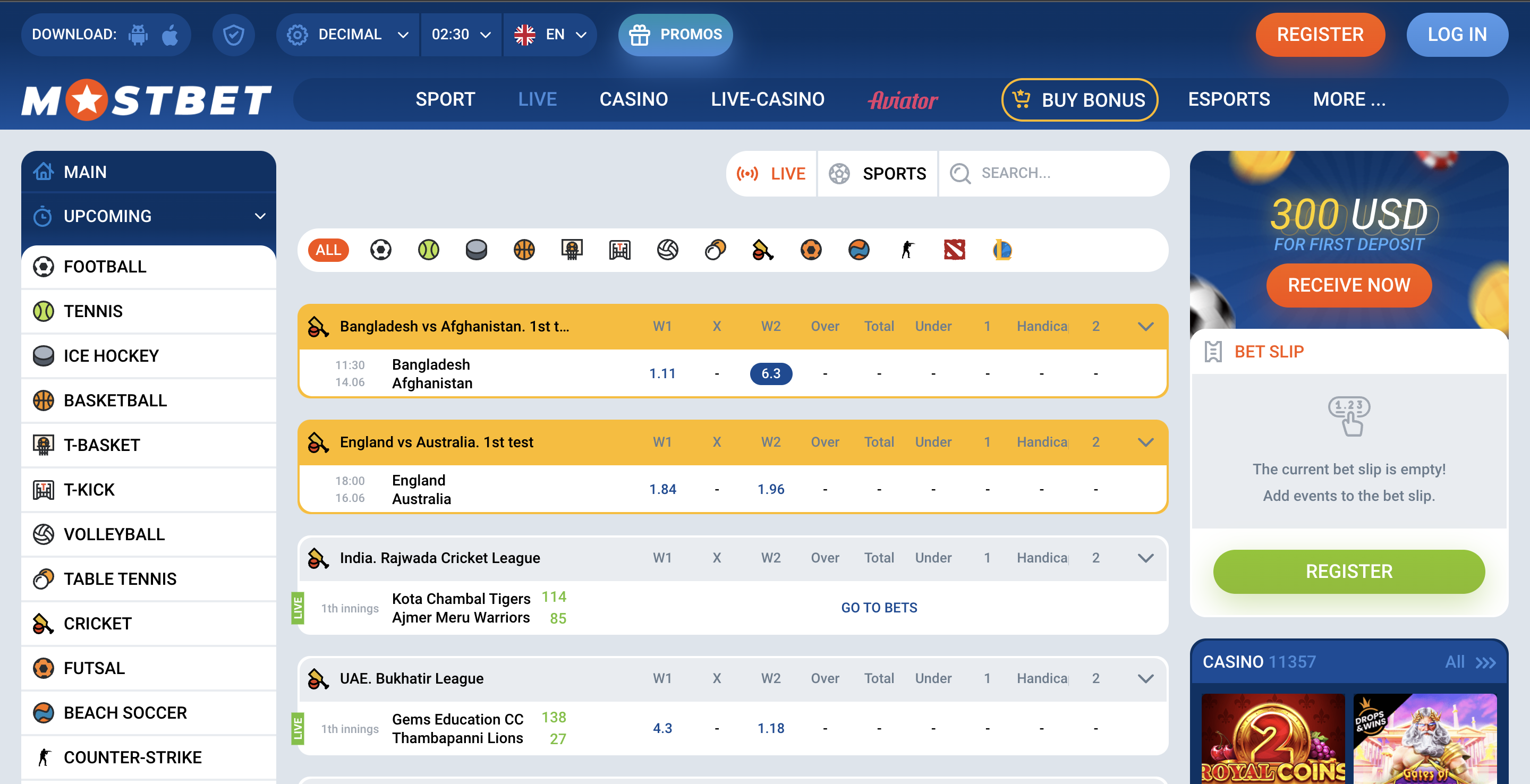 Live Streaming in Mostbet
Complementing its live betting capability, Mostbet offers a live streaming service. This feature allows bettors to observe events as they happen, facilitating more informed in-play betting decisions and heightening user engagement.
Available Types of Bets on Mostbet
Mostbet provides a diverse range of wagering options. Beyond standard bets on individual events, the platform facilitates complex betting forms such as accumulator bets, where multiple selections are combined into a single bet that yields returns only when all individual bets are successful.
Additionally, Mostbet introduces system bets, a feature allowing users to generate various accumulator bet combinations from multiple selections. This provides an avenue for bettors to hedge risks while maintaining the potential for substantial returns if a majority of their predictions are accurate.
Additional Betting Tools
In its endeavor to provide an enriched betting experience, Mostbet equips its users with advanced tools. Notably, the platform's cash out feature offers bettors flexibility during an ongoing event. Users can decide to cash out early, either securing existing profits or minimizing potential losses based on the real-time trajectory of their wagers.
How to Place Bets at Mostbet?
Betting on Mostbet is an intuitive process:
Register and deposit funds into your account.
Navigate to the sports section, presenting a variety of sports and associated betting markets.
Select the desired sport and specific event.
Browse and click on the odds for the desired bet, which will then be added to your betting slip.
Input the stake amount on the betting slip and confirm the bet.
Your bet is now placed on Mostbet.
How to Place Stakes at Mostbet with the App?
For mobile users, Mostbet's app, available for Android and iOS, offers a seamless betting experience:
Launch the app and browse to the sport of interest.
Choose the specific event and associated betting market.
Click on the odds for your chosen bet, automatically adding it to your betting slip.
Specify the stake amount and confirm.
Our Betting Experience on Mostbet
After an in-depth evaluation, our team decided to personally test Mostbet's betting capabilities with a budget of 500 USDT.
We began with a pre-match bet on a Premier League contest between Liverpool and Chelsea. Based on Liverpool's recent form, we favored them for a victory with odds set at 1.8, committing 300 USDT. This choice yielded a positive result.
Our exploration then led us to the Live Betting section during an ongoing Dota 2 eSports match between the renowned Team Secret and OG. We were drawn to the 'total kills' market and ventured an in-play bet forecasting over 45.5 kills at odds of 1.9. We allocated our residual 200 USDT for this bet, but it didn't materialize as anticipated.
Our wagers were influenced by our comprehensive understanding of the sports and the competing teams. This exercise underscored the eclectic nature of Mostbet's offerings. It's evident that the platform is adept at serving both traditional sports enthusiasts and modern eSports followers.
In summary, Mostbet presents an expansive range of betting options, catering to a wide audience. From mainstream sports like football to the rapidly evolving domain of eSports like Dota 2, Mostbet ensures an immersive and potentially profitable betting journey.
Mostbet Online Casino
Apart from its prowess in sportsbook services, Mostbet also offers an impressive online casino. Enthusiasts of both casino games and sports betting will find the array of games on the platform enticing.

Slot Game Providers at Mostbet
The allure of Mostbet's online casino is accentuated by its collaboration with leading software providers. Esteemed industry stalwarts such as Amatic, EVOPlay, NETENT, Pragmatic Play, and YGDRASIL fortify the platform. These names are recognized for producing games with visually appealing graphics, pioneering features, and enthralling narratives, ensuring a diversified gaming adventure for users.
Presence of Asian and Wildlife-Themed Slot Games at Mostbet
In our examination of Mostbet, we found that the online casino boasts a diverse range of slot games. Notably, it offers slots with distinct Asian motifs, characterized by oriental aesthetics and traditional symbols, and those centered around fishing and hunting themes, which offer adventurous narratives and immersive gameplay.
Top Casino Games at Mostbet
Mostbet's repertoire goes beyond just slot games. The platform presents a plethora of casino games tailored to satisfy varied player preferences. Traditionalists can indulge in classic table games, including blackjack, roulette, poker, and baccarat, which capture the essence of standard casino settings. For a more vivid casino experience, Mostbet's live casino, hosted by real dealers, ensures genuine interactions and gameplay. Furthermore, the platform accommodates players inclined toward swift gaming sessions by offering scratch cards and other instant-win games.
Mostbet's Live Casino Experience
Catering to those who desire the ambiance of a land-based casino while enjoying online convenience, Mostbet's live casino stands out. It enables players to engage in real-time gaming, competing with global participants. Whether partaking in poker, roulette, TV games, wheel-based games, or engrossing blackjack sessions, the live casino offers a rich, immersive betting environment.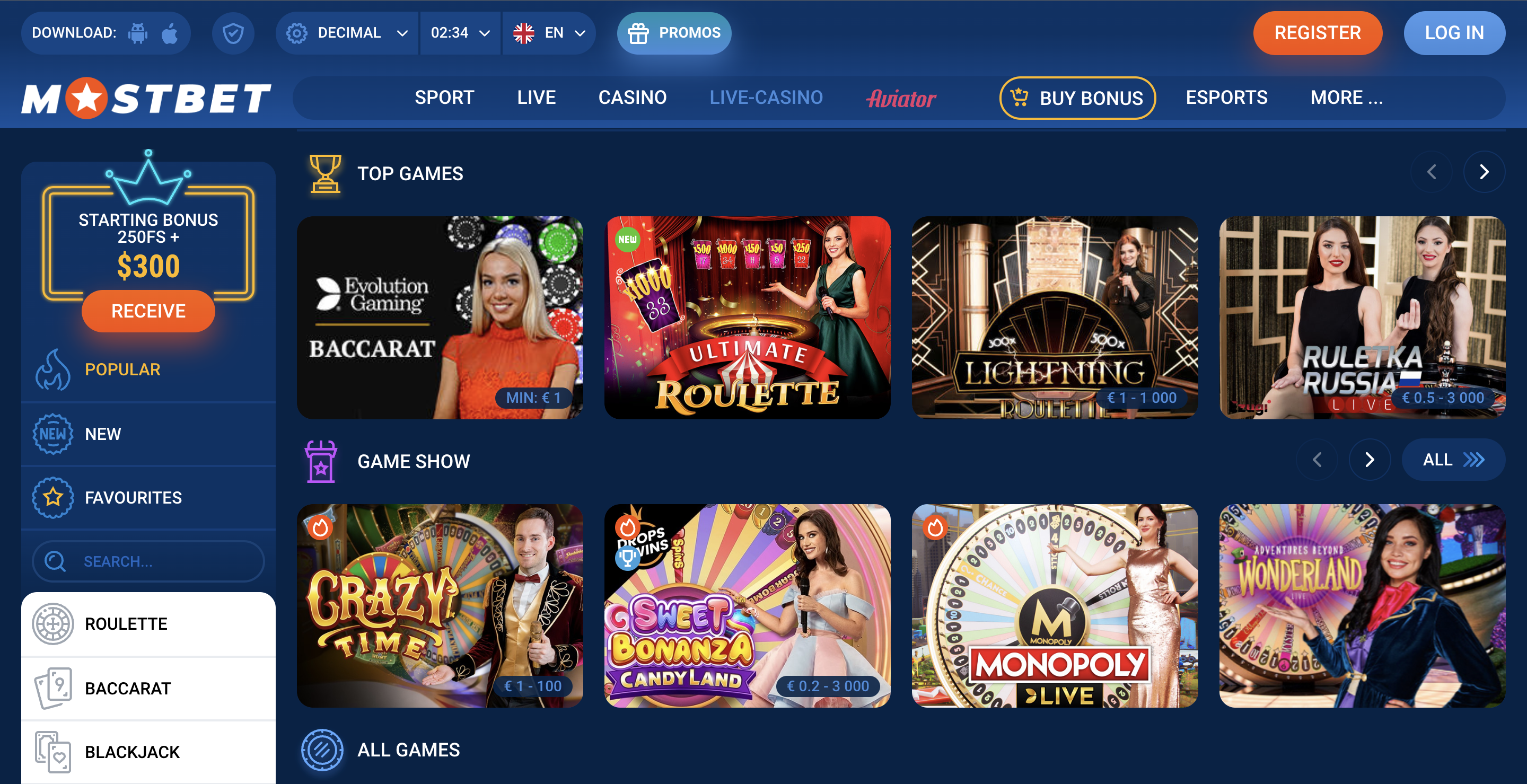 Live Games Providers at Mostbet
To ensure top-tier live dealer experiences, Mostbet collaborates with industry-leading software providers, such as Evolution Gaming, Pragmatic Play, and Ezugi. These partnerships ensure high-quality streaming, proficient dealers, and a user-friendly interface, facilitating a flawless gaming journey for bettors.
Benefits of Live Casino Games at Mostbet
Engaging in live casino sessions on Mostbet yields several advantages:
Authentic Experience: Playing with real dealers transports the tangible casino atmosphere directly to players, replete with its unique ambiance and excitement.
Interactive Gameplay: Players can interact in real-time, not only observing the dealers but also communicating with them and fellow participants.
Diverse Game Offerings: Mostbet's live casino showcases a vast array of table games, from various poker and blackjack renditions to roulette and baccarat, ensuring a game for every preference.
Accessibility: Emphasizing usability, Mostbet's mobile-optimized platform allows bettors to relish their favored live games on-demand, irrespective of their location. Its intuitive design ensures a seamless experience on all devices.
Instant Games at Mostbet
Mostbet presents a range of instant games tailored for bettors seeking swift gameplay and immediate rewards. The emphasis is on rapid results, and games such as Aviator and JetX stand out in the casino's roster for their captivating nature and instant payouts.
Aviator Game at Mostbet
Aviator, a standout among Mostbet's offerings, reinterprets the traditional crash game. In Aviator, players wager on the flight path of an airplane, with returns escalating as the plane ascends. The challenge lies in the unpredictable nature of the plane's trajectory: it can crash without warning, urging players to tactically cash out to safeguard their returns.
JetX at Mostbet
JetX mirrors the core mechanics of Aviator, but it trades an airplane for a rocket. Players bet on the rocket's trajectory, with stakes and potential rewards growing as the rocket climbs. The excitement hinges on the rocket's volatile nature—it can explode without prior notice, and players must wisely decide when to cash out. JetX's sleek design heightens the thrill, merging playability with visual appeal.
Getting Started with Mostbet Casino
Visit Mostbet's official website and select the 'Register' option. Follow the prompts, inputting necessary details such as a valid email and a secure password. After account setup, deposit your initial funds using one of Mostbet's diverse payment options. With your account funded, delve into the array of casino offerings, from slots and table games to live interactions. It's prudent to set play boundaries and adhere to responsible gaming practices.
Playing via Mostbet's Mobile App
For on-the-move gaming:
App Download: Obtain the Mostbet mobile app compatible with iOS and Android from either the website or the appropriate app store.
Registration and Login: Post-installation, the registration mirrors the web process. Once registered and logged in, depositing is facilitated through the in-app banking section.
Engage: With your account funded, the breadth of Mostbet's gaming universe is readily accessible. Opt to enable notifications for real-time updates on promotions and game introductions.
Our Experience at Mostbet Casino
During our review of Mostbet Casino, we allocated a balance of 500 USDT to explore a range of games. We first turned to 'Money Train 2' by Relax Gaming, a renowned slot due to its high volatility and a potential win of 50,000 times one's stake. Beginning with bets of 5 USDT, we soon encountered the Respin and Money Cart bonus feature, which increased our balance by 100 USDT. Our approach leveraged the slot's high variance, anticipating substantial returns during bonus rounds.
Subsequently, we transitioned to Evolution's 'Lightning Roulette'. This live casino game incorporates the unpredictability of roulette with lucky numbers that can amplify payouts up to 500 times. We spread our 300 USDT balance with bets of 20 USDT across multiple numbers. After several rounds, luck favored us on number '8', yielding a 300 USDT win.
Conclusively, while we ended with a balance slightly above our initial amount, it's paramount to note that casino outcomes are unpredictable. Players should prioritize responsible gaming and appreciate the entertainment value.
Mostbet Online Poker Room
Beyond sports betting and traditional casino games, Mostbet also features an online poker segment. The platform caters to both novices and experienced players, but it's evident that poker isn't their primary focus, given the limited number of tables. This section delves into Mostbet's poker offerings.
Poker Variants at Mostbet
Mostbet's diverse poker selections cater to varying player preferences. The platform hosts multiple poker variants, including the widely recognized Texas Hold'em, Triton, and Omaha. Each variant presents its distinct rules and strategic depth, ensuring players encounter varied challenges.
Poker Tournaments at Mostbet
Beyond individual games, Mostbet organizes poker tournaments, encompassing daily competitions ideal for newcomers and larger events tailored for seasoned competitors. These events present an opportunity for substantial rewards and a platform to compete against a varied player base.
Welcome Bonus: Up to 300 USD
Mostbet introduces a substantial welcome bonus, where new users can receive up to 300 USD on their initial deposit. To qualify:
Choose the bonus type during registration (either for sports or casino).
Deposit a minimum of 2 USD within 7 days post-registration.

The standard bonus matches 100% of the deposit. For example, depositing 100 USD yields an extra 100 USD. However, if deposited within 15 minutes of registration, users are entitled to a 125% bonus, potentially receiving 125 USD on a 100 USD deposit. The highest bonus one can obtain is 300 USD or its equivalent value in different currencies.
Additionally, deposits of 20 USD or more within the initial 7 days come with 250 free spins in the casino, distributed over 5 days, and valid for 24 hours after allocation.
Wagering Requirements for the Welcome Bonus
The bonus is available to new Mostbet customers registering from 19.12.2022 to 19.12.2023. Mostbet accommodates various currencies for this promotion.
For the sports bonus, the granted bonus amount must be wagered 5 times using accumulator bets within 30 days. Each accumulator should have at least three events with odds of 1.40 or higher.
In contrast, the casino bonus requires players to wager the bonus 60 times within 72 hours in the "Casino", "Live-Games", and "Virtual Sports" sections. Different games contribute varied amounts towards this requirement, with some games only contributing 10% of the bet value.
Mostbet Bonuses and Promotions
Mostbet curates a series of bonuses and promotions tailored to engage both new and seasoned users.
Deposit Bonuses: 25-150%
A notable feature is the Deposit Bonus range, which varies between 25% and 150% based on the deposit amount and gaming preference. Interestingly, this bonus spans the first five deposits, each carrying distinct percentages and terms, fostering prolonged engagement.
Wagering Requirements for Deposit Bonuses
To maintain fairness, Mostbet sets wagering stipulations for these bonuses. Players should review these on Mostbet's official site to fully understand their commitments and maximize the bonuses' value.
10% Casino Cashback
For times when luck isn't on a player's side, Mostbet's 10% Casino Cashback provides solace by returning a fraction of weekly losses. Cashback rates are tiered:
5% for losses equivalent to 500 THB, 1000 RUB, or 50 EUR.
7% for losses of 2500 THB, 5000 RUB, or 250 EUR.
A maximum of 10% for losses totaling 15000 THB, 25000 RUB, or 1000 EUR.
Wagering Requirements for the 10% Casino Cashback
This cashback can be wagered or used for bets. Successfully growing the cashback can yield returns up to tenfold.
Cashback is computed every Monday at 03:00 UTC+3 and must be claimed within 72 hours from the 'My Status' section; otherwise, it's forfeited. All activity between 00:00 UTC+3 on Monday and 23:59 UTC+3 on Sunday is considered.
VIP Loyalty Program at Mostbet
Mostbet's VIP Loyalty Program is designed to reward active players with various benefits, including freebets, bonus points, and cashbacks. Upon registering, players can view their loyalty status—from "Rookie" to "Legend"—in their profile section. As players ascend in status, they unlock richer bonuses.
For example, the conversion rate for Mostbet-coins is 20:1 for Rookies, improving to 4:1 for Legends. Furthermore, freebet rewards grow progressively from 2000 THB at the Rookie level to an impressive 250,000 THB at the Legend tier. This program showcases Mostbet's commitment to recognizing and incentivizing player engagement.
Utilizing Promo Codes at Mostbet
Mostbet promo codes offer players a pathway to exclusive bonuses and gaming opportunities. These codes, disseminated through newsletters, promotional campaigns, and the official website, can be entered within the account settings. Upon activation, associated bonuses are immediately credited to the player's account.
These promo codes can be tied to specific games, improved odds, or deposit bonuses. However, players should be vigilant about code expiration dates to fully leverage their benefits.
Payment Methods at Mostbet
A secure and efficient transaction process is paramount for online gaming platforms. Mostbet addresses this by offering an array of deposit and withdrawal methods tailored to meet the diverse financial needs of its international clientele.
Available Deposit and Withdrawal Options
Mostbet accommodates various payment methods, including traditional credit and debit cards like Visa and MasterCard, as well as e-wallets. Additionally, cryptocurrency users have the option to transact using Bitcoin, Ethereum, and other leading digital currencies.
Both deposit and withdrawal minimums vary based on the chosen method, but Mostbet ensures these thresholds remain user-friendly.
| | |
| --- | --- |
| Minimum Deposit  | $2-10 |
| Minimum Withdrawal  | $15 |
| Maximum Withdrawal  | $5,000 per day; $15,000 pew week, $50,000 per month |
Depositing Funds at Mostbet
To deposit funds, players need to:
Log into their Mostbet account.
Navigate to the 'Deposit' section.
Choose a deposit method.
Specify the deposit amount.
Deposits are processed promptly, ensuring players can swiftly engage with Mostbet's diverse gaming offerings.
Withdrawing Funds from Mostbet
Mostbet's withdrawal process is designed for simplicity:
Access the 'Withdraw' section in the user account.
Select a withdrawal method.
Indicate the withdrawal amount and confirm.
Following confirmation, Mostbet begins the withdrawal process. The time it takes for funds to appear in a user's account varies based on the selected method. It's noteworthy that first-time withdrawals might necessitate identity verification—a common industry measure to safeguard against potential fraud and secure user funds.
Registration at Mostbet: How to Sign Up?
Initiating your Mostbet journey is an uncomplicated endeavor. The following steps will guide you through the registration process:
Access the Site: Visit the official Mostbet website. If you encounter accessibility issues, use the provided link to the official Mostbet mirror site, which mirrors the main site's features.
Begin Registration: On the homepage, select the "Register" option, leading you to the registration form. Complete it by providing your email address and setting a password. Ensure accuracy as this information is pivotal for future logins.
Fund Your Account: Post-registration, proceed to the "Deposit" section, choose a payment method, and determine your deposit amount. Deposits are typically instant.
Engage with the Platform: Once credited, you can dive into Mostbet's extensive game and sports betting offerings.
Registration Requirements
Registering with Mostbet requires users to be at least 18 years old, adhering to international gambling regulations. Identity verification, either during registration or before your first withdrawal, might necessitate personal identification.
Registering via the Mobile App
Using the Mostbet mobile app streamlines the registration process. Post-app download, select 'Sign In', then 'Register'. Fill in the required details, mirroring the desktop registration process. Upon completion, you're set to game wherever you are.
Obtaining a Welcome Bonus upon Registration
New users can avail themselves of Mostbet's enticing welcome bonus. During sign-up, opt to claim your welcome bonus, but remain aware of associated terms and conditions, especially wagering requirements.
Mostbet Account Verification Process
Mostbet prioritizes the security of its users' information, necessitating an account verification process.
After account creation, go to the 'Account Verification' in your profile. Here, identity verification is achieved by uploading an ID, like a passport or driver's license. To fortify security and comply with international gambling norms, proof of residence, such as a recent utility bill or bank statement, might also be requested. This should display your full name and address and be no older than three months.
Ensure document clarity for swift verification. Once documents are submitted, Mostbet typically verifies within 24-72 hours. Following this, unhindered withdrawals can be made.
Mostbet Mobile App for Android and iOS
Mostbet's mobile application, available for both Android and iOS, optimizes user experience by mirroring the desktop platform's functionalities, ensuring betting, gaming, and account management are feasible on-the-go.
App System Requirements for Android and iOS
The Mostbet app supports a wide array of devices. Android devices should run on Android 5.0 or higher, whereas iOS devices require iOS 9.0 or later, ensuring app performance remains fluid.
Downloading the Mostbet APK for Android
Due to Google Play Store's betting app restrictions, the Mostbet APK must be sourced directly from the Mostbet website. Go to the mobile app section and select 'Download for Android' to begin the APK download.
Installing the Mostbet App on Android
Post-download, find the APK file in your device's downloads. Clicking it commences installation. First-time APK users might need to permit installations from unknown sources in security settings. After installation, the app becomes operational.
Downloading and Installing the Mostbet App on iOS
iOS users can effortlessly download the Mostbet app directly from the Apple App Store. A simple 'Mostbet' search followed by selecting 'Get' will automate the download and installation process.
Updating the Mostbet App
Ensuring user satisfaction, Mostbet frequently updates its app. Android users should visit the official Mostbet site for APK updates, while iOS users can update directly via the App Store. Regular updates ensure users access the latest features, enhanced security, and an optimized experience.
Review of Mostbet Bookmaker and Online Casino
Tips and Best Practices for Playing at Mostbet
Engaging with Mostbet's comprehensive betting and casino platform becomes even more rewarding when approached with a strategy:
Platform Familiarity: Get to know Mostbet's array of games, betting odds, and options to make informed decisions.
Understand the Terms: Before diving in, it's essential to understand game and bonus terms, especially wagering requirements.
Budgeting: Setting a gaming budget ensures that you play responsibly and keep the experience enjoyable.
Promotions and Bonuses: Stay updated on Mostbet's promotions and engage in their loyalty program to earn rewards.
Mobile Engagement: Make the most of the Mostbet mobile app for gaming flexibility on the go.
Mostbet Mobile Website
Mostbet's mobile site provides an effortless interface, adapting to Android and iOS devices, and offering users access to its vast gaming options on the move.
How to Use the Mostbet Mobile Website?
Open your preferred mobile browser and navigate to the Mostbet site.
The site will adjust to your device's dimensions for optimal viewing.
Browse various sections, place bets, or engage in casino games right from your mobile.
Mostbet License and Fairness
With a Curacao license, Mostbet offers a safe and trustworthy gaming environment. They follow stringent guidelines set by the licensing authority, ensuring fairness in gameplay and transparent betting.
Mostbet Customer Support
Should you have inquiries, Mostbet's dedicated customer support is available 24/7 via live chat and email, ready to tackle everything from account issues to technical hitches.
Final Thoughts on Mostbet as a Bookmaker and Online Casino
Mostbet shines as a reliable online bookmaker and casino platform. Even though it operates under a Curacao license and might have some limited sports options, its support for multiple languages, acceptance of cryptocurrencies, and unwavering customer service make it a top choice for gaming enthusiasts.
Read this page in other languages:
Accepted Cryptocurrencies
Available Games
Supported Languages
Software Providers
Pros
Competitive Payouts: Mostbet offers high payout percentages in popular sports like football, basketball, and tennis, ensuring better returns for players.

Wide Range of Markets: With over 180 football markets and a variety of betting options like card and corner bets, Mostbet provides extensive coverage and choices for sports enthusiasts.

Convenient Cash Out Options: The bookmaker offers cash out, allowing players to secure their winnings or minimize potential losses before the event ends.

User-Friendly Mobile Apps: Mostbet provides mobile apps for both Android and iOS devices, enabling users to access their favorite sports and casino games on the go.

Multilingual Support and Crypto Payments: Mostbet caters to a global audience by supporting multiple languages on its website and accepting payments in cryptocurrencies, offering convenience and flexibility.
Cons
Curacao License: Some users may have concerns about the bookmaker's Curacao license, as it may not hold the same level of regulatory oversight as licenses from other jurisdictions.

Limited Range of Sports and Handicaps: While Mostbet covers a decent number of sports, the range of available sports and handicaps may be less comprehensive compared to other bookmakers.

No Bet Builder: Mostbet does not provide a bet builder feature, limiting the customization options for players in creating their own unique bets.