Explore the immersive world of Me88 bookmaker and online casino in this comprehensive review designed for gaming enthusiasts and novice bettors alike. Uncover the step-by-step process of registering and transacting on Me88, understand its mobile capabilities, and discover how to maximize your gaming experience. The article provides detailed analysis of its pros, cons, unique features, and even insider tips, painting a full picture of what it's like to play on Me88. Whether you're contemplating joining Me88 or you're an existing player seeking to navigate its offerings better, this article serves as a valuable guide to help you make informed decisions and enhance your online gaming journey.
Review of the bookmaker and online casino ME88 is also available in other languages:
Me88: A Rising Star in the Betting and Gaming Industry
Me88 is a renowned bookmaker, established in 2020 by Brictec Co., Ltd. Registered under the Curaçao gambling license, it quickly gained traction among Asian bettors and gamblers for its extensive sportsbook and casino offerings. Our test bets, made on this platform, highlighted the robustness and variety Me88 offers, making the bookmaker Me88 review quite favorable.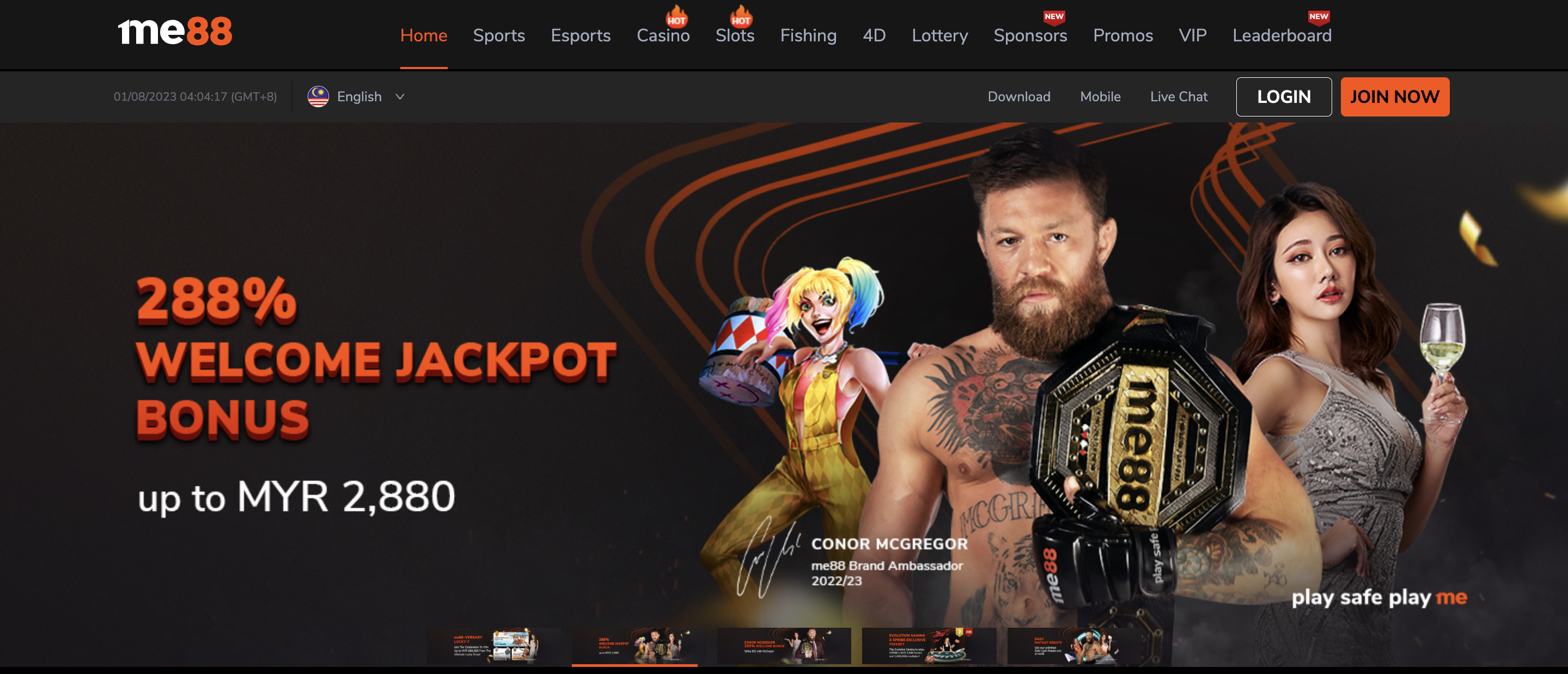 Top Reasons to Choose Me88: A Quick Rundown
Me88 isn't just about sports betting. It's a holistic platform where players can place stakes on a wide range of sports such as Soccer, Basketball, and Tennis, while also wagering on esports like Dota 2 and Counter-Strike: Global Offensive. And that's not all – the platform features different sportsbooks like Me88 Sports, CMD368, and MaxBet, which cater to varied betting needs.
Gamblers will also appreciate the casino Me88 hosts, laden with a rich array of games from notable providers like Spadegaming, Pragmatic Play, and Microgaming. The casino offers a mix of classic favorites like 'Roma II', 'Buffalo King', and 'Golden Fa' along with unique 4D offerings like the 'Grand Dragon Lottery'.
The platform accepts various currencies such as SGD, MYR, and THB, with deposit and withdrawal options ranging from conventional Visa and Mastercard to crypto options like Bitcoin and Etherium. Moreover, Me88 ensures a high degree of customer satisfaction with the availability of live support and email support.
Online Sports Betting at Me88: A Spectacle to Behold
Me88, as a leading bookmaker, excels in the domain of online sports betting. The sportsbook Me88 presents is a seamless blend of tradition and innovation, catering to both seasoned punters and rookies alike. The platform provides a diverse range of sports and esports betting markets, making it an ideal destination for bettors looking to place a wager. The fact that you can also watch live streams of the events you're betting on further enhances the appeal of Me88 as a betting site.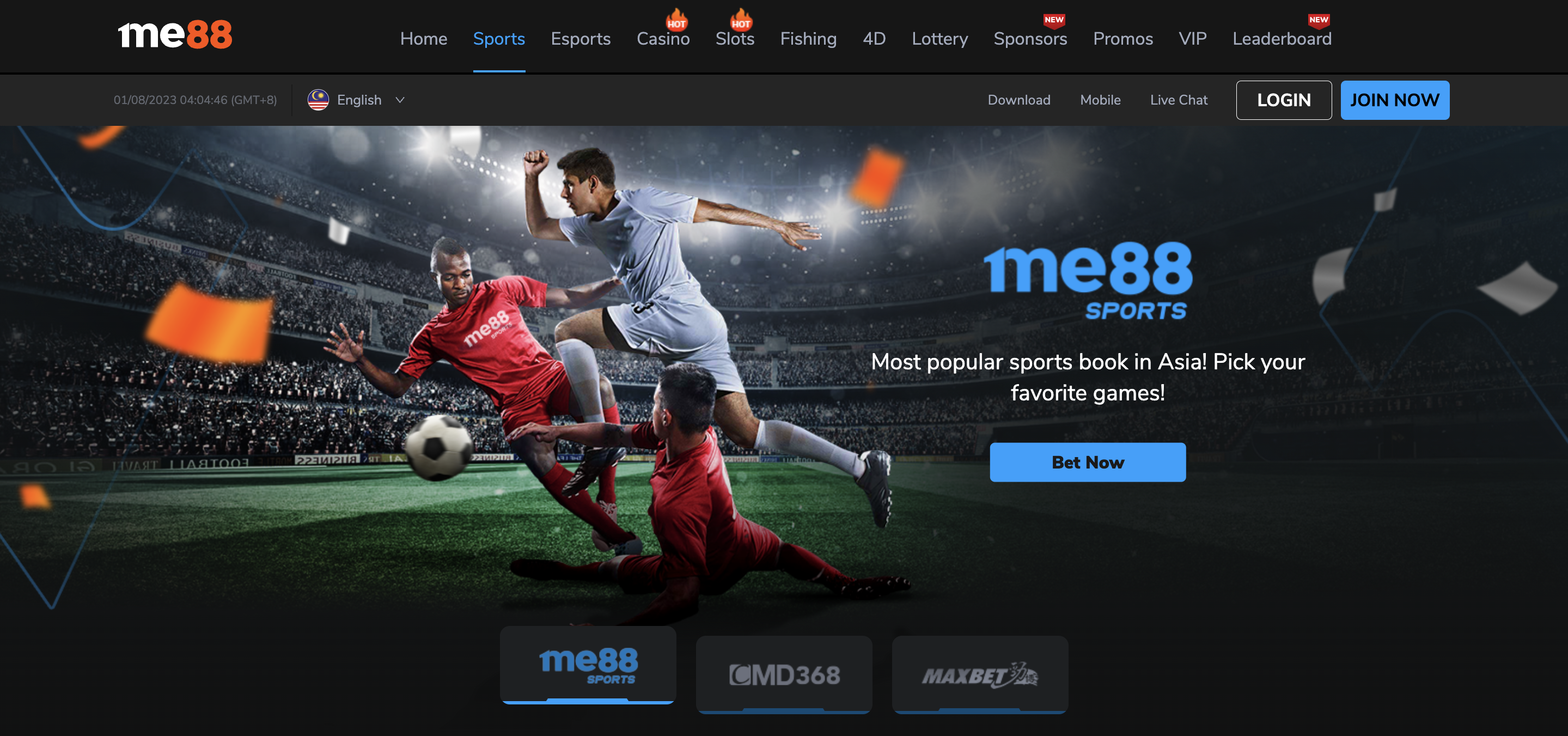 Top-Rated Sports Betting Markets at Me88
As an experienced player in the bookmaker industry, Me88 understands the importance of variety in attracting and retaining bettors. Me88 betting site features a plethora of sports betting markets. Our analysis of this betting site shows that the most popular ones among punters are Soccer, Basketball, and Tennis, given their global appeal. The platform doesn't overlook fans of less mainstream sports either, offering markets on Badminton, Table Tennis, and even Water Polo.
Furthermore, esports enthusiasts have ample opportunities for betting on Me88. Some of the top esports betting markets include giants like Counter-Strike: Global Offensive, Dota 2, and League of Legends. Our findings about the bookmaker Me88 confirm that it caters well to the esports revolution, providing a solid platform for fans to stake their claims.
Placing Your Bets at Me88: A Simple Guide
Making your Me88 bets is a straightforward process that has been streamlined for utmost convenience. Here's how you can get started:
Create an Account: Sign up on the Me88 platform. You'll need to provide basic information such as your name, email, and preferred currency.

Make a Deposit: Choose from the numerous deposit methods available, such as Visa, Mastercard, or even cryptocurrencies like Bitcoin and Ethereum.

Select Your Market: Browse through the extensive sports and esports offerings to pick your preferred market.

Place Your Bet: Decide on the type of bet you wish to place, enter the stake, and confirm your bet.
Immersing in Me88's Live Betting and Streaming Services
A thrilling aspect of the Me88 betting site is the provision of live betting, allowing bettors to place wagers as the action unfolds in real-time. The ability to bet in-play on Me88 offers a dynamic and exciting wagering environment that keeps players engaged and invested. From Soccer and Tennis to E-Sports like Dota 2 and League of Legends, the options for live bets on Me88 are diverse and plentiful.
Coupled with live betting is Me88's live streaming feature. Bettors can watch events live, allowing them to make more informed decisions and enjoy the thrill of the game simultaneously. The Me88 live streaming service enhances the overall betting experience, creating an immersive atmosphere where the bettors feel part of the ongoing action.
An Assortment of Betting Types on Me88
Betting on Me88 doesn't just mean straightforward win/loss stakes. The platform offers a variety of betting types to cater to every bettor's style and preference. For instance, accumulator bets, a popular choice, allow bettors to combine multiple selections into a single wager, increasing potential returns.
Another appealing betting type offered by Me88 is systems of bets. These are bets made up of all possible combinations of a set of selections. These types of bets offer more winning opportunities, albeit at a higher risk.
The Edge with Me88's Betting Tools
The bookmaker Me88 equips bettors with additional tools to maximize their betting strategy. The 'Me88 cash out' feature allows punters to secure a return before an event concludes, providing an added level of control over their stakes. This feature is particularly handy when a bet seems likely to lose, as it allows bettors to mitigate potential losses.
Another impressive feature is the 'Me88 bet builder,' which allows bettors to customize their bets on any football match. You can combine several markets, such as match result, first goal scorer, total goals, and more into a single bet, giving you more flexibility and enhancing the overall betting experience. In our opinion, these tools elevate Me88's standing as a comprehensive and forward-thinking betting platform.
Our experience of betting on Me88 sportsbook
As part of our review for the Me88 betting site, our team decided to test the platform by placing bets on two different sports markets with the budget of 500 USDT. Here's how it went:
The first market we chose was Football, which is known for its vast betting options and thrilling dynamics. We decided to place a prematch bet on an English Premier League match between Manchester United and Chelsea. After some analysis, we opted for a 'Double Chance & Draw No Bet' option, putting our stake on Manchester United. This type of bet offered us the chance to win if Manchester United won the match, and in case of a draw, our stake would be returned. We decided to allocate 300 USDT for this bet, a sizeable portion of our budget, as our research suggested that Manchester United was in top form.
Our second bet was an in-play bet on a Dota 2 eSports match between Team Secret and Virtus Pro. In eSports, the tides can turn rapidly, offering a dynamic and exciting betting environment. We watched the early game closely, analyzing the strategies of both teams. After observing the first 10 minutes, we wagered 200 USDT on Team Secret's victory using the 'Moneyline' bet type, which is a straightforward wager on who will win the match. Given the current game's situation and Team Secret's aggressive early game, we felt confident about this bet.
Our betting strategy on the Me88 platform was a mix of cautious planning and bold decision-making. While our football bet was based on pre-match research and form analysis, the Dota 2 bet was more impulsive, hinging on the excitement of live betting and our understanding of the game's state.
In the end, our both bets won, and we have seen a substantial profit. In any case, our tests showed the inherent risks and rewards of sports betting, highlighting the importance of careful decision-making, risk management, and a solid understanding of the sport and betting market.
A Dive into the Casino World of Me88
Embracing a plethora of vibrant games and thrilling experiences, the online casino at Me88 makes a mark in the world of virtual gambling. Our experience at this intriguing platform, which serves as a melting pot of innovative casino games, was nothing short of spectacular.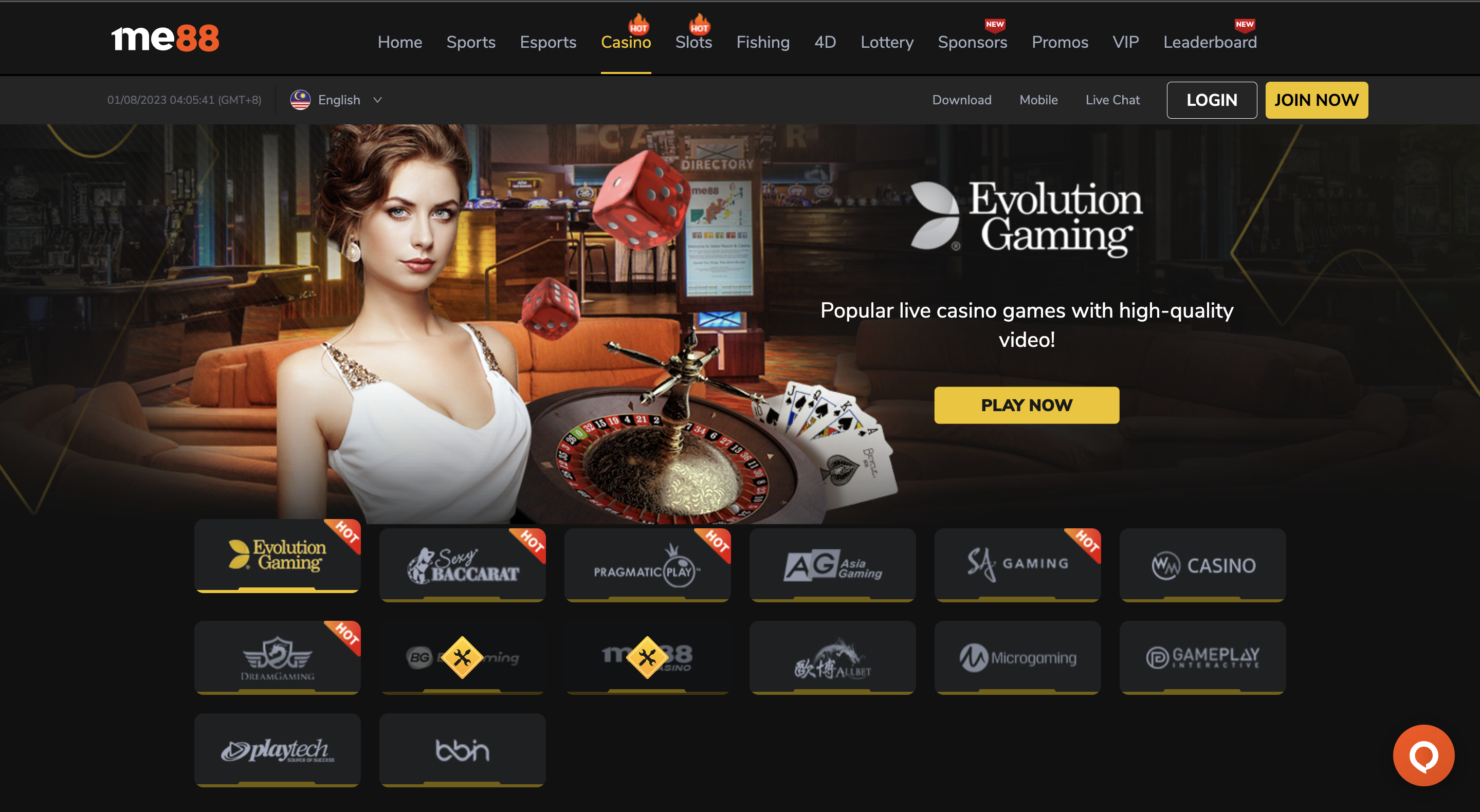 From classic table games to flashy slots, the collection at Me88 is diverse enough to cater to all tastes. The Me88 gambling site provides a seamless interface for punters, with smooth navigation and quick loading times contributing to a top-notch gaming experience. The visually appealing designs and user-friendly layout make the platform easily accessible to both seasoned gamblers and newcomers.
Spotlight on Top-tier Games at Me88 Casino
At the heart of any casino, including online casino Me88, are the games it offers. Here, the selection doesn't disappoint. The casino showcases an array of top-tier games from renowned software providers, ensuring high-quality graphics and fair play.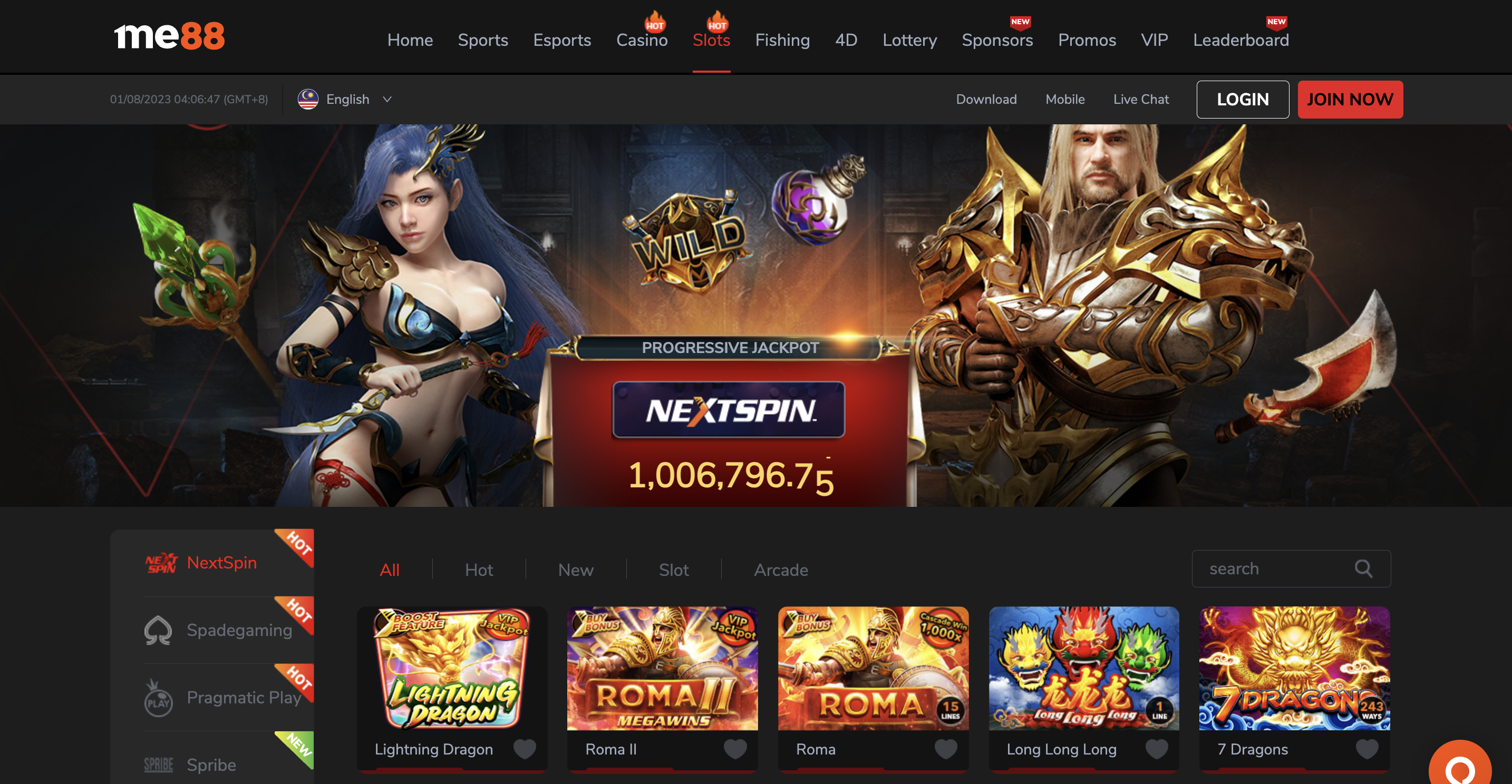 Our tests found the slots section to be particularly impressive, featuring a wide range of themes from traditional fruit machines to captivating video slots. For those who prefer card games, various Blackjack and Poker variants are on offer. A special mention goes to their live casino section, where players can immerse themselves in real-time gambling action, getting the authentic casino feel right at their homes.
Kickstarting Your Gambling Journey at Me88
Starting to play at the Me88 casino is as easy as 1-2-3. Here's a quick rundown of the steps involved:
Create an Account: The first step is registering on the platform. This process is quick and easy, only taking a few minutes.

Fund Your Account: Next, head to the deposit section. Me88 offers various payment options, including credit cards and e-wallets. Choose your preferred method, enter your deposit amount, and follow the prompts to complete the transaction.

Dive into the Casino: Now, you're ready to explore the casino. Choose from the vast library of Me88 casino games and start staking your bets. Always remember to set betting limits and gamble responsibly.
A Front-Row Experience at the Live Casino Me88
Let's peel back the curtain on the immersive realm of the live casino at Me88. This platform takes the live dealer concept to unprecedented heights, delivering a compelling, real-time gaming experience that players yearn for.
The live dealer games at Me88 offer a unique blend of the traditional and modern, providing a mix of classic casino games like Blackjack, Baccarat, and Roulette, alongside innovative game-show styled offerings. The selection here is so diverse, it'll leave even the most discerning gambler spoilt for choice.
From our own experience, the platform's success lies in its capacity to simulate a real-life casino environment without compromising on the convenience of online gaming. The dealers are professional and friendly, fostering an interactive gaming atmosphere where players can chat, ask questions, or even seek betting advice.
Most notable, however, is the opportunity to play with real dealers on Me88. This feature adds authenticity to your gaming experience, pushing the boundaries of virtual casino play. You interact with the dealers and other players in real-time, creating a sense of camaraderie that's usually reserved for physical casinos.
Our experience of gamble in casino Me88
Armed with a healthy wallet of 500 USDT, we embarked on a thrilling adventure in the pulsating heart of Me88's online casino, where a blend of strategy, luck, and unpredictability led us through an engaging gaming experience. Our gaming journey navigated the vibrant waters of slot gaming before delving into the compelling world of live dealer games.
Our first stop was the dynamic 'Elvis Frog in Vegas' from BGaming, a slot game renowned for its captivating gameplay and tantalizing winning prospects. We kicked off with small stakes, savoring the neon-drenched cityscape while reels spun, and symbols aligned. After a few modest wins and losses, we decided to up the ante, placing a whopping 150 USDT bet. The tension was palpable as the reels spun, finally resting with three Elvis Frog symbols in a row! Our bold bet yielded a considerable return, escalating our balance significantly. The rush of landing a big win is a feeling unparalleled, something Me88's slot games deliver consistently.
Next, we decided to switch gears and test our luck at the Live Baccarat tables. Live games on Me88 offer an authentic casino experience, complete with professional dealers and real-time player interactions. We decided to take a methodical approach, starting with smaller bets. However, in the spirit of unpredictability, we then placed a daring bet of 200 USDT on the 'Banker'. The dealer dealt the cards, and luck was on our side! The win was electrifying, bolstering our balance and providing a thrilling climax to our live casino expedition.
Navigating the Me88 online casino was a remarkable experience. The blend of strategy, chance, and high stakes made every decision matter and every win exhilarating. The transition between slot and live games was seamless, each offering its own unique thrill and opportunities for substantial wins. Me88's immersive environment, paired with its extensive gaming options, creates a truly engaging online casino experience.
Our betting strategy, balancing smaller stakes with a few large, unpredictable bets, ensured we made the most of the gaming experience while also keeping things interesting. Me88's mix of slot games and live casino offerings ensures there's always a new game to explore, a new strategy to test, and potentially, a new win to celebrate. It's an online gaming journey worth embarking on, whether you're a seasoned gambler or a curious newbie.
Exhilarating Welcome Offers at Me88
One of the hallmarks of Me88's service is the attention they pay to their customers, especially newcomers, with their enticing welcome bonus packages. There are three main bonuses, each specifically tailored to appeal to a diverse set of gaming enthusiasts.
The first is the massive 288% Welcome Jackpot Bonus. This bonus can go up to a whopping MYR 2,880, providing a fantastic head start for all slot enthusiasts (exceptions apply to specific providers). New players must deposit a minimum of MYR 50 to qualify for this Me88 welcome bonus, and a 35x turnover is required before withdrawing the winnings. Using the promo code "288% Welcome Jackpot Bonus" upon deposit can easily activate this bonus.
For fans of mixed martial arts, the 200% Conor McGregor Welcome Bonus is a thrilling offer. Newly registered members can claim this bonus by depositing MYR 50 or more and selecting the "Conor McGregor 200% Welcome Bonus" from the list of promo codes. The bonus amount varies for the first three deposits, providing up to MYR 1,000 in bonus funds. The turnover requirements also vary from 16x to 22x, depending on the deposit made.
Last but not least, esports lovers can take advantage of the 200% E-Sport Welcome Bonus, reaching up to MYR 1,000. This bonus also requires a minimum deposit of MYR 50 and a 35x turnover before cashing out. The "200% E-Sport Welcome Bonus" promo code must be used to claim this bonus.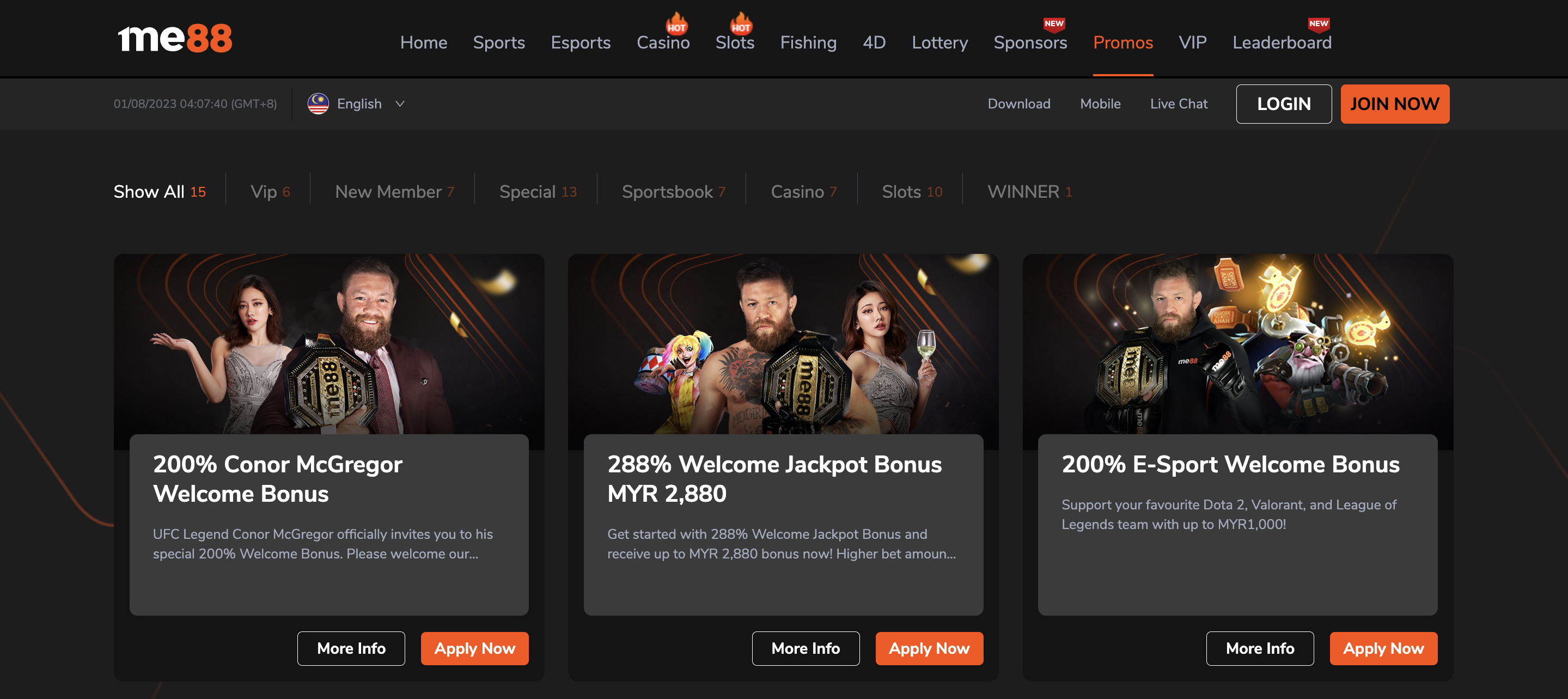 Exciting Bonuses and Rewards at Me88
Apart from the impressive welcome packages, Me88 promotions also extend to loyal users who consistently play on the platform. The MYR 58 me88 APP Loyalty Rewards offer rewards users who download the me88 App and make deposits via the application. Regular members who deposit at least MYR 100 receive a MYR 5 reward, while VIP members receive additional bonuses depending on their VIP level and the amount they deposit. All these rewards require a 5x turnover.
One of the most profitable promotions Me88 offers is the MYR 10,888 Referral Program. By inviting friends and family to join the Me88 community, members can earn up to MYR 10,888 rewards. This program includes three challenges with different deposit and VIP level requirements, but all rewards require an 8x turnover.
Me88's Exclusive VIP Loyalty Program
In addition to the Me88 bonuses and promotions, the platform offers a VIP loyalty program that rewards long-term players. The Me88 VIP loyalty program features various VIP levels: Silver, Rose Gold, Gold, Platinum, Diamond, and Royal, each with its specific requirements and privileges.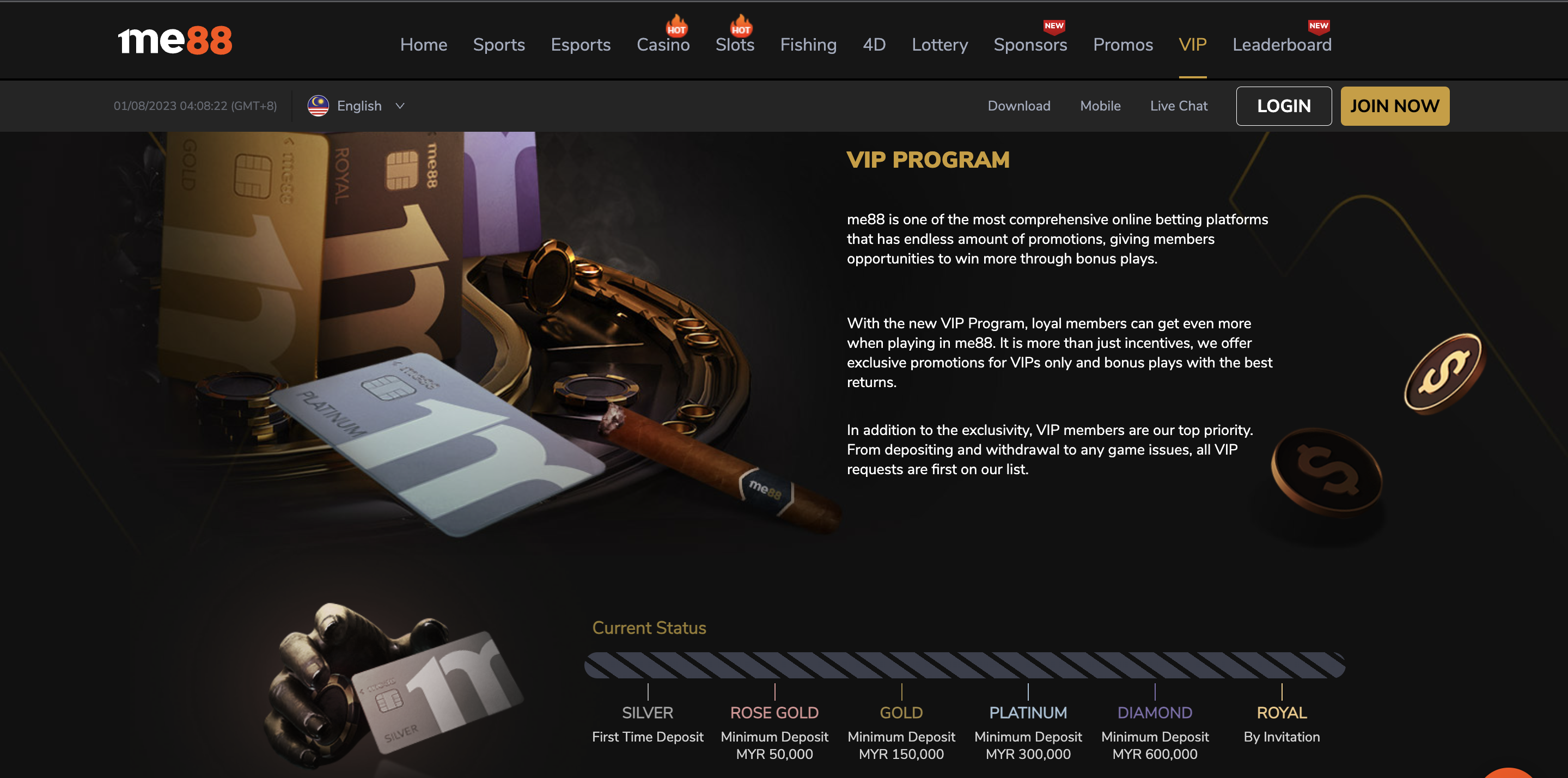 The privileges include dedicated account managers, increased withdrawal limits, enhanced transaction counts, special rebates, and exclusive gifts and treats, such as birthday bonuses and weekly rescue bonuses. The program offers more than just incentives; it provides an enhanced gaming experience with better returns and priority service.
Promocode Utilization at Me88
Me88 provides multiple promocodes, such as the "288% Welcome Jackpot Bonus" and the "Conor McGregor 200% Welcome Bonus," that players can use when depositing funds. To use a Me88 promocode, users should visit the 'My Account' page and click 'Transfer'. They then key in MYR 50 or above and transfer it from their wallet to the preferred game provider's wallet. Lastly, they choose the relevant promo code from the list of promo codes to apply.
Making Transactions Smooth: Deposits and Withdrawals at Me88
Navigating through the world of online casinos can be a daunting task, especially when it comes to making monetary transactions. However, Me88 has made the process easier with its diverse deposit and withdrawal methods, setting a standard in this domain that many rivals strive to match.
To start playing, the minimum deposit at Me88 is as low as 50 MYR, which allows for an easy and affordable start for all players. The deposit methods at Me88 are numerous and encompass a broad range of options to suit all types of players. Whether you prefer traditional means like Visa and Mastercard, or you're more into the digital trend with options like Bitcoin, Ethereum, or Tether, Me88 has got you covered. Even locally preferred methods such as DuitNow, FPX, and Touch'NGo are readily available, ensuring a seamless start to your gaming adventure. For high rollers, the platform allows for a maximum deposit of 50,000 MYR, making it versatile for all financial capabilities.
The fun doesn't stop at depositing. Withdrawing your winnings is an equally efficient process. The withdrawal methods at Me88 include the same versatile options, ensuring you have a stress-free experience accessing your winnings. The maximum withdraw limit at Me88 stands at 50,000 MYR per transaction. While this applies to new members, royal members are offered the luxury of unlimited withdrawals, showing the appreciation and trust Me88 places in its loyal customers.
The platform further provides flexibility in terms of acceptable currencies. Whether you are dealing with Singaporean dollars (SGD), Malaysian ringgits (MYR), or Thai baht (THB), Me88 is capable of handling your transactions. And for those who prefer the simplicity of plastic money, yes, Me88 does accept credit cards.
Navigating the Registration Process: A Step-by-Step Guide to Me88 Sign Up
For every online gaming enthusiast, finding an easy-to-navigate and friendly platform is crucial. Me88 offers just that, and their registration process is testament to their commitment to providing an effortless user experience. Here's a detailed guide to get you through the registration process and start your journey on the Me88 platform.
Step 1: Navigating to Me88 – Before you can sing up to Me88, you first need to locate their official site. This could either be done by a simple search engine query or by following a reliable link, like the mirror link on our site. The latter assures you that you're visiting the right platform, free from risks of phishing or fraud.  

Step 2: The Sign Up – Once you're on the official Me88 site, look for the 'Sign Up' or 'Register' button, typically located at the top-right corner of the home page. Clicking on this will initiate the registration process. You'll be required to fill in some basic personal information to create your Me88 login. Ensure to use accurate information to avoid complications during verification or withdrawal processes.

Step 3: Financing Your Account – After registering your Me88 account, the next step is to make a deposit. Me88 offers a range of deposit options to suit your preferences. Choose the one most convenient for you and follow the prompts to deposit funds into your account. Remember, the minimum deposit at Me88 is set at an affordable 50 MYR.

Step 4: Stake Your Claim – With your account now funded, you are all set to place your stakes and start enjoying the games. Navigate through the rich collection of games offered and stake your claim. Who knows? Your first stake might just be your first win.
Fulfilling Me88 Registration Requirements
When registering at Me88, it's crucial to be aware of the specific registration requirements. The platform is committed to upholding high-security standards to protect its members, hence, it adheres strictly to its age and identity verification process. Players must be of legal age, typically 18 years or older, and may be required to provide proof of identification during the registration or withdrawal process.
The Me88 Mobile App Sign Up
For those who enjoy gaming on the go, Me88 has a user-friendly mobile app available for both iOS and Android users. The registration on Me88 official site can seamlessly be done via the mobile app. Simply download the app, click on 'Register' or 'Sign Up' and follow the same steps as outlined above. Your Me88 login created on the app works just as well on the desktop version, ensuring you can enjoy your gaming experience whenever and wherever you like.
How to Get Your Me88 Welcome Bonus
A particularly attractive feature of Me88 is the generous Welcome Bonus offered to new registrants. After you sing in to Me88, you will find the Welcome Bonus option in the promotions section. Make sure you read through and understand the terms and conditions associated with the bonus, and if it suits your liking, click on 'Claim Bonus'. The bonus typically gets credited to your account after making your first deposit, adding an extra layer of excitement to your Me88 gaming experience.
Simplified Guide to Me88 Account Verification
Verifying your Me88 account is a straightforward process, and it's crucial for ensuring secure transactions. Here is a quick step-by-step guide:
Upload a Photo ID – Ensure to upload a clear copy of your national ID card or passport. This is necessary to confirm your identity.

Proof of Address – A utility bill or bank statement that clearly shows your full name and address is required. This must not be more than three months old.

Confirm Payment Method – If you've made a deposit using a credit card, a photo of the front and back of the card (with the middle numbers obscured) will be required.
Remember, Me88 is dedicated to maintaining the highest level of security for all its users. This verification process helps keep your account secure, ensuring an uninterrupted and enjoyable gaming experience.
Navigating the Me88 Mobile Application on Android and iOS
The Me88 bookmaker and online casino platform continues to push the boundaries of user convenience with its intuitive mobile application. It offers compatibility with both Android and iOS devices, and here, we will provide a detailed guide on how to get started.
Essential System Requirements for the Me88 Mobile App
To enjoy a seamless gaming experience, ensure your Android or iOS device meets the following basic system requirements. For Android users, your device should operate on Android 5.0 or above. For iOS users, ensure your device runs on iOS 9.0 or later versions. These requirements ensure the Me88 mobile app's optimal operation and performance.
Simplified Steps to Download the Me88 APK for Android
As an Android user, downloading the "Me88 APK" is simple. Head to the official Me88 site and tap the App button located in the top right corner. You will be redirected to the download page. Press the 'Download' button or scan the provided QR code. Once the download is complete, proceed with the installation.
Guide to Install the Me88 Mobile App on Android Devices
After downloading the "app Me88 for Android," the next step is the installation. Here's how:
Open the downloaded APK file on your device.

A prompt will appear; select 'Install'.

Wait for the installation to complete, then open the app and begin your gaming adventure.
Remember to adjust your security settings to allow installations from unknown sources for a smooth app installation process.
How to Download and Install the Me88 Mobile App on Your iOS Device
For iOS users interested in the "app Me88 for iOS," here's a step-by-step guide:
On the official Me88 website, click on the App button located in the top right corner.

Once redirected to the download page, tap the 'Download' button or scan the provided QR code.

You'll be redirected to a "Personal + Stuff" app on the App Store. Tap 'Get' to install this app.

Open "Personal + Stuff" to launch the Me88 app and enjoy your game.
Note: Direct search for "Personal + Stuff" in the App Store will not provide access to the Me88 app.
Ensuring Your Me88 Mobile App is Up-to-Date
To benefit from all the latest features and improvements, it's essential to keep your Me88 app updated. Android and iOS users will typically receive a notification when an update is available. You can also check for updates manually by visiting the Me88 official site and checking the app's page. Following these steps will ensure you enjoy the best mobile gaming experience Me88 has to offer.
Proven Strategies for Enhancing Your Gameplay at Me88
Embarking on a gaming journey at Me88 bookmaker and online casino can be both exciting and rewarding, but also challenging. Here are a few top strategies to optimize your gameplay experience:
Understand the rules: Each game comes with its own set of rules. Before you begin playing, make sure you have a clear understanding of these rules to increase your chances of winning.

Utilize the welcome bonus: When you sign up, don't forget to claim your welcome bonus. This provides extra funds for you to use, enhancing your gameplay without requiring a large initial investment.

Set a budget: Keep track of your spending by setting a gambling budget and sticking to it. This will help you control your finances and prevent unnecessary losses.

Try different games: Me88 offers a variety of games. Exploring these options can increase your chances of finding a game that you excel at and enjoy playing.

Take breaks: Regular breaks help you stay focused and make better decisions when gambling.

Learn from losses: It's important to analyze your losses and learn from them. They can provide valuable insights into what strategies work and what you can do differently next time.
Exploring Me88's Mobile Website Experience
The mobile website of Me88 bookmaker and online casino offers a seamless gaming experience, designed with user-friendly features that allow players to navigate through various gaming options effortlessly. It maintains a consistent look and feel with the desktop version, ensuring that users can switch between platforms without losing familiarity. The mobile site is optimized for all screen sizes, making it perfect for those who prefer gaming on the go.
Licensing and Fairness at Me88
The foundation of Me88's integrity in providing a fair and secure gaming environment is its license, granted by the esteemed Curaçao regulatory authority. This licensing ensures Me88's full compliance with all necessary legal and ethical requirements, fostering trust and a sense of security among its player base. Furthermore, to guarantee the fairness of Me88's games, regular audits are conducted by independent testing agencies. These impartial checks confirm the randomness of all game outcomes and ensure fair play, effectively safeguarding player interests. The Curaçao gambling license, coupled with these stringent audits, underpins the commitment of Me88 to create a gaming platform where players can bet with confidence and peace of mind.
Stellar Customer Support at Me88
The essence of a commendable online gaming platform lies in its capacity to offer robust customer support, and Me88 certainly excels in this area. The platform offers a 24/7 support system, ensuring players can receive assistance whenever needed. The customer support team can be reached through multiple channels including live chat, email, and phone, making it easier for players to choose the most convenient method. The team's fast response time and proficiency in resolving issues further enhance the player experience, strengthening the overall reliability of the platform. With Me88's commitment to customer satisfaction, players can focus more on enjoying their gaming and less on resolving potential issues.
Final Opinion on Me88 as bookmaker and online casino
In the vibrant landscape of online bookmakers and casinos, Me88 stands out as a notable platform for sports betting and gaming enthusiasts. With an easily navigable website, a broad selection of sports markets, and a variety of innovative casino games like fishing slots and lotteries, it delivers a well-rounded and engaging gaming experience.
Unique features such as the exclusive VIP program add to the allure of Me88, offering players special privileges that elevate their gaming journey. The array of deposit options, including the modern convenience of cryptocurrency, ensures flexible and hassle-free transactions. The brand's association with famous ambassadors further bolsters its credibility, creating a trustworthy environment for bettors.
However, it's not without areas that could benefit from improvement. The absence of an FAQ section, poker room, and instant games, as well as the limitation of its licensing to Curaçao, slightly detract from what is otherwise an exceptional platform.
Nevertheless, the advantages of Me88 far outweigh its few shortcomings, making it a worthy choice for both novice and experienced bettors. Its blend of sports betting and casino gaming in one seamless interface makes Me88 a compelling option in a crowded marketplace, ensuring an engaging and dynamic betting experience.
Read this page in other languages:
Pros
User-friendly interface with a sleek modern design.

Extensive range of deposit options, including crypto payments.

Broad selection of sports markets for a diversified betting experience.

Exclusive VIP program offering special privileges.

Fishing slots and lotteries provide alternative entertainment.

Easy navigation enhancing user experience.

Association with famous ambassadors adds to its credibility.
Cons
The limitation of its licensing to Curaçao.

Absence of a dedicated poker room.

Lack of Instant Games for quick play.

No FAQ section, potentially affecting customer service efficiency.