This comprehensive review of Marvelbet provides a deep dive into the features, pros, and cons of the online bookmaker and casino. We unpack the platform's services, from registration to transaction methods, mobile app, and betting experiences, making it an essential read for online betting enthusiasts. We share our real experiences of betting and playing in the casino, imparting an unbiased perspective for potential users. Whether you're an amateur exploring the world of online gambling or a seasoned player seeking a new platform, this review offers valuable insights into Marvelbet's offerings. Delve into this article to make an informed decision on your online gaming journey.
Review of the bookmaker and online casino Marvelbet is also available in other languages:
Getting to Know Marvelbet
Marvelbet has been in operation since 2017, under the umbrella of Welton Holdings Ltd. The company has a firm standing in the online betting industry, with a valid license from the Curacao Internet Gambling Association (CIGA). With a platform accessible via their Android app, Marvelbet ensures that bettors can place stakes anytime, anywhere. Also, with a user-friendly interface and robust customer support via live chat and email, Marvelbet leaves no room for uncertainties, thus creating a smooth betting environment for its players.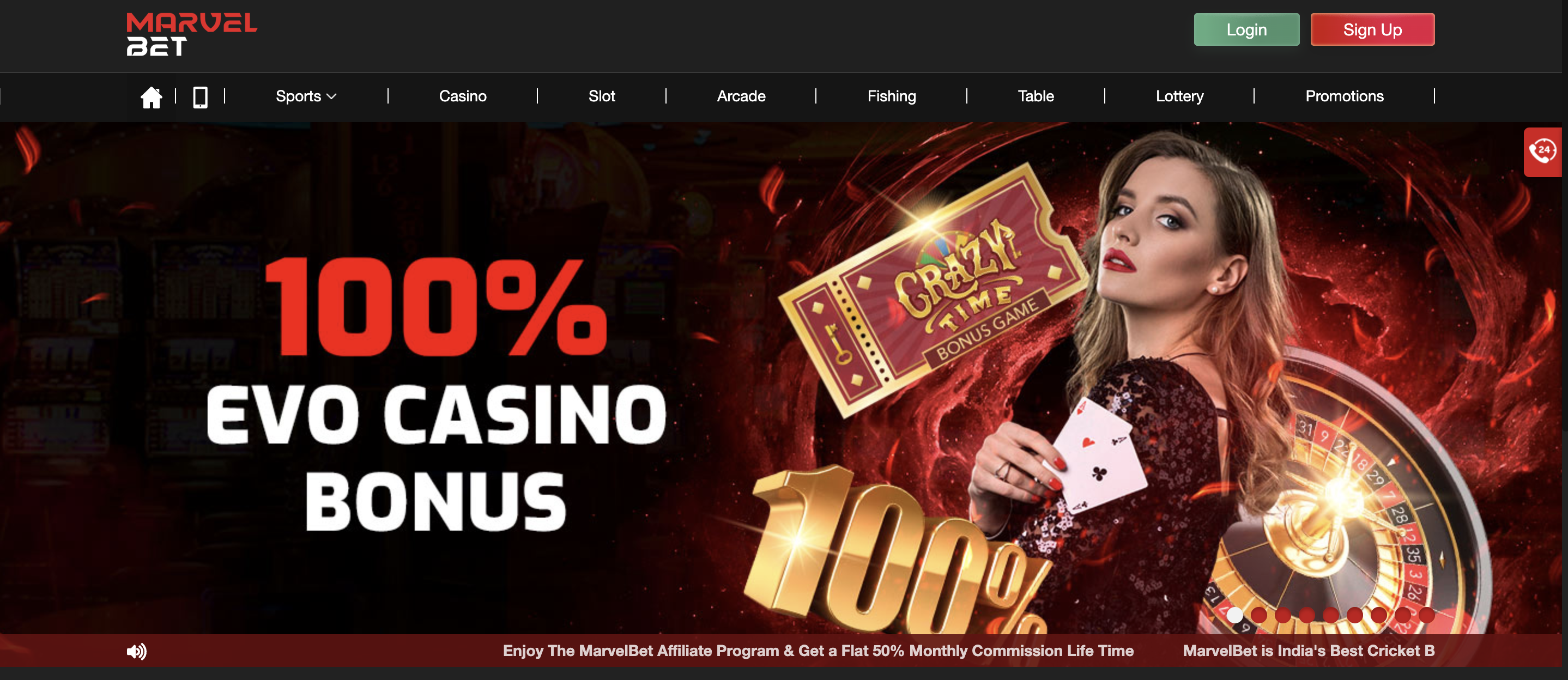 Why Marvelbet Stands Out: Key Advantages
Marvelbet's broad range of sports betting markets sets it apart. Whether you're a cricket enthusiast or a die-hard kabaddi fan, Marvelbet has got you covered. You can bet on a multitude of sports, including basketball, tennis, baseball, rugby, and even e-sports.
A major perk of Marvelbet is the availability of live streaming and match results statistics. As we tested this platform, it was evident that this feature significantly enhances the staking process, helping players make more informed decisions.
However, Marvelbet isn't just about sports betting; it's also a renowned online casino. Packed with games from various providers such as JILI, PG, MG, and many more, it offers popular titles like Lucky Coming, Andar Bahar Royale, and Open Sesame. To top it off, Marvelbet caters to the unique tastes of its players with special fishing games, presenting another thrilling way to win.
In terms of transactions, Marvelbet operates with INR currency and allows deposits and withdrawals through Net Banking (IMPS/NEFT), Phonepe, and PayTM. Although the withdrawal limit is capped at 1000 INR, the transaction time doesn't exceed 72 hours, ensuring swift and secure cashouts.
Unraveling the Sports Betting Scene at Marvelbet
Diving into the sportsbook Marvelbet provides, the platform stands tall with its extensive range of offerings. One cannot dismiss the meticulous attention given to the variety of sports on which punters can place bets. It's not just the scale that impresses, but the precision with which Marvelbet handles online sports betting. The sportsbook is comprehensively designed, ensuring that gamblers enjoy a seamless betting experience.
Top-Tier Sports Betting Markets at Marvelbet
Marvelbet caters to a wide audience by incorporating numerous sports betting markets. It's a haven for sports enthusiasts, with popular options like soccer, basketball, tennis, and cricket. But Marvelbet goes beyond the mainstream, venturing into markets like badminton, volleyball, table tennis, and even kabaddi, making it a unique platform for diverse betting preferences.
Marvelbet doesn't just stop at variety; it excels in the depth of its markets too. Our analysis of this betting site shows that you're not just limited to outright winners or losers. You can bet on detailed aspects such as specific player performance, scores, and many more intricate facets of each game. This extensive range allows bettors to have a more engaging and immersive experience.
Placing Your Stakes: A Walkthrough for Marvelbet Betting
Stepping into the world of betting on Marvelbet is a breeze, thanks to its user-friendly interface. Once you're on the Marvelbet betting site, the first step is to register an account. Post-registration, navigate to the 'Deposit' section and add funds to your account. Remember, the minimum deposit is 300 INR, with various payment methods available, including Net Banking (IMPS/NEFT), Phonepe, and PayTM.
With your account funded, you're all set to place your Marvelbet bets. Navigate to the sports section, choose your preferred sport, and select the event or match you wish to bet on. The betting markets related to your chosen event will be displayed, and you can place your bets as desired. Confirm your bet, and voila, you're now part of the action!

A Deep Dive into Live Betting and Streaming on Marvelbet
For those who thrive on the excitement of in-play betting, Marvelbet has got you covered. Live betting Marvelbet brings a unique thrill, allowing punters to place wagers while the action unfolds in real-time. This form of betting not only amplifies the anticipation but also opens avenues for strategic staking, as one can make decisions based on the ongoing performance.
Even better, Marvelbet complements live betting with a superb live streaming feature. This service allows bettors to watch games and matches in real-time, adding to the immersive experience. Our tests of Marvelbet have shown that the quality of their live streaming is top-notch, ensuring bettors don't miss a moment of the excitement.
The Betting Palette: Various Bet Types on Marvelbet
Marvelbet's betting palette is as diverse as it can get. It offers a myriad of bet types to cater to a wide range of betting preferences. The classic single and accumulator bets are, of course, available for those who prefer these straightforward bet types.
For the strategists among the punters, Marvelbet also supports various systems of bets. This includes options like Trixie, Yankee, or Heinz bets, among others. This variety allows seasoned players to apply complex betting strategies and potentially multiply their winnings.
Marvelbet's Suite of Betting Tools
Beyond the basics, Marvelbet offers a suite of additional tools to enhance your betting strategy. One notable feature is the 'Marvelbet cash out' option, which allows players to withdraw their bets before the event concludes. This tool is a boon for those who want to secure part of their potential winnings or minimize losses during a live event.
In addition to cash out, Marvelbet features a bet builder that gives punters the ability to create their own personalized bet. This tool enables you to select several different outcomes within a single event, creating a unique bet tailored to your prediction.
Our experience of betting on Marvelbet sportsbook
Marvelbet provides a thrilling platform for betting enthusiasts, and our team recently had the opportunity to immerse in the excitement of its sportsbook. With a starting balance of 500 USDT, we chose to test the waters of Football and eSports (Dota 2) markets. We decided to make one prematch bet and one live bet, a combination that offers both strategic and spontaneous play.
For our first betting venture, we turned to football – the universal language of sports. We opted for a prematch bet on an upcoming Premier League match, with Manchester United pitted against Chelsea. We analyzed past performances, current team forms, and even dug deep into each team's injury report. A thorough examination led us to go with a 'Both teams to score' bet type. Given the offensive prowess of both teams and their history of high-scoring games, we staked 200 USDT. It was an exciting wait, and the results did not disappoint. The match ended in a 2-1 victory for Manchester United, meaning our first bet paid off!
Next, we decided to delve into the eSports realm. Dota 2 was our chosen game, due to the unpredictability of outcomes that adds an extra layer of excitement. As a game was already underway between Team Liquid and OG, we opted for a live bet. We decided to stake on 'Team to destroy the first tower,' a prop bet that is not directly related to the match's ultimate winner. Our knowledge of the game and a quick assessment of the ongoing match's flow led us to place a hefty 300 USDT bet on Team Liquid. Dota 2 games can take unexpected turns, and unfortunately, this time, it did not turn in our favor. Despite Team Liquid's best efforts, OG managed to destroy the first tower.
Overall, our Marvelbet betting experience was filled with thrilling highs and nail-biting lows, capturing the essence of sports betting. This platform offers a wide variety of markets and bet types, making it an excellent destination for both seasoned bettors and novices. As with all betting, the importance of understanding the game, studying the odds, and defining a clear betting strategy can't be overstated. Whether you win or lose, Marvelbet ensures that the journey is engaging.
Inside the Vibrant World of Marvelbet's Online Casino
Moving beyond sports betting, let's take a look at Marvelbet's equally enticing online casino. For the avid gambler, the online casino Marvelbet is a treasure trove filled with a wealth of diverse games. From classic casino games to immersive slot games, the selection on offer caters to all tastes and preferences.
Marvelbet collaborates with top game providers like NetEnt, Fastspin, and Jili, to ensure high-quality gameplay and a rich variety. The casino games at Marvelbet boast impressive graphics, engaging narratives, and generous bonus features. These elements combined make gambling on Marvelbet an immersive and thrilling experience.
A Glance at Marvelbet's Top Casino Games
The casino Marvelbet flaunts an array of top-tier games that are favorites among punters. Games like "Lucky Coming" and "Ganesha Fortune" offer unique themes and enticing features. Our team was particularly drawn to "Andar Bahar Royale," a game that beautifully captures the essence of the classic Indian card game.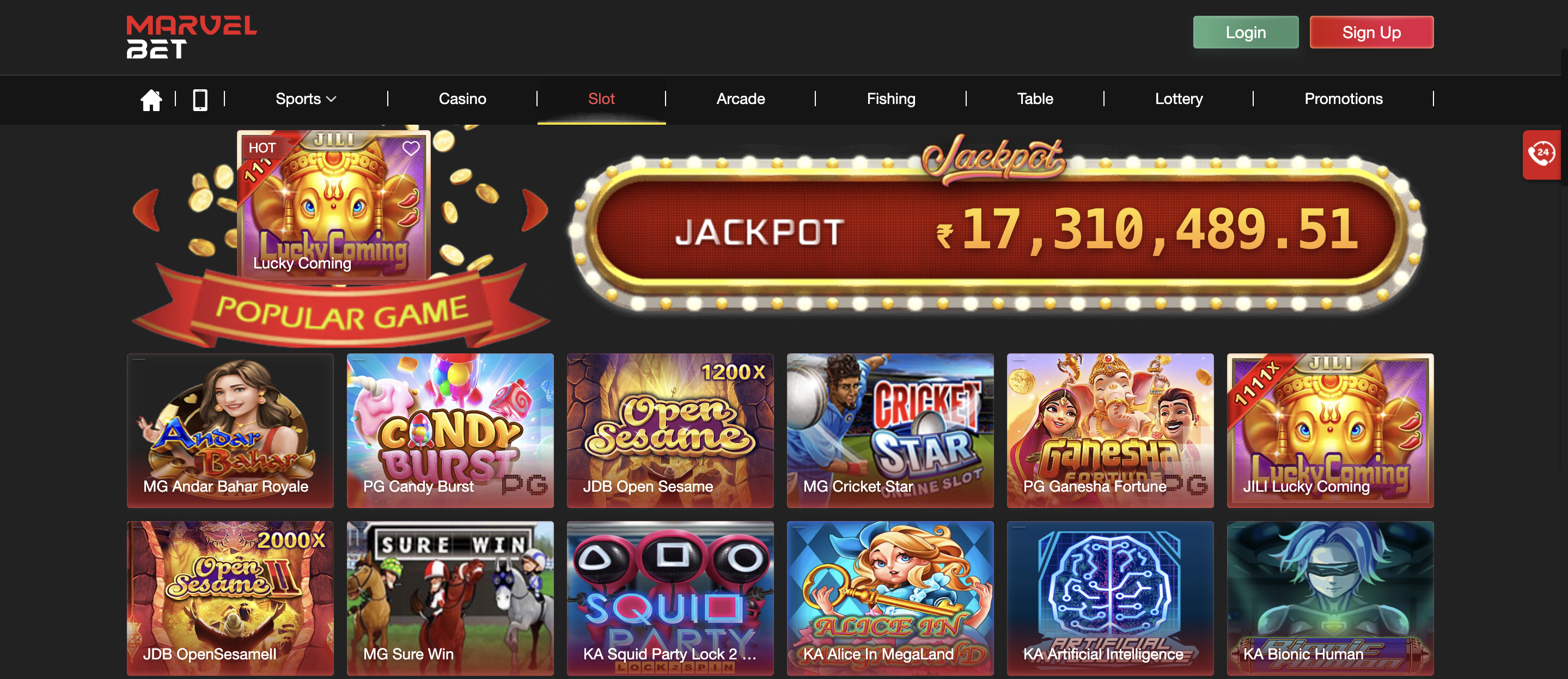 The slot game "Open Sesame," provided by JDB, is another fan favorite with its enchanting Arabian Nights theme and rewarding bonus rounds. For sports enthusiasts, "Cricket Star" by MG offers a unique blend of slots and sports.
It's worth noting that Marvelbet also offers fishing games for those looking for a different type of fun. The variety and quality of the games truly demonstrate that the Marvelbet gambling site has been thoughtfully curated to cater to a wide range of players.
Getting Started with Casino Gaming at Marvelbet
Starting your gaming journey at Marvelbet is a breeze. If you're new to the site, begin by creating an account – it's a simple process requiring some basic information. Once your account is set up, head to the deposit section. Marvelbet accepts deposits through Net Banking, Phonepe, and PayTM, with a minimum deposit of 300 INR.
After funding your account, the world of Marvelbet casino games is at your fingertips. You can explore the rich selection of games, choosing ones that align with your preferences. Remember, whether you're a seasoned gambler or a beginner, the key is to enjoy the games while being mindful of your staking.
Immersion in Marvelbet's Live Casino
In addition to its robust lineup of online games, Marvelbet also offers an intriguing live casino platform. Our analysis of this betting site shows that live casino Marvelbet has been designed for players who seek the immersive atmosphere of a traditional casino from the comfort of their homes.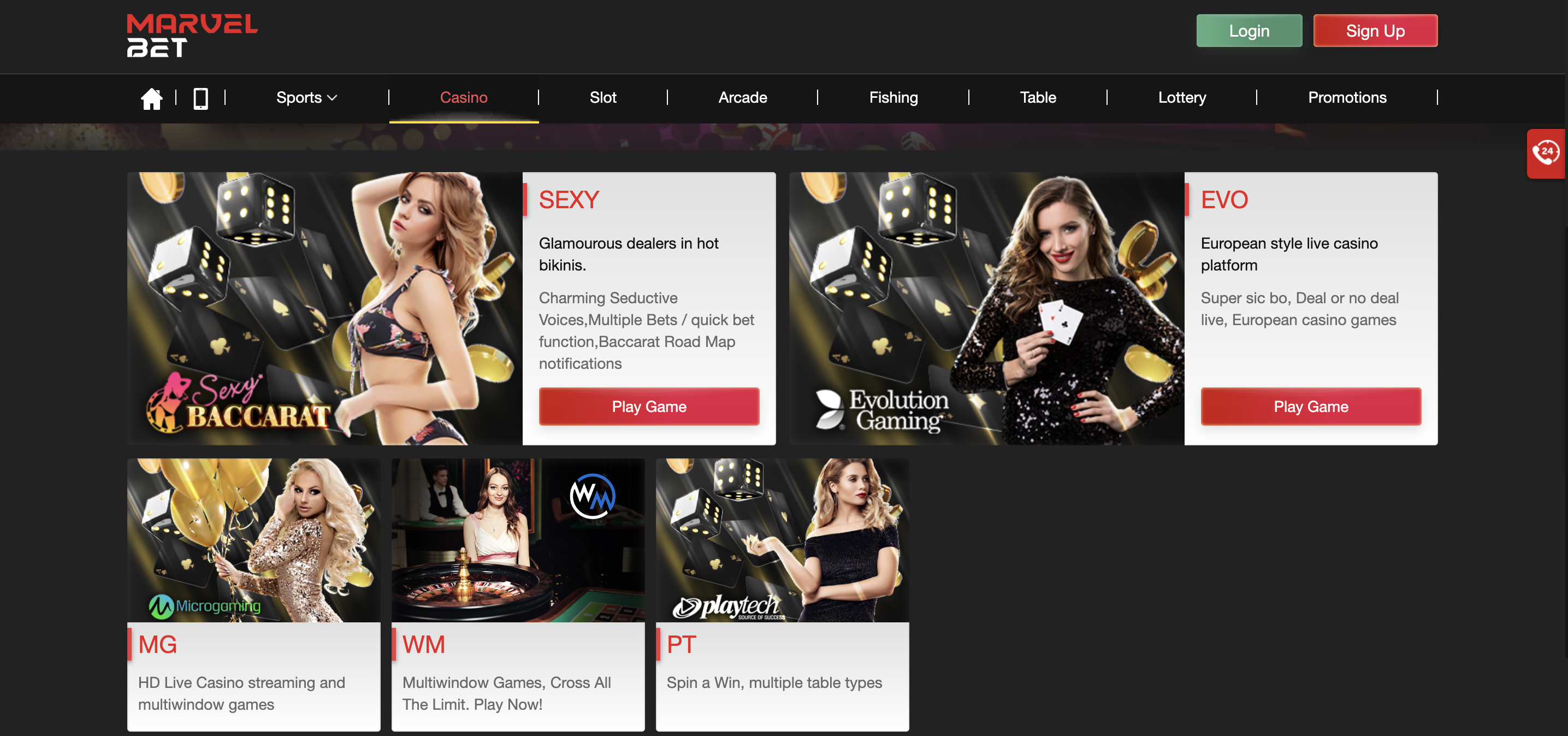 Powered by leading software providers like Evolution Gaming and Pragmatic Play Live, Marvelbet's live casino hosts a variety of games with high-definition streaming and real-time interaction. The live dealer games Marvelbet are conducted by professional croupiers who not only deal the cards but also interact with the players, bringing the casino's vibrancy and charm directly to your screen.
From classic games like live roulette, blackjack, and baccarat to innovative game shows like Crazy Time and Monopoly Live, the live casino offerings at Marvelbet cater to a wide array of tastes. For poker aficionados, the platform offers a variety of poker games including Texas Hold'em and Caribbean Stud Poker.
One key aspect that stood out during our review was the user-friendly interface of the live casino platform. The sleek layout and intuitive navigation allow you to easily find your preferred games. The addition of multi-lingual dealers enhances the overall immersive experience, making you feel as if you're in an actual casino, no matter where you are.
Our experience of gamble in casino Marvelbet
A recent foray into the Marvelbet online casino offered our team a memorable experience. Armed with a budget of 500 USDT, we dived into the vast selection of games available, choosing to engage with one slot game and one live casino game to fully explore the range of Marvelbet's offerings.
For our slot game experience, we opted for the renowned "Gonzo's Quest" from NetEnt. The game's exquisite graphics, themed around a historical quest for El Dorado, immediately captivated us. Our strategy revolved around managing our stakes cautiously at first, starting with 5 USDT spins to gauge the volatility. We hit a few minor victories, which encouraged us to up our stakes to 20 USDT. The anticipation built with each spin, and it paid off when we hit the bonus round and landed a substantial win that boosted our balance significantly.
Next, we moved on to the live casino section for a round of "Immersive Roulette" from Evolution. The live-streamed, real-time gaming session was nothing short of thrilling. As the roulette wheel spun, we could interact with the dealer and other players, creating an authentic casino feel. Our strategy for roulette was to bet on a mix of odds, evens, and some specific numbers. We started with smaller bets of around 10 USDT and gradually increased to 50 USDT as the game progressed. The unpredictability of the roulette wheel made for a thrilling game, and though we had a few losses, we also scored some impressive wins.
In summary, our Marvelbet online casino experience was a whirlwind of suspense and excitement. The high-quality graphics of the slot game and the immersive feel of the live casino transported us right into the heart of a bustling casino floor. Despite some losses, the wins we enjoyed made the entire experience worth it. Whether you're a casino aficionado or a newbie, Marvelbet's online casino offers a diverse range of games to cater to all tastes. Just remember to always have a strategy in place and manage your stakes wisely to make the most of your casino experience.
Warm Welcome: The Marvelbet New Player Bonus
As a newcomer to the Marvelbet platform, there's a special perk waiting for you – the Marvelbet welcome bonus. The structure is straightforward and enticing. Upon your first deposit, you'll receive a 100% bonus for both the sportsbook and the live casino sections, with a minimum deposit of 500 INR and a maximum bonus amount of 5000 INR. Note that the bonus is valid for 7 days, and the turnover requirement is 20 times the bonus amount. This welcome offer certainly makes starting your journey on Marvelbet a thrilling experience.
An Array of Generous Marvelbet Bonuses and Promotions
Marvelbet promotions extend far beyond the welcome offer. The bookmaker has concocted a variety of promotions, providing ample opportunities for players to increase their bankroll. For sports exchange enthusiasts, there's a 100% Sports Exchange Bonus with similar conditions to the welcome bonus. Meanwhile, EVO casino fans can enjoy a 100% EVO Casino Bonus with identical terms.

But that's not all! Marvelbet also has an intriguing 'Deposit 500, Get Free 1500' offer, solely applicable to JDB Slots. The conditions include a 25x turnover requirement within 30 days of activation, making it a sweet deal for slots enthusiasts. And to further boost the excitement, they also offer a 5% Weekly Cashback promotion across sportsbook, live casino, slots, and lottery, with cashback amounts ranging from 50 INR to a staggering 5,00,000 INR!
Exclusive Perks with the Marvelbet VIP Program
Marvelbet also acknowledges its loyal patrons with its VIP Club Program, where players can start earning unlimited VIP Points exchangeable for real cash. To participate, players need to register an account with Marvelbet and place bets to accumulate VIP points. Different games contribute differently to the points earned: Slots, Table, Lottery, and Sports will get you 1 point for every 500 INR wagered, while Live Casino will give you 1 point for every 1000 INR wagered. Remember, these points can be exchanged for real money, adding a lucrative touch to your Marvelbet experience.
The Marvelbet Promocode: Your Ticket to More Rewards
To fully avail of the Marvelbet bonuses, you'll need to keep an eye out for the Marvelbet promocode. These promo codes Marvelbet will be provided during promotional campaigns, and all you need to do is enter them when prompted. Note that each promotion comes with specific terms and conditions, so ensure to understand the criteria to make the most out of your Marvelbet journey.
Marvelbet: A Comprehensive Guide to Deposits and Withdrawals
In the world of online betting, having an effortless and safe financial transaction process is paramount. Marvelbet understands this and offers its users numerous ways to deposit and withdraw funds, ensuring a seamless betting experience. So, how does one navigate the deposit and withdrawal methods in Marvelbet? Here's a comprehensive guide.
Firstly, let's talk about the deposit process. Marvelbet caters to users who prefer both traditional and modern methods of money transfer. Users can deposit funds using Net Banking, through IMPS or NEFT, and also via digital payment applications such as Phonepe and PayTM. The deposit process itself is straightforward: log into your Marvelbet account, head to the banking section, select your preferred deposit method, enter the amount (the minimum deposit being 300 INR and the maximum 50,000 INR), and finalize the transaction. These diverse deposit methods in Marvelbet offer flexibility and ease, keeping in mind the comfort of the users.
On the other hand, withdrawing winnings is just as simple. Marvelbet uses the same user-friendly platforms for withdrawals, ensuring that users can access their funds effortlessly. To initiate a withdrawal, navigate to the banking section of your account, select 'Withdraw,' choose your preferred withdrawal method, specify the amount (keeping in mind that the withdrawal limit is 1000 INR), and confirm the transaction.
It's essential to note that the withdrawal transaction time in Marvelbet can take up to 72 hours. However, this is a standard security measure to ensure the safety of users' funds. Furthermore, Marvelbet accepts INR, catering specifically to its Indian user base.
Enrolling into Marvelbet: A Comprehensive Guide to Registration
In the enticing world of online betting and casino games, Marvelbet has emerged as a reliable platform, striking a balance between fun and professionalism. The sign-up process is a vital aspect of any online platform, setting the tone for the overall user experience. So, how does one register on Marvelbet, and what does it entail? Let's walk through it, step by step.
Step 1: Landing on Marvelbet
The first step in your Marvelbet journey is to reach their platform. You can visit the Marvelbet official site directly or use a mirror link for accessibility. Ensure you are on the correct site by looking out for the Marvelbet logo and the secure 'https' in the URL.
Step 2: Kickstart Your Registration
Once on the site, look for the 'Sign Up' or 'Register' button, usually situated in the upper right corner of the home page. Clicking this will prompt the registration form where you'll need to enter details like your full name, email, and date of birth. This process safeguards your Marvelbet login, creating your unique Marvelbet sign-in credentials.
Step 3: Fund Your Account
Having set up your account, the next step is making your first deposit. Go to the 'Banking' or 'Deposit' section, choose your preferred payment method, and enter the amount you wish to deposit. The platform provides a range of payment methods, ensuring user convenience.
Step 4: Dive into Betting
Now comes the exciting part – placing your first bet. Browse through the range of sports and casino games available, select what interests you, decide on your stake, and confirm your bet. Congratulations, you've now placed your first bet at Marvelbet!
Requirements and Regulations
While registering on Marvelbet is a straightforward process, it's crucial to bear in mind certain requirements. Users must be at least 18 years old to create an account. Marvelbet also requires users to provide valid identification and address proof to verify their accounts. This measure ensures the safety and legality of all transactions on the site.
Registering through the Mobile App
The convenience of betting from anywhere, anytime, is one of the key benefits of Marvelbet's mobile app. To register via the app, download it from the official site or app store, and open it on your device. The process of signing up on the mobile app mirrors that of the website. Click 'Sign Up,' fill in the required details, make a deposit, and you're all set to place bets right from your smartphone.
Claiming Your Welcome Bonus
One of the thrilling aspects of registering on Marvelbet is the lucrative welcome bonus. To claim your Marvelbet welcome bonus, sign up on the platform, make your first deposit, and navigate to the 'Promotions' or 'Bonuses' section. Here, you'll find the welcome bonus offer. Click on it, follow the instructions to claim, and voila – the bonus is yours!
Step-by-step Guide to Marvelbet Account Verification
Account verification is a crucial part of ensuring the integrity and security of your Marvelbet account. Here is a simple list to guide you through the process:
Log in to your Marvelbet account using your secure credentials.

Navigate to the 'Account' or 'Profile' section, and look for the 'Verification' option.

Upload scanned copies or clear photographs of your valid identification, such as a passport, driving license, or other government-issued ID.

Provide proof of address, which could be a recent utility bill, bank statement, or official government correspondence bearing your full name and address.

Submit these documents and await confirmation. Marvelbet typically takes 24-48 hours to verify the provided documents.

Upon successful verification, you'll receive an email confirmation, and your account will be fully operational for deposits, betting, and withdrawals.
Unleashing Marvelbet's Power: The Android Mobile App
Marvelbet's Android mobile app elevates the online betting experience by allowing users to access their favorite games, sports events, and account features in a portable and user-friendly environment.
Android System Requirements for Marvelbet App
To ensure smooth operation, the Marvelbet app for Android requires specific system attributes. The application is optimized for Android 5.0 (Lollipop) and above. It's designed to function efficiently on both smartphones and tablets. Ensure that your device has at least 100MB of free storage to accommodate the app and its subsequent updates.
Journey to Marvelbet: Downloading the Android APK
To download the Marvelbet APK on Android, navigate to the official Marvelbet website on your device's web browser. Due to Google Play's restrictions on betting apps, the Marvelbet APK is not available on the Google Play Store. At the top of the site look for the 'Mobile Applications' section, then select 'Android App' to begin the download.
Installing Marvelbet on your Android Device
Installing the Marvelbet app is a straightforward process. Here are the steps:
Once the APK download is complete, locate the file in your device's 'Downloads' folder.

Tap on the APK file to start the installation. If you encounter a prompt saying 'Install from unknown sources is blocked', navigate to your device's 'Security' or 'Privacy' settings and enable 'Unknown Sources'.

After permitting installation from unknown sources, go back to the APK file and tap on it to start the installation process again.

The Marvelbet app should install successfully and appear in your app drawer.
Remember, these steps are necessary only for the first time. Subsequent updates will follow the standard app update process.
Keeping Marvelbet Up to Date
To ensure a seamless betting experience, it is crucial to keep the Marvelbet app updated. Usually, the app will notify you when an update is available. You can download and install updates directly from the app interface. In some cases, you might need to visit the Marvelbet website and download the latest APK version, following the same steps as the initial installation.
Success Strategies: Winning Tips for Playing at Marvelbet
Understand the Games: Every game, from slots to live casino offerings, has its own rules and strategies. Ensure you fully understand how a game operates before placing significant wagers.

Utilize Bonuses: Marvelbet offers a variety of generous bonuses. Always keep an eye on the 'Promotions' page and make the most of these opportunities, like the welcome bonus, to maximize your betting power.

Set a Budget: It's essential to decide on a spending limit to avoid overspending. Stick to this budget regardless of whether you're winning or losing.

Try Different Games: Marvelbet has a wide variety of games. Don't limit yourself to one; diversifying can enhance your experience and increase your winning chances.

Understand Wagering Requirements: When using Marvelbet bonuses, ensure you understand the wagering requirements attached. Failing to meet these requirements can result in forfeiting the bonus.

Stay Disciplined: Keep a clear head when betting. It's easy to get carried away after a win or try to chase losses, but discipline is key to long-term success.

Use the VIP Program: If you plan on being a regular player, consider joining the Marvelbet VIP program. The benefits can significantly enhance your betting experience.
Navigating the Mobile Marvelbet Universe
Marvelbet's mobile website presents an intuitive, streamlined interface to its users. Designed for seamless navigation on any smartphone or tablet, the mobile version boasts full functionality. All the features, including account registration, depositing, betting, and withdrawal, are smoothly accessible, making your Marvelbet experience completely portable. This feature ensures that the thrill of betting is never more than a few taps away, no matter where you are.
Commitment to Fair Play: Marvelbet's Licensing and Regulation
In terms of legality and fairness, Marvelbet operates under the strict regulations of a reputable licensing body, ensuring its commitment to a transparent and fair betting environment. The random number generator used in its casino games undergoes regular checks for fairness, assuring users that the outcomes are entirely unbiased. Marvelbet's commitment to fair play and its respect for its customers' rights and interests underscores its reputation as a trustworthy betting platform.
Always There to Assist: Marvelbet's Customer Support
When it comes to customer support, Marvelbet stands out for its comprehensive service. Available 24/7, the support team can be contacted via several methods, including live chat, email, and phone. The live chat feature is particularly effective, offering instant, real-time solutions to any issues or questions. For more complex inquiries, email support is available and generally responds within a few hours. Alternatively, phone support provides a direct line to a Marvelbet representative for immediate assistance. The customer support team's professionalism, efficiency, and dedication to resolving customers' issues highlight Marvelbet's commitment to providing an unrivalled betting experience.
Final Opinion on Marvelbet as bookmaker and online casino
In conclusion, Marvelbet emerges as a distinctive player in the online betting and casino landscape. The bookmaker seamlessly combines a comprehensive and accessible registration process with a variety of deposit and withdrawal methods tailored to meet different user preferences. Moreover, the platform's emphasis on both traditional sports betting and casino gaming is commendable.
Our hands-on experience of placing bets on Marvelbet's platform was nothing short of exhilarating. The thrill of the live sportsbook, coupled with the unpredictability of casino gaming, offered an immersive and captivating experience. With their mobile application for Android, the bookmaker ensures you can carry this excitement wherever you go. Marvelbet's platform is intuitive, user-friendly, and visually appealing, enhancing the overall user experience.
While there is room for improvement, such as expanding their market beyond India and introducing an app for iOS, these minor shortcomings are outweighed by the platform's advantages. Marvelbet has proven its commitment to user satisfaction, fairness, and innovation. The company's transparency and customer service further solidify its reliability as a trusted bookmaker and online casino.
From our evaluation, it's clear that whether you're a novice or a seasoned gambler, Marvelbet caters to your betting needs and exceeds expectations. It's an exciting platform that promises an engaging betting experience, making it a worthy choice for online gaming enthusiasts.
Read this page in other languages:
Pros
Innovative and contemporary platform.

A robust Android mobile application for betting on the go.

Offers a diverse array of sports markets, slot games, board games, and lotteries.

Specializes in providing a unique betting experience for the Indian market.
Cons
Limited to serving only the Indian market.

Lacks a dedicated mobile application for iOS users.

Absence of instant play games for quick betting sessions.