Embark on an exhilarating journey through our comprehensive review of Live22, the premier casino games provider. Delve into the realm of modern slots, mesmerizing graphics, and thrilling gameplay, all designed to captivate Asian gamblers. This expertly crafted article unveils the pros and cons of Live22, providing valuable insights for both seasoned players and newcomers.
Discover the diverse selection of slot games that Live22 offers, featuring stunning graphics and encompassing both Asian and European themes. Dive into a world of fishing slots, adding an extra layer of excitement and adventure to your gaming experience. Unearth the reliability of Live22's licenses, instilling confidence in the security and integrity of the platform.
While Live22 excels in delivering immersive slot games, it falls short in terms of game variety, lacking instant games, lotteries, and traditional table games. However, Live22's adaptability across multiple platforms ensures convenient access for players using Windows, Android, or iOS devices.
This article serves as a valuable resource for gamblers seeking an engaging and visually stunning casino gaming experience. Whether you're a slot enthusiast or looking for something unique, Live22 offers an enticing platform worthy of exploration. Uncover the strengths and weaknesses of Live22, enabling you to make informed decisions and enhance your gambling endeavors.
Review of the bookmaker and online casino Live22 is also available in other languages:
Peeling Back the Layers of Live22 Company
Live22 isn't just a name, but a stamp of quality in the Asian gambling scene. Established in 2011, this company wears many hats – not only as a respected game provider, but also as the overseer of its own operations. Licensed in the Philippines and tested by prominent bodies like iTechLabs and eCOGRA, Live22 prides itself on its commitment to meeting and exceeding international standards of quality.
Throughout our testing of Live22, what stood out was their understanding of gamblers' needs. Striking a balance between visual appeal and user-friendly design, their gaming software reflects a dedication to providing players with a stimulating yet intuitive platform. Live22 also offers a round-the-clock support service, adding another feather to their cap as a customer-focused provider.
The Benefits that Keep Players Coming Back for More
From slots to live casino games, Live22 serves up a buffet of online gaming experiences for discerning bettors. Their continually updated roster of games such as Jarvis, Mahjong Style, and the Vegas Suite keeps things fresh for all types of players. What's more, the ability to customize your gaming interface according to personal preferences takes your wagering activities to the next level.
For those always on the move, the Live22 app is a game-changer. It means you can place bets anywhere, anytime – just another reason why our provider Live22 review rates it as a top-notch platform.
From our expertise, it's clear that Live22's constant drive for innovation in online gaming services combined with their high level of security and integrity creates an optimal environment for all gamblers.
A Closer Look at Live22's Slot Games
Diving into the world of slots at Live22, bettors will find a myriad of choices that go above and beyond the typical. Our testing of the platform found an impressive array of slot games, catering to the various preferences of gamblers. Casino Live22 offers more than just staking; it's about immersing in an enjoyable gambling journey with stellar visuals and intriguing gameplay.
Our findings about the variety of slot games available were quite remarkable. Titles like Jarvis and BlackPink provide a unique spin on the classic slot game. On the other hand, games like Kracker Queen and Crypto Coin bring innovative features and thematic diversity to the table. An absolute standout in the list of slot games has to be Dragon FAFAFA, with its captivating oriental theme that embodies the essence of Asian gambling culture.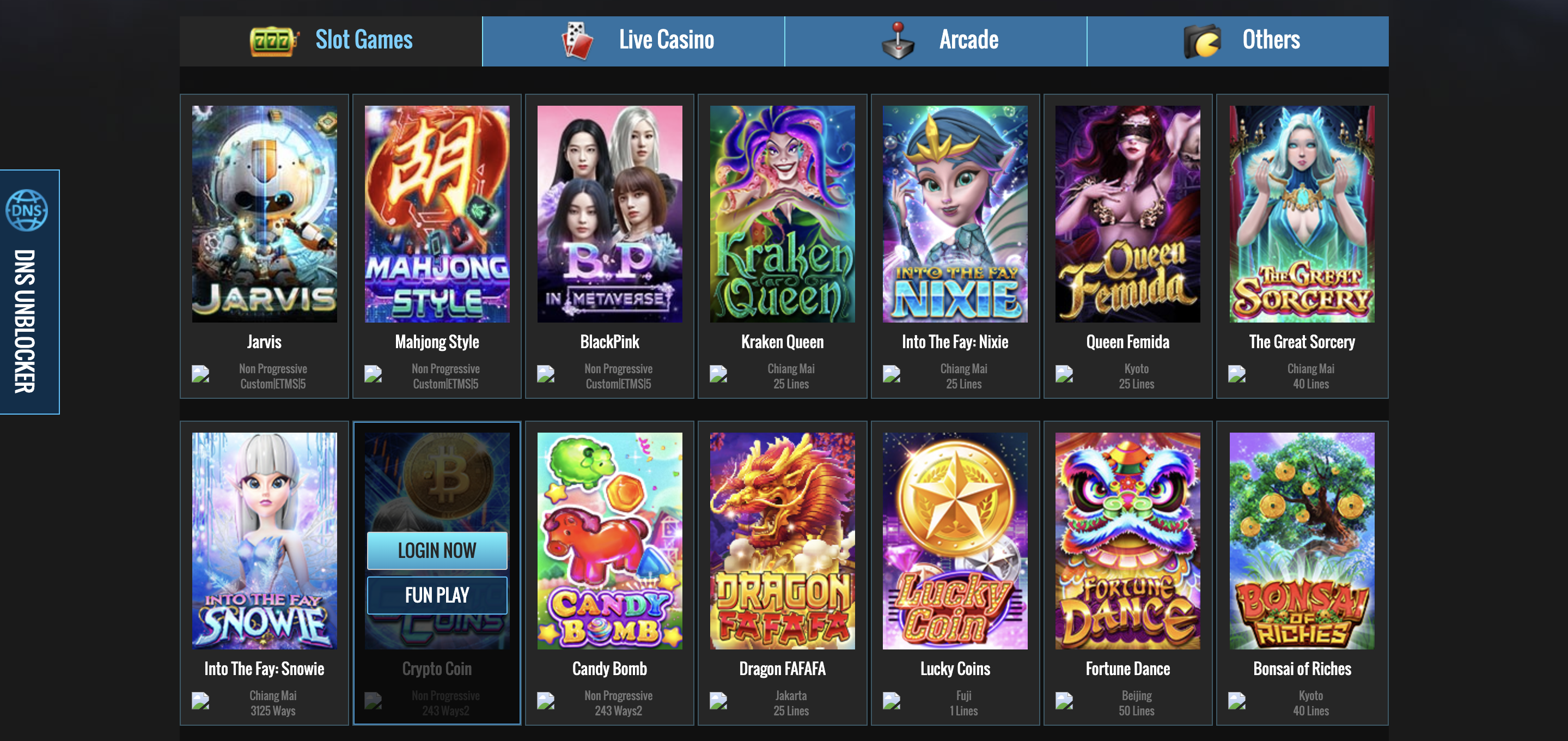 Top Games of Live22
One of the key aspects that make Live22 a preferred destination for placing bets is its diverse catalogue of top games. These aren't merely gambling offerings; they are experiences that keep punters coming back for more.
Among the popular attractions, Mahjong Style stands out as a game that beautifully merges tradition with modern gambling mechanics. On the other hand, Candy Bomb provides a playful and colorful approach to slots, delivering a truly engaging gaming experience.
As for those who enjoy arcade games, Live22 doesn't disappoint. Titles like Slash Fruit and God Defense offer a break from the conventional, allowing bettors to take a detour from the traditional casino path.
The Live22 gambling experience extends to live casino games as well, with offerings like Bavet Suite and Vegas Suite. These games provide bettors with an opportunity to bring the thrill of a real-world casino right to their fingertips.
Delving into Real-Time Thrills: Live Casino at Live22
In our extensive analysis of Live22, a notable feature is the immersive nature of its live casino offerings. This is where gamblers step into a virtual space to experience the palpable thrill of a brick-and-mortar casino, all from the comfort of their own homes. Live casino Live22 doesn't simply replicate traditional gambling, but enhances it with features tailored to the digital age.
Playing with real dealers on Live22 takes the game to a whole new level. Bavet Suite and Vegas Suite, for instance, exemplify Live22's commitment to simulating real-world casino ambience, with the added advantage of instantaneous online access. These games provide the opportunity for gamblers to engage in a direct, real-time gaming experience, with professional dealers to facilitate each game.
Live dealer games Live22 are a clear illustration of the company's dedication to merging innovative technology with traditional gambling experiences. With a solid blend of old and new, Live22 offers a gaming platform that's engaging for both new and seasoned punters alike.
Getting Hooked on the Excitement: Arcade Games at Live22
Arcade games are an integral part of the Live22 gaming suite, offering gamblers an exciting alternative to traditional casino games. Fishing games on Live22, like Fishing Master and Ocean King 4, inject a sense of adventure into the gaming scene. These games encourage punters to take a break from the norm, providing a unique and dynamic gaming experience that diverges from traditional casino gameplay.

God Defense is another intriguing title, combining classic arcade elements with a strategic layer that adds depth to the gameplay. It's these unconventional games that give Live22 its edge over other platforms, catering to those bettors seeking something a little different from their gambling experience.
The Live22 Mobile App for Android and iOS
In today's digital age, the accessibility of online gambling platforms is paramount. Live22 truly understands this, providing a dedicated mobile app for both Android and iOS users. This ensures that wherever they may be, punters can indulge in their favorite games without being tethered to a desktop. The app Live22 for Android and iOS brings the full range of Live22's games directly into your pocket.
One of the defining features of Live22's mobile app is its user-friendly interface. Navigation is seamless, allowing players to switch between games effortlessly. All the popular games, from slots to live casino, are readily available on the app. Indeed, players can look forward to a versatile and engaging gambling session, whether they prefer the thrills of live dealer games or the simplicity and instant gratification of slots.
System Requirements for the Live22 App on Android and iOS
Live22 has made efforts to ensure its app is accessible to a broad range of devices. The system requirements for the app Live22 for Android and iOS are fairly standard, allowing the app to function smoothly on most modern devices.
As a rule of thumb, the Android app typically requires an operating system of 5.0 and above, while the iOS version is compatible with iOS 9.0 and later. These requirements make sure the app operates efficiently, providing users with a reliable and lag-free gambling experience.
Additionally, Live22 games are adapted for play on Windows, extending accessibility to desktop users. Compatible browsers include Google Chrome, Mozilla Firefox, and Edge, allowing punters to enjoy their favorite games on a platform of their choice. Whether you prefer using the app or playing through a browser, Live22 ensures that you have access to an engaging gambling experience at your convenience.
Tips and Best Practices for Playing Live22 Slots
When it comes to playing slots on Live22, understanding some tips and best practices can enhance your overall experience and increase your chances of success. Drawing on our expertise, we've compiled a list of recommendations to help you make the most out of your slot gaming sessions.
Familiarize Yourself with the Games: Before diving in, take some time to explore the different slot games offered by Live22. Each game has its own unique features, paylines, and bonus rounds. By familiarizing yourself with the gameplay mechanics and rules, you can make informed decisions and maximize your winning potential.

Set a Budget: Embracing responsible wagering is the cornerstone of finding joy in your escapades through slot gaming. Outline a distinct monetary map for each gaming round, firmly adhering to it. Such a strategy streamlines your financial management, successfully averting the pitfalls of excessive spending. Always keep in mind that slot machines operate on the whims of chance, making it imperative to partake only within the borders of your financial capability.

Take Advantage of Promotions: Live22 often offers enticing bonuses to its players. Keep an eye out for these special offers, as they can provide additional opportunities to win. Make sure to read and understand the terms and conditions associated with the bonuses before claiming them.

Practice with Demo Versions: Live22 provides demo versions of many of their slot games. Take advantage of these free play options to familiarize yourself with the gameplay, features, and payout potential of each game. This allows you to develop strategies and understand the mechanics before playing with real money.

Play Responsibly and Enjoy the Experience: Remember that slot gaming is meant to be entertaining. Approach each session with a positive mindset, and don't chase losses. Take breaks when needed and play responsibly. By doing so, you'll have a more enjoyable and satisfying gaming experience.
License and Fairness: Live22's Commitment to a Secure Environment
Live22 operates under a valid gambling license issued by the Philippines, ensuring that their operations adhere to stringent regulatory standards. This license serves as a testament to Live22's commitment to providing a safe and secure platform for players.
Furthermore, Live22 emphasizes fairness and transparency in their games. The outcomes of their slots are determined by a random number generator (RNG), guaranteeing unbiased results and preventing any manipulation. Additionally, Live22's software and games undergo regular testing by reputable third-party auditors to ensure compliance with industry standards.
Our experience of gamble casino games from Live22
We will explore the enticing world of slot games. After analyzing the available options, we decide to try our luck on the visually stunning game, "BlackPink." This slot game captivates us with its vibrant graphics and immersive gameplay. With a combination of Asian and European themes, it offers a diverse and engaging experience.
Our strategy is to start with conservative bets to get a feel for the game. We place a series of modest bets, aiming to understand the game mechanics and unlock any bonus features it may offer. As the game progresses, we increase our wagers, embracing the excitement and unpredictability of gambling. Suddenly, luck is on our side, and we hit a significant win. Riding this wave of success, we decide to bet big on the next spin, hoping to further amplify our winnings. However, fortune is fickle, and we experience a temporary setback. Undeterred, we adjust our strategy, alternating between smaller and larger bets, all while enjoying the immersive gameplay of "BlackPink."
Next, we venture into the realm of live casino games, choosing the captivating "Live Roulette" for our gambling experience. As the wheel spins and the ball dances around the numbers, we place our bets with anticipation. Our strategy here is to take calculated risks, placing a mix of inside and outside bets. We vary our bet sizes, occasionally going for larger bets on numbers or combinations that we feel particularly drawn to. The adrenaline rush is palpable as the dealer announces the winning number. There are moments of triumph, where our bets hit the mark, and our winnings soar. Other times, the ball lands on an unfavorable number, causing us to experience a temporary loss.
Throughout our real casino experience with Live22 games, we embrace the unpredictable nature of gambling, chasing the excitement and potential rewards. We adapt our strategies based on the outcomes and the features of each game. Our journey is filled with both thrilling victories and brief setbacks, reflecting the inherent risk and reward of the casino world.
As we conclude our gaming session with little gain, we reflect on the exhilarating experience provided by Live22. From the captivating slot games to the live casino action, Live22 offers a diverse and immersive online gambling environment. Whether you prefer the spinning reels of slots or the thrill of live dealer games, Live22 caters to the desires of every gambling enthusiast, providing an exciting and rewarding casino experience.
Final Opinion on Live22 as provider
In conclusion, Live22 emerges as a dynamic and engaging casino games provider, catering to the diverse preferences of Asian gamblers. With its visually stunning and modern slot games, Live22 captures the attention of players seeking immersive experiences. The extensive selection of slots, featuring both Asian and European themes, showcases the platform's commitment to delivering captivating gameplay.
One of Live22's standout features is its collection of fishing slots, adding an extra layer of excitement for those looking for a unique thrill. The reliability of Live22's licenses instills confidence in players, assuring them of a secure and trustworthy gambling environment.
While Live22 excels in the realm of slots, it falls short in terms of game variety. The absence of instant games, lotteries, and traditional table games may disappoint some players seeking a wider range of options. Additionally, the lack of hunting games further limits the platform's offerings.
Nevertheless, Live22's adaptability across different platforms, including Windows, Android, and iOS, ensures convenience and accessibility for players on various devices. This flexibility allows users to enjoy Live22's games on their preferred platforms, adding to the overall convenience and appeal of the provider.
With its captivating slot games, reliable licenses, and adaptability, Live22 is a strong contender in the Asian gambling market. Players seeking an immersive and visually appealing casino gaming experience will find Live22 to be a compelling choice.
Read this page in other languages:
Pros
Diverse and Engaging Slot Selection: Live22 offers a wide range of modern slots with stunning graphics, encompassing both Asian and European themes. Players can enjoy a variety of captivating slot experiences.

Fishing Slots for Added Thrills: Live22 stands out with its collection of fishing slots, providing an exciting and unique gameplay experience for enthusiasts of this genre.

Reliable Licensing: Live22 operates under reliable licenses, ensuring that players can trust the platform's integrity and security.

Adaptability Across Platforms: Live22 demonstrates adaptability by providing a seamless gaming experience across different platforms, catering to the preferences of players using Windows, Android, or iOS.
Cons
Limited Game Variety: Live22's focus primarily lies in slot games, and while it excels in this category, it lacks instant games, lotteries, and traditional table games that some players may seek.

Absence of Hunting Games: Hunting games are not available on Live22's platform, which may disappoint players looking for this specific type of gaming experience.