Explore the in-depth review of Krikya, an innovative online casino and bookmaker. This detailed analysis navigates the distinctive offerings of Krikya, from its welcome bonuses to its user-friendly mobile app. Whether you're a novice or an experienced online gamer, this article provides comprehensive insights, elucidating registration processes, account verification, and bonus acquisition. Highlighting Krikya's unique features, the review balances its keen focus on the benefits while candidly addressing potential drawbacks. It encapsulates a nuanced view of the platform, culminating in a concise list of pros and cons, making it an invaluable resource for anyone interested in the evolving landscape of online gaming. Read on to discover how Krikya could be your next gaming adventure.
Review of the bookmaker and online casino Krikya is also available in other languages:
Introducing Krikya: An Emerging Bookmaker Powerhouse
Krikya, a newcomer in the online gambling market, established in 2022, and operated by KRIKYA. This Curacao-licensed bookmaker has swiftly caught the attention of bettors across Asia with its extensive sportsbook and riveting casino games. Krikya caters primarily to sports betting enthusiasts with an array of markets that include Soccer, Basketball, Cricket, Rugby, MotoGP, and many others. Cricket enthusiasts would particularly appreciate the live streaming feature which Krikya offers. If you're a fan of eSports betting though, you might want to look elsewhere as this isn't a part of Krikya's portfolio yet.

Why Krikya Stands Out: Advantages for Punters and Gamblers
Our in-depth analysis of this betting site shows that Krikya packs a punch with its offerings. Among its quick advantages, the site impresses with a four-tier sportsbook encompassing BTI Sport, IBC Sport, BetSwiz Cricket, and Exchange Cricket. For casino aficionados, the Casino Krikya stands out with its alluring games such as Aztec Blaze, Sword of Ares, and Dream Catcher among others, provided by top-notch software vendors like Pragmatic Play, Evolution Gaming, and NetEnt. The gaming experience is further enhanced by the fishing games, a unique feature among casinos.
Krikya shows its commitment to the customer with a robust support system, including live chat, email, and TG support. Deposits and withdrawals are a breeze with options like Bank Transfer, Bkash, and UPay, albeit with no credit card support. In terms of transactions, you can expect a minimum deposit of ৳ 200 and a maximum deposit limit of ৳ 30,000. Cashouts typically take about 3-4 hours, making it convenient for players to get their winnings.
Krikya's Vibrant Sportsbook: An In-depth Review
Let's dive deeper into the sportsbook Krikya offers. The bookmaker provides an expansive selection of sports betting markets to cater to the diverse preferences of punters. The sportsbook includes some of the most-watched sports worldwide such as Soccer, Basketball, Tennis, Cricket, and more. Also noteworthy is the inclusion of niche sports like Badminton, Table Tennis, and Water Polo. Krikya has managed to balance a mix of popular and less conventional sports, enhancing the variety for bettors. Live streaming is also available, but only for cricket, giving fans of the sport a chance to witness the live-action.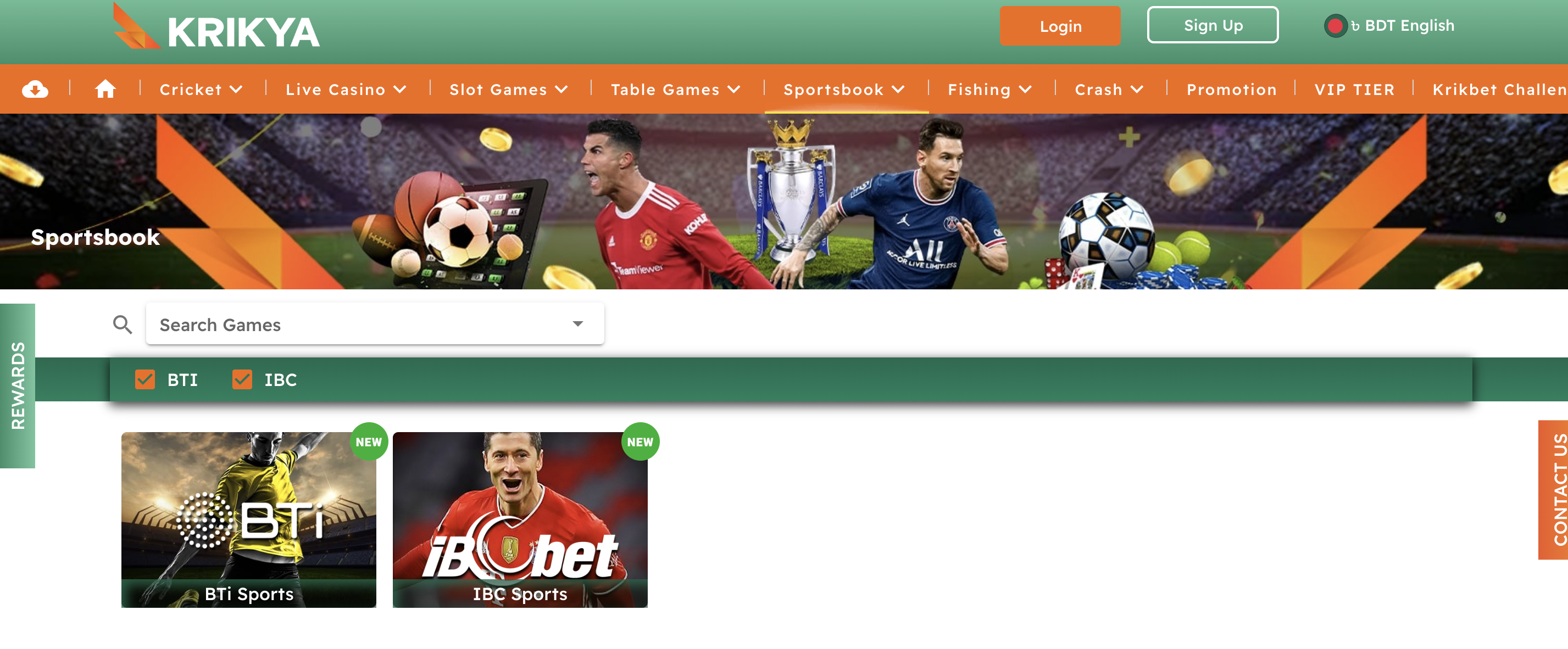 Krikya's Crowd Pullers: Popular Sports Betting Markets
Based on our tests, among the plethora of sports on offer, Soccer, Basketball, and Cricket have emerged as the most popular sports betting markets on the Krikya betting site. Krikya further extends the appeal by providing a wide range of betting options within these markets, catering to both casual bettors and high-stakes gamblers. Bookmaker Krikya also incorporates detailed match statistics and results, enabling punters to make more informed betting decisions.
Placing Bets at Krikya: A Walkthrough
Wondering how to start betting on Krikya? Our team has found that the process of placing bets at Krikya is intuitive and straightforward. Once logged in, you'll be presented with the various sports and betting markets. Simply choose your preferred sport and the specific match or event you're interested in. Select your bet type, enter your stake, and confirm your bet. Note that the minimum deposit is ৳ 200, and the maximum is ৳ 30,000.
The withdrawal process is equally smooth, with a transaction time of about 3-4 hours, which is quite competitive in the industry. Krikya bets can be cashed out within the range of ৳ 800-30,000, making it a flexible option for both low and high-budget players.
The Thrill of Live Betting and Streaming at Krikya
Krikya provides in-play betting, also known as live betting, an exciting feature that has become an indispensable part of the modern betting landscape. The live betting Krikya offers ensures that punters can place bets while matches are ongoing, offering dynamic odds that change with the game's progression. The ebb and flow of the game, coupled with fluctuating odds, add a new layer of excitement to the betting process. For cricket lovers, there's an added treat. Krikya live streaming is available for cricket matches, allowing bettors to watch games in real-time while making live bets.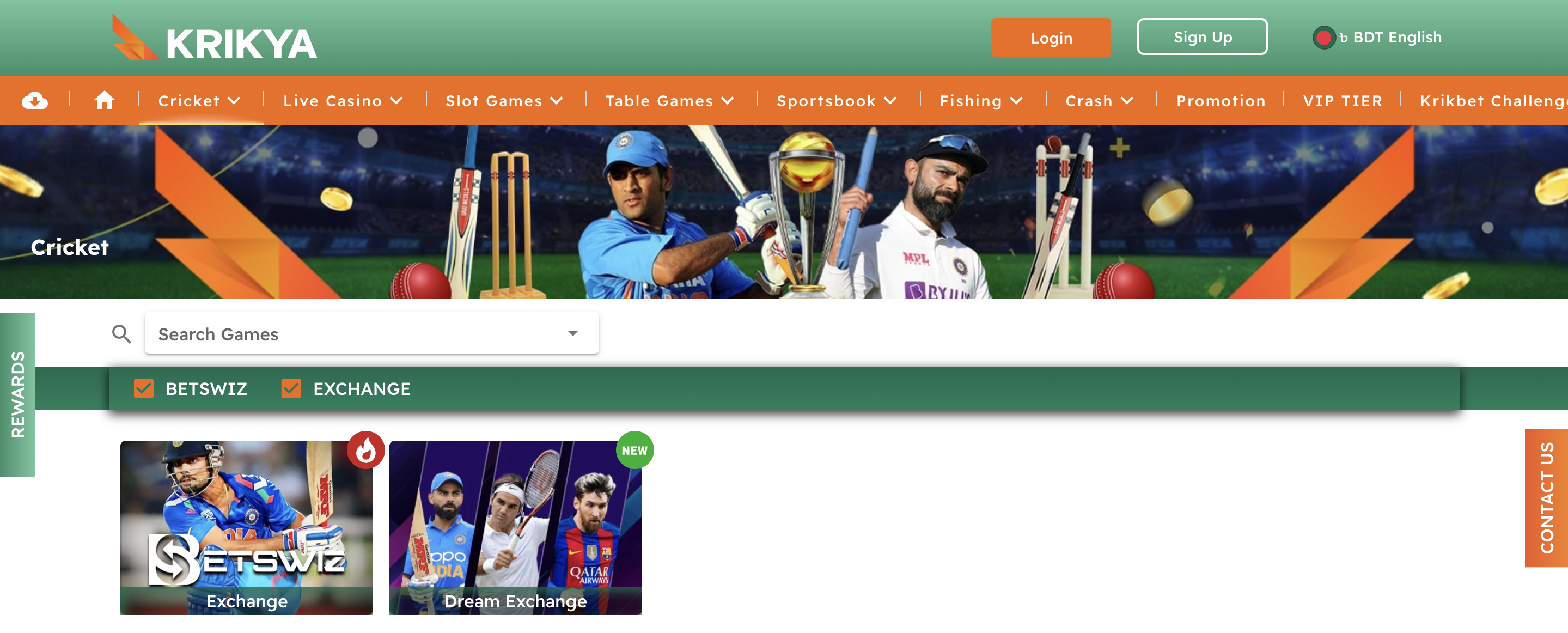 A Variety of Bet Types at Krikya: From Accumulators to Systems
With Krikya, punters have an array of bet types at their disposal, catering to all betting strategies. From single bets to accumulator bets, Krikya provides options for both novice and seasoned gamblers. An accumulator bet combines four or more selections into a single wager. This type of bet is highly appealing due to its potential for high returns. Krikya also offers systems of bets, where bettors can cover all possible multiple bets for selected events.
Enhance Your Wagers: Krikya's Noteworthy Betting Tools
Krikya stands out for its range of additional betting tools that assist bettors in making informed decisions. One such tool is the Krikya bet builder, a customizable feature allowing punters to create their unique bet on a variety of markets, then calculate the odds for this bespoke bet. Also worth mentioning is the Krikya cash out option, giving bettors the flexibility to close a bet early before the event's conclusion, either securing a profit or limiting a potential loss.
Our experience of betting on Krikya sportsbook

Having set aside a budget of 500 USDT, our team embarked on testing the Krikya betting platform. We focused on two separate betting types: a prematch bet and an in-play bet, allocating a sizeable portion of our budget to both.
For the prematch bet, we turned our attention to cricket, a sport that holds a significant spot in the Krikya platform. We selected a One Day International match between India and Australia, two fierce competitors with a rich history of matches. Considering the batting prowess of both teams, we decided to place a Totals or Over/Under bet, specifically betting 200 USDT that the total runs in the match would exceed a certain amount set by Krikya. This type of bet allowed us to capitalize on the strength of both teams without having to pick a winner.
The match began, and as anticipated, the batsmen from both sides put on an exceptional display. Halfway through, it was clear that the total runs were on track to surpass the set amount, making our bet seem promising.
As the cricket match progressed, we took advantage of Krikya's live betting feature and turned our attention to a basketball match in progress between the LA Lakers and the Boston Celtics. With our remaining 300 USDT, we decided to engage in Points Betting, a dynamic and high-risk type of bet. We bet that LeBron James would score over 30 points in the match, a risky wager considering the game was halfway through and LeBron had so far scored only 10 points. This bet's payoff depended on how right or wrong our prediction was, meaning a big win or a big loss was possible.
As the match advanced, LeBron kicked into high gear and started racking up points quickly. The excitement was palpable, and the fluctuating odds added to the thrill. We watched intently, hoping LeBron would continue his scoring spree.
Testing Krikya's platform in this way allowed us to experience first-hand the thrill of betting on sports events. Our journey demonstrated how betting strategies can be varied and dynamic, emphasizing the excitement and unpredictability inherent in sports betting.
Online Casino and Slot Games at Krikya
When it comes to an immersive casino experience, Krikya's online platform leaves no stone unturned. Being a one-stop-shop for betting enthusiasts, Krikya ensures that along with sports betting, punters get to dabble in a virtual casino setting, making it an all-encompassing gambling site.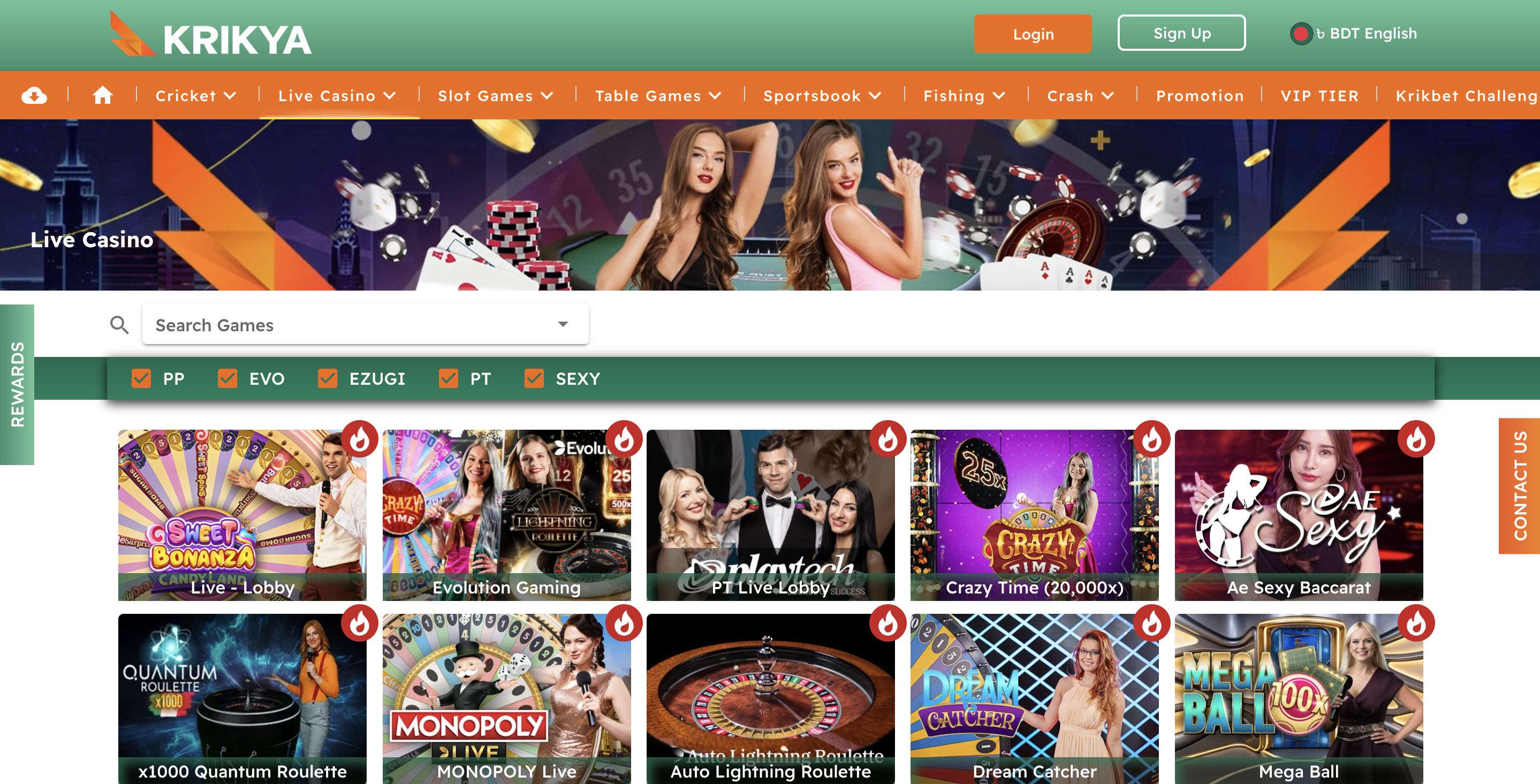 Gambling at Krikya is a spectacle in itself. The platform boasts an extensive range of casino games, powered by the industry's most reputable software providers. From classic table games to exciting slots, the selection is diverse. The presence of renowned providers like NetEnt, PlayTech, and Evolution Gaming guarantees high-quality games with compelling graphics and fair gameplay.
Top Games at Krikya's Online Casino
Based on our exploration, several games stand out in the vast portfolio of Krikya's casino offerings. For slot aficionados, 'Aztec Blaze' and 'Sword of Ares' offer intriguing themes and lucrative rewards. Fans of table games have the classic 'Lightning Roulette' to indulge in, and 'Dream Catcher' spins the wheel for those who prefer live game shows.
Additionally, the trendsetter game 'Aviator', an innovative take on crash-type games, has been gaining popularity amongst the Krikya players. Not to forget, 'Sweet Bonanza', a high volatility slot game, draws in players with its captivating visuals and the potential for big wins.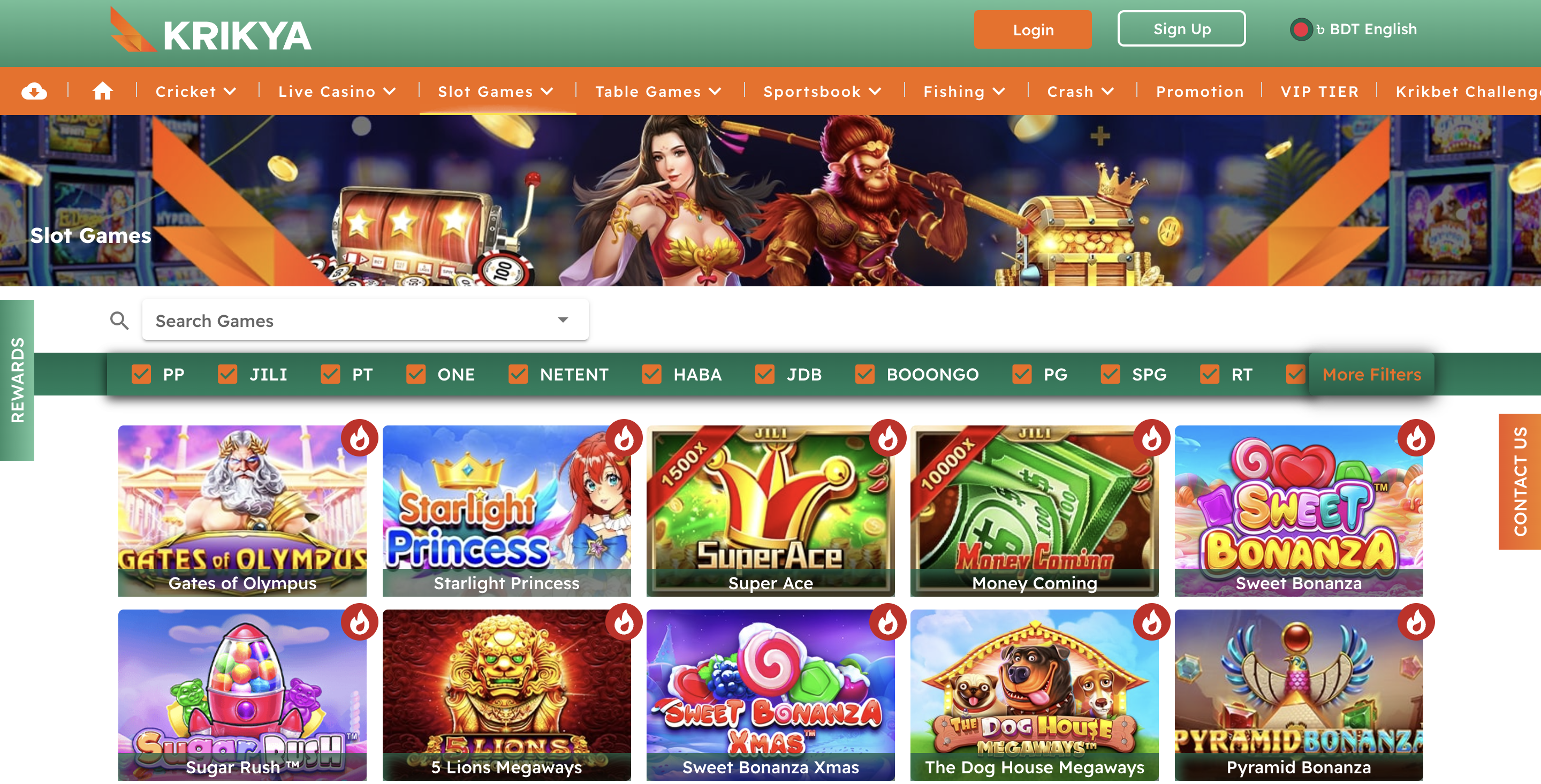 How to Begin Playing at Krikya's Casino
Before plunging into the exhilarating world of Krikya's casino games, players need to follow a few straightforward steps. Here's how to start:
Create an Account: Register on the Krikya website, providing all necessary information.

Deposit Funds: Choose a convenient deposit method from options like Bank Transfer, Bkash, Nagad, Rocket, or UPay. The minimum deposit is a modest ৳ 200.

Choose Your Game: Navigate to the casino section and select a game from the rich catalogue.

Set Your Bet: Decide your wager amount and place your bet. Remember, responsible gambling is key.

Start Playing: Once your bet is set, you can start playing. May the odds be in your favor!
Diving into Live Action: Exploring Live Casino at Krikya
Krikya is not just about sports betting and classic casino games; it offers an authentic brick-and-mortar casino experience from the comfort of your home. The platform features a live casino where players interact with real dealers, contributing to an immersive and realistic gambling atmosphere.
Playing with real dealers on Krikya is the closest you can get to traditional casino gaming without leaving your chair. The platform hosts a variety of live dealer games, from Blackjack and Baccarat to Roulette and Poker. Powered by esteemed providers like Evolution Gaming and Playtech, Krikya's live casino guarantees high-quality streaming, professional and friendly dealers, and an engaging chat feature that allows interaction with other players.
In our experience, Krikya's live casino delivers an unrivaled experience. Whether you're a seasoned high-roller or a newbie making your first steps, the vibrant live casino environment provides a thrill you wouldn't want to miss.
On-the-Fly Entertainment: Krikya's Instant Games – Aviator, JetX, and More
Beyond traditional betting options, Krikya ventures into the realm of social casino games, offering quick betting games that serve a fast-paced thrill. These innovative titles like Aviator, JetX, and Mines, significantly enhance Krikya's appeal, providing an exciting break from the usual betting routine.
The Aviator game at Krikya, in particular, has been drawing players with its simplicity and high potential rewards. Based on a crash-style mechanic, Aviator involves a rising curve that can crash anytime. The players cash out before the crash, and the longer they wait, the higher their winnings—unless the curve crashes!
On the other hand, JetX is all about predicting how far the virtual spaceship will go before it explodes. Again, the higher it flies without exploding, the more winnings you collect.
Krikya's Mines offers a different kind of challenge. The objective is to open as many safe boxes as possible without stumbling upon a mine. The more boxes you open, the higher your prize. But beware, one wrong move, and all your winnings will be lost!
Our experience of gamble in casino Krikya
For this gaming scenario, our team embarked on a journey with a bankroll of 500 USDT and dove into the sea of games offered by the Krikya online casino. We decided to take a spin at a slot game and then explore the thrill of a live dealer game.
The first choice was the popular slot game 'Gonzo's Quest' by NetEnt. This slot is renowned for its unique avalanche reels feature and has an engaging theme based on the Spanish conquest of the Americas. We started with a cautious 5 USDT per spin, intending to gradually increase our bets if we landed on winning combinations. After a few rounds, Gonzo, our animated Spanish explorer, led us to a win of 20 USDT. Feeling lucky, we increased our stake to 15 USDT per spin. The gamble paid off when we hit the Free Fall symbols, triggering 10 free spins and a 3X multiplier. We walked away with a healthy 100 USDT in winnings, ending our slot adventure on a high note.
Next, we decided to venture into Krikya's live casino for a round of Immersive Roulette from Evolution. The game offers a real-life casino experience with professional dealers and high-quality streaming. We decided to bet large on a single number, aiming for the 35:1 payout. We put 50 USDT on number 17. As the wheel spun, our hearts raced. The ball came to rest, and lo and behold, it was 17! This win earned us a whopping 1750 USDT!
Our strategy was simple – play responsibly and escalate our bets when we feel confident. This approach allowed us to explore the dynamics of each game without risking our bankroll significantly.
Remember, online casino games are primarily about having fun, and each game comes with its own set of probabilities. Your luck can turn with each spin of the slot or the roulette wheel, and it's essential to be mindful of this when staking your bets. All in all, our experience with Krikya's casino games was thrilling, offering a mixture of suspense, excitement, and satisfying rewards.
Engaging the Player with Krikya's Generous Welcome Bonus
Getting started at an online casino can be daunting, but Krikya makes it all worthwhile with their enticing welcome bonuses. First-time registrants are greeted with not one, but four different welcome bonuses, each catering to various gaming preferences. Krikya's welcome bonuses include a 200% bonus up to ৳10,000 for Evolution Gaming, a 200% bonus up to ৳20,000 for Slots, a 100% bonus up to ৳15,000 for Sports, and a 50% bonus up to ৳20,000 for the Live Casino. These generous bonuses are an effective way for Krikya to roll out the red carpet to its new players, offering them a warm and rewarding start to their gambling journey.
Keeping the Momentum with Krikya's Regular Bonuses and Promotions
Beyond the Krikya welcome bonus, the platform offers a plethora of bonuses and promotions aimed at keeping the player experience lively and rewarding. These promotions are regularly updated, ensuring there's always something to look forward to. One such ongoing promotion is the Krikya Referral Program, a rewarding initiative that gives players an unlimited ৳1,200 and a lifetime earning of 2% referral incentive. This offer allows players to earn simply by inviting friends to the platform.
Krikya also offers daily reload bonuses, granting players an unlimited 5% bonus on slots and another 5% up to a bonus amount of ৳100 on Evolution Gaming. These regular incentives boost the excitement of everyday gaming and give players more to play with.
Additionally, Krikya's commitment to rewarding gameplay extends to a weekly cashback offer. This promotion applies to Sports, Live Casino, and Slots, with players able to claim up to ৳50,000 as extra margin. It's a reassuring backup for players, providing a safety net that takes the sting out of potential losses.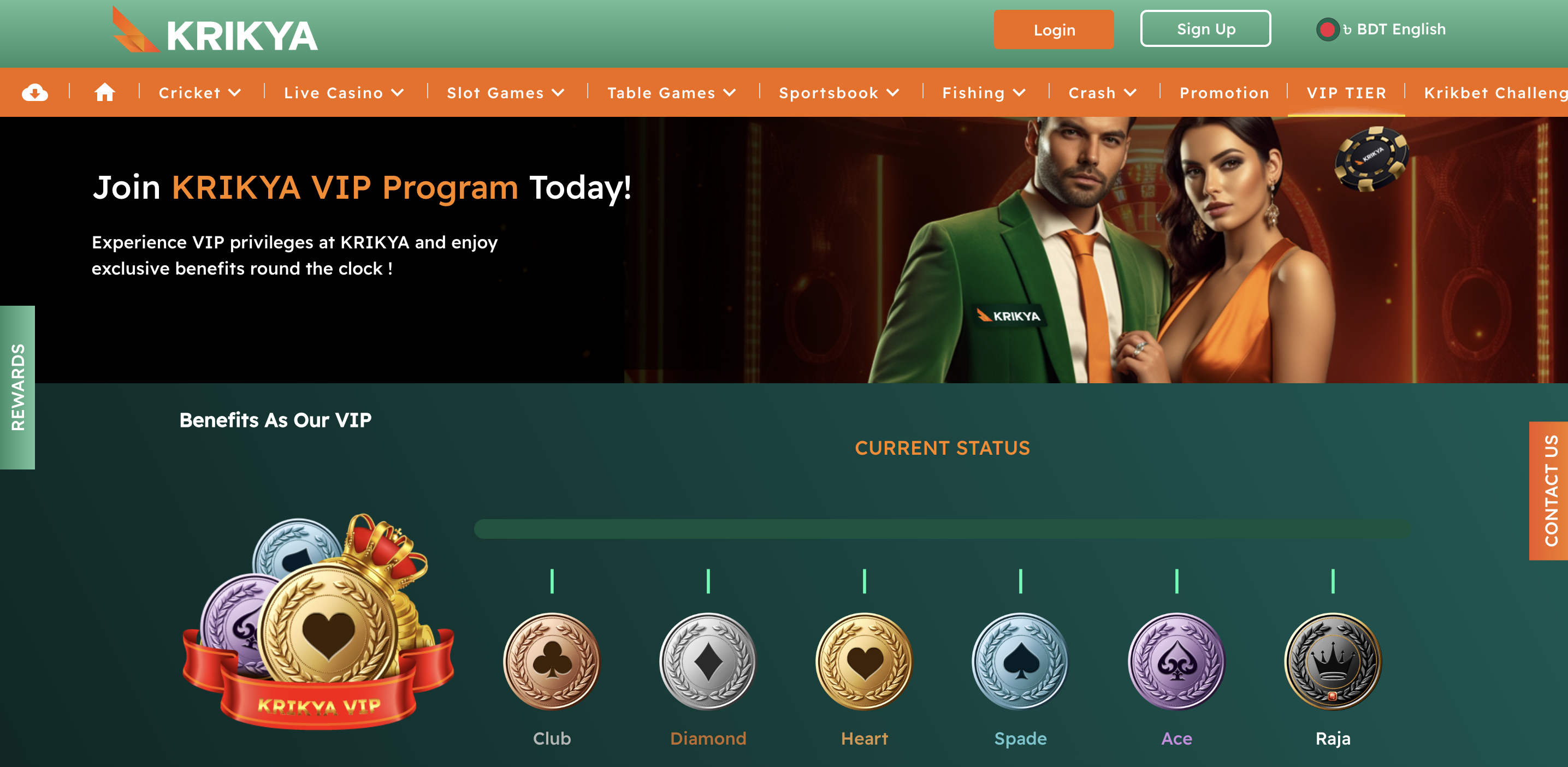 Utilizing Promocodes at Krikya: The Steps to Extra Rewards
Krikya promocodes are an added advantage for players, offering extra benefits with easy redemption. To get and use promo codes at Krikya, follow the steps below:
Sign up for an account on the Krikya website.

Fill in the necessary information during the signup process.

Make your initial deposit.

Before submitting the deposit request, select the applicable promo code.

The bonus associated with the code will be automatically credited to the member's wallet after the deposit has been made.
Navigating Financial Transactions: Deposits and Withdrawals at Krikya
One aspect that sets Krikya apart from many online casinos is the ease and convenience of handling financial transactions. Understanding deposit methods and withdrawal methods at Krikya, and their respective limits, is essential for a smooth gaming experience.
To make a deposit at Krikya, the platform offers several trusted methods for players to choose from, including Bank Transfer, Bkash, Nagad, Rocket, and UPay. These diverse options ensure that every player finds a payment method they are comfortable and familiar with. The minimum deposit at Krikya is a reasonable ৳200, making the platform accessible to players with varying bankrolls. On the other end of the spectrum, players can deposit up to ৳30,000 in a single transaction, catering to high rollers seeking larger bets and potential returns.
When it comes to withdrawing your winnings, the same diverse methods are available to ensure consistency and ease of transactions. The minimum withdraw limit at Krikya is set at ৳800, providing a fair balance between maintaining an active bankroll and withdrawing some of your winnings. The maximum withdraw limit at Krikya is ৳30,000, ensuring that winners can enjoy their winnings without prolonged waiting periods.
ourney of Becoming a Member: Steps to Register at Krikya
Becoming a part of the Krikya online casino and bookmaker platform is a simple process that involves a few straightforward steps. This comprehensive guide aims to assist new players in navigating the journey of registration on the Krikya official site and accessing the exciting world of gaming that awaits.
The Four-step Process to Krikya Login
The first step to register at Krikya begins by visiting the Krikya platform. You can do this by either accessing the official site directly or using a mirror link, which we provide for your convenience.

Upon arriving at Krikya's main page, you will be prompted to initiate the registration process. Look towards the upper right corner of the screen, where you will find the 'Register' or 'Sign Up' command. Clicking this will usher you to a dedicated sign-up page. Here, you are required to provide pertinent information like your full name, active email, preferred username, and a secure password.

The third step involves making your first deposit. After successful registration, Krikya login, and accessing your newly created account, head to the 'Deposit' section. Here, you can choose a deposit method that suits you from the various options provided and deposit the amount you wish to stake.

With your deposit successfully processed, you can now place stakes and start enjoying the myriad of games Krikya offers. From slots to live casino games and sports betting options, Krikya provides a diverse gaming experience designed to cater to every player's taste.
Necessities for Membership: Registration Requirements
To ensure the security and integrity of the platform, Krikya has set a few registration requirements that every new member should meet. You must be of legal gambling age, which is typically 18 years and above, depending on the laws of your jurisdiction. You should also provide accurate and verifiable information during sign up, and agree to Krikya's terms and conditions.
Embracing Mobility: Registering with Krikya Mobile App
For those who prefer gaming on the go, Krikya provides a user-friendly mobile app that you can easily register with. After downloading the app from your device's app store, launch it, and click on the 'Register' or 'Sign Up' button. The subsequent steps mirror those on the desktop site, ensuring consistency across devices.
Claiming the Welcome Gift: How to Get the Krikya Welcome Bonus
One exciting feature of Krikya is the generous welcome bonus that awaits new members. Upon successful registration and making your first deposit, you can claim this bonus. It's as simple as selecting the applicable promo code before submitting your deposit request. The bonus will be automatically credited to your account, providing a fantastic starting boost for your gaming adventure.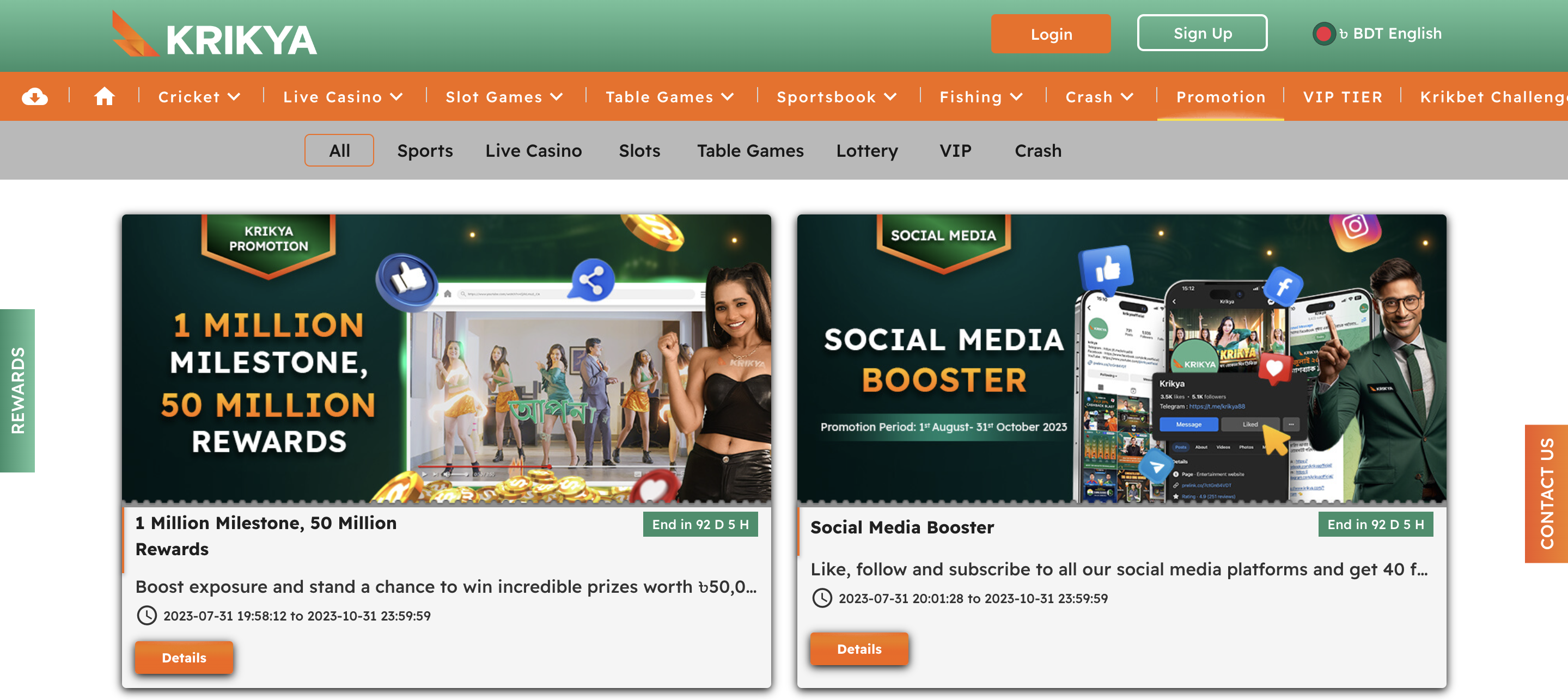 Krikya Account Verification Steps
At Krikya, your security is paramount, and that's why they have a thorough account verification process in place. Post-registration, Krikya may request documents to verify your identity, typically a government-issued ID or passport, and proof of address, which could be a utility bill or bank statement. This process, essential for ensuring the authenticity of your Krikya account, also helps in maintaining the platform's integrity and security. Keep in mind that all personal information provided is handled with strict confidentiality. Hence, completing this process not only fulfills regulatory requirements but also gives you complete access to the thrilling world of Krikya gaming.
Android System Requirements for the Krikya App
To ensure a smooth and immersive gaming experience with the Krikya mobile app, your Android device needs to meet certain system requirements. Generally, the "app Krikya for android" is designed to be compatible with a wide range of Android versions, typically requiring Android 5.0 (Lollipop) or higher. Nevertheless, the app's performance is best on more recent versions. Also, your device should have enough storage space for the app, with at least 100MB recommended.
How to Download the Krikya APK on Android?
The Krikya APK is a straightforward download from the Krikya official site. Once on the site, locate and click on the 'App' button, which will initiate the downloading process. The "download Krikya APK on Android" action is quite easy and takes only a few moments, depending on your internet speed.
How to Install the Krikya App on Android?
After successfully downloading the Krikya APK, the next step is to install the Krikya app. Before starting, ensure your Android device allows installations from unknown sources. This is usually under 'Security' or 'Privacy' settings of your phone. Once done, locate the downloaded Krikya APK file in your device's 'Downloads' folder and tap on it to begin the installation process. Follow the on-screen instructions, and within a few moments, the "install Krikya app" process will be completed, providing you with unrestricted access to Krikya's universe of gaming.
How to Update the Krikya App?
Staying updated ensures you never miss out on any new features or games. Updating the Krikya app is just as easy as installing it. Typically, if an update is available, a notification will appear when you open the app. However, you can manually check for updates by visiting the Krikya official website and downloading the latest APK file, similar to the initial installation process. Reinstall the new APK file, and you're ready to continue your gaming journey with the updated app.
Unlocking Success at Krikya: Top Tips and Practices
Embarking on your gaming adventure with Krikya can be an exhilarating experience. To enhance your gameplay and improve your winning chances, here are some invaluable tips and best practices:
Understanding the Rules: Before placing any bets or starting any game, ensure you thoroughly understand the rules and gameplay. Each game at Krikya has a specific set of guidelines that are key to making strategic moves.

Utilize the Bonuses: Krikya offers a variety of bonuses to both new and existing players. Leverage these bonuses to your advantage. They can provide you with additional gaming time and increase your chances of winning.

Responsible Betting: Keep your betting under control. Set a budget for your betting activities and strictly adhere to it. Never chase losses.

Stay Updated: Regularly check Krikya's promotions and bonuses page. The site frequently updates these offerings, providing players with a range of opportunities.

Explore Different Games: Krikya has a vast array of games. Don't limit yourself to one; explore various games to enhance your overall gaming experience and potentially uncover new winning opportunities.

Use the Krikya App: For gaming on the go, consider downloading and using the Krikya mobile app. It provides the same thrilling experience as the website, right at your fingertips.
Navigating the Krikya Mobile Website Experience
Krikya's mobile website is a sleek, user-friendly platform built to bring the thrill of gaming straight to your smartphone. The mobile site, mirroring its desktop counterpart, offers the same rich catalogue of games and betting options, ensuring that your entertainment remains uncompromised no matter where you are. The site is optimized for speed and easy navigation, with clear, user-intuitive menus and easy access to your favourite games, promotions, and account details.
Assurance of Fair Play and Licensing at Krikya
As an online casino, Krikya places a premium on transparency, fairness, and security. It operates under a rigorous regulatory framework, with a license from a reputable gaming authority. This licensing guarantees that Krikya conforms to all legal requirements, maintaining a fair, reliable, and secure platform for its players. Furthermore, Krikya uses a certified Random Number Generator (RNG) for its games, assuring players that outcomes are completely random and free of any manipulation. Players can, therefore, rest easy knowing that every game they play and every bet they place is fair.
Reliable Customer Support at Krikya
Customer satisfaction is a crucial component of Krikya's operation, and this commitment to their players extends to their robust customer support. Krikya offers 24/7 customer support, available to assist players with any queries, concerns, or issues they may encounter. This support team can be reached through various channels, including live chat and email, ensuring a swift and helpful response whenever needed. The professionalism and friendliness of Krikya's customer support staff echo their commitment to making your gaming experience as enjoyable and seamless as possible.
Final Opinion on Krikya as bookmaker and online casino
In summary, Krikya stands as a fresh and dynamic entry in the landscape of online casinos and bookmakers. The platform encapsulates an up-to-the-minute design and a robust selection of innovative gaming options, which include distinctive crash games and exciting fishing games. Furthermore, Krikya's unique daily deposit bonus program and a suite of sportsbooks with an emphasis on cricket make it an appealing choice for gamers and sports enthusiasts alike.
Nevertheless, it's important to note that Krikya targets primarily the Bangladeshi market, offering a bespoke experience tailored to this specific demographic. This focused approach may limit the platform's wider global appeal due to its reduced language options and absence of a dedicated iOS app. Additionally, the lack of a poker room could deter card game lovers from this platform.
In essence, Krikya emerges as a compelling option for online gaming enthusiasts who value novelty, diversity, and a finely-tuned user experience. While it does have certain limitations, it's continually evolving to meet its players' needs. For those seeking a unique, modern, and immersive gaming experience, Krikya is undeniably a platform worth exploring.
Read this page in other languages:
Pros
Cutting-edge platform with a modern aesthetic

Extensive variety of innovative games, including crash games and fishing games

Unique daily deposit bonus program enhancing player experience

Multiple sportsbooks, with a specific focus on cricket

Predominantly caters to players from Bangladesh, offering a tailored experience
Cons
Limited language options, with only two languages supported

Lacks a dedicated app for iOS devices

Absence of a poker room for card game enthusiasts