Unfolding as a thorough review of the online bookmaker and casino, Jackbit, this article serves as a valuable guide for all – from gambling novices to seasoned bettors. Delving deep into key facets like Jackbit's bonuses, promotions, payment procedures, and sign-up process, the article lays out practical steps and strategies for users. It further investigates the mobile website experience, license, fairness, and customer support, providing a comprehensive overview. Also included are tips for smart gaming and details on account verification, tailored to ensure a smooth experience for the users. This article is the go-to source for anyone seeking to understand Jackbit's unique offerings, its pros and cons, and to navigate its platforms with ease. In essence, this is an essential read for those eager to immerse themselves in the world of online gambling through Jackbit.
Review of the bookmaker and online casino Jackbit is also available in other languages:
Exploring the Roots of Jackbit
Established in 2022, Jackbit is owned by Ryker B.V., a company operating under a Curaçao gambling licence. In a short span, Jackbit has emerged as a popular bookmaker and online casino, offering a gamut of exciting sports and esports betting markets. With its commitment to seamless betting experiences and a rich array of casino games, Jackbit has become a reliable platform for gamblers worldwide.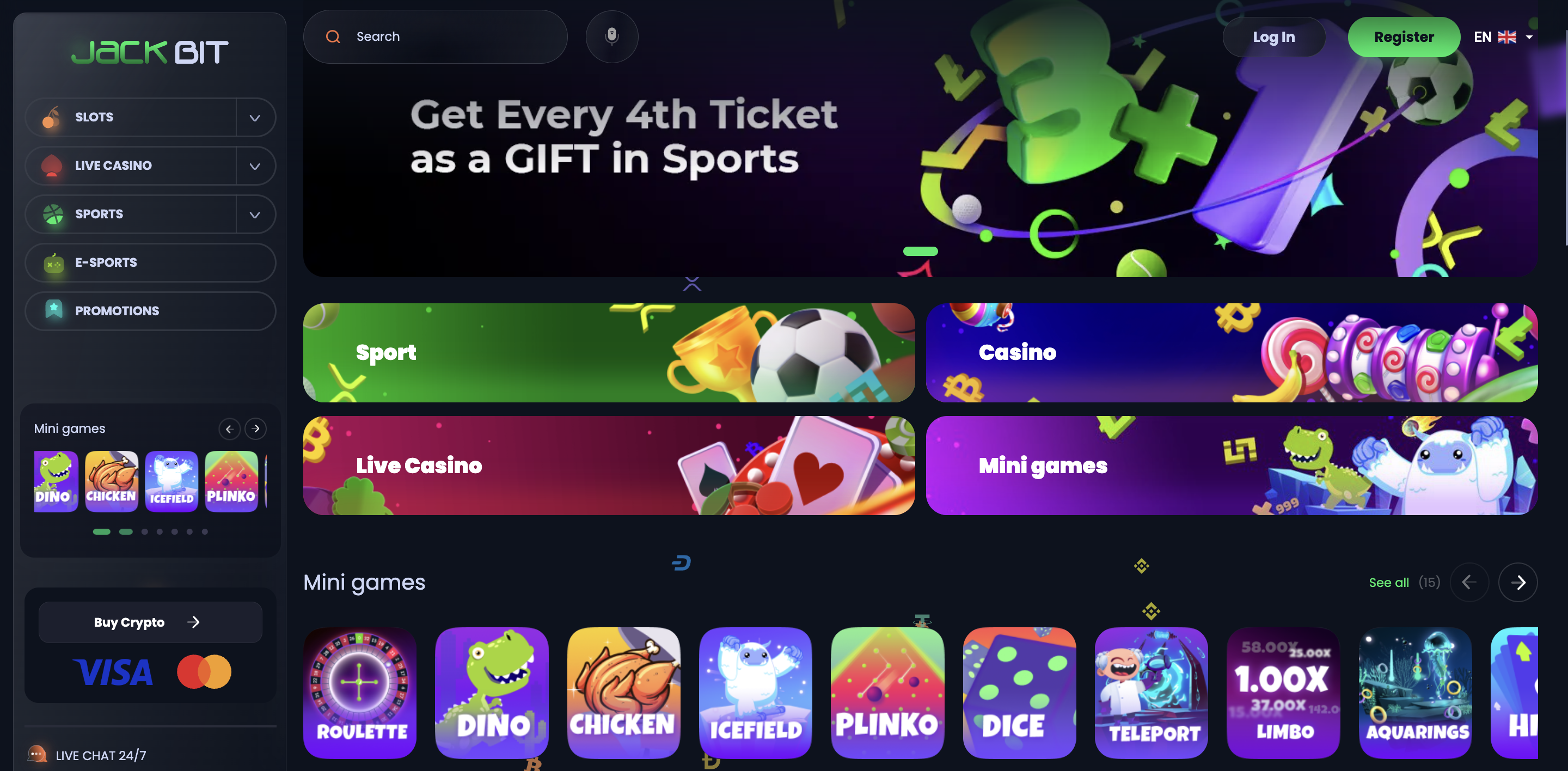 Unravel the Multitude of Benefits at Jackbit
Here's why Jackbit stands out from the crowd:
Wide Array of Betting Markets: Jackbit covers an impressive range of sports and esports, catering to diverse betting interests.

Live eSports Streaming: Unique to Jackbit is the live streaming feature, available exclusively for esports, adding an extra layer of excitement to the betting experience.

Flexible Payment Options: With Jackbit, you can choose from multiple payment methods, including Visa, MasterCard, and an array of Cryptocurrencies.

Accessible Customer Support: Jackbit provides efficient customer support through live chat and email, ensuring hassle-free betting and gaming experiences.

Exciting Casino Games: Jackbit's casino is replete with riveting games from renowned software providers. From Sween Bonanza and Sugar Rush to Mega Baccarat and Lightning Roulette, Jackbit's casino is a gambler's paradise.

Lucrative Lottery Opportunities: Along with exhilarating betting and gaming options, Jackbit offers the thrill of lotteries.
This bookmaker Jackbit review sheds light on the exceptional services offered by the platform, demonstrating why it has become a favourite among bettors and gamers alike. Whether you're into sports betting or prefer the glitz of casino games, Jackbit is the perfect destination. 
Thrilling Sports Betting Landscape at Jackbit
Stepping into the sportsbook Jackbit provides is akin to entering a world filled with exciting possibilities and potential victories. As a highly rated bookmaker, Jackbit provides users with a diverse range of sports betting markets. Their commitment to providing seamless betting experiences is commendable and sets them apart in the competitive landscape of online bookmakers.
Key Sports Betting Markets at Jackbit: Variety at its Best
The versatility of the sports markets on offer at Jackbit is nothing short of impressive. From traditional sports like Soccer, Tennis, and Basketball to esports like CS:GO and Dota 2, Jackbit ensures every bettor finds their niche. The bookmaker also offers other sports markets like Baseball, Ice Hockey, Formula 1, Rugby, and even niche ones like Waterpolo and Handball. The Jackbit betting site truly caters to a diverse audience, making it a favoured destination for betting enthusiasts.
Your Guide to Placing Bets at Jackbit: Simplicity and Speed
To help you enjoy the thrilling world of betting on Jackbit, we've created a simple step-by-step guide:
Create an Account: The first step to start betting on Jackbit is to create an account. It's a quick and straightforward process.

Make a Deposit: After setting up your account, you can choose from a variety of deposit methods, including Visa, MasterCard, and Cryptocurrencies. The minimum deposit amount is 20$/€.

Choose Your Market: Explore the wide array of sports and esports markets available at Jackbit to find your preferred betting category.

Place Your Bet: Once you've selected your market, choose the specific event you want to bet on and the type of bet you want to place. Options include Handicaps, Single, Multiple, and system bets.

Confirm Your Bet: Double-check your selection and stake amount before confirming your bet.
Embrace Real-Time Action with Jackbit's Live Betting and Streaming
Take your betting experience to the next level with live betting Jackbit brings to your fingertips. The adrenaline rush of making in-play betting Jackbit offers is nothing short of exhilarating. Bet on your favourite sports as the action unfolds in real-time, adding an extra layer of excitement to your betting journey. But the thrill doesn't end there. Jackbit also offers live streaming for esports, allowing you to witness the intensity of the game as you place your live bets Jackbit-style. The Jackbit live streaming feature adds a sense of immediacy and engagement, making the entire betting process more interactive and captivating.
Unfold the Betting Possibilities at Jackbit
At Jackbit, your betting opportunities are not limited to standard single bets. The platform extends its offerings to include a wide variety of bet types to cater to diverse betting strategies. For those looking to maximise their potential returns, accumulator bets are available, allowing you to combine multiple selections into a single bet. Also, systems of bets are accessible, providing a flexible approach that allows you to win even if not all your selections are correct. Jackbit offers handicaps, single, multiple, and system bets, providing bettors with plenty of options to choose from.
Advanced Betting Tools for Enhanced Experience
Jackbit goes the extra mile to provide its users with advanced betting tools for an improved betting experience. The platform's cash out feature allows you to take control of your bets and secure a return before the event is over. With the Jackbit cash out tool, you no longer have to wait for the event to finish to claim your winnings.
Our experience of betting on Jackbit sportsbook
Betting on Jackbit is an exhilarating experience, rich with opportunities to win big. Our team started with a healthy balance of 500 USDT. We chose to split our wagers between two types of bets — one prematch bet and one in-play bet.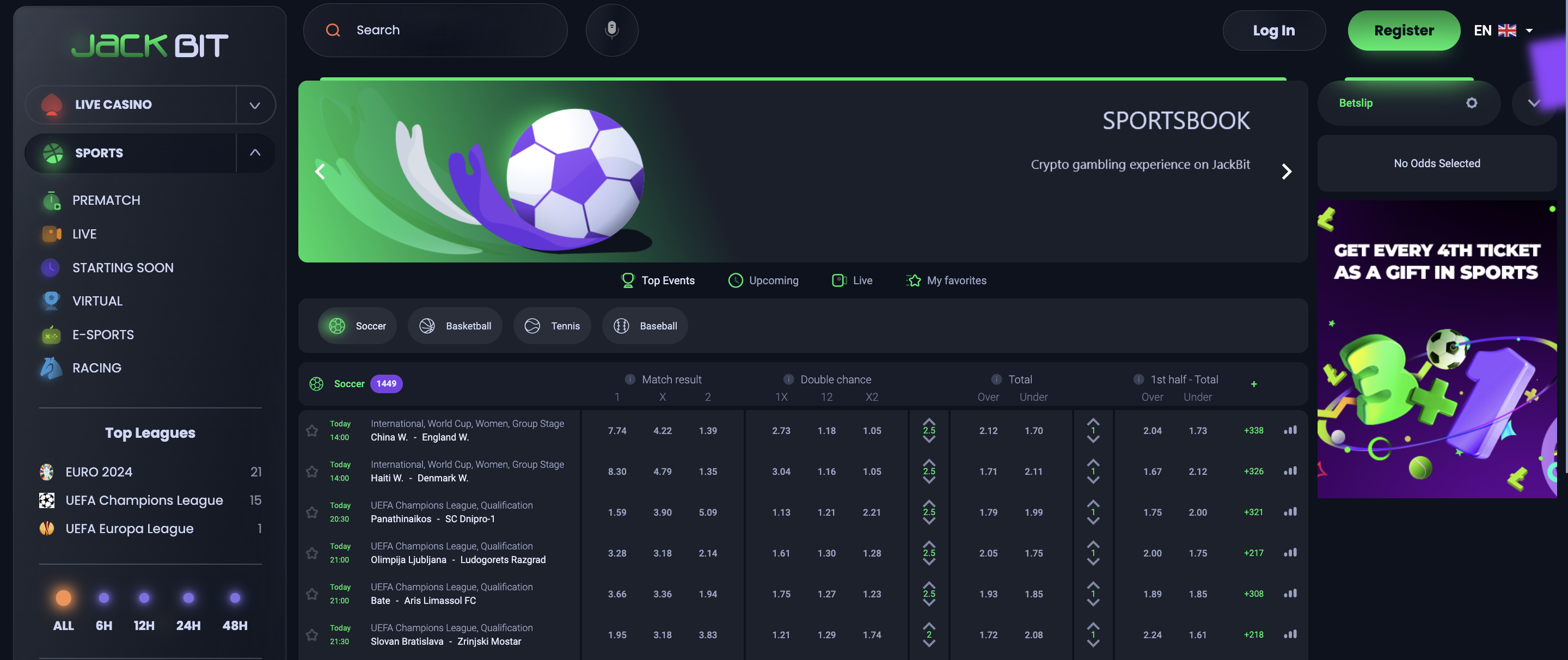 For the prematch bet, we decided to turn our attention to football, the king of sports. The Champions League was in full swing, and a critical match was set between Manchester United and Barcelona. Given United's recent unbeaten run and Barcelona's struggle away from home, we decided to stake 200 USDT on Manchester United's Moneyline at odds of 2.1.
Meanwhile, the League of Legends World Championship was happening in the esports realm. Our in-play bet choice fell here. We tuned into the live streaming of the battle between TSM and G2. The odds were favouring G2, but we noticed that TSM was showing signs of a comeback in the early stages of the game. Taking this as an opportunity, we decided to place a risky live bet of 300 USDT on TSM's Moneyline with odds at 3.0.
Our strategy was a mix of calculated decision-making and embracing the unpredictability of sports. The prematch bet on football was based on recent form and home advantage, while the in-play bet on League of Legends was more of a gamble, seizing an opportunity in the heat of the moment.
Days later, the results were in. Manchester United emerged victorious with a score of 2-0 against Barcelona, turning our 200 USDT into 420 USDT. However, our high-risk in-play bet didn't turn out as expected. Despite the promising start, TSM succumbed to G2's pressure and eventually lost the game.
Our experience demonstrated the thrill and uncertainty inherent in sports betting on Jackbit. We ended up with a slight loss, but the adrenaline and the potential for enormous winnings will certainly bring us back to the Jackbit betting site for more.
Exploring the Jackbit Online Casino and Slots Galore
Diving into the Jackbit online casino is akin to walking into a digital wonderland of amusement, adventure, and potential winnings. This gambling platform offers a multitude of games, all designed to provide a thrilling betting experience. The casino section is plentiful, with an array of games from globally recognized software providers such as Microgaming, NetEnt, Play'n GO, and many others. As a result, casino enthusiasts will find the familiar alongside the innovative, ensuring both seasoned gamblers and novices find something to pique their interest.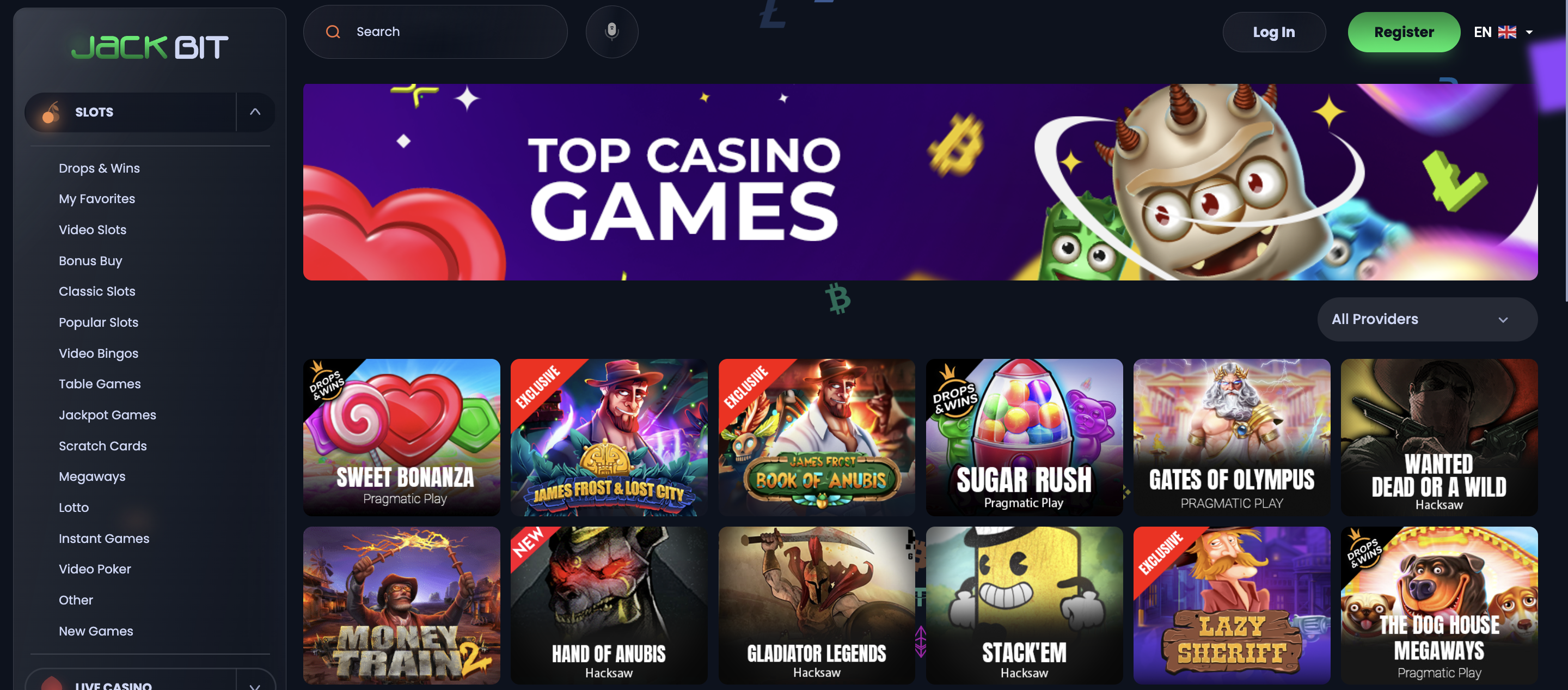 Top-Notch Casino Games at Jackbit
At Jackbit, the variety and quality of casino games available is impressive. The platform's most popular offerings include titles like 'Sweet Bonanza', 'James Frost', 'Sugar Rush', 'Gates of Olympus', and 'Money Train 2'. Each of these games promises unique themes, graphics, and gameplay mechanics, ensuring every gambling session is an adventure in its own right.
In addition to its variety of slots, Jackbit's live casino games are worth noting. Offerings such as 'Mega Baccarat', 'Blackjack 68', 'Auto-Roulette', and 'Lightning Roulette' bring the thrill of real-world casinos right to your screen, thanks to live streaming technology.
Initiating Your Jackbit Casino Experience
Starting your gambling journey at the Jackbit casino is a straightforward process. Here's a simple step-by-step guide to get you started:
Registration: Start by creating a new account on the Jackbit gambling site. Fill in the required details and confirm your account.

Deposit: Choose from the many available deposit methods, including Visa, MasterCard, and various cryptocurrencies. Remember, the minimum deposit is 20$/€.

Navigate: Once you're in, explore the plethora of Jackbit casino games available. You can filter games by provider or type to find your preferred choice.

Play: Select a game and set your bet limit. Then, all that's left is to spin the reels or deal the cards!

Withdraw: If Lady Luck smiles upon you, you can withdraw your winnings. The minimum withdrawal limit is 20$/€.
Immerse Yourself in Jackbit's Live Casino Experience
Embracing the thrills of a land-based casino from the comfort of your home has never been more engaging, thanks to the live casino at Jackbit. This feature brings the buzzing energy of physical casinos to your screen, with real-life dealers running the show.

For fans of table games, Jackbit offers a host of options. These include Live Roulette, Live Baccarat, and online poker at Jackbit, with each game hosted by professional, real dealers. The HD streaming quality and interactive chat options add to the immersive experience, making you feel like you're playing at a physical casino.
A key attraction of live casino Jackbit is its variant of poker, Texas Hold'em, where you can put your strategic abilities to test against other players globally. Every round is a battle of wit, observation, and risk-taking, making the live poker games at Jackbit a must-try for poker enthusiasts.
A Glimpse into Jackbit's Instant Games
For those seeking fast-paced excitement, Jackbit's Instant games come highly recommended. These games, including the popular crash games Jackbit hosts, offer a unique spin on traditional gambling. The concept is straightforward: place a bet, watch the multiplier increase, and cash out before the 'crash.' The key is predicting when the crash will occur – too soon and you may miss higher multipliers, too late and you could lose your bet.
Another standout in the Instant games category is the social casino games at Jackbit. These games offer the thrill of competition, as players can compete against friends and other players in real-time. This communal aspect of gaming at Jackbit brings an extra layer of excitement to the gambling experience.
Lastly, for bettors who prefer a rapid turnover, the quick betting games at Jackbit are perfect. Here, bets are resolved within minutes, ensuring a continuous flow of action. You can place bets on virtual sports, keno, bingo, and other fast-paced games.
Our experience of gamble in casino Jackbit
With a generous 500 USDT in our virtual pockets, we plunged into the vibrant world of Jackbit's online casino, eager to test our luck and strategy. We started our gambling journey with the slot game 'Gonzo's Quest' from NetEnt. Known for its stunning graphics and adventurous theme, Gonzo's Quest has a high RTP (Return to Player) percentage, making it an attractive choice for our first bet.
For the uninitiated, Gonzo's Quest follows a Spanish conquistador's search for the golden city of El Dorado. With its Avalanche Reels feature, every win sends the winning symbols tumbling away, replaced by new symbols that could create more winning combinations. We decided to bet 50 USDT, a tenth of our stack, to start. We hit a streak of minor victories, each multiplying our stake, until a sudden winning combo sent us on a Free Fall feature with 10 free spins. The feature ended with us bagging a total of 150 USDT.
Next, we took our chances with the Live Blackjack at Jackbit's live casino. The thrill of real-time play, coupled with an actual dealer, made for an intense, engaging gaming experience. We decided to go big, placing 200 USDT on our initial hand. We received a 10 and a Jack. Our hearts raced as the dealer slowly revealed their hand – a 7 and a Queen. Our Blackjack triumphed, doubling our stake to a total of 400 USDT.
The strategy in both games was simple. For Gonzo's Quest, we were careful, betting only a fraction of our total. But for Live Blackjack, we took a significant risk, banking on the statistically high chances of getting a decent hand. We understood that casino games largely rely on chance, but our calculated risks helped us make the most out of our playing experience.
After a thrilling gaming session at Jackbit, we had successfully increased our initial stake to 1000 USDT, doubling our starting fund. Remember, this is only our user experience, as online gambling involves significant risk and you should always be undertaken responsibly.
Welcoming Bonuses at Jackbit
Though many online casinos draw in new players with enticing welcome bonuses, the online casino and bookmaker Jackbit takes a different approach. It doesn't offer a traditional welcome bonus. Instead, it enhances your gambling experience with a series of other unique Jackbit bonuses and promotions, ensuring every player feels rewarded.
An Array of Jackbit Bonuses and Promotions
Among the offered promotions, the "3+1 FreeBet" is a standout. It works on a simple principle: place three consecutive bets and receive the fourth as a free bet. The value of the free bet is the average of your previous three bets. For example, if your bets were 25$, 50$, and 75$ consecutively, your free bet would be (25+50+75)/3 = 50. There are rules to follow, such as minimum bet values, minimum odds, and ineligible bet types, but these conditions are reasonable and transparent.
Another intriguing promotion is the "FreeSpins & FreeBets" offer. Players can win free spins on casino games, with a maximum withdrawal limit of 100 EUR/USD/CAD from free spin wins. Winnings must be rolled over ten times within seven days before cashing out. Also, a subsequent deposit is required for additional free spin withdrawals.
Securing and Utilizing Jackbit Promocodes
Unfortunately, as of now, Jackbit does not offer specific promo codes. However, their existing promotions do not require Jackbit promocodes to participate. You are automatically eligible for these promotions as a registered user. Keep an eye on their promotions page as they could introduce promocodes in the future.
Transacting in Jackbit: A Guide to Depositing and Withdrawing
Online casinos must have secure and varied payment options to cater to the diverse financial preferences of their patrons. In this light, Jackbit casino provides a variety of deposit methods and withdrawal methods, ensuring convenience and security in your transactions.
In Jackbit, the options for making deposits and withdrawals extend beyond traditional methods. Alongside conventional card options such as Visa and MasterCard, Jackbit accepts a range of cryptocurrencies. It's a significant benefit for those looking to leverage the anonymity, speed, and low transaction fees associated with digital currencies.
The list of acceptable cryptocurrencies includes Bitcoin (BTC), Ethereum (ETH), Litecoin (LTC), Ripple (XRP), Bitcoin Cash (BCH), Tether (USDT), Monero (XMR), and Dash. Moreover, Jackbit accepts Euro (EUR) and United States Dollar (USD), widening the spectrum of options for its global users.
The minimum deposit and withdrawal amounts at Jackbit are quite accessible, set at 20$/€. This low threshold means you can start playing without needing to commit a substantial amount of money initially, making Jackbit a great option for players of all budget sizes.
However, it's important to note that there are withdrawal limits in place. These exist to protect both the player and the casino from fraudulent activity. You can withdraw as low as 20$/€ from your Jackbit account. The maximum withdrawal limit in Jackbit isn't explicitly stated, but casinos typically have varying limits based on factors like player status, payment method, or even individual transactions.
Your Gateway to Jackbit: A Step-by-Step Guide to Registration
Embarking on your journey with Jackbit involves a straightforward and user-friendly registration process. Here is your guide on how to sign up at Jackbit:
Step 1: Enter the Domain – You can directly navigate to the official Jackbit site, or utilize our provided mirror link to access the platform.

Step 2: The Registration – Look for the "Sign Up" button, usually positioned on the top-right corner of the site, and click on it to start your registration process.

Step 3: Making Your Initial Deposit – Once you've completed the registration, it's time to fund your account. Navigate to the cashier section to access the deposit methods Jackbit offers, and choose the one that suits you the best. The minimum deposit at Jackbit is set at a manageable level of 20$/€.

Step 4: Begin Your Betting Journey – With your account now funded, you're ready to place your first stakes and start enjoying the various games available at Jackbit.
Eligibility Criteria for Jackbit Registration
To ensure a secure and responsible gaming environment, Jackbit has certain registration requirements. These typically involve age restrictions (you must be at least 18 years old), residency considerations, and perhaps previous account limitations. Ensure you check these criteria to confirm your eligibility before signing up.
Your Guide to Jackbit Account Verification
To maintain a secure gaming environment, Jackbit has a verification process in place for all its members. Upon creating your account and making your first deposit, Jackbit may require certain documentation to verify your identity. This typically includes government-issued identification such as a passport or driver's license, proof of address such as a utility bill, and confirmation of your chosen payment method. The verification process is a one-time event and is designed to protect both you and Jackbit from potential fraudulent activities. It's straightforward and only requires you to upload the necessary documents via your account page. Upon submission, Jackbit will review the documents and confirm your verified status promptly.
Optimal Strategies and Valuable Tips for Jackbit Gameplay
Playing at Jackbit can be a thrilling and rewarding experience, especially if you're armed with some strategic insights and valuable tips. First off, always set a budget for your gameplay. Remember, the aim is to have fun, and part of that is playing responsibly.
If you're interested in sports betting, take the time to study the teams, players, and match conditions before placing your stakes. Remember, knowledge is power when it comes to betting on sports. For casino games, choose games with high RTPs (Return to Player percentages), as these are statistically more likely to give you a return over the long run. Jackbit offers a plethora of games, so you're bound to find one that aligns with your gaming preferences.
Make full use of Jackbit's promotions and bonuses. While the platform doesn't offer a welcome bonus, it does have other incentives like the "3+1 FreeBet" and "FreeSpins & FreeBets". These bonuses can augment your gameplay, providing additional chances to win.
Finally, keep an eye out for Jackbit's loyalty programs or VIP offerings. These can provide you with exclusive bonuses, promotions, and other benefits. However, always make sure to read and understand the terms and conditions before opting in.
Navigating the Jackbit Mobile Interface
The Jackbit mobile website offers an incredibly user-friendly interface, allowing for an effortless gaming experience. Whether it's placing a quick bet on your favorite sports team or spinning the reels on the latest slot game, Jackbit's mobile website ensures every function is only a few taps away. With a clean design and intuitive navigation, you can enjoy all of Jackbit's offerings from the convenience of your smartphone or tablet, anywhere, anytime.
Validating Jackbit's License and Promoting Fair Play
When it comes to credibility and fairness, Jackbit stands strong. It operates under a valid license, guaranteeing that all transactions and activities adhere to established regulations. This legal foundation provides a reliable gaming environment for players, ensuring security, transparency, and fair play. All games featured on the platform are audited regularly by independent third-party entities to confirm the randomness of the results. This way, Jackbit not only promises but also delivers a fair and trustworthy gaming experience to its users.
Interacting with Jackbit's Customer Support
A robust customer support system is a testament to any online casino's commitment to player satisfaction, and Jackbit is no exception. It offers efficient, friendly, and professional customer support, available 24/7 to help answer any questions or address any concerns. This service can be accessed through several channels, including live chat for immediate responses and email for more detailed queries. The Jackbit customer support team is well-equipped to handle a wide range of issues, from technical difficulties to inquiries about payments and promotions. This approach ensures every player enjoys a seamless experience on the platform.
Final Opinion on Jackbit as bookmaker and online casino
In conclusion, Jackbit stands as a highly compelling choice for those who appreciate diversity in their online gambling experiences. Boasting an expansive selection of over 6000 games and an extensive range of sports markets, it caters to a wide variety of betting and gaming preferences. What sets it apart is its specialized focus on cryptocurrency transactions, an offering that aligns with modern financial trends and offers a unique convenience for crypto enthusiasts. Furthermore, its user-friendly website, with its modern and intuitive design, enriches the gaming journey, making it an enjoyable one.
However, it is not without its limitations. The lack of a dedicated mobile app, the absence of a poker room, and the unavailability of a bet builder, might pose as setbacks for some users. Additionally, while its Curacao license is legitimate, it is not as globally recognized as some other regulatory authorities.
Despite these few drawbacks, Jackbit makes a strong case for itself by offering a unique blend of traditional and innovative gaming and betting experiences. It remains a versatile platform where users can explore diverse opportunities in the world of online gambling.
Read this page in other languages:
Pros
Specializes in cryptocurrency payments: With the growing popularity of cryptocurrencies, Jackbit offers a distinct edge by focusing on this payment method.

Over 6000 games to choose from: This vast library includes slots, table games, and lotteries, providing an endless variety for gaming enthusiasts.

Comprehensive sports betting: Jackbit covers a wide range of sports markets, including unique offerings like horse and dog racing, as well as live streaming of esports.

Modern website design: The design is intuitive and engaging, enhancing the user experience.

Accepts credit cards: Beyond cryptocurrencies, Jackbit also supports more traditional forms of payment, adding to its versatility.
Cons
Holds a Curacao license: While valid, this license is not as widely recognized or stringent as some other jurisdictions.

Absence of a dedicated mobile app: Although the website is mobile-friendly, the lack of an app can affect accessibility and ease of use for some players.

No poker room or bet builder: These missing features limit the variety of gaming and betting options available to players.