Step into the online casino Crypto.Games review with our review team. Whether you're intrigued by its array of unique games or curious about the nuances of its mobile experience, we've got you covered in this article. Beyond gaming, we delve into essential features, such as their KYC verification procedure, licensing credibility, and top-tier customer support channels. Understand the pros, cons, and everything in-between of this crypto-centric casino. Review is ideal for both dedicated casino aficionados and newcomers in the crypto gaming arena. Arm yourself with knowledge and decide if Crypto.Games aligns with your gaming aspirations.
About Crypto.Games Company
Established just a few years ago in 2020, Crypto.Games has rapidly ascended the ranks in the online gambling world. This cryptocurrency-driven online casino, regulated by the esteemed Government of Curacao, showcases its commitment to ensuring transparent and fair gaming for its users. Offering a plethora of games that cater to diverse tastes and preferences, it has managed to make a notable mark in the betting domain. By allowing transactions in 11 different cryptocurrencies, Crypto.Games extends its reach to a global audience of enthusiastic gamblers. Its stand on responsible gambling is evident as it mandates KYC in specific cases. But, bettors from countries like the US, UK, and some parts of Europe might need to check the restricted list before diving in.

Quick Advantages to play at Crypto.Games
When we tried this betting site, what caught our eye were the multitude of benefits it offered. Here's a breakdown of why you might consider spending your coins here:
Variety in Gaming: With 10 unique in-house games ranging from Dice to Video Poker, there's something for everyone. The Lottery, with its 0.0% house edge, particularly stands out as a tempting proposition.
Crypto Flexibility: In our opinion, the standout feature is the "ChangeNow" option. Players can deposit using more than 50 altcoins and instantaneously convert to the casino's supported coins. The internal currency exchange mechanism is an added bonus.
Regular Rewards: Faucet bonuses, vouchers, daily and weekly challenges ensure that the bettors are always engaged and rewarded for their loyalty.
The VIP Edge: Making it to the top of the monthly wagering contests can earn players the coveted VIP status, unlocking a world of premium perks and benefits.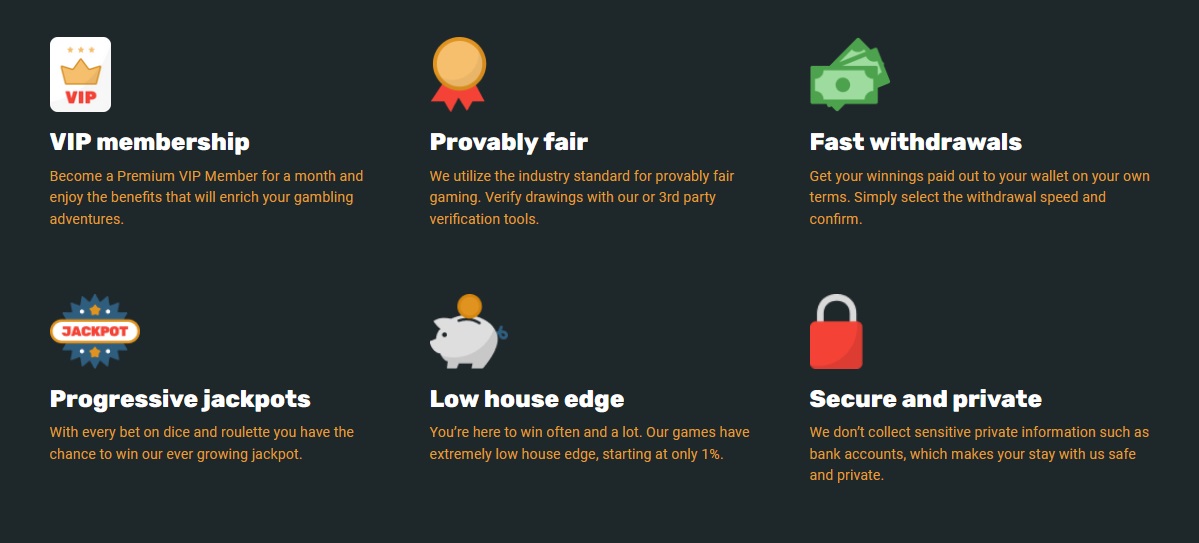 Crypto.Games Online Casino
In a sea of online casinos, the distinct allure of Crypto.Games stands out. Unlike most of its competitors, this online casino Crypto.Games offers an experience that's not just about the shine and shimmer of graphics but more about unique gameplay that keeps bettors hooked. Gamblers seeking a fresh and invigorating place to place their wagers often find themselves gravitating to Crypto.Games for its distinct offerings.
Providers slot games available at Crypto.Games
While many online casinos outsource their games from renowned providers, casino Crypto.Games takes a path less traveled. Drawing on our experience, we found that all slot games on the platform are in-house creations. This means each slot you gamble on Crypto.Games is an exclusive experience that you won't find anywhere else. Such exclusivity allows for innovation, as the Crypto.Games team can introduce new mechanics and themes without the constraints typically faced when dealing with third-party providers. The result? A range of slot games that challenge conventions and redefine the very act of spinning the reels. For gamblers seeking unique thrills, Crypto.Games offers the ideal escape.
Top Casino Games available at Crypto.Games
When you gamble on Crypto.Games, the sheer variety can be overwhelming. But amongst the vast game library, some have made a significant mark. From our analysis, the top casino games on this platform include:
Dice: A classic that never goes out of style, it's evident why this game remains a favorite. Crypto.Games offers dice with a low house edge, enhancing winning prospects.
Blackjack: Blending skill with luck, blackjack tables at this casino ensure a gripping experience replete with fair play.
Roulette: For those who enjoy the suspense of the spinning wheel, the roulette tables are a treat. The game stays true to its traditional counterpart while offering the perks of online gaming.
Lottery: Perhaps the most intriguing of them all, the lottery offers players a chance to secure significant rewards with minimal stakes.
Video Poker: A fusion of traditional poker and slots, this game provides punters an opportunity to strategize and win, making it a top pick at the Crypto.Games casino.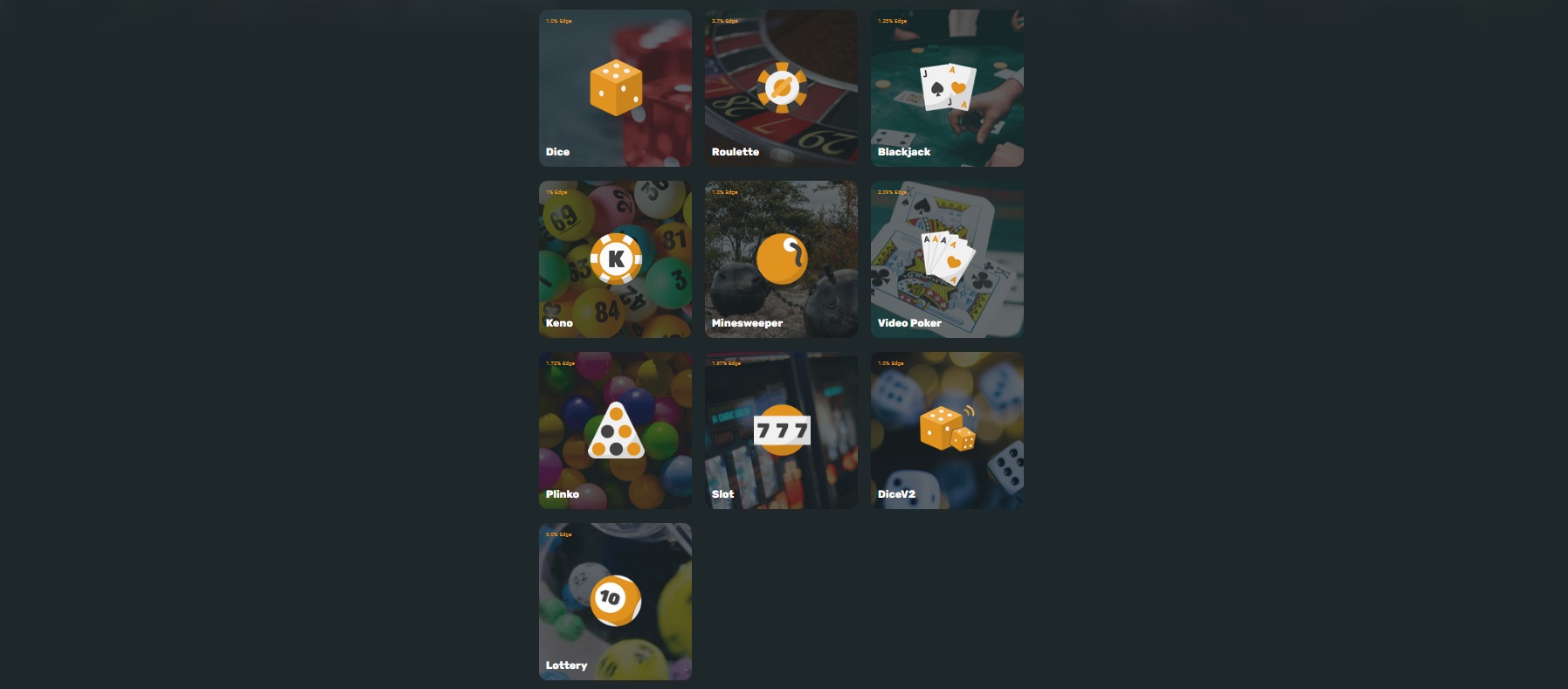 How to start play at casino Crypto.Games?
Stepping into the realm of online casinos can sometimes be overwhelming. But with the Crypto.Games gambling site, it's all about user ease and simplicity. Getting started and diving into the wide array of Crypto.Games casino games is straightforward.
Initiate Registration: Begin by navigating to the Crypto.Games gambling site and locating the "Register" button. Once found, give it a click to commence the registration process.
Agree to the Rules: By proceeding, you are implicitly agreeing to the platform's policies and regulations, ensuring that you understand the terms of use.
Choose Your Nickname: The system will automatically provide a random nickname for your gaming identity. However, the choice is yours – keep the name given or change it to something more personal and unique.
Pick a Cryptocurrency: At this juncture, you'll be prompted to select your preferred cryptocurrency. Whether you're a Bitcoin aficionado or an Ethereum enthusiast, pick one that aligns with your interests. Remember, if you ever decide to experiment with another currency, Crypto.Games provides the flexibility to do so.
Dive into the Casino Games: With the registration complete, you've unlocked the gates to the vast collection of Crypto.Games casino games. Whether it's the spin of the slots or the thrill of the card games, choose your game and let the fun begin.
Secure Your Account: While it's all fun and games, security should never be an afterthought. For an additional layer of protection, head to the settings section. Here, input a valid email address and devise a strong password. This small step can be pivotal in safeguarding your potential winnings and ensuring a smooth gaming experience.
How to start playing at Crypto.Games via App?
In an age where mobile applications dominate, Crypto.Games takes a refreshingly different route. Instead of offering dedicated apps, they've optimized their site to function seamlessly on mobile devices, be it iOS or Android. This ensures that wherever you are, your favorite Crypto.Games casino games are within easy reach, no app download required.
Our experience of gamble in casino Crypto.Games
As we stepped into the realm of Crypto.Games, the virtual casino space seemed inviting. With 500 USDT in our pockets, our team was eager to dive into the world of online betting. The strategy was to spread our bets, focusing on a slot game and then trying our luck on a dice game.
The shimmering Slot Machine caught our eyes first. Understanding the rules was straightforward. To secure a win, we needed a minimum of one 7 or at least four similar symbols. We began with a bet of 10 USDT. The machine buzzed to life, reels spinning in fast succession. The first spin didn't fetch us the desired combination, but we weren't disheartened.
To change our luck, we decided on a strategy. We opted for an aggressive move – doubling our bet using the 2x button. With 20 USDT on the line, the reels spun again. This time, to our elation, we saw a row filled with 7s! The euphoria was palpable as we collected our earnings.
Flushed with our slot success, we proceeded to the Dice game. The game rules were clear. After depositing the desired wager amount, we needed to select our payout multiplier. This multiplier would then dictate our chances of winning. With a chosen number, we would decide if we'd roll high or low.
Given the unpredictability of dice, our strategy was to start small and observe patterns. We began with a modest 10 USDT bet, aiming to roll high. The dice rolled, stopping at 65.324, a win!
Encouraged, we bet 150 USDT, hoping to double it. The strategy was a wild card – we aimed to roll under 30.000. Our hearts raced as the dice was cast. But lady luck wasn't on our side this time. The number displayed was a heart-wrenching 45.678.
Drawing on our experience, we know that in the world of gambling, wins and losses are part and parcel of the game. At the end of our session at the online casino Crypto.Games, the thrill of the chase and the allure of the games made every USDT wagered worth it. The casino's allure isn't just in the potential wins, but in the experience and the adrenaline rush that comes with every bet placed.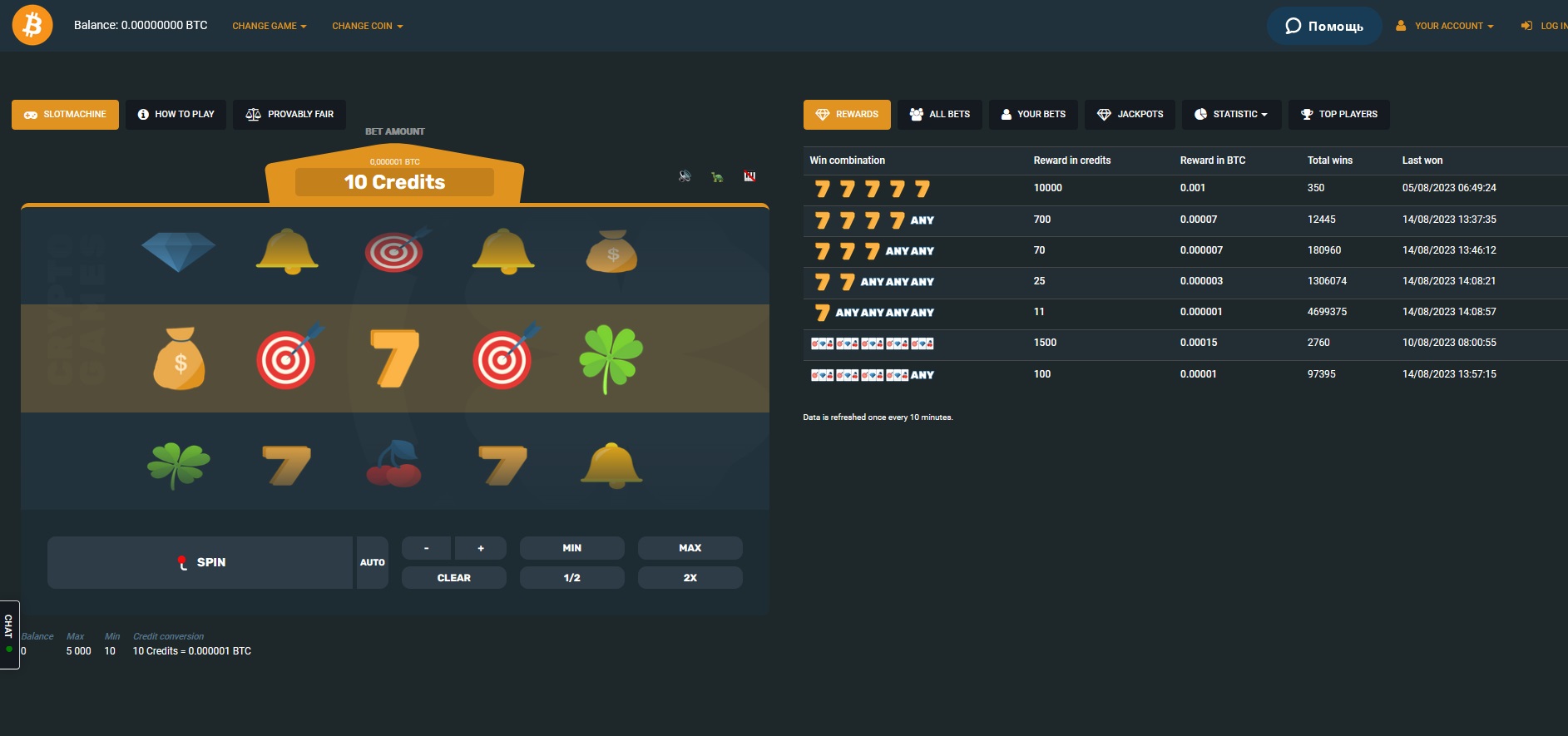 Crypto.Games Welcome Bonus
Surprisingly, Crypto.Games takes a unique approach to their welcome offering. While traditionally online casinos lure players in with hefty welcome bonuses, Crypto.Games offers no such bonus. Instead, players can request coins when their coin balance is empty, starting from 0.00000050 BTC (0.01 USD) and can do so once every three minutes from a singular IP address.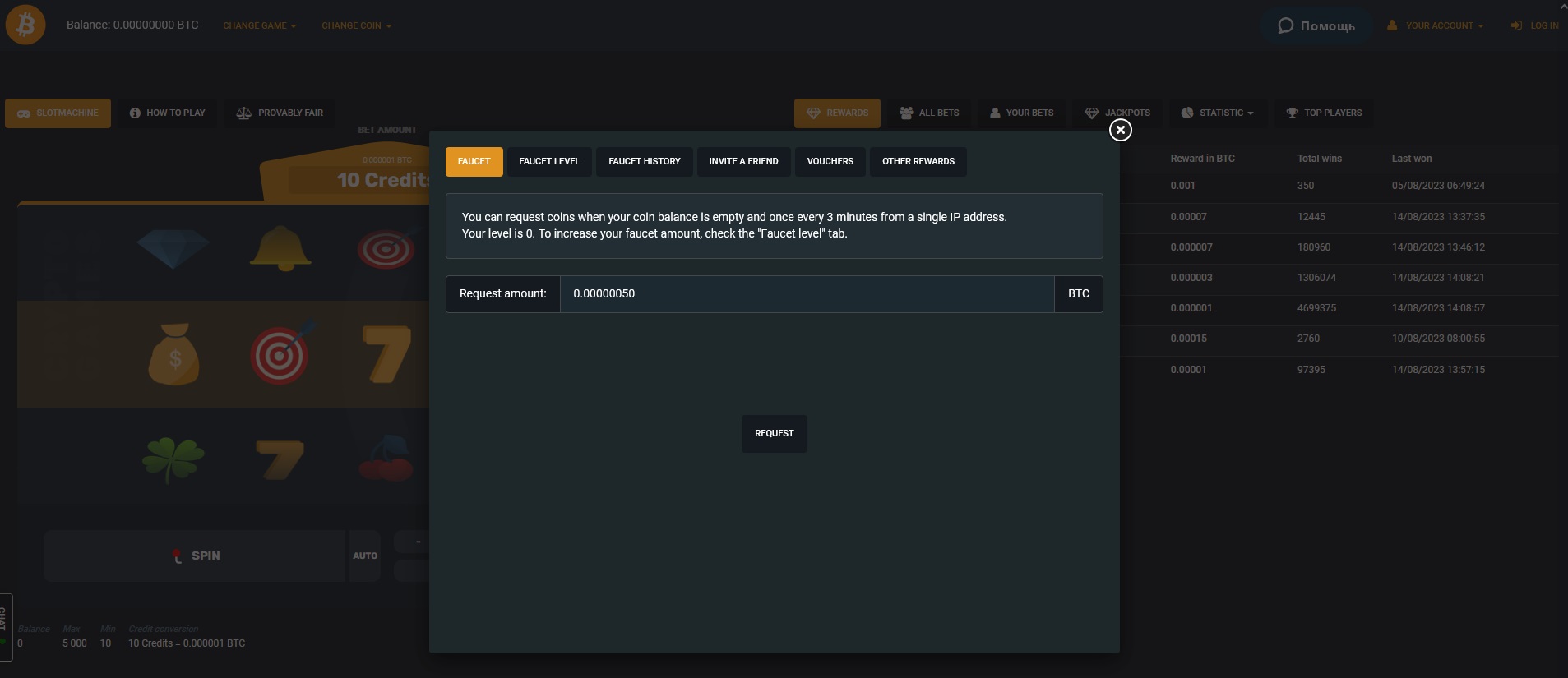 Diverse Crypto.Games Bonuses and Exclusive Promotions
Beyond the initial coin offering, the promotions Crypto.Games rolls out are diverse and enticing. Players can enjoy the Faucet bonus and Rains, both excellent for testing the casino's games. Additionally, Random Vouchers are distributed across platforms such as social media, email, and the chatbox, ensuring players remain engaged and rewarded. But the real deal lies in their Monthly Wagering Contest, with rewards escalating up to $250,000 USD! With a diverse selection of cryptocurrencies, from Bitcoin to Litecoin to Ethereum, the rewards span across a range of 10 prizes, each offering hefty total bonuses.
VIP Loyalty Program at Crypto.Games: The Elite Experience
The Crypto.Games VIP loyalty program is a club where players receive the royal treatment. To ascend to this privileged group, players must earn top spots in the monthly wagering contests. Once inside, the perks are manifold. VIPs benefit from a significantly lower house edge in dice games, prioritized betting, increased exchange limits, and even a dedicated VIP chat room. The [VIP] tag displayed in the chatbox is a badge of honor, and as a cherry on top, tier 3 verified VIPs receive a $100 worth of Bitcoin birthday bonus. Adding to the allure, monthly voucher drops offer a wide range of benefits based on players' positions in the wagering contest.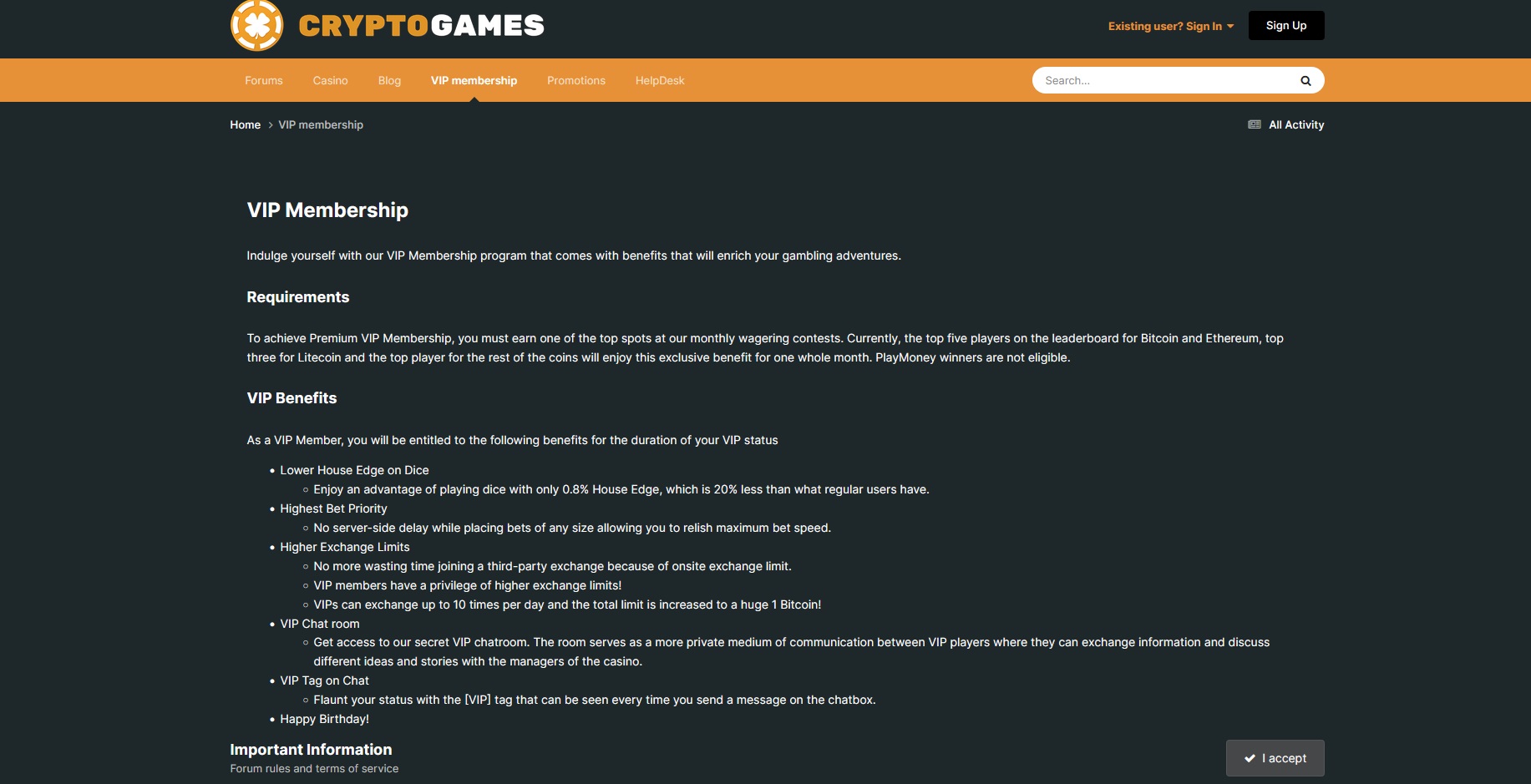 Crypto.Games Promo Codes: Claiming and Using the Benefits
Crypto.Games promocode, or as they're called on the platform, vouchers, are a unique selling point. Distributed via email based on players' standings in the wagering contests, they must be redeemed within a stipulated three-month period. Depending on your currency of choice and position, these vouchers can range from $300 for Bitcoin and Ethereum to $60 for others. And for those who maintain their VIP status for three consecutive months, they get to enjoy most VIP benefits for an additional month, even if they don't top the charts!
To activate a bonus code (voucher), you need to go to Rewards, then select the Vouchers tab and enter your promo codes Crypto.Games.
Payment Methods at Crypto.Games: A Guide to Depositing and Withdrawing
At the heart of every seamless gaming experience lies an efficient and transparent financial system. For users of Crypto.Games, this translates to a range of deposit and withdrawal methods that have been optimized for convenience and speed. Delving deeper into the deposit methods at Crypto.Games, one appreciates the vast variety of supported cryptocurrencies. Whether you're transacting with established names like Bitcoin and Ethereum or other digital currencies like Monero and NeoGas, deposit methods Crypto.Games has got you covered.
An innovative feature that stands out in the casino is the "ChangeNow" option. This allows users to deposit more than 50 different altcoins, which the system instantaneously converts to a supported coin. This ensures that players don't have to grapple with multiple e-wallets or conversions. Moreover, for those who wish to switch their gaming currency, the in-built exchange feature facilitates a hassle-free transition between supported coins within the casino's ecosystem.
Initiating a deposit is uncomplicated. Players are required to add their coin address, linking their digital wallet seamlessly with their Crypto.Games account. A vital policy to note is the casino's stand on third-party deposits. Deposits must exclusively stem from an account registered to the user, emphasizing the platform's dedication to security and transparency. The minimum deposit Crypto.Games varies with the cryptocurrency. For instance, a Bitcoin player needs to ensure they deposit no less than 0.0001 Bitcoin.
Turning to the withdrawal methods Crypto.Games, the procedure mirrors the simplicity found in its deposit counterpart. However, players need to be mindful of the minimum withdrawal amounts. For a currency like Bitcoin, the minimum withdraw Crypto.Games is set at 0.0005 or its altcoin equivalent. It's essential to highlight that, unlike many other platforms, the maximum withdraw limit in Crypto.Games is unlimited.
Embarking on Your Gaming Adventure: Registering with Crypto.Games
Diving into the mesmerizing world of online casinos begins with a single step: registration. For those keen on exploring the universe of Crypto.Games, the process to register is refreshingly simple. Not only does it introduce you to an array of entertaining games, but it also ensures that you're set up securely. Here's a step-by-step guide to seamlessly sing up at Crypto.Games.
Navigating Your Way to Success: Step by Step Guide
Step1: Visit Crypto.Games: Your first task is to visit Crypto.Games. This can be done by heading directly to the registration on Crypto.Games official site or through a convenient alternative: accessing the platform via a mirror link provided by our trusted sources.
Step 2: Sing up Crypto.Games: The second step involves clicking the 'Sign Up' or 'Register' option. This is where you begin your Crypto.Games login procedure. Do ensure that you're on the legitimate platform to safeguard your details.
Step 3: Make a Deposit: Once you've registered, it's time to fund your account. This deposit will act as your ticket to the multitude of games awaiting your prowess.
Step 4: Play games: With your account set and funded, all that remains is for you to dive into the games. Whether it's the spin of the roulette or the thrill of a card game, the world of Crypto.Games awaits you.
Registration Requirements
When you decide to sing in to Crypto.Games, it's essential to know that the platform places a premium on the authenticity and accuracy of information. The registration procedure might involve a Know Your Client ("KYC") identification and verification step, a practice to ensure the security of its players and the platform.
Each individual looking to register Crypto.Games account should ensure that every detail provided, right from name to date of birth, is accurate. The platform's stringent policies dictate that any misleading or false information can lead to the cancellation of an individual's Player registration. Furthermore, the registration form will require personal details, such as your full name, date of birth, address, phone number, and email address. This step is crucial for the Crypto.Games sing in process. The provided phone number should be permanent and personally assigned to you; temporary numbers are strictly prohibited.
Maintenance of your account is crucial. Regularly updating your details ensures seamless gameplay and communication with the platform. It's imperative to remember that each individual can only register one account using their name and personal details on the Crypto.Games website. The platform's stringent policies are geared to identify and prevent multi-accounting, with the right to close or block accounts if any discrepancies arise.
Crypto.Games Account Verification Instruction
Navigating the crypto gaming world, ensuring safety and compliance is paramount. This brings us to the critical process at Crypto.Games: the account verification. As you decide to delve into the realm of Crypto.Games, understanding the Know Your Client (KYC) identification and verification procedures is essential.
Here's a succinct guide:
E-mail Verification: Visit Your Account > Settings > Security to activate your e-mail verification. Upon successful completion, deposits will be enabled on your account.
SMS Verification: Use the 'Click to verify' option available. Once verified, you'll gain access to two extra faucet levels.
Personal Document Verification. Visit Your Account > Info > Verification. Submit the necessary personal documents. Post-verification, enjoy no speed limit on dice games.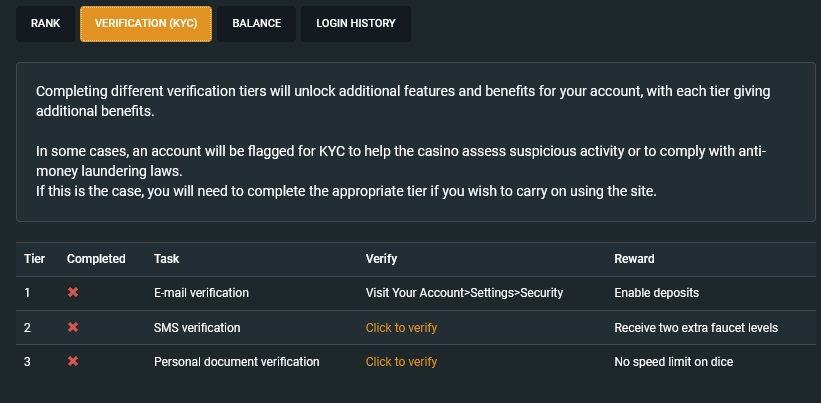 Tips and Best Practices for Playing at Crypto.Games
Stepping into the virtual gaming realm, especially at a renowned platform like Crypto.Games, can be an exhilarating experience. To enhance your gaming journey and ensure a smooth run, consider the following tips and best practices:
Research Before Betting: Don't dive in without understanding the game mechanics. Spend some time exploring game rules, strategies, and odds.
Start with a Budget: Always set a gambling budget and stick to it. This prevents overspending and ensures you gamble responsibly.
Use the Verification Features: Activate e-mail and SMS verification. Not only does this bolster account security, but it also unlocks additional platform features.
Stay Updated: Regularly check the promotions or updates section. Being informed about ongoing events or bonuses can add value to your gaming experience.
Know When to Stop: Whether on a winning streak or a losing one, recognize when to step back. Continuous play can lead to fatigue, affecting decision-making.
Secure Your Account: Use strong, unique passwords and consider enabling two-factor authentication for added safety.
Practice First: Many games offer a demo or practice mode. Use this to familiarize yourself with the game dynamics before committing real cryptocurrency.
Be Aware of Withdrawal Limits: While Crypto.Games boasts flexible withdrawal limits, it's always wise to be informed about any potential restrictions.
Stay Responsible: Remember, gambling is a form of entertainment. Play for fun, and avoid chasing losses.
By embracing these practices, you can ensure a more rewarding and safer experience at Crypto.Games.
Crypto.Games Mobile Website
In an era dominated by mobile users, it's imperative for online platforms, especially casinos, to be accessible on-the-go. Crypto.Games recognizes this and offers a mobile-optimized website to ensure that players have the same immersive experience they would on a desktop. The intuitive design of the mobile site ensures that games load quickly, graphics remain sharp, and navigation is smooth. Whether you're waiting in line, commuting, or lounging at home, the Crypto.Games mobile website ensures your favorite games are just a tap away.
Crypto.Games License and Fairness
When diving into the world of online gambling, players often wonder about the credibility of the platform. With Crypto.Games, you can set those concerns aside. This online casino is licensed and regulated by the respected Government of Curacao, a well-known jurisdiction in the world of online gaming. But that's not all; its dedication to fairness goes a step further. The casino's Random Number Generator (RNG), which ensures the unpredictability of game outcomes, is certified by iTech Labs – one of the industry's most trusted third-party auditors. This dual assurance confirms that not only is Crypto.Games operating under a legal framework, but it's also committed to providing a genuine and transparent gaming experience for its players.
Crypto.Games Customer Support
No matter how seamless an online platform might be, users occasionally run into queries or concerns. Recognizing this, Crypto.Games offers a robust customer support system to address any issues. Players can instantly connect with a representative through the Live Chat feature, ensuring timely resolutions. For those who prefer a more community-driven approach, the platform also has a forum where users can discuss, share, and seek solutions. If your concern requires a more detailed explanation or you're looking for an official response, the dedicated e-mail support at [email protected] stands ready to assist. This multi-pronged support approach underscores Crypto.Games' commitment to its community, ensuring that every player feels valued and supported.

Final Opinion on Crypto.Games as online casino
Crypto.Games emerges as a distinctive player in the online casino landscape. From the get-go, its registration process is streamlined, making it easy for users to jump into the gaming world. Their mobile-responsive site ensures users have a seamless experience, even without a dedicated app. Moreover, the Curacao license is a testament to its legitimacy, further bolstered by the RNG certification from iTech Labs, ensuring fair play. But what truly sets Crypto.Games apart is its nod to modernity – embracing a plethora of cryptocurrencies and fostering a vibrant community through its forum and responsive customer support. Conclusively, while Crypto.Games has its quirks and might not cater to everyone's gaming palate, it embodies a blend of innovation and trustworthiness, making it a worthy contender in the vast world of online casinos.
Read this page in other languages:
Pros
Lowest house edge (as low as 0.8% and during events it might even go down lower to 0.4%)
High Reward Monthly wagering Contest
Good VIP Program
Faucet, Vouchers, Weekly challenges, Monthly Challenges
No wager required
Cryptocurrency Support: Crypto.Games supports multiple cryptocurrencies, catering to diverse digital wallet preferences.
Cons
Curacao License: The platform's licensing under Curacao might not be as revered as other jurisdictions.
Limited Game Selection: The casino offers a smaller array of games, which may not satisfy all gamers.
No Live Games: The absence of live gaming options can be a letdown for enthusiasts.
No Mobile App: Without a dedicated mobile app, on-the-go gaming becomes less convenient.