Discover the comprehensive review of Bons, an all-in-one bookmaker and online casino. This article provides a detailed overview of Bons, highlighting its sports betting markets, casino games, bonuses, payment methods, mobile app, and more. Whether you're a sports enthusiast or a casino lover, this review offers valuable insights and essential information for making informed decisions. Delve into the world of Bons and uncover its pros, cons, registration process, customer support, and exclusive features. Get ready to elevate your betting and gaming experience with Bons.
Review of the bookmaker and online casino Bons is also available in other languages:
About Bons Company
Bons, established in 2020, is a relatively new player in the Asian online gambling industry. Operated under a Curacao gambling license, Bons offers a wide range of betting options and casino games, catering to the diverse interests of players across the continent.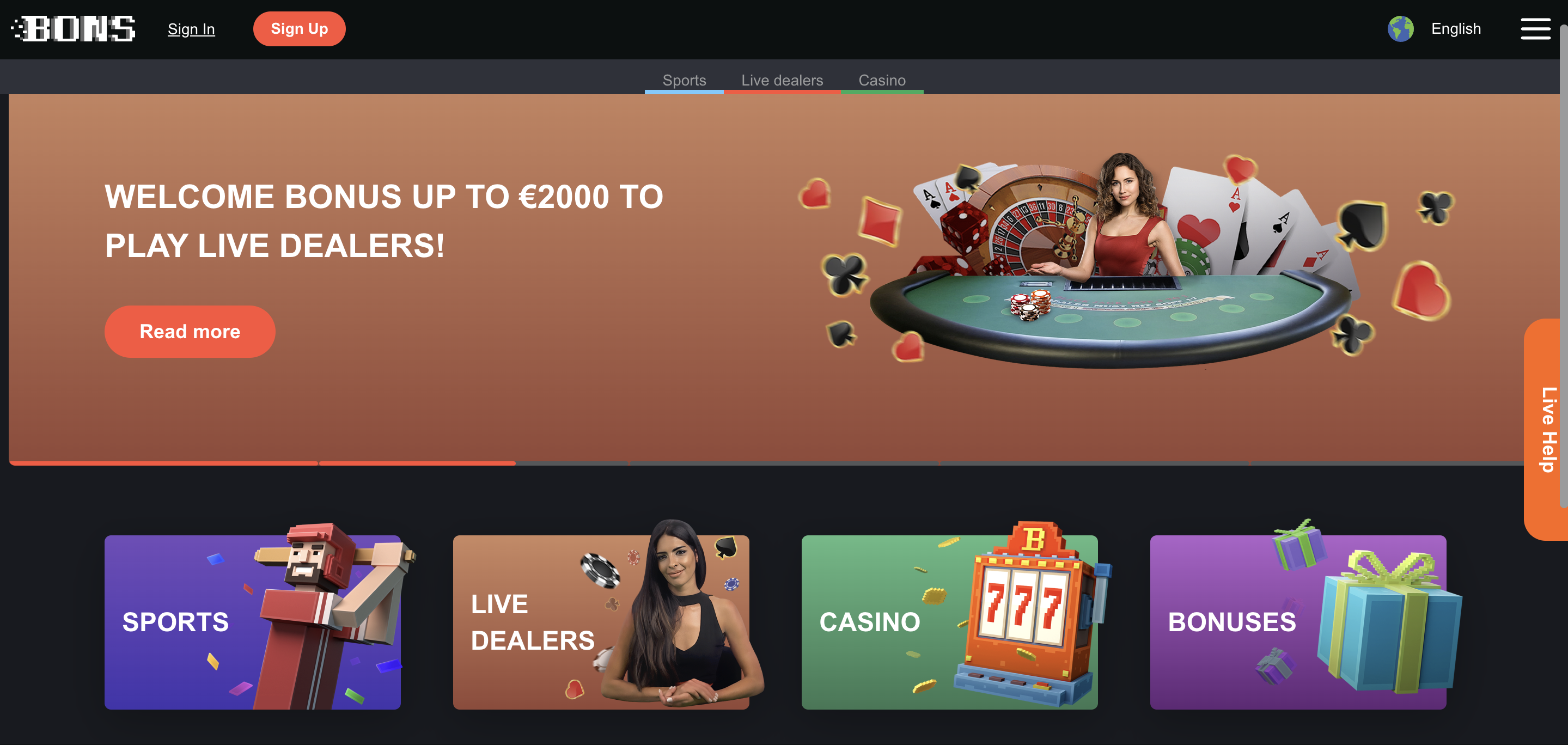 The Bons platform is powered by Betby software, known for its reliability and seamless performance. This ensures that players can access their favorite games, place bets, and enjoy live casino action without any technical glitches or interruptions. Moreover, Bons offers a range of betting options, including sports betting, casino games, e-sports, financials, games, keno, live casino, and virtual sports, providing something for every type of gambler.
Quick Advantages to Play Games at Bons
Drawing on our expertise, we found that Bons boasts a user-friendly website available in 13 languages, including Azerbaijani, English, French, Indian, Indonesian, Japanese, Russian, Ukranian, and Uzbek. This extensive language support ensures that players can enjoy a seamless gaming experience in their preferred language.
Bons offers an extensive selection of sports betting markets, including soccer, tennis, baseball, basketball, ice hockey, handball, table tennis, boxing, rugby, Formula 1, cricket, golf, and snooker. Additionally, e-sports enthusiasts can enjoy lines and markets on popular games like CS GO, League of Legends, Valorant, Dota 2, King of Glory, and Mobile Legends. This wide range of options ensures that bettors can find their favorite sports or e-sports to place stakes on.
Bons' online casino provides a thrilling gaming experience with games from top software providers such as Amatic, Elk, Betsoft, EGT, Red Tiger, and NetEnt. From captivating slots to classic table games, players can enjoy a diverse collection of casino titles that cater to every taste.
Convenient Payment Options: Bons accepts various payment methods, including credit cards, e-wallets, and crypto. This allows players to choose the option that best suits their preferences and ensures hassle-free deposits and withdrawals.
Sportsbook Bons
When it comes to sports betting, Bons bookmaker offers a wide range of markets that cater to the diverse interests of players. Drawing on our own experience, we found several popular sports betting options that stand out on the Bons platform.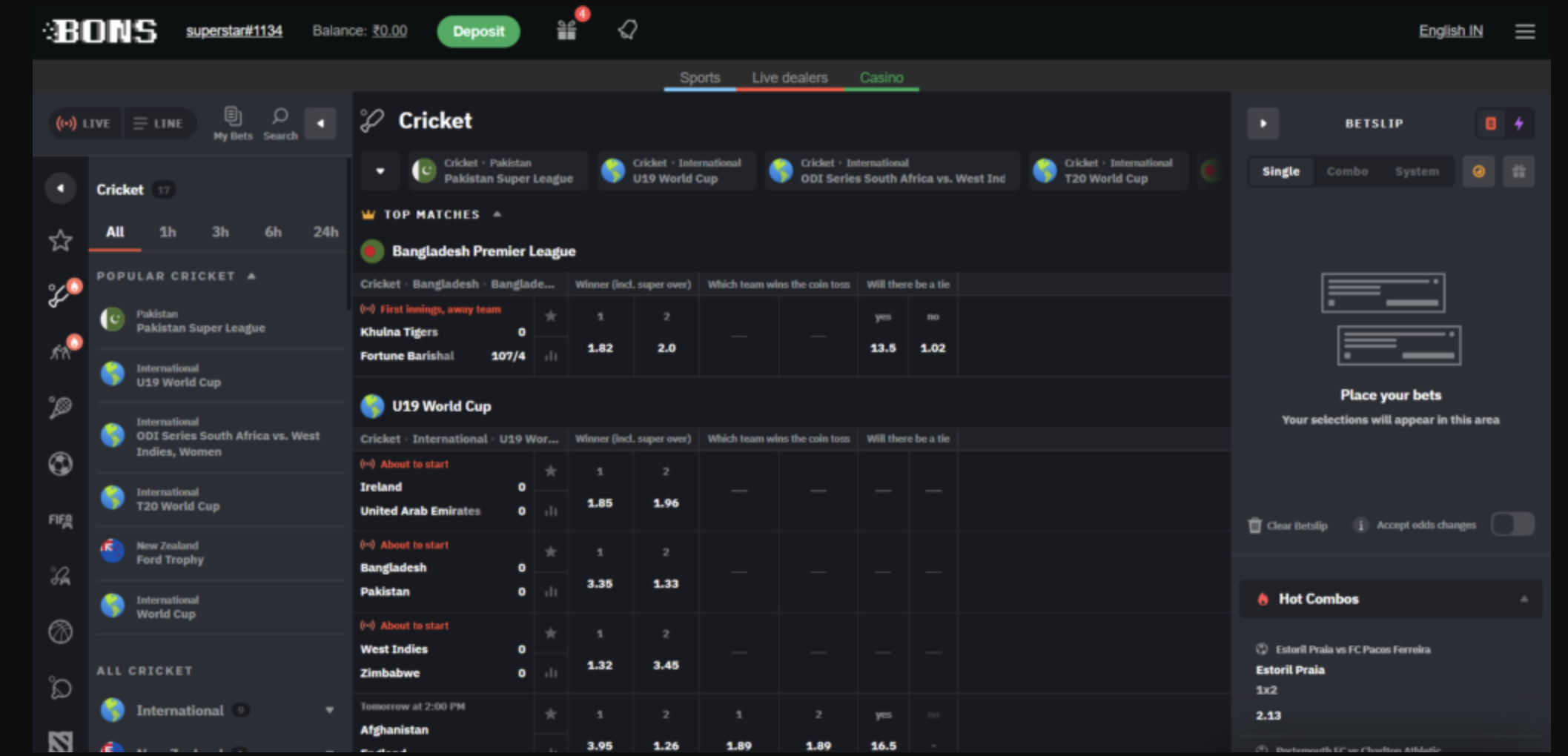 Most Popular Sports Betting Markets in Bons
Other Betting Markets Available on Bons
In addition to the aforementioned sports, Bons bookmaker provides a diverse selection of betting markets that go beyond the traditional sports offerings.
Bons offers over 40 tennis markets, allowing punters to place bets on major tournaments like Wimbledon, the Australian Open, and the US Open. With alternative handicap options and various betting selections, tennis enthusiasts can enjoy a thrilling betting experience.
Bons caters to boxing fans with its boxing betting market. Whether it's the highly anticipated heavyweight clashes or the marquee fights in other weight classes, Bons provides an opportunity to wager on your favorite boxers and predict the outcomes of their bouts.
Rugby enthusiasts can engage in exciting betting action with Bons' rugby markets. Whether it's rugby union or rugby league, players can stake on major international competitions and domestic leagues, enhancing the excitement of every match.
Bons also offers betting options for golf enthusiasts. With a range of tournaments available, including the prestigious majors like the Masters and the Open Championship, players can place bets on golfers to win outright or engage in head-to-head matchups.
Live Betting in Bons
Bons bookmaker provides an exciting live betting experience that allows players to place bets on ongoing matches and events. Live betting, also known as in-play betting, offers a dynamic and interactive way to engage with sports and other events in real time.
Live Streaming in Bons
In terms of live betting features, Bons offer only eSport live streaming of matches. This means that players can watch the action unfold directly on the platform. Also, Bons providing detailed live statistics and match results, allowing bettors to stay updated and make informed decisions when placing live bets.
Available Types of Bets on Bons
When it comes to the types of bets available on Bons, bettors have a variety of options to choose from. Single bets are the simplest form of wagering, where players place bets on a single outcome. Bons allows players to place single bets on a wide range of sports and events, offering flexibility and simplicity.
Bons also provides the option of placing combo bets, which involve combining multiple selections into a single bet slip. This allows players to increase their potential winnings by correctly predicting the outcomes of multiple events.
For more experienced bettors, Bons offers system bets. These types of bets involve placing multiple bets on a combination of selections, allowing for a greater chance of winning even if some selections do not result in a win.
Additional Betting Tools
Bons bookmaker enhances the betting experience by offering additional betting tools that provide more control and flexibility to players. While Bons does not currently offer a cash-out feature, which allows bettors to secure winnings or minimize losses before the completion of an event, it provides other useful tools like accumulator bets.
Bons allows players to place accumulator bets, also known as parlays or multi bets, where they can combine multiple selections into a single bet slip. This feature is particularly popular among bettors looking for higher potential returns by correctly predicting the outcomes of multiple events.
How to Place Bets at Bons?
Placing bets at Bons bookmaker is a straightforward process that allows players to quickly and easily participate in the excitement of online gambling. Start by selecting the sport or event you wish to bet on. Bons offers a wide range of sports betting markets, including football, basketball, cricket, and more. Explore the available options and choose the market that interests you the most.
After choosing your desired market, decide on the type of bet you want to place. Bons offers various bet types, including single bets, combo bets, and system bets. Select the option that suits your betting strategy and preferences.Once you've chosen your market and bet type, it's time to make your selections. Specify the outcomes you want to bet on, such as the team or player you predict will win, the total goals scored, or any other relevant event-specific options.
Enter the amount you wish to wager on your selected bet. Bons has a minimum bet requirement of $0.50, allowing players with different budget levels to participate in betting activities. Make sure to review your bet slip and double-check your stake before confirming your bet.
Once you're satisfied with your selections and stake, click on the "Place Bet" button to submit your bet slip. Bons will process your bet and confirm it, and you can then eagerly await the outcome of the event to see if your prediction was correct.
How to Place Stakes at Bons with the App?
Placing stakes at Bons using the mobile app is a breeze. Bons provides dedicated apps for both Android and iOS devices, ensuring a seamless betting experience on the go. Simply visit the official Bons website to download the app that corresponds to your device. All the essential options are conveniently located on the home page, making it easy to access the features you need. Whether you're placing bets on sports or enjoying casino games, the Bons app provides a user-friendly interface that allows you to make your stakes effortlessly. To create bets, you must repeat all the same steps in the mobile application as described above for the desktop version.
Our experience of betting on Bons
As part of our real betting site experience on Bons, our team decided to start betting with a starting bankroll of 500 USDT. We carefully selected two different betting markets/types and implemented a strategy that incorporated both pre-match and in-play bets.
For our pre-match bet, we chose a football match between two top-tier teams, considering their recent form and head-to-head statistics. Our strategy involved placing a moneyline bet on the underdog team, as we believed they had a good chance of causing an upset. With the odds of 4.50, we staked 100 USDT on the underdog to win.
In terms of in-play betting, we focused on an intense basketball game between two evenly matched teams. As the game progressed, we monitored the flow of the match and identified valuable betting opportunities. During a crucial point in the game, when the underdog team took the lead, we decided to place a live bet on the favorite team to stage a comeback and win the game. With the odds of 2.10, we staked 150 USDT on the favorite team.
To add an element of unpredictability, we also decided to place a random and larger bet. We selected an eSports match in the popular game Dota 2, where two competitive teams were facing off. Based on our limited knowledge of the eSports scene, we randomly chose the team with the lower odds to win. With a stake of 200 USDT, we placed a moneyline bet on the underdog.
As the matches progressed, we experienced different outcomes. The football match ended in a surprise victory for the underdog, resulting in a significant win of 350 USDT. However, our in-play bet on the basketball game did not go as planned, and we lost the stake of 150 USDT.
In the eSports match, luck was on our side as the underdog team emerged victorious, providing a substantial win of 520 USDT. Our random and larger bet turned out to be successful, exceeding our expectations.
Overall, our strategy involved carefully analyzing the teams and their performance, as well as seizing live betting opportunities. By considering odds, form, and match dynamics, we aimed to maximize our chances of winning. While there were ups and downs, the unpredictability of sports betting added to the excitement of the experience.
Bons Online Casino
Bons not only offers an exciting sportsbook but also provides an impressive online casino experience for players looking to indulge in thrilling casino games. With a wide selection of games from top software providers, Bons casino ensures an immersive and entertaining gambling environment.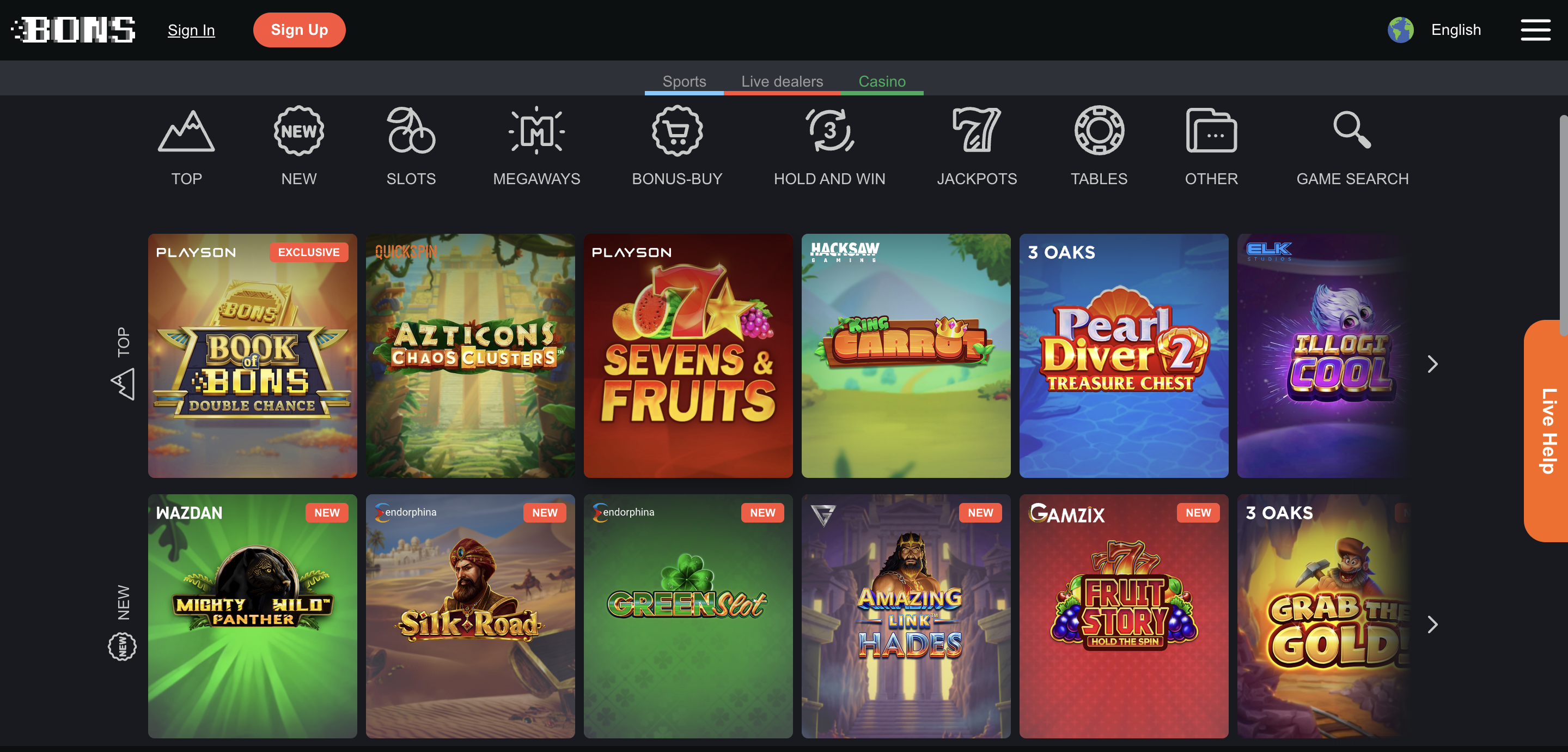 Providers Slot Games Available at Bons
When it comes to slot games, Bons partners with renowned software providers to offer a diverse range of options. Players can enjoy captivating and visually stunning slot titles from providers such as Amatic, Elk, Betsoft, EGT, Red Tiger, and NetEnt. These providers are known for their high-quality graphics, engaging gameplay, and innovative features, guaranteeing an exceptional slot gaming experience.
Does Bons Have Asian and Hunting Slots Games?
Bons caters to the preferences of its Asian players by offering a selection of Asian-themed slot games. These games incorporate cultural elements, symbols, and themes that resonate with Asian gamblers, providing a unique and immersive experience.
Furthermore, Bons recognizes the popularity of hunting-themed games and includes such titles in its casino collection. Players can enjoy the thrill of the hunt through virtual slots that capture the essence of this exciting pastime.
Top Casino Games Available at Bons
Bons boasts a wide array of top casino games that cater to every gambler's preferences. From classic table games to modern video slots, players can find their favorites among the extensive selection. Some of the standout games available at Bons include:
Bons offers a vast collection of slot games, ranging from classic fruit machines to progressive jackpot slots. Roulette enthusiasts will find various roulette variants at Bons, including European, American, and French roulette. With realistic graphics and smooth gameplay, players can experience the excitement of this classic casino game. Bons also provides a range of blackjack games, allowing players to test their skills and strategies against the dealer.
Live Casino at Bons
Bons not only offers an extensive sportsbook and a thrilling online casino but also provides an immersive live casino experience for players seeking the excitement of playing with real dealers. With live games provided by reputable software providers, Bons ensures an authentic and interactive gambling atmosphere.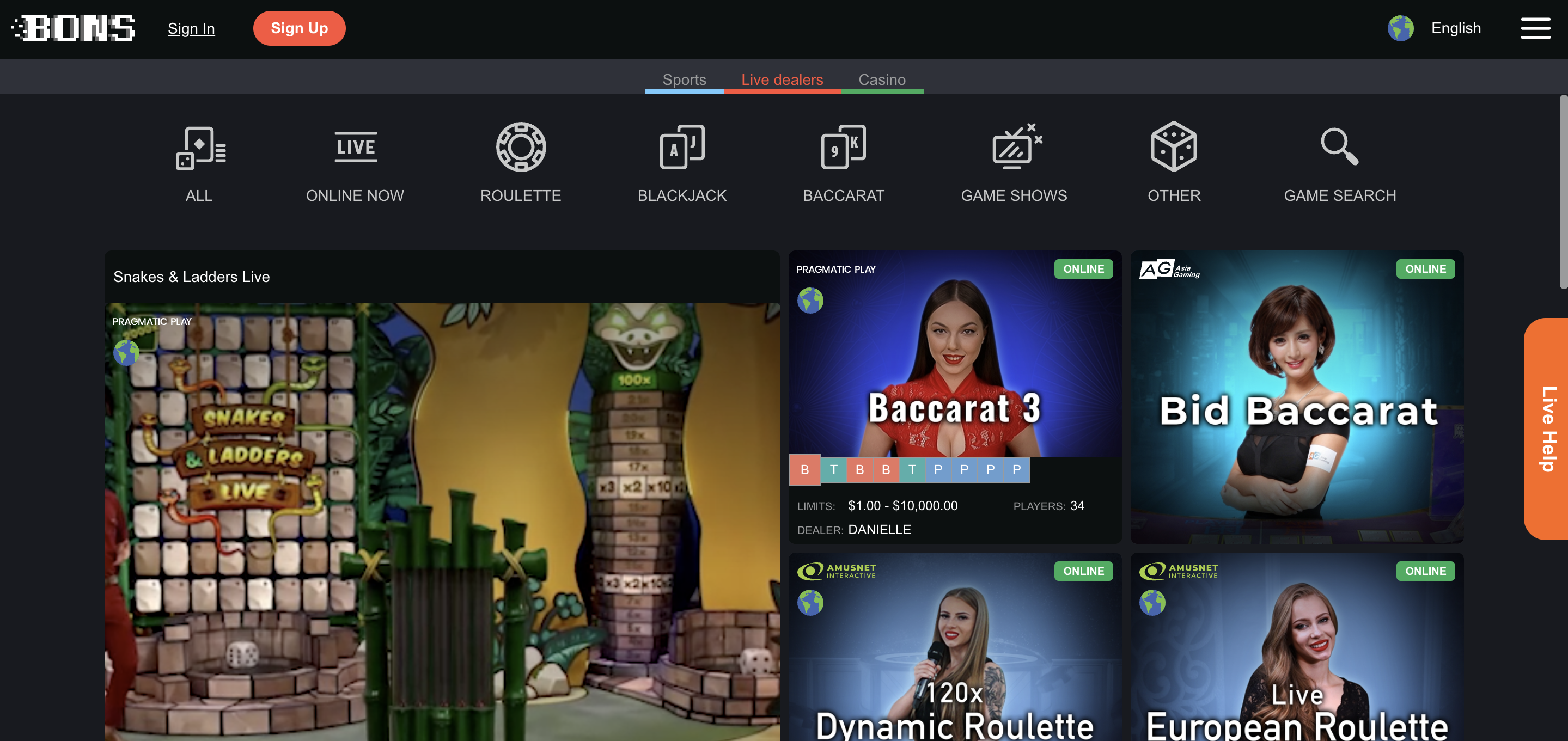 Live Games Providers in Bons
To deliver the best live casino experience, Bons collaborates with top-notch software providers known for their high-quality live games. Players can enjoy live dealer games from renowned providers such as Evolution Gaming, Playtech, and NetEnt Live. These providers are recognized for their cutting-edge technology, professional dealers, and seamless streaming quality, offering players an immersive and realistic gaming session.
Advantages of Live Casino Games at Bons
Playing live casino games at Bons comes with several advantages that enhance the overall gambling experience. Live casino games at Bons enable players to engage in real-time interaction with professional dealers. Through a live chat feature, players can communicate with the dealers, creating a more engaging and social atmosphere.
Bons' live casino recreates the atmosphere of a land-based casino, allowing players to experience the thrill and ambiance without leaving their homes. With real tables, cards, and roulette wheels, players can enjoy an authentic casino experience at their convenience.
Bons ensures high-quality streaming for its live games, delivering a smooth and uninterrupted gaming session. The high-definition video and clear audio enhance the immersion and allow players to enjoy the games to the fullest.
Bons prioritizes fairness and transparency in its live casino games. The use of real cards, wheels, and other equipment, along with professional dealers, ensures a fair and unbiased gaming environment, providing players with peace of mind.
Instant Games at Bons
In addition to its comprehensive sportsbook and online casino, Bons also offers an exciting collection of instant games that provide quick and thrilling betting experiences. These games are perfect for players looking for fast-paced entertainment and the opportunity to win big.
Aviator at Bons
Aviator is one of the standout instant games available at Bons. This game combines elements of chance and skill, creating an exhilarating betting experience. In Aviator, players place bets on the outcome of a virtual airplane flight. As the plane takes off, the multiplier begins to rise, and players have the option to cash out at any time. The challenge lies in deciding the perfect moment to cash out, maximizing winnings while avoiding a potential crash.
JetX at Bons
JetX is another popular instant game offered by Bons. This game takes players on a thrilling journey through space, where they must navigate their spaceship through a colorful asteroid field. The goal is to accumulate multipliers and avoid crashing into the asteroids. Players can choose their desired risk level by adjusting the speed of their spaceship, with higher speeds offering greater rewards but also increasing the chances of a collision.
How to Start Playing at Bons Casino?
Getting started with Bons casino is a simple and seamless process that allows players to quickly embark on their online gambling journey. Follow these steps to begin your exciting casino experience:
Visit the Bons website and click on the registration button to create a new account. Fill in the necessary details, including your personal information and preferred login credentials. Once you have completed the registration, Bons may require you to verify your account.
After successfully registering and verifying your account, it's time to fund your Bons casino account. Navigate to the deposit section and choose from the available payment methods. With your account funded, it's time to dive into the exciting world of Bons casino games. Browse through the wide range of options, including slots, table games, live casino, and more. Click on your preferred game to launch it and start playing.
How to start play at Bons via App?
Starting to play at Bons via the app is quick and easy. Once you have downloaded the Bons mobile app from the official website, simply open it on your device. If you are a new player, you can easily create an account directly within the app by following the registration process. Once your account is set up, you can log in and explore the wide range of Slots options available in the relevant section.
Our experience of gamble in casino Bons
For testing casino games at Bons, our team started with a bankroll of 500 USDT. We carefully selected two different casino games and implemented a strategy that incorporated both a slot game and a live game.
For our slot game, we chose "Book of Dead" from Play'n GO. This popular slot offers an exciting ancient Egyptian theme and the potential for big wins. Our strategy involved placing variable bets, ranging from small to large, to add an element of unpredictability. We aimed to trigger the free spins feature, which can lead to significant payouts. With each spin, we experienced the thrill of anticipation, hoping for a winning combination or a bonus round.
In terms of live games, we opted for "Live Blackjack," one of the most beloved casino classics. We employed a basic blackjack strategy, aiming to make optimal decisions based on the cards in play. With live dealers hosting the game in real-time, we enjoyed the immersive experience of playing alongside other players. Our strategy also included placing a random big bet during an opportune moment, adding an extra element of excitement to the game.
Throughout our gameplay, we experienced both wins and losses. In the slot game, we managed to trigger the coveted free spins feature, resulting in a substantial win. However, luck was not always on our side, as we encountered some losing streaks during our live blackjack sessions. Despite the unpredictability of gambling, the overall experience on Bons casino was thrilling and enjoyable.
Our strategy focused on finding a balance between taking calculated risks and enjoying the entertainment value of the games. It is important to remember that gambling involves both chance and skill, and there are no guaranteed outcomes. Responsible gambling practices, such as setting limits and knowing when to stop, are crucial to ensure a positive and enjoyable casino experience.
Bons Online Poker Room
Bons does not currently offer an online poker room. While Bons excels in its sportsbook and online casino offerings, poker enthusiasts will have to explore other platforms to find their preferred online poker experience. Bons focuses on delivering a comprehensive and enjoyable gambling experience through its wide range of sports betting markets, casino games, and live dealer options. Whether you're a sports bettor or a casino player, Bons has plenty to offer. However, if online poker is your passion, you may need to seek alternative platforms dedicated to providing the thrilling world of online poker.
Bons Welcome Bonus
Bons welcomes new players with special welcome gifts instead of a classic welcome bonus. Upon making the first deposit, players are rewarded based on the deposit size. The bonuses range from a 200% bonus for deposits between $20 to $49, a 150% bonus for deposits between $50 to $499, to a 100% bonus for deposits over $500. Wagering requirements apply, with a 25x wager for the first two bonuses and a 30x wager for the third bonus.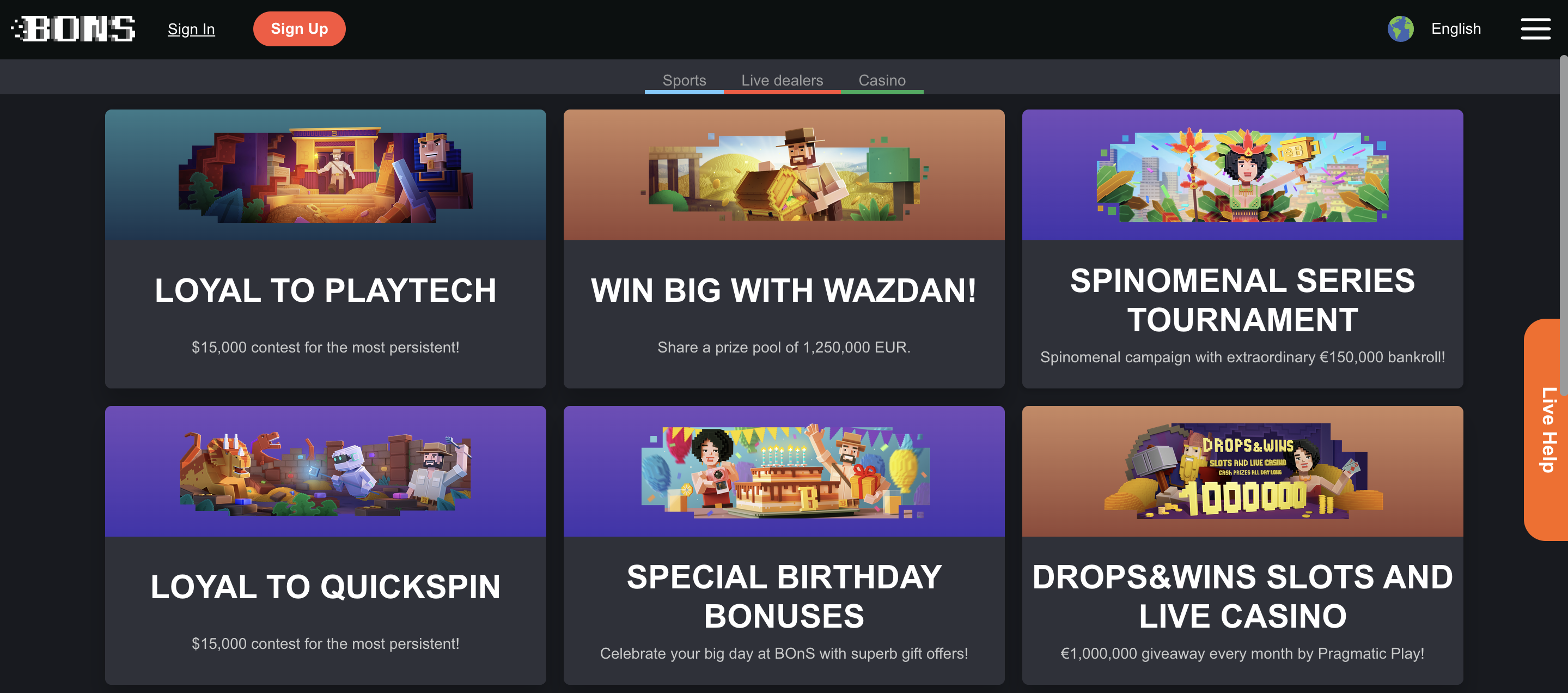 Additionally, Bons offers free spins as a gift for the first deposit. Players receive 20 free spins daily for 10 days, totaling 200 free spins. These spins are for the game "The Dog House" by Pragmatic Play, with a bet amount per spin of $0.2 and a 20x wagering requirement.
For players interested in the Live Dealer experience, Bons provides a special voucher worth $10 for playing Live Roulette by Evolution. This voucher is available after making the first deposit over $20, and it has a 20x wagering requirement.
Sports betting enthusiasts can enjoy a $10 freebet tailored for the Sports section of Bons' site. This offer is available upon the first deposit of $20 or more and can be used to bet on any sports event. The freebet has a 20x wagering requirement.
Bons Bonuses and Promotions
Bons also offers a range of exciting bonuses and promotions to enhance the gaming experience for its players. These gifts include generous tournaments, cashbacks, contests, lotteries and other. All of these bonuses change frequently and are dedicated to individual events or games, so to get acquainted with them, we recommend that you visit the Bons website for full up-to-date information. However, we want to focus on the VIP program, which is closely related to cashback bonuses.
VIP Loyalty Program at Bons
Bons takes pride in its exclusive VIP Loyalty Program designed to reward loyal players. The program is simple: the more you bet, the higher your status becomes, unlocking a host of bonuses and benefits.
Your status is determined by the sum of bets made within the current month and the two months with the highest total bet values out of your latest four months of activity. Real money bets contribute 100%, while bonus money bets contribute 10% towards your status calculation. It's important to note that your status is reassessed monthly and may downgrade if your total bet sum falls below the required threshold.
Now, let's explore the rewards. Depending on your status, you'll receive various benefits including cashback and rebate options. Cashback percentages vary for different categories such as casino, live dealers, and sports, while wagering requirements differ as well. It varies from 5% to 20% with a wagering requirement from x6 for Novice to x0 for Ultimate users.
Rebate, on the other hand, is accumulated by placing bets with real money. The rebate amount is calculated based on the player's status, bet sum, and game coefficient. Different games have different coefficients, with slots at 100%, sports bets at 500%, and various table games at different percentages.
Players with Gold status and above also enjoy additional perks such as VIP support service, ensuring quick issue resolution, and high-priority status for their requests. Platinum and Ultimate status holders are assigned a Personal Manager who provides round-the-clock assistance and high-quality service.
The VIP Loyalty Program at Bons offers a rewarding experience for players, allowing them to earn cashback and rebate while enjoying their favorite games. It's a testament to Bons' commitment to providing top-notch benefits for its valued players.
Promo Codes: How to Get and Use Promo Codes at Bons?
At Bons, you have the opportunity to unlock additional bonuses and rewards by using promo codes. These codes can provide you with extra funds, free spins, or other exciting perks. So, how can you get and use these promo codes?
To obtain promo codes, keep an eye on Bons' promotional offers on their website or subscribe to their newsletter. They often share exclusive codes through these channels, giving you access to special bonuses tailored just for you.
Using promo codes at Bons is a breeze. Simply navigate to the "Promotions" or "Bonus" section of their website, where you'll find a designated field to enter your code. Once you've entered the code, click "Claim" to activate the bonus associated with the promo code.
It's important to note that promo codes may have certain terms and conditions attached to them, such as wagering requirements or expiration dates. Make sure to carefully read the terms associated with each promo code to ensure you make the most of the offer.
Bons Payment Methods
When it comes to managing your funds at Bons, you'll find a variety of convenient payment methods for both deposits and withdrawals. The platform ensures a seamless and secure transaction process to enhance your overall gaming experience. Let's explore the available options and how to handle your deposits and withdrawals.
Available Deposit and Withdrawal Methods at Bons
Bons offers a range of trusted payment methods to cater to the diverse needs of players. Whether you prefer traditional methods or the latest digital solutions, you'll find an option that suits you. Some of the popular deposit and withdrawal methods at Bons include: Сredit Cards, eWallets, Cryptocurrency. It's worth noting that Bons regularly updates their payment options to accommodate emerging trends and provide flexibility to their users. Check the platform for the most up-to-date list of available methods.
To ensure smooth transactions, Bons has set certain limits for deposits and withdrawals. It's always advisable to review the specific limits and requirements associated with your preferred payment option.
| | |
| --- | --- |
| Minimum Deposit  | $1 (INR 50) |
| Maximum Deposit  | $12500 (1000000 INR) |
| Minimum Withdrawal  | $5 (INR 200) |
| Maximum Withdrawal  | $12500 (1000000 INR) |
How to Deposit Money at Bons?
Depositing funds into your Bons account is a straightforward process. After logging in, navigate to the "Cashier" or "Deposit" section. Choose your preferred payment method and enter the desired deposit amount. Follow the on-screen instructions to complete the transaction securely. Bons ensures quick processing of deposits, allowing you to start playing your favorite games promptly.
How to Withdraw Money from Bons?
Withdrawing your winnings from Bons is just as hassle-free. Head to the "Cashier" or "Withdrawal" section and select your preferred withdrawal method. Enter the amount you wish to withdraw, ensuring it complies with the minimum and maximum limits. Follow the provided instructions to initiate the withdrawal process. Bons strives to process withdrawal requests promptly, enabling you to enjoy your winnings without unnecessary delays.
Registration at Bons: How to Sign Up?
If you're ready to join the exciting world of online gambling at Bons, the registration process is simple and straightforward. Follow these steps to create your Bons account and start enjoying all the betting and gaming options:
Step 1: Visit Bons – You can access the official site directly or use our provided mirror link to ensure a secure connection.
Step 2: Sign Up – Click on the "Sign Up" or "Register" button prominently displayed on the homepage. Fill in the required information, such as your name, email address, and password. It's important to provide accurate details to ensure smooth account verification and future transactions.
Step 3: Make a Deposit – After successfully registering, proceed to make your first deposit. Bons offers a variety of secure and convenient payment methods to choose from. Select your preferred option and follow the instructions to complete the deposit transaction.
Step 4: Place a Stakes – With funds in your account, you can now explore the extensive range of betting options available at Bons. Whether you're interested in sports betting, casino games, or other gambling activities, simply navigate to the desired section and select your preferred market or game. Place your stakes and enjoy the thrill of online gambling.
Registration Requirements
To register at Bons, you must meet certain requirements. First, you must be of legal gambling age, which may vary depending on your jurisdiction. Additionally, ensure that online gambling is legal in your country or region before proceeding with the registration process.
How to Register with the Mobile App?
For added convenience, Bons offers a mobile app for both Android and iOS devices. To register using the app, download the Bons mobile app from the official website or the respective app store for your device.
Install the app on your smartphone or tablet. Open the app and click on the "Sign Up" button. Fill in the required details, including your name, email address, and password. Complete the registration process as prompted.
You can now log in to your Bons account using the mobile app and enjoy all the features and betting options on the go.
How to Get a Welcome Bonus Bons with Registration?
Bons welcomes new players with an enticing welcome bonus. To claim the welcome bonus, complete the registration process as outlined above. Go to the promotions section to familiarize yourself with the conditions for receiving a bonus 'Welcome Gift'.
Make your first deposit using one of the available payment methods. Depending on the amount of your deposit, you will be eligible for a specific bonus percentage and maximum bonus amount, as stated in the terms and conditions. Ensure that you have met the wagering requirements associated with the bonus before attempting to withdraw any winnings.
Bons Account Verification Instruction
To ensure a secure and reliable gambling environment, Bons requires all users to undergo a verification process. This helps maintain the integrity of the platform and comply with legal and regulatory requirements. Follow these instructions to complete your Bons account verification:
Provide Personal Information: Log in to your Bons account and navigate to the account settings or profile section. Here, you will be prompted to provide necessary personal information, such as your full name, date of birth, residential address, and contact details. Make sure to enter accurate and up-to-date information.
Upload Identification Documents: Bons may request specific identification documents to verify your identity. Typically, this includes a copy of your valid government-issued ID, such as a passport or driver's license. Additionally, you may be required to provide proof of address, such as a utility bill or bank statement.
Submit Documents for Verification: Once you have gathered the necessary documents, proceed to upload them securely through the designated verification portal on the Bons website or mobile app. Follow the instructions provided and ensure that the files meet the specified format and size requirements.
Wait for Verification: Bons' verification team will review your submitted documents and complete the verification process. This may take a few business days, depending on the volume of requests. You will receive an email notification regarding the status of your account verification.
Bons Mobile App for Android and iOS
Experience the convenience of betting and playing casino games on the go with the Bons mobile app. Whether you're an Android or iOS user, Bons has got you covered with their user-friendly and feature-rich mobile applications.
System Requirements for Bons App on Android and iOS
To enjoy seamless performance and optimal functionality, ensure that your device meets the following system requirements for the Bons app. For Android it is operating system Android 6.0 or higher, minimum 2GB RAM. For iOS it is operating System 11.0 or later, compatible with iPhone, iPad, and iPod touch.
How to Download Bons APK for Android?
As the Bons mobile app is not available on the Google Play Store, Android users can download the APK file directly from the official Bons website. Visit the Bons official website using your device's web browser and navigate to the mobile app section located in your account, or search for the Bons APK download page. Click on the provided download link to initiate the APK file download. Once the download is complete, locate the APK file in your device's file manager.
How to Install Bons App on Android?
To install the Bons app on your Android device, ensure that your device allows installations from unknown sources. Go to Settings > Security > Unknown Sources and toggle it on.
Using your file manager, locate the Bons APK file you downloaded earlier. Tap on the APK file to begin the installation process. During the installation, you may be prompted to grant certain permissions to the Bons app. Accept the permissions to proceed. Once the installation is complete, you will find the Bons app icon on your device's home screen or app drawer.
How to Download and Install Bons App on iOS?
For iOS users, the Bons app is available for download directly from the App Store or official site. If you download the application from the official site, then the steps will be the same as for Android users.
How to Update Bons App?
To ensure you have the latest features and bug fixes, it is important to keep your Bons app updated. Visit the Bons official website or trusted APK provider to download the latest APK file. Locate the downloaded APK file using your file manager. Tap on the APK file to initiate the installation process. Follow the on-screen instructions to update the Bons app.
Tips and Best Practices for Playing at Bons
Before you start playing, establish a budget that you are comfortable with and stick to it. This will help you maintain control over your spending and ensure that you're playing responsibly.
Familiarize yourself with the rules of the games you're interested in. Whether it's sports betting or casino games, having a good understanding of the rules will improve your chances of making informed decisions.
Take advantage of the bonuses and promotions offered by Bons. These can provide you with extra value and increase your chances of winning. However, make sure to read and understand the terms and conditions associated with each offer.
Proper bankroll management is crucial for long-term success. Only bet or wager amounts that are a small percentage of your total bankroll. This way, even if you experience losses, you'll have enough funds to continue playing.
Bons offers a wide range of games and betting options. Explore different games and markets to diversify your experience. It's always exciting to try new games and discover new favorites.
Stay updated with the latest news, trends, and insights in the world of sports and casino gaming. This information can be valuable when making betting decisions.
By following these tips and best practices, you can enhance your overall experience at Bons and increase your chances of having an enjoyable and rewarding gaming journey. Remember to always play responsibly and within your means.
Bons Mobile Website
The Bons mobile website offers a convenient and user-friendly platform for players who prefer to enjoy their gaming experience on the go. To access the website, simply open your preferred mobile browser and enter the official Bons website address. It is designed to be responsive and adaptable to different screen sizes, ensuring a seamless experience across various devices.
The mobile website features a streamlined and intuitive navigation system. The main menu is typically located at the top or bottom of the screen, allowing you to easily navigate between different sections such as sports betting, casino games, promotions, and account settings.
The Bons mobile website offers a wide range of games, including popular slots, table games, live dealer games, and more. To browse the game selection, use the search function or explore the categories and filters available. Simply tap on a game to launch it and start playing.
Bons License and Fairness
Bons operates under a valid and reputable license, ensuring a safe and fair gaming environment for its players. The bookmaker and online casino are regulated by Curacao gaming commission, which imposes strict regulations and standards to protect players' rights and ensure fair gameplay.
The licensing authority conducts regular audits and assessments to verify that Bons meets the required standards of security, fairness, and responsible gambling practices. This includes ensuring that the games are powered by certified random number generators (RNGs) to guarantee unbiased outcomes.
Bons Customer Support
Bons prioritizes customer satisfaction and provides reliable customer support to assist players with any queries or concerns they may have. The customer support team is available through multiple channels, including the live chat feature that allows players to directly communicate with a support representative in real-time. This is the most convenient and efficient way to address any immediate issues or seek assistance.
Players can also reach out to Bons customer support via email. This method is suitable for non-urgent matters or when detailed explanations are required. The support team aims to respond to email inquiries promptly.
Bons has an extensive FAQ section that covers a wide range of topics, including account management, bonuses, payments, and more. Players can refer to this section for quick answers to commonly asked questions.
Final Opinion on Bons as bookmaker and online casino
In conclusion, Bons bookmaker and online casino offers a comprehensive betting and gaming experience with its wide selection of sports markets, live events, and mobile apps for convenient access. The extensive sports coverage, including 250+ football markets and 35+ sports, caters to diverse betting preferences. The availability of player specials, fast markets, and Asian handicaps adds excitement to the live betting options. While the 24/7 customer support ensures assistance, the country restrictions and limited payment options could be limitations for some users. Overall, Bons provides a satisfactory betting platform with its VIP program and reliable customer service. However, it's important to note that the Curacao license may raise concerns for those seeking bookmakers with stricter regulatory oversight.
Read this page in other languages:
Pros
Extensive Sports Coverage: Bons offers a wide range of sports, including 35+ sports and 250+ football markets, ensuring diverse betting options for players.

Live Betting and Events: With 8,000+ live events monthly.

Bons offers dedicated mobile apps for convenient access to betting and casino games on the go.

Bons provides 24/7 customer support to assist players with their queries and concerns.

The VIP program rewards loyal players with exclusive benefits and privileges.
Cons
Bons has certain country restrictions, limiting access for players from specific regions.

The bookmaker has a limited selection of payment methods available for deposits and withdrawals.

Bons operates under a Curacao license, which may be considered less reputable compared to other licensing authorities.

App page located not intuitively.