Embark on an exploratory journey with our comprehensive review of the Betvisa bookmaker and online casino, a guide specifically curated for gambling enthusiasts and novices alike. This article meticulously dissects the workings of Betvisa, from signing up and account verification, to an in-depth analysis of the payment methods, and a look into its mobile applications. It provides practical insights into gaming best practices, and even evaluates the efficacy of its customer support. For prospective users, this review highlights the significant pros and cons, presenting an unbiased assessment of Betvisa's offerings. From sports books and unique games to its VIP program, learn what sets Betvisa apart and what potential drawbacks you might encounter. This article is a must-read for anyone interested in diving into the engaging world of Betvisa, and online gambling at large.
Review of the bookmaker and online casino Betvisa is also available in other languages:
The Story Behind Betvisa: A Detailed Insight
Established in 2020, Betvisa is an online sports betting and casino platform owned by VB Digital N.V. Its operation is licensed under the Curacao Gambling License, ensuring safe and secure betting experiences for users. Notably, Betvisa has secured a robust presence across multiple sports betting markets and lines such as Soccer, Basketball, Tennis, Cricket, Badminton, and more. Plus, the platform facilitates cockfighting betting, adding to its diverse betting portfolio.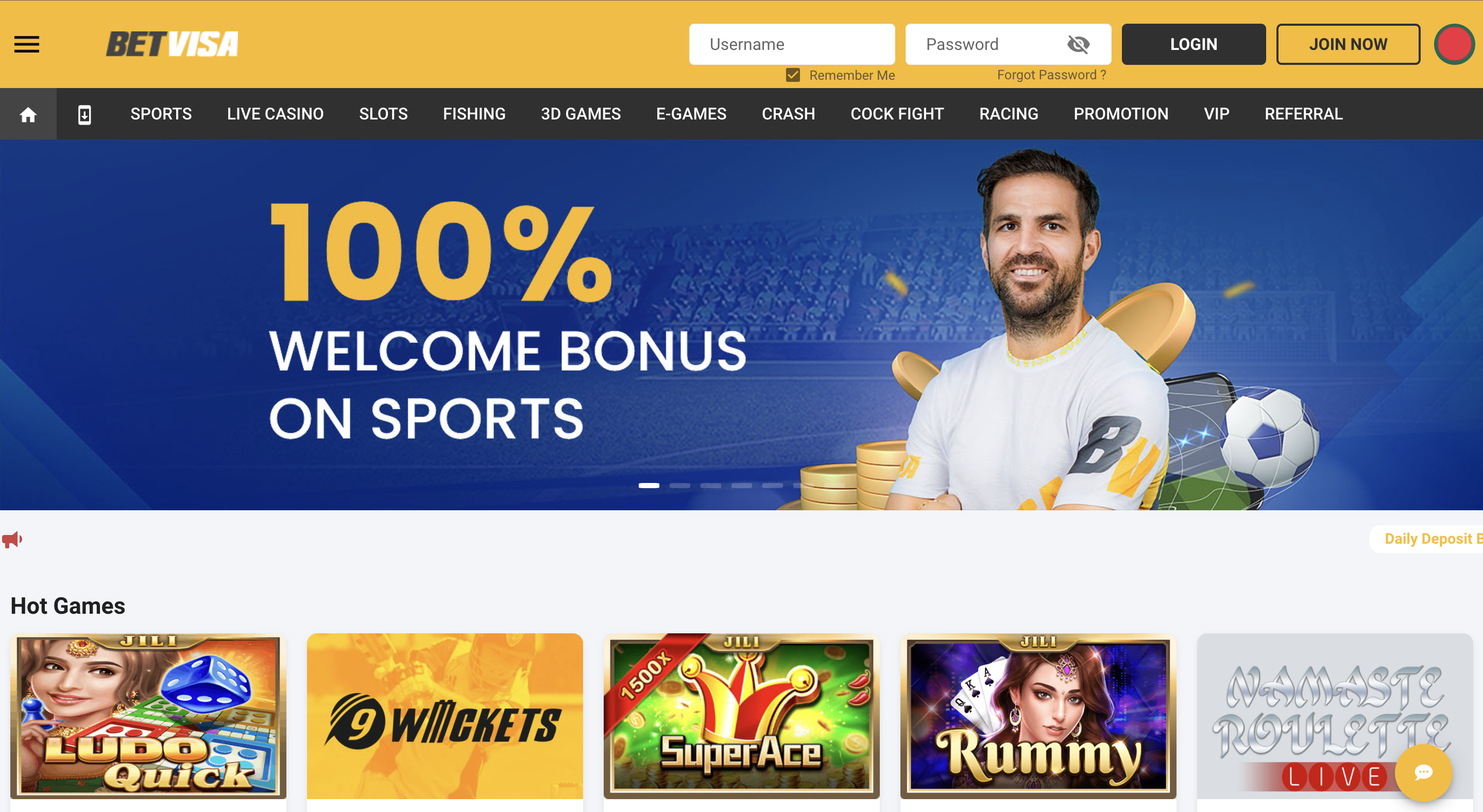 Why Betvisa Deserves Your Attention: Key Perks and Advantages
There are several compelling reasons to consider Betvisa for your online betting and gaming needs. Firstly, with the presence of six major sportsbooks – 9Wickets, BTI, CMD, UG, SBO, and SABA, you have plenty of options to place your bets. It also offers statistics and match results for informed decision-making. Though eSports betting is not an option here, the APLUS lottery and casino games make up for this.
In terms of transactions, Betvisa accepts a wide range of currencies like BDT, IDR, INR, PHP, PKR, THB, USD, VND, and supports multiple payment methods such as UPI, IMPS, Paytm, and PhonePe. The transaction times are also minimal, ranging from 0-72 hours for withdrawals, which adds to the user convenience.
However, what sets Betvisa apart is its round-the-clock customer support through email, live chat, phone, telegram, and WhatsApp. Whether you need assistance with depositing, betting, or have general queries, you can rely on their prompt and helpful customer service.
A Detailed Review of Online Sports Betting in Betvisa
Betvisa is emerging as a top-notch player in the online sports betting industry. As an all-encompassing sportsbook, Betvisa provides an impressive array of betting markets across various sports. From football fanatics to boxing buffs, it caters to a wide spectrum of betting enthusiasts. The online sportsbook Betvisa is enhanced by a variety of sportsbooks available, including 9Wickets, BTI, CMD, UG, SBO, and SABA, offering punters a comprehensive betting experience.
The Spotlight on Most Popular Sports Betting Markets
Among the diverse sports markets, some have gained considerable popularity on the Betvisa betting site. Soccer, the global favorite, naturally sees a significant volume of Betvisa bets, followed closely by sports like Basketball, Tennis, and Cricket. Additionally, more niche markets like Badminton, Table Tennis, Volleyball, and Motorsports are also available, providing a rich variety for all tastes. Uniquely, Betvisa offers the opportunity for betting on Cockfighting, attracting a different subset of punters to its platform.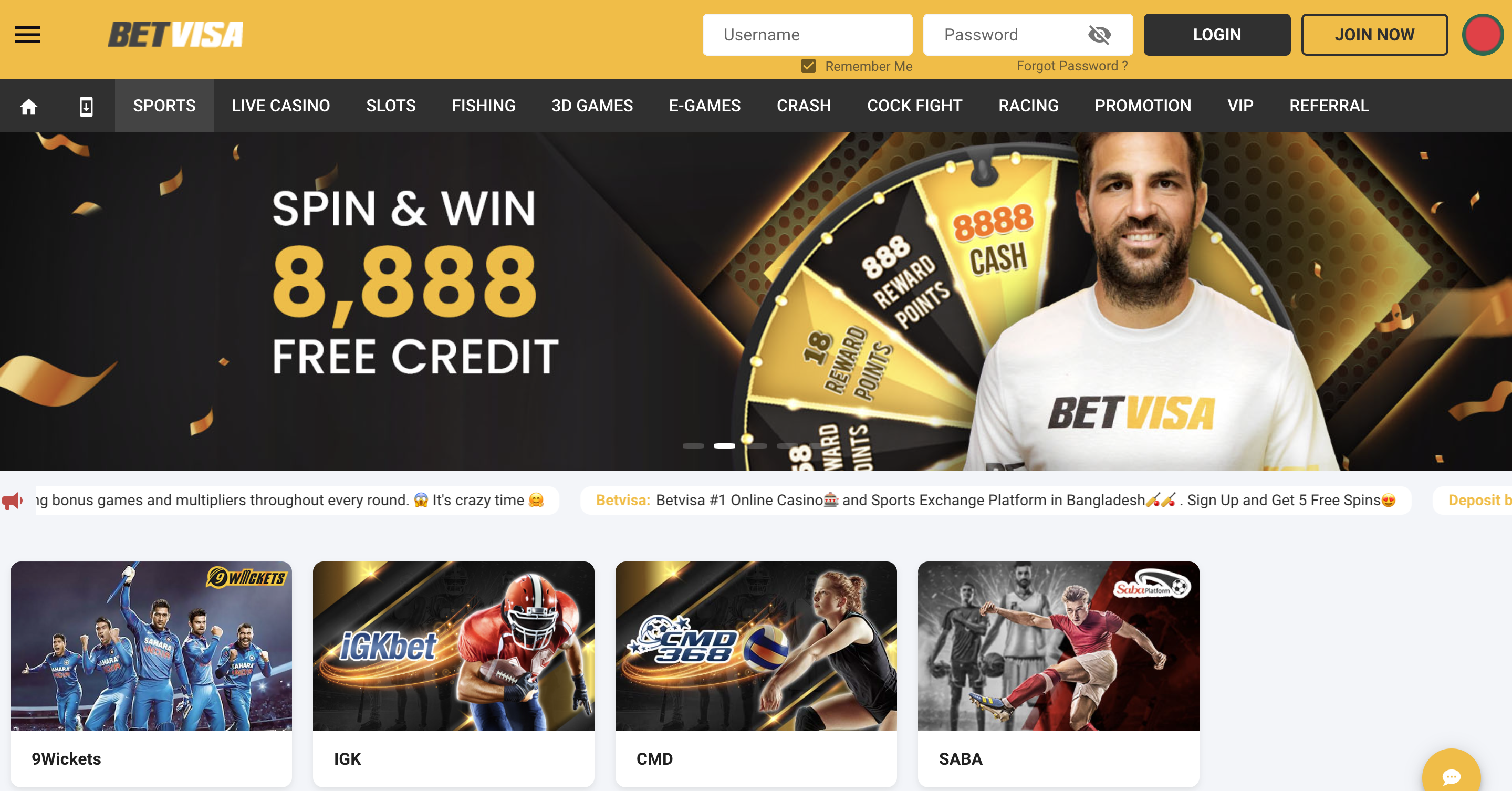 A Simplified Guide on How to Place Bets at Betvisa
Placing a bet on the bookmaker Betvisa platform is a straightforward process. Once you've signed up and deposited funds into your account using one of the many available methods, including UPI, IMPS, Paytm, or PhonePe, you can navigate to the sports section. Here, you'll find a multitude of sports markets to choose from.
Select the sport you're interested in, browse through the available games or matches, and click on the odds associated with the bet you want to place. This bet will then be added to your bet slip, usually located on the right side of the screen. Confirm the wager, and voila! Your bet is placed.
To facilitate informed betting on Betvisa, the platform provides statistics and match results, allowing bettors to make more strategic decisions. Though Betvisa does not offer live streaming, its detailed analytics and live score updates ensure you're not missing out on any action.
Live Betting in Betvisa
One of the most exciting aspects of Betvisa is its live betting feature, where punters can place bets on ongoing events. The adrenaline rush of in-play betting Betvisa offers is quite enticing as it gives you the chance to assess the match's progress before deciding where to place your bets. However, note that Betvisa does not support live streaming, but it compensates with real-time statistics and live scores, keeping you updated on each match's trajectory.
Types of Bets Available on Betvisa
When it comes to bet variety, Betvisa leaves no stone unturned. Beyond the standard win, draw, and lose options, punters can delve into more complex wagering types like accumulator bets and various systems of bets. Accumulator bets allow you to bundle multiple selections into one bet, amplifying the potential returns but requiring all selections to win. Systems of bets, on the other hand, offer more flexibility, where you can win even if not all your selections are correct, adding a layer of strategy and intrigue to your betting experience.
Additional Tools at Betvisa
Betvisa's appeal lies not just in its diverse betting markets and options, but also in the additional betting tools it offers. One such feature is the Betvisa cash out option. This allows punters to cash out their bets before the event concludes, providing an extra level of control over the wager. It's an excellent tool for mitigating potential losses when the tide seems to be turning against your favor.
Additionally, Betvisa's bet builder feature enables you to create a pre-match bet from a same-game selection. This means you can tailor your bet to your preferences, making your betting experience more personalized and exciting.
Our experience of betting on Betvisa sportsbook
Our team began a betting journey on Betvisa with a balance of 500 USDT. Our strategy was to split the balance between two different betting markets, using different strategies for each.
Our first bet was a pre-match wager on a Football match, placing a bet on the 'Moneyline' market. We decided to back the underdog team, who were priced at 3.5 odds. Our rationale for this bet was based on the team's recent upswing in performance and our analysis of their match strategy. Although they were not the favorites to win, we believed they had a fighting chance. We decided to place 200 USDT on this bet, understanding the risk but also the potential for a substantial return.
While waiting for the outcome of the football match, we turned our attention to the live betting markets. A Basketball match was in progress, and we saw an opportunity in the 'Points Betting' market. With the first half nearly over and both teams neck and neck, we predicted a high-scoring second half. We took the over option for a total points bet of 200.5. Since the current score was relatively low, we got decent odds of 2.3 on this bet. We wagered the remaining 300 USDT on this live bet, further adding to the unpredictability.
The outcomes of these bets were as thrilling as the process of placing them. The underdog football team we had backed staged an impressive upset, winning the match and rewarding us with 700 USDT (200 USDT * 3.5 odds). In contrast, the basketball game didn't pan out as expected. Despite a promising start to the second half, the total points scored fell short of our prediction, meaning we lost our 300 USDT stake.
Overall, our experience on Betvisa was quite engaging. Despite our loss on the basketball match, we ended up with a net gain of 200 USDT. This demonstrated the volatility of sports betting and the necessity of a diversified betting strategy. Betvisa's user-friendly interface and wide range of betting options made the process all the more enjoyable. Whether you're a seasoned punter or a novice, Betvisa offers an exciting betting experience, replete with all the highs and lows that come with the thrill of sports betting.
Online Casino and Slots Games in Betvisa
A realm of excitement and chance awaits you at Betvisa, which apart from being a leading bookmaker, has also established itself as a vibrant online casino. With a selection of games ranging from traditional slots to modern iterations, the online casino Betvisa hosts is sure to cater to every gambling aficionado. Whether you're a fan of spinning reels or challenging the odds at the poker table, you'll find an enticing array of options to gamble on Betvisa.
Top Games at Betvisa's Online Casino
Betvisa's online casino houses an impressive range of top-tier games, bound to satiate your thirst for a thrilling gamble. The slots section, one of the casino's crowning features, offers an extensive range of themes and styles. From classic fruit slots to innovative video slots, each game promises a unique gambling experience.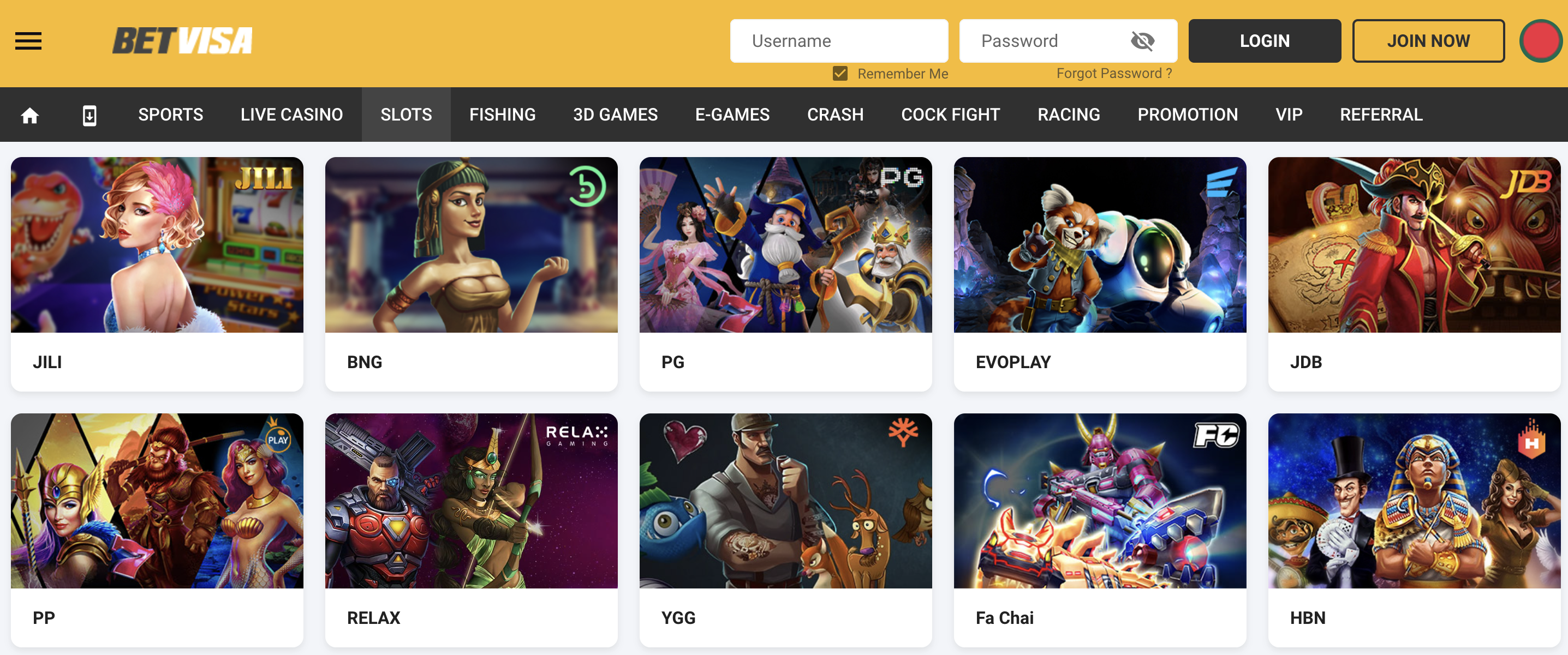 But the gambling excitement on Betvisa doesn't stop there. Its collection includes a variety of table games, such as blackjack and roulette, where strategic gameplay meets the thrill of chance. Furthermore, Betvisa spices up the traditional gambling scenario with the inclusion of exotic games like Fishing or Hunting games, immersing you in an unconventional yet exciting gambling atmosphere.
How to Start Playing at Betvisa's Casino
If you're looking to plunge into the thrilling world of Betvisa casino games, getting started is quite straightforward. First, you need to create an account with Betvisa, ensuring you fill in your details accurately. Next, you will need to make a deposit. The minimum deposit at Betvisa is 1,000 INR (or its equivalent in other acceptable currencies), which you can pay using various methods such as UPI, IMPS, Paytm, or PhonePe.
Once your account is set up and your deposit is successful, you can navigate to the casino section and choose a game to play. Whether you fancy a spin on the slots or a round at the poker table, simply click on your game of choice and let the adventure begin. If you're new to casino games, it's wise to familiarize yourself with the rules and strategies of the game before staking any money.
Live Casino at Betvisa
The experience of playing at a live casino merges the comfort of your own space with the thrilling atmosphere of a brick-and-mortar casino. Betvisa, known for its multifaceted gambling offerings, presents its live casino section that successfully captures this blend. Playing at Betvisa's live casino is as close as you can get to a traditional casino experience while lounging at home.

At the live casino Betvisa offers, you get to play with real dealers who deal cards, spin roulette wheels, and manage all the other gaming operations. The games available are extensive, featuring favorites like blackjack, poker, and roulette. But it doesn't stop there. You'll find more exotic options like baccarat, craps, and even lottery-style games. The real-time action is streamed in HD, making you feel as though you're seated right at the gaming table.
Instant Games like Aviator on Betvisa
Betvisa also hosts a range of instant games, perfect for bettors who enjoy quick returns. One such quick betting game is the Aviator, an innovative, thrilling, and fast-paced crash game.
In Aviator, players bet on a flight that is about to take off. The main objective is to cash out before the flight "crashes". The longer the flight stays in the air, the higher the multiplier on your stake. But beware: if you don't cash out before the flight crashes, you lose your stake. This game beautifully blends risk, strategy, and anticipation, promising an adrenaline-filled betting experience.
Aviator, like other instant games, is one of the social casino games at Betvisa. You can interact with other players, witness their strategies, and share the thrilling moments of the game. This adds a level of excitement and social interaction that is often absent in other forms of online betting.
Our experience of gamble in casino Betvisa
Walking into the dynamic world of Betvisa online casino, we embarked on our journey with a solid 500 USDT in our pocket. We started by exploring the vast selection of games, deciding to split our gaming session between a thrilling slot game and an immersive live dealer experience.
Our first stop was the vibrantly colored slot game 'Gonzo's Quest' from NetEnt, renowned for its engaging gameplay and lucrative opportunities. We went big, aiming for maximum unpredictability and staked 100 USDT on our first spin. Gonzo's Quest isn't your ordinary slot game; it features an innovative Avalanche system where the symbols fall into place instead of spinning. A win triggers an Avalanche, where winning symbols explode, and new ones fill their place. Each successive Avalanche multiplies winnings, ramping up the thrill.
Our strategy here was simple: stake high, aim for the Free Fall symbols for free spins, and rely on the Avalanche multipliers to boost our winnings. We felt the adrenaline rush as the reels cascaded and symbols aligned. Success! We hit a round of free spins, and the multipliers kicked in. After a series of Avalanches, we had turned our initial 100 USDT into a delightful 250 USDT.
Flush with the success of our slot game adventure, we turned our sights on the live casino. 'Immersive Roulette' from Evolution was our choice, a live dealer game promising a true-to-life casino experience. We wagered a bold 150 USDT on a single round, choosing a simple strategy: bet on black.
Live Roulette at Betvisa is truly immersive, with multiple camera angles, slow-motion replays, and an affable real-life dealer spinning the wheel. The tension was palpable as the wheel spun, the ball skipped across the numbers, and landed…unfortunately on a red. We lost our stake, but that's the roller coaster of casino life!
Our gaming session at Betvisa demonstrated the highs and lows that are intrinsic to casino gaming. We played big, took risks, and experienced both the thrill of a substantial win and the disappointment of a loss. The engaging slot games and the lifelike atmosphere of the live casino made our gaming experience exciting and immersive. After all, at Betvisa, it's not just about the result, but also the thrilling journey of online casino gaming.
An Insightful Look at Betvisa's Generous Welcome Bonus
There is no better way to start your journey on Betvisa than with their generous welcome bonus. If you're a new player, Betvisa welcomes you with open arms, offering a sensational "Welcome Bonus" consisting of a FREE 500 cash bonus along with 5 FREE spins. You simply need to sign up to receive the free bonus and spin tickets that potentially open doors to a massive ₹8,888 prize. The bonus can be used on Slots and Fishing games, and it requires a 20x turnover before you can withdraw winnings, offering a fair deal that enhances your gaming right from the start.
Exploring Betvisa's Array of Bonuses and Promotions
But Betvisa doesn't stop at their welcome offer; their promotional journey is filled with a plethora of exciting opportunities. The sports enthusiasts are awarded a 100% welcome bonus up to ₹5,000, ensuring you can dive into the sports betting action fully loaded. Meanwhile, slot game lovers aren't left behind either, with two distinct offers at their disposal. Depositing ₹1,000 gives you a free bonus of ₹2,000, and depositing ₹500 results in a free bonus of ₹1,500.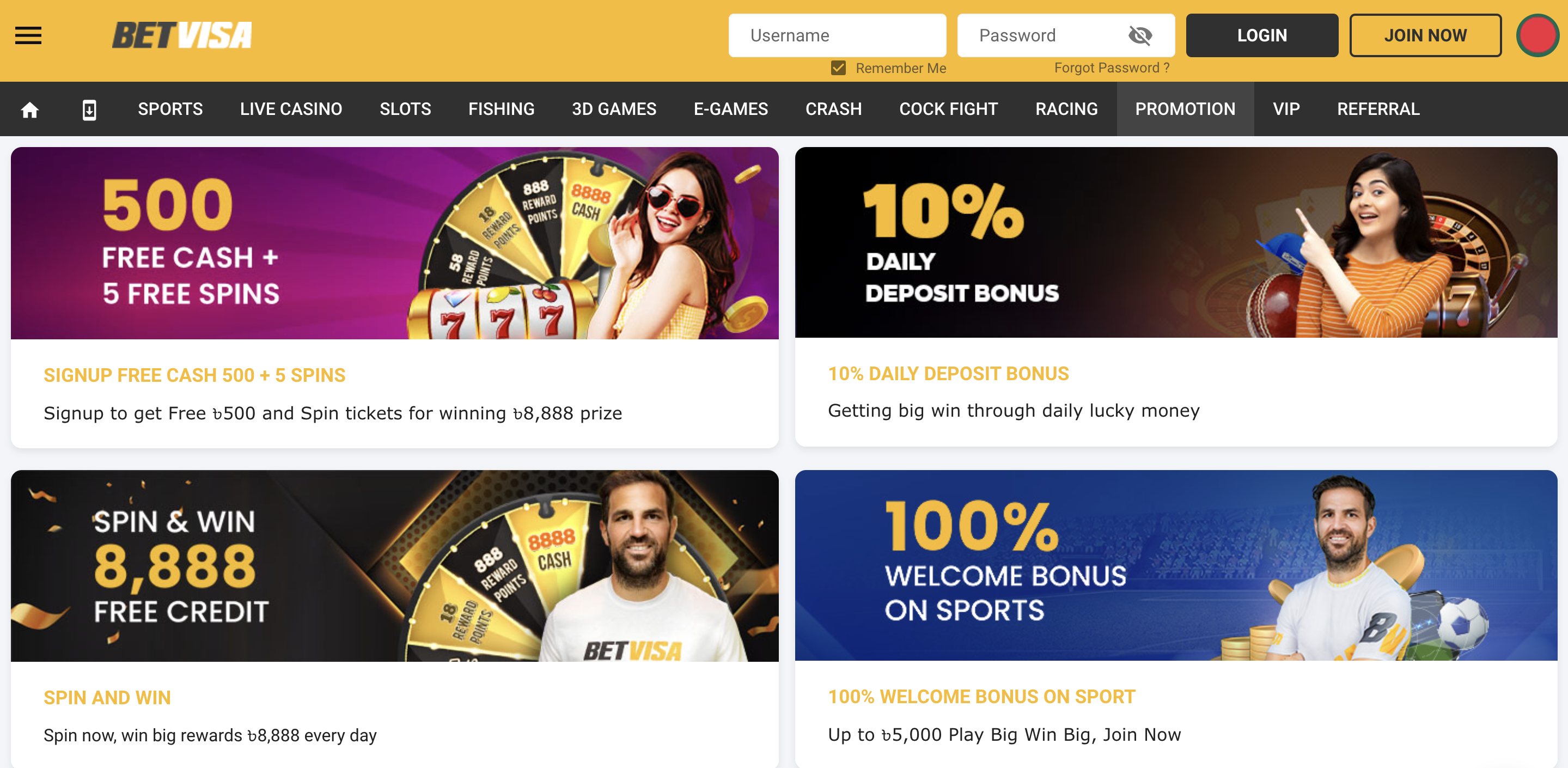 There's also a specific 100% welcome bonus for both Slots and Fishing games, allowing you to receive up to ₹20,000 for your top-ups. What's more, Betvisa has introduced Cashback promotions that apply to Sports, Live Casino, Slots, and Fishing games, ranging from 5% to 10% weekly, offering some solace for any unlucky betting sessions you might encounter.
Experience Premium Gaming with Betvisa's VIP Loyalty Program
The Betvisa VIP loyalty program is the epitome of elite gaming. To join, you simply need to register an account and make your first deposit. Doing so earns you a whopping 2500 reward points within 24 hours, propelling you into a new echelon of benefits. Betvisa's VIP program features several tiers, each with a unique set of benefits. The higher your rank, the better the rewards, ranging from the Rookie level to the Legendary status.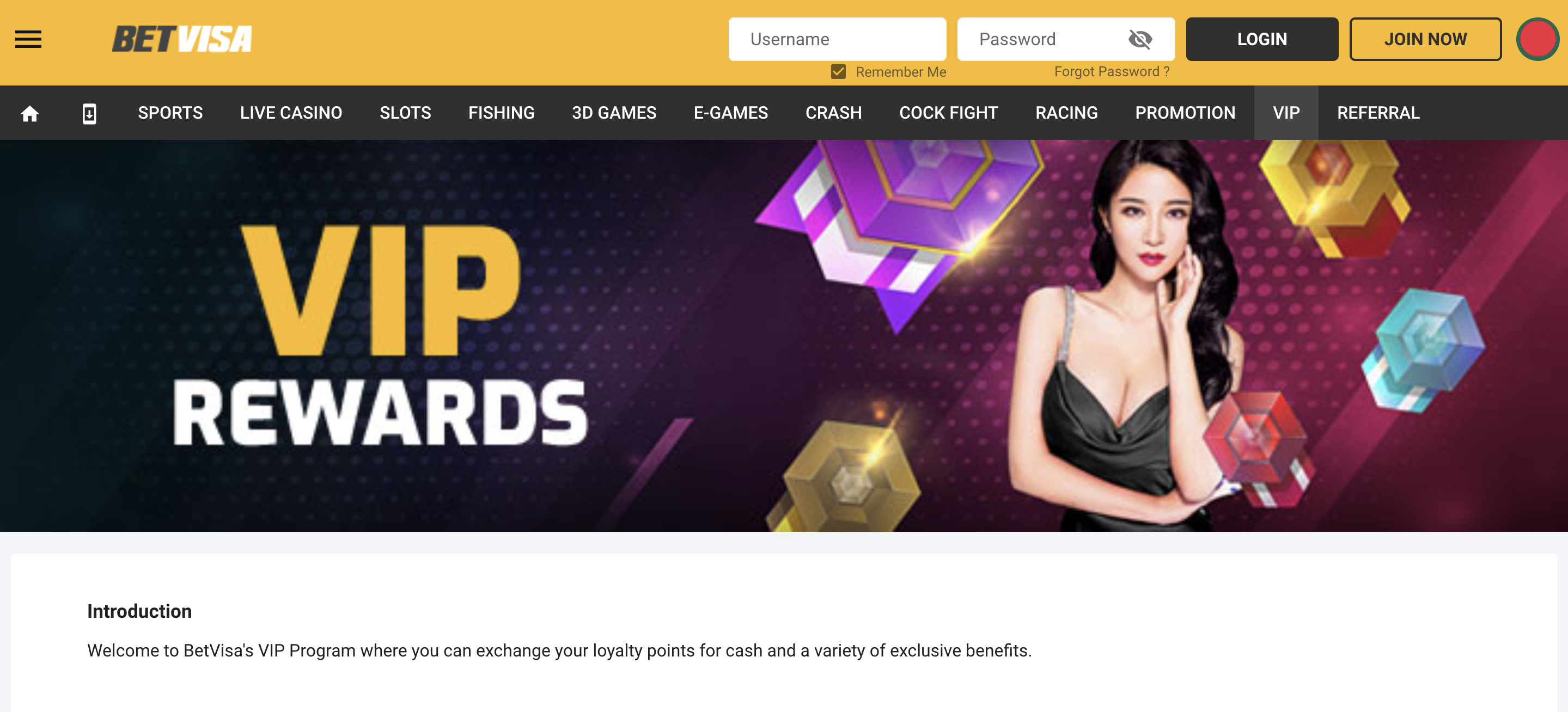 Each level offers its own exchange rate for reward points to cash, ensuring that the more you play, the more you earn. Reward points are automatically added to your account for every real money bet you place on any casino game, further enhancing the VIP experience.
Unlock More Fun with Promo Codes at Betvisa
Betvisa also offers promo codes that unlock additional bonuses, enhancing your gaming experience. These codes are occasionally offered as part of promotional campaigns or exclusive events. You can use these Betvisa promocodes when making deposits or in specific games, depending on the terms of the promo code.
However, bear in mind that Betvisa's bonuses, promotions, and VIP program come with their respective terms and conditions. To fully enjoy these benefits, players must understand these conditions. These may include specific wagering requirements, the maximum allowable withdrawal from bonus winnings, and bonus validity periods.
Exploring Betvisa's Convenient Payment Solutions: Deposits and Withdrawals Simplified
Understanding the process of financial transactions is crucial for every online casino player, and Betvisa offers a user-friendly approach to deposits and withdrawals. With diverse deposit methods, Betvisa provides you with convenient options to fund your account.
To start playing at Betvisa, you will need to make a deposit. Betvisa accepts a variety of payment methods, including UPI, IMPS, Paytm, and PhonePe. These diverse deposit methods allow for quick and hassle-free transactions. The minimum deposit required to get started on Betvisa is quite affordable at 1,000 INR, catering to players with different budget sizes. And if you're a high roller, you can go as high as a maximum deposit limit of 99,000 INR.
When it comes to cashing out your winnings, Betvisa ensures a smooth and secure withdrawal process. The platform maintains the same withdrawal methods as those used for deposits. This means that whether you use UPI, IMPS, Paytm, or PhonePe, you can quickly and conveniently withdraw your winnings. It's important to note that the minimum withdrawal amount at Betvisa is 2,000 INR, and you can withdraw as much as 99,000 INR. These withdrawal limits are flexible, allowing players to manage their winnings effectively.
Navigating Betvisa's Registration: A Step-by-Step Guide
In the world of online gaming, Betvisa stands out as a platform offering diverse betting options. Getting started on Betvisa is a simple process that entails a few easy steps.
A Smooth Start: Registering at Betvisa
Your journey begins with a visit to the Betvisa official site. Alternatively, you can use our reliable link to access either the official site or its mirror.
Step 1: Visiting Betvisa. Start by navigating to the Betvisa platform using the official URL or our dependable mirror link. Once you land on the website, you will find an organized layout that's user-friendly and easily navigable.

Step 2: Signing Up. Look for the "Sign Up" button typically located in the top right corner of the website. Click on it to open the registration form. Here, you'll be asked to provide some basic information such as your name, email address, and a password for your new Betvisa account. After filling out these details, confirm that you're above 18 years of age and agree to the terms and conditions. Then, click on the "Sign Up" button to complete your registration.

Step 3: Making Your First Deposit. After successfully registering, proceed to make your initial deposit. Navigate to the cashier section and select your preferred deposit method. Betvisa supports a range of payment options for added convenience. Input the amount you wish to deposit, ensuring it meets the minimum deposit requirement.

Step 4: Placing Your Stakes. Now that your account is funded, you're ready to place your stakes. Explore the variety of games available on Betvisa, select your favorite, and place your wager. Remember to gamble responsibly.
Betvisa's Registration Requirements: Ensuring a Safe Gaming Environment
As part of its commitment to providing a safe and secure gaming environment, Betvisa imposes certain requirements on its users. During registration, you'll need to provide accurate personal information, including your legal name, date of birth, and contact details. Betvisa also requires users to be above 18 years of age. Make sure you read and understand the terms and conditions before agreeing to them.
On-The-Go Gaming: Registering Through Betvisa's Mobile App
Betvisa extends its user-friendly experience to its mobile app as well. You can register on Betvisa using the mobile application in much the same way as the website. Download the app, click on the "Sign Up" option, provide the required information, and confirm your registration. You can then log in to Betvisa using your new credentials.
Celebrating Your Arrival: Claiming the Betvisa Welcome Bonus
One of the perks of signing up with Betvisa is the attractive welcome bonus that awaits new users. After you register, you can claim this bonus by making your first deposit. Navigate to the bonuses section, find the welcome bonus, and activate it. Ensure that your deposit meets the bonus requirements. The bonus funds will be added to your account, enhancing your gaming experience right from the start.
Guidelines for Verifying Your Betvisa Account
The process of account verification on Betvisa is an essential step to fully utilize the platform's features. Following registration, you'll be requested to provide additional information to validate your identity. This typically includes proof of identity, age, and address. Such documents can be a passport or ID card, a utility bill, or a bank statement. This verification process is standard among online gaming platforms to ensure user security and adhere to regulatory requirements. Submitting these documents can usually be done through the site's user interface. Once Betvisa verifies your information, you'll receive confirmation, and your account will be fully operational, providing you full access to all the features Betvisa has to offer.
Exploring the Betvisa Mobile Application for Android and iOS Devices
In this modern era, a seamless mobile experience is paramount for any online platform, and Betvisa is no exception. It offers a comprehensive mobile application for both Android and iOS users, allowing you to enjoy your favorite games anytime, anywhere.
Understanding the System Requirements for the Betvisa Android App 
For an optimal gaming experience on the Betvisa mobile app for Android, certain system requirements need to be fulfilled. Primarily, your device should be running on Android version 5.0 or higher to ensure compatibility with the app. Additionally, ensure that you have adequate free storage space on your device to accommodate the app Betvisa for Android, as it comes packed with a multitude of features.
Steps to Download the Betvisa APK for Android
Getting your hands on the Betvisa APK for Android is a straightforward process. To download the Betvisa APK on Android, visit the official Betvisa website via your mobile browser. Navigate to the mobile app section and click on the Android icon to begin downloading the APK file. Please note that this file is entirely safe and has been checked for any potential security threats.
How to Install the Betvisa App on Your Android Device?
Once you've downloaded the APK file, you'll need to install the Betvisa app on your Android device. Before proceeding with the installation, ensure that your device settings permit installations from "unknown sources." This setting can typically be found in the "Security" section of your device settings. If not enabled, your device might block the installation process.
After ensuring this setting is enabled, locate the downloaded APK file in your device's download directory. Tap on the APK file to begin the installation. Your device will guide you through the rest of the process, and in a few moments, the Betvisa app will be ready for use.
Keeping Your Betvisa App Updated
Staying updated is crucial to enjoying the full range of services offered by the Betvisa app. Updates often include new features, improved security measures, and fixes for any potential bugs. You can check for updates through the Betvisa app itself. If an update is available, a prompt will typically appear on the app, guiding you on how to update your Betvisa app.
Insider Tips for Maximizing Your Experience at Betvisa
Navigating the world of online gaming with Betvisa can be made even more rewarding with some insider knowledge. Here are some useful tips and best practices to consider when playing on this premier platform.
Firstly, always ensure you have a clear understanding of the rules for each game before you start playing. Betvisa offers a plethora of games, each with its unique set of rules and strategies. Take some time to familiarize yourself with these to increase your winning chances.
Secondly, it's advisable to set a budget for your gaming activities. Responsible gaming is a cornerstone of any successful gaming experience. Always play within your financial limits to ensure you have an enjoyable and sustainable gaming journey.
Thirdly, take full advantage of the bonuses and promotions offered by Betvisa. These incentives can significantly boost your playing funds, allowing you to explore more games and enhance your winning potential. Be sure to check the terms and conditions associated with these bonuses, as they typically come with certain requirements that need to be fulfilled.
Finally, remember that practice makes perfect. The more you play, the better you get. However, it's important to balance your gaming sessions with other activities to prevent fatigue and maintain a healthy gaming lifestyle.
Navigating Betvisa's Mobile-Friendly Website
Betvisa's website is intuitively designed and is fully optimized for mobile use. It allows seamless navigation from various gaming sections, including sports betting, casino games, and slots. The user-friendly interface ensures that players can easily locate their preferred games, access Betvisa bonuses, make deposits, and request withdrawals. The mobile site retains all functionalities of the desktop version, ensuring a smooth and enjoyable gaming experience on the go.
Betvisa: A Licensed and Fair Gaming Platform
When it comes to licensing and fairness, Betvisa stands tall among its peers. It operates under a valid license, demonstrating its commitment to providing a secure and legal gaming environment. The platform's games are audited regularly by independent bodies, ensuring that all outcomes are random and fair. Transparency in this regard establishes Betvisa as a trustworthy platform where players can feel confident that their gaming experience is fair and protected.
Reaching Out to Betvisa Customer Support
Providing top-notch customer support is a cornerstone of Betvisa's operations. The platform boasts a dedicated customer service team that's available 24/7 to assist with any issues or queries players may have. Players can reach out via multiple channels, including live chat, email, and telephone. The live chat option offers instant responses, making it an excellent choice for urgent issues.
Moreover, Betvisa's support extends beyond resolving issues – they also provide helpful information regarding gameplay, bonuses, deposits, and withdrawals. They're committed to ensuring players have all the information they need for an enjoyable and hassle-free gaming experience.
Final Opinion on Betvisa as bookmaker and online casino
Concluding our comprehensive review, Betvisa asserts its position in the online gambling arena with its modern, user-friendly interface that appeals to both novice and seasoned gamblers. Its robust selection of sports books and unique gaming offerings, such as cockfight betting and fishing games, provide a refreshing touch to conventional online gambling. An integral part of its allure is the VIP program, promising an enhanced gambling experience, coupled with an extensive customer support system ensuring players' queries and concerns are promptly addressed.
However, it is crucial for potential players to consider certain limitations. The exclusivity of the Betvisa app to Android users poses an inconvenience for iOS enthusiasts. Furthermore, the absence of a poker room might disappoint avid poker players. Lastly, the limitations associated with holding a Curacao license only can raise concerns about its global recognition and acceptance.
Betvisa's unique pros and distinctive cons coalesce to create an intriguing online gambling platform that caters to a niche segment of the market. It's an innovative addition to the industry that pushes the boundaries while maintaining a focus on user experience. As with any online platform, potential users should balance their preferences and comfort level with the platform's offerings and limitations. Nonetheless, Betvisa's distinctive blend of features certainly carve out its own space in the online gambling world.
Read this page in other languages:
Pros
Modern, user-friendly platform design.

Comprehensive sports book selection.

Unique betting options including cockfight betting and fishing games.

VIP program for enhanced user experience.

Robust customer support with extensive communication channels.
Cons
Limited licensing, holding a Curacao license only.

Exclusivity of app to Android users.

Absence of poker room in the game portfolio.