By providing an in-depth look at Betmaster's various features and operations, this article is a valuable resource for anyone interested in using Betmaster's services, whether they're seasoned bettors or novices in the world of online betting and casinos. The review's balanced perspective and unbiased information offer readers crucial insights that will help them make knowledgeable decisions. Step into the virtual arena today and indulge in the thrill of staking your predictions!
Review of the bookmaker and online casino Betmaster is also available in other languages:
About Betmaster Company
Founded in 2018, Betmaster has quickly established itself as a reputable online betting platform. Reinvent N.V., the company behind Betmaster, continues to provide a secure and engaging platform for bettors around the globe, despite restrictions in certain countries. With a proprietary software, the platform can be accessed via various devices including PC, mobile, and tablet, enabling players to place their stakes anytime, anywhere.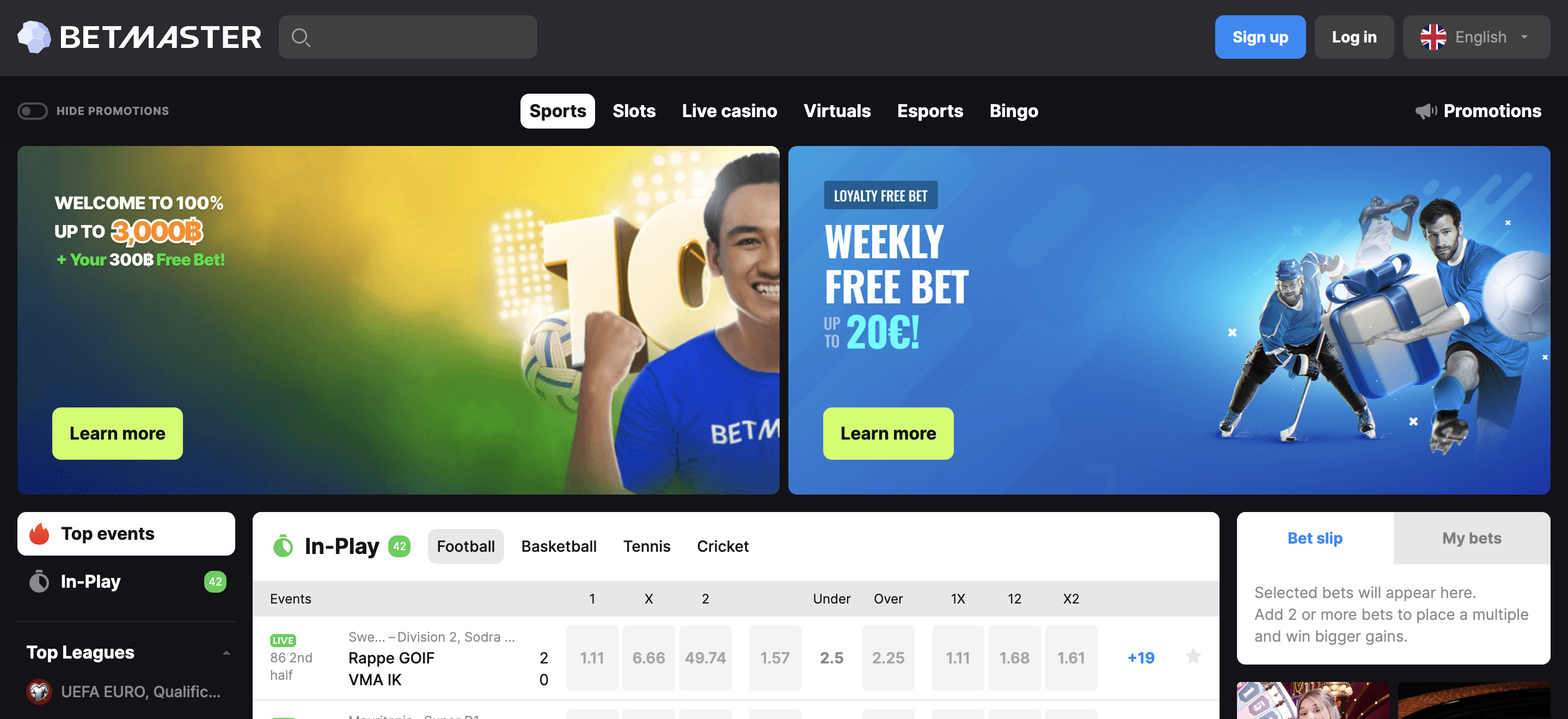 Quick Advantages to Play Games at Betmaster
A wide array of betting lines and markets is one of the major advantages of Betmaster. Whether you're a fan of American Football, Basketball, or prefer to wager on esports like Dota 2 and League of Legends, Betmaster has you covered. In addition to sports and esports, the platform also offers casino games for those who prefer the allure of the roulette wheel or the flip of a card.
Betmaster caters to a multilingual audience, providing customer support in several languages, including English, German, and Spanish. Players can easily get in touch via email or live chat, ensuring that any issues are addressed promptly.
Financial transactions at Betmaster are hassle-free, with a broad range of deposit and withdrawal methods available. The platform accepts a diverse selection of currencies, making it a popular choice among players from different regions.
Sportsbook Betmaster
With an extensive array of options for bettors, the sportsbook at Betmaster shines as a diverse and comprehensive platform. Catering to a wide range of preferences, Betmaster offers betting markets from traditional sports to trending esports. Whether you are a seasoned punter or a rookie exploring the betting scene, this bookmaker presents an engaging platform to place your stakes.
Most Popular Sports Betting Markets in Betmaster
Football Betting in Betmaster: For football enthusiasts, Betmaster provides a plethora of markets covering major leagues and tournaments worldwide. From Premier League clashes to riveting World Cup qualifiers, there's no shortage of action for football bettors on this platform.
Basketball: Basketball betting on Betmaster is a slam dunk for any fan of the sport. With coverage of key leagues like the NBA and EuroLeague, you can wager on your favorite teams and players in games that span the globe.
Cricket: Betmaster's cricket betting market is a must-visit for cricket lovers. Offering coverage of international matches, IPL tournaments, and even The Ashes series, it gives cricket fans an opportunity to stake on their predictions and watch them unfold on the pitch.
eSports: The esports scene at Betmaster is a gamer's paradise. Punters can engage in betting on popular games like Dota 2, League of Legends, and CS:GO. Whether it's a heated battle in the arena of Valorant or a strategic clash in StarCraft, esports betting on Betmaster will keep you on the edge of your seat.
Other Betting Markets Available at Betmaster
Beyond these popular sports, Betmaster extends its offerings to other sports and additional betting markets. Punters can try their hand at predicting outcomes in sports like American Football, Baseball, MMA, Table Tennis, and Tennis. There are even markets for Handball and Ice Hockey, ensuring a well-rounded selection for every kind of bettor.
Unique to Betmaster, the platform provides alternative betting selections such as Alternative Handicap Basketball, Asian Bets, Cards, Corners, and Players points basketball. This variety keeps betting on Betmaster refreshing and exciting.
Live Betting in Betmaster
Betmaster boasts an exciting live betting platform perfect for the adrenaline-fueled punter. It's the go-to place for those who enjoy in-play betting. Be it a last-minute football goal or a nail-biting tennis match, the live betting section at Betmaster provides an exhilarating experience, allowing bettors to stake on ongoing events, truly immersing them in the action.
Following the Live Action in Betmaster
While Betmaster doesn't provide live streaming services, they ensure that their punters stay updated with real-time scores and event progress. By offering comprehensive, constantly updated statistics, Betmaster keeps bettors in the loop so they can make informed decisions with their live bets. 
Available Types of Bets on Betmaster
At Betmaster, a range of bet types is at the disposal of the punters. Single bets are the simplest form, where bettors stake on one event, while accumulator bets offer an opportunity to combine multiple events into one bet, thereby amplifying the potential returns. For the seasoned bettors who love playing the odds, systems of bets can be a game-changer. These allow bettors to create a series of accumulator bets from a selection of events, providing an advanced betting strategy that manages risks while potentially enhancing winnings.
Additional Betting Tools
To further enrich the betting journey, Betmaster provides a few more innovative features. Among them is the Betmaster cash out feature, which grants bettors the power to withdraw their bet before the event concludes. This allows players to either secure part of their potential winnings or minimize losses depending on the event's current scenario. However, it's worth noting that Betmaster does not offer a bet builder option. Nevertheless, the wide variety of betting markets and types compensate for this, ensuring a fulfilling betting experience.
How to Place Bets at Betmaster?
To place bets at Betmaster, the process is straightforward and user-friendly. Begin by logging into your Betmaster account. If you don't have an account yet, it's simple to create one by following the on-screen instructions. After accessing your account, navigate to the sports or eSports section, depending on your betting preference.
Next, choose the event you wish to place a bet on. Betmaster provides a wide variety of markets, so whether it's a major football match or an intense Dota 2 competition, you're covered. After selecting the event, pick the market and outcome you want to bet on. Your choice then appears on the bet slip on the right side of the screen.
Specify the amount you wish to wager in the designated field in the bet slip, and confirm your bet. Remember, the minimum bet is $2. Once confirmed, your bet is placed, and all you have to do is watch the event unfold!
How to Place Stakes at Betmaster with App?
Betting with Betmaster on the go is as easy as pie thanks to their mobile app, available for both Android and iOS devices. Download the app from your respective app store and log into your account.
The process of placing bets via the app mirrors the one on the website. Choose your event, select the market, pick your outcome, and it will appear on the bet slip. Enter the amount you want to stake, and tap 'Place a bet.' You're all set! Enjoy the convenience of placing stakes anytime, anywhere with Betmaster's mobile app.
Our experience of betting on Betmaster
Based on our expertise, we chose to diversify our betting portfolio with a prematch wager in Basketball and an in-play bet in eSports. We started with a $500 USDT fund, which we split into two distinct betting endeavors.
For the prematch bet, we opted for a Point Spread wager in an upcoming NBA game. The LA Lakers were facing off against the Boston Celtics, and the Lakers were favored with a -5.5 point spread. Intrigued by the potential upset, we decided to back the Celtics, staking $200 USDT. This type of wager balanced the risk-reward ratio, as our profits could skyrocket if the Celtics managed to close the game within the point spread or even claim an unexpected victory.
Simultaneously, an eSports event caught our eye — a CS:GO match between teams Astralis and Natus Vincere. CS:GO games can be unpredictable and highly intense, presenting opportunities for those who dare to go big on in-play betting. As Astralis led the first half, we placed a live bet of $300 USDT on Natus Vincere's comeback in the second half, which seemed plausible given their known resilience and strong game finishes.
Our basketball wager would take some time to result, while the eSports bet would conclude within an hour. The combination of these two different betting markets provided us with an exciting mix of slow-burn anticipation and adrenaline-pumping action.
In the end, our strategy boiled down to a blend of calculated risk and embracing volatility. The thrill of wagering on sports and eSports, particularly on Betmaster's platform, has proven to be both exhilarating and rewarding. The Celtics managed to lose by only a 3-point difference, rendering our bet a win. However, despite a valiant effort, Natus Vincere couldn't quite turn the game around, resulting in our live bet falling short. The overall experience has demonstrated Betmaster's dynamic and engaging betting environment, appealing to diverse betting preferences and strategies.
Betmaster Online Casino
On top of being an esteemed sportsbook, Betmaster also doubles as a distinguished online casino. This fusion of both worlds offers players a plethora of choices to quench their thirst for quality gambling entertainment.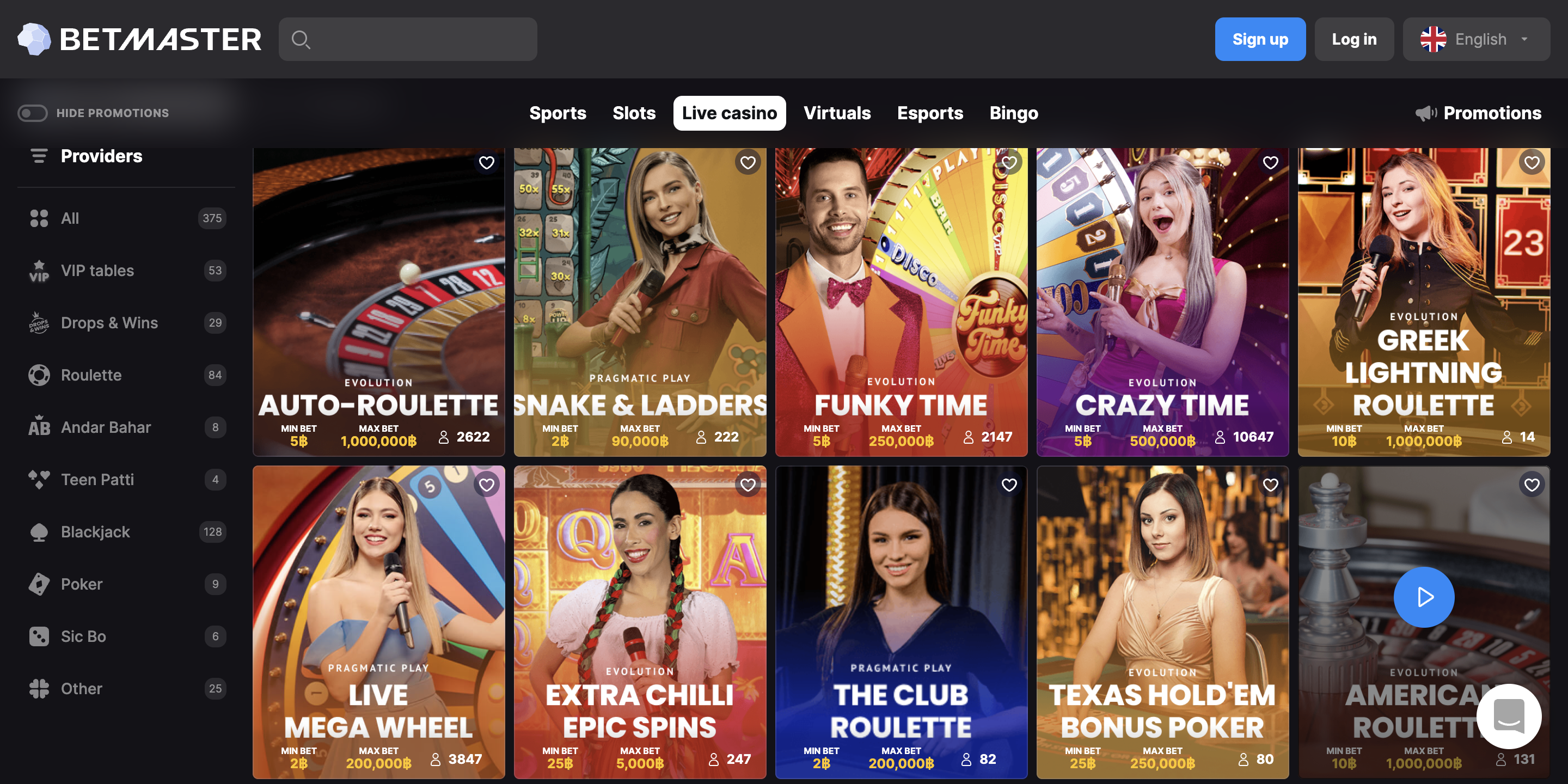 Providers of Slot Games Available at Betmaster
The strength of an online casino often lies in its partnerships with game providers, and Betmaster doesn't disappoint in this respect. Their collaboration with multiple renowned software developers ensures a vast range of slot games catering to different tastes. You'll find titles from industry titans like NetEnt, Habanero, Endorphina, and Betsoft, all known for their superior graphics, engaging gameplay, and substantial payout potential. With Betmaster, you can gamble on a wide array of slots, from traditional three-reel classics to the latest video slots boasting intricate features and immersive themes.
Availability of Asian and Hunting Slot Games at Betmaster
Casino Betmaster recognizes the diversity among its users and goes the extra mile to include games that cater to specific regional preferences. One such endeavor is the inclusion of Asian-themed slots, which incorporate elements of East Asian culture and folklore, providing an authentic oriental gaming experience. These games appeal not only to players in Asia but also to anyone intrigued by Asian aesthetics and narratives.
As for hunting-themed slots, although they may not be as prevalent as Asian slots, there are still options available for players who enjoy the thrill of the chase.
Top Casino Games Available at Betmaster
In addition to an impressive array of slots, Betmaster offers a well-rounded selection of classic casino games. You can enjoy traditional table games such as blackjack, roulette, poker, and baccarat, all available in various formats and rule sets to keep things fresh and interesting.
Betmaster gambling site also houses a live casino section where you can play against real dealers. This feature amplifies the thrill of betting, as it simulates the real-time pressure and excitement of a physical casino right from the comfort of your own home.
If you're more into games of chance, Betmaster's collection of bingo games, could provide a break from strategy-heavy games. The variety at Betmaster ensures there's something for everyone, making it a one-stop platform for diverse gambling preferences.
Live Casino at Betmaster
At the heart of Betmaster's extensive gambling offerings is its Live Casino section, where punters can interact with professional dealers in real-time. Live casino games add an extra layer of thrill and authenticity to the online gambling landscape, as you get to experience the atmosphere of a brick-and-mortar casino without leaving your home.
Live Games Providers in Betmaster
When it comes to the providers for these live dealer games, Betmaster collaborates with industry leaders like Ezugi, and Pragmatic Play. These providers are known for their high-quality live streaming services, ensuring a seamless and immersive experience for all players.
The variety of live dealer games at Betmaster is impressive, ranging from ever-popular choices like Blackjack, Roulette, and Baccarat, to game show-style offerings that inject an added dose of excitement into the live gaming experience.
Advantages of Live Casino Games at Betmaster
Playing with real dealers on Betmaster has several advantages. First, it fosters a social atmosphere that's usually missing from online gambling. You can chat with dealers and fellow players, fostering a sense of community.
Second, the live casino at Betmaster offers transparent gameplay. The action unfolds right before your eyes, giving you peace of mind knowing that the outcomes are truly random.
Lastly, Betmaster ensures high-quality streaming with minimal lag, elevating the live gaming experience. The user-friendly interface allows you to navigate the live casino section with ease, making it accessible to both beginners and seasoned players.
Instant Games at Betmaster
Betmaster provides a captivating range of instant games for those looking for swift betting action. Often referred to as crash games, these offer a unique blend of speed, excitement, and high potential rewards.
Aviator at Betmaster
One of these quick betting games at Betmaster is Aviator, which has rapidly gained popularity among punters. The game's premise is simple, yet engaging. Players place their bets, after which an airplane takes off on the screen, with the potential multiplier rising the longer the plane remains airborne. You decide when to cash out, but if the plane crashes before you do, you lose your wager. The challenge lies in predicting when the plane will crash and making your exit at the right moment to secure the highest possible winnings.
JetX at Betmaster
JetX is another social casino game at Betmaster that mirrors the mechanics of Aviator. As the rocket ascends, the multiplier increases, but it could also explode at any moment. The suspense of not knowing when the rocket will explode adds an exhilarating element to the gameplay. The thrill of potentially gaining a high multiplier and the challenge of deciding when to cash out your stake make JetX a must-try game for all risk-lovers.
Instant games like Aviator and JetX provide an excellent alternative to traditional sports betting and casino games. They offer quick rounds, easy-to-understand rules, and the excitement of real-time betting. So, if you're looking for immediate betting action, Betmaster's crash games might just be the perfect fit for you.
How to Start Play at Casino Betmaster?
Getting started at Casino Betmaster is a straightforward process designed with user convenience in mind. The first step is to navigate to the Betmaster site and click on the "register" button. Here, you'll need to fill in your personal details, including your email address and desired password. Once you confirm your email, you're good to go!
Next, it's time to deposit some funds. Click on the "deposit" button, choose your preferred payment method, and follow the on-screen instructions. Once your deposit is successful, you can start enjoying the array of games Betmaster offers. Just head over to the casino section and choose your favourite game to start your gambling journey.
How to Start Play at Betmaster via App?
For those who enjoy playing on the go, Betmaster also offers a mobile app that is as user-friendly as its desktop counterpart. The first step is to download the Betmaster app from the Apple Store or official site. Once you've installed it, open the app, and click on the "register" button to create your account.
Much like the website, you'll need to enter your personal information and confirm your email. After that, navigate to the "deposit" section within the app to add funds to your account. Once your deposit is successful, the world of Casino Betmaster opens to you, offering the same variety of casino games, sports betting options, and instant games.
Our experience of gamble in casino Betmaster
Armed with a 500 USDT bankroll, our team decided to venture into the exciting world of the Betmaster online casino. Our strategy was clear from the onset – play safe but also take calculated risks for potentially high rewards.
The first choice was the slot game "Gonzo's Quest" from NetEnt. We love the game for its stunning graphics and immersive gameplay, featuring an adventurous character, Gonzo, in search of the city of gold, El Dorado. We started with small bets, roughly 2 USDT per spin to warm up. The excitement began to build as we witnessed small but frequent wins, keeping our balance steady. Emboldened by this, we decided to push the envelope a bit and increased the bet to 10 USDT. The reels spun, and lo and behold, we hit the Free Fall bonus feature. The multiplier climbed up to 5X and we had a nice win, pushing our balance up by a significant 120 USDT.
We then decided to change the tempo and moved to the Live Casino section to try our luck with "Immersive Roulette" from Evolution. This game's allure lies in its multi-camera angles, slow-motion replay, and friendly live dealers, bringing the real-world casino experience to your screen. We allocated 200 USDT for this game. Sticking to the outside bets like Red/Black and Odd/Even with bets around 20 USDT, we were in for the long haul. The first few spins were a mixed bag, but we eventually hit a streak of reds and even numbers, leading to a net gain of 90 USDT.
The thrill of casino gaming is in its unpredictability. And though we had a strategy, the games' outcomes were far from certain. After a series of spins and bets, we concluded our session with a bankroll of 710 USDT.
Betmaster Online Poker Room
While Betmaster does not offer a traditional online poker room, the platform compensates by providing an immersive Live Casino experience for poker lovers, and table poker games versus dealers. This environment allows players to experience the thrill of real-time poker games, delivered directly to their screens from state-of-the-art casino studios.
Betmaster's live poker games are designed to replicate the ambiance and excitement of a physical poker table. Utilizing cutting-edge streaming technology and professional dealers, the platform ensures a seamless and interactive gaming experience.
Poker Types available on Betmaster
The live poker types available on Betmaster cover an array of options, appealing to a diverse group of players. From Triple Card Poker to Caribbean Stud Poker, each game comes with its own set of rules and strategies, allowing players to enjoy different iterations of their favorite game.
Betmaster Casino Welcome Offer
The first perk you're introduced to at Betmaster Casino is the impressive Welcome Bonus. To claim this, simply click the "Register & play!" button to sign up and choose the "100% up to 7,000฿ + 40 Free Spins!" offer. With this, you'll receive a 100% bonus up to 7,000฿ and 40 free spins, valued at 3.77฿ each, on Big Bass Bonanza from Pragmatic Play. Remember to make your initial deposit within 14 days of registration to secure this bonus.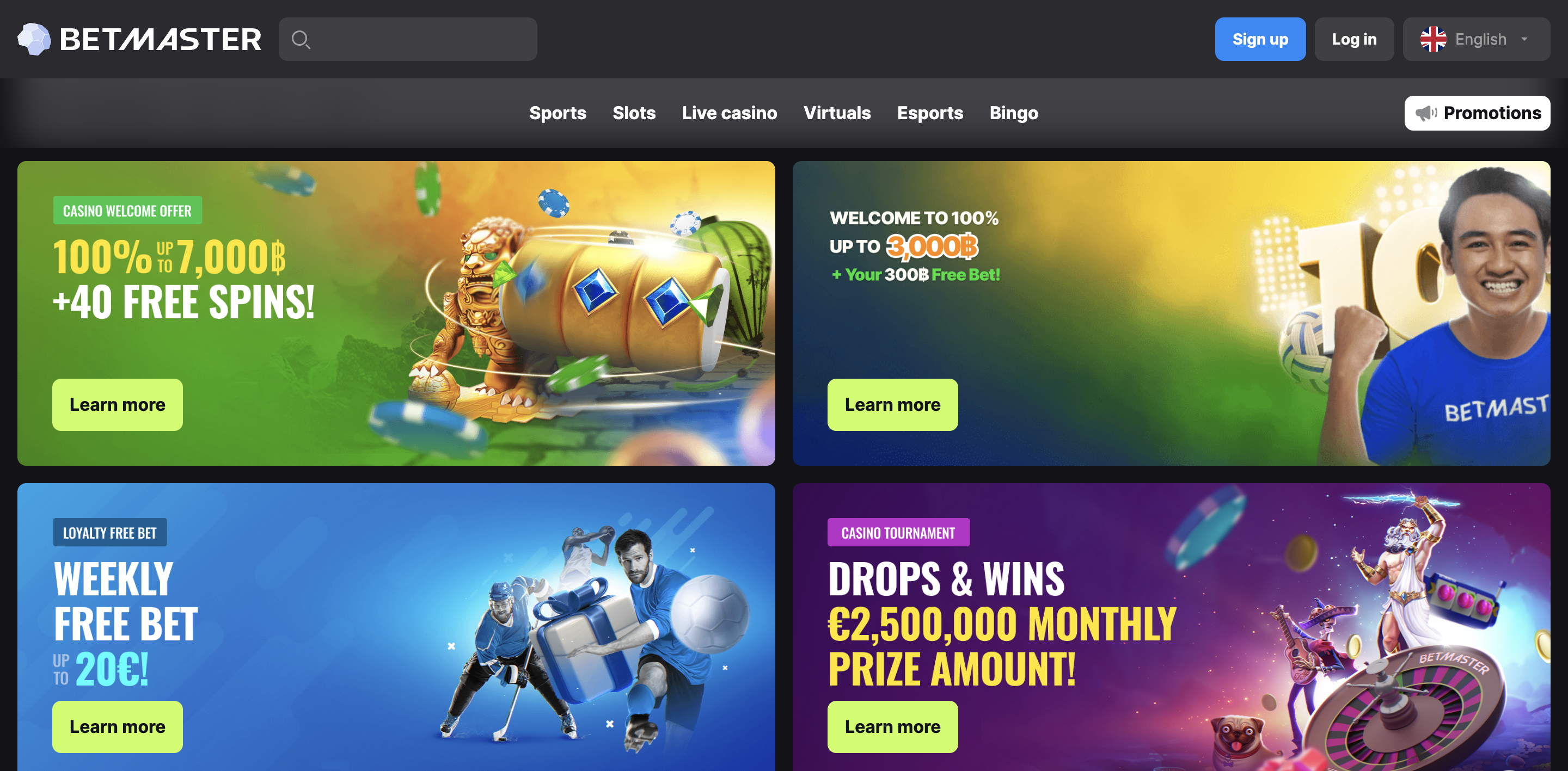 Bonus Wagering Requirements
However, there are certain wagering requirements attached to this offer. First, players must wager the bonus 50 times before any winnings can be withdrawn. This wagering must be completed within 7 days of receiving the bonus. During this period, the highest allowable bet on all casino games is 188.34฿ until the bonus has been wagered. Betmaster reserves the right to cancel any bet or winnings that exceed this limit.
Different game categories contribute varied percentages towards the wagering requirement – Slots contribute 100%, Live Casino contributes 10%, while Table Games contribute 0%. Please check the Bonus Rules page for the excluded games.
Furthermore, the amount transferred to a player's real money account after wagering cannot exceed the total of all Live Casino and Slot bets made during the wagering period, and the bonus multiplied by 10. The amount transferred after wagering Free Spins winnings is limited by a 10x multiplier.
Betmaster Sports Welcome Offer
From Bangkok to Mae Sai and even Su-ngai Kolok, Betmaster caters to all sports enthusiasts across Thailand with premium sports betting covering a wide range of global events. Whether you're cheering from the sidelines or celebrating the winning score, it's time to turn the passion into action with Betmaster's unique Welcome Offer.
Once you make your first deposit, choose the "100% first deposit bonus on Sports" to receive a boost of up to 3,000฿, plus a 300฿ Free Bet once you've wagered the deposit bonus. Alternatively, if bonuses aren't your style, you can select "No bonus".
Bonus Wagering Requirements
It's essential to know that the bonus comes with certain terms. You must wager both the deposit amount and the bonus seven times, and all bets must be at odds of 1.9 or greater. All wagers must be settled within 30 days, and the bonus can be used on any sports matches found on Betmaster. Be mindful, only the first bet placed on the same match counts towards wagering requirements, and betting on contradictory outcomes is not allowed. After wagering, the transferred amount cannot exceed all the sports bets and the bonus amount multiplied by five.
The 300฿ Free Bet is valid only for users who select the sports deposit bonus. Once the deposit bonus has been wagered, the Free Bet will be issued, and it must be used within seven days on any sports events. Winnings from this bet must be wagered once on sports events with minimum odds of 1.9 within seven days.
Remember, the minimum deposit to be eligible for the bonus is 400฿, and bonuses are capped at 3,000฿ for sports and 6,000฿ for the casino. You may only receive one welcome bonus and can't withdraw until the offer's requirements have been met.
Betmaster Bonuses and Promotions
Weekly Cashback
This cashback offer is specifically tailored to ensure that you get a second chance, a bounce back when the week's games didn't pan out as expected.
You are automatically included in this offer, and all you need to do is continue placing your bets or playing your favorite casino games. Should the outcome of your activities last week not favor you, the tide turns this week with a cashback of up to 10%!
'Weekly Cashback' Wagering Requirements
You have 7 days to wager your cashback as follows:
If you're a sports enthusiast, wager it once at minimum odds of 1.4.

Casino lovers, on the other hand, have to wager it five times.
It's important to note that the cashback week starts every Monday at 00:00 (UTC) and ends the following Sunday at 23:59 (UTC).
Weekly Sports Deposit Bonus
With the chance to take a whopping 100% up to 5,500฿ on your next deposit, it's an offer you can't resist. Here's how to claim your bonus:
Tap the '100% great!' button to signal your participation.

Within the next 24 hours, make a real-money deposit of at least 730฿.
'Weekly Cashback' Wagering Requirements
This bonus is available every weekend, from Friday at 00:00 UTC to Sunday at 23:59 UTC. The sports bonus requires a minimum of 10 times wagering, with minimum odds of 1.7 per bet, within 72 hours of receipt. The maximum bet per individual wager using the bonus sum is 1,830฿.
Keep in mind the promotion's period follows UTC time, so adjust accordingly if you are in a different time zone. Once the bonus is credited to your account, it's all systems go for 72 hours of high-octane sports betting action. If the wagering requirements are not met within this time, the bonus will expire.
Weekly Sports Deposit Bonus
Get ready to jazz up your weekend with Betmaster's Casino Deposit Bonus! This fantastic offer gives you 100% up to 5,500฿ on your next deposit. To get started, follow these easy steps:
Tap the '100% great!' button to opt-in.

Make a real-money deposit of at least 750฿ within the next 24 hours.
'Weekly Cashback' Wagering Requirements
This enticing bonus is available every weekend, from Friday at 00:00 UTC to Sunday at 23:59 UTC. The bonus must be wagered a minimum of 35 times by the end of the weekend promotion.
Please remember that only real-money deposits qualify for this promotion. Once the bonus is credited to your account, it must be wagered fully within 72 hours. The wagering can only take place in the casino section.
As different game categories contribute differently towards the wagering requirements, it's essential to remember that slots contribute 100%, live casino games 10%, and table games do not contribute at all.
Please note: If the wagering requirements are not fulfilled within 72 hours, the bonus will be voided.
VIP loyalty program in Betmaster
Betmaster didn't have a specific VIP loyalty program in place. While they did provide several bonuses, promotions, and incentives for their users, these were accessible to all customers, not only to high rollers or frequent players.
Promo Codes: How to get and use promocodes at Betmaster?
Promo codes are an exciting feature of the Betmaster platform, enhancing the betting and gaming experience by providing additional bonuses and incentives. Acquiring and using a Betmaster promocode is a straightforward process designed with the convenience of the users in mind.
To get a promo code at Betmaster, keep a keen eye on their website, subscribe to their newsletter, or follow their social media channels where they regularly announce special promotions. Additionally, various affiliate websites may also distribute promo codes for Betmaster as part of their collaborations.
Once you have your Betmaster promocode, you can apply it easily during the deposit process. After logging into your account, select the deposit option, enter the amount you wish to deposit, and input your promo code in the designated field. After confirming the transaction, the bonus attached to the promo code will be activated. Remember, each promo code has unique terms and conditions, so be sure to understand them before usage.
Betmaster Payment Methods
Betmaster offers a variety of payment methods for its customers, accommodating a wide range of preferences for both deposits and withdrawals. The platform is well-regarded for its flexibility, making transactions easy and convenient for all its users.
Available deposit and withdrawal methods at Betmaster
There are several deposit methods Betmaster provides to its customers. These include popular options like credit cards (Visa, Mastercard), electronic wallets (Neteller, Skrill), cryptocurrencies (Bitcoin, Ethereum), and more.
When it's time to cash out your winnings, withdrawal methods Betmaster supports are equally diverse. You can use the same channels as for deposits, including credit cards, e-wallets, and cryptocurrencies, thus making the withdrawal process straightforward and user-friendly.
Deposit and Withdrawal Limits at Betmaster
Betmaster provides its users with reasonable financial limits to accommodate both casual bettors and high rollers. The minimum deposit at Betmaster is typically quite low, making the platform accessible to everyone, regardless of their budget. It varies depending on the chosen payment method but is generally affordable for most players. Similarly, the minimum withdraw Betmaster allows is set to cater to all users.
| | |
| --- | --- |
| Minimum deposit | 100฿ ($3) |
| One-time withdraw | from 400฿ to 17,000฿ |
| Maximum daily withdrawal limit | up to 70,000฿ |
| Maximum weekly withdrawal limit | up to 500,000฿ |
| Maximum monthly withdrawal limit | up to 2,000,000฿ |
However, the above limits may vary depending on the payment method chosen.
How to deposit money at Betmaster?
Depositing money into your Betmaster account is a simple and hassle-free process. Once logged in, navigate to the 'Deposit' section in your account. Choose from the wide array of deposit methods Betmaster offers, enter the desired amount, and complete the transaction following the provided instructions. It's crucial to note that the processing time varies with each method, although most deposits are typically instantaneous.
How to withdrawal money from Betmaster?
Withdrawing money from your Betmaster account is equally uncomplicated. After logging in, navigate to the 'Withdrawal' section of your account. Choose your preferred withdrawal method and enter the amount you wish to withdraw. Please note that the processing time can vary depending on the chosen withdrawal method. E-wallet withdrawals are typically processed faster than other methods, while credit card and bank transfers may take a few business days.
Registration at Betmaster: How to Sing Up?
Embarking on your betting journey at Betmaster begins with a simple and quick registration process. The following steps will guide you on how to sign up at Betmaster.
Step 1: Start by visiting Betmaster. You can do this either by directly going to the official site or using a mirror site via our link. The layout of the registration page is user-friendly, making it easy for users to navigate.
Step 2: On the top right corner of the Betmaster homepage, you'll find the 'Register' button. Click on it to begin your registration on Betmaster official site. You'll need to provide some basic information including your name, email address, and preferred currency. Make sure to create a strong password to secure your Betmaster login credentials.
Step 3: Once you've successfully registered and signed in to your Betmaster account, the next step is to make your initial deposit. Go to the 'Deposit' section and choose from the diverse payment methods available, then follow the instructions to deposit funds into your account.
Step 4: Now that your account is funded, you're ready to place your first stake. Browse through the various sports and casino games available, pick your preferred options, enter your stake amount and place your bet.
Registration Requirements
To successfully sign up at Betmaster, there are a few requirements that you need to fulfill. You must be at least 18 years old, and you'll need to provide proof of identity and address as part of Betmaster's Know Your Customer (KYC) process. The verification process helps ensure the safety and security of all Betmaster's customers and their transactions.
How to Register with the Mobile App?
Registering with the Betmaster mobile app is as straightforward as the web version. Download the Betmaster app from either the Apple Store or Google Play Store, then open it. Tap on the 'Register' button, provide the necessary details, and follow the prompts to complete your registration. Once done, you can use your Betmaster login details to access your account on any device.
How to Get a Welcome Bonus Betmaster with Registration?
Betmaster appreciates its new customers by offering them a welcome bonus. To claim your welcome bonus, follow the sign-up process as outlined. Once you've made your first deposit, the bonus will be automatically credited to your account. Be sure to read the terms and conditions attached to the bonus, such as wagering requirements and expiration dates, to fully understand how it works.
Signing up for an account on Betmaster is a straightforward process designed with user convenience in mind. By following the simple steps outlined, you can quickly begin your Betmaster journey.
Betmaster Account Verification Instruction
Account verification is an essential step in your Betmaster journey, assuring your account's security and maintaining the integrity of the platform.
After registering, you'll need to verify your Betmaster account to ensure a seamless betting experience. Begin by logging in and navigating to your account settings. Look for the 'Verification' option and click on it.
Betmaster uses a standard two-step verification process. Firstly, you'll be required to provide a valid ID for identity verification. Acceptable forms of ID include a passport, driver's license, or any other government-issued document. Scan or take a clear photo of your ID and upload it onto the platform.
Next, you must verify your address. You can do this by submitting a utility bill, bank statement, or any official document displaying your full name and residential address. Ensure the document is recent, ideally not older than three months.
Once you've uploaded these documents, Betmaster's team will review them. This process can take up to 72 hours, and once completed, you'll receive an email confirmation. By verifying your account, you ensure your betting experience remains secure, unrestricted, and in line with Betmaster's terms and conditions.
Betmaster Mobile App for Android and iOS
Enjoying Betmaster's vast range of betting options and casino games has never been easier, thanks to their dedicated mobile apps for both Android and iOS platforms. This comprehensive guide will walk you through everything you need to know about the Betmaster mobile apps, from system requirements to download, installation, and updating processes.
System Requirements Betmaster App for Android and iOS
System requirements for the Betmaster app for Android and iOS are quite minimal, designed to ensure a broad spectrum of users can access it. Android users need to have a device running Android version 5.0 or higher. On the other hand, iOS users require a device operating on iOS 9.0 or later, making the Betmaster app compatible with most iPhones, iPads, and iPod touch.
How to download Betmaster APK for Android?
Downloading the Betmaster APK for Android involves a few more steps than usual due to Google Play's restrictions on gambling apps. Start by visiting the official Betmaster website via your mobile browser. Scroll down to the bottom of the homepage and look for the Android app download link. Tap on it to start downloading the APK file.
How to install Betmaster App on Android?
To install the Betmaster app on your Android device, you'll first need to allow installations from unknown sources. This can be done by navigating to your phone's settings, then 'Security' (or 'Privacy' on some devices), and then toggle on 'Unknown sources.' After this, go to your 'Downloads' folder, locate the Betmaster APK file, and click on it to start the installation process.
How to download and install Betmaster App on iOS?
For iOS users, downloading and installing the Betmaster app is a breeze, thanks to the app being available on the App Store. Just search for 'Betmaster' in the App Store, tap on 'Get,' and the app will be installed on your device automatically. Ensure you're logged into your Apple ID to facilitate this process.
How to Update Betmaster App?
Regarding updates, the Betmaster app for both Android and iOS will usually update automatically if you have automatic updates enabled on your device. If not, you can update the app manually. For Android, you'd need to visit the Betmaster website and download the latest APK file, then install it just like the initial installation. For iOS users, visit the App Store, search for the Betmaster app, and if an update is available, an 'Update' button will appear. Click on it to update the app.
Tips and Best Practice for playing at Betmaster
To maximize your gaming experience at Betmaster, consider these helpful tips and best practices. First, familiarize yourself with the site's rules and regulations. Understanding the ins and outs of the platform, including the wagering requirements, game restrictions, and betting limits, can save you from unpleasant surprises.
Next, don't forget to take advantage of the various promotions that Betmaster offers. These promotions can significantly boost your playing budget, giving you more chances to win. However, make sure to read the terms and conditions attached to each bonus to know how to fully utilize them.
When placing bets, especially on sports, do thorough research. Being informed about the teams, players, or events you are betting on increases your chances of making successful predictions. Betmaster offers a wide range of sports and markets, so there are plenty of opportunities to find bets that suit your knowledge and preferences.
Lastly, always practice responsible gambling. Set limits on your betting, both in terms of time spent on the site and the money you're willing to risk. Remember, the primary purpose of playing at Betmaster should be entertainment. Following these tips will ensure that your Betmaster experience is both enjoyable and rewarding.
Betmaster Mobile Website
The Betmaster mobile website provides a user-friendly experience for those on the go. It's a seamless way to access your favorite games, deposit funds, and place bets straight from your mobile device.
How to use the Betmaster Mobile Website?
To use the Betmaster mobile website, simply open your browser and type in the Betmaster URL. The mobile version loads automatically, offering the same functionality as the desktop site. The intuitive interface allows you to navigate through the platform easily, find your favorite games, track your bets, manage your account, and make deposits and withdrawals.
Betmaster License and Fairness
As a betting and online casino platform, Betmaster operates under a comprehensive gaming license, registered in Curacao. It is regulated and monitored for fairness and transparency. This ensures that all games provided by Betmaster follow the principles of fair play and randomness, giving every player an equal chance to win. The license also guarantees the protection of players' funds and personal information, fostering a secure and trustworthy gaming environment.
Betmaster Customer support
Betmaster places great importance on providing excellent customer service. Players can reach out to the customer support team through various channels, including email, live chat, and telephone. The support staff are professional, responsive, and committed to resolving any queries or issues. They are available around the clock, providing help and guidance whenever necessary.
It is essential to note that while Betmaster strives to provide a stellar gaming experience, users should also take measures to protect their accounts. This can be achieved by using secure passwords, keeping login details confidential, and regularly updating personal information.
Final Opinion on Betmaster as bookmaker and online casino
In a bustling digital betting landscape, Betmaster carves out a commendable niche, serving a global clientele with an extensive variety of live events, lucrative payouts, and a user-centric approach. The bookmaker goes the extra mile by offering both conventional and crypto payment options, round-the-clock customer support, and mobile apps to enhance user experience. However, it's not without its challenges, as the limitations under a Curacao license, less varied sports options, and customer service delays might hold it back from reaching its full potential. It also imposes some betting and withdrawal limits that might not sit well with all users. Thus, while Betmaster makes a compelling case for your online betting and casino needs, it's crucial to weigh its offering against these constraints for an informed decision.
Read this page in other languages:
Accepted Cryptocurrencies
Available Games
Supported Languages
Pros
Broad Availability: Operates worldwide with multilingual site options.

Variety in Betting: More than 10,000 live and in-play events monthly, with 200+ football markets, Asian Handicap markets, and multiple player specials.

High Payouts: Particularly noted for major tennis events and a range of Asian markets.

Numerous Payment Options: Accepts many currencies and also provides for crypto payments.

Customer-centric Features: Swift registration process, 24/7 customer support, and user-friendly desktop/mobile site.

Comprehensive Mobile App: Available for both Android and iOS platforms.
Cons
Limited License: Operates under a Curacao license, which might not offer the same player protections as licenses from other jurisdictions.

Restricted Options: Offers less than 20 sports, no cash out, bet builder or request a bet features.

Betting Limits: Minimum bet is €/$2.

Fees may apply on the second daily withdrawal.

Customer Service: May experience slow response times from customer support.