Dive into our comprehensive review of BC.Game, a leading online bookmaker and casino, designed for both novices and seasoned gamblers. This article delivers an in-depth analysis of BC.Game's key features, including payment methods, registration, account verification, mobile app, and customer support, offering practical guidance for potential users. It also offers invaluable tips for playing, and insights into its licensing, mobile website, and fairness. By exploring the significant pros and cons, the article provides a balanced overview of BC.Game's services. Ideal for individuals considering online betting platforms and particularly suitable for crypto enthusiasts, this review promises useful insights to help you make an informed decision about BC.Game.
Review of the bookmaker and online casino BC.Game is also available in other languages:
Insights on the BC.Game Establishment
The BC.Game platform has been serving the betting community since 2017, acting as a magnet for numerous bettors worldwide. Providing an extensive range of sports and esports markets, the platform has successfully catered to the varied interests of punters. From American Football and Tennis to esports giants like Dota 2 and CS:GO, players have a plethora of options to place stakes on.

However, BC.Game isn't merely about sports and esports. With its multitude of products including Casino and Live Casino, it offers gamblers a wide variety of entertainment. Moreover, the company has made a considerable effort in making their platform accessible, with a well-optimized website available in a broad range of languages including English, French, and Korean, and supporting a host of cryptocurrencies for seamless transactions. Notably, their robust customer service is available around the clock via multiple channels, ensuring player issues are addressed promptly.
Key Advantages of Placing Stakes at BC.Game
BC.Game's distinctiveness lies in its user-centric approach. For starters, the bookmaker BC.Game review reveals an impressively wide variety of betting markets across various sports and esports, catering to all types of bettors. The platform provides different types of odds, such as American, Decimal, and Hong Kong, thereby offering flexibility and catering to individual betting preferences.
When it comes to finances, BC.Game's casino ensures hassle-free transactions with an extensive range of deposit and withdrawal methods. Crypto enthusiasts would be pleased to find Bitcoin, Ethereum, and other major cryptos as part of their offering. The minimum betting limit is set low at $0.1, making the platform accessible to casual bettors.
Our analysis of the BC.Game betting site reveals that it's a reliable choice for bettors and casino players alike. However, it's always essential for players to evaluate a platform against their specific needs and preferences. The casino BC.Game provides a versatile gambling and betting environment that accommodates a wide range of betting preferences, which, in our opinion, deserves a spot in the list of bookmakers to consider for your next wagering adventure.
A Deep Dive into BC.Game's Online Sports Betting
Bettors who favor diverse staking opportunities will find BC.Game's sportsbook an appealing playground. The sportsbook BC.Game platform provides betting on a multitude of sports, from mainstream options like Football and Basketball to niche markets like Gaelic Hurling and Ski Jumping. Punters looking for some virtual adrenaline can also explore esports lines like Dota 2 and CS:GO, which bring an additional layer of excitement.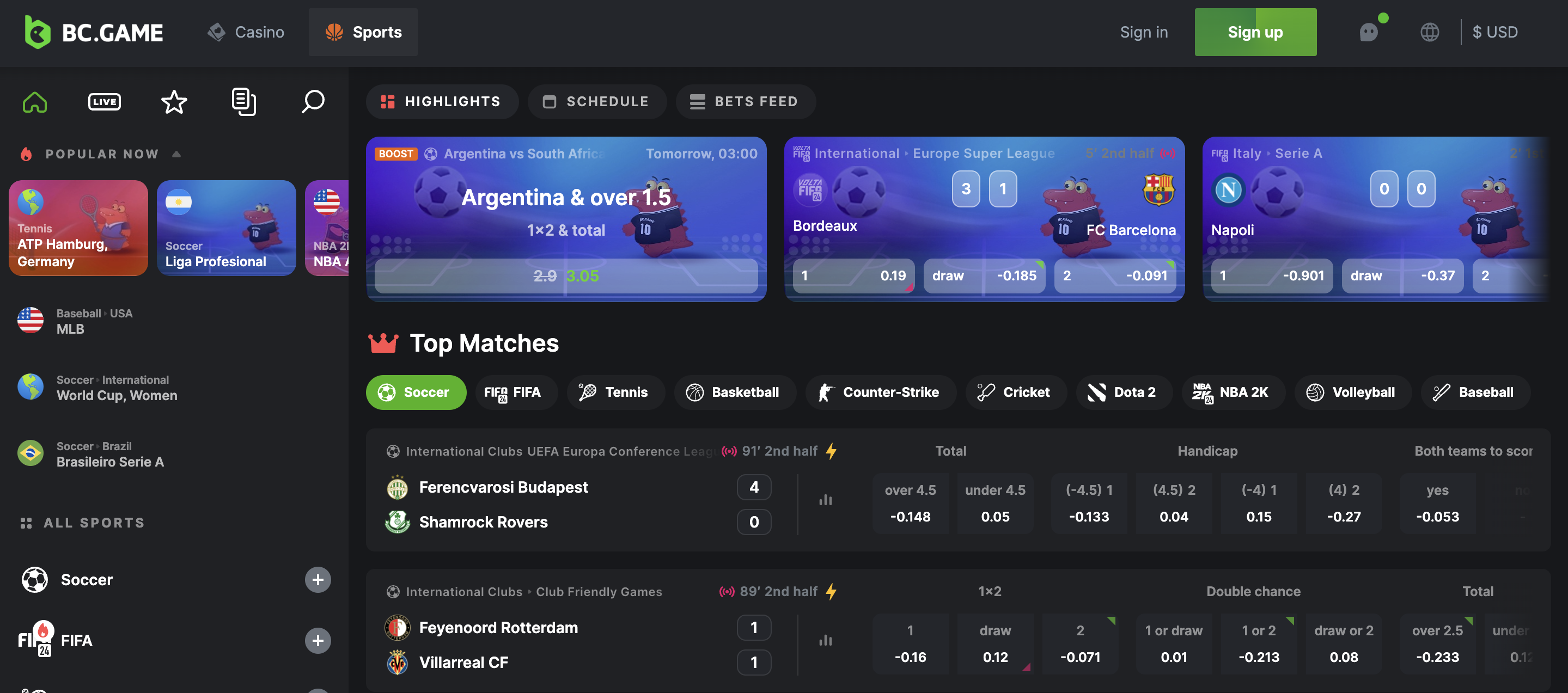 Our review of this BC.Game betting site shows that they've placed significant emphasis on providing an inclusive and comprehensive betting environment. They offer various types of odds, such as American, Decimal, Hong Kong, catering to bettors worldwide. The bookmaker BC.Game also enables gamblers to start betting with a minimum limit of just $0.1, making the platform accessible for all levels of bettors.
Top Sports Betting Markets at BC.Game
BC.Game is not just about quantity; the quality of the markets on offer is also commendable. Popular sports markets include Football and Basketball, attracting a large number of bettors due to their wide coverage and deep markets. On top of that, Tennis also attracts a lot of attention, offering opportunities to place stakes on major tournaments as well as lesser-known competitions.
The esports betting scene at BC.Game is impressive, featuring popular games like League of Legends and Starcraft II, to cater to the ever-growing esports fanbase. Hence, regardless of your preference, the bookmaker BC.Game is likely to have a market that suits your betting appetite.
The Process of Placing Bets at BC.Game
Placing BC.Game bets is a straightforward process, designed to ensure a smooth experience for both seasoned bettors and those new to the game. After creating an account, punters need to deposit funds into their account through one of the many payment methods available, including credit cards, e-Wallets, or even cryptocurrencies.
Upon successfully depositing, you can navigate through the platform to find your desired sports or esports market. After selecting your match or event, you'll see various betting options available. Pick your choice, decide on your stake, and place your bet. It's as simple as that.
With BC.Game, betting on your favorite sports and esports is just a few clicks away. The platform's commitment to providing a seamless betting process, coupled with an extensive range of markets, makes the BC.Game betting site a noteworthy choice for punters of all kinds.
In-Play Action and Broadcast Features at BC.Game
Live betting, or in-play betting as it's also known, is a thrilling feature that BC.Game brings to the table, allowing punters to place bets while the action unfolds. Our tests of this feature on the BC.Game platform have shown that it brings an extra layer of excitement and strategy to the betting process. Punters can make educated live bets on BC.Game based on the flow of the match, taking advantage of fluctuating odds for maximum potential returns.
Alongside in-play betting, BC.Game complements the betting thrill with its live streaming feature. Although it's not available for all events, the BC.Game live streaming feature does cover significant sports events, offering real-time action that punters can enjoy. This feature goes hand in hand with live betting, providing players a chance to watch and analyse the game before making their moves.
An Array of Bet Types at BC.Game
BC.Game brings variety not just in sports selection but also in bet types. From single bets to complex accumulator bets, BC.Game allows punters to tailor their betting strategy according to their preference and risk appetite. Accumulator bets, where punters can combine multiple selections into a single bet, can provide higher returns albeit with higher risk.
Systems of bets are also available, providing a flexible betting approach where not all selections need to win. This offers a safety net, and it can be a lucrative strategy for those who are well-versed in predicting multiple events.
Auxiliary Betting Tools for Enhanced Gameplay
Beyond the conventional, BC.Game provides additional betting tools for a comprehensive betting experience. One such feature is the BC.Game cash out function, which allows players to secure profits or cut losses by cashing out bets before the event concludes. It's a strategic tool, offering a chance to make decisions on-the-fly based on the live performance.
Our experience of betting on BC.Game sportsbook
Drawing on our experience, we decided to delve into the sportsbook offerings of BC.Game. We had 500 USDT at our disposal and decided to strategically stake on two different betting markets – one prematch bet and one live bet.
Our first pick was the Premier League football match between Manchester United and Liverpool. As seasoned bettors, we recognize that this clash often promises goals. So, we opted for the Over/Under bet type, betting 200 USDT on over 2.5 goals. This decision was based on our understanding of the teams' attacking prowess and their history of high-scoring games.
On match day, the atmosphere was tense, and as we watched the prematch rituals, we could feel the excitement. The whistle blew, and the game commenced. It was a fast-paced match with both teams on the offensive. Our prediction paid off, with three goals scored in the match, bringing us a tidy return.
As the evening unfolded, we decided to enter the realm of eSports, specifically a Dota 2 tournament. Being a dynamic and fast-paced game, it provides an excellent platform for live betting. Armed with our remaining 300 USDT, we decided to back Team Liquid, who were trailing but showing signs of a comeback.
We used the live betting feature on BC.Game and staked on Team Liquid to win the match. Live betting on BC.Game was engaging, with odds updated in real time reflecting the in-game dynamics. Despite being behind, Team Liquid's strategic play and our understanding of their late-game strength led us to make this decision.
As the game progressed, Team Liquid's performance began to improve, and they slowly closed the gap. The final moments were tense, but Team Liquid pulled off a stunning comeback, validating our bet and adding a substantial return to our pot.
This practical test on BC.Game demonstrated the platform's broad betting market and types, providing exciting opportunities to strategize and win. Whether you're a football fan or an eSports enthusiast, BC.Game offers a comprehensive betting platform that caters to various interests. Our journey was thrilling, and the winning bets were the cherry on top, showcasing the potential rewards of insightful and strategic betting.
A Closer Look at BC.Game's Online Casino and Slots Spectrum
BC.Game is more than just a sports betting platform; it is a vibrant hub for casino enthusiasts. As a well-rounded gambling site, BC.Game offers a variety of casino games that cater to different tastes. We have tested the online casino BC.Game and have found it offers an exceptional gaming environment. Whether you are a fan of classic table games or love the thrill of spinning slots, BC.Game provides an array of options.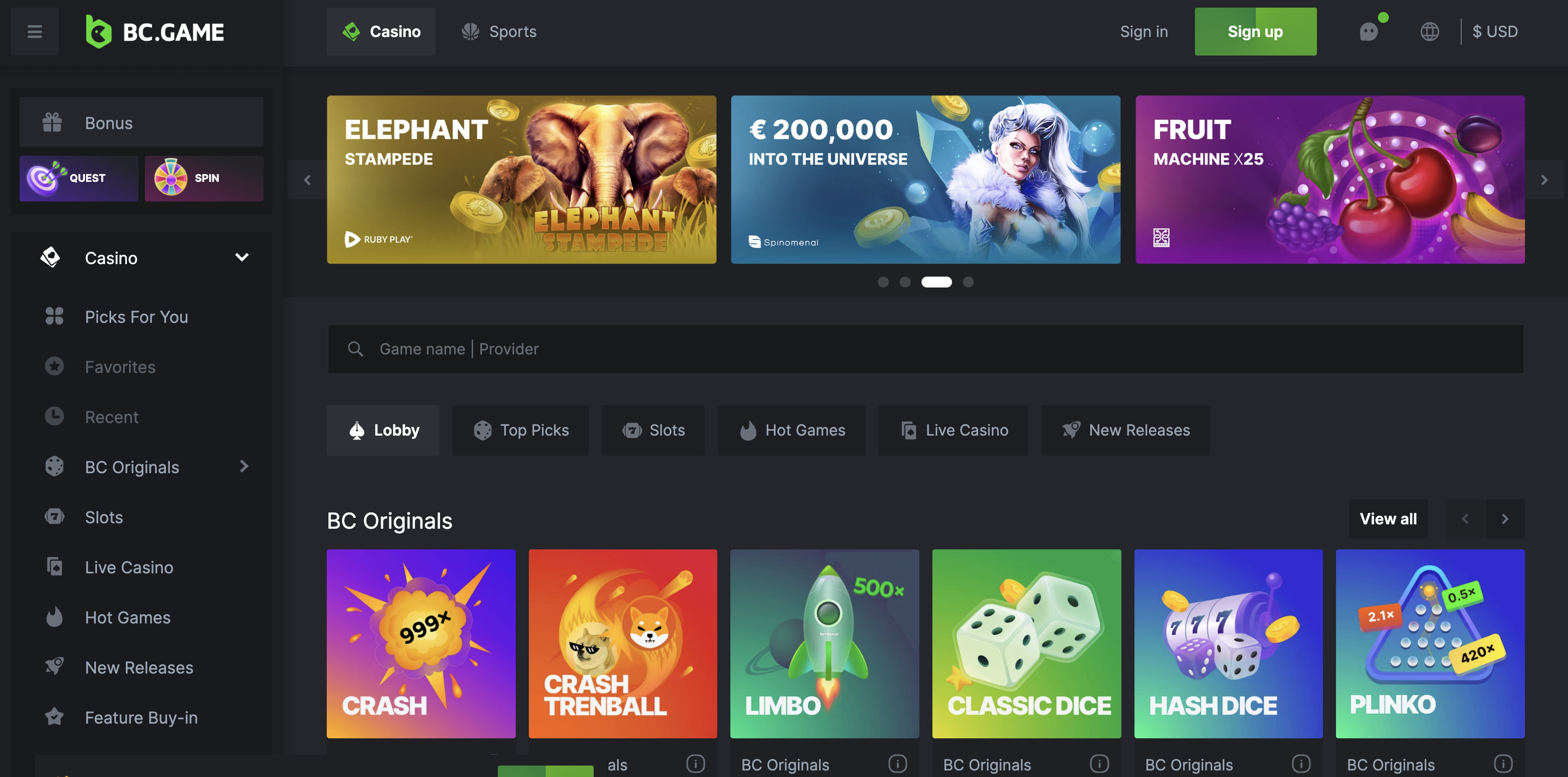 Unveiling BC.Game's Premier Casino Attractions
BC.Game's casino games stand out for their diversity and quality. One can try their luck at Blackjack, a staple of any casino worth its salt. Alternatively, you may wish to pit your wits against the Roulette wheel. For Poker enthusiasts, several variants are available, providing countless hours of strategic gambling on BC.Game.
Slot aficionados are well catered for at BC.Game, with an extensive range of slot games. Our experience with these games revealed high-quality graphics, engaging themes, and generous bonus features. Titles like "Book of Rampage" and "Starburst" are fan favorites due to their immersive gameplay and potential for big wins.
Live casino games are another standout feature at BC.Game. These games offer an authentic casino experience from the comfort of your home, complete with live dealers and real-time action. From Baccarat to Texas Hold'em Poker, the live casino section is the closest thing to being in a physical casino, making BC.Game a complete gambling site.
Engaging in BC.Game's Casino Extravaganza: The First Steps
Getting started at the casino BC.Game is quite straightforward. The first step is to register an account, which involves providing basic information such as your name, email, and creating a password. Upon registration, it's necessary to make a deposit. BC.Game provides various deposit methods including cryptocurrencies like Bitcoin, Ethereum, as well as traditional methods like credit cards.
Once the deposit is confirmed, you can explore the vast selection of BC.Game casino games. Navigate through the user-friendly interface to find your preferred games, whether they be slots, table games, or live casino offerings. If you're a newcomer, you may wish to start with games of chance like slots before moving on to strategy-based games like Poker.
Diving into BC.Game's Authentic Live Casino
BC.Game's live casino is an immersive haven for gamblers seeking the thrill of a real casino from the comfort of their homes. With an array of live dealer games, BC.Game provides an experience that feels both genuine and engaging. From the shuffle of cards to the spin of the Roulette wheel, the live casino BC.Game redefines virtual gaming.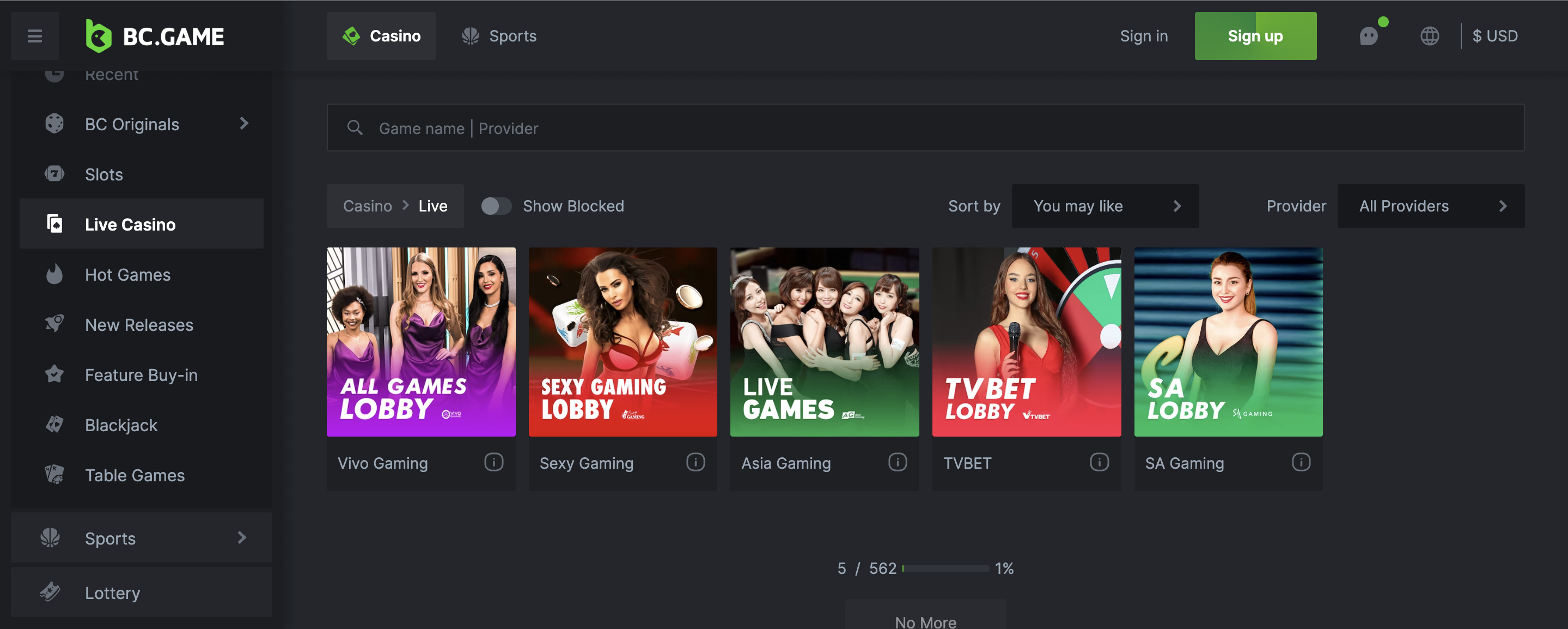 You can play with real dealers on BC.Game, offering a competitive edge and interactive experience to players. Whether it's Blackjack, Baccarat, or Roulette, each game is led by professional dealers who bring a human touch to online gaming. Our tests have shown that BC.Game live casino operates seamlessly, with high-quality video streaming that makes you feel part of the action.
Breaking Down BC.Game's Rapid-Fire Instant Games
If you're a fan of quick betting games, BC.Game has got you covered. With offerings like the adrenaline-pumping JetX and the strategic Mines, BC.Game offers exciting instant games that are both rewarding and entertaining.
The JetX game at BC.Game is a crowd-pleaser. It's a social casino game that involves predicting when a virtual airplane will crash. The higher it flies, the larger the potential winnings. However, timing is key – cash out before the plane crashes, or you lose your stake.
Mines, another popular quick betting game, is a test of nerve and strategy. You uncover mines on a grid, with each safe square boosting your stake. The game ends when you uncover a mine, but you can choose to cash out your winnings at any point.
Our experience of gamble in casino BC.Game
Embarking on our BC.Game adventure with a bankroll of 500 USDT, we decided to split our gaming between two enticing options: the slot game "Gonzo's Quest" from NetEnt, and the live casino game "Immersive Roulette" from Evolution.
Starting off with "Gonzo's Quest," we appreciated the vibrant graphics and intriguing narrative centered around a Spanish explorer. This game's allure resides in its innovative avalanche feature: instead of spinning reels, symbols cascade down the screen, and winning combinations explode to make way for new potential wins. We decided to stake 20 USDT on each spin, balancing between the potential for profit and bankroll longevity. After a handful of spins, fortune graced us with a sequence of avalanches, boosting our payout to a rewarding 200 USDT. We decided to quit while ahead, thus completing our slot gaming session.
Next, we moved to the Live Casino section to play "Immersive Roulette," a popular variant that offers a unique, almost cinematic, roulette experience. The game is renowned for its multi-camera angles, slow-motion replay, and high-definition video streaming, making it an engaging choice.
Since roulette is a game of chance, we chose to bet 50 USDT on a selection of even-money bets, like Red or Black and Odd or Even, while also placing some inside bets on specific numbers for potentially larger payouts. Our strategy was to spread our bets and increase our chances of winning, even if the wins might be smaller. As the wheel spun, we held our breath, watching the ball as it landed on our number, resulting in a payout of 350 USDT.
Our adventure with BC.Game ended with an impressive winning streak, but we were mindful that casino gaming is unpredictable and results could swing either way. What stayed consistent was the thrilling gaming experience that BC.Game provided, which we believe is the platform's key attraction. The user-friendly interface, a diverse selection of games, and the authentic, immersive experiences, makes BC.Game a worthy choice for both slot and live casino enthusiasts.
An Exhilarating Start with BC.Game's Welcome Bonus
The gaming experience on BC.Game begins on a high note, courtesy of their generous welcome bonus. Unlike any other, BC.Game allows you to see your initial deposit bonus immediately, offering an astounding 180% bonus on your first deposit. This robust start, part of the BC.Game bonuses, sets the stage for an exhilarating journey of luck and reward.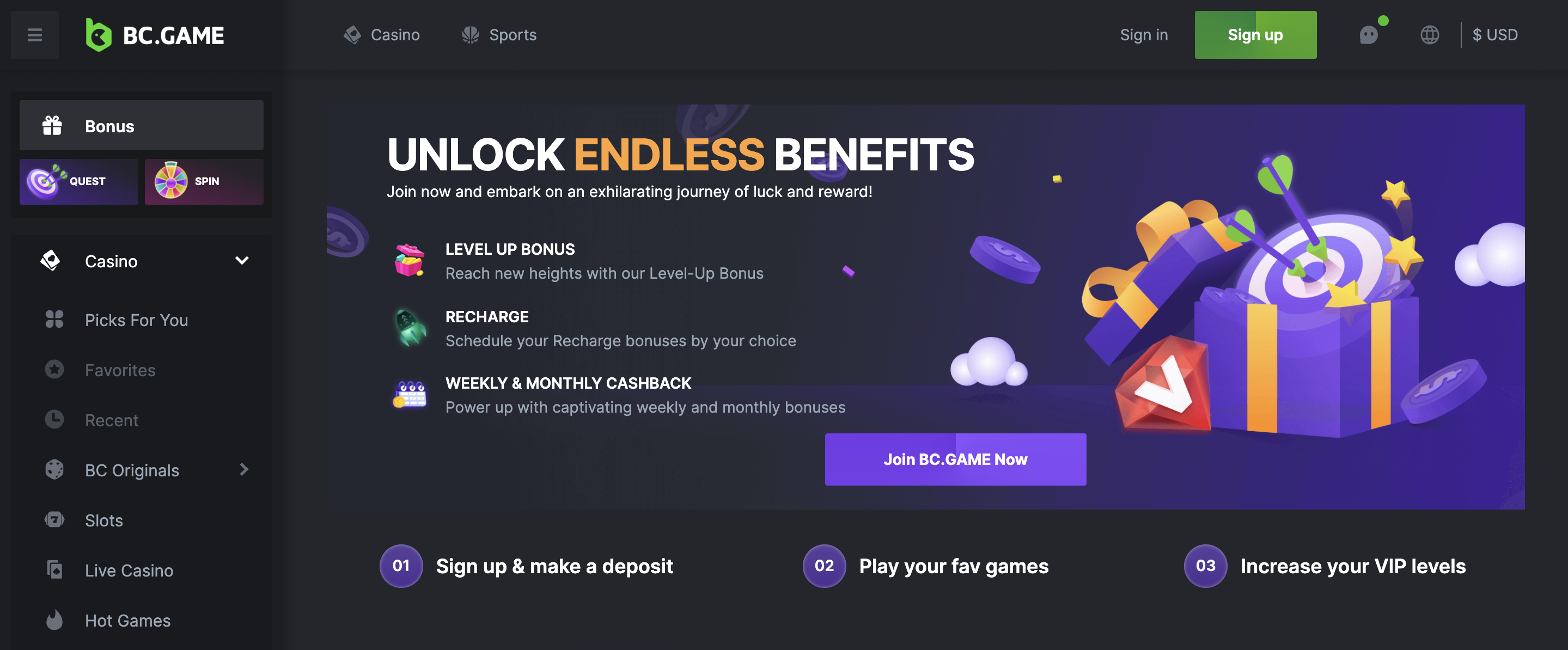 Exciting Bonuses and Promotions at BC.Game
BC.Game shines in its array of bonuses and promotions. The platform's unique Level Up bonus lets you reach new financial heights by offering surprising rewards as you level up, part of the platform's commitment to maintaining a thrilling gaming atmosphere. With BC.Game promotions, you can schedule your recharge bonuses to suit your preferences and also take advantage of captivating weekly and monthly cashback bonuses.
Moreover, BC.Game offers a four-tier deposit match bonus system, where the bonus percentages increase with subsequent deposits. The bonuses start at 180% for the first deposit, jump to 240% for the second, 300% for the third, and peak at a whopping 360% for the fourth deposit. These lucrative bonuses provide an excellent opportunity to grow your crypto holdings and earn the platform's unique Crypto coins, BC Dollar (BCD).
The Thrilling BC.Game VIP Loyalty Program
The BC.Game VIP loyalty program presents a tantalizing proposition for regular players. From VIP level 38, you unlock the No-fee withdrawal perk, withdrawing your winnings with no additional charges. Each rising VIP level comes with new benefits, such as rewarding lucky spins, access to a dedicated VIP host, private chats with other players, and a chance to unlock amazing level-up bonuses. The thrill of higher cashback and exclusive rewards that are part of the BC.Game VIP loyalty program are sure to leave you amazed.
Navigating BC.Game Promocodes
Promocodes, another exciting aspect of BC.Game, provide an easy way to earn additional rewards. These BC.Game promocodes can be obtained through the platform's promotional activities or affiliated websites. To use a promo code, simply enter it into the designated area in your BC.Game account, and the associated reward will be instantly added to your balance. It's a straightforward way to maximize your rewards at BC.Game and enjoy a richer gaming experience. 
Understanding BC.Game's Transaction Procedures: Deposits and Withdrawals
Navigating the world of online transactions on betting platforms can be a daunting task. But, with BC.Game, the process is remarkably straightforward. Let's delve into the deposit and withdrawal methods at BC.Game and learn about their limits and timelines.
The platform offers a broad spectrum of deposit methods to cater to its diverse global audience. Whether you're a fan of traditional banking systems or prefer the innovation of cryptocurrencies, BC.Game has you covered. The deposit methods at BC.Game span across credit/debit cards, bank transfers, e-wallets, and an extensive range of cryptocurrencies. Importantly, the minimum deposit at BC.Game is designed to be accessible to all, encouraging both high-rollers and casual gamers to enjoy the thrill of betting.
Similarly, the withdrawal methods at BC.Game reflect the same variety. Players can conveniently cash out their winnings through the same banking or cryptocurrency method they used for the deposit. This seamless integration of withdrawal methods at BC.Game ensures that players have a smooth, hassle-free experience when accessing their winnings.
A critical aspect to consider is the minimum withdrawal limit at BC.Game. Catering to all players, BC.Game has set a low minimum withdrawal limit, thereby enabling players, no matter how small or large. Specifically, the minimum withdrawal amount is as low as $/€30.00, while the maximum withdraw limit at BC.Game stands at a generous $/€30,000.00. This allows for a great deal of flexibility and ensures all players can efficiently manage their winnings.
For those looking to go big, the platform has a maximum deposit limit of $/€60,000.00. This high ceiling caters to serious gamblers looking to stake high in the hope of hitting the jackpot.
The deposit and withdrawal methods at BC.Game are not only diverse but also secure. Whether you choose to deposit via cards such as Visa or MasterCard, e-Wallets like ApplePay and AstroPay, or even cryptocurrencies, you can rest assured that your transactions are safe. The same applies to withdrawals. Moreover, BC.Game also accommodates bank transfers, further broadening the range of transaction options available to players.
Embarking on the BC.Game Journey: A Step-by-Step Guide to Registration
In the world of online casinos, BC.Game has carved its name with top-notch services. From a plethora of games to enticing bonuses, the platform leaves no stone unturned in offering a memorable gaming experience. However, the first step to enjoy these benefits is to sign up for BC.Game. This article will guide you through the registration process and the subsequent steps to kick start your BC.Game adventure.
Step 1: Making the First Move – Visiting BC.Game. Kickstart your journey by visiting the BC.Game website. You can easily access the official site or its mirror using our link. The user-friendly interface and easy navigation are tailored to make your first impression a pleasant one.

Step 2: Entering the BC.Game World – The Sign Up Process. To register on BC.Game, locate the "Sign Up" button on the top right corner of the homepage. Click on it and a registration form will appear. Fill in the necessary information, including your email and a unique password. Make sure to use a strong password for enhanced security. Upon completion, click on "Register". A confirmation link will be sent to your email. Click on the link to complete your BC.Game sign in process.

Step 3: Fueling Your Journey – Making a Deposit. Having created your BC.Game login credentials, it's now time to make a deposit. Navigate to the "Cashier" section, select "Deposit", and choose your preferred deposit method. Follow the on-screen instructions to complete the transaction. The minimum deposit limit is conveniently low, accommodating gamers of all budget sizes.

Step 4: Ready, Set, Bet! – Placing Stakes. With your account now funded, you can place stakes on any game you fancy. Explore the platform's wide range of games and choose based on your preference. Remember, responsible gaming is paramount.
The Ground Rules – Registration Requirements at BC.Game
Registering on BC.Game requires you to be at least 18 years old, ensuring the platform upholds responsible gambling. Additionally, make sure to check whether online gambling is legally permitted in your jurisdiction before you sign up.
On-the-Go Gaming – Registering with the BC.Game Mobile App
BC.Game extends its seamless gaming experience to mobile platforms as well. To register via the mobile app, download it from the respective app store. Open the app and follow the same sign-up process as detailed above for the web version. Within a few taps, you'll be ready to enjoy your favorite games anywhere, anytime.
Start with a Bang – Securing the Welcome Bonus at BC.Game with Registration
One of the exciting aspects of BC.Game is the enticing welcome bonus awaiting new registrants. Once you complete your BC.Game sign in process and make your first deposit, you become eligible for the welcome bonus. Navigate to the "Promotions" tab and claim your bonus, which provides an excellent boost to kick off your gaming journey.
Navigating the BC.Game Verification: A Brief Guide
To maintain security and authenticity, BC.Game requires players to go through an account verification process. Initiating the BC.Game verification process involves submitting certain documents, as part of the BC.Game KYC (Know Your Customer) procedure. The verification not only enhances your account's security but also ensures smoother transactions. To commence the BC.Game KYC process, navigate to your account settings and locate the verification section. Here, you'll need to upload scanned copies of your legal identification document (like passport or driver's license) and a recent utility bill or bank statement for address verification. Once submitted, BC.Game will review the documents, and upon successful verification, your account becomes fully activated. Thus, completing the BC.Game account verification leads to a seamless gaming experience.
Embracing Mobile Gaming with the BC.Game App for Android and iOS
Today's gaming world demands on-the-go accessibility, and BC.Game understands this well. Hence, it offers a state-of-the-art mobile app for both Android and iOS users, enhancing their gaming experience with convenience and flexibility.
System Compatibility for BC.Game App
Before you dive into the world of mobile gaming with the BC.Game app, it's essential to understand the system requirements. For an optimal gaming experience, Android users should ensure that their device runs on Android version 7.0 or above. Similarly, iOS users need to have iOS 10.0 or later versions.
Guide to Download BC.Game APK for Android
To download the BC.Game APK on Android, you should use the Google Chrome browser. Open BC.Game's official website, tap the menu button, and look for the "Install App" option in the list popup. Clicking on this will initiate the download of the BC.Game APK on your Android device.
Installing BC.Game App on Android
Once you've successfully downloaded the BC.Game APK, your following course of action is to implant the BC.Game application into your Android apparatus. Commence by accessing your gadget's settings, and grant authorization for installations deriving from unidentified sources. Subsequently, navigate to the whereabouts of the downloaded APK document via your file manager and tap on it to kick off the installation course. Heed the instructive prompts and be patient as the process culminates. Upon triumphant installation, the BC.Game application emblem will emerge on your home display.
Process to Download and Install BC.Game App on iOS
The process for iOS users to download and install the BC.Game app slightly varies. Open the Safari browser on your iPhone or iPad and navigate to the BC.Game website. Click on the sharing button and choose the "Add to Home Screen" option from the list that appears. You might need to swipe left to locate this option. By selecting this, the BC.Game app gets installed directly on your iOS device.
Updating the BC.Game App: Keep Your Game Fresh
Regular updates to the BC.Game app ensure enhanced performance, new features, and fixed bugs. To update the BC.Game app, Android users can check the official website for any available updates. If an update is available, you can download the latest APK file and install it as described above. For iOS users, updates can be checked and installed directly from the home screen of the BC.Game app.
Mastering BC.Game: Top Tips and Best Practices
When looking to maximize your experience on the BC.Game platform, several key tips and best practices can set you up for success. Here's a rundown:
Understand the Games: BC.Game offers a plethora of unique games, each with its own set of rules and gameplay strategies. Begin by exploring these games in 'demo' mode before wagering real money. This way, you'll familiarize yourself with the game mechanics and establish a winning strategy.

Leverage Bonuses: BC.Game provides generous bonuses. Use these to your advantage. Always check for the availability of any promotional codes or bonuses before placing a bet to boost your playing capital.

Engage with the Community: The BC.Game platform has a vibrant community. Engaging with other players can help you pick up useful tips, learn new strategies, and make the experience more enjoyable.

VIP Club: Consider joining the BC.Game VIP Club. This provides you access to exclusive bonuses, cashback, and other perks that can elevate your gaming experience.

Responsible Gambling: Always remember to play responsibly. Set yourself limits and don't chase losses. Gambling should be fun, not a source of stress.

Stay Updated: BC.Game regularly updates their games and features. Keep yourself updated with these changes to ensure you're making the most out of the platform.
Remember, the key to enjoying your experience on BC.Game is understanding the platform thoroughly, leveraging bonuses, and playing responsibly. 
Exploring BC.Game's Mobile Website Interface
BC.Game's mobile website provides a highly accessible and user-friendly platform for on-the-go gaming enthusiasts. Seamlessly reflecting the sophistication of its desktop counterpart, the mobile website ensures users can engage in their preferred games and manage their accounts with the utmost ease, wherever they may be. This adaptability heightens the BC.Game experience, presenting it as the perfect choice for players who relish gaming mobility.
BC.Game: Upholding Standards with Licensing and Fairness
BC.Game's commitment to transparency and integrity is evident through its licensing and fairness measures. Operated by BlockDance B.V., a company registered under the commercial register of Curaçao. This provides a clear assurance that BC.Game operates in adherence to all the essential regulatory standards. Additionally, BC.Game employs provably fair technology, enabling players to verify the fairness of their game outcomes. This pledge to providing a safe, secure, and equitable online gaming environment is a testament to BC.Game's core values.
Ensuring Assistance: BC.Game's Customer Support
With a robust customer support framework in place, BC.Game effectively caters to player inquiries. The support team is reachable through multiple channels, including live chat, email, and various social media platforms. This multichannel support strategy ensures that help is always within reach when needed. Additionally, the BC.Game community is vibrant and supportive, often stepping in to guide new players and provide advice. This blend of professional customer service and an engaged community distinguishes BC.Game in the realm of online gaming. 
Final Opinion on BC.Game as bookmaker and online casino
In wrapping up our review, it is clear that BC.Game offers a robust and dynamic platform for sports betting and online casino games. The versatility of the platform, supporting over 45 sports and 50+ cryptocurrencies, reflects its commitment to embracing digital innovation and providing a wide range of options for its users.
The instantaneous withdrawals, high deposit and withdrawal limits, coupled with the ease of registration, contribute to an exceptional user experience. Moreover, the fact that BC.Game extends its services to a wide range of countries and is available in over 16 languages, underscores its international appeal.
However, it is not without its drawbacks. BC.Game's casino-centric focus could deter dedicated sports bettors. The lack of live streaming and advanced betting features might also detract from the overall user experience. High deposit fees and charges on withdrawals, coupled with an English-only customer support, are points that need to be taken into consideration as well.
In essence, BC.Game's unique selling proposition lies in its blockchain-powered approach, providing a high-speed, user-friendly betting platform with a focus on cryptocurrency. While improvements can be made, it stands out in the crowded online gambling market and shows potential to carve out a niche for itself. If you're a cryptocurrency enthusiast looking for a versatile betting platform, BC.Game might be the right choice for you.
Read this page in other languages:
Accepted Cryptocurrencies
Available Games
Supported Languages
Pros
Comprehensive coverage of over 45 sports with special attention to football.

Array of betting options including Asian Handicaps, Quick Bets, and Player Specials.

Cryptocurrency-centric platform with support for over 50 cryptocurrencies and in-game wallets.

Peer-to-peer fund transfer functionality.

Mobile-friendly with Android and iOS apps.

Multilingual platform with over 16 languages.
Cons
Operates under a less reputed Curacao license.

Primarily focused on casino, making it less ideal for dedicated sports bettors.

Fees on withdrawals and high deposit fees for FIAT methods, affecting cost-effectiveness.

Limited to English-only customer support, posing a potential challenge for non-English speakers.