Having tested the offerings and services of the 1xBet platform, we're ready to provide a detailed account of our experience and insights on this well-established online bookmaker and casino.
A review of the bookmaker and online casino 1xBet is also available in other languages:
About 1xBet: Company Information
Established in 2007, 1xBet has grown to become a notable player in the online gambling industry. It operates under the ownership of 1X Corp N.V., a company registered and established under the laws of Curacao, which is also where the platform has obtained its gambling license.
Despite being a major player in the online gambling scene, it is important to note that 1xBet is not listed on any stock exchange, nor is it a publicly traded entity. As of January 2023, its subsidiary corporation, 1X Corp N.V., declared bankruptcy, but the 1xBet brand continues to operate successfully.
Licensing, Security, and Fairness
When it comes to licensing, 1xBet operates under the jurisdiction of the Curacao eGaming license, ensuring that it adheres to necessary regulations and standards for fairness and security.
Quick Advantages to play and bet at 1xBet
1xBet offers a plethora of products and features for its users, including but not limited to sports betting, online casino games, live casino games, and various other gambling entertainment options like E-Sports, Fantasy League, Forex, and more. These are all accessible via different platforms, such as PC, mobile, and tablet, and supported by software from BetB2B.
1xBet offers unique features such as Asian View, Betconstructor, Cash out Full, Cash out Partial, Edit Bet, Live Streaming, and Multi Live video. These features, coupled with the world's widest selection of sports and casino games, make 1xBet a unique and appealing choice for online gamblers.
As for its availability and popularity in Asia, 1xBet is highly regarded and widely used in countries like Bangladesh, Malaysia, Vietnam, Japan, and Thailand. It accepts players from all over Asia, including regions with restricted access such as China, Hong Kong, Taiwan, Singapore, and Japan, with the exception of Macau.
If you're a beginner or an experienced player seeking a comprehensive platform that caters to various gambling preferences, 1xBet is a solid choice. However, it's crucial to consider the mixed reviews regarding the platform's reputation, with some users expressing dissatisfaction with the support team and payout process.
Sportsbook Offerings at 1xBet
1xBet's sportsbook is robust and comprehensive, reflecting a wide variety of sports markets, and ensuring a dynamic betting environment.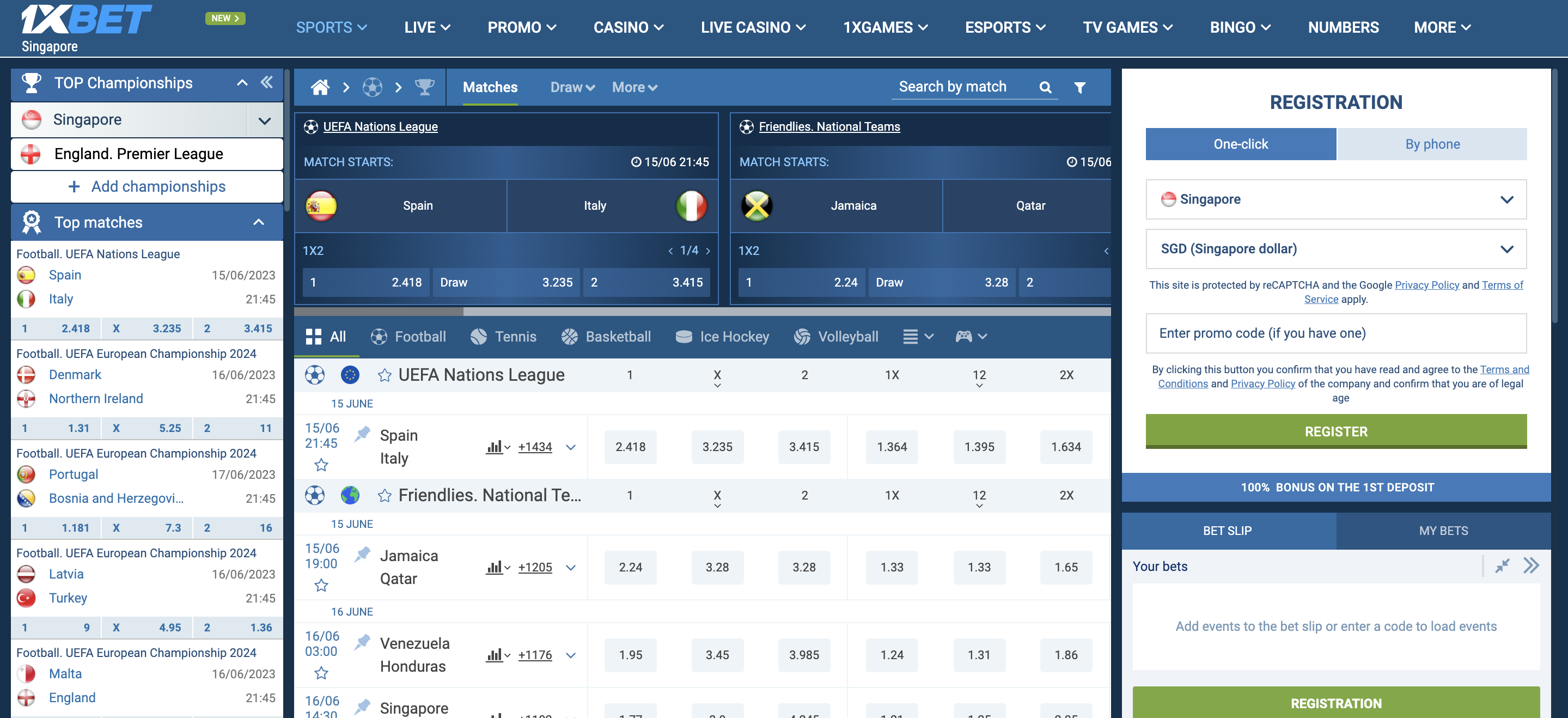 Prominent Sports Betting Markets at 1xBet
Additional Betting Markets at 1xBet
Beyond the primary sports, 1xBet offers bets on a plethora of other events, ranging from athletics and golf to non-sporting events like political outcomes and TV shows. A rich assortment of bet types is also available, from traditional 1X2 wagers to intricate bets like the Asian Handicap.
Live Betting in 1xBet
Within the domain of in-play betting, 1xBet establishes itself as a continuously updated platform that ensures bettors remain engaged as events unfold.
Live Streaming in 1xBet
To complement its live betting services, 1xBet offers live streaming, letting users witness their favorite sports events in high quality directly on their devices. This capability not only augments the live betting experience but also facilitates more informed betting decisions.
Additional Betting Tools
Beyond the vast selection of sports and betting options, 1xBet equips bettors with innovative tools to enhance their experience. The platform's "Cash Out" feature stands out, allowing users to secure winnings before all events in their bet slip conclude. This minimizes potential losses from unexpected game outcomes. Moreover, for football enthusiasts, the 1xBet "Bet Builder" is a notable addition. It empowers bettors to craft custom bets by combining up to 12 selections from a single match.
How to Place Bets at 1xBet?
Betting on 1xBet is a straightforward process. Users navigate to their chosen sports event or casino game, select the outcome they're interested in, and it's added to the bet slip, typically on the screen's right side. After entering the wager amount, a quick review and click on "Place a bet" finalize the transaction.
Betting with the 1xBet Mobile App
For those preferring on-the-go betting, 1xBet offers a user-friendly mobile application. The process for placing bets mirrors the desktop experience, ensuring consistency across platforms. Once users launch the app and select an event and outcome, it's added to the bet slip. After specifying the wager amount and tapping "Place a bet," a confirmation window pops up for review before confirming the bet, allowing for betting convenience irrespective of the user's location.
Our Experience of Betting on 1xBet
With a starting bankroll of 500 USDT, we explored the betting markets of 1xBet, focusing primarily on Football and eSports, particularly Dota 2.
In the football prematch market, we turned our attention to an upcoming Champions League match, placing our bet on Chelsea. Opting for a conservative approach, we chose a Moneyline bet for Chelsea's outright win, allocating 150 USDT based on their recent performance.
Concurrently, as a notable Dota 2 tournament unfolded, we were drawn to the dynamic live betting market. We placed a prop bet predicting a player to secure the "First Blood," influenced by their known aggressive early-game strategy. Considering the unpredictable nature of eSports, our stake was a cautious 50 USDT.
While our eSports prediction was off the mark, our football bet yielded a favorable return with odds of 1.7. This endeavor highlighted the varied betting opportunities on 1xBet, illustrating the platform's capacity to offer a range of outcomes, emphasizing both the thrill of victory and the lessons from loss.
1xBet Online Casino
1xBet's online casino offers a plethora of gaming options, standing out not just as a bookmaker but as an expansive gambling platform. A wide range of games sourced from top-tier developers guarantees a captivating experience for users.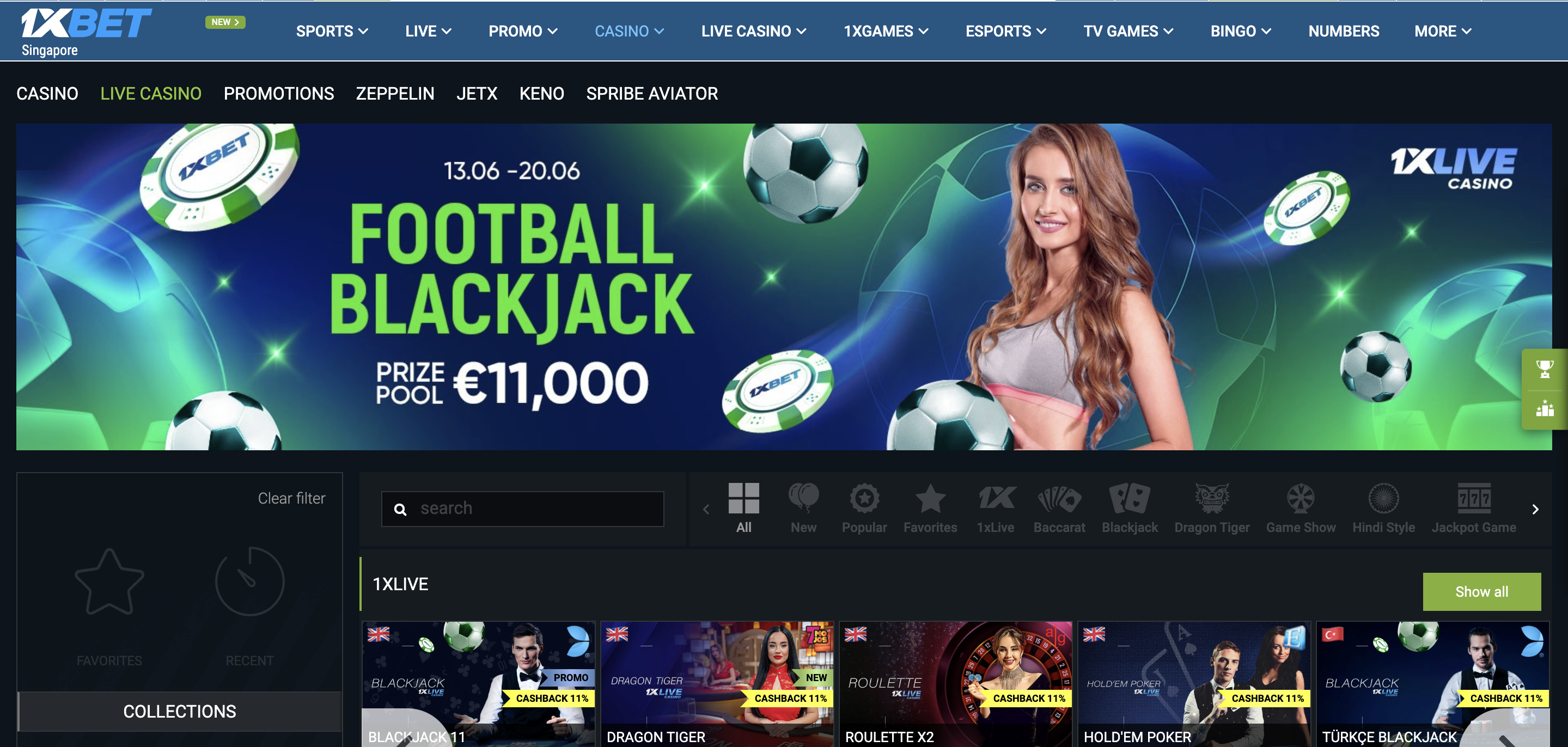 Providers of Slot Games Available at 1xBet
1xBet boasts a comprehensive range of slot games from premier software providers like Pragmatic Play, Amatic, and Yggdrasil. With a repertoire exceeding 5000 games, the platform caters to a diverse player base.
1xBet's Asian and Hunting Slot Games
For aficionados of Asian-themed or hunting slots, 1xBet delivers. Their Asian-themed slots offer visuals and features rooted in oriental allure. Simultaneously, hunting and fishing slots, with their authentic visuals, transport players into nature, enriching the 1xBet gaming experience.
Top Casino Games Available at 1xBet
1xBet's repertoire extends beyond slot machines. Traditionalists can delve into table games, including Blackjack, Poker, Roulette, and Baccarat. Live dealer games simulate the brick-and-mortar casino ambiance, while an array of card games cater to strategic players. 1xBet further diversifies its offerings with TV Games and Bingo, reinforcing its stature as a holistic entertainment platform.
Live Casino at 1xBet
1xBet's live casino offers players an interactive gaming experience that simulates real-world casino play. Here, players engage with live dealers and have the ability to interact with fellow gamblers globally.
Live Games Providers in 1xBet
To ensure an exceptional live gaming experience, 1xBet collaborates with prominent live game developers. Leveraging the expertise of industry leaders like Evolution Gaming, Asia Gaming, and EA Gaming, 1xBet provides a gaming session that closely mirrors an in-person casino atmosphere. These providers are renowned for their high-quality games that recreate the traditional casino ambiance.
Advantages of Live Casino Games at 1xBet
The live dealer games at 1xBet stand out for several reasons:
Authenticity: Engaging with real dealers enriches the overall gaming experience.
Visual Quality: High-definition streaming places players at the center of the action, immersing them in the vibrant environment of a brick-and-mortar casino.
Diverse Offerings: A broad selection, ranging from classics like Blackjack, Roulette, and Baccarat to various Poker types, ensures varied gameplay options.
Budget Inclusivity: Games accommodate a wide range of betting preferences, from modest wagers to significant stakes.
Instant Games at 1xBet
1xBet's platform is not confined to traditional betting or casino games. It also offers a selection of instant games that deliver quick, distinctive betting experiences.
Aviator at 1xBet
The Aviator game, a highlight in instant betting, is simple yet riveting. Players place their bet as a plane begins its ascent. The winnings grow with the plane's altitude, but players must cash out before an unpredictable crash. This game demands keen intuition and offers a distinct, socially-interactive gaming experience.
JetX at 1xBet
Similar in theme to Aviator, JetX challenges players to wager on a jet's journey. As the jet progresses, potential winnings increase. The challenge lies in cashing out before an unexpected explosion. With its compelling graphics, rapid pace, and inherent risk, JetX provides an adrenaline-charged betting session.
How to Start Playing at Casino 1xBet?
Initiating gameplay at 1xBet's online casino is straightforward. First, visit the official 1xBet website and select the 'Registration' option located at the top right. Complete the registration form, ensuring you opt-in for the casino welcome bonus. Once registered, you can deposit funds into your account using one of the multiple deposit methods provided by 1xBet. With a funded account, simply choose the 'Casino' tab in the main navigation to commence play.
How to Start Playing at 1xBet via App?
For individuals who prefer mobile gaming, 1xBet offers a dedicated app. To use the app:
Download it from the official 1xBet website.
Install and launch the application.
Register a new account or log in if you're already a member.
Deposit funds using the in-app deposit options.
Access the casino section within the app's navigation.
The app maintains a design consistent with the website, ensuring players have a seamless experience across both platforms. Its intuitive design ensures even new users can effortlessly begin their gaming experience on 1xBet.
Our Experience Gambling at Casino 1xBet
Our team embarked on an exploration of 1xBet's casino offerings with a starting bankroll of 500 USDT. We strategically divided our play between a renowned slot and a live casino game.
Initially, we selected the popular slot "Gonzo's Quest" by NetEnt, known for its dynamic gameplay and potential returns. With a set wager of 100 USDT, we immersed ourselves in the game, leveraging a strategy of adjusting our bets based on the potential return of each spin. After multiple rounds, we were rewarded with a significant win.
Transitioning to the live casino, we opted for "Live Blackjack." This choice was motivated by the game's strategic depth and the allure of interacting with a live dealer. With 400 USDT set aside for this, we placed bets averaging 25 USDT to prolong our session. The game, streamed in real-time, offered an authentic casino experience, demanding strategic decisions on each hand. By employing a solid blackjack strategy, we secured multiple wins, culminating in a profitable session.
Our foray into 1xBet's casino showcased the platform's rich offerings and illustrated how strategic gameplay can heighten the entertainment value and potential returns.
1xBet Online Poker Room
1xBet boasts an extensive online poker segment powered by Legion Poker. This section appeals not only due to its broad variety of poker games but also because of its superior quality, intuitive user interface, and the chance to compete against international players.
Poker Types available on 1xBet
1xBet caters to a wide audience by offering popular poker variants such as Texas Hold'em and Omaha Poker. Beginners can familiarize themselves with the game dynamics in dedicated rooms tailored to novice players. Conversely, seasoned poker enthusiasts can delve into high-stakes tables. The platform's streamlined interface facilitates easy navigation across various poker rooms and provides tools to monitor one's game progression.
Poker Tournaments at 1xBet
1xBet's poker tournaments are a central attraction of the platform. These events, drawing players from around the globe, offer substantial prize pools. With a mix of daily, weekly, and special events, 1xBet ensures that the poker experience remains rejuvenating and competitive. The prospect of hefty rewards alongside the inherent thrill of the game positions 1xBet as a premier online poker destination.
WELCOME PACKAGE – BONUS UP TO 130000 INR and 150 FS
New users on 1xBet are greeted with a generous welcome package: up to 130000 INR and an added 150 free spins. To claim this bonus, users need to register, complete their profile, activate their phone number, and make an initial deposit of at least €10. Upon meeting these requirements, the bonus will be automatically added to the user's account.
'WELCOME PACKAGE' Wagering Requirements
The welcome bonus is bound by specific terms:
Users need a complete profile with an active phone number.
Users must opt to receive the casino bonus before depositing funds.
Free spins become available after redeeming the deposit bonus and are applicable to designated games. Note that users with accounts in specific currencies might not receive these free spins.
The deposit bonus must be used within 7 days by wagering the bonus amount 35 times.
While a bonus is active, bets placed in 1xGames count double, excluding certain games.
1xBet Bonuses and Promotions
1xBet offers a diverse range of bonuses and promotions for both new and existing players. From initial deposit bonuses to recurrent promotions, the platform continually seeks to enhance its user's betting experiences. Additionally, 1xBet organizes tournaments with substantial prizes, fostering healthy competition among participants. Given that each promotion is governed by specific terms, users are advised to stay updated by visiting the platform's promotions page.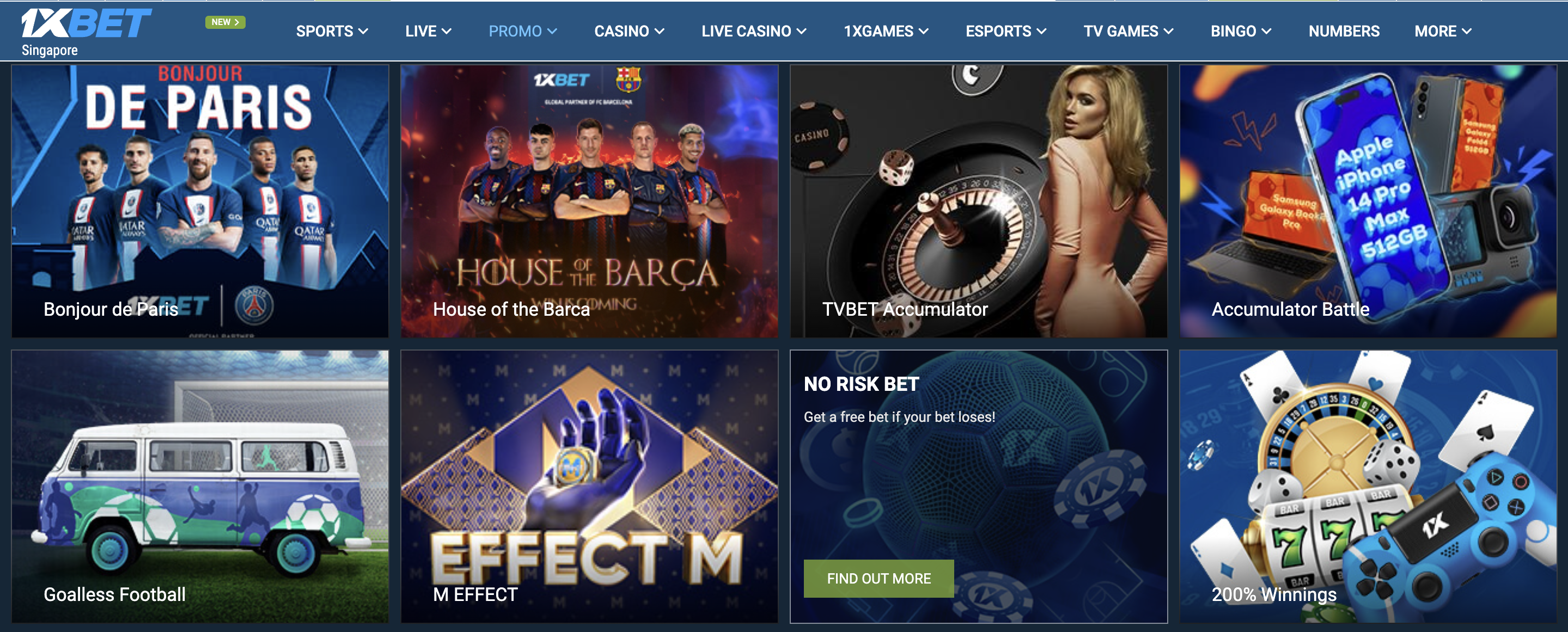 100% BONUS ON THE FIRST DEPOSIT
Newcomers to 1xBet can capitalize on a 100% bonus on their initial deposit, with a cap of 20000 INR. To get this bonus, users need to:
Register on the 1xBet platform.
Complete all personal details in their account profile.
Deposit up to 20000 INR.
Once the deposit is made, the bonus is automatically credited, not exceeding 20000 INR.
Wagering Requirements of '100% BONUS ON THE FIRST DEPOSIT'
Several conditions govern this bonus:
The bonus is limited to one per user.
A minimum deposit of 75 INR is essential.
Prior to depositing, users should opt to receive the sports betting bonus either from the 'Account Settings' or the 'Deposit' page.
After receiving the bonus, users must wager it five times in accumulator bets, with a minimum of three events having odds of 1.40 or higher.
Bonuses are not available for cryptocurrency transactions.
WEEKLY CASHBACK BONUS FOR BETS PLACED
1xBet offers a weekly cashback incentive, allowing users to reclaim 0.18% of their total bets, capped at 5000 INR. This promotion runs from Monday (00:00:00 +3 UTC) to Sunday (23:59:59 +3 UTC) and pertains exclusively to single and accumulator bets. The cashback, based on the total bet amount for the week, is credited to the main account each Tuesday.
Wagering Requirements of 'WEEKLY BONUS FOR BETS PLACED'
To qualify for cashback, users must accumulate a minimum of 1000 INR in bets. This feature aids users in buffering potential losses and optimizing their betting strategies.
VIP loyalty program in 1xBet
1xBet's VIP Cashback program reimagines traditional loyalty programs. Spanning eight levels, all players start at the 'Copper' level and ascend by playing their preferred casino games on 1xBet. As players progress, their cashback rewards grow proportionally.
Upon reaching the pinnacle level, players benefit from exclusive promotions, dedicated VIP support, and cashback on all bets, regardless of the game's result, guaranteeing rewards irrespective of wins or losses.
However, it's pertinent to mention that cryptocurrency transactions are exempt from all bonus types. This innovative program diversifies the traditional loyalty structure, ensuring players remain engaged and motivated.
Promo Codes: How to Acquire and Redeem at 1xBet?
1xBet offers promotional codes, commonly referred to as "promo codes," which are alphanumeric strings that users can redeem for special rewards, such as bonus funds or free bets. These codes are periodically released during promotional events, and can be found on the 1xBet official website, in email newsletters, or through affiliated partners.
To use a promo code:
Visit the 1xBet website and access your account settings or the Deposit section.
Locate and fill in the field labeled "Enter promo code".
Submit the code and the respective bonus will be credited to your account.
It's important to be aware that each code comes with its terms of use. To maximize the benefits, users should familiarize themselves with these conditions.
1xBet Payment Methods
1xBet aims to simplify transactions for its users by offering a wide range of payment methods for both deposits and withdrawals.
Available Deposit and Withdrawal Methods at 1xBet
1xBet provides numerous options for both adding and removing funds. Traditional methods like credit/debit cards (e.g., Visa, MasterCard) and bank transfers are supported. For users inclined towards digital solutions, e-wallets like Skrill, Neteller, and ecoPayz are available. Additionally, 1xBet caters to cryptocurrency enthusiasts by accepting Bitcoin, among other digital currencies.
The platform sets user-friendly thresholds for transactions. For instance, the minimum deposit starts at €1 or its equivalent in other currencies. While the minimum withdrawal varies depending on the method chosen, in general, e-wallets and cryptocurrencies tend to offer higher withdrawal limits, facilitating more substantial transactions for users.
| | |
| --- | --- |
| Minimum deposit | $1.00 |
| Minimum withdrawal | $1.50 |
It should be noted that for withdrawals, 1xBet typically processes through the same method used for deposits, enhancing user convenience.
How to Deposit Money at 1xBet?
To deposit funds into a 1xBet account:
Log into the 1xBet account.
Access the 'Deposit' section and choose the desired deposit method.
Enter the deposit amount, ensuring it meets the platform's minimum requirements.
Follow the subsequent instructions. The deposit time varies by method but is often immediate or within a few hours.
How to Withdraw Money from 1xBet?
To proceed with a withdrawal:
Access the 'Withdrawal' section from your 1xBet account.
Select the withdrawal method, adhering to the platform's set minimums.
Enter the desired withdrawal amount.
Follow the subsequent steps. While e-wallets often offer instant withdrawals, traditional methods might require several business days to process.
Registration at 1xBet: How to Sign Up?
Signing up for an online platform like 1xBet can appear intimidating, but the registration process is designed for user convenience. Below is a concise guide:
Initial Access: Navigate to the 1xBet official website. If you're in regions with restricted access, you may be redirected to a mirror site.
Start Registration: On the website, click the "sign up" option, typically at the top right. During this process, you'll be prompted to provide essential details such as your name, address, and contact information. Ensure accuracy since this information is pivotal for security and verification.
First Deposit: Proceed to the "Deposits" section and select a payment method, then follow the prompted steps. The minimum deposit amount always depends on the payment method.
Engage with the Platform: Once your account is funded, explore the diverse range of sports events and casino games to place your bets.
Registration Requirements
Before diving into 1xBet's offerings, note the following prerequisites:
Age Limit: Users must be 18 years or older.
Documentation: For identity, address, and payment method verification, users might need to furnish documents like ID, utility bill, and a snapshot of the payment medium. This process ensures a secure betting environment.
How to Register with the Mobile App?
1xBet's mobile app simplifies the sign-up process. After installing the app:
Tap the "sign up" option.
Follow the registration steps, paralleling the web-based process.
Securing the 1xBet Welcome Bonus Upon Registration
After or during registration, new users have the opportunity to claim the 1xBet Welcome Bonus. Navigate to the "Promotions" section and follow the provided steps. It's essential to review the bonus's terms, including any wagering requirements.
1xBet Account Verification Instruction
Ensuring account security and regulatory compliance, 1xBet necessitates account verification post-registration. Here's a brief overview:
Accessing Verification: After logging in, navigate to "My Account" and select the "Account Verification" option.
ID Submission: Provide a clear photo or scan of a government-issued ID (e.g., passport, driver's license).
Address Confirmation: Upload a recent utility bill or bank statement showcasing your name and address. The document should be dated within the last three months.
Payment Method Verification: If asked, upload a screenshot or photo of your payment method. Ensure sensitive data is obscured.
1xBet Mobile App for Android and iOS
1xBet offers specialized apps for mobile users on both Android and iOS platforms. This section provides a comprehensive guide on how to navigate the 1xBet mobile app, from download and installation to ensuring its optimal performance.
System Requirements for the 1xBet App
Android users need an operating system version of 4.4 or above for the 1xBet app. On the other hand, the app runs on iOS 9.3 or later, making it compatible with iPhones, iPads, and iPod touch devices.
Downloading the 1xBet APK for Android
Since the 1xBet app isn't available on the Google Play Store, users must visit the official 1xBet website. Once there, navigate to the "mobile applications" section and select the Android icon to commence the download.
Installing the 1xBet App on Android
For installation on Android, first adjust your phone's security settings to permit installations from unknown sources. After that, go to the downloads folder, locate the downloaded 1xBet APK file, and initiate the installation.
Downloading and Installing the 1xBet App on iOS
The general process for iOS users is straightforward:
Open the Apple App Store.
Search for "1xBet."
Click on the "Get" button for automatic app installation after download.
However, if you encounter regional restrictions, follow these steps:
Go to Device Settings and choose iTunes & App Store.
Tap on your Apple ID, then select "View Apple ID" and input your password.
Choose "Country/Region" and switch it to an available country like Canada or Japan.
Agree to the user agreement and fill in the address details. For payment methods, select "None" and proceed.
Return to the App Store, search for "1xBet," and download.
How to Update the 1xBet App?
To ensure the best betting experience, regularly update the app. Android users can find the latest version on the 1xBet website, while iOS users can update directly via the Apple App Store.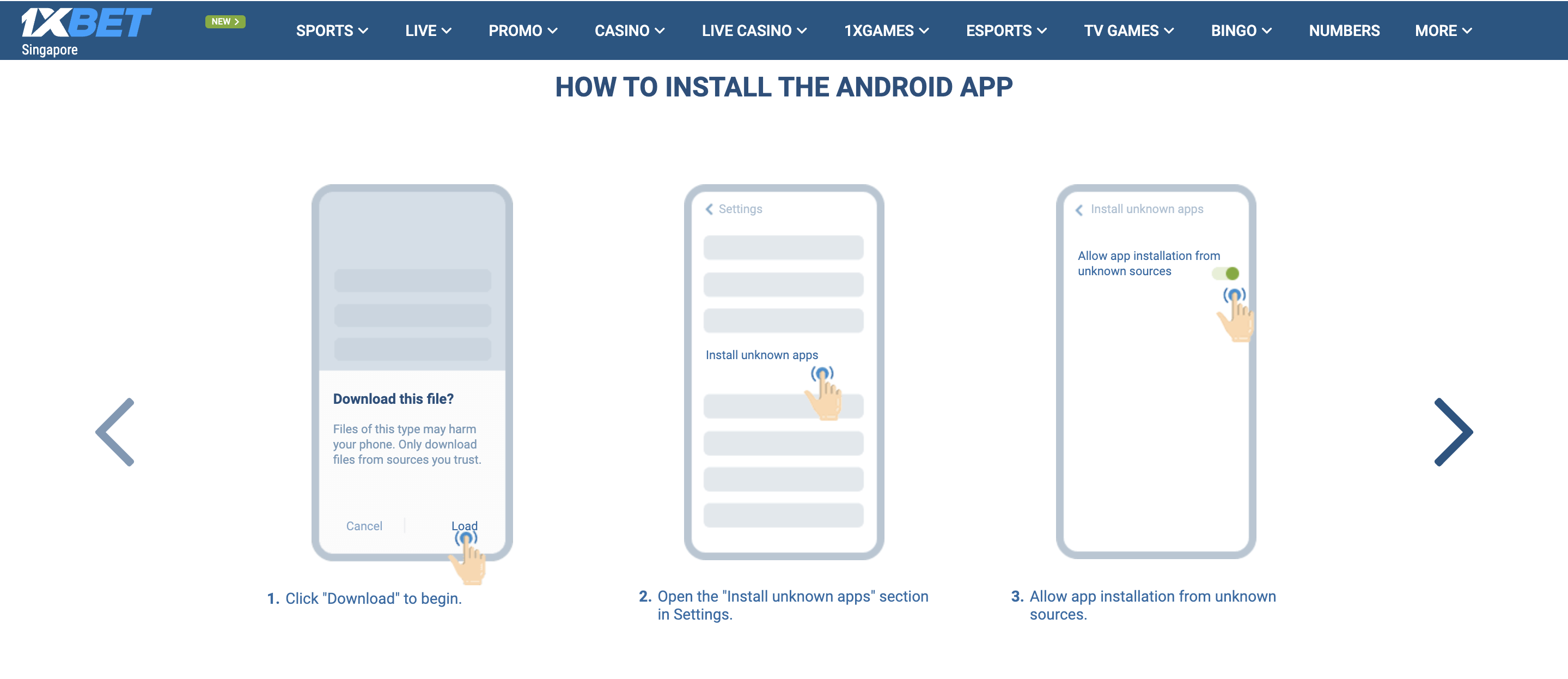 Tips and Best Practices for Playing at 1xBet
Engaging with 1xBet's diverse gaming and betting offerings can be more rewarding with a well-informed approach. Here are some guidelines to enhance your experience and potential returns:
Understand the Basics: Before engaging in any game or sports bet, familiarize yourself with its rules. A clear grasp of the nuances can lead to more informed decisions and better outcomes.
Leverage Promotions: 1xBet provides a variety of bonuses, including a welcome bonus and a VIP cashback program. Utilize these promotions to prolong gameplay and potentially amplify your gains.
Practice Responsible Gaming: Establish a budget and adhere to it, avoiding the allure of recuperating losses. It's vital to ensure that gaming remains a source of entertainment without jeopardizing financial stability.
Research Before Betting: If you're inclined towards sports betting, study the involved teams or players. Insights about recent performances, player conditions, and other relevant data can guide your predictions.
Explore Diverse Betting Markets: 1xBet boasts an extensive array of betting markets. Venturing beyond traditional options like "Match Result" can add an element of excitement and possibly increase profitability.
Remember, while the thrill of potential wins is appealing, gaming should remain an enjoyable and responsible activity.
1xBet Mobile Website
The 1xBet mobile platform offers a user-centric experience tailored for handheld devices. Its responsive design guarantees a consistent and optimized display across smartphones and tablets, ensuring that users have swift access to games, betting options, promotions, and more.
How to Navigate the 1xBet Mobile Website
Accessing and using the 1xBet mobile platform is straightforward:
Open your mobile browser and visit the 1xBet website. The site will automatically redirect to the mobile-optimized version.
Existing users can log in with their credentials, while newcomers can easily register.
The intuitive layout facilitates quick access to preferred games or bets.
Conveniently, users can manage their accounts—making deposits, initiating withdrawals, or contacting customer support—directly from their devices.
1xBet License and Fairness
1xBet operates with a license from the Curacao eGaming Authority, renowned for its rigorous oversight in the gambling sector. This assures users of the platform's commitment to security, trustworthiness, and adherence to fair gaming standards. Furthermore, to ensure fairness and transparency, all games on 1xBet undergo independent audits by credible third-party entities. The integration of Random Number Generator (RNG) technology guarantees that game outcomes are unpredictable and unbiased.
1xBet Customer Support
1xBet prioritizes providing timely assistance to its users. The platform's live chat feature is accessible around the clock, offering instant resolution to user queries. In addition to live chat, users can communicate with 1xBet's trained agents via email or telephone for assistance with technical concerns, account matters, payment issues, and more. The platform also offers an in-depth FAQ section addressing prevalent inquiries about account functions, transactions, bonuses, and betting guidelines. Significantly, to cater to its global user base, customer support is available in multiple languages.
Final Opinion on 1xBet
1xBet establishes itself as a versatile platform catering to the preferences of sports betting aficionados and casino gamers alike. Its broad market offerings, competitive odds, and extensive coverage of sporting events present users with diverse betting opportunities. The platform's user-centric features, such as live streaming, mobile applications, and diverse payment avenues, underscore its commitment to convenience. While some may find the website's design a tad overwhelming, the platform's merits, including multilingual support, high win limits, and enticing promotions, predominantly overshadow any minor drawbacks. Notably, potential users should consider the platform's Curacao license and region-specific restrictions when evaluating its suitability. In sum, 1xBet delivers a holistic and immersive betting environment to a global clientele.
Read this page in other languages:
Accepted Cryptocurrencies
Available Games
Supported Languages
Pros
Wide range of betting options across multiple markets.

Competitive odds for enhanced winning potential.

Extensive coverage of sports and events, with over 50 sports and 60,000+ monthly events.

Availability of live streaming for real-time viewing.

Convenient mobile apps for Android, iOS, and Windows devices.

Multiple payment options, including 140+ methods for easy transactions.

Promotions and bonuses to enhance the betting experience.

High winning limits for more significant potential payouts.

Multilingual website.
Cons
Restricted access in certain regions, including the UK and North America.

Curacao license, which may be perceived as less stringent compared to other jurisdictions.

Some limitations and country restrictions on certain features and markets.

User interface may appear cluttered and outdated to some users.

Customer support available in limited languages.