This comprehensive review provides an in-depth exploration of 12Play, a prominent online bookmaker and casino platform. It's geared towards potential and current users interested in understanding the service's offerings and operations in detail. The article delves into key areas such as the registration process, deposit and withdrawal methods, mobile app functionality, and customer support. It also provides practical tips for playing, examines the platform's fairness and licensing, and offers a succinct rundown of the pros and cons. By the end of the piece, readers will have gained a thorough understanding of 12Play's services, making it easier for them to decide if the platform aligns with their gaming needs. This article is your one-stop guide to navigating and benefiting from 12Play's features effectively.
Review of the bookmaker and online casino 12Play is also available in other languages:
Behind the Curtain: The 12Play Company
12Play, established in 2012, has swiftly risen to become a reliable and exciting destination for bettors and gamblers across Asia. Licensed by PAGCOR, this firm ensures a legitimate, secure, and trustworthy environment for placing stakes on numerous sports and esports. The platform operates through various sportsbooks and esports sportsbooks, including Saba eSports, CMD368, M8Bet, TPGaming, and InPlayMatrix. Aside from English, 12Play supports other languages, catering to a diverse pool of players.

In our analysis of this betting site, we found that the casino segment is equally impressive. Packed with games from top-tier providers such as Playtech, Pragmatic Play, Evolution Gaming, and many others, casino 12Play brings the thrill and suspense of real casino gameplay right to your fingertips.
Why 12Play is Worth a Punt: Notable Advantages
Primarily, 12Play stands out for its extensive range of betting options. Players can wager on a myriad of sports, from popular ones like soccer, basketball, and tennis to the less mainstream like netball and snooker. Esports enthusiasts aren't left out, with options ranging from Dota2 and CS:GO to Mobile Legends and Wild Rift.
Our team found that 12Play bookmaker review wouldn't be complete without highlighting the ease of transactions. They accept different currencies, including MYR and SGD, with several deposit and withdrawal methods. Furthermore, there's a high withdrawal limit, standing at MYR 1,500,000 per month. However, it's worth noting that credit cards are not accepted.
The presence of live streaming, albeit only for esports, adds an immersive layer to the betting experience. And if you fancy trying your luck outside sports betting, 12Play's casino, 4D, and 12Lottery offerings might tickle your fancy.
Finally, bettors can access the platform via its Android app, facilitating on-the-go gambling. With 24/7 customer support through live chat and email, 12Play ensures any issues are promptly resolved.
Unveiling the Intricacies of Online Sports Betting at 12Play
Diving into the sportsbook 12Play provides, it's apparent why this bookmaker is a go-to for many Asian bettors. Offering an extensive range of sports betting markets, 12Play caters to a wide spectrum of preferences. Regardless of your sport of choice, you're bound to find a betting option that aligns with your interest.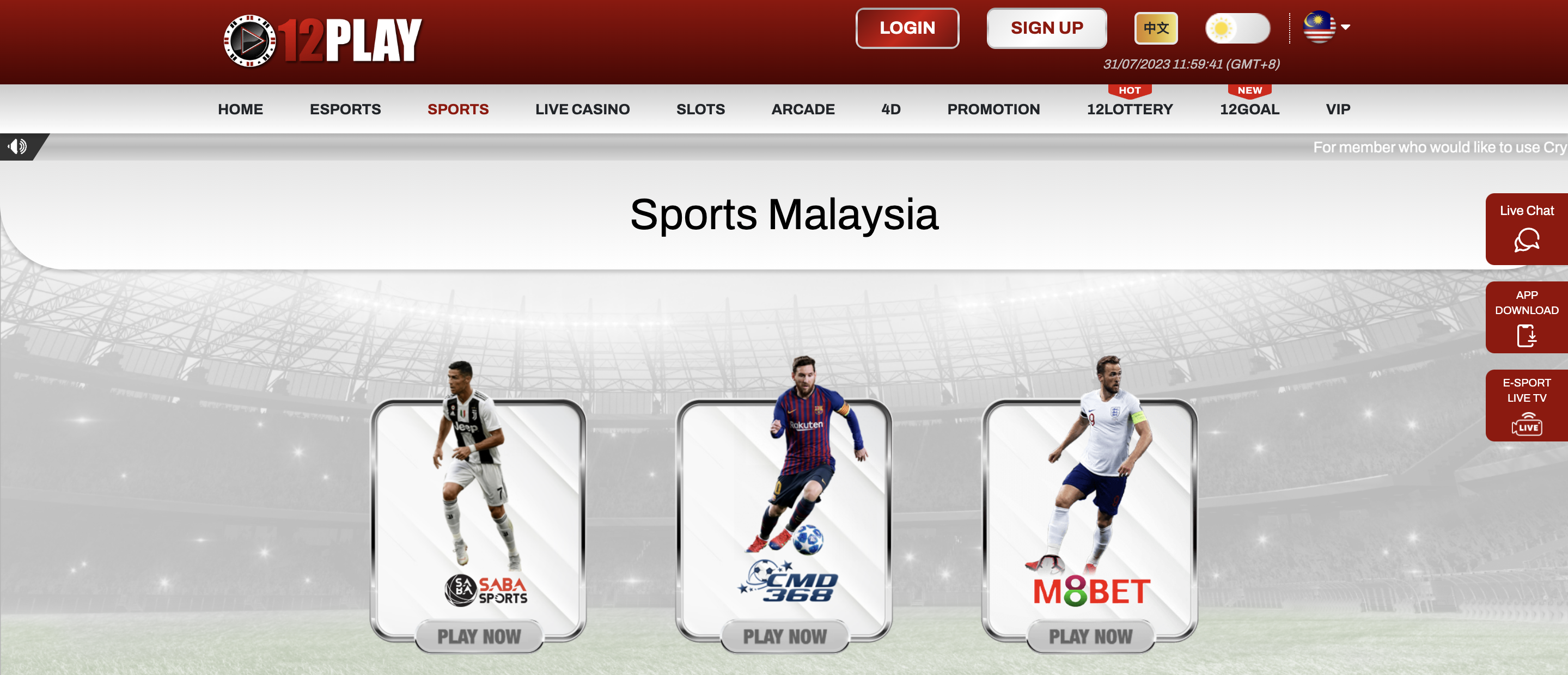 This online bookmaker impresses with the simplicity of its interface, streamlined to enable easy navigation and quick placement of bets. Live match results and statistics are readily available, adding depth to your betting strategy. As our tests of the bookmaker have shown, 12Play lives up to its reputation as a trusted platform for online sports betting.
Trending Sports Betting Markets at 12Play
The depth and variety of betting markets make 12Play an ideal destination for both novice and seasoned bettors. Football fans can engage in an extensive range of markets from global tournaments, including match results, goal markets, and player specials. The same can be said for other mainstream sports like basketball, tennis, and cricket, where the betting options are seemingly limitless.
However, it doesn't end there. 12Play also caters to fans of less conventional sports, such as badminton, snooker, and even netball. This diversity is a testament to 12Play's commitment to delivering a comprehensive betting experience, setting them apart in the competitive world of online sports betting.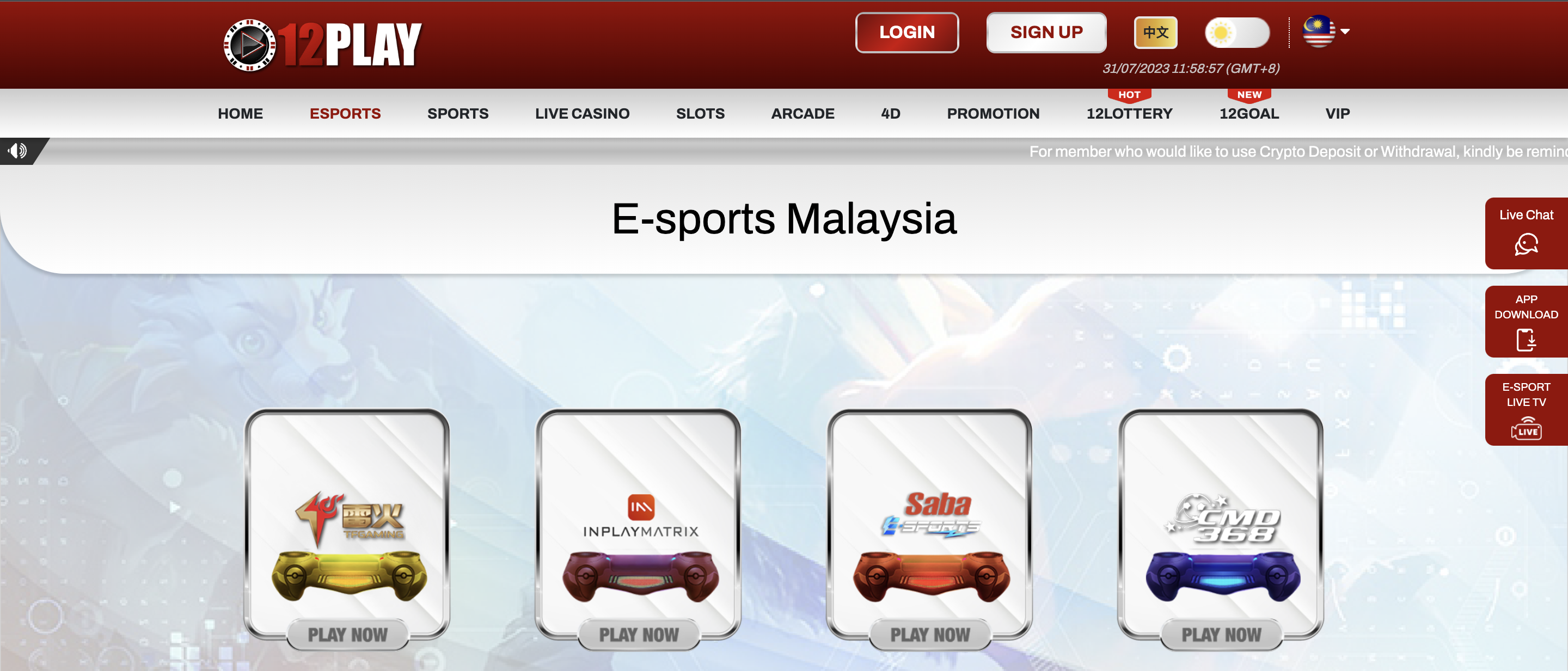 How to Place Your Bets at 12Play
Placing bets on 12Play betting site is designed to be intuitive and straightforward, regardless of your level of experience. First, sign up for an account on the 12Play website or via their Android app. Following successful registration, navigate to the sport of your choice.
You can then select the specific event or match you wish to bet on. Once you've made your selection, your betting slip will automatically update. Input the amount you wish to stake and confirm your bet. It's that easy! The site also allows you to place multiple bets if you're feeling adventurous, thereby increasing your potential winnings.
Experiencing Real-Time Action: Live Betting and Streaming at 12Play
Live betting at 12Play bookmaker opens up a new dimension of excitement for punters, with the chance to place bets on events as they unfold. In-play betting on 12Play provides a dynamic betting environment where odds are adjusted in real-time based on game progression. Whether it's soccer, tennis, or basketball, the thrill of live betting is unmatched.
And it doesn't stop at betting! 12Play also offers live streaming services, but exclusively for eSports. This gives eSports enthusiasts the chance to follow their favourite teams and players live, and place informed bets based on real-time performances.
Unraveling the Betting Palette: Available Bet Types on 12Play
Diversifying your betting strategy on 12Play is made easy with a variety of bet types available. Single bets, where you bet on one event, are the simplest form. However, for those aiming for higher returns, accumulator bets are an excellent option. Here, you combine multiple selections into one bet, and all must win for you to see a return.
Systems of bets, another option available on 12Play, offers the chance to place several bets on multiple events. Unlike accumulator bets, not all your selections have to win. Based on our experience, these options give bettors the flexibility to explore different strategies and increase their potential for substantial wins.
Going the Extra Mile: Additional Betting Tools at 12Play
In addition to the traditional betting options, 12Play offers an arsenal of tools to enhance your betting experience. One of these is the 12Play bet builder, a feature that allows you to create personalized bets on any soccer match.
Another feature worth mentioning is the 'cash out' option. The 12Play cash out feature provides the chance to take an early payout before the event has finished, helping to secure part of your winnings or cut losses.
Our experience of betting on 12Play sportsbook
Having a fund of 500 USDT at our disposal, we decided to put 12Play's betting platform to the test. Our strategy was a mix of calculated stakes and unpredictability, spanning across pre-match and in-play betting.
Our first port of call was the Football section. With the Premier League in full swing, we decided to place a pre-match bet on an upcoming match between Manchester City and Arsenal. We placed a Moneyline bet of 100 USDT on Manchester City, who were the favorites. Although this type of bet has relatively low returns, our expertise led us to believe it was a safe stake to start off our betting journey.
For our second bet, we decided to venture into the world of eSports, specifically a Dota 2 match, already in progress. Utilizing the live betting feature, we wagered 200 USDT on Team Secret to take the next Roshan. This was a classic case of high risk, high reward.
The Football match was the first to conclude. Manchester City emerged victorious, turning our 100 USDT into 150 USDT – a nice little profit to kick things off. The euphoria, however, was short-lived. In the Dota 2 match, Team Secret, despite their best efforts, failed to secure the next Roshan. Our 200 USDT bet was lost, leaving us with a total of 450 USDT.
Despite the loss, we appreciated the thrill of in-play betting, particularly in an eSports match where events unfolded rapidly. It was a high stakes gamble that didn't pay off this time, but with different circumstances, it might well have. The ease with which we could place these bets, both pre-match and in-play, left us impressed with 12Play's seamless betting experience.
With 450 USDT left in our account, we are ready to dive back into the world of 12Play betting, aware of the potential losses but also drawn by the exciting prospect of a big win. After all, it's all part of the game when it comes to sports betting.
Taking a Gamble at 12Play: A Casino Experience Like No Other
Beyond being a remarkable sportsbook, the casino Bookmaker 12Play offers an impressive collection of online casino games, ranging from traditional to contemporary, catering to gamblers of all tastes.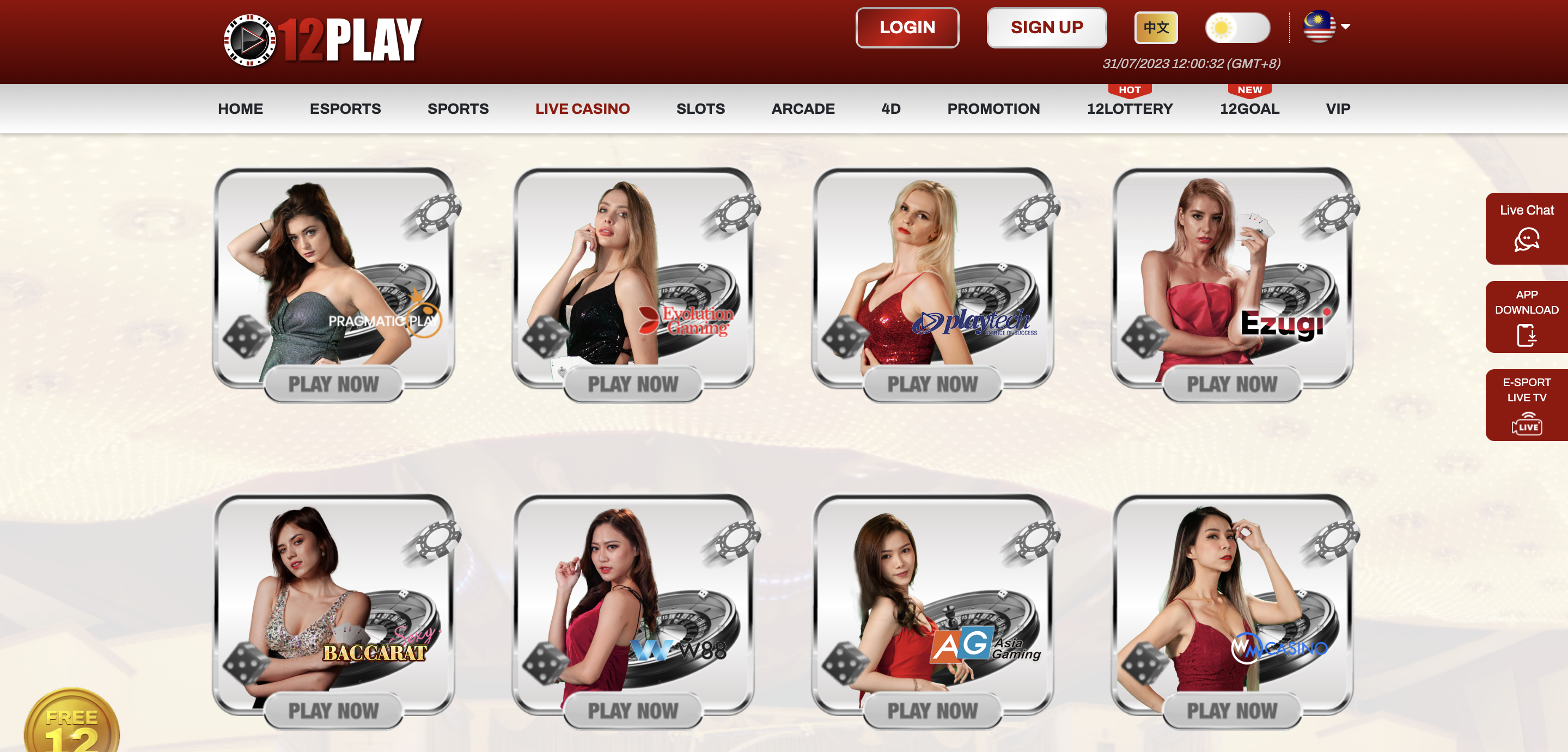 Top-Notch Casino Games at 12Play
The gaming portfolio at 12Play is both diverse and intriguing. Powered by industry leaders like Ezugi, Playtech, and Pragmatic Play, among others, players can expect top-quality gaming experiences. Slots enthusiasts will be overwhelmed with the hundreds of slot games available, featuring a range of themes, from classic fruit machines to immersive video slots. For those who prefer table games, 12Play is well-stocked with favourites like Blackjack, Poker, and Roulette, each with multiple variants to keep the gameplay exciting.
However, it doesn't stop there. Bookmaker casino games include live dealer options, where you can interact with professional croupiers in real-time, bringing the brick-and-mortar casino experience right to your living room. And if that wasn't enough, you can even dabble in Asian favourites like Baccarat and Sic Bo.
But what caught our eye were the unique offerings like 4D lottery, adding a refreshing twist to the conventional Bookmaker gambling site. Our time spent on the progressive jackpot slots was another highlight, with the potential for colossal payouts making every spin a heart-stopping experience.
Initiating Your Casino Journey at 12Play
Starting your gaming adventure at the 12Play casino is straightforward. Simply sign up for a free account, a process that takes only a few minutes. You'll need to provide some basic information and verify your account through an email confirmation.
Once the registration is completed, make your first deposit. 12Play accepts a variety of payment methods, including EeziePay, PayTrust, Help2play, and even Crypto payments. The minimum deposit is MYR 30, and once your deposit is successful, you're all set to dive into the exhilarating world of 12Play casino games.
A Close Look at 12Play's Live Casino
Stepping into the live casino 12Play provides a surreal experience, a realm where the virtual and real world seamlessly blend. Offering a captivating blend of the traditional and the innovative, this platform brings the vibrant energy of an authentic casino right to your screens.
Players are presented with an extensive array of live dealer games 12Play, each hosted by professional and friendly dealers, enhancing the immersive aspect of the games. These dealers aren't merely there to shuffle cards or spin the roulette wheel, they interact with players, engage in conversations, and contribute to a communal gaming atmosphere that's hard to replicate elsewhere.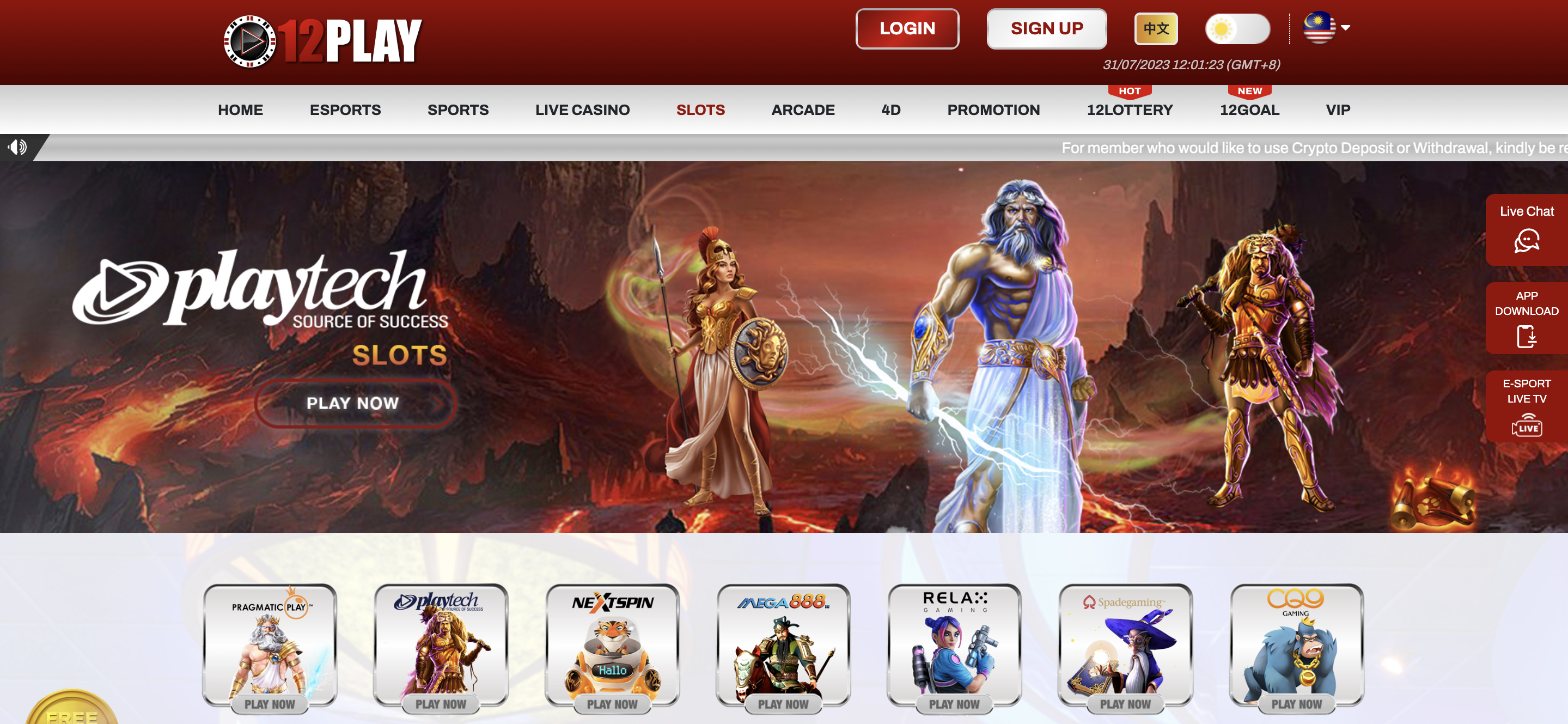 In the 12Play live casino, you can place stakes on all-time favorites like Live Blackjack, Live Baccarat, and Live Roulette. Each game comes with a range of betting options suitable for both high-rollers and casual punters. For those looking to play with real dealers on games with an Asian flair, Dragon Tiger and Sic Bo await.
Noteworthy is the high-definition streaming quality that maintains the authenticity of the gaming experience. Every shuffle, every deal, every spin is broadcasted in real-time with crystal-clear visuals and crisp audio, giving you the feel of a brick-and-mortar casino, all from the comfort of your home.
From our tests of the live casino, 12Play is truly committed to delivering an engaging and realistic casino experience to its players. The combination of an array of games, professional live dealers, and a high-quality streaming service create an immersive and riveting live casino that truly stands out.
Our experience of gamble in casino 12Play
Our virtual journey through the 12Play online casino began with a 500 USDT balance, an ample allowance to explore the realms of slot and live casino games. As we seek both thrills and a robust return on our wagers, we strategize to divide our funds evenly between one slot game – 'Bonanza Billion from BGaming' – and one live casino game – 'Immersive Roulette from Evolution'.
As any seasoned player would attest, Bonanza Billion offers a wild gold mining-themed adventure set in the backdrop of a beautiful desert landscape. Betting 10 USDT per spin, we journeyed into the game. Luck was on our side early on, with a flurry of dynamite scatter symbols leading us to a free spins round that bolstered our balance by 200 USDT. However, in the world of slots, volatility is king. Our next rounds were an unpredictable roller-coaster. A few low paying combinations were peppered in, but a large win eluded us. After 50 spins, we were left with a slightly reduced balance but a thrill-filled gaming experience.
Next, we ventured into the realm of live dealer games with Immersive Roulette from Evolution. This game offers a mesmerizing experience, replete with HD video, multiple camera angles, and a friendly live dealer. We commenced our gameplay with the strategy of evenly spreading our bets on red, odd numbers, and the first half (1-18) of the roulette board. The unpredictability of roulette can't be understated, and our initial rounds saw little success, testing our nerves.
However, remaining patient and consistent in our strategy paid off. A glorious spin landed the ball in Red 7, right in the heart of our bets, resulting in a big win that replenished our balance and then some. Electrified by the win, we decided to go big, placing a single, significant bet on 'black'. The suspense was palpable as the wheel spun, and the cheer was enormous when the ball landed on Black 29. Our big bet had paid off!
12Play's Warm Welcome Bonus Package
12Play rolls out the red carpet for new members with a comprehensive welcome bonus package. Choose between a 100% general welcome bonus up to MYR588, a 100% slots-specific bonus up to MYR300 (12x turnover), or a 150% sports & esports bonus up to MYR300 (10x turnover). Remember, these 12Play welcome bonuses apply to your first deposit only, and you must select the desired bonus on the deposit form. The required bet amount (turnover requirement) is calculated based on your deposit and the bonus claimed, which must be fulfilled before any withdrawal can be made.
Exciting Bonuses and Promotions on 12Play
The promotions 12Play offers don't stop at the welcome bonuses. There are daily cash rebates up to 1.2% across various game categories, including live casino, sports, esports, and slots. Even the 4D lottery offers an unlimited 10% cash rebate. Each rebate is calculated based on the total amount wagered each day. The minimum pay-out for these daily rebates is MYR5, which you can claim at 5AM (GMT+8) the next day.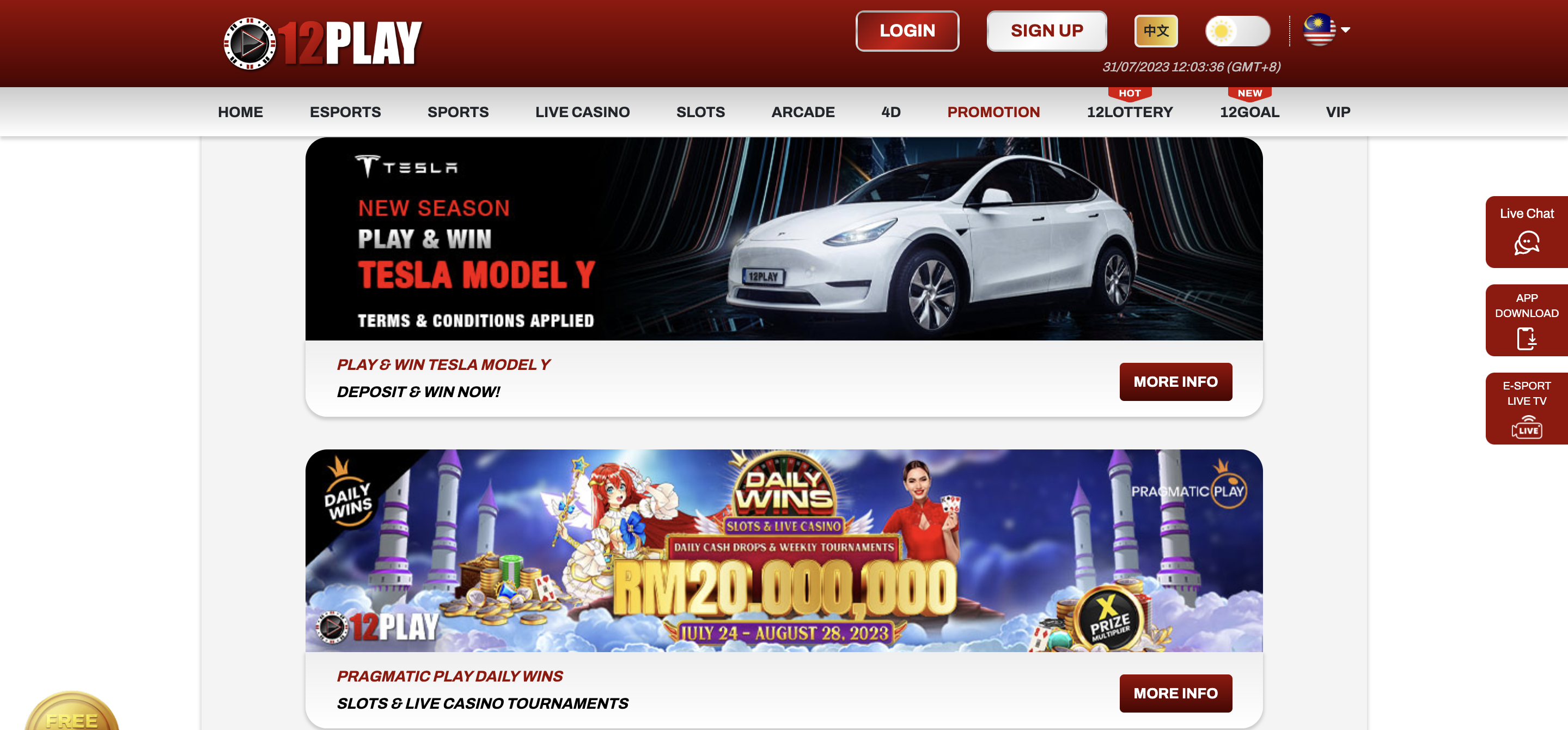 12Play's Exclusive VIP Loyalty Program
The 12Play VIP loyalty program is tailored to reward their dedicated members. Ranging from Normal to Signature, each tier of the VIP program offers unique privileges such as birthday bonuses, daily cash rebates, and level-up bonuses. The VIP level is maintained on a monthly basis, with the deposit amount and real bet requirement only shown the day after at 2AM. By upgrading their VIP level, members can enjoy prioritized deposit/withdrawal services and the option to transfer credit between accounts.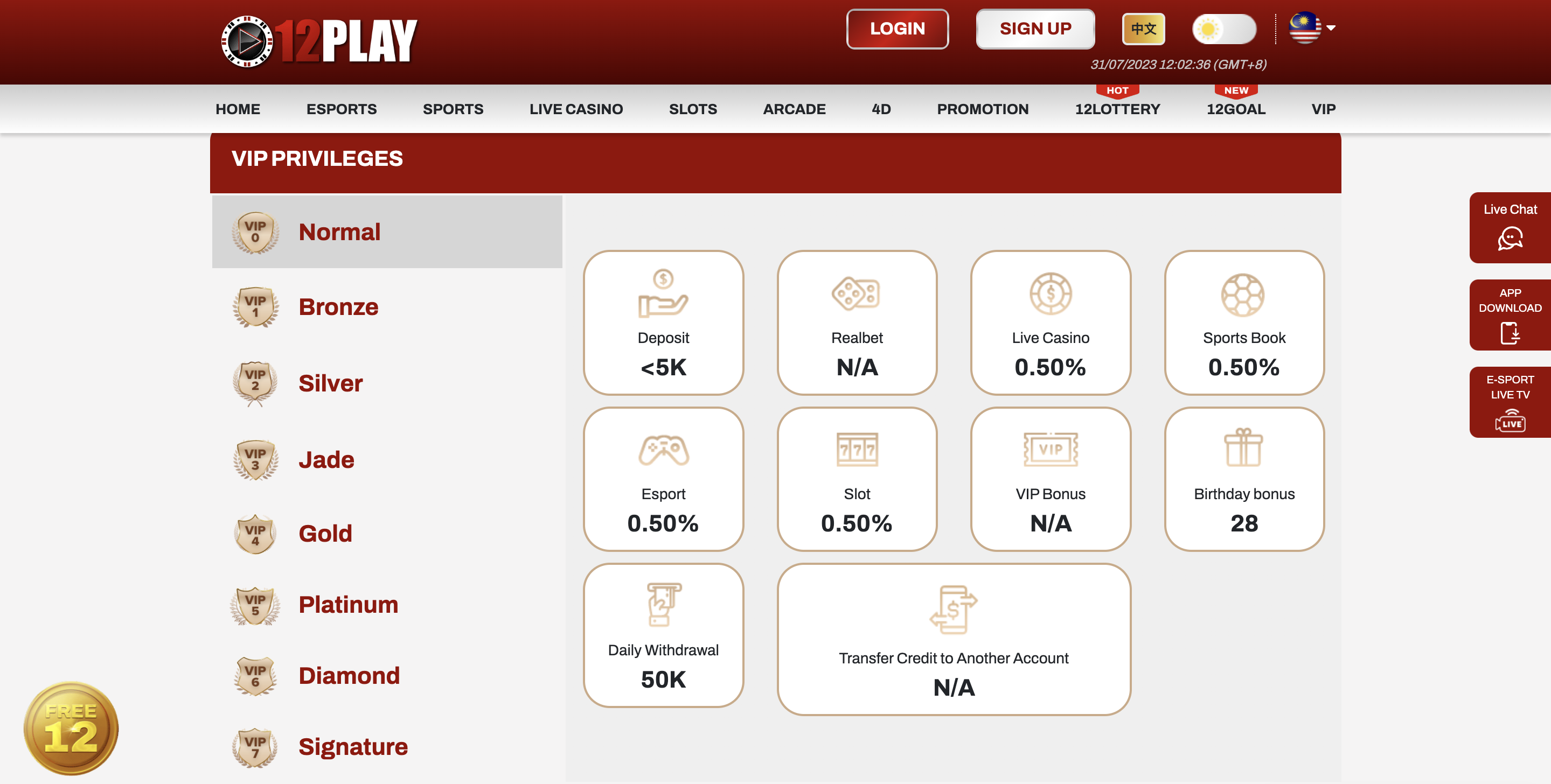 Acquiring and Utilizing Promo Codes on 12Play
To boost your gaming experience, 12Play often releases promo codes, which can be claimed through their promotions or loyalty programs. To use these 12Play promo codes, you usually need to enter them on the deposit form or contact Live Chat. All bonus pay-outs require a 1x turnover before making a withdrawal. Keep in mind that certain games and bet tickets are excluded from cash rebate calculations and bonuses, ensuring fair play for all 12Play members.
Unraveling the Dynamics of Deposits and Withdrawals at 12Play
One of the highlights of the 12Play gaming experience is the array of efficient deposit and withdrawal methods it provides. Grasping how to smoothly deposit and withdraw at 12Play, is indeed a step towards a seamless gaming experience.
The deposit methods 12Play offers cater to a variety of user preferences. The platform supports transactions via EeziePay, PayTrust, Help2play, and Cryptopayments, affording players the flexibility to select the method that best suits their needs. When it comes to the minimum deposit, 12Play requires a reasonable sum of MYR 30, ensuring accessibility for a wide range of players.
Contrarily, the withdrawal methods at 12Play are equally user-friendly and efficient, designed to ensure that players can quickly and securely access their winnings. Players can withdraw as much as MYR 50,000 per day and up to MYR 1,500,000 per month. Such generous limits make it an appealing choice for high-rolling players.
12Play offers players the opportunity to game in the currency of their choice, accepting both MYR and SGD. This adds another layer of convenience for players located in Malaysia and Singapore, as they can bet and collect their winnings in their local currency.
While 12Play doesn't accept credit cards, the variety of other payment methods offered ensures that players can find a convenient and secure way to transact. Understanding these methods and the minimum deposit and withdrawal thresholds of 12Play ensures you can focus on what's most important – enjoying your gaming experience to the fullest.
The 12Play Registration Guide: Your Gateway to Exhilarating Casino Games
Welcome to a comprehensive guide that makes your journey to become a member of the 12Play community a breeze. Whether you're a seasoned gamer or a newcomer to online casinos, our step-by-step guide will help you navigate the 12Play sign up process with ease.
Step 1: Exploring the 12Play Universe. Your adventure begins by visiting 12Play. You can directly access the official site or use a mirror link if you encounter any access issues. Regardless of the route you choose, landing on the site brings you a step closer to accessing a world of online gaming.

Step 2: Initiating Your 12Play Login Journey. Once you're on the site, you'll notice the 12Play sign in button, which serves as your invitation to join the community. Clicking this button will reveal a simple registration form that you'll need to fill out. With fields for your email, a password, and some basic personal information, the process is streamlined for your convenience.

Step 3: Fueling Your 12Play Account. The next step involves making your first deposit. With a range of deposit methods available, you can choose the one that best fits your needs. As a general rule, the minimum deposit required by 12Play is MYR 30.

Step 4: Placing Your Stakes. After your deposit, you're ready to place your stakes. Explore the various games and betting options, choose the ones that appeal to you the most, and dive into the thrilling world of online gaming.
Registration Prerequisites: All You Need to Know
Before you register on the 12Play official site, you should be aware of a few requirements. You must be of legal age, as defined by the jurisdiction you live in, to participate in online gaming. Furthermore, you'll need to provide valid personal information, including proof of identity, during the registration process.
Registering with the 12Play Mobile App
For those who prefer gaming on the go, 12Play offers a mobile app that brings the full casino experience to your smartphone. You can register on the 12Play app by downloading it from your device's app store and following a similar sign up process as the one outlined above. Once you've created your 12Play login on the mobile app, you can enjoy your favorite games anytime, anywhere.
Claiming Your 12Play Welcome Bonus Upon Registration
One of the biggest perks of signing up with 12Play is the welcome bonus that awaits new players. After you've successfully registered, you can claim your welcome bonus by selecting the "100% Welcome Bonus" option on the deposit form. This bonus, which matches your first deposit up to a maximum of MYR588, is an excellent way to kickstart your gaming journey.
Step-by-Step Guide to 12Play Account Verification
Begin Verification: After successful registration and login, navigate to your account settings and initiate the verification process.

Provide Identification: You will be asked to submit a copy of your identification document. This could be your passport, driver's license, or national ID card.

Proof of Address: To confirm your location, submit a recent utility bill or bank statement displaying your full name and residential address.

Verification Process: The 12Play team will then review your submitted documents. This process may take a few days.

Completion: Once your documents have been reviewed and approved, your 12Play account will be fully verified and ready for unrestricted use. Remember, this step is crucial to ensure smooth transactions and to comply with regulatory requirements.
The Ultimate Gaming App for Android and iOS
12Play breaks the boundaries of traditional online betting by offering a state-of-the-art mobile application. Whether you're an iOS or Android user, you can carry your favorite casino games and betting options in your pocket, allowing you to play and win anytime, anywhere.
Android System Requirements for 12Play App
Before downloading the 12Play app, it's crucial to ensure your Android device meets the necessary system requirements. The app is designed for optimum performance on Android devices running on Android 4.4 and above. You'll also need to have at least 100MB of free storage to accommodate the app.
Guideline for 12Play APK Download on Android
Downloading the 12Play APK on your Android device is straightforward. Given that the app, popularly known as the Bookmaker for Android, is not available on the Google Play Store, you'll need to download the APK directly from the 12Play website. Here's how:
Visit the 12Play official website from your Android device.

Navigate to the mobile app section and locate the Android version.

Tap on the 'Download Android App' button to start downloading the APK file.
Step-by-Step Installation of 12Play App on Android
Once you've downloaded the Bookmaker APK, you'll need to install the app on your device. Here are the steps:
Locate the downloaded APK file in your device's download folder.

Tap on the APK file to begin the installation. If prompted, allow installation from unknown sources in your device settings.

Follow the prompts on the screen to complete the installation.

Once installed, open the app, log in or sign up, and start playing your favorite games.
Remember, this process involves installing the Bookmaker app, which requires certain permissions for successful operation.
Keeping your 12Play App Up-to-date
Ensuring that your 12Play app is up-to-date is crucial for the best user experience. Updates typically include new features, game additions, and security enhancements. You can update your 12Play app by simply visiting the official website, downloading the latest APK version, and reinstalling it on your device.
12Play's mobile application is indeed a game-changer in the world of online betting. It offers an immersive experience with over 1000 games, professional 24/7 customer service, and advanced security features. No matter where you are, the 12Play mobile app brings the thrill of betting right at your fingertips.
Key Strategies for Mastering Gameplay at 12Play
Engaging in online betting on the 12Play platform can be an enjoyable and potentially profitable venture. However, to enhance your chances of success, here are some valuable tips and best practices:
Understand the Games: Familiarize yourself with the rules and strategies of the games you're interested in. The 12Play website offers informative guides to help newcomers get started.

Manage Your Bankroll: It's crucial to set a budget for your betting activities and stick to it. Avoid chasing losses and ensure you play within your means.

Use Bonuses Wisely: Take advantage of the promotional offers and bonuses provided by 12Play. These can boost your betting balance and provide extra chances to win.

Stay Disciplined: It's easy to get carried away when playing online casino games. Always remember to play responsibly and know when to stop.

Diversify Your Games: 12Play offers a wide range of games. Diversifying your gameplay can keep the experience fun and exciting.

Keep Learning: The online betting industry is ever-evolving. Stay updated on the latest strategies and trends to stay ahead.
By following these tips and best practices, you can enhance your overall gaming experience and potentially increase your winning chances at 12Play. Always remember that the primary goal is to enjoy the games, so play responsibly and have fun!
Exploring the 12Play Mobile-Friendly Site
The 12Play mobile website provides an accessible platform for betting enthusiasts on the go. It's a well-optimized version of the desktop site, designed to offer the same thrilling experience to users who prefer playing on their smartphones or tablets. The mobile website boasts an intuitive interface, quick loading times, and easy navigation. You can access the vast array of games, manage your account, and perform transactions directly from your mobile device, providing a seamless and enjoyable 12Play experience anytime, anywhere.
Legitimacy and Fair Play at 12Play
12Play operates under stringent regulatory norms, ascertaining its commitment to providing a safe and fair betting environment. It holds a valid PAGCOR license, which guarantees its operations are governed by legal requirements. Furthermore, the fairness of 12Play's games is ensured by its adherence to RNG (Random Number Generator) principles, guaranteeing that outcomes are entirely random and not manipulated. This commitment to transparency and fair play affirms the trust players can place in 12Play, making it a reliable platform for your betting endeavors.
12Play's Efficient Customer Support
Customer support at 12Play distinguishes itself through its dedication to resolving user queries promptly and efficiently. Available 24 hours a day, their professional customer service team is ready to assist with any issues you may encounter. Whether it's questions about gameplay, transactions, or technical issues, you can reach out to them via multiple communication channels, including live chat, email, or phone. The timely and helpful response from 12Play's customer support enhances the overall user experience, ensuring that players can enjoy their time on the platform with minimal disruption.
Final Opinion on 12Play as bookmaker and online casino
In summary, 12Play stands as a prominent player in the online casino and bookmaking landscape. Their comprehensive gaming platform, particularly the impressive array of live dealer games, reflects a commitment to delivering a thrilling gaming experience. Accessibility is significantly boosted with their specialized Android app, which takes mobile gaming to new heights, offering users the convenience of gaming anywhere, anytime.
The high withdrawal limits are another testament to the platform's player-centric approach, allowing for significant flexibility in handling winnings. Customer support, accessible round the clock via live chat, ensures that help is always within reach, enhancing user experience even further. With an English interface, the site provides effortless navigation and understanding, catering to a broad range of players.
However, there are a few areas where 12Play could improve. The undisclosed ownership raises concerns about transparency, and the limited responsible gaming options and payment methods might not cater to the varied needs of all users. Addressing these concerns would further strengthen 12Play's standing in the market.
Overall, 12Play's strengths outweigh its drawbacks, making it a strong contender for those seeking an engaging online betting and gaming experience. Yet, as with any platform, potential users should consider these aspects in light of their individual needs and preferences.
Read this page in other languages:
Pros
Specialized Android mobile app: Enables on-the-go gaming.

High withdrawal limit: Offers flexibility in terms of payout.

24/7 live chat support: Provides round-the-clock assistance.

Comprehensive live dealer game selection: Enhances live gaming experience.

English interface: Ensures ease of navigation and comprehension.
Cons
Undisclosed ownership: Raises questions about transparency.

Limited responsible gaming options: Might not cater to all players' needs.

Limited payment options: Restricts flexibility for deposits and withdrawals.