Discover the comprehensive review of 12Bet, a reliable and experienced bookmaker and online casino. This article dives into the various features and offerings of 12Bet, providing valuable insights for betting and gaming enthusiasts. From its extensive list of lotteries and number games to multiple sportsbooks and versatile applications for computers and mobile phones, readers will gain an understanding of the diverse options available. The review also highlights the platform's strong emphasis on security, licensing, and VIP program, ensuring a safe and rewarding gaming experience. Although the website design may appear outdated and there are access limitations for certain countries, the article presents an honest assessment of the platform's advantages and disadvantages. Intended for individuals seeking an enjoyable and reliable betting and gaming experience, this review equips readers with the necessary information to make informed decisions. Immerse yourself in the world of 12Bet and unlock the possibilities it offers for sports betting and online casino gaming.
Review of the bookmaker and online casino 12Bet is also available in other languages:
Diving into the Details: The 12Bet Company
As an established bookmaker since 2007, 12Bet is owned by the renowned Pacific Sea Invests. This company holds multiple respected licenses, including the Cagayan Economic Zone Authority and the UK license under PACIFIC SEA MARKETING INTERNATIONAL LTD. Its impressive credentials also feature a license from the Gambling Commission in Great Britain and THAWTE. These accreditations testify to the trustworthiness and reliability of 12Bet.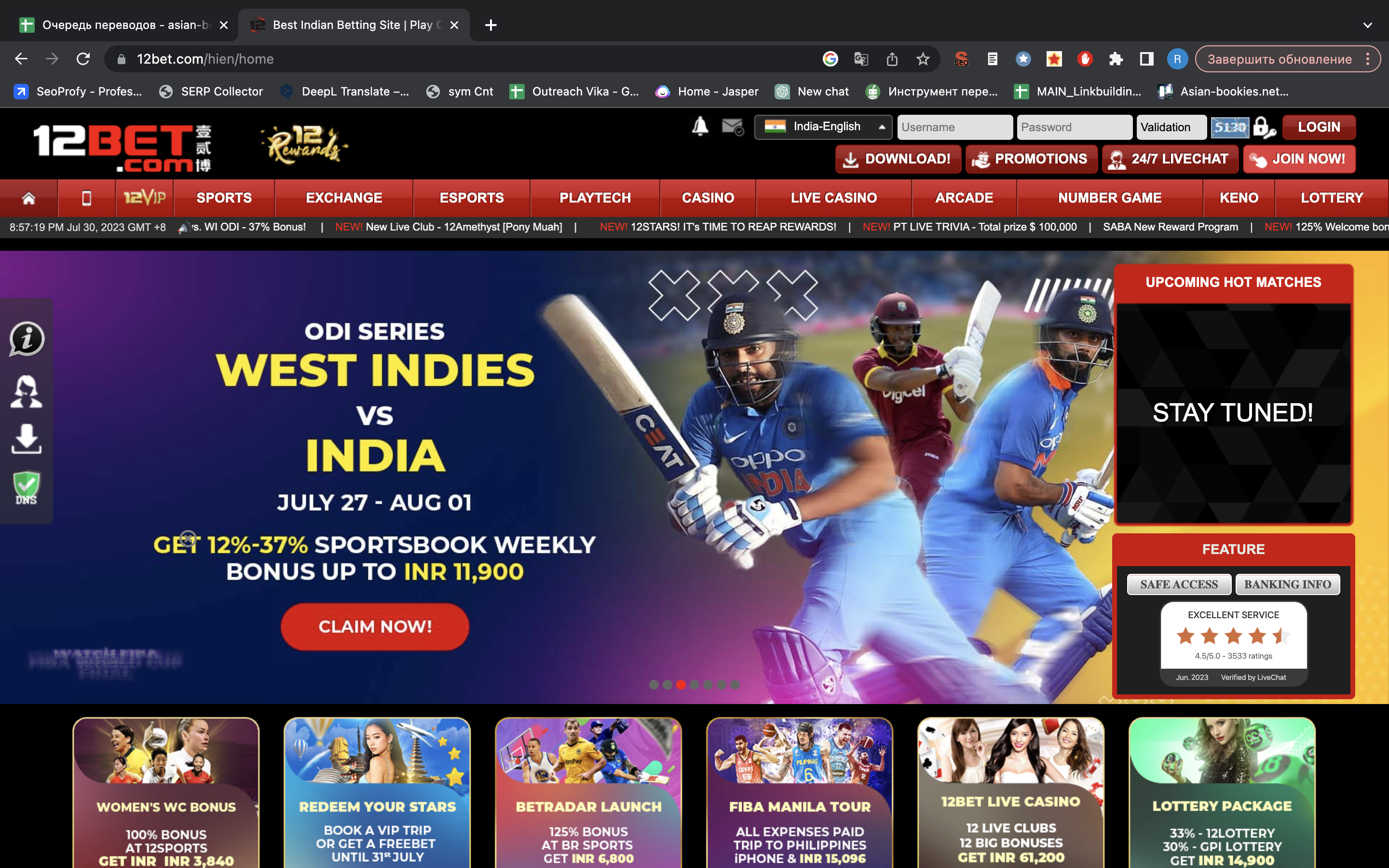 Operating on a multilingual platform that supports twelve languages, including English, Hindi, Chinese, and Korean, 12Bet offers a truly global betting environment. Its customer support is available around the clock, ensuring swift resolution of any issues or queries, thanks to their live and email support options.
Reasons to Bet and Play with 12Bet
Bookmaker 12Bet review reveals an exciting array of betting markets, spanning across sports like soccer, basketball, cricket, and even less traditional ones like netball and snooker. For the tech-savvy crowd, 12Bet caters to esports betting markets, featuring popular games like Dota 2, LOL, CS:GO, and KOG.
Casino 12Bet is not to be overlooked either. Aside from sports betting, the platform offers a rich variety of online casino games, with the availability of lotteries and TOTO, or totalisator. However, it's worth noting that a poker-room is not present.
Transactions on 12Bet are made convenient with a variety of payment methods, such as Skrill, NETELLER, Local Bank, China debit cards, Envoy, and Online Banking. It supports deposits from USD 20 to a maximum of USD 10,000, and withdrawals within a range of USD 50 to USD 10,000.
Delving into the World of Online Sports Betting at 12Bet
When it comes to online sports betting, 12Bet stands out as a leading platform that offers a wide variety of options for avid bettors. As part of our 12Bet review, we assessed the sportsbook 12Bet provides, discovering a selection that goes beyond the standard fare.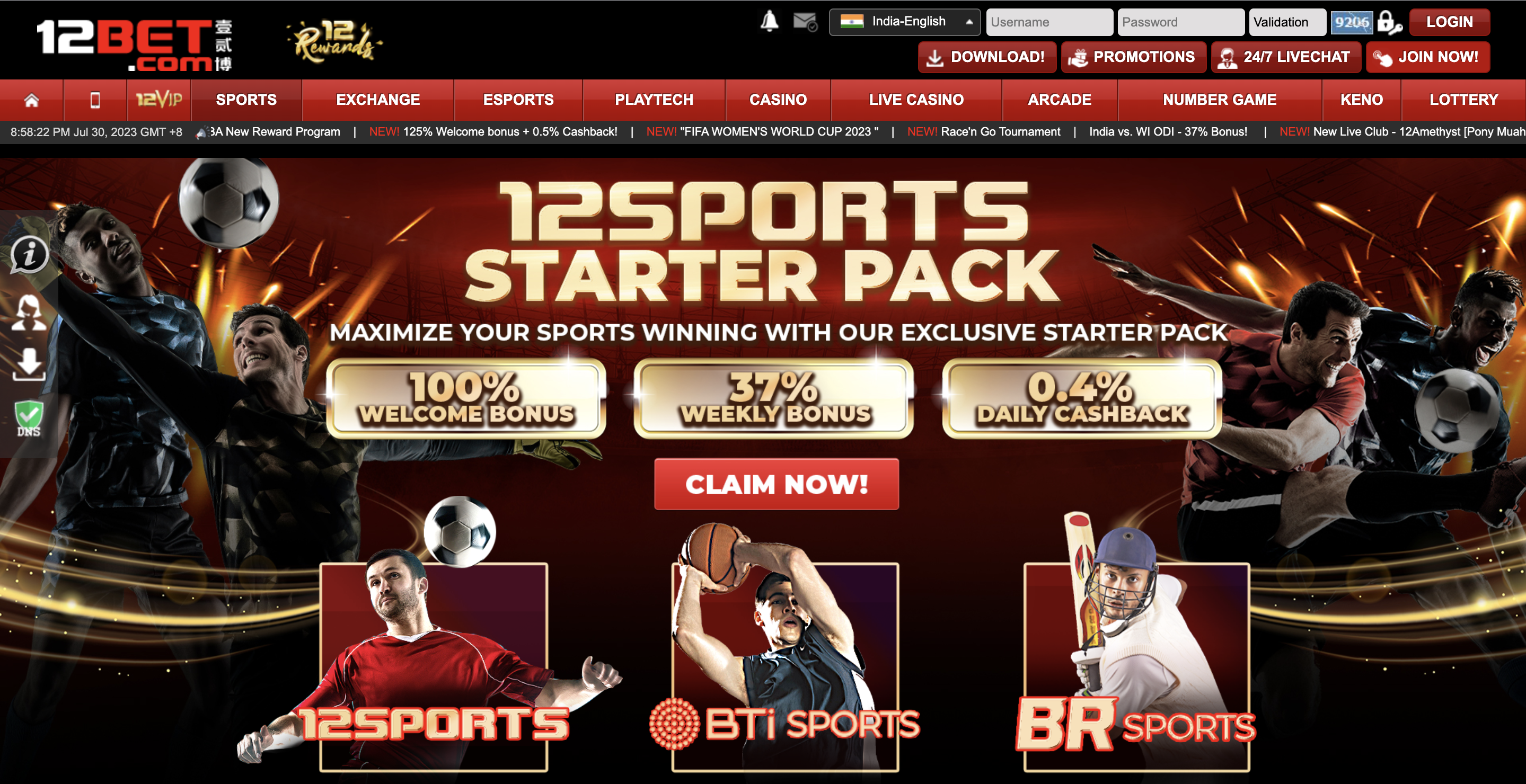 12Bet offers diverse betting markets across traditional sports like Soccer, Basketball, Tennis, Cricket, Baseball, and more niche sports such as Snooker, Netball, and even Motorsports. For fans of combat sports, Boxing and MMA are also available. Importantly, 12Bet caters to the growing trend of esports betting, featuring popular games like Dota 2, CS:GO, LOL, and KOG.
A Deep Dive into the Most Frequented 12Bet Betting Markets
Bookmaker 12Bet offers an exciting portfolio of sports betting markets. Soccer, given its global popularity, is predictably one of the most frequented sports. Similarly, major American sports such as Basketball and Baseball attract numerous punters. However, the charm of 12Bet lies in its comprehensive spread, which even includes less mainstream sports like Badminton, Netball, and Motorsports.
An innovative aspect of the 12Bet betting site is its attention to the rising esports trend. It caters to esports enthusiasts with markets for Dota 2, CS:GO, LOL, and KOG. These options, along with the traditional sports markets, make betting on 12Bet an inclusive experience.
Simplifying the Process: Placing Bets at 12Bet
When it comes to the process of placing 12Bet bets, the site has designed an intuitive and user-friendly interface. Whether you are a seasoned bettor or a novice dipping their toes in the betting world, you will find the process straightforward.
Firstly, users need to create an account and make a deposit using any of the available methods such as Skrill, NETELLER, Local Bank, China debit cards, Envoy, or Online Banking. Once the account is funded, you can select your desired sports event from the sportsbook. Choose your betting market and set your wager amount. Once you're satisfied with your choices, simply confirm your bet.
Unleashing the Thrill: Live Betting in 12Bet
One of the most exciting offerings at 12Bet is live betting, also known as in-play betting. This allows bettors to place wagers on an event while it's happening, adding an extra layer of suspense and engagement. With live betting 12Bet transforms a simple betting experience into a live action-packed venture.
Expanding Your Betting Palette: Types of Bets Available at 12Bet
To cater to all betting enthusiasts, 12Bet provides a range of betting types. Apart from standard single bets, you can explore accumulator bets, which is a single bet that links together multiple individual wagers. For an accumulator bet to win, all of the wagers must win.
In addition to this, there are systems of bets offered that allow bettors to make multiple selections in different events, combining them in one bet. Such systems enhance the betting dynamics and allow for potentially higher winnings.
More than Just Betting: Additional Tools to Boost Your Experience
To further enhance your live betting experience, 12Bet offers additional tools like the 12Bet cash out option. This feature gives you the flexibility to close a bet before the event's conclusion. You can either secure a profit or mitigate a loss depending on how the odds are fluctuating.
Another powerful tool available is the 12Bet bet builder. This innovative feature lets you create your unique bet by combining different markets for the same event in a single bet. With the bet builder, you can customize your bet according to your preferences, enhancing the excitement of in-play betting 12Bet offers.
Our experience of betting on 12Bet sportsbook
We have an fund of 500 USDT to place bets on two different markets at 12Bet, one as a prematch bet, and the other as an in-play bet.
Firstly, we decided to take a dive into the world of Football, the sport with the most global appeal. Scanning through the prematch options available, we chose a game in the English Premier League – Liverpool vs Manchester United, a classic rivalry that always promises excitement.
For our prematch bet, we decided to go for a Moneyline bet on Liverpool to win, which was listed with odds of 2.0. Given the form of the team and their recent performances, we felt confident and decided to stake 200 USDT on this outcome. If Liverpool wins the match, our return will be 200 USDT * 2.0 = 400 USDT.
While the match kicked off and we eagerly watched the events unfold, our attention also veered towards eSports, specifically a Dota 2 match listed for in-play betting. In this arena, we decided to venture into a riskier bet type – Prop Bets, specifically betting that the team Dire would achieve 'First Blood' (the first kill of the game). The odds for this outcome were listed at 3.5, and we decided to place a big bet of the remaining 300 USDT. If Dire achieves First Blood, our return would be 300 USDT * 3.5 = 1050 USDT.
We chose these two bets with different strategies in mind. The prematch bet on a football match was more strategic, based on team form and past performances. The in-play eSports bet was riskier and more unpredictable, aiming for a larger return and embracing the fast-paced dynamics of eSports.
Unfortunately, according to the results of the day, we won only a bet on football, which means that our fund remains at the level of 400 USDT. Despite the small losses, we got an interesting and exciting gaming experience.
Unleashing the Excitement: Review of Online Casino and Slots Games in 12Bet
When it comes to online casino gaming, 12Bet offers a captivating and immersive experience that keeps players coming back for more. As part of our comprehensive review, we explored the online casino 12Bet provides, uncovering a vast array of games that cater to diverse preferences and tastes.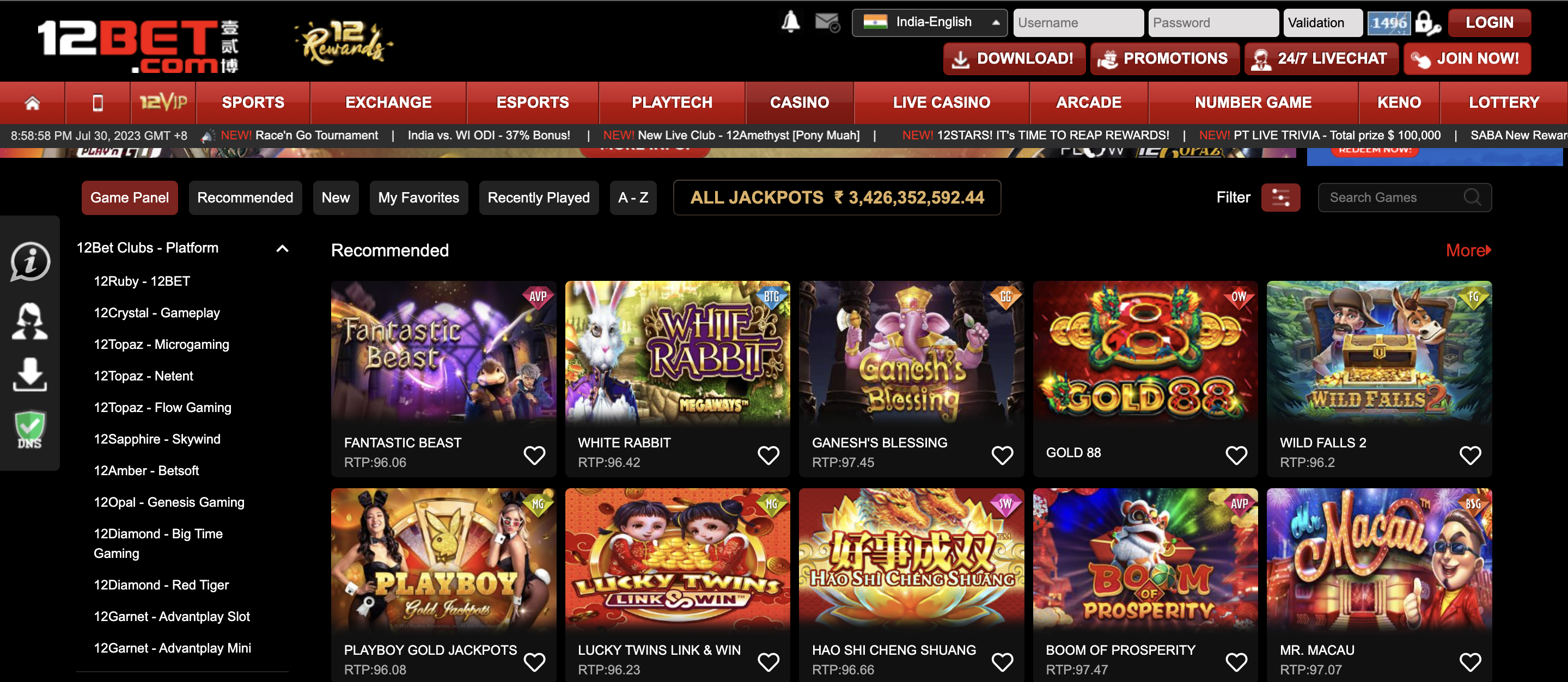 Discovering the Gems: Top Games in the 12Bet Online Casino
The 12Bet casino is a treasure trove of thrilling games, ranging from classic favorites to innovative and immersive options. Players can indulge in a variety of slots games, each offering unique themes, enticing visuals, and captivating gameplay. Popular titles like Starburst, Gonzo's Quest, and Book of Dead are sure to satisfy slot enthusiasts.
For those seeking a taste of the traditional casino experience, 12Bet also offers an impressive selection of table games. Whether it's the suspense of Blackjack, the strategic play of Poker, or the excitement of Roulette, players can enjoy an authentic casino atmosphere from the comfort of their own homes.
Additionally, the 12Bet online casino features live dealer games, where players can interact with real dealers in real-time. This immersive experience allows players to enjoy the thrill of a land-based casino from the convenience of their devices. With options such as Live Blackjack, Live Roulette, and Live Baccarat, the live dealer games at 12Bet provide an unparalleled level of excitement.
Embarking on Your Casino Journey: How to Start Playing at 12Bet
Getting started with the 12Bet casino is a seamless process that ensures players can dive straight into the action. To begin, players need to create an account on the 12Bet gambling site, which is quick and straightforward. Once registered, players can explore the extensive range of casino games available.
To enhance the gaming experience, 12Bet offers a user-friendly interface that allows for easy navigation and smooth gameplay. Players can browse through the different categories, search for specific games, or explore the featured titles. Additionally, the 12Bet casino is compatible with both desktop and mobile devices, enabling players to enjoy their favorite games on the go.
When it comes to deposits and withdrawals, 12Bet provides a range of secure and convenient payment methods. Players can choose from options like Skrill, NETELLER, Local Bank, China debit cards, Envoy, and Online Banking. This ensures hassle-free transactions and peace of mind when it comes to financial transactions.
Elevate Your Gaming Experience: Review of the Live Casino at 12Bet
For players seeking an immersive and interactive casino experience, the live casino at 12Bet is an enticing destination. Offering an unparalleled level of excitement, the live casino brings the thrill of a land-based casino to the virtual realm. In this review, we explore the captivating features and benefits of the live casino at 12Bet.

The centerpiece of the live casino experience at 12Bet is the opportunity to play with real dealers. Through high-definition live streaming, players can engage with professional dealers who oversee the games in real-time. This adds an authentic touch to the gaming experience, replicating the atmosphere of a brick-and-mortar casino from the comfort of home.
The range of live dealer games at 12Bet is impressive, encompassing popular options such as Live Blackjack, Live Roulette, Live Baccarat, and more. Each game is hosted by knowledgeable and friendly dealers who create an engaging and interactive environment. Players can interact with the dealers through chat functions, adding a social element to the gameplay.
The seamless integration of technology ensures smooth gameplay and an immersive experience. The live casino interface at 12Bet is user-friendly, allowing players to easily navigate between different tables and game variations. The streaming quality is exceptional, providing crystal-clear visuals and real-time updates, so players never miss a moment of the action.
One of the advantages of the live casino experience at 12Bet is the ability to customize the gameplay to suit individual preferences. Players can choose from different table limits to match their desired betting range. Additionally, the availability of different variations of popular games, such as European Roulette or VIP Blackjack, ensures there is something for everyone.
Furthermore, the live casino at 12Bet is accessible across various devices, including desktop computers, laptops, and mobile devices. This allows players to enjoy the live dealer games on the go, ensuring the excitement is never out of reach.
Our experience of gamble in casino 12Bet
Our team ventures into the world of online casino gaming at 12Bet with an initial fund of 500 USDT. We choose to explore two different game types – one slot game and one live casino game – aiming to embrace the thrill and unpredictability of casino gaming.
For the slot game, we decide to try our luck with "Book of Dead" from Play'n GO, a popular and exciting slot known for its captivating theme and potential for big wins. With our 500 USDT, we place a sizable bet of 50 USDT, aiming to maximize our potential returns. The game features a high volatility level, which means wins may be less frequent but potentially more significant. We embrace the unpredictability of the slot game, hoping to hit a big win and increase our funds.
Moving on to the live casino experience, we choose to immerse ourselves in the world of live blackjack. Live blackjack allows us to interact with a real dealer and experience the excitement of a land-based casino from the comfort of our own homes. With our remaining balance of 450 USDT, we decide to bet 50 USDT per hand, striking a balance between conserving our funds and having the opportunity for substantial winnings. We employ basic blackjack strategy, aiming to make strategic decisions to maximize our chances of winning against the dealer.
In the slot game, "Book of Dead," we experienced a series of smaller wins and losses. However, we hit a significant win by landing multiple high-paying symbols. In the live blackjack game, we make optimal decisions, and accumulate winnings from successful hands.
Elevate Your Gaming Experience: Exploring 12Bet's Bonuses and VIP Program
When it comes to rewarding players, 12Bet goes above and beyond with a range of enticing bonuses, promotions, and a VIP loyalty program. In this comprehensive review, we delve into the world of 12Bet's bonuses, the VIP program, and how to maximize the benefits of these exclusive offers.
Welcome Bonus: A Grand Entrance to 12Bet
To kickstart your gaming journey at 12Bet, the Welcome Bonus offers a generous boost to your initial deposit. With the 100% Welcome Bonus, new players can double their cash and double their fun. For example, upon making a fresh deposit, you can select the Casino Club of your preference, and upon successful processing of your deposit, the bonus will be instantly credited to your account. This ensures you have a solid foundation to explore the vast array of games and betting options available.
Bonuses and Promotions: Fueling the Excitement
12Bet continuously rewards its players with a range of exciting bonuses and promotions. Whether you're a sportsbook enthusiast or an online casino connoisseur, there's something for everyone.
For sportsbook enthusiasts, the 125% Welcome Bonus offers an exclusive boost to your sportsbook wallet, ensuring unbeatable odds and more significant potential winnings. Additionally, the 88% BTI Welcome Bonus lets you enjoy a massive bonus of up to MYR500 on the user-friendly BTi sportsbook platform.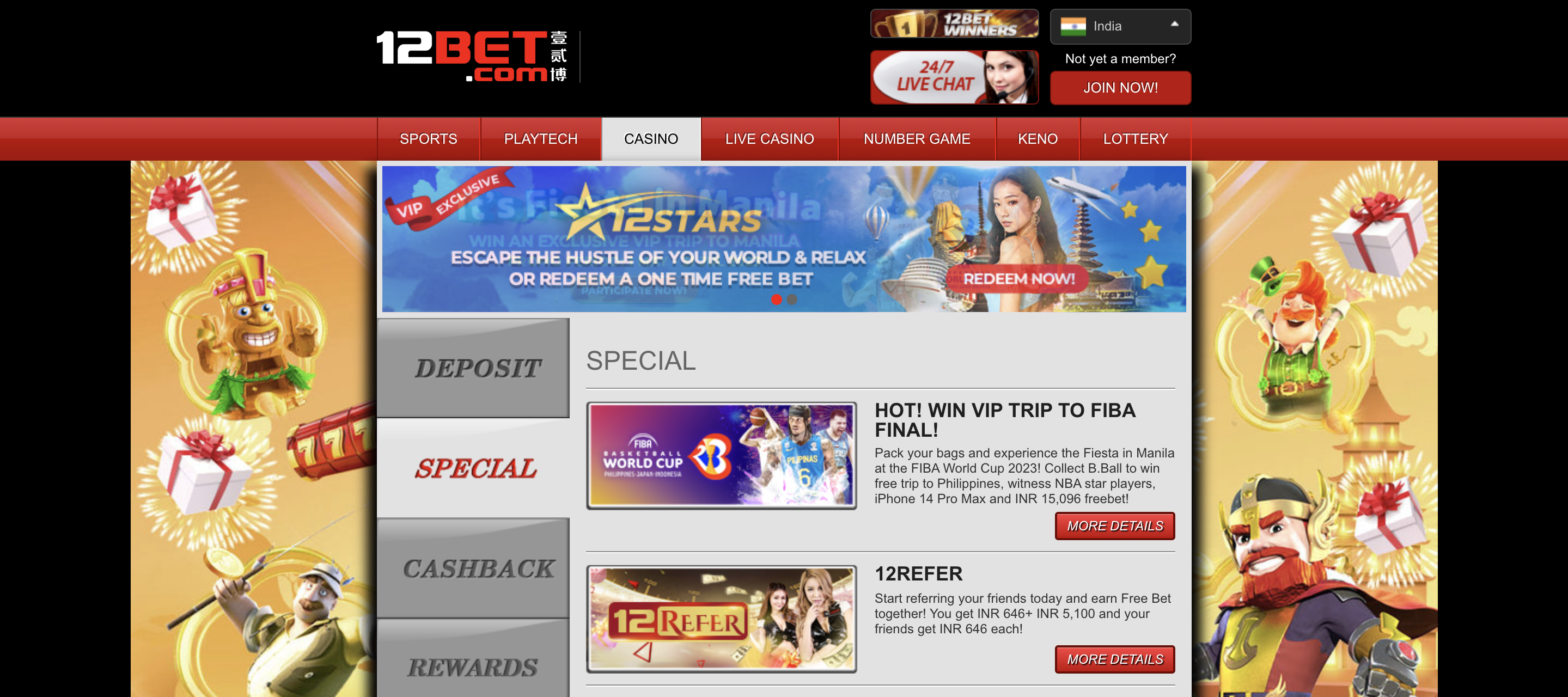 If you're passionate about esports, the 100% IM Esports Welcome Bonus allows you to dive into the world of live streaming and experience the thrill of esports betting.
Mobile users are not left out either, as 12Bet offers a 30% Mobile Deposit Bonus for those who make a deposit through the 12Bet Mobile Site. Furthermore, depositing through the 12Access Desktop App or the 12Bet Mobile Apps grants you a 40% Boost up to MYR333 with the 12Bet Apps Deposit Bonus.
In addition to these exciting bonuses, 12Bet offers a system of cashbacks ranging from 0.2% to 0.6%, depending on the type of sportsbook or casino game you engage with. This ensures that even if luck is not on your side, you still receive some rewards to keep the excitement going.
VIP Loyalty Program: The Ultimate Rewards Experience
For esteemed players, 12Bet presents its VIP Loyalty Program, providing exclusive benefits and rewards to enhance the gaming experience. The program features different tiers, including Black Tortoise, Phoenix, Tiger, and Dragon, each with its own deposit and turnover requirements.
By meeting these requirements, players unlock a plethora of advantages. These include a VIP Welcome Gift, which increases in value as you progress through the tiers, duo weekly bonuses, deposit rebates, loss rebates, reward points multipliers, priority access to VIP services, and VIP LiveChat support. The VIP services are reviewed monthly, and maintaining the required turnover and deposit amounts ensures you retain your VIP status.
Additionally, by collecting extra 12Stars, players can unlock lavish VIP rewards and enjoy an exclusive and luxurious gaming experience.
Promo Codes: Unlocking Special Offers
To access even more exclusive offers and bonuses, 12Bet utilizes promo codes. These codes can be obtained through various channels, including newsletters, social media promotions, and exclusive partner sites. To utilize a promo code, simply enter it in the designated field during the deposit process, and the associated bonus or promotion will be credited to your account.
Seamless Transactions: Depositing and Withdrawing in 12Bet
When it comes to managing your funds at 12Bet, the bookmaker and online casino have made it easy and convenient with a range of payment methods for both deposits and withdrawals. In this section of our review, we explore the various options available, minimum deposit and withdrawal limits, as well as the maximum withdrawal limit.
To ensure smooth transactions, 12Bet offers a selection of trusted and secure payment methods. These include popular e-wallets such as Skrill and NETELLER, local bank transfers, China debit cards, Envoy, and online banking options. By offering a diverse range of options, 12Bet caters to the needs and preferences of players from different regions.
When it comes to making a deposit, the minimum deposit amount at 12Bet is USD 20. This allows players to start their gaming journey with a reasonable investment. On the other hand, the maximum deposit limit stands at USD 10,000, providing flexibility for players who wish to deposit larger amounts.
For withdrawals, the minimum withdrawal amount is subject to a range of USD 50 to USD 10,000. This ensures that players can withdraw their winnings in a timely manner, regardless of the size of their balance. However, it's important to note that the specific minimum withdrawal amount may vary depending on the chosen payment method.
To maintain a secure and responsible gambling environment, 12Bet also imposes a maximum withdrawal limit. This limit ensures that large sums of money are processed securely and without delays. The exact maximum withdrawal limit can vary, and players are advised to check the terms and conditions or contact customer support for the most up-to-date information.
The deposit and withdrawal processes at 12Bet are designed to be straightforward and efficient. Once you have chosen your preferred payment method, simply follow the instructions provided on the website to complete the transaction. Deposits are usually processed instantly, allowing you to start playing and betting right away. Withdrawals, on the other hand, may take some time to process, usually ranging from 0 to 5 working days depending on the chosen method.
Joining the Excitement: Registration at 12Bet
Signing up at 12Bet is a simple and straightforward process that allows you to access the wide range of betting and gaming options offered by the platform. In this section of our review, we provide a step-by-step guide on how to register, make a deposit, and place your stakes at 12Bet.
Step 1: Visit 12Bet – Exploring the Official Site. To begin the registration process, you can visit the official 12Bet website. Alternatively, you can follow the provided mirror link to access the platform. Both options ensure a secure and reliable connection to the site, allowing you to proceed with confidence.

Step 2: Sign Up – Creating Your Account. Once you have accessed the 12Bet website, the next step is to sign up for an account. Look for the "Sign Up" or "Register" button, which is typically prominently displayed on the homepage. Clicking on this button will direct you to the registration page. On the registration page, you will be asked to provide some personal information to create your account. This may include details such as your name, email address, date of birth, and contact information. It's important to provide accurate and up-to-date information to ensure a smooth and hassle-free experience.

Step 3: Make a Deposit – Funding Your Account. After successfully creating your account, it's time to make a deposit to fund your 12Bet account. Look for the "Deposit" or "Cashier" section, usually located in the account or banking area of the website. Here, you will find a range of payment methods to choose from.

Step 4: Place Your Stakes – Embracing the Action. With your account funded, it's time to explore the exciting world of betting and gaming at 12Bet. Browse through the available sports betting markets, casino games, or live dealer options to find your preferred choice. Once you have selected your desired event or game, you can place your stakes by selecting the appropriate betting options and entering your desired wager amount.
Now that you're familiar with the registration process and ready to explore the offerings at 12Bet, let's address some additional details.
Registration Requirements
To register at 12Bet, you must meet the legal age requirement for online gambling in your jurisdiction. Additionally, it's important to ensure that online gambling is legal in your country of residence.
How to Register with the Mobile App
If you prefer to access 12Bet's offerings on your mobile device, you can download the dedicated 12Bet mobile app. Simply visit the official website and follow the instructions to download the app compatible with your device's operating system. The registration process through the mobile app is similar to the web version, allowing you to create an account and enjoy the same features and benefits on the go.
How to Get a Welcome Bonus with Registration
Upon successful registration, you may be eligible for a welcome bonus at 12Bet. The specifics of the welcome bonus may vary, so it's essential to review the terms and conditions or check the promotions section to understand the requirements for claiming the bonus. Typically, welcome bonuses are credited to your account upon the successful completion of your first deposit.
12Bet Account Verification Instruction
To ensure a secure and responsible gaming environment, 12Bet requires account verification from its users. Here's a simple guide to help you with the account verification process:
Log in to your 12Bet account.

Navigate to the account settings or profile section.

Locate the verification tab or option.

Follow the instructions provided to upload the required verification documents.

Ensure that the documents are clear, valid, and in the specified format.

Submit the documents for review.

Wait for the verification process to be completed.

Once verified, you will receive a confirmation notification.
By completing the account verification process, you can enjoy a secure and enhanced gaming experience at 12Bet.
12Bet Mobile App: Betting on the Go with Ease
Experience the convenience of mobile betting and gaming with the 12Bet Mobile App, available for both Android and iOS devices. In this section of our review, we provide you with all the necessary information on system requirements, downloading, installing, and updating the 12Bet app.
System Requirements
The 12Bet Mobile App is designed to be compatible with a range of devices running on Android and iOS platforms. To ensure smooth performance, your Android device should have a minimum operating system version of 5.0 or higher. For iOS users, the app is compatible with iOS version 9.0 or later.
How to Download 12Bet APK for Android?
Please note that the 12Bet Mobile App is not available for download from the Android Play Store. To download the APK file for Android, follow these steps:
Enable the installation of apps from unknown sources on your Android device. Go to "Settings," then "Security," and turn on "Unknown Sources."

Visit the official 12Bet website using your mobile browser.

Look for the "Download" button and select it to initiate the download of the APK file.
How to Install 12Bet App on Android?
After downloading the 12Bet APK file, follow these steps to install the app on your Android device:
Open the file manager on your device and navigate to the "Downloads" folder.

Locate the downloaded APK file and tap on it to start the installation process.

If prompted, grant any necessary permissions for the installation to proceed.

Once the installation is complete, you can find the 12Bet app icon on your device's home screen or in the app drawer.

Open the app, enter your username and password, and start enjoying the features and offerings of 12Bet on your Android device.
How to Download and Install 12Bet App on iOS?
Unlike Android, the 12Bet Mobile App can be directly downloaded from the App Store for iOS devices. Follow these steps to download and install the app on your iOS device:
Visit the official 12Bet site on your iOS device.

Search for the download button.

Click on the downloaded app.

Go to "Settings" > "General" > "Device Management."

Select the developer name and click "Trust."

Open the app, enter your username and password, and enjoy.
How to Update 12Bet App?
To ensure you have the latest features and improvements, it's important to keep your 12Bet app up to date. Follow these steps to update the app:
Visit the official 12Bet website using your mobile browser.

Look for the "Download" button and select it to download the latest APK file.

Follow the installation steps mentioned earlier to update the app on your Android or iOS device.
Tips and Best Practice for playing at 12Bet
When playing at 12Bet, it's important to keep in mind some tips and best practices to enhance your overall experience. Here are a few key points to consider:
Set a Budget: Before you start playing, establish a budget for yourself. Determine how much you're willing to spend and stick to that limit. This will help you maintain control over your finances and prevent overspending.

Understand the Games: Take the time to understand the rules and mechanics of the games you're playing. Whether it's sports betting or online casino games, having a good understanding of the rules will increase your chances of making informed decisions and winning.

Practice Responsible Gambling: Gambling should be seen as a form of entertainment, and it's important to gamble responsibly. Set limits on your time and money spent gambling, and never chase losses. If you feel that your gambling habits are becoming problematic, seek help and support.

Take Advantage of Bonuses and Promotions: 12Bet offers various bonuses and promotions that can enhance your gaming experience. Make sure to check the promotions page regularly and take advantage of the offers that suit your preferences and playing style.

Use the Mobile App: 12Bet provides a mobile app for both Android and iOS devices, offering convenience and flexibility. Downloading the app allows you to access your account, place bets, and play casino games on the go.

Stay Informed: Keep yourself updated on the latest sports news and trends if you're into sports betting. For casino games, familiarize yourself with game strategies and tips to improve your chances of winning.

Practice Bankroll Management: Proper bankroll management is crucial in gambling. Set aside a dedicated bankroll for your betting activities and avoid risking more than you can afford to lose in a single bet or gaming session.
12Bet Mobile Website: Betting and Gaming on the Go
The 12Bet mobile website provides a convenient platform for users to access their favorite betting markets and casino games while on the move. With its user-friendly interface and optimized design, the mobile website offers a seamless and responsive experience across various mobile devices.
Whether you're using an iOS, Android, or Windows device, you can easily navigate through the mobile website and enjoy the same features and functionalities as the desktop version. From placing sports bets to exploring a wide range of casino games, the mobile website ensures that you never miss out on the action.
12Bet License and Fairness: A Trustworthy Gaming Platform
As a reputable online betting and casino operator, 12Bet holds licenses from respected authorities, including the Cagayan Economic Zone Authority and the UK Gambling Commission. These licenses demonstrate the company's commitment to operating within strict regulations and providing a secure and fair gaming environment for its users.
Additionally, 12Bet employs advanced security measures to protect user information and financial transactions. The use of SSL encryption technology ensures that all data shared on the platform remains confidential and secure.
When it comes to fairness, 12Bet utilizes random number generators (RNGs) to ensure that the outcomes of its games are completely random and unbiased. This ensures a level playing field for all users, giving them the confidence that they have a fair chance of winning.
12Bet Customer Support: Prompt Assistance at Your Fingertips
At 12Bet, customer support is a top priority. The platform offers 24/7 customer support to address any queries or concerns that users may have. Whether you have a question about your account, a specific bet, or need assistance with the platform's features, the dedicated support team is just a message away.
You can reach out to the support team through the live chat feature on the website or by sending an email. The knowledgeable and friendly support agents strive to provide prompt and helpful responses, ensuring that you have a smooth and enjoyable betting or gaming experience.
Final Opinion on 12Bet as bookmaker and online casino
In conclusion, 12Bet stands as a reliable and experienced bookmaker and online casino, offering a wide range of options for betting and gaming enthusiasts. With its extensive list of lotteries and number games, multiple sportsbooks, and versatile applications for both computers and mobile phones, 12Bet provides convenience and accessibility to its users. The platform places a strong emphasis on security, holding serious licenses and implementing robust measures to protect user data. Additionally, the VIP program rewards loyal players with exclusive benefits, adding an extra layer of excitement to the gaming experience.
However, it is important to note that the website design may appear outdated, which can be seen as a minor drawback. Additionally, access limitations for certain countries in Europe and America, as well as the limited payment methods available, may pose some challenges for potential users.
Overall, 12Bet offers a reliable and secure platform for betting and gaming enthusiasts, supported by its years of experience and commitment to player satisfaction. With its diverse offerings, user-friendly interface, and strong licensing, 12Bet presents itself as a trustworthy choice for those seeking an exciting and rewarding online betting and gaming experience.
In summary, 12Bet combines reliability, a diverse range of options, and a user-friendly interface to create an enjoyable environment for both sports betting and online casino gaming.
Read this page in other languages:
Pros
Reliability and Experience: With years of experience in the industry, 12Bet is a reliable and trusted casino and bookmaker.

Diverse Lotteries and Number Games: 12Bet offers an extensive selection of lotteries and number games, providing players with various options for entertainment.

Multiple Sportsbooks: The platform offers multiple sportsbooks, allowing users to choose from a wide range of sports and betting markets.

Versatile Applications: 12Bet provides applications for both computers and mobile phones, ensuring convenient access to their services on different devices.

Strong Security and Licensing: 12Bet prioritizes the protection of user data and holds serious licenses, providing a safe and secure betting environment.

VIP Program: The platform offers a VIP program, rewarding loyal players with exclusive benefits and rewards.

Extensive FAQ: 12Bet provides an extensive FAQ section, offering answers to common questions and providing helpful information to users.
Cons
Outdated Website Design: The website design of 12Bet may appear outdated and in need of modernization.

Access Limitations: Some countries in Europe and America may face access limitations to the 12Bet platform.

Limited Payment Methods: 12Bet has a limited range of payment methods available, which may inconvenience some users.