Get the inside scoop on 10cric, the premier bookmaker and online casino, through this comprehensive review. Bursting with information, this article delves into the platform's features, including high betting odds, a vast selection of casino games, and generous promotions. Discover the pros and cons, payment methods, mobile app details, and more. Intended for betting enthusiasts and casino players, this article provides useful insights, covering registration, verification, bonuses, and the overall betting experience. Check out The 10Cric and make informed decisions, all while enjoying the burst of excitement that comes with online betting.
About 10cric Company
Established in 2019, 10Cric has quickly gained recognition in the betting industry. Owned by Chancier B.V., and operating under a Curacao gambling license, this platform is known for offering a wide array of betting markets and game lines. From cricket, American football, tennis to esports like Dota 2 and CS:GO, 10Cric caters to a diverse range of betting preferences. Based on our expertise, their offerings aren't limited to sports betting, 10Cric is also a thriving hub for online casino games, providing players with a rich selection from renowned software providers like NetEnt, Play'N Go, and Evolution.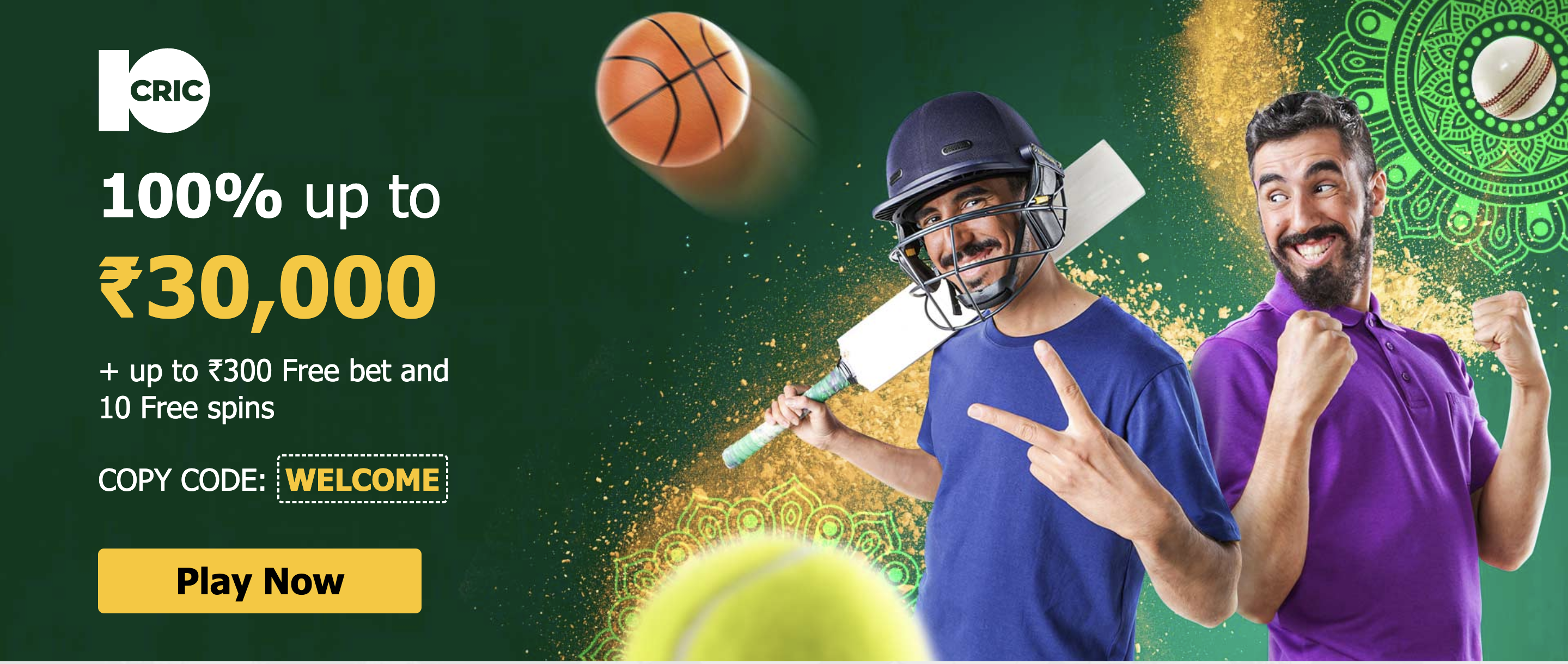 Quick Advantages to Play Games at 10cric
There's plenty to love about the bookmaker 10Cric. Their range of sports and esports betting markets is impressive, covering everything from cricket to League of Legends. When it comes to their casino games, 10Cric is no less remarkable. Their selection includes slots, poker, baccarat, and more, with live casino games also on offer. One notable feature is the inclusion of Indian games like Teen Patti and Andar Bahar, which are a significant draw for local players.
10Cric accepts a variety of payment methods, including credit/debit cards, eWallets, Crypto, and bank transfers. Notably, it's one of the few platforms that accept Bitcoin. The website supports multiple languages and currencies, making it a convenient choice for international players.
The bookmaker 10Cric offers a slew of attractive promotions and bonuses, making it a fantastic option for both new and seasoned bettors. Their minimum bet limit is quite low, and their maximum profit limit is fairly high, ensuring players of all budgets can enjoy wagering on their favorite sports or games.
Sportsbook 10cric
The sportsbook 10cric is a treasure trove for punters, offering a broad spectrum of betting markets spanning across various sports and eSport disciplines. Drawing from our experience, 10cric proves to be a flexible platform that caters to both mainstream and niche preferences.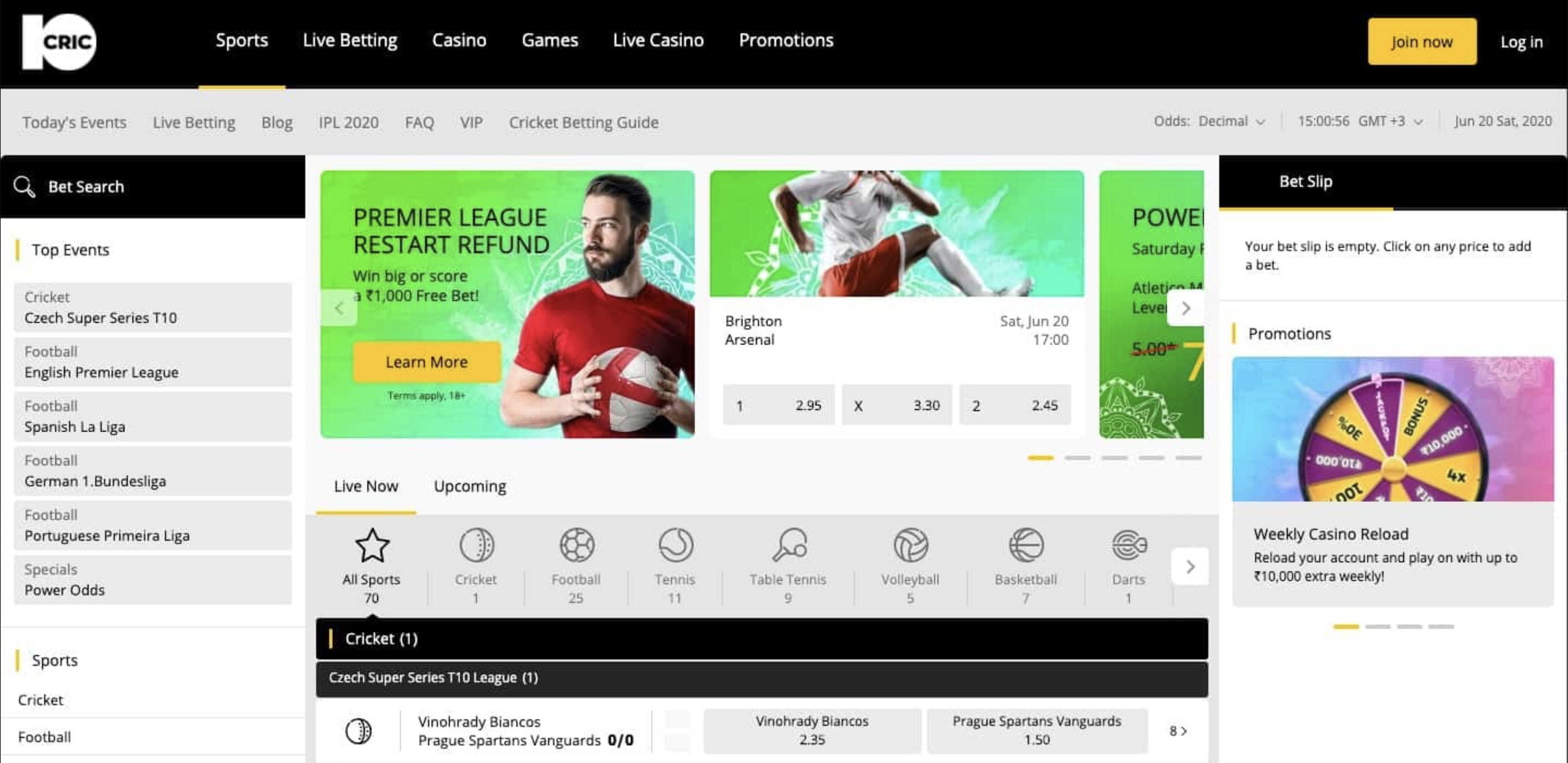 Most Popular Sports Betting Markets in 10cric
When placing bets on 10cric, several sports stand out due to their popularity and extensive market availability.
Football Betting in 10cric: The allure of football captivates bettors worldwide, and 10cric acknowledges this demand with a comprehensive football betting market. Whether you're keen on major leagues like the Premier League, La Liga, or the UEFA Champions League, or have a preference for regional leagues, 10cric has you covered.
Basketball: Another popular choice in the bookmaker 10cric is basketball. NBA games often take center stage, but bettors also find markets for European and Asian leagues. The platform offers both pre-match and live betting options, as well as a variety of bets such as money lines, points spreads, and over/unders.
Cricket: As an Asian bookmaker, 10cric naturally excels in offering robust cricket betting markets. From the Indian Premier League to the Ashes series, cricket enthusiasts find numerous opportunities for placing stakes, be it on match results, player performances, or other intricate aspects of the game.
eSports: The eSports market in 10cric is vibrant and continuously growing. Leading games like Dota 2, CS:GO, and League of Legends have found their place in 10cric bets, offering a fresh and exciting dimension to the traditional sports betting scene.
Other Betting Markets Available in 10cric
Beyond these popular sports, the 10cric betting site provides an array of other markets. Bettors who fancy American sports can wager on Baseball, Ice Hockey, and American Football. Fans of combat sports find their interests catered to through Boxing and MMA markets.
Moreover, 10cric also hosts markets for sports like Rugby, Badminton, Golf, and Motor Racing, proving its versatility. Additionally, the platform includes unique betting selections like Alternative Handicap Basketball, Alternative Handicap Tennis, and Asian Bets, further diversifying the betting experience.
Live Betting in 10cric
Live betting, or in-play betting on 10cric, is a dynamic and thrilling aspect of the platform. It offers gamblers the chance to make a bet while a game or match is still in progress, providing a real-time and immersive betting adventure. Our tests of 10cric have shown that the live betting feature operates smoothly, with constantly updated odds that reflect the state of the game, making live bets on 10cric an engaging endeavor for all players.
Live Streaming in 10cric
While it's essential to mention that 10cric does not offer live streaming services, it does provide a comprehensive live match statistics feature. This tool allows players to stay informed about ongoing matches, tracking critical match developments as they happen. These live stats help punters make informed live bets, thereby increasing their chances of successful wagering.
Available Types of Bets on 10cric
10cric offers a broad range of betting types, catering to the needs and preferences of different players. Single and accumulator bets are available for those who prefer traditional betting styles. An accumulator bet involves multiple selections in one wager, where each selection must win for the bet to be successful, which brings the potential for high returns.
However, if you fancy a more sophisticated approach, 10cric offers systems of bets. These include betting systems, which combine multiple bets in unique ways to provide broader coverage and improved chances of a return.
Additional Betting Tools
On top of the wide range of betting options, 10cric provides helpful tools to enhance the betting process. The 10cric cash out feature is especially popular as it allows punters to secure a return before the event has finished. If the game isn't going in your favor, or if you want to protect your winnings, you can cash out early, mitigating potential losses.
How to Place Bets at 10cric?
Placing a bet at 10cric is straightforward and uncomplicated. To begin, log in to your 10cric account and navigate to the sport or event you wish to wager on. Click on the odds displayed next to your chosen event, and it will be added to your betting slip, typically located on the right side of the page.
Now, enter the amount you'd like to wager. This amount constitutes your stake. The potential winnings will be calculated and displayed on the betting slip. If you're satisfied with your choices, click the 'Place Bet' button. After a quick processing time, your wager will be confirmed, and you can follow the progress of your bet from your betting history.
How to Place Stakes at 10cric with the App?
Betting with the 10cric mobile app is just as straightforward. After installing and logging into the app, navigate to your preferred event by scrolling through the sports categories or using the search function. Tapping on the odds next to your desired event will add it to your betting slip.
Enter your stake in the designated field, and the app will automatically calculate potential returns. When you're satisfied with your bet, click 'Place Bet.' Your wager is placed instantly, offering a smooth and streamlined betting experience on the go.
Whether you prefer desktop or mobile betting, 10cric offers a simple and user-friendly platform for all gamblers. The process is quick and efficient, ensuring that even the newest of bettors can navigate with ease.
Our experience of betting on 10cric
With a prepared budget of 500 USDT, our team decided to venture into the sportsbook of 10cric, planning to take part in two different betting. The aim was to evaluate 10cric's service and the thrill of staking in both pre-match and in-play situations.
For our pre-match bet, we focused on football, the globe's most loved sport. We examined the upcoming matches in the English Premier League and found a compelling matchup – Liverpool facing Manchester United, one of football's most historic rivalries. The Moneyline seemed an enticing option, with Liverpool tipped as favorites. As a strategy, we decided to stake a higher portion of our funds on this pre-match bet due to the predictable nature of these events. So, we put 400 USDT on Liverpool to win.
As the match kicked off, the tension was palpable. Our selected team, Liverpool, started strong, dominating possession and creating several opportunities. We knew then that our chosen strategy might work.
Turning our attention to in-play betting, we were drawn to an ongoing Dota 2 eSports match, an unpredictable and dynamic market. The game between Team Liquid and OG was neck-to-neck. We decided to place our remaining 100 USDT on Team Liquid to win the match while they were slightly behind. The odds were better in this scenario, and we knew Team Liquid's prowess for making comebacks.
Our in-play bet was notably more thrilling, as the rapidly changing nature of eSports made it a wild ride. Team Liquid started to turn the tides and eventually pulled off an exciting win.
The thrill of placing bets on 10cric was quite an experience, with a successful result on both our pre-match and in-play bets. Notably, the site's user-friendly platform and variety of betting options allowed us to diversify our stakes and strategies, leading to an exhilarating gambling session.
10cric Online Casino
The 10cric Online Casino is an exciting segment of the platform where gamblers are spoilt for choice. With an impressive range of games supplied by top-tier providers, it's an enjoyable avenue for seasoned players and beginners alike.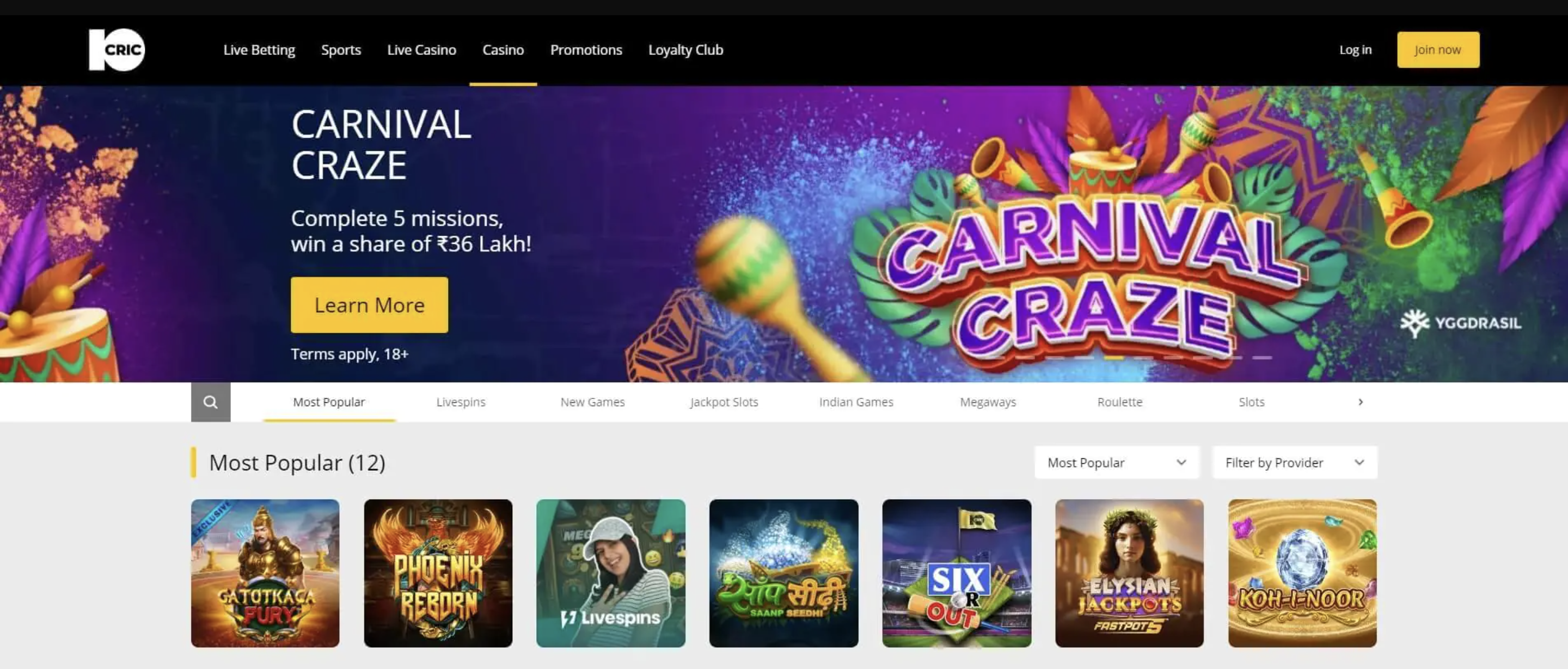 Providers of slot games available at 10cric
10cric include industry titans like Microgaming, NetEnt, and Play'n GO. These providers are renowned for high-quality, immersive slots that feature spectacular graphics and unique, entertaining themes. By offering games from these providers, 10cric ensures its punters enjoy top-notch slots with a high chance of good returns.
Is have 10cric Asian and hunting slots games?
At 10cric are available some hunting and Asian slot games for punters who have a taste for these genres. The casino recognizes the demand for games that resonate with different cultural backgrounds. Consequently, it hosts a collection of games like Sakura Fortune, featuring an enchanting oriental theme, and Big Bad Wolf, inspired by the classic children's story. These Asian and hunting-themed games allow players to feel more connected to the gameplay, further enhancing their enjoyment.
Top Casino Games available at 10cric
10cric gambling site also features top casino games that cater to various interests and skill sets. Lovers of classic casino games will find an array of options like Blackjack, Roulette, and Poker. These games are designed to replicate the experience of being in a physical casino, right down to the smallest details.
For those who prefer live action, 10cric's Live Casino is the place to be. Here, punters can interact with live dealers and play games in real-time, adding an extra layer of excitement to the gambling experience.
Live Casino at 10cric
Live Casino at 10cric offers a unique and thrilling space for players who prefer the added thrill of live-action games. This section of the website brings an authentic casino environment right to the players' fingertips in the desctop or smartphone.
Live games providers in 10cric
Renowned developers like Evolution Gaming and Pragmatic Play Live supply the platform's live casino games. These providers are acclaimed for delivering immersive live dealer experiences, with high-definition streaming, professional dealers, and real-time interaction.
Advantages live casino games at 10cric
Playing live casino games has several advantages. For starters, it presents an opportunity to engage in a real-time gaming experience from the comfort of your own home. The convenience of online gaming is seamlessly blended with the authenticity of a live casino, allowing players to experience the best of both worlds. Whether it's the classic games like Roulette, Blackjack, and Baccarat, or innovative new games like Dream Catcher, there is something for everyone.
The live casino section is accessible 24/7. Regardless of the time zone, players can engage in a game of their choice with professional dealers, further enhancing the authenticity of the gaming experience.
The 10cric platform also provides excellent customer support. Should you encounter any issues during your gaming session, the customer service team is readily available to provide swift and efficient assistance.
Instant games at 10cric
10cric also has carved out a niche among players seeking a quick thrill and fast-paced entertainment. These games are designed to offer rapid results, often in a fun, social casino games setting at 10cric. In our tests of these games, we found that they offer a fresh twist on the classic casino experience, appealing to players who appreciate simplicity, speed, and a fair amount of suspense.
Aviator 10cric
A popular title in this category is Aviator, which delivers a unique blend of excitement and unpredictability. The Aviator game at 10cric is a crash game that sees players wagering on a simulated airplane's flight. The plane ascends, and the players' multiplier increases, but the plane can crash at any moment, ending the game. The trick is to cash out your bet before the crash, making this game a true test of nerves and anticipation.
JetX 10cric
JetX is another adrenaline-fueled offering, presenting players with a similar premise. The JetX game at 10cric sees a virtual plane taking flight, and the longer it stays in the air, the higher the potential returns for the players. However, the challenge lies in deciding when to cash out before the plane crashes, adding an element of strategy to this chance-based game.
How to Start Playing at Casino 10cric?
Registration is the first step in this journey. You just need to click on the 'Join Now' button on the website's homepage, fill out the registration form with accurate details, and you'll be ready to wager in no time.
The next step is to deposit funds into your account. 10cric supports a plethora of payment methods, from bank transfers to e-wallets and even cryptocurrencies. Simply navigate to the deposit page, select your preferred method, input your desired amount, and confirm the transaction.
Once your account is funded, you're free to delve into the world of gambling offered by 10cric in the relevant section. Whether you're passionate about the sportsbook or inclined towards the online casino, there's a myriad of options at your disposal. You can start staking by choosing a game or event and placing your wager.
How to Start Playing at 10cric via App?
For those who prefer their gambling on the go, 10cric's mobile app is an excellent choice. It replicates the web version's convenience and versatility on a compact platform. To start, you'll need to download the app from the 10cric website, as it's currently not available on app stores due to policy restrictions.
The registration and deposit processes on the app are identical to the web version. After installing the app, find the 'Join Now' button on the homepage and follow the prompts. Once your account is set up and funded, you can dive into the world of 10cric's offerings.
The app provides the same range of casino games and sportsbook options as the web version, ensuring you're never far away from the excitement of placing a wager. Whether you're a fan of traditional table games or enjoy the thrill of live sports betting, the 10cric app brings it all to your fingertips.
Our experience of gamble in casino 10cric
Armed with 500 USDT and a thirst for the thrill that only an online casino can provide, we ventured into the world of 10cric. With our minds set on experiencing both the slot and live games, we began our journey in the slots section. Our choice? 'Gonzo's Quest' from NetEnt, a slot renowned for its captivating graphics and the promise of hidden treasures.
Our strategy was simple – start with small wagers to understand the game dynamics, then gradually increase our bets as we got comfortable. We began by placing a bet of 5 USDT. With every spin, the excitement surged as we awaited the result. Soon enough, fortune smiled upon us, and we landed a big win of 200 USDT, a sizeable boost to our funds. However, the tide turned quickly, and we experienced a series of losses that brought us back down to our initial 500 USDT, after which we decided to stop..
With the experience of our slot adventure fresh in our minds, we chose 'Immersive Roulette' from Evolution, a game that combines the classic charm of roulette with modern technology to deliver an unparalleled experience.
In the live casino, our approach was slightly different. Aware of the potential volatility, we decided to bet big from the start – a bet of 100 USDT on red. The wheel spun, our hearts raced, and as the ball landed on red, we cheered our first win. Emboldened, we decided to place another 100 USDT on black. Luck was not on our side this time, and we lost our bet.
While the thrill of the game is incomparable, this experience reminded us of the unpredictability of casino games. As the saying goes, "The house always wins." It's crucial to approach gambling with a sense of fun and adventure, never forgetting that winning should be a pleasant surprise, not an expectation.
10cric Online Poker Room
Entering the world of 10cric, one might anticipate an exclusive Poker Room. However, 10cric diverges from this expectation, focusing instead on offering immersive table card games and Live Poker Games experiences. This nuanced approach underscores 10cric's commitment to bringing unique gambling encounters to its users. While the absence of a traditional Poker Room might be disappointing for some players, it by no means diminishes the excitement and thrill that 10cric brings to the table.
Super Sports Welcome Pack
The first thing that catches your eye at 10cric is the exciting Welcome Bonus on offer. Super Sports Welcome Pack is specially designed for new players to kick-start their journey. Upon making your first deposit, you are presented with an opportunity to double your betting power, thanks to a 100% bonus up to ₹30,000. So, if you deposit ₹10,000, you receive an additional ₹10,000 as a bonus, allowing you to bet with a total of ₹20,000.
To become eligible for this enticing first deposit bonus, users need to input the bonus code 'WELCOME' into the designated 'Bonus Code' field when making their initial deposit.
The bonus journey doesn't end there, as 10cric also treats you to three days of free bets and spins after your deposit. On the first day, you receive a ₹100 Free Bet. This is followed by 10 Free Spins on the game 'Idol of Fortune' on the second day. The generosity continues on the third day with a ₹200 Free Bet. To avail of these bonuses, simply log in daily after making your deposit.
'Super Sports Welcome Pack' Wagering Requirements
However, it's essential to be aware of the wagering requirements. This promotion is only available to customers making their first real-money deposit. The bonus cannot be combined with other promotions. And, importantly, in case you miss logging in any day, the corresponding Free Bet or Free Spins for that day shall be forfeited. The Free Bets may be used on any available sports market with odds of minimum 1.50. The deposit and bonus amount must be rolled over 7 (seven) times on settled sports bets with odds of at least 1.80.
Casino Welcome Pack
TThe Casino Welcome Pack at 10cric provides a thrilling entry for all the new players with an enormous total of ₹60,000 in Casino Bonuses and ₹1,500 in Free Bets, spread across your first three deposits. Below we illustrates the deposit bonuses and free bets distribution:
First deposit – Bonus code: CASINO, you receive a 150% bonus up to ₹15,000 and a ₹500 Free Bet.
Second deposit – Bonus code: CASINO2, you receive a 200% bonus up to ₹20,000 and another ₹500 Free Bet.
Third deposit – Bonus code: CASINO3, you get a 250% bonus up to ₹25,000 and a ₹500 Free Bet again.
To claim your first welcome bonus, log in at 10CRIC Casino and make your first deposit of at least ₹1,000 using the code CASINO. You'll then receive a 150% bonus up to ₹15,000 and a ₹500 Free Bet. The amount used for activating the bonus gets transferred to the Casino Bonus Account and can't be withdrawn. The funds in this account can be used for gameplay in the 10CRIC Casino section.
'Casino Welcome Pack' Wagering Requirements
Lastly, bear in mind the wagering requirements, which are thirty-five (35) times the deposit and bonus amount. These must be met within 15 days of claiming the bonus.
10cric Bonuses and Promotions
But the rewards don't stop after welcome bonuses. 10cric is constantly updating its promotions page with a diverse mix of ongoing offers. From weekly reload bonuses to cashback offers, free bets, and free spins on popular slots, there's always something to look forward to. Furthermore, 10cric offers exclusive promotions tailored around major sports events, like the IPL or the World Cup, which adds to the excitement of wagering on these tournaments.
Bonus 'Live Casino Cashback'
10CRIC offers an enticing Live Casino Cashback bonus to its players, providing an opportunity to win or get up to ₹5,000 cashback each week by simply enjoying your favorite live casino games. This includes popular titles like Indian Roulette, Andar Bahar, Teen Patti, among 130+ other live casino games.
The cashback amount increases as you play more days in a week. If you bet ₹5,000+ for 5 days, you receive 5% cashback, 6% for 6 days, and a whopping 10% cashback for 7 days. To claim this cashback, log into your 10CRIC account, opt-in for the promotion, and play at least ₹5,000 per day for a minimum of 5 days on any Live Casino games. Your cashback will be credited the following Monday.
'Live Casino Cashback' Wagering Requirements
Please note that to participate, customers must opt-in weekly, and only activity post opting-in is considered towards the promotion. The rollover requirement for this bonus is 35 times the bonus amount, which must be met within 7 days of receiving the bonus to prevent forfeiture. The stake contributions vary with the game category, with slots, scratch cards, arcades, and Keno contributing 100%, while others like card games, blackjack, video poker contribute less, and certain games like Andar Bahar, Casino War do not contribute towards the rollover requirement.
Deposit Bonus 'Double Money with Jeton'
10CRIC offers an enticing Double Money deposit bonus for using the popular payment method, Jeton. Jeton is an online wallet that supports deposit from methods such as Netbanking UPI, and you can use it up to certain limits without identity verification. This offer allows you to bet or play with up to ₹2,000 extra just by making your next deposit using Jeton.
To claim this offer, log into your 10CRIC account and deposit a minimum of ₹1,000 using Jeton in Casino or Sport with the relevant bonus code (JETONCASINO for casino and JETONSPORT for sports). You will then receive a 100% bonus up to ₹2,000 for Sport or Casino, depending on the bonus code used. This offer is available once per customer.
'Double Money with Jeton' Wagering Requirements
The bonus and deposit amount must be rolled over five times on sports bets with odds of at least 1.60, excluding any type of handicap (except 3Way Handicap) and Draw No Bet bets, within 7 days of bonus activation. Void/cancelled bets, draw bets, Cashed-Out bets (including Partial Cash-Outs) or bets placed with a Free Bet do not count towards the deposit or bonus rollover requirements. Only the first bet on the same selection/market of the same event will be counted as qualifying towards the rollover requirements of the bonus.
Bonus 'Ace Tennis Free Bets'
10CRIC's Ace Tennis Free Bets promotion provides tennis fans with an opportunity to earn a weekly free bet of up to ₹2,000. This offer applies to ATP or WTA tennis bets placed within a week. The more you bet, the more you stand to gain. Betting ₹2,500 or more on three to seven separate days a week can earn you free bets ranging from ₹250 to ₹2,000, awarded the following Monday.
To participate, you need to log into your 10CRIC account from Monday to Sunday and opt-in. Then place bets of ₹2,500 or more on at least three separate days on any ATP or WTA event with minimum odds of 1.50. Your weekly free bet will be credited the following Monday after 14:00 IST.
'Ace Tennis Free Bets' Wagering Requirements
To receive a Weekly Free Bet, you must place total qualifying bets of at least ₹2,500 on at least three days of the preceding Weekly Promotional Period.
The Free Bet may be used on any available sports market on 10CRIC with odds between 1.80 – 8.0. It expires and will be removed from your account seven days after it was credited. Winnings from the Free Bet are credited to your Real Money Balance and are withdrawable, but the Free Bet amount is not stake-returned.
VIP loyalty program in 10cric
The 10CRIC Loyalty Club offers lucrative rewards to members who frequently bet on their favorite sports or engage with their preferred casino games on the site. For every wager or spin, you accrue points that determine your Loyalty Level. There are five levels to advance through – from Bronze to Diamond, with each level boasting exclusive rewards and mystery boxes.
The system is quite straightforward: the more points you gather from betting or playing, the greater your prizes. These points can be exchanged for a variety of rewards in the Marketplace. Note that loyalty levels require continuous play to maintain your standing. Upon joining the site, you're automatically enrolled in the 10CRIC Loyalty Club and start earning points.
Points can be accrued through any game on the site or any sports bet, regardless of the league or event. The Points Calculator allows you to gauge the potential points from a given bet. While bonus funds contribute to loyalty points, Free Spins do not. However, these loyalty points have no expiration date and, while they aren't directly convertible to cash, can be exchanged for rewards like Free Spins, Free Bets, and Casino Bonuses, which could lead to real-money winnings.
As you climb the loyalty levels, you gain access to superior rewards exclusive to higher tiers. Mystery boxes, awarded upon reaching a new level, provide unspecified rewards such as bonuses, free spins, merchandise, or subscriptions. To reveal the mystery reward, select a box, and either wait for the countdown or open it immediately for a points cost. Importantly, rewards from previous levels are not lost – meaning the benefits of the 10CRIC Loyalty Club continue to accumulate as you play and bet.
Promo Codes: How to get and use promocodes at 10cric?
Promo codes play an integral role in the rewarding system at 10cric, providing players with enhanced opportunities. To get a 10cric promocode, you need to stay updated with their promotional offers. These offers are usually displayed on their homepage or sent via email to registered users.
Once you have a 10cric promocode, using it is a straightforward process. Log into your 10cric account and navigate to the cashier or the promotions section. There, you'll find an option to enter your promo code. Type or paste your promo codes 10cric into the provided space and confirm. Your account will then be credited with the associated bonus or reward.
Remember, each of these promo codes come with specific wagering requirements, so ensure you read and understand the terms and conditions before using them. With the right promo codes, 10cric can offer an even more thrilling betting or casino gaming experience.
10cric Payment Methods
One of the most critical components of a successful online betting experience is the availability of efficient and secure payment methods. In this regard, 10cric sets a high standard. The bookmaker offers an extensive range of deposit methods 10cric and withdrawal methods 10cric, making it convenient for users to manage their accounts.
Available deposit and withdrawal methods at 10cric
The deposit methods 10cric includes popular options like credit and debit cards, bank transfers, and a host of e-wallets such as Skrill, Neteller, and EcoPayz. Also, for the tech-savvy bettors, cryptocurrencies such as Bitcoin are also accepted.
On the other hand, the withdrawal methods 10cric are equally diverse and secure. You can withdraw your earnings through e-wallets and even Bitcoin. The processing time unfortunantly for withdrawals varies depending on the method chosen but typically ranges from a few hours to a 30 business days.
| | |
| --- | --- |
| Minimum deposit  | ₹1000 (10$) |
| Minimum withdrawal  | ₹1000 (10$) at once, $20,000.00 per month |
How to deposit money at 10cric?
When it comes to depositing money at 10cric, the process is straightforward. First, log into your 10cric account. Next, navigate to the "Cashier" section and click on "Deposit." Choose your preferred deposit method, enter the amount you wish to deposit, and complete the transaction by following the prompts.
How to withdrawal money from 10cric?
Withdrawing money from 10cric is also a simple process, although it can take a bit more time due to the necessary security checks. From your 10cric account, go to the "Cashier" section and click on "Withdrawal." Choose your preferred withdrawal method, enter the amount you wish to withdraw, and follow the prompts to complete the transaction. Keep in mind that before your first withdrawal, you may be asked to verify your identity for security purposes.
Registration at 10cric: How to Sing Up?
If you're ready to embark on an exciting betting journey with 10cric, the registration process is quick and easy. By following a few simple steps, you'll be able to create your account and start enjoying all the features and benefits that 10cric has to offer.
Step 1: Visit 10cric – To begin the registration process, visit the official 10cric website or use our provided mirror link. This will ensure you are accessing the legitimate and secure platform.
Step 2: Sign Up – Look for the "Sign Up" or "Register" button on the homepage and click on it. You will be directed to the registration page, where you'll need to provide some basic information to create your account. This typically includes your name, email address, username, password, and preferred currency.
Step 3: Make a Deposit – After successfully registering, you'll need to make a deposit to fund your account. 10cric offers a variety of secure payment methods for deposits, including credit/debit cards, e-wallets, bank transfers, and cryptocurrencies. Choose your preferred method, enter the necessary details, and follow the prompts to complete the deposit.
Step 4: Place Stakes – Once your account is funded, you can start placing bets on your favorite sports events or try your luck at the casino games available on 10cric. Navigate through the sportsbook or casino section, choose the market or game you're interested in, select your desired odds or stake, and confirm your bet.
Registration Requirements
To register with 10cric, you must meet certain requirements. You must be of legal age, which is typically 18 or the minimum gambling age in your jurisdiction. Additionally, you need to provide accurate and valid personal information during the registration process. It's important to note that only one account is allowed per person.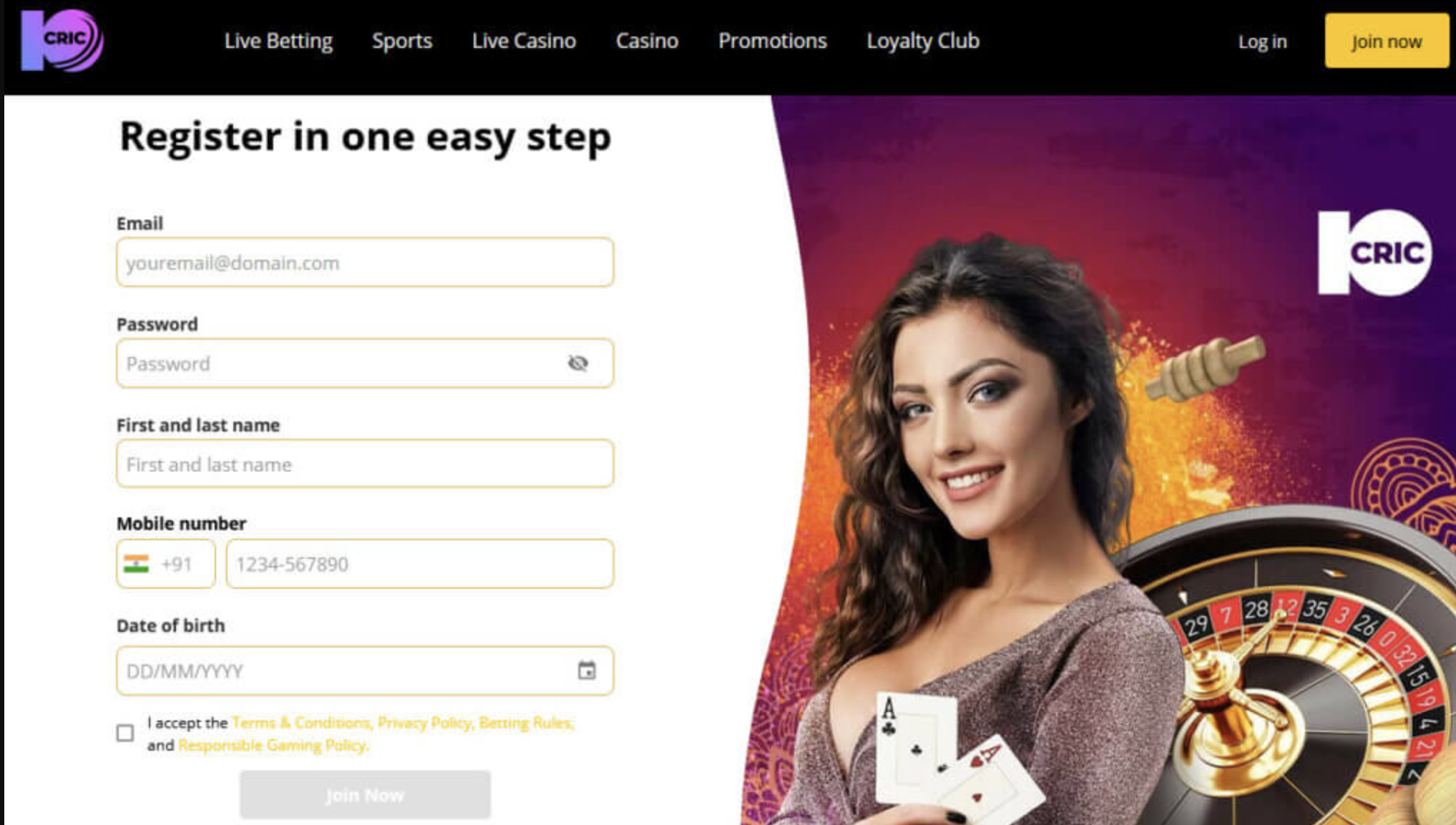 How to register with a mobile app?
If you prefer to use the 10cric mobile app, the registration process is similar. Download the official app from the 10cric website. Open the app and follow the above instructions to sign up and create your account. The mobile app provides a seamless and user-friendly experience, allowing you to bet on sports and play casino games on the go.
How to Get a Welcome Bonus 10cric with Registration?
To receive a welcome bonus, regardless of whether you use the desktop version or the application, you need to register on the official website, read the terms of the promotions in the appropriate section and enter the appropriate, desired promotional code at the time of making a deposit.
10cric Account Verification Instruction
When it comes to online betting and casino platforms like 10cric, ensuring the security and integrity of user accounts is of utmost importance. That's why 10cric has implemented a thorough account verification process to protect both the platform and its users. By following the account verification instructions, you can have peace of mind knowing that your account is secure and compliant with the necessary regulations.
The account verification process involves providing certain documents to confirm your identity and address. Visit the 10cric website and enter your login credentials to access your account. Navigate to the account settings or profile section, where you'll typically find the account verification option.
Follow the instructions provided by 10cric and upload the necessary documents. These may include a copy of your government-issued identification (such as a passport or driver's license), proof of address (such as a utility bill or bank statement), and any additional documents specified by 10cric.
Once you've submitted the documents, the verification process will be carried out by 10cric's dedicated team. This process may take some time, so be patient and check your email regularly for any updates or requests for additional information.
It's important to note that account verification is a standard procedure that ensures the security of your funds and prevents fraudulent activities. By complying with this process, you contribute to maintaining a safe and trustworthy betting environment.
10cric Mobile App for Android and iOS
The 10cric mobile app provides users with a convenient and user-friendly platform to enjoy their favorite betting and casino games on the go. Whether you're using an Android or iOS device, the 10cric app offers a seamless and immersive experience. Here's a comprehensive guide on how to download, install, and update the 10cric app:
System Requirements 10cric App for Android and iOS
The 10cric app is compatible with Android devices running on Android 5.0 and above. 10cric app for iOS is compatible with devices running on iOS 10.0 or later.
How to download 10cric APK for Android?
Go to the official 10cric website using a web browser on your Android device. Locate the download link for the 10cric APK on the website and click on it to initiate the download.
How to install 10cric App on Android?
In your device settings, navigate to the Security or Privacy section and enable the option to install apps from unknown sources. Once the download is complete, open the APK file and follow the on-screen instructions to install the 10cric app on your Android device.
How to download and install 10cric App on iOS?
On your iOS device, select the 'Download App' page of 10cric website. Tap the 'Download and Install' button. Click 'Install' when the on-screen prompt appears. The 10CRIC app will appear on your device's home screen
How to Update 10cric App?
When the app needs an update, it will let you know and provide you with an up-to-date download link. When you click the link, whether you're using an Android or iOS device, follow the same steps as above.
Tips and Best Practice for playing at 10cric
When it comes to playing at any sportsbook or casino, there are several tips and best practices that can enhance your overall experience.
Before you start playing, establish a budget that you're comfortable with and stick to it. This ensures responsible gambling and helps prevent overspending.
Take the time to familiarize yourself with the rules of the games you're interested in. Knowing the rules and strategies can increase your chances of winning. If you're new to a particular game or want to practice your skills, take advantage of the free play option available at 10cric. This allows you to learn and improve without risking your funds.
Keep an eye out for the latest promotions and bonuses offered by 10cric. These can provide additional value and increase your potential winnings.
It's crucial to manage your bankroll effectively. Avoid placing large bets that could deplete your funds quickly. Instead, consider smaller, strategic bets that align with your budget and playing style.
Practice Responsible Gambling. Remember that gambling should be a form of entertainment. If you ever feel like it's becoming a problem or affecting other areas of your life, reach out for support and consider setting limits or taking a break.
10cric Mobile Website
When it comes to accessing 10cric on the go, the mobile website provides a convenient and seamless experience. Enjoy the convenience of accessing 10cric through their mobile website and explore the wide range of betting options and casino games it has to offer.
How to use the 10cric Mobile Website?
Simply open your mobile browser and enter the 10cric website address. The mobile version will automatically load, providing a user-friendly interface. It is designed to be intuitive and easy to navigate. You'll find the main menu, sportsbook, casino games, promotions, and other essential features at your fingertips.
Browse through the available sports markets, select your desired event, and choose the odds you want to wager on. The bet slip feature allows you to review and confirm your bets before finalizing. Explore a wide range of casino games by navigating through the casino section of the mobile website. You'll find various slots, table games, live dealer options, and more.
Access your account settings, including deposit and withdrawal options, bonus information, and account details. The mobile website provides a secure environment for managing your account.
10cric License and Fairness
10cric holds a valid gambling Curacao license, ensuring a safe and regulated environment for players. The license demonstrates that the platform operates in compliance with the strict standards set by the regulatory authority.
Additionally, 10cric promotes fairness in all its offerings. The casino games and sports betting options utilize certified random number generators (RNGs) to ensure unbiased and transparent outcomes. This means that every spin, hand, or event is determined by chance alone, providing equal opportunities for all players.
10cric Customer support
At 10cric, customer support is readily available to assist you with any queries or concerns you may have. The dedicated support team is committed to providing prompt and helpful assistance through various channels, including live chat, email, and telephone.
Whether you need help with account verification, bonus inquiries, technical issues, or general guidance, the customer support team is there to address your needs. They strive to offer reliable and professional support to enhance your overall experience on the platform.
Final Opinion on 10cric as bookmaker and online casino
In conclusion, 10Cric emerges as a highly appealing bookmaker and online casino, offering a diverse range of betting options and an extensive collection of casino games. With its competitive odds, live betting features, and user-friendly mobile apps for Android and iOS, it provides a seamless and enjoyable betting experience. The availability of multiple deposit options, including Bitcoin, ensures convenient transactions, while the generous promotions and rewards program add value for existing players. Although limitations exist in certain areas such as horse race and esports betting options, as well as the absence of Hindi language support and extensive live streaming, the overall package provided by 10Cric remains compelling. With reliable customer support available around the clock, 10Cric caters to the needs of Indian players and offers an engaging platform for sports betting and online gaming.
Read this page in other languages:
Accepted Cryptocurrencies
Available Games
Supported Languages
Pros
Competitive betting odds and extensive live betting features.

Wide range of deposit options, including Bitcoin, for convenient transactions.

Well-designed mobile apps for Android and iOS platforms, offering a smooth betting experience on the go.

Diverse selection of over 2000 casino games and a live casino for thrilling gaming options.

Generous promotions and offers tailored for existing players, providing added value and rewards.

Wide range of betting options, including a great selection of sports and cricket markets.

Support for betting with Indian Rupees, catering to the needs of Indian players.

Reliable 24/7 customer support for prompt assistance.
Cons
Limited availability of horse race betting options.

Limited offerings in esports betting compared to other platforms.

No support for the Hindi language on the website.

Lack of extensive live streaming options for sports events.

Inability to claim deposit offers when using Skrill as a payment method.